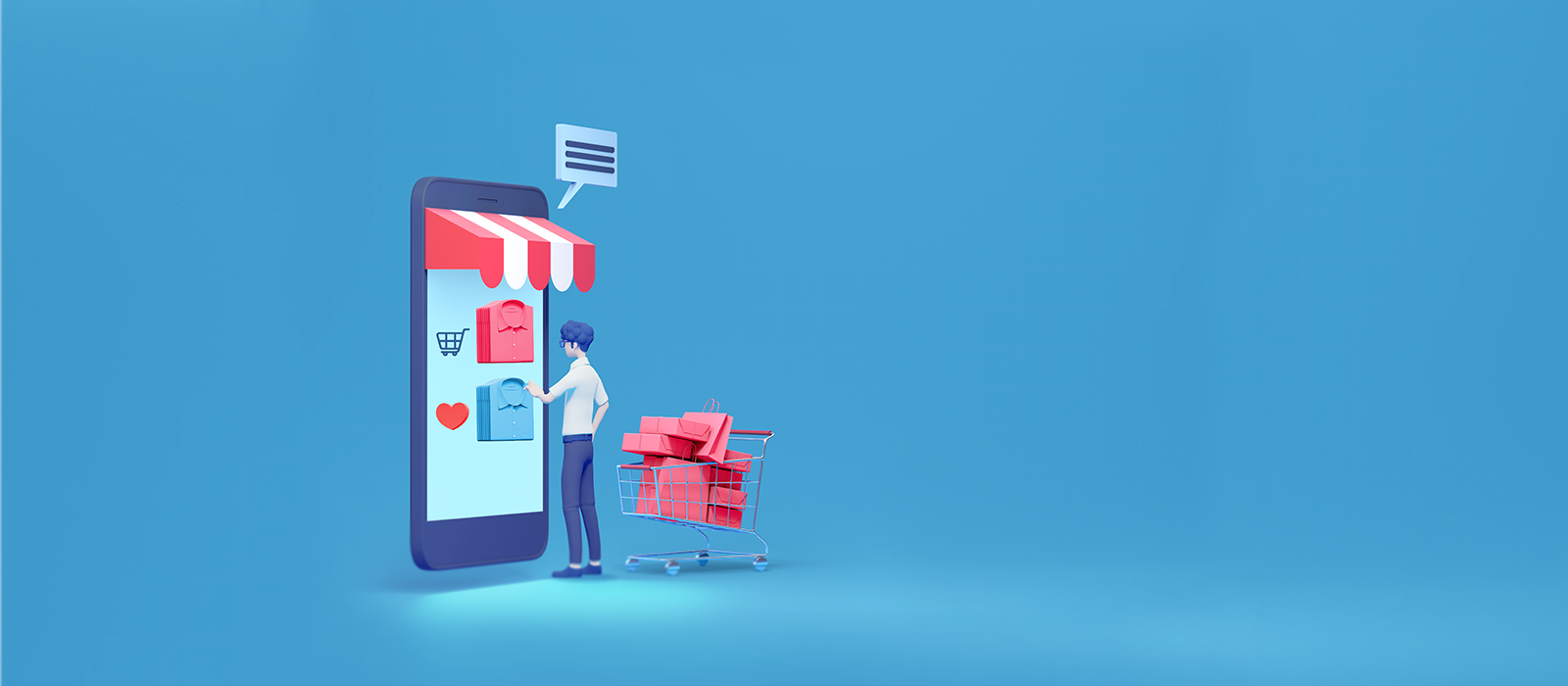 Digital Marketing for eCommerce: Organic Search (SEO)
Sep 29th, 2021
In the latest of our deep-dive blogs, we're going to look at SEO for eCommerce – what it is, what it should achieve and why it's important for online retailers to be on top of their game when it comes to optimising their websites for search engines
---
What is SEO for eCommerce?
SEO for eCommerce is a mix of organic search techniques specifically tailored to improve the visibility, usefulness and user experience of eCommerce websites. From technical SEO through to creative copywriting, the aim of SEO for eCommerce is to increase traffic to a website's money pages and, in doing so, improve the brand's profitability. The aim is not just to improve rankings, but to improve revenue.
Why is SEO important for eCommerce?
While brands operating in a physical space will often pay considerable rental prices for the best places on the high street or on retail parks, the same consideration for prime locations online has often been overlooked. However, the enormous success of direct-to-consumer products, drop-shipping, marketplaces, digital only retailers, and other online retail niches have centred search in the sights of even the largest retail brands.
With the 2020/21 pandemic increasing the share of all retail spend enjoyed by eCommerce from 13.6% to 18% in a single year, and the share predicted to reach almost 22% by 2024, there are plenty of reasons for retail brands to re-examine their priorities – especially when one considers the fact that online retail spending hit $3.5 Tn in 2019.
---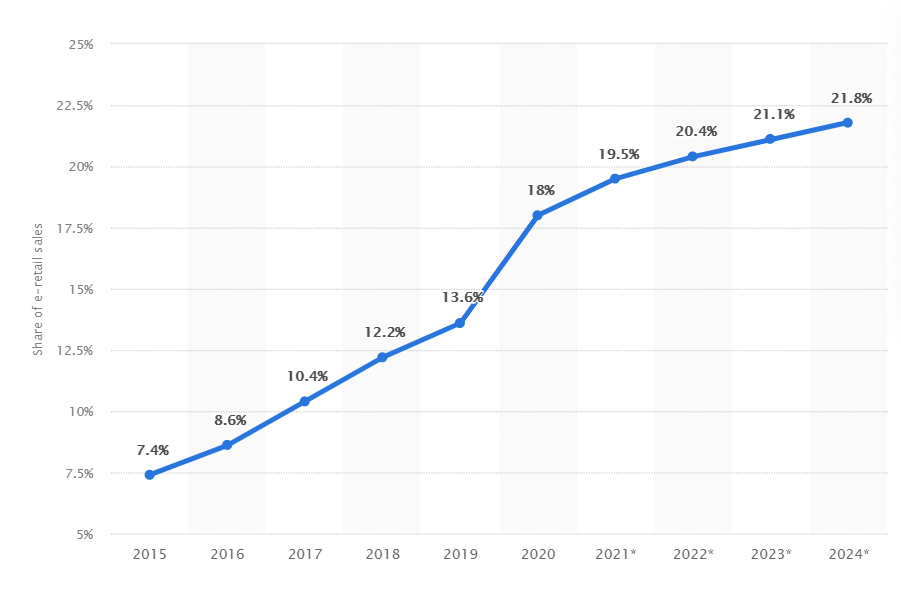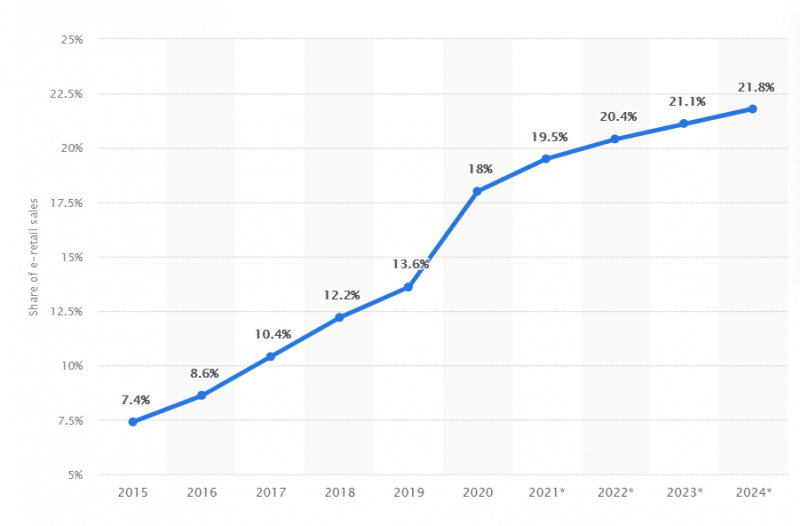 ---
However, the result of more and more brands looking at eCommerce as a significant market for growth, is that the competition for the prime locations in search engine results pages (SERPs) is stronger every year. It's no longer enough for online retailers to implement the basic recommendations of various website plug-ins, to succeed online takes a strong SEO strategy.
Developing an SEO strategy for eCommerce
As with all things marketing, there's no one strategy that will work across eCommerce brands and in all verticals. As such, you will need to establish what is right for your brand specifically. This includes the following:
Identifying your brand's goals: – whether it's a short to mid-term increase in revenue or a longer-term branding project, it's important that you establish goals as early as possible as they will drive the work that takes place.
State your SEO goals: – once you've established your overall goals, you will need to set out how SEO will contribute to achieving them. Are you going to overhaul your technical SEO to improve rankings, are you looking at link building campaigns?
Research your direct competition: – while it's tempting to consider the leaders in your industry as competitors, your direct competition will need overcoming first, so establish those brands competing with you in your niche and for your key terms and research those.
Use the '7 Ps of marketing': – one of the things that has made the '7 Ps' a marketing staple for decades is that it can be applied as well to marketing techniques as well as marketing as a whole. So consider how SEO can make use of product, price, place, promotion, people, process and physical evidence to achieve your goals.
Implementing SEO for eCommerce
While we won't cover the entirety of SEO here (we have published a substantial resource which should cover what you need to know here), we'll cover some of the aspects which are of specific importance to eCommerce sites and other retailers operating online.
Keyword research for eCommerce
A 'keyword' is a word or phrase that is people use to find answers to questions, goods or services, or anything else they want to find out from a search engine. As an eCommerce marketer, digging into the keywords your target audience is vital to:
Get insight into what your customers want
Identify the phrases and topics to target in your categories, page titles and content
Why is keyword research so important?
Keyword research will inform your entire SEO strategy, from content optimisation, to technical on-page optimisation, to site architecture (all of which we'll cover in more depth in subsequent chapters).
This will allow you to increase your visibility, improve the relevance of your traffic, reduce irrelevant
traffic or leads, and enhance user experience.
For eCommerce, you should initially concentrate on:
Product pages
Category pages
The majority of an eCommerce's site's keywords will need to be tailored around long tail product searches, for example: "king size bed frames on sale" as opposed to the informational search "choosing bedroom furniture": the second shows a higher intention to actually make a purchase.
Why are long tail keywords so important for eCommerce SEO?
Long tail keywords are usually longer and more specific phrases that people are more likely to use when they're closer to a point-of-purchase. Not only do long tail keywords tend to convert better than terms from the 'fat head' or 'chunky middle' (terms with greater volume), as they bring more targeted visitors to your site. They have less search volume, but that means they're usually less competitive.
A quick Google search for the generic 'garden furniture' reveals, unsurprisingly, the top 5 ranking webpages are from big, well-known brands. Trying to outrank them is a very ambitious objective – and probably unachievable in the short term.
---
---
(Note that Google also recognises and returns similar terms in searches – in this case 'patio furniture'
and 'outdoor furniture' and included as synonymous with the original 'garden furniture' search.)
That's why it makes for sense to target more specific, detailed search terms. In this case, an example would be "round patio table 200cm". As a rule of thumb, you need to optimise category pages for broad keywords and product pages for long-tail keywords.
How to start your keyword research
Start by running a search query on Google using what you consider to be the most common things your audience would search for or ask. The key is to try to step outside of your business and really think like a customer, who is more likely to use natural, casual language than industry jargon or the terms you use to refer to your business.
As well as studying the results returned by Google, another simple way to discover common searches is to use Google Autocomplete – the suggestions that appear in the drop-down menu when you start to type in your search. Google bases these predictions on how often others have searched for a term (although it can also be influenced by your own search history) and they can also provide you with a hint of the motivations behind them.
---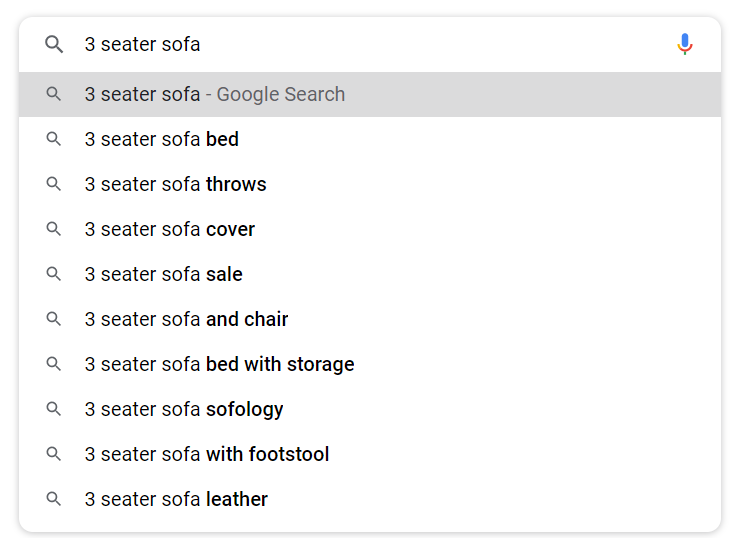 ---
Google Search Console
This tool allows you to check a number of important aspects of your site's place in Google search – from indexing to visibility, average rankings, errors, notifications and more. It also shows some of the search queries people used to click through to your website. What better place to begin your keyword research than to find the search terms already driving clicks to your site?
To getting started, log in to Search Console and select 'Performance'. You'll then see a graph something like the below. You can filter (and compare) by search type (web, video or image), time period, query (where you can enter specific keywords), page, country, device or search appearance (Web Light results or AMP non-rich results).
For this exercise, you're looking at 'Queries' – searches people have made to get to your site ('Clicks'), or searches that have led one of your web pages to appear in Google search results ('Impressions').
---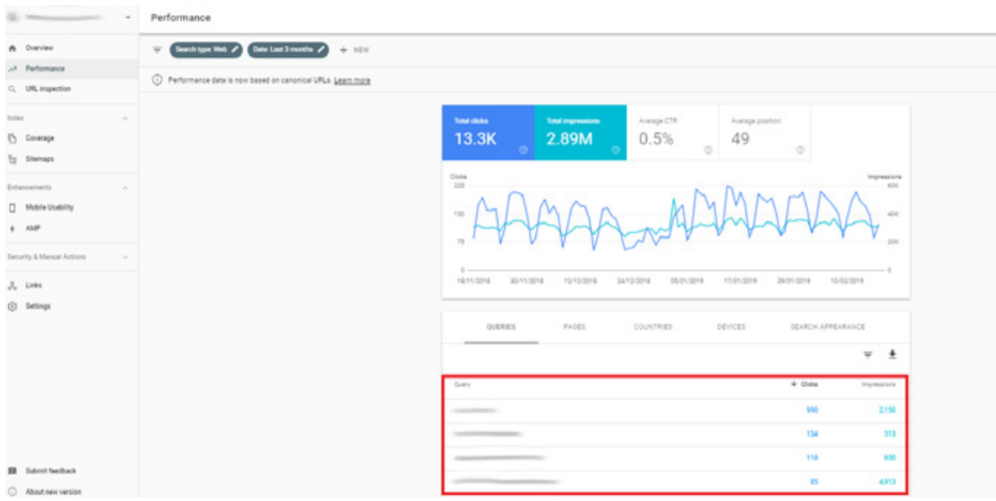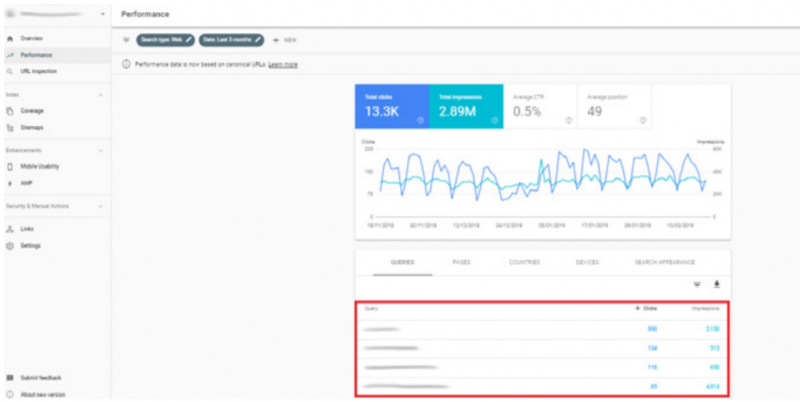 ---
When you've selected this, export the list – either to Google Sheets, or as a CSV. This will allow you to
filter the terms by clicks, impressions, click through rate (CTR) or position (whereabouts you appear in
Google's search results for that keyword). You can use this data to:
Discover whether keywords that you expect to see actually do appear; if not, your site might not have enough useful content relevant to those keywords.
Find lower ranking results which you can look to either optimise for or create new content to target (filter by position to filter out the top 10 or top 20 results).
Identify queries with high impressions and low CTR. These queries can help identify where you can improve your titles and snippets to match your users' interests.
Google Keyword Planner
Part of Googles Ads (a paid search, or PPC, platform), this tool is designed to provide advertisers with the search volume and potential costs of specific keywords – and it's also a great tool for building out your keyword list for SEO purposes.
Log in to Google Ads (or set up an account), select 'Find new keywords' and type in a keyword to begin generating new ones (you can also add the keywords discovered at any other stage to help generate a more comprehensive list):
---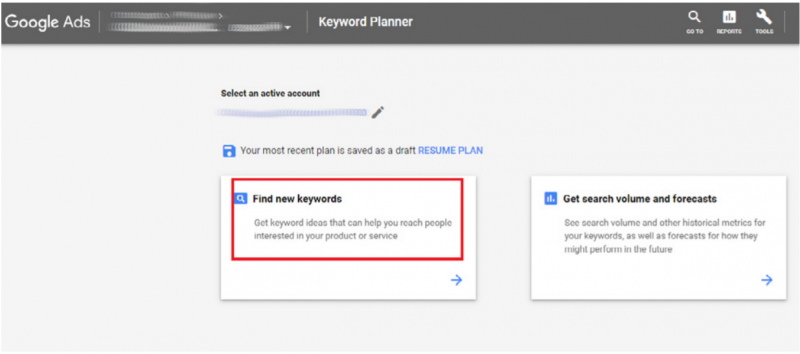 ---
The suggestions provided will show you the average monthly searches carried out for each keyword and the competition level (High, Medium or Low). The latter is the measure of how difficult it will be to rank for a particular keyword; although this is based on PPC bids, it gives a general indication of how popular the keyword is and industry competition for SEO purposes.
If you can be detailed with the keyword with which you begin your search, you will generate more specific – and therefore relevant – keywords.
Competitor research
Find out what – and who – is already ranking for the keywords you've chosen. The fact that they're ranking well suggests they are satisfying user intent, that Google is viewing them as highly relevant and authoritative.
What are the pages that rank offering customers? How are they satisfying the query? If your site wants to target purchase intent and the highest-ranking results for your term are informational, this could be a sign you're targeting the wrong terms and may need to refine your keyword choices.
You can do this by simply carrying out a manual search and studying the organic results. Find out which keywords your competitors are ranking for This will give you an indication of competitor keyword strategies and shows which particular competitors are ranking well for target keywords. It will also allow you to see where there may be gaps in your current keyword list, and to identify long tail opportunities to target.
SEMrush
While this is a paid-for tool, you can open a free account to carry out top-level research to identify the highest search volume keywords for each of your competitors.
Navigate to the 'Organic Search' under the 'SEO' category on the right-hand side of the screen:
---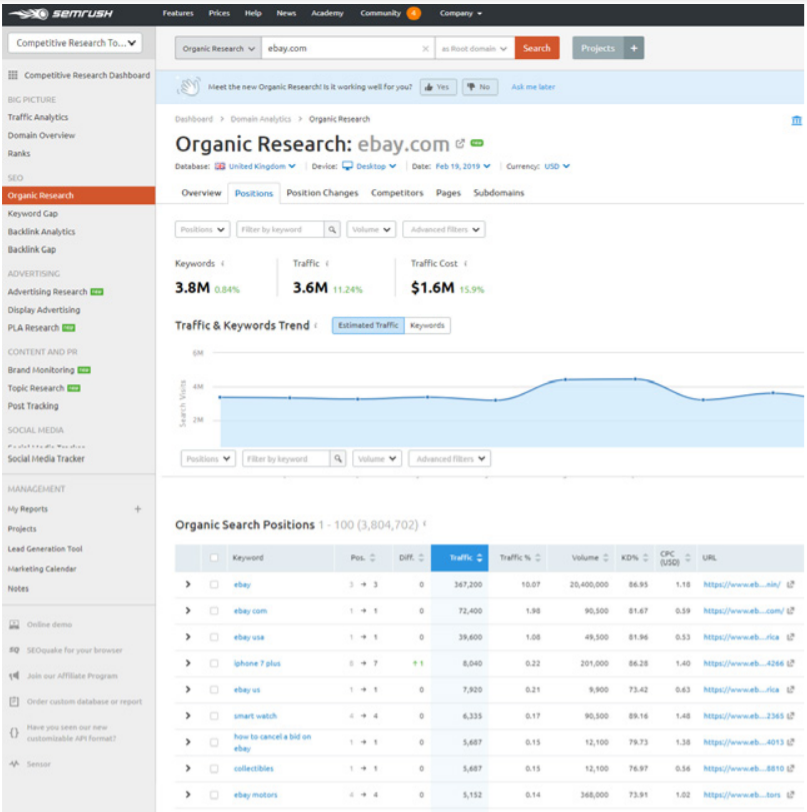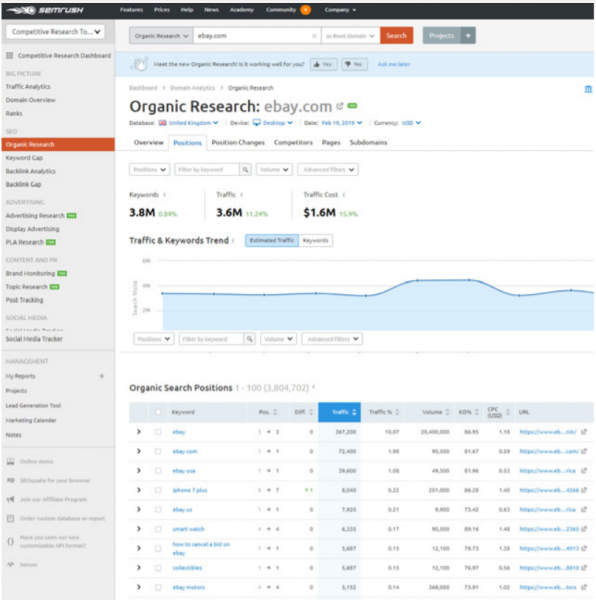 ---
By entering a competitor domain in the search bar at the top you get a list of keywords organised by the amount of estimated traffic driven to that website by the keyword (just the top ten in the free version of the tool). You can also view the search volume (the number of searches carried out for that term) and the landing page (URL) per keyword.
The paid version offers a lot more capability in terms of filtering, expanding date ranges, and downloadable data but the free option is still a great way to get started with identifying your competitors' best keywords.
It's also useful for pinpointing keywords that you don't rank for but for which they do, as this will provide you with potential keywords that could be valuable to your business and the types of content your competitors are using to rank for those keywords.
Content and copywriting for eCommerce
It goes without saying that the last thing you want on your website is thin content that doesn't offer much to the user and by this I don't always mean that it is short content that doesn't contain the correct keywords, but rather that in some cases it is irrelevant content. One of the terms which has been used in the industry is 'pogo-sticking', that is, when a user performs a search in Google, sees the link to your site and clicks for more information.
Within seconds of hitting your site they head straight back to the search engine as the content, products or services aren't relevant and they want a different option. High quality page content stops this from happening as you are more likely to fulfil the search query and offer the information that the user requires.
'Quality', by its nature, is generally qualitative – there's something ephemeral and subjective about the definition. However, in a field which – rightly or wrongly – prides itself in being predominately data-driven, such a non-specific term is virtually useless to us.
---
Ensure you don't forget your product pages – just copying and pasting product descriptions from manufacturers isn't enough to rank well. Product descriptions are an important part to consider if you want your ecommerce site to be successful. Don't overlook your product names either as your H1's and ensure you have well optimised meta titles and meta descriptions.
Charlotte Chapman, Head of Technical SEO, Click Consult
---
When considering what can be thought of as 'quality content' from an SEO perspective, you can ask yourself the following questions:
Can the content be reached?
Firstly, and importantly, the ability for the data to be discovered by search engines has to be the first point in any checklist. This means that you should ensure your content is not blocked by robots.txt or any in any other way out of the reach of search engines.
Is the content quick for users to access?
With the shift to mobile devices, search also developed the need for low demand, high speed pages. In order for your content to be considered 'quality', it will need to load quickly – so you will need to avoid render blocking scripts, loading too many animations, images or excessive numbers of fonts to ensure that the content is fast loading.
Is the content well written?
This is not a measure of literary value, it simply refers to the use of correct spelling, punctuation and grammar. As far back as 2011, Matt Cutts was advising that such things were already a ranking factor (though presumably of low weighting), so ensure you're running your copy through a spell checker.
Is your data using the right structured data types?
Schema helps to add machine readable context to your content, so ensure that you're employing the various schema types that are available to your content and your industry.
Are you attracting the right links?
There has been an over reliance on DA as an indicator of quality as far as links are concerned – but in reality, we should be looking at industry relevant domains to build our authority in order to serve as a frame of reference for our content.
Among other things, these are five quantitative measurements we can make that can allow us to better build our chances of producing 'quality' content.
---
Create a blog, but don't write content for content's sake. Create content which targets informational keywords to drive upper funnel traffic to the site.
Dave Gossage, Head of Technical SEO, Click Consult
---
Technical SEO for eCommerce
There are tens, if not hundreds, of technical SEO concerns for any brand operating online, but while we're not going to cover them all, we are going to try and include most of the important aspects of technical SEO for eCommerce.
Image tag
Your image tag, perhaps unsurprisingly, is responsible for providing images, which can be used in conjunction with various modifiers to position it according to your needs.
img src="yourimagelocation/yourimage.jpg" alt="youralttag" width="100″ height="100″
Don't forget your alt attribute! Remember your alt attribute is not only the text which reports to screen reading software, but also how Google determines the image's relevancy to the page's content.
Alt attributes are important for an accessibility perspective. Visually impaired users using screen readers will be able to read an alt attribute to better understand an on-page image. Alt attributes will also be displayed in place of an image if an image file cannot be loaded.
Hyperlinks
The introduction of 'super' or 'mega-menus' (which can legitimately contain up to 300 links) clouds the issue of links a little, however we would recommend applying common sense when considering your text to content ratio while bearing in mind that too many links can dilute a page's authority – and too few links can halt the spread of authority throughout the site.
Text link
Used for your on-page links (your hypertext underlines), the anchor text should give easily inferred signals about what awaits them on the destination page.
Image link
If you'd prefer to use an alluring image, rather than a word, as your link focus then this is the code for you. Essentially it does the same as a text link… only with an image. With image links, the important thing to remember is that the alt attribute serves as the anchor text.
Meta title tag
Your meta title tag should be accurate, concise and descriptive as it is predominately responsible for value in attribution of relevancy (and therefore search engine results page ranking) as well as aiding ease of browsing. The text should, in general, be no longer than 56 characters long (though this is finally determined by pixel length) and should contain key terms related to the page.
Title
The text between your title tags is often displayed on search engine results pages (SERPs). These tags are therefore useful in both SEO and for social sharing.
Meta description tag
Your meta description tag is a unique, clear and concise description of what is featured on the page. It is most often the description that appears below a page link on SERPs and a compelling meta description can increase your click-through rate. Search engines recommend these are restricted to around 160 characters (depending on your industry), but should be a minimum of 90 to make them useful. Wherever possible, try to include a call to action as this can help your click-through rate.
Content
The key factors to remember regarding content from a technical SEO standpoint are: to make it readable (both to bots and people), that the text to code ratio is sensible and that it is not hidden.
Header tags
Headers are the things which summarise the pages you create for consumers and search engines, as well as being important stylistically.
H1: – this is your main page heading – it's from this that Google will take its first impression of your page's relevance to a search query. While you may be (as we often are) tempted to attempt wit or humour in your page title, it is important for page relevance that this contains the information you wish to rank for.
H2: – this is where you get to flex your creative muscle, and with a formatting reshuffle can appear to visitors as either a title or sub-title. They are also good for use as stand-alone subheadings for breaking up content for ease and speed of understanding.
H3: – this is your sub-sub and its formatting should denote its place as a paragraph leader, or stand-out line.
---
Be sure to set up proper canonicalisation and meta robots tags on filtered pages so that you don't end up with lots of unnecessarily indexed URL variants where it's just filtered by different parameters.
Andrew Whyman, Senior Organic Search Executive, Click Consult
---
Canonicalisation is the process through which you redirect search engines from multiple URLs to a single, accepted (or canonical) URL. These multiple pages are common on most sites, but cause problems with the positioning in SERPs as the authority conferred upon the content may be divided, therefore weakening the visibility of the page.
When optimising, it is always a good idea to use the canonical tag, ensuring all pages achieve the maximum authority possible. All multiple versions of a page should contain the same URL within the canonical tag which should always be complete, including the https://, or it may be ignored.
link href="http://www.your_site.com/" ref="canonical" / is a stand-alone tag that should be placed between the head tags, and should refer to your preferred URL. This serves the double purpose of allowing you to control which of the URL's a search engine sees, while ensuring your traffic is not split between duplicated pages.
---
Manage out of stock and discontinued products. A single ecommerce site can easily rack up 1000s of discontinued products, many will contain links. Some of these will end up being replaced by equivalent products creating a cannibalisation issue. If a product is not returning to the site, it should be redirected to a similar product, similar category or 410'd (gone with no forwarding address) if it has no value.
Dave Gossage, Head of Technical SEO, Click Consult
---
Site structure for eCommerce
Why your site structure matters
It's obvious why a physical store needs to well laid-out: to allow customers to navigate the aisles and find what they want easily, as well as hopefully picking up some extras on the way.
The same goes for your online store: if your customers can't easily find what they're looking for, they'll soon leave your site for a competitor's – and a high bounce rate is not only bad for conversions, but may indirectly impact your rankings as Google sees it as a signal your site isn't providing a good user experience.
A well-organised and intuitive navigation also helps Google to find, crawl and index all your important pages with ease, especially if you have a large site. You need to make it your sitemap available by submitting it to Google Search Console.
---
Keep control of your internal links. Ensure that the anchor text used is using the target keywords of the destination pages. Again, this more difficult to manage as websites get bigger.
Andrew Whyman, Senior Organic Search Executive, Click Consult
---
eCommerce site structure
The point of your website is to sell your products; people will only do that if they can find what something that meets their needs quickly. This means your site structure should focus on:
Getting relevant content and products in front of them.
Making navigation as simple as possible (a rule of thumb is no more than three clicks from where they start).
This is where your keyword research comes in to allow you to create highly relevant URLs and content for your category and product pages.
Structured data for eCommerce
The result of collaboration between Yahoo, Bing and Google back in 2011, there came into being a site called schema.org, this site seeks to unify the language used by webmasters to provide metadata on pages which can be easily read by search engine spiders and parsers. Schema markup is how we refer to the microdata code that provides this metadata.
If structured data is, to extend the metaphor, the scaffolding that allows for better understanding of information, then markup is the individual scaffolding poles. With hundreds of varieties of possible markup types, the aim is to create a machine-readable internet – or in the words of the creator of the world wide web, Tim Berners-Lee:
---
I have a dream for the Web [in which computers] become capable of analysing all the data on the Web – the content, links, and transactions between people and computers. A "Semantic Web", which makes this possible, has yet to emerge, but when it does, the day-to-day mechanisms of trade, bureaucracy and our daily lives will be handled by machines talking to machines. The "intelligent agents" people have touted for ages will finally materialise.
---
There are a lot of different properties you can add to this schema property, but here are some of the most common, and the ones we recommend adding to product pages:
name;
image;
description;
aggregateRating;
offers > price;
offers > priceCurrency

---

---

According to a SEMrush article: "Google says', rich snippets do not increase ranking in SERPs, but help search engine crawlers to understand your content and display comprehensive information in SERPs."

The following schema markups should be implemented into any e-commerce site in need of organic traffic and doubling click-through rates:

Products

Optimising your product information into markups helps search engines understand they are crawling a product page and not a blog post. Using markups for product pages allows you to provide details of your product colour, sizing, model number and related products.

Pricing

When searching for products, we often come across product listings with their prices right under them, especially from stores like BestBuy, Apple and Amazon. Schema markups help you educate visitors on the pricing of your products right from SERPs allowing for more click-throughs.

Rating and Reviews

The use of testimonials has proven to be more effective in closing sales than page copy or content. Including rating and reviews in SERPs through schema markup serves as social proof and aids in converting visitors into customers.

Our eCommerce SEO experience


Lords and Labradors Case Study
Tesco Case Study

2021 trends and statistics for eCommerce

63% of eCommerce orders in the UK are placed using a mobile device. – Statista
Mobile cart abandon rate in the UK is 85%. – Statista
The value of eCommerce to the UK economy is over £76 Bn. – Statista
70% of consumers prefer shopping online vs. in-store. – Reuters
Shopify recorded a 57% growth YoY, in part reflecting the boom in eCommerce brands. – Shopify
Throughout the pandemic, 46% of consumers purchased items online they had previously only bought in-store. – Retail Economics and Natwest
43% of consumers worldwide are interested in using VR/AR to shop for clothes online. – YouGov

eCommerce SEO checklist

Bonus tips from the team

Ensure that category filters contain noindex tags. Canonical tags won't work at this scale.
Keep the category architecture logical and simple. Make sure there are no overlapping categories
Categories are often created for other channels (email, PPC, etc) which have no SEO value or overlap with those that do. Make sure Google can't index them
Sounds obvious, but make sure products are in the correct categories. This gets more difficult to manage as sites get bigger.
Expand your subcategories when necessary and internally link to them. Don't create subcategories with low product numbers.
Keep control of your internal links. Ensure that the anchor text used is using the target keywords of the destination pages. Again, this more difficult to manage as websites get bigger.
Create a blog, but don't write content for content's sake. Create content which targets informational keywords to drive upper funnel traffic to the site.
Check which products are available in a range of options (size, colour, etc.). If all on a single URL, can they be split out into separate pages for each option? If all on different URLs, is this causing cannibalisation issues for the primary product keyword? This should be dictated by keyword research.
Manage out of stock and discontinued products. A single ecommerce site can easily rack up 1000s of discontinued products, many will contain links. Some of these will end up being replaced by equivalent products creating a cannibalisation issue. If a product is not returning to the site, it should be redirected to a similar product, similar category or 410'd if it has no value.

It's important to ensure product pages are correctly canonicalised as products can sit within multiple categories. If not implemented correctly you may end up with duplicated product pages sitting on multiple URLs. In this instance, all of the pages should canonicalise to a single URL. For example, you may have a kettle that sits under both a /household and a /electrical category which is causing the product to have 2 URLs:

https://www.example.com/household/appliances/smeg-kettle
https://www.example.com/electrical/appliances/smeg-kettle

Each URL should have a canonical tag pointing to the main URL, for example:

https://www.example.com/products/smeg-kettle

This will ensure Google only indexes 1 URL per product, eliminating any possible duplicate content issues.

---

Does your brand need help to succeed in the competitive world of eCommerce? Why not contact us to see how we can help?