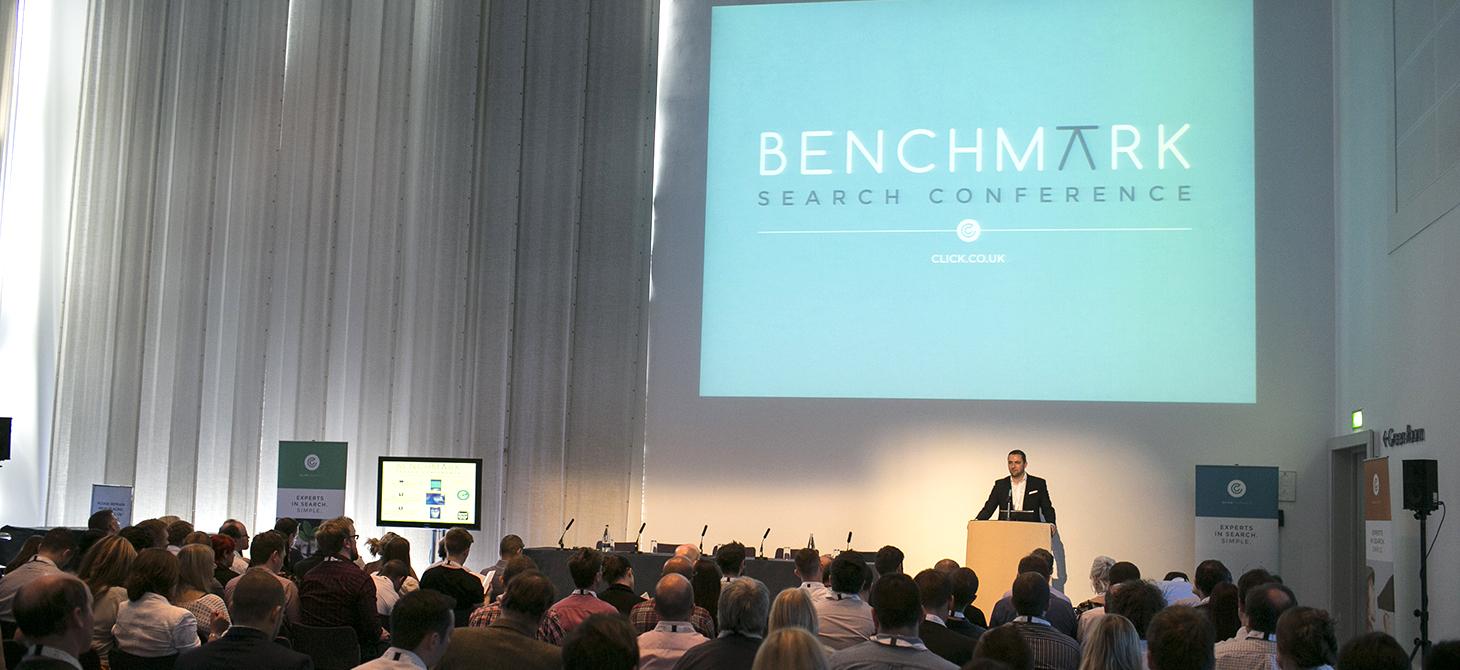 We are fast approaching Click Consult's 'Benchmark Search Conference' 2016
Mar 23rd, 2016
At Click Consult, we're passionate about search marketing – and from the success of last year's event, we know you are too. For that reason, our 'Benchmark Search Conference' is returning for a second year!
---
Last year's Benchmark Search Conference featured some truly world-class speakers from the likes of Google, Vodafone, Microsoft and State of Digital and you can see some of the many highlights here as the speakers wowed delegates with insights across all areas of search marketing.
Not a company to rest on its laurels, Click Consult is seeking to replicate and exceed the superb standards on display last year with a host of fantastic speakers set to offer their insights.
Want to stay ahead of the curve? Then you'll want to listen to:
Shane Cahill, Agency Development Manager, Google
Bas Van Den Beld, Founder and Chief, State of Digital
James Murray, UK Search Advertising Lead, Microsoft
Nick Wilsdon, SEO Lead, Vodafone
Alan Reeves, Director of Search, Click Consult
Rich Kemp, Head of Creative and Social Media, Late Rooms
Yossi Erdman, Head of Brand & Social Media, AO.COM
Nancy Scott, Organic Search Lead Manager, Cancer Research UK
Dave Karellen, Head of Paid Search, Click Consult
Arianne Donoghue, Digital Marketing Manager, icelolly.com
Lukasz Zelenzy, Head of Organic Aquisition, uswitch.com
Jon Myers (Conference Chair)
Whether you're looking for insight into an ever changing industry, or the chance to network with those at the top of their professions, this conference has everything you could possibly need – including plenary sessions, thoroughly engaging panels and, of course, drinks.
How, when and where?
The best news for potential delegates is that it's free to apply for your place. Our conference just wouldn't be the same without you, so apply today to secure your ticket.
As for the when and where? We were so pleased with how things went last year that we're returning to Manchester's Bridgewater Hall, though this year's event will take place on the 12th of July.
---
Click Consult is one of the longest standing search marketing agencies in the UK and, with this latest conference, we hope to offer our experience and that of other leading industry individuals to all comers. Want to know what Click could do for you? Contact us today.