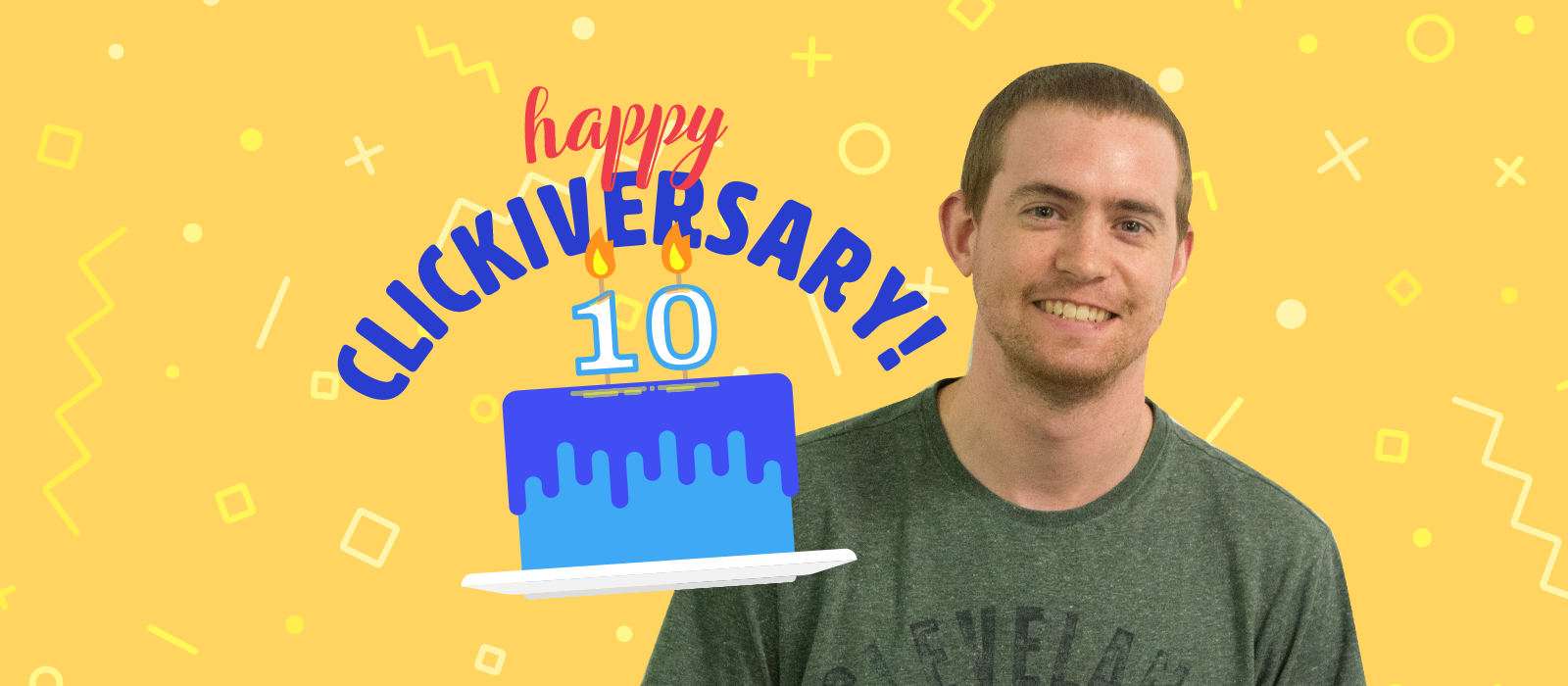 Happy 10th Click anniversary, Andy!
Mar 3rd, 2020
In 2010, online chat/dating portal Chatroulette was the top trending topic on Google, people were madly searching for the newly-released iPad and clamouring to find more information about Justin Bieber and Katy Perry. It was also the year that Click Consult legend Andy Whyman joined us as SEO Programmer. To mark the occasion, we caught up with Andy to find out about how life at Click has treated him over the past decade, and how the industry has evolved…
---
Hi Andy! What do you enjoy most about your role – and why?
Success is the part of my role I enjoy the most – whether it be an SEO client reaching their goals, or the successful outcome of a technical challenge. The feeling of knowing what I've done has helped a client's success, or helped someone in the business is rewarding.
What are you the most proud of in your career / life?
I'm proud to have stuck with Click Consult for the last 10 years, through both thick and thin. As someone who came into the business with almost no SEO knowledge at all, Click Consult gave me the opportunity to gain the expertise I have today. I'm now looked up to and respected for my SEO knowledge and experience and this has allowed me to work with some great brands.
---
I find the best thing about working with Andy is that we are both direct and honest, and this works well for us. I know Andy will never take offence or become defensive because, as he always says, "being offended is a choice!"

Alan Reeves, Director of Search
---
How has the search marketing industry evolved over the last decade and, in your opinion, what have been the developments that have had the biggest impact?
Since I started in the industry in 2010, the changes have been huge. It used to be a case of optimising a couple of meta tags, writing content with your keywords stuffed in everywhere, and getting as many links as you could lay your hands on no matter where they came from – and it worked. But if you were to do that now you'd end up with a manual action penalty very quickly, or at the very least you would rank badly.
I feel that the biggest impact over the last 10 years was the introduction of the Penguin and Panda algorithms. They were the first algorithms that started to force everyone in the industry to stop writing poor keyword stuffed content and from gaining links from every directory they could find – in other words, it forced us to become more ethical in our approach to just about everything. We're no longer trying to manipulate the search engines, we're now trying to make websites genuinely useful. The quality of search and the web has improved dramatically as a result.
What is the most important lesson you have learned in your career?
Google is unforgiving! If you make a mistake Google is very quick to punish a site and very slow at forgiveness. Always make sure you test your technical and content changes on a test site first, and keep an eye on your backlink profile for any low quality links that may harm your site.
What top tips would you give to businesses who want to improve their search visibility?
It would definitely be write high quality content that helps users and answers questions. Whilst it's not the only factor, it is one of the biggest in SEO right now and without it you're unlikely to rank in favourable positions.
Also, making sure that changes your SEO recommends to your site actually get implemented. That includes content, technical or otherwise – they all work together and no single one on its own is enough. It's the single biggest reason why client's don't see performance from their SEO campaign.
You're a huge fan of both racing and gaming: if you had a choice between only going to either Le Mans 24 or epic.LAN, which would you choose?
A difficult choice! Both of them allow me to hang out with my friends, but Le Mans only happens once a year and is a great excuse to go camping too, so I think I'd choose to go there.
What song best describes your work ethic?
The Pokemon Theme: "I wanna be the very best, like no one ever was"!
Definitely showing my age with that one!
What sitcom character would you be and why?
I've been told by a lot of people that I'm the spit of Sheldon from Big Bang Theory, but I reckon I'd be better as Moss from the IT Crowd!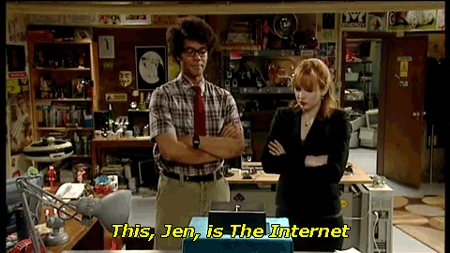 Source: Giphy
---
I would like to personally thank Andy for a decade of commitment to Click Consult – Andy has shown terrific commitment and loyalty to Click Consult over the past 10 years

Matt Bullas, CEO, Click Consult
---