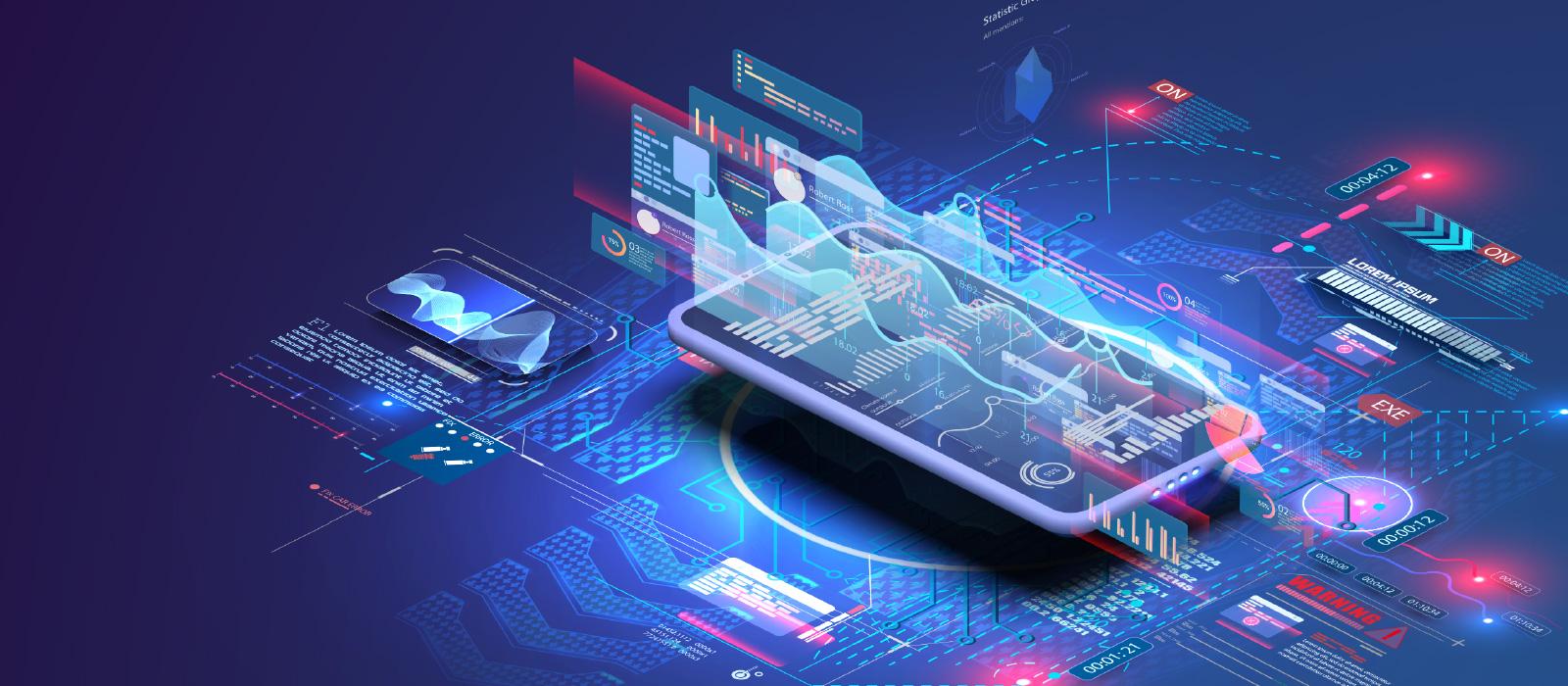 What you need to know about switching to GA4
Apr 1st, 2022
While I'll admit that the relatively short deadline for the switch threw me a little, we've been working with GA4 for a while now, so we can provide a bit of guidance as we trudge slowly toward the end of Universal analytics
---
While I find the platform less intuitive, feel it is still less than a finished product, and that too much time has been spent ensuring it works well as an analytics platform for Google Ads and not enough on the organic side, GA4 undoubtedly has aspects that will prove useful and (we can hope) should see a raft of improvements over the next year.
What is GA4?
GA4 (shorthand for Google Analytics 4), formally known as 'Google Analytics App + Web', was introduced in 2020 as the 'next generation' of Google Analytics. Ostensibly created for a more privacy focused method of online data gathering and analysis, the platform also serves the purpose of better integration with Google's chosen post-cookie ad delivery method. When promoting GA4, Google's documentation referred to it as follows:
---
Google Analytics 4 properties offer privacy-safe solutions to measure the customer journey, machine learning to predict outcomes and automate the discovery of insights, and easy activation of those insights in Google advertising platforms to enhance your marketing performance [emphasis mine]. With these additional capabilities, you're encouraged to use the new Google Analytics 4 as your primary web and app analytics solution going forward.
---
Do I need to move to GA4?
In short: yes. While it remains to be seen whether the complete migration to GA4, and end of Universal Analytics, will come as planned between the middle and end of 2023 (specifically the 1st of July 2023, with some extension for Analytics 360 users), there is now little doubt that the end is nigh for Universal Analytics and, in order to ensure you have sufficient time to build in-house experience and gather at least a year of data, the transition to GA4 should be done as soon as possible.
As things stand, from a Search Engine Land poll, most respondents are looking to handle the migration internally – it will be interesting to see how or if that shifts over time:
---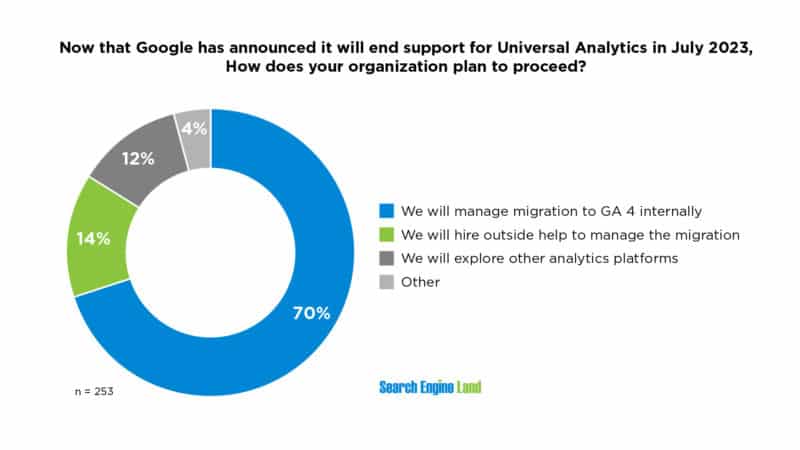 ---
How to make the move to GA4
I'll apologise in advance – this may take longer to read than to do, but we're going to take Google's migration advice step-by-step. There's a lot of stuff in there that may not be necessary depending on your business type and size, but I want to try to cover all the bases – however, I'll be summarising where I can, so I'll add links to the full documentation as well.
---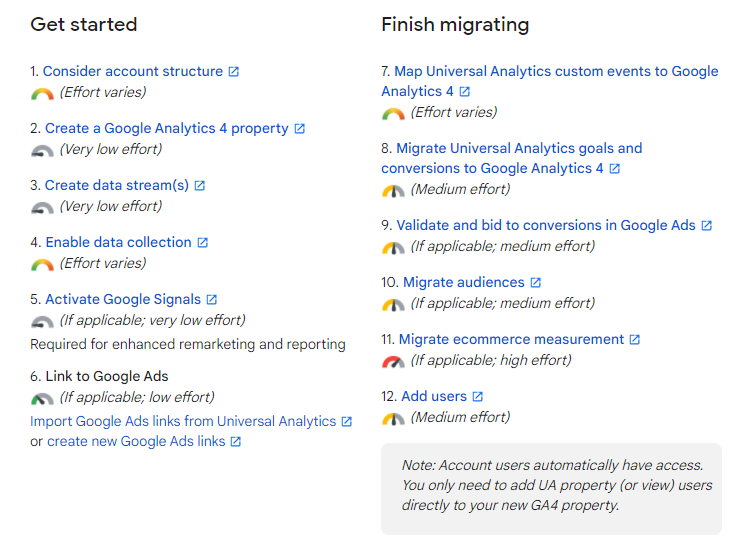 ---
Consider account structure
For many brands using UA, there will be little need to worry about streams, and those brands that do will likely be using GA4 already, nevertheless the first point in the process encourages the user to consider whether they need one or multiple GA4 properties adding to their account.
Generally, a brand operating only one website will need only one property. However, for brands with multiple sites, apps, games etc. the advice is to set up a property per unique entity – so a property for the android version of a game, one for the iOS version and a property for each unique site.
For multi-national companies or those acting as a parent company for multiple brands, the advice is a little more complex in its description, but still fairly intuitive.
Need brands to be separate legal entities? Have multiple accounts.
Need to separate user-bases per brand/site or app? Create a property for each logically distinct entity.
The full article can be found here.
Create a Google Analytics 4 property
Provided you're already using UA, this is a relatively easy step – there is a wizard accessible both from the ever-present announcement banner at the top of your Analytics account, or via the admin section. Either way, you'll be presented with something like the following:
---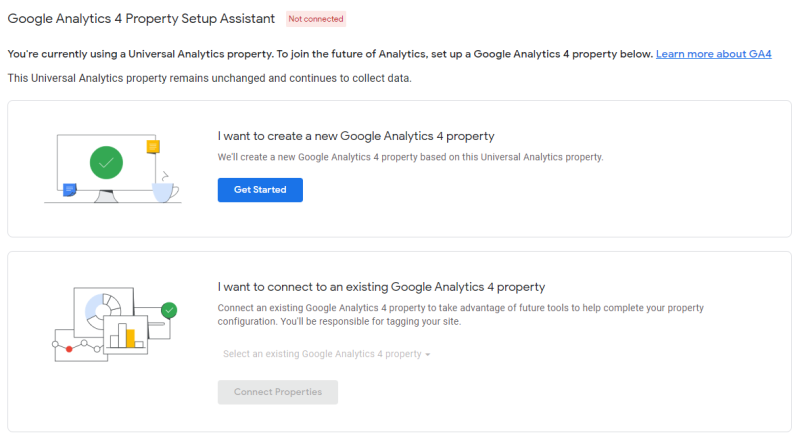 ---
Once you select 'Get Started', you'll be presented with a pop-up that notifies you of what the set-up will and won't do automatically. Effectively, the most important aspect of this will be whether you can use your existing tags, or whether you'll need to create a new one. This will be displayed as a separate notification:
---

---
If you cannot use your existing tags, then you'll need to add a second tag to the site – you'll find this by selecting your new GA4 property in the 'Properties' column of the 'Admin' section, selecting data streams and then expanding the 'Add new on-page tag' option.
---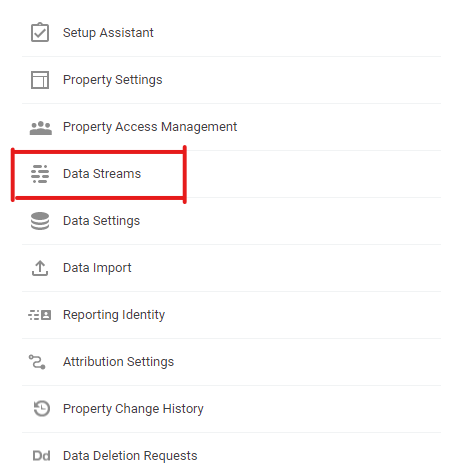 ---
You can then add the code snippet to your site in whichever way you've added the UA snippet – whether that's hard coded, using Google Tag Manager or any other. The following is using the Header Footer Code Manager plugin for WordPress, which is useful for a range of code insertions without having to get your hands too dirty.
---

---
The full article can be found here.
Create data stream(s)
Whether you've followed the wizard or have added the code separately – you can then add further data streams for additional web or app properties in the same 'Data streams' menu in the 'Properties' column of your admin section.
The full article can be found here.
Enable data collection
Provided you've followed one of the previous couple of steps, you'll have already completed this step.
The full article can be found here.
Activate Google Signals
Predominately targeted at improving Google Ad performance, the 'Google Signals' is activated in the Admin section, using the 'property' column, 'Tracking Info' and 'Data Collection', there's then a wizard you can follow by following the on-page prompt.
---
---
Google's highlights for 'Signal' are:
You can show 'Cross Device' remarketing ads to users with 'Ads Personalization' turned on.
See new user-based data in 'Cross Device' reports. New data is only available from the date of activation.
Again, this is mostly for Google Ads users, but there is a demographics and interests report which can feed into organic activity.
The full article can be found here.
Link to Google Ads
Obviously, this is only applicable if you have a pre-existing Google Ads account, but for those that do:
Go to the 'Admin' section.
In the 'Account' column, ensure the correct account is selected.
In the 'Property' column, select the Google Analytics 4 property.
Then click 'Setup Assistant'.
Under 'Linking', go to 'Import existing Google Ads links from your connected Universal Analytics property'.
Select 'Get started'.
In the table, the required Google Ads links.
Choose whether 'Ads Personalization' is turned on or off (it's on by default).
Select 'Import selected Ads links'.
---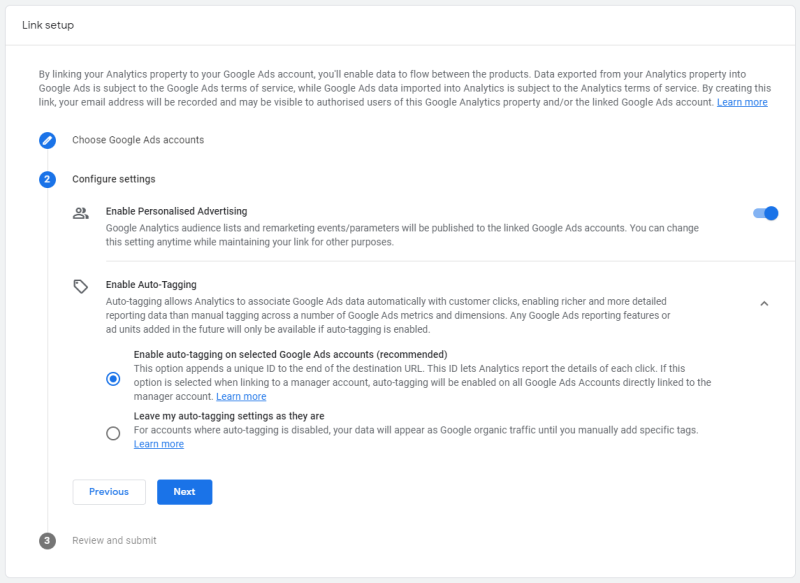 ---
From an SEO perspective, the process is pretty much identical for connecting Google Search Console:
---

---
The full article can be found here.
Map Universal Analytics custom events to Google Analytics 4
As GA4 collects data in a different way to Universal Analytics, events are not exact overlaps and mostly won't transfer across. While UA tracks pageviews and events, GA4 operates in accordance with Google Analytics for Firebase – with event and event-parameters.
This is among the least objectionable changes between the two platforms – though there's a reason it states that the level of effort may vary, if you've been tracking a lot of specific pageviews or event types (like, for example, using a thankyou page trigger to record goal completions when using the common B2B technique of creating gated content), there'll be a fair amount of work going over historical tracking to bring it in-line with the needs of a inferior new platform.
Google states that there are 'multiple benefits' to making the shift:
---
More meaningful data: The Google Analytics 4 schema is more inherently meaningful since each parameter is named according to its specific function (rather than the more generic event dimensions in Universal Analytics).
More flexibility in describing data: With up to 25 parameters (including event_name), you can describe each interaction with greater flexibility.
A single taxonomy: You can use identical tracking taxonomies in your web, Android, and iOS data streams to support meaningful and cohesive cross-platform reporting in Google Analytics 4.
---
The first step (the one after crossing your fingers and hoping it will be fine) is to check the 'existing events' section of GA4 which you can find in 'Configuration', then 'Events'. This will show you a list of events GA4 is already tracking:
---

---
One thing you might notice is that a form submission is not one of the existing events, nor is a destination page (insert old man shouts at cloud gif). This means that if you are, for example, using the common B2B technique of creating gated content, you have a bit of work to do – though, realistically, the 'file_download' event will have the file name appended automatically, so you can potentially do that (unless you happen to have several types of downloadable file which you would prefer to measure in different ways). There is, in fairness, also a dedicated article for destination goal migrations.
The article that deals with this part of the process is fairly comprehensive, but it will be frustrating for brands that have been used to dealing with the UA 'goals' paradigm and have developed – as many will have done over time – several different ways of using these goal types in reporting.
The full article can be found here.
Migrate Universal Analytics goals and conversions to Google Analytics 4
Dealing primarily with eCommerce transactions and events, this section (although I think it's optimistically given a 'medium effort' ranking) may not be as complex for most eCommerce brands as many of the standard event types you'd want to track will be tracked automatically and, in all honesty, the ability to customise these events may be where GA4 comes into its own.
---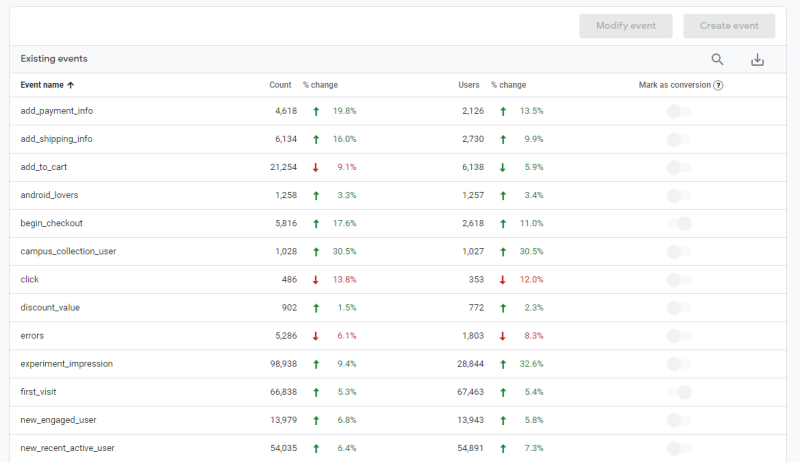 ---
Although many of the benefits are (as you may expect if you've read this far) are in the impact it will have on improving Ad performance, there is a high degree of customisation possible (up to 25 parameters) which can help to build a picture of general site and content performance for wider business use.
The full article on this is well worth a read for eCommerce brands as it presents an opportunity to take advantage of one of the few benefits of moving to GA4.
The full article can be found here.
Validate and bid to conversions in Google Ads
For brands bidding on specific UA goal conversions, this is another Google Ads focused point and provides a brief overview of the process of connecting your Google Ads account to GA4. However, the main thing you may be looking for in this regard is replicating those goals in GA4. This can be found separately here – and offers (as with the destination goals article linked to previously) links to articles on:
Goals from multiple views
Destination goals
Event goals
Engagement goals
One thing to note here is the note of caution in the main article – warning you to try and ensure you're migrating all of your events in a single session to avoid gaps. That's going to be quite a day.
---

---
The full article can be found here.
Migrate audiences
Another Ads related step, this gives a little information on how GA4 relates to target audiences for ad groups. It will honestly depend on how many campaigns and ad groups your using targeting for, but it's relatively simple – achieved by simply adding the GA4 audiences to your ad campaign/group in the 'Audience' section and selecting appropriate GA4 audiences in addition to your UA audiences.
The full article can be found here.
Migrate eCommerce measurement
I touched on this in the migrating goals section – which may be why they went with medium effort for that and 'high effort' for this one (look, I'm not going back and changing it – I've spent long enough writing this already, and you want me to edit?). As stated previously, however, while this is likely to be the biggest wrench in migrating to GA4, it's also going to represent one of the main benefits – allowing you to gather even more granular data on how consumers are interacting with your site.
The full article can be found here.
Add users
I think this one may have been added to make it an even twelve, but it's just a case of updating the property access to match that of your UA account. Still – it's a nice easy one to finish:
Go to your 'Admin' section for the GA4 property.
In either 'Account' or 'Property' (depending on the level of access you're providing), click 'Access Management'.
In the Account/Properties permissions list click the plus symbol, then 'Add users'.
Add the new user's email.
Select 'Notify new users by email'.
Select the permissions you want to provide.
Click Add.
The full article can be found here.
GA4 vs Universal Analytics
While I and many others in the industry see GA4 (in its present incarnation) as a step down, there's little point in grumbling, and every reason to believe that shuttering UA will lead to a fairly rapid improvement in GA4. However, even in its present state, there are positives to using GA4 even in its current form.
One of the best features is, at least for larger sites, the amount of and treatment of data in GA4. Sampling, for example, is a problem that many search marketers will be familiar with – it can throw off reporting and, as a result, can lead to increased difficulty in interpreting your data and drawing the right conclusions.
---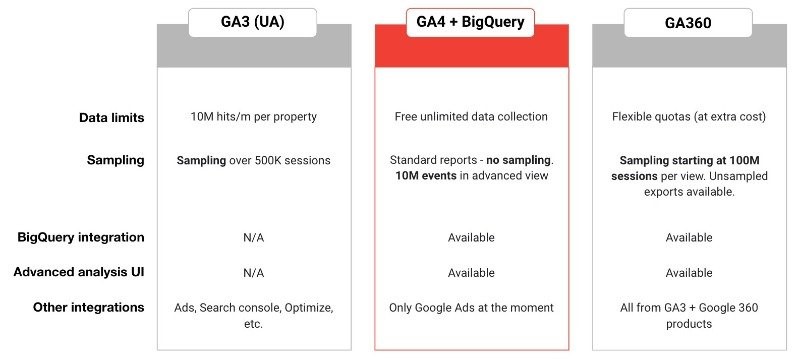 ---
Then there's the ease of data manipulation and machine learning driven insights – the first of which can be difficult in UA and the second completely absent.
---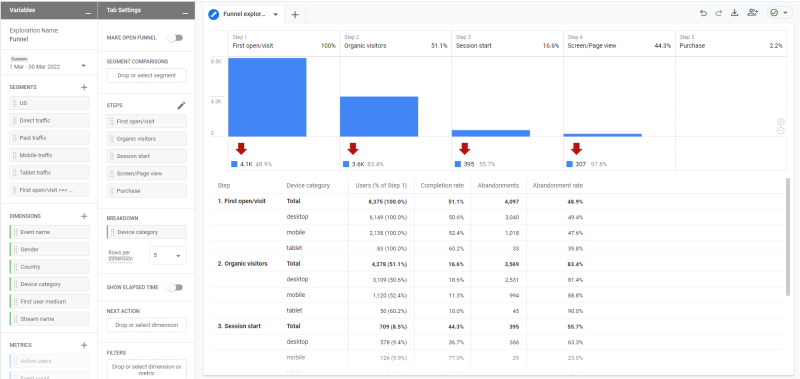 ---
Funnel report
Take the funnel reports – present on both platforms, only customisable using GA4 (accessible as one of the three default chart types when selecting explore from the left-hand menu). In GA4, you can set out the specific set of steps that you want to focus on, a length of time between actions and properly investigate known consumer journeys as well as building audience segments from steps in that journey.
---
---
For example, you could track the viewing of a product, addition of the product to the basket, then the purchase and, simply by right-clicking, you can create audience segments from those users that took any step (as well as the opposite – segments from those that didn't). There is a huge amount of additional data manipulation and exploration possible here that should allow you to gather real insights into consumer behaviour that either were not possible with UA or would have taken a huge amount of time.
---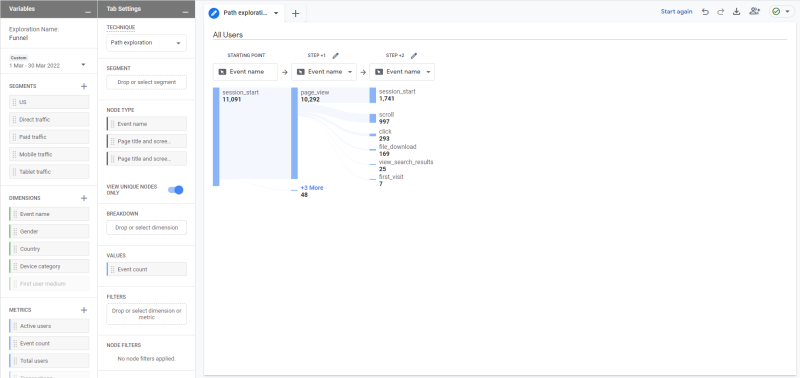 ---
Path report
The path report is another one common to both UA and GA4 which has been vastly improved for the new platform. In addition to checking out the most common path through your site, you can explore user journeys to a specific conclusion by using a reverse path (select start again in the top right and you'll see the option). By selecting the page(s) that you consider to be a 'goal' or destination page important to your business, you can see where the majority of users went prior to that important page. If you're tracking error pages, you can use it to diagnose broken links; if you use Google Ads, you can segment to show only that traffic and check out your paid user journeys.
Again, there is a lot that can be done with this that wasn't an option with UA. Whether that's worth seeing the last of some reliable old favourites like your landing page report, I'm not so sure, but I hope to be convinced.
The good, the bad and the ugly
Seeing as UA already has an expiry date, there's only one winner in the competition. Brands will need to move to GA4 or find another suitable analytics platform, but there are positives. GA4 is absolutely a better data visualisation platform, it's better at data manipulation, but at the moment there is a massive gap between what you can see in GA4 versus what you were able to see in UA.
Colleagues operating with Google Ads will notice a familiar transition here – there is a much greater emphasis on machine learning and algorithmic 'insight' and less data to work with more generally for the human user. While I wouldn't suggest I'm better able to make judgements based on huge datasets, the lack of visibility is a definite negative versus UA and a strong argument for use of GA4 in conjunction with BigQuery as the best way to make the transition from UA.
Search Strategy Director, Mark McGonigle Gives His Thoughts on GA4
---
---
Final thoughts
GA4 is going to take a bit of getting used to – even the most ardent fans of the platform will admit that it's an incomplete product, but even in its current state it shows a lot of promise and, hopefully, there'll be a lot of improvement to come between now and the moment that UA stops collecting data.
---
There'll be more content on GA4 – covering various reports and aspects of the platform – in the coming months, in addition to our standard output of actionable search and digital marketing content. Sign up to our mailing list to keep on top of the latest news and views, or contact us to see what our experts can do for your brand.