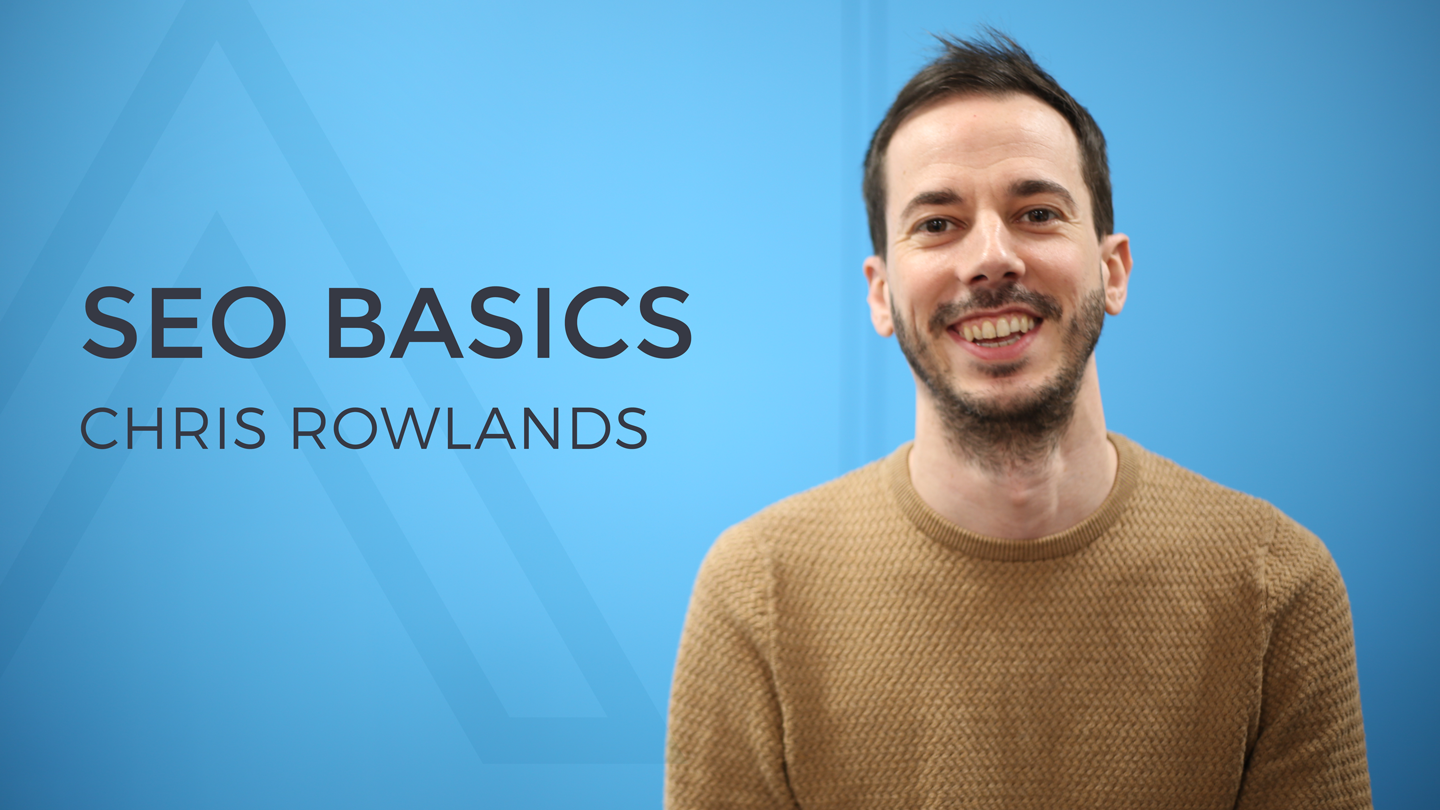 SEO basics [on.click VLOG]
Apr 18th, 2017
Here's a quick rundown of some of the key areas of SEO that you should be focusing on as a part of your core marketing strategy – read the blog or watch my vlog!
---
The three pillars of SEO
There are three core elements which should form the basis of any SEO strategy and these are:
Technical SEO
Technical SEO has become much more important over the last few years and, here at Click Consult, we approach it with a highly detailed technical audit to ensure we cover each and every area that could have an impact on organic search rankings.
That could be something small like checking a mobile viewport is set up correctly, to bigger items like reviewing the redirects that are in place for a website to ensure there are no glaring errors.
All of these issues have the ability to affect your organic search rankings, some more than others. One example of an easy mistake which will cost you dearly is leaving a "noindex" meta robots tag in your code after rolling out a new version of a key product page. A simple check here can save you from your page dropping out of the index once Google re-crawls it.
---
Bring your technical on-page optimisation skills up to speed with this comprehensive guide.
---
Content
This is an area of crucial importance when taking the Panda algorithm into consideration, especially now that this is part of Google's core algorithm. Content and the key areas of consideration crop up in a number of our audits.
Of key importance here is making sure that content isn't thin or duplicated, is written with the user in mind and is optimised for your primary target keywords, without overdoing it on the latter.
You should also ensure that the most important page specific content is accessible to Google when it crawls the site so they can give it the weight it deserves.
Link building
Links remain an important part of your overall SEO strategy as this is still a key indicator to Google of the recommendations your site is receiving. You will also receive trust, relevancy and authority from the links that you are building, which all contribute to your organic search keyword rankings.
It is crucial (as always) that your link profile remains natural with a good balance of primarily brand anchors, noise anchors and a small amount of keyword plus brand (hybrid anchors), followed by up to 5% for exact match keyword anchors as a general rule.
You should seek to get a good spread of links from TLDs (Top Level Domains) relevant to the country your brand operates in, with a variety of Domain Authority scores between 20 – 50.
You can achieve links from domains with a DA score of between 50 – 70+ by putting in place a solid brand PR strategy.
---
Learn how to conduct regular link audits to maintain a healthy backlink profile and avoid potential penalties.
---
Areas of future focus
I'd like to run through a couple of key, up and coming areas that you should investigate further over the next few months.
Mobile-first indexing
With the imminent switch to a mobile-first index by Google, it is crucial that your site offers a mobile solution, preferably responsive, but following a user agent based approach is also an acceptable strategy.
You should check that your Google PageSpeed Insight scores are as high as possible for mobile. Typical fixes in this area will include enabling compression for your website (via Gzip), optimizing images, leveraging browser caching and removing render blocking JavaScript and CSS from your homepage and key product pages.
Content should be accessible at mobile resolutions and your meta titles and descriptions should not change from one device to another, as can sometimes be the case when serving separate versions of the page for different devices.
Utilising the mobile usability report in Google search console and the Google mobile-friendly tool will give you additional suggestions for improvements you may not have considered and stand you in good stead for the switchover.
---
If you're not optimising for mobile, you need to make it part of your online strategy today. This handy cheat sheet will show you the basics.
---
Log file analysis
This is a tool an increasing number of companies are adding to their arsenal. It can help you see where crawler budget is being wasted, but unless your site consists of tens of thousands of URL's you shouldn't need to worry about that.
Where it can add real value is in terms of seeing which key product and category pages on your site aren't being crawled enough, identifying orphan pages you may not be aware of, identifying 404 errors you may not have found in Google analytics or via crawling your website, and revealing a host of other technical issues your general toolbox may not have uncovered.
The process of reviewing your server log files can be arduous, so we recommend utilising a tool such as that offered by Screaming Frog. This will take most of the legwork out of the process and leave you with the dataset to analyse in a user-friendly manner.
---
Our skilled team of search marketing experts apply their expertise, fresh thinking methods, results-driven mentality and industry leading in-house technologies to your organic SEO strategy. Find out how you get a complementary SEO review to help you cut through the noise of your competitors and make your brand stand out from the crowd.