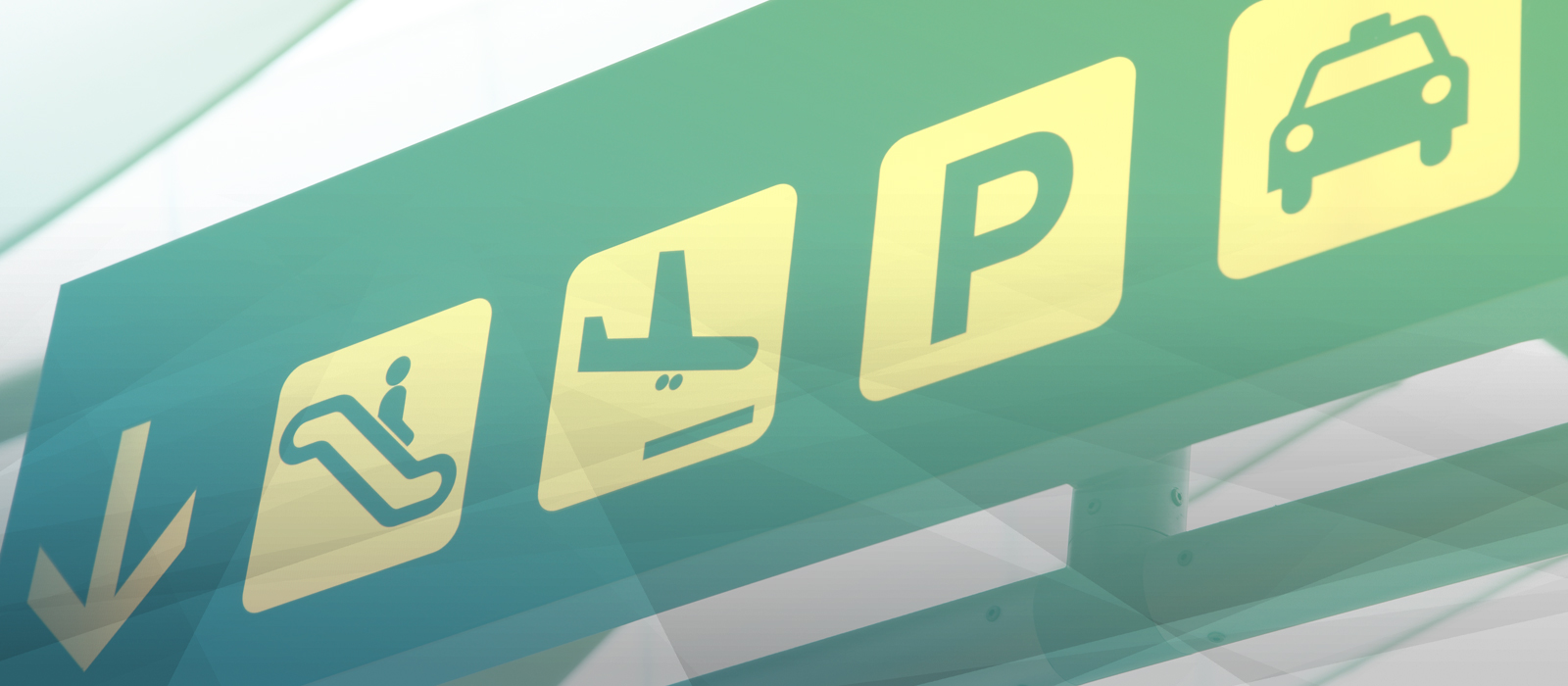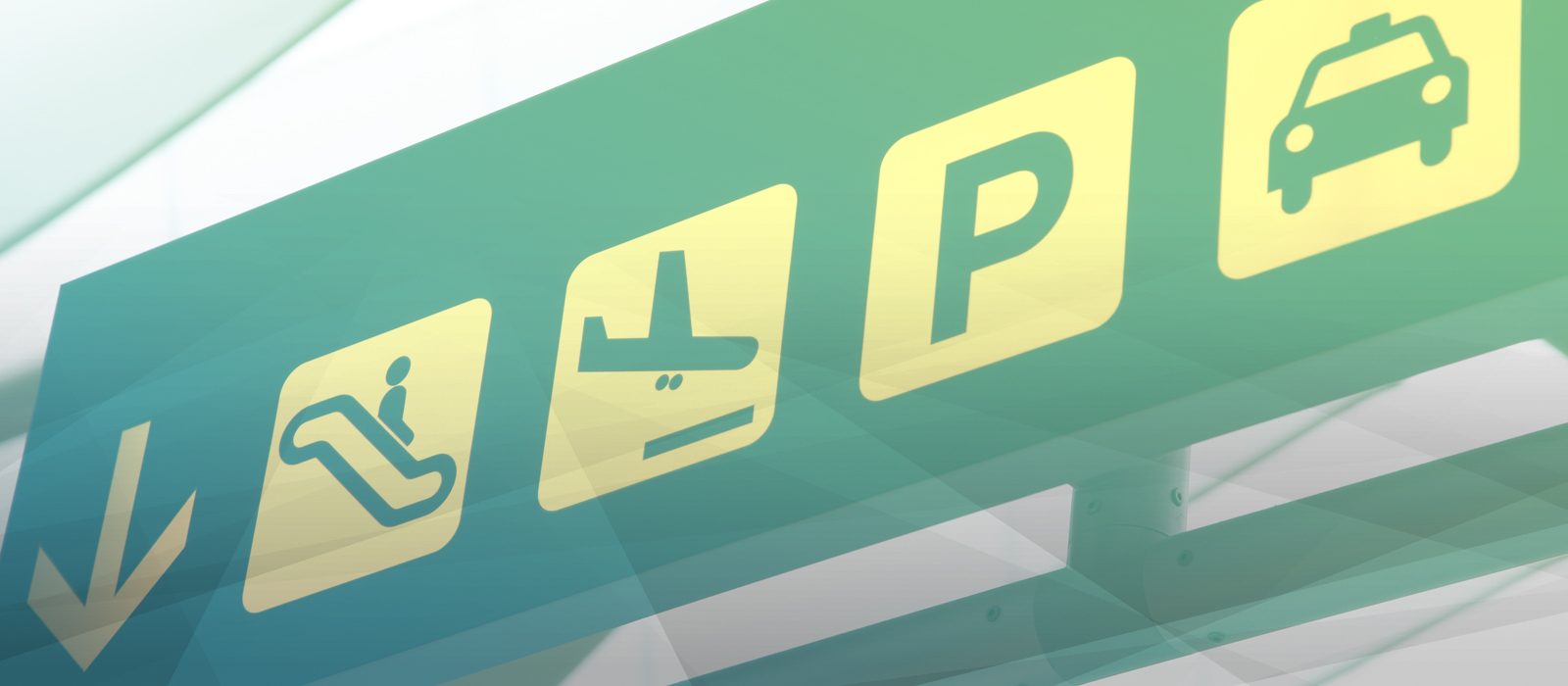 The sky's the limit: how airport parking sites compare in the SERPs
Feb 4th, 2015
The airport parking industry is an important one for holiday goers who choose to use their own vehicle as transport to the airport. Safe, secure parking for the duration of their trip is something to take seriously if you want to come back to your pride and joy in the same state you left it. We've taken 5 airport parking websites and analysed them to see where they fall down on their search engine visibility
---
Who are we testing?
The websites coming under our microscope are:
– www.airparks.co.uk
– www.aph.com
– www.purpleparking.com
– www.parkbcp.co.uk  
– www.airport-parking.uk.com
---
Search visibility & penalty analysis
The search visibility for all of the sites is relatively good. Using Search Metrics, we can see that they all have a search visibility of over 7000, all except for one: airport-parking.uk.com.
Airport-parking.uk.com has a search visibility rating of 0 because they have disallowed the website from being indexed with the robots.txt, and they have put in a NOINDEX tag:


Both of these will prevent a page being indexed, and is commonly a rookie mistake left in from the development of the website on a test area which was then forgotten when the site was put live. However this form of blocking is usually restricted to the robots.txt only and not multiple methods, so this looks like it's a deliberate approach to preventing the site being indexed. To what end we can't be sure, but it does mean that it will never appear in the search results.
Further investigation into the search visibility reveals that some sites have been hit with Panda and Penguin penalties. You can usually tell when there are penalties and recoveries with sharp drops or boosts in search visibility around the time there is an update to the algorithms.
Airparks.co.uk
Airparks.co.uk appears to have suffered from Panda in the past, which you can see through their low visibility up until the point that they recovered in May 2014 with the Panda 4.0 update.

Purpleparking.com

It's a little harder to see, but Purpleparking.com does appear to have suffered a duo of penalties from Penguin and Panda. They're still under penalty at the moment, which means they will require a content rewrite, backlink profile analysis and cleaning though a removal process, then to build up new higher quality links.
Parkbcp.co.uk

Like Airparks.co.uk, Parkpcb.co.uk has also recovered from the Panda 4.0 penalty. This indicates that they've either changed the content on the site to comply with the rules set out by the Panda algorithm, or the rules of Panda were changed so that they no longer violate them. Either way, the recovery has had a positive impact on their search visibility. They will now be seen in more searches and higher up the results.
---
Backlink profile & risk of a Penguin penalty
We've analysed the backlink profile of each site, with links sorted into one of three categories: high risk, medium risk and low risk.
Each site, with the exception of airport-parking.uk.com (which had only 5 links, all of which were high risk), have a similar number of low risk links. These are the links we consider high in quality and value to the website, and do not pose a risk of penalisation.
The medium links vary from site to site, again with airport-parking.uk.com the exception. Medium risk links get into the realms of being dangerous for the site if picked up and seen in the wrong context by the search engines. These links are generally from sites that they themselves have bad links to them. They might be part of a link network or have other bad traits about them.
High risk links are considered dangerous to the health of the profile. These are typically known as being part of link networks, have penalties applied against them, are spammy or otherwise have generally bad traits. These are links you don't want to have and we would always recommend that they be removed.
Unfortunately, every backlink profile is going to have a mixture of all 3 link risk types; it's just the way natural links form. What matters is the ratio of good to bad sites. The higher the proportion of medium and high risk links to low risk links you have, the more at risk your site becomes to the Penguin algorithm.
---
It's impossible to be certain about the risk of getting a penalty based on just one metric, but it provides a useful insight into where to begin solving or avoiding a loss of organic search visibility
---
Purpleparking.com has been hit by Penguin back in May 2013 and this is reflected with the number of high risk links in their profile, as well as the drop in search visibility shown earlier.
Airparks.co.uk was hit by Panda, not Penguin; however, looking at their ratio of high risk links, they're at risk of a Penguin penalty if they don't take action against these high risk links soon.
Parkbcp.co.uk recovered from their Panda penalty and their backlink profile does not appear represent a high risk of getting a Penguin penalty at the moment, though they do need to take a look at the quality of the links they are receiving. Out of all the sites, they have the highest medium link risk ratio.
It should be noted that it's impossible to be certain about the risk of getting a penalty based on just one metric, but it provides a useful insight into where to begin solving or avoiding a loss of organic search visibility.
To learn more about how to build great links, download our eBook, Build Clean, Build Organic. Alternatively, Link Auditing, Removal & Recovery explains what to do if you need to clean up your backlink profile.
---
Anchor text
When link building through SEO, one of the most common issues we find is bad distribution of anchor text when placing links. Often the focus is on a single keyword which ultimately leads to over-optimisation. In reality there needs to be a mix of anchor texts including brand, keyword and generic.
All of the websites analysed here except for purpleparking.com have horribly over-optimised anchor text.
•    Airparks.co.uk: 94% of anchor text is "airparks official web site".
•    Aph.com: 59% of anchors have no text.
•    Parkbcp.co.uk: 68% of anchor text is "airport parking".
•    Airport-parking.uk.com: 93% of anchor text is "parking doncaster lotnisko".
Over-optimisation of anchor text can lead to an algorithmic penalty where the value of some links are diminished. This then leads to a reduction in visibility.
Rather than sticking to a single keyword or phrase for anchor text, it should be varied. For example, you could use some of the following:
•    Airport Car Parking
•    Liverpool Airport Parking
•    Airport Parking in Manchester
•    etc…
---
Content & Panda
Three of the sites we have analysed have suffered or still suffer from being hit by the Panda algorithm. In simple terms, Panda targets low quality content and attempts to penalise sites that make little effort to provide valuable and useful content to users.
Airparks.co.uk and parkbcp.co.uk both recovered from Panda in May 2014 during the Panda 4.0 (#26) update. Using archive.org, we can check to see if action was taken to amend the sites prior to this update or if they were lucky enough to recover as a result of the changes to the algorithm
When comparing several dates for airparks.co.uk and parkbcp.co.uk, before and after the Panda update, no content appears to have changed so we could put this down to a lucky update which allowed them to recover.
Purpleparking.com is a different issue completely. They still have a Panda penalty in place since the update in May. We can see just by looking at the airport news articles that the content is very thin, and also uses repetitive internal linking, for example, there are links to the same page using the same anchor text 2 or more times in many of the articles.
When checking for duplicate content, which Panda penalises, we find that many of the pages on purpleparking.com contain content that is used on other websites, a lot of it coming from duplication of the About Us section.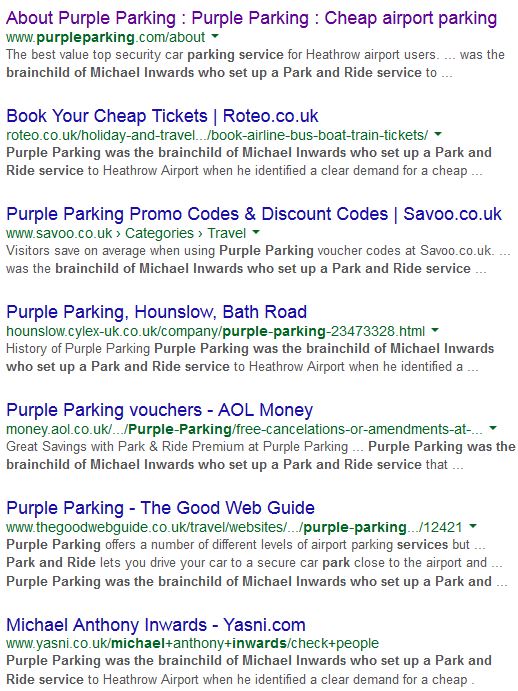 We don't know which of the sites is the original source, but this doesn't matter to Google. One of the sites needs to remove or re-write the duplicate content on each of the affected pages for the problem to be resolved.
On top of external duplicate content, there is also some duplicate content internally. The text inside the Parking Services box, for example, is largely repeated on each airport page with just a couple of tweaks.
The solution to all of these content issues is simple: rewrite the content so that it is unique on each page. Make sure it is useful, good quality and not thinly written.
You can find out more about optimising your website content by downloading our Simple Guide to Organic Search eBook.
---
Summary
To conclude, each of these sites has their own issues that need to be resolved regardless of whether or not they currently have a penalty. The backlink profile of each site needs attention to avoid future penalties and also to improve their current ranking and visibility. Content needs rewriting in some cases to remove duplication and improve thinness and quality.