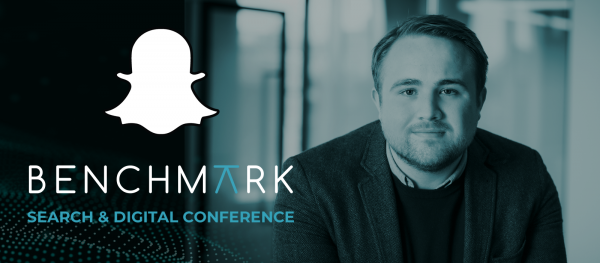 Snapchat announces keynote speaker for Benchmark 2019
Jul 4th, 2019
Benchmark, the North of England's number one conference for in-house search marketers, is returning on the 11th September for its fifth year, and do we have some news for you!
---
This year we are pleased to announce that our keynote speaker is none other than Sam Bevan, International Head of Emerging at Snap Inc.
Sam's talk – Achieving business success on Snapchat- will cover some of the developments they have seen in the industry and will look at how businesses can work in both emerging markets and with new technologies.
Sam explains how businesses of all sizes can meet their advertising goals on Snapchat. He will encourage this year's audience to learn more about the platform, audience, and ad products that make Snapchat a unique and effective place to grow a business.
In his time with the company Sam has seen Snapchat develop numerous tools that enable marketers to grow and communicate with their consumers in an effective way on the platform.
He will use his time on stage to show how to work across the continuously evolving and interconnected set of tools they produce, all of which share a common foundation for generating app installs, increasing revenue and exceeding customers' expectations.
His session will pull on examples of different businesses of all shapes and sizes currently working with the platform.
About Sam
Sam joined Snap Inc. as the founding member of Snapchat's Emerging International team in October 2016. Prior to joining Snap, Sam worked with SMB clients at both Google and Facebook. Sam brings a wealth of expertise in the digital advertising landscape and can advise on the strategies that can drive success across all verticals, for businesses of all sizes. As Snapchat's Emerging International Lead, Sam can also help businesses in the region navigate new platforms and exceed their performance goals.
So whether you're new to search, or an established professional, Benchmark will help to prepare you for the future of search and will offer you insights from some of the world's largest digital service providers.
This year's conference promises to be the biggest and best yet, thanks in part to sponsors like OnCrawl and Ahrefs – we'd love for you to join us! Apply for your place at Benchmark 2019 today!
---
Check out previous conferences here, or contact us today to see what Click Consult can do for your brand!