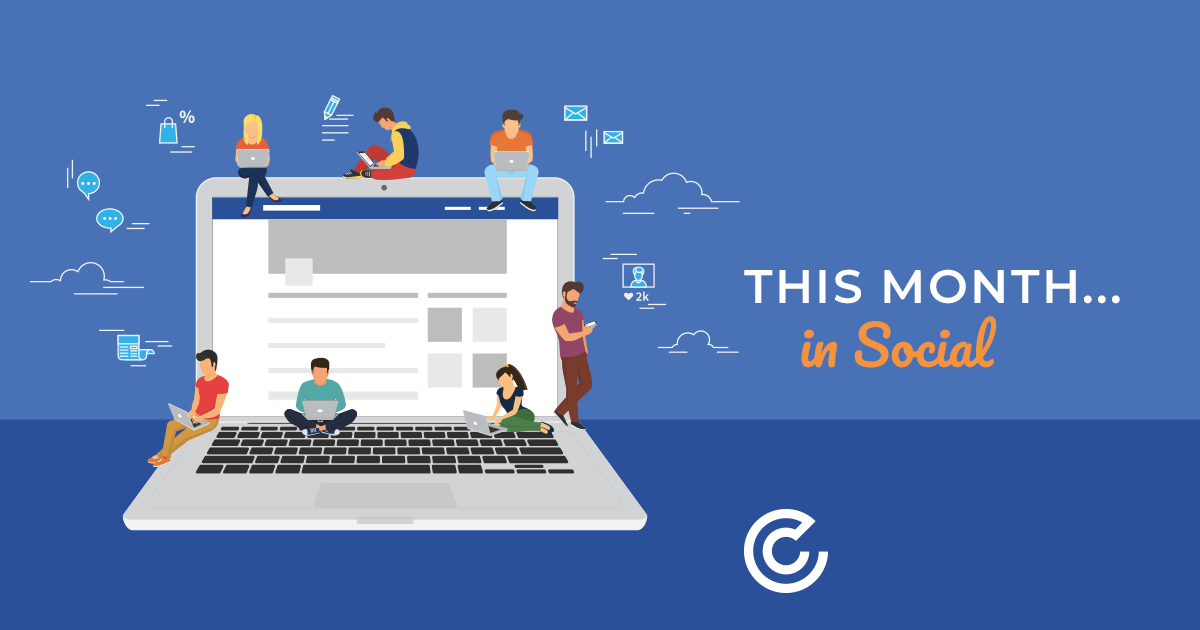 This month in social media (February)
Feb 26th, 2019
February was the month in which the world's most famous egg hatched, urging social media users to talk about pressures, Instagram follower numbers were all over the place and Google+ announced its retirement date. Amongst all this though, there has been a variety of updates that will affect both businesses and consumers in the social media industry. We take a look at these below…
---
Instagram is testing new features
It seems like every month we write this blog, Instagram seems to be the forefront of new features and tests to improve user interactivity, throughout the Stories function, timelines and direct messaging, and February is no different.
It has been revealed that Instagram is working on another sticker to include in Stories, this time a 'donation' button, which will allow users to collect funds for non-profits using the creative functions Stories allows you to utilise. Facebook's own donate buttons have helped raise over £1billion since its launch, so this is a great step to bring it to Instagram too.
So, what else is Instagram testing? Well, it could be the end of Instagram focusing on the mobile-only approach, with internal tests looking to launch Direct Messages for the web. Messaging is one of the top engagement factors for social media apps, and following the success of Facebook Messenger on desktop, it's turning to Instagram desktop for the next step. This could be part of Facebook's ambitions to regroup all of its messaging platforms.
Live video has arrived on LinkedIn
LinkedIn is really focusing on its video efforts lately, trying to keep up with the functions other social channels have already brought in with success. The next launch for LinkedIn is its first live video streaming feature, which has recently been launched to a select few invitees to test out, and is opening up an application process for those who want to test it on the professional network.
Similar to the functions on Periscope, Facebook Live and Instagram Live, users will be able to broadcast live to their followers who are able to interact with the stream by commenting as it goes on, being visible to everyone who is viewing it. This will be a great function on the channel, and it is likely business professionals will use it to stream webinars, conferences, product announcements and business-related Q&As. Keep an eye out on this one as it gets rolled out to more users.
More new Group features for Facebook admins
It seems Facebook has added even more features to its Groups to help admins build better communities on the social channel. One of these new features is the ability for admins to create better-structured posts using a variety of formatting tools, such as larger text, bullet pointed lists and block quotes, which is a great way to showcase any new news to the group or add group rules to pin to the top of the page.
Another feature is the ability for admins to create paid group subscriptions, which allows groups to charge users for joining the group as a monthly subscription, and to offer free trials to those wanting to test it out and see if it's worth joining.
Finally, Facebook has launched a pilot program that allows groups and brands to collaborate with sponsored posts featured right inside the group. All of these features show that Groups have become an important part of the Facebook experience, and it is no surprise they are testing new features and investing time into making these places better for communities.
---
Into social media marketing? We're into helping you do it better. Get your hands on one of of our most popular downloadable resources from recent weeks: Is Your Social Media Driving Engagement and Conversions – Cheat Sheet!