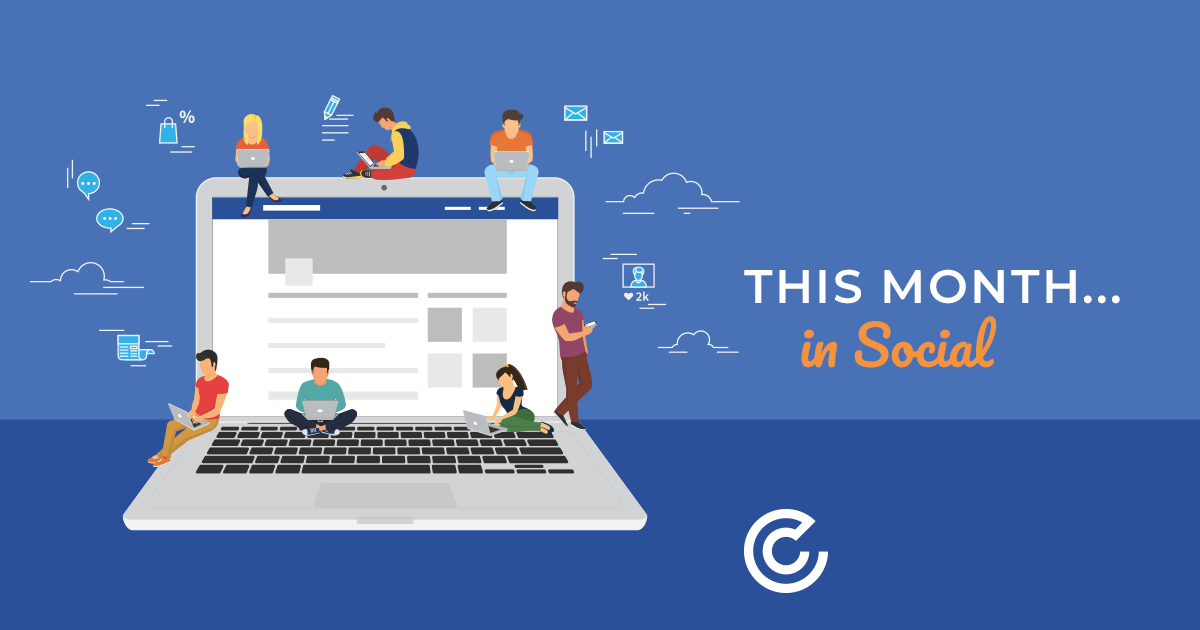 This month in social media – January 2018
Jan 25th, 2018
The New Year brings with it some major new updates and changes to social channels, meaning amends are needed to businesses' social strategy. Each month, we take a look at these updates and the social marketing trends we believe are beneficial for your business
---
Facebook's timeline announcement
In January, Facebook caused a stir by announcing a major update to what users see on their newsfeed. Although slowly being implemented, it has announced that it's going to switch its focus from public and 'generic' content, to engagement from your friends and family being seen the most on your timeline.
So what does this mean for marketers? Well first, it's not all doom and gloom for your Facebook strategy. Facebook's Vice President of News Feed, Adam Mosseri, recently stated that the prime focus isn't to demote public content, but to showcase high quality content with meaningful interactions from friends and family. If a piece of content you put out for your business is well thought out and of important relevance and interest to your target audience and their personal communities then it will still be seen. This will mean it's time to think outside the box and come up with bespoke, interesting posts to gain a positive reaction. This means avoiding engagement bait such as 'tag your friend' or 'share if you agree'. When the changes start to come in, it's time as a marketer to analyse what is working and what isn't and build upon this.
Secondly, you shouldn't rely on winning at Facebook alone for your social media strategy, with the algorithm able to change at any point. Diversify your strategy and open up to the different audiences and demographics that can be found on various social channels. Each channel has a different audience, so differentiating the content on each channel can work wonders for your business. Snapchat, for example, has a majority audience of 18 to 24, compared to Twitter's growing audience demographic of 23 to 37 year olds, so different content on each platform will gain different engagement results for your business.
The rise of Instagram stories
Instagram stories are becoming just as important, if not more, than your regular Instagram posts. In January, Instagram introduced the option to highlight certain stories on your profile at the top of the page, meaning they can now have a longer lifespan than the original 24 hours and can be rewatched by users wanting to know more about certain products and news your business has to offer.
The best way to implement this new update into your Instagram strategy as a business is to use Instagram stories in a professional, well thought out way. The creation of branded video and image assets, with the correct dimensions on stories can make all the difference to your brand. If you're lucky enough to have over 10,000 followers on your page, you are able to add a hyperlink to your story as a 'swipe up' option to go straight to your website, or any site you want to link to.
As an example of this, a fashion business can create a 'lookbook' of new products on their Instagram story with the call to action 'swipe up to shop now' and showcase this story at the top of their page titled 'Autumn Winter collection on sale now', meaning a more direct approach to shopping for a user. Previously, Instagram only allowed one link in the bio of an Instagram page, but this new update means you can have various stories with links to various products all featured at the top of your page. Marketers can now be creative with how they showcase products on Instagram with stories allowing the option to have image, video and they've recently introduced GIFs!
Twitter improves its image crop feature
Twitter has been cropping images for some time now to improve display consistency when sharing images of various dimensions. It has been using face detection to focus on key elements on an image, but it's not always worked out well for businesses, with parts of images not being seen, meaning marketer's have to test out images on hidden profiles before making it public.
Well now Twitter has realised this and is improving this function, which will make all the difference for users viewing your businesses' content. No more text being cut off, or a vital part of the image, such as a face, not being seen without clicking further in to the image. The new feature will focus on salient regions of the image to ensure cropping is effective for both Twitter's display and the marketer's post.
---
Keep abreast of the latest social media, SEO, PPC and content marketing stories by signing up to our newsletter at the top left hand side of this page, or contact us today to discuss how to to enhance your online marketing strategy.