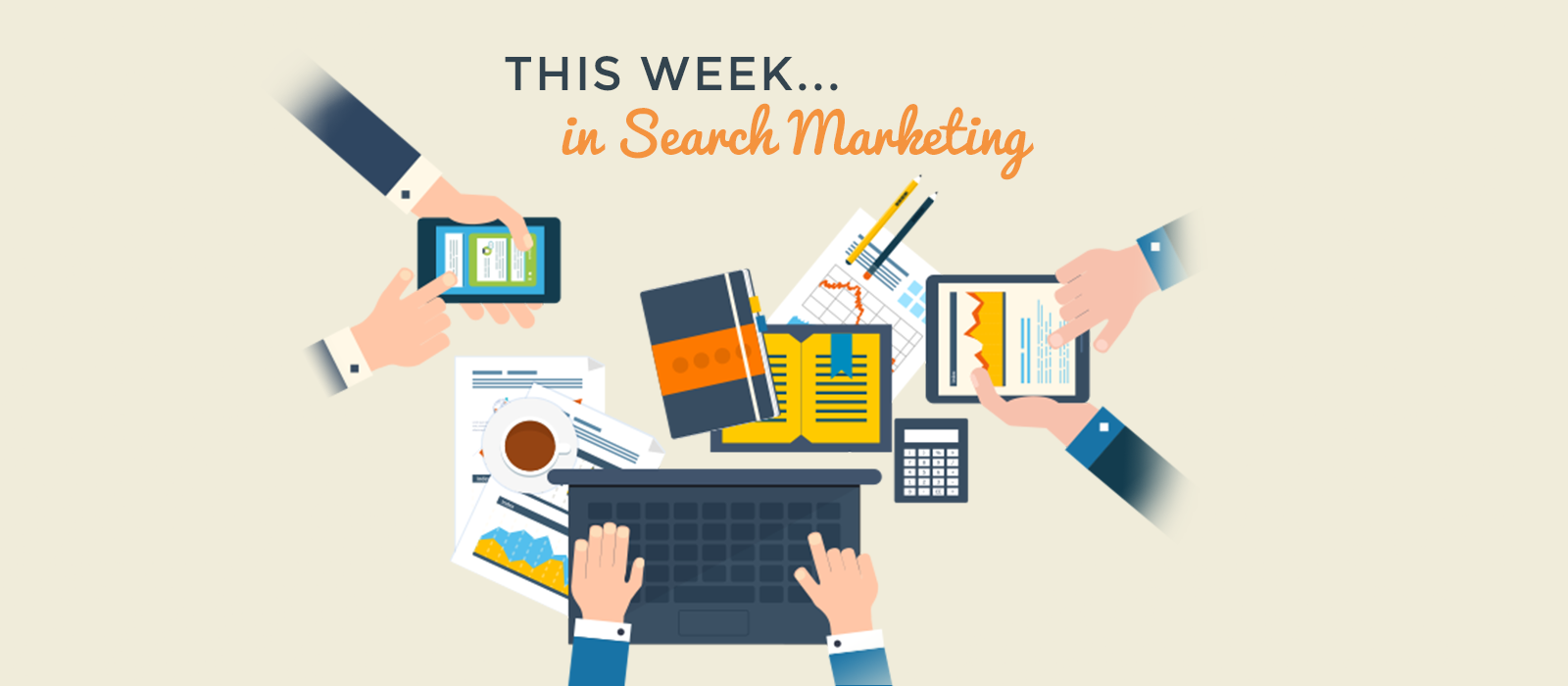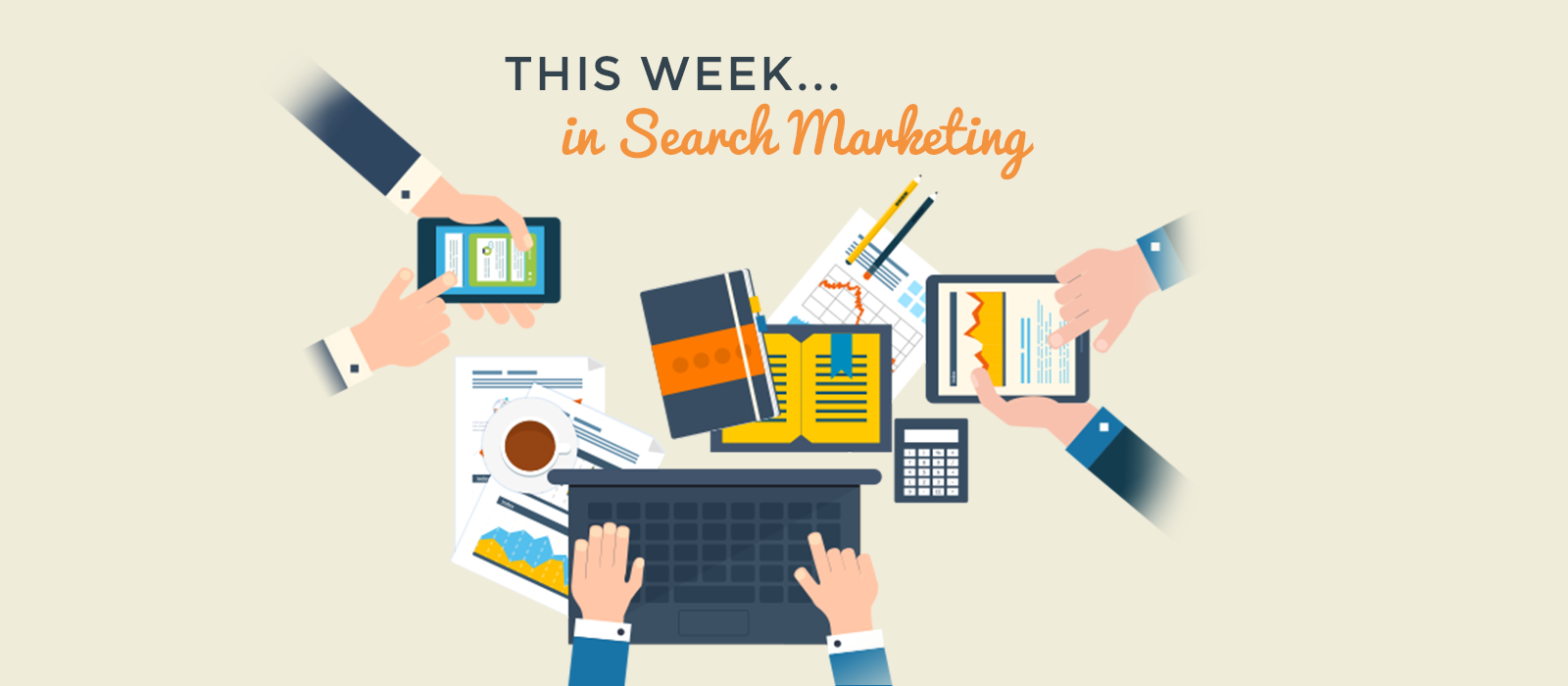 This week in search marketing [07/01/2019]
Jan 8th, 2019
Having just completed the annual compilation of last year's news articles (you can find the 30,000 words that make up the important stuff from the year here), I can say without doubt: we read a lot of news. We also probably overlooked the development of Bing last year – but with a news-cycle so full of Google and Facebook scandal, they proceeded to develop quietly in the background – it'll be interesting to see what happens this year
---
Friday
Google's internal SEO strategy
There's a review of the information shared by Googler Sean O'Keefe over at Search Engine Land which details the numerous bits and pieces of information that make up Google's own approach to SEO. With much of the advice regarding getting the basics right, it would seem that Google suffers from the same issues as any other company – getting the foundations in place is tough and takes time (even though the changes themselves may not be overly complex), especially when you consider it wasn't long ago that it was being pointed out how badly some Google services ranked.
Thursday
Instagram
A new feature will allow people to posts across multiple profiles according to Marketing Land article posted late yesterday. Marketing Land, who seem to be the only ones working this week, offer a convincing summation in their 'why you should care' section, stating that for marketers on the go it may be useful just for the speed of posting over accessing their social media management tools.
Wednesday
Reddit
Expect more ads to hit Reddit soon – Marketing Land feature an article on the 'front page of the internet's new Vice President of Ad Products. The power of Reddit's audience cannot be underestimated and, while it introduced a host of ad options last year along with the site redesign, the addition of former Twitter Director and one time Googler Rizvi should make paid search specialists sit up and take notice.
Google Assistant
Search Engine Land's post on Google Assistant theorises that the business model for the platform may be transactional more than advertising based. While I imagine advertising will play a part (they're unlikely to ignore a revenue stream), the article's 'why you should care' summary reflects the position we've been taking here at Click for some time.
Monday/Tuesday
Because I was trying to organise last year's news, I'm a little late this week – though a lot of the content coming out is retrospective, there are some good articles live and, now, you can find them all below.
Google starts as it means to go on
In weekly 'something happened' news, there was some volatility across most of the major tools over the weekend. Search Engine Roundtable has a roundup of various sources – though, from what I can see it appears to be part of the ebb and flow of recent changes, with no clearly identifiable target industry. As such, I imagine another algorithm adjustment rather than a more widely impacting update.
New rich results test
Search Engine Land are running a blog which features the new 'Rich Results test' from Google. It does say it's not covering all types of rich result… but it didn't do overly well on my first test…
---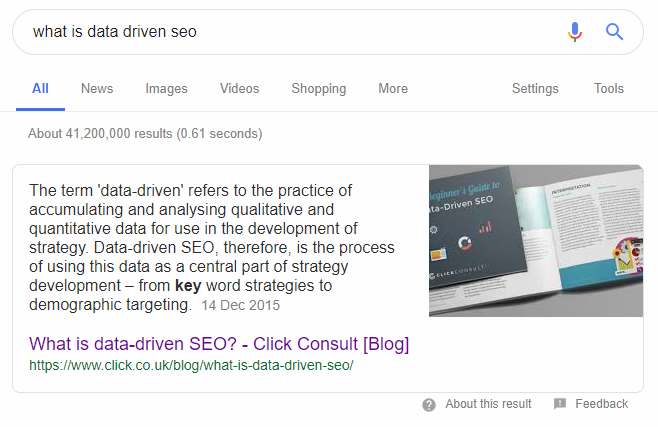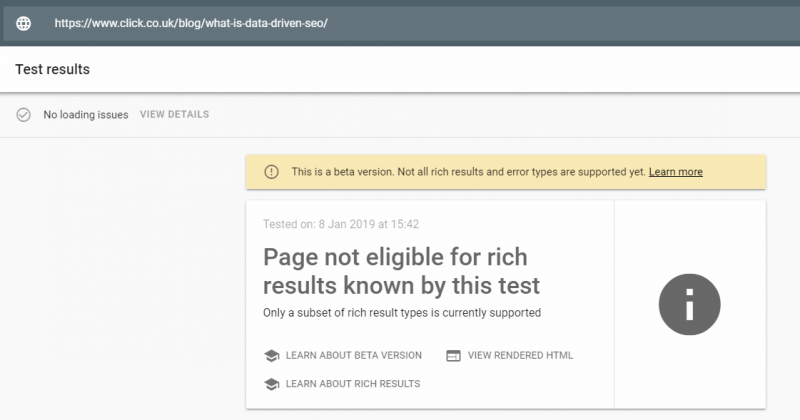 ---
Universal Search
Bill Slawski, whose 'SEO by the Sea' site I reference a lot has one of the better 'review' pieces that have come out in January, with an excellent blog on how the Universal Search patent has evolved since the first application was published in 2008 to its present pending application. Not only is the piece a good read, but sketches an outline of how search is changing and casts doubt on one of Google's more regular claims – that click data does not affect rankings.
DuckDuckGo
After waddling along for a number of years, the privacy focused search engine's search figures have been on an incredible upward curve over the last few years – with 2018 seeing it earn 9 billion of the 25 billion it has served since 2010. While the share is tiny from a big picture point of view (as pointed out in the Search Engine Land article), it will be interesting to see how 2019 treats it with privacy and security issues likely to feature heavily in the press again with various Google and Facebook investigations either continuing or pending.
---
Keep up to date with the latest in search news and views by signing up to our blog – or download one of our many free resources.