Google advises:
---
To get started, try adding a third headline and a second description to your existing text ads. For example, if you're a retailer using two headlines that show your brand name and official site, you can add a third headline showing shipping details or special offers
---
Google adds new 'veteran-led' attribute to Google My Business profile
Google has confirmed that it will be adding a 'veteran-led' attribute to Google My Business profiles, the second such business owner identity attribute, following 'women-led' in March.
In a blog post to announce the new feature a spokesperson for Google said: "Google is making it easier to identify your local business as veteran-led on Google Search and Maps. If your business is owned, led, or founded by a veteran, you can enable this "Veteran-Led" attribute through Google My Business, and it will appear on your Google listing alongside other details like "Has Wifi" or "Outdoor Seating."
Based on US government data, Google says that there are roughly 2.5 million small businesses owned or majority owned by veterans. That's roughly 10% of the total number of US small businesses in the country today.
Google will be adding more of these attributes over time.
Google Ads introduces 'ad strength' indicator and reporting for responsive search ads
Ad strength will now be visible when advertisers create responsive search ads as well as in a new column in the web interface according to a post by Search Engine Land.
Writing on the blog, Ginny Marvin said: "One of the loudest complaints I've heard so far about Google's new responsive search ads — which are still in beta — is a lack of reporting on which combinations work best. Another is how to tell if there is enough variety in the options advertisers provide while still being relevant to the ad group."
Google has pushed advertisers to have at least three ads per ad group for more than a year now, and responsive search ads are aimed at helping advertisers meet that goal. The ideas is that more ads should drive more impressions and clicks for an ad group overall.
Advertisers can preview some of their ad combinations as they create responsive search ads, and now new reporting shows stats on top combinations, headlines and descriptions. To see this reporting in the Google Ads interface, go to Ads & extensions and add a filter for Ad types, located under Attributes, and select Responsive search ad.
New Google Dataset Search
A new search service has been launched to allow searchers to find data from sciences, government, some news organisations. Using dataset schema, you can mark up your data to get it included in the new Google Dataset Search engine.
On its blog, Google said: "There are many thousands of data repositories on the web, providing access to millions of datasets; and local and national governments around the world publish their data as well. To enable easy access to this data, we launched Dataset Search, so that scientists, data journalists, data geeks, or anyone else can find the data required for their work and their stories, or simply to satisfy their intellectual curiosity."
It added: "We developed guidelines for dataset providers to describe their data in a way that Google (and other search engines) can better understand the content of their pages. These guidelines include salient information about datasets: who created the dataset, when it was published, how the data was collected, what the terms are for using the data, etc. We then collect and link this information, analyze where different versions of the same dataset might be, and find publications that may be describing or discussing the dataset. Our approach is based on an open standard for describing this information (schema.org) and anybody who publishes data can describe their dataset this way. We encourage dataset providers, large and small, to adopt this common standard so that all datasets are part of this robust ecosystem.
Google Search Console out of beta
The new Search Console has been officially rolled out, Google has announced. Launched at the beginning of the year, Google has been finetuning the Search Console interface based on user feedback, adding new features such as the URL Inspection Tool, and migrating key reports and features.
Google has also added a 'manual actions' section to the sidebar, making it available to users in both the old and new versions. Not all features have been migrated, however. Google said: "The old Search Console still has some features that are not yet available in the new one, we believe that the most common use cases are supported, in an improved way, in the new Search Console… When an equivalent feature exists in both old and new Search Console, our messages will point users to the new version."
The old reports are still available in the sidebar, but Google said, that after a reasonable period, this will be removed.
Google misses GDPR deadline
When GDPR took effect in May, Google told publishers and ad tech vendors it expected to implement the IAB Europe Transparency and Consent Framework (TCF) by August.
But Google's consent management solution, Funding Choices, is still not an IAB-registered consent management platform (CMP) and isn't interoperable with many IAB members, with no new timeline set for Google to launch an official CMP.
"We have been working closely with IAB Europe over the last several months to ensure our ad products are interoperable with the Transparency and Consent Framework (TCF)," a Google spokesperson told AdExchanger. "We are in the process of formalising our participation in the framework and hope to integrate as quickly as we can."
Google developed an interim solution in June so publishers with an IAB CMP can still pass consent to Google for targeted ad buys, and the company has worked out deals with some of the largest programmatic players, including AppNexus, Rubicon Project and Criteo, to pass consent.
Google's delay will be seen as a blow for in fully joining the TCF is a blow for many programmatic publishers and tech vendors.
Facebook
L'Oreal is partnering with Facebook in order to improve eCommerce performance – using AR. The collaboration will enable people to use L'Oreal's AR 'Modiface' to try out various makeup trends, choose between shades of foundation and do a host of other things I don't understand.
Facebook to reveal country of origin behind Pages
In a post shared on Marketing Week, Facebook has announced a new authorisation process for Pages 'with large audiences' which will prevent posting by those who decline to complete the process.
Facebook announced several measures to bring more transparency to Pages and their associated ad campaigns. Those included a new "Info and Ads" button that yielded information on ads run by the Page owner on Facebook and across its various properties and partner networks.
Facebook will now require people managing Pages to complete an authorisation form:
"Authorisation asks people who manage these Pages to secure their account with two-factor authentication and confirm their primary home location. If a Page manager requires authorisation, they'll receive a notice at the top of their News Feed to begin the process. This should only take a few minutes to complete."
Conservative Facebook employees create a group to complain about 'political monoculture'
Last week, Brian Amerige, a Senior Facebook Engineer, published a post titled "We Have a Problem With Political Diversity," which quickly went viral in the organisation.
He wrote that: "We are a political monoculture that's intolerant of different views, we claim to welcome all perspectives, but are quick to attack — often in mobs — anyone who presents a view that appears to be in opposition to left-leaning ideology."
Since the post went up, more than 100 Facebook employees have joined Mr. Amerige to form an online group called FB'ers for Political Diversity, the aim of the initiative, is to create a space for ideological diversity within the company.
This will be one to keep an eye on in the face of an ever-changing political landscape and as social media platforms face growing scrutiny over the way they are used in the political discourse.
Industry news
No such thing as voice commerce
Marketing Land is commenting on a report based on internal Amazon data which suggests that as few as 2% of Echo owners have purchased directly through their smart speaker. It also notes that a previous survey for NPR found that 70% of smart speaker owners had made one purchase or more – and that the truth probably lies somewhere in between. We can only assume this means everyone should abandon any plans they have for voice commerce.
I'll just leave this here…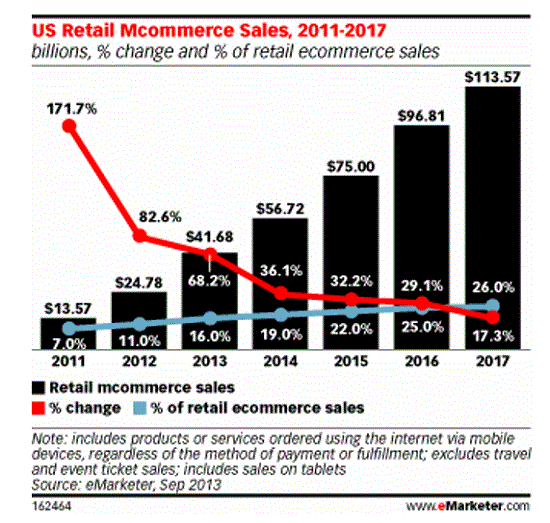 Machine Learning
Marketo published a useful explainer on existing examples of Machine Learning (ML) which covers things like your browser history, the Netflix recommendation algorithm and features a small section of script which can't adequately be explained. While we've covered aspects of this blog elsewhere, in various posts on voice search and various assistants, it's as clear explanation of ML as you could ask for if you're wondering what ML is.
Smart Speakers
Marketing Land is reporting on a CIRP (Consumer Intelligence Research Partners) report released last week that places Apple HomePod on 6% market share – with Amazon's Echo at 70% and Google Home on 24% of the US market.
China is now the largest ecommerce market in the world
China has leapfrogged the US to become the largest ecommerce market in the world and accounting for 83% of all online retail sales in the Asia Pacific region, thanks to brands including Alibaba and JD.com.
The Forrester research found that by 2022, its forecast China's $1.8 tn online retail market will be more than double that of the US ($713 bn). Among metropolitan Chinese consumers, 72% are 'Progressive Pioneers', known as the most demanding, advanced, and innovation-hungry digital shoppers.
Social media influencer told to be transparent about paid promotions
The Competition and Markets Authority (CMA) has launched an investigation into influencer marketing to gather more information on whether social media stars are being transparent about sponsored posts.
As part of the investigation, the CMA has written to a range of celebrities and social media influencers to gain further insight into the inner workings that goes on behind these posts.
A spokesperson for the Advertising Standards Authority says: "The issue of ad disclosure in social media and dealing fairly and transparently with consumers/followers is an important one. We launched our call for evidence into online labelling earlier this year as the first part of a project exploring people's ability to recognise online ads as ads, including by how they are labelled. We'll be reporting more on this in the autumn."
Mobile apps unprepared for GDPR compliance
Some apps don't seem to be taking GDPR seriously – or maybe just don't realise how much they're leaving themselves exposed, reports AdExchanger.
Although mobile apps aren't necessarily more at risk of GDPR violations, they do have specific and nuanced tasks they must complete in order to comply, and many are noticeably behind.
Senior Editor Allison Schiff says: "Mobile apps that rely on advertising to monetiae are particularly vulnerable. Developers integrate an average of 18 third-party software development kits into their apps, according to SDK management platform SafeDK, which means roughly 18 opportunities to improperly process data without consent.
"Apps have to ensure their third-party partners are also compliant – and they have to be prepared for any consequences of noncompliance on the part of their partners."
Sites to be punished by EC if they don't remove 'illegal content' with an hour
Tech companies and publishers in Europe will face fines if they fail to comply with European Commission (EC) rules on the removal of 'illegal content' (primarily terrorist propaganda).
Earlier this year, the European Commission (EC) created guidelines and recommendations but is now taking action because there hasn't been sufficient voluntary action and progress.
Julian King, the EU's commissioner for security, told the Financial Times that Brussels had "not seen enough progress" on the removal of such material and would "take stronger action to better protect our citizens". He warned that policymakers could not "become complacent" when facing such as "shadowy and destructive" foe.
The regulations will be published next month for review by the European Parliament and then EU member states.
Superfast broadband boost UK business by £9 bn
Faster broadband has driven a £9 bin increase in turnover for businesses, according to new figures.
The boost has come from the Government rollout of superfast broadband, which the Department for Digital, Culture, Media and Sport (DCMS) confirmed has now reached almost five million homes and businesses.
Digital minister Margot James said: "Our rollout of superfast broadband across the UK has been the most challenging infrastructure project in a generation, but is one of our greatest successes. We are reaching thousands more homes and businesses every week, that can now reap the clear and tangible benefits that superfast broadband provides. We are helping to ensure the downfall of the digital divide."
Ms James said the target was to ensure everyone in the UK has access to fast and affordable broadband by 2020 and there should be nationwide gigabit connectivity by 2033.
Bing
Another Marketing Land article shows how Bing is attempting to hit back in the battle of the search engines following a number of developments at the world's second favourite search engine.
Intelligent search features
Bing has announced a host of new intelligent search features – with hotel bookings, coupons and deal snippets amongst the notable additions reported by Search Engine Land.
Bing update app's Camera Intelligent Search for complex maths
With the new 'math mode' in Bing's Camera Intelligent Search feature in the iOS app, Bing can solve complex math problems for you with the snap of a picture.
Bing has released an update to its iOS search app which includes a way to snap a picture of a maths problem and get the answer within seconds. Bing also added a "Find in Page" button to help users find words within a page and the customary bug fixes with all app updates.
September
Google
Updates to Shopping ads
There have been a few updates to Google Shopping – again reported in Search Engine Land – with video now available in Showcase Shopping ads and Shoppable Image ads joining the offering.
Responsive display ads
Search Engine Land reports on the roll out of responsive display ads as the new default display format, offering some examples and reporting on the benefits as Google sees them.
Broadening of exact match
Google is to further endear itself to paid search specialists across the globe with its latest broadening of the most non-broad of keyword match types. Now broader than the broad match modified and phrase match types, the exact match will now cover 'matching meaning/intent' when the algorithm is matching ads to keywords. There is a lot of good reasoning from the Google side (15% of all searches are new, so it pays to open your ads up to these new queries), but with the 'exact' in 'exact match' already having to do an awful lot of work, it remains to be seen how far Google can push the nomenclature.
Google debuts Shoppable Image ads
This week, Google announced two new ad formats for retail and brand advertisers that will deliver shopping experiences on third-party sites, in Google Image search and in Google Search.
Showcase ads are the multi-image Shopping format that Google rolled out last year. When users click on the ads, they go to a Google-hosted landing page that features promotions, descriptions and select products from the advertiser's product feed. They typically display on brand and broad queries.
Videos are displayed in the featured image position. After clicking on the ad, the video plays in full at the top of the Google-hosted landing page that features a selection of products from the advertiser's product feed.
The option is currently available to advertisers already running Showcase Shopping ads.
Android warning: Google smartphone users alerted about increasing number of fake apps
Android users have been put on alert and warned by security experts about dozens of fake malware filled apps to stay away from.
Android is one of the most used pieces of software in the world, with more than two billion active devices running the Google mobile OS each month.
But there have been a number of high profile security alerts recently with shock threats affecting Android users.
Arguably, one of the most high profile instances was the Judy malware scam when 36.5million Android devices were feared to be infected by 41 apps.
Speaking about the warning, Top10VPN's Head of Research Simon Migliano said: "Our biggest concerns relate to the excessive permissions.
"We found apps that can be used to spy on people by tracking location, reading contacts, using the camera – even secretly making phone calls."
Google uses neural matching
Google has been using a technique called neural matching to better understand synonyms, which is said to impact 30% of queries. Danny Sullivan announced on Twitter:
Last few months, Google has been using neural matching, –AI method to better connect words to concepts. Super synonyms, in a way, and impacting 30% of queries. Don't know what "soap opera effect" is to search for it? We can better figure it out. pic.twitter.com/Qrwp5hKFNz

— Danny Sullivan (@dannysullivan) September 24, 2018
Google has announced a number of new features to mark its 20th anniversary, all of which are underpinned by AI.
A more visual way of finding content
AI will intelligently construct AMP stories and surface this content in search.
The authority of the source web page now a more important signal in the ranking of Google Image results.
Google will show more context around images, including captions and suggestions for related search terms.
Google Lens will allow you to explore within an image.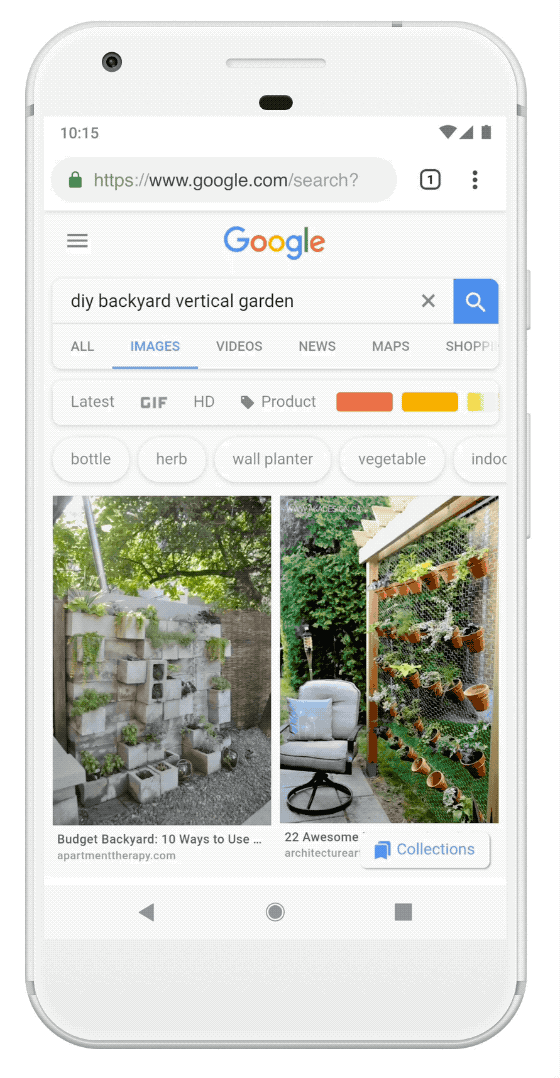 Google Lens searches within images
The shift from answers to journeys
'Activity cards' will help users resume tasks where they left off. When you revisit a query related to a task you've started in the past, Google will show you a card with relevant pages you've already visited and previous queries you've done on this topic. Users will be able to save pages to their collections from activity cards. There will also be suggestions of related topics.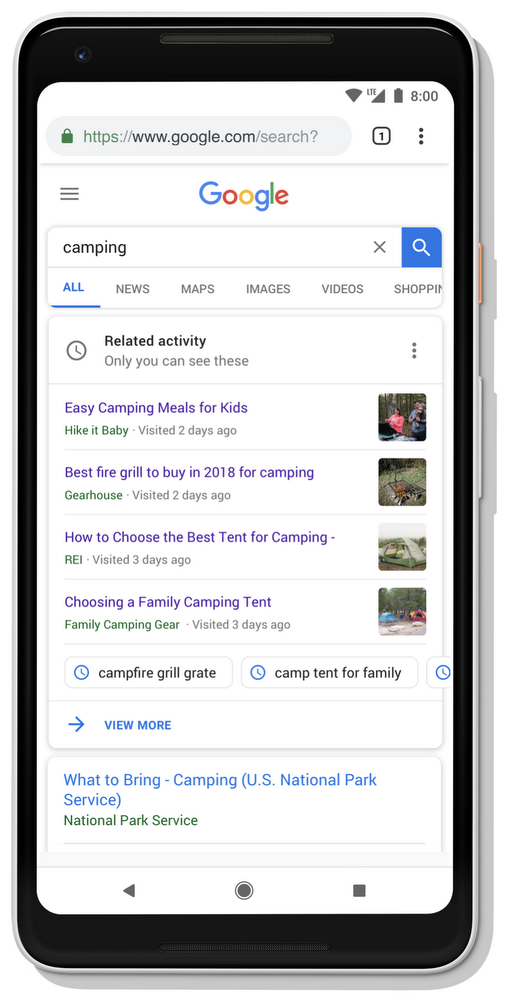 Google's new activity cards
Dynamic organisation of search results
Rather than presenting information within a set of predetermined categories, Google will show the subtopics that are most relevant to what you're searching for and make it easy to explore information from the web within a single search.
So if you're searching for pugs, for example, you'll now be able to see the tabs for the most common and relevant subtopics, like breed characteristics and names, right at the top. But if you search for something else, even a different kind of dog, like Yorkshire Terriers, you'll see options grooming tips and breed history.
Google Feed becomes 'Discover'
Google revealed that Google Feed has 800 million monthly active users globally and is an increasing source of traffic for third-party publishers. It has now announced a name change and some enhancements, and will appear on the mobile version of the Google home page.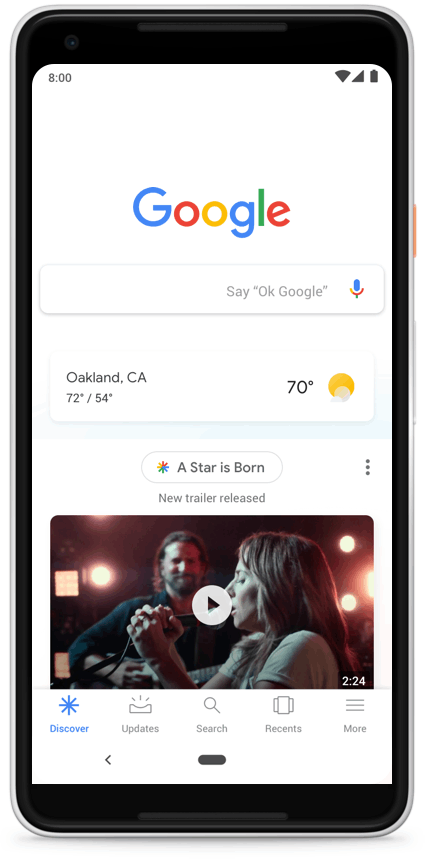 Google Discover
Signing in
Chrome 69, the latest version of Google's web browser apparently signs users into the browser automatically when you sign in to Google websites and services, which then uploads their browsing history, to Google. Cryptographer and professor at Johns Hopkins University, Matthew Green, wrote on his blog: "From now on, every time you log into a Google property (for example, Gmail), Chrome will automatically sign the browser into your Google account [his italics] for you. It'll do this without asking, or even explicitly notifying you. (However, and this is important: Google developers claim this will not actually start synchronising your data to Google — yet.)"
Update 28/09/18: Google has responded to this criticism by promising give users more control when it releases Chrome 70 in mid-October). Its blog states: "While we think sign-in consistency will help many of our users, we're adding a control that allows users to turn off linking web-based sign-in with browser-based sign-in – that way users have more control over their experience. For users that disable this feature, signing into a Google website will not sign them into Chrome."
Google Search Console
Search Engine Land features a story on a new dashboard view which has been appearing in search results if it is a query your site ranks for and you are a verified user.
Data Studio
Common sense has prevailed! There was much rejoicing in the village! Data Studio now has the option to download reports as a pdf. I'm ridiculously, and sadly, excited by this.
Okay Siri
Reported on Search Engine Land over the weekend was Google's investment of $9 Bn (possibly rising to $12 Bn) to retain default search engine status for Apple's Safari browser, the article also points out that Google paid a mere $1 Bn back in 2014. With Google now the default setting for Siri, too, it bears wondering whether the inflated price might include a cementing of that position in addition to its 1st choice status for Safari.
They also 'confirmed' a small ranking update on the 30th – which has had limited impact and, helpfully, there is no advice on what it targeted.
Industry news
What are table stakes?
I clicked on this article in Marketing Land in part because I have never heard the expression, but apparently it means 'basic'. The article links through to the full article on sister site Search Engine Land, which explains the general theory behind the apparent reduction of respect for SEOs complexity – improved general knowledge of the basics. A little knowledge, as the saying goes, is a dangerous thing.
Up to 20% of influencers are frauds
In news that will surprise no-one and confirm the suspicions of everyone else, there are a lot of social media influencers for whom 'influencer' is an entirely erroneous descriptor. An article on the Content Marketing Institute website today draws on various research to lay out the situation as things stand and offer some nice workarounds.
Search community speculates over Mobile-First Index updates
The search community has taken to Twitter and Facebook to note an increase in Mobile-First inclusion notices (we've just had ours through) from Google Search Console (GSC). It is widely believed that there will be a significant update in the Mobile-First Index over the coming weeks.
---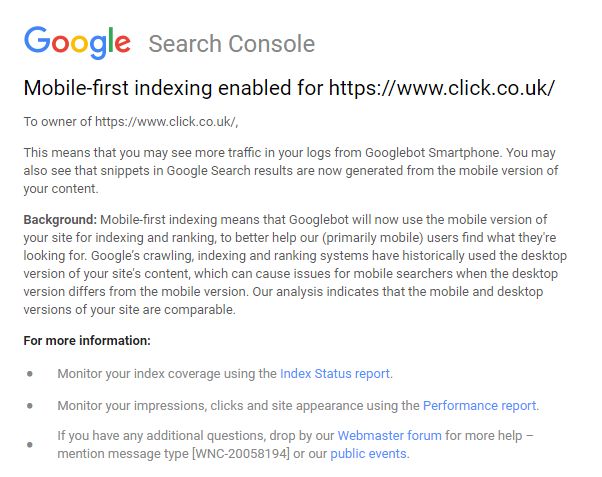 ---
In a story posted on Search Engine Journal, many SEOs are reporting unprecedented levels of email alerts from GSC that sites they are monitoring have been migrated to the Google's Mobile-First Index.
Senior Strategic International SEO Consultant at Moz, Gianluca Fiorelli, tweeted the following:
---

---
At present there is no official statement about what is going on but Google appears to have increased the size of their Mobile-First Index. We'll watch this space.
TripAdvisor goes deeper into social with relaunch as a travel 'hub'
One thing that we often talk about here at Click Consult is the way that the search marketing industry is developing and the way apps are increasingly embracing search. One such app is that of TripAdvisor who has revamped the website and moved closer to a social media platform.
According to Marketing Week the relaunch will allow users to save recommendations, follow friends and influencers and create their own "inspiring" content.
Speaking to the press about the launch CEO and co-founder of TripAdvisor Stephen Kaufer said the website is "going from the world's largest travel site to the most personalised and connected travel community ever."
Consumers unsure what GPS does for them
Just 20% of people in general say they're comfortable with the idea of brands using GPS data from their phones to target them, but when faced with more practical scenarios of how this would work the response is much more positive.
For example, 43% of people said location-based communications is helpful if it comes from a shop they already use. The findings come from Mindshare Futures' Location Matters report.
UK to remain fourth in the list of top ten ad markets in 2020
Zenith has upgraded its forecast for UK ad spend growth this year from 0.7% to 2.4% after demand from advertisers turned out to be higher than expectations. According to the media agency's latest Advertising Expenditure Forecasts, the UK is expected to remain fourth on the list of the world's top ten ad markets in 2020, despite ongoing economic uncertainty over Brexit. Ad spend in the UK was £24.21 bn last year, the report said, and this is forecast to grow to £26.07 bn by 2020.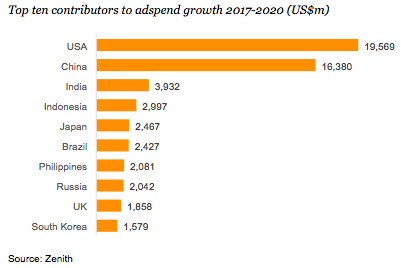 However, time to purchase is faster for shoppers who use Google search and buy on a marketplace other than Amazon, on average; while 35% of Google searches, and less than 20% of Amazon searches led, to a transaction within five days.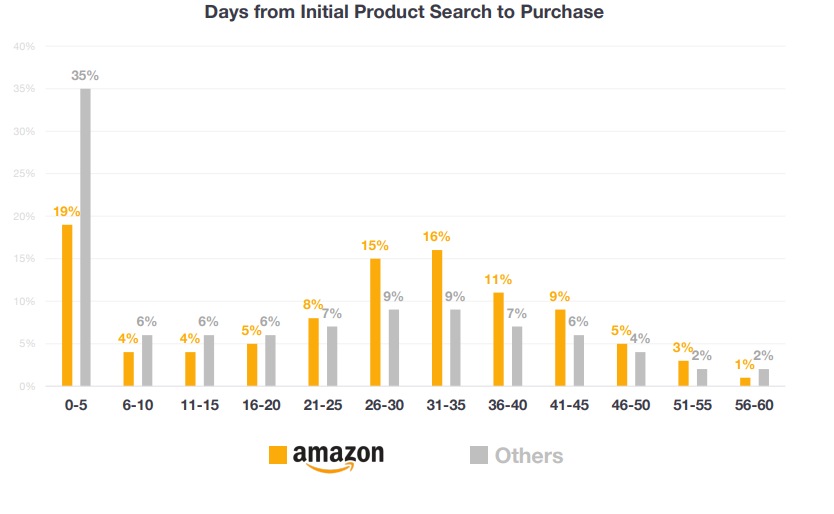 Innovative brands fare well in Most Valuable Brands ranking
Consumers place more value on innovation as food and drink is named the most innovative sector in the BrandZ Top 75 Most Valuable UK Brands ranking. Newer brands Just Eat, Innocent, Deliveroo and Brewdog have entered this year's UK list, along with bet365 and Compare the Market. Vodafone remains at number one, followed by HSBC and Shell. The top 75 are worth a combined £205 bn – just over 10% of UK GDP.
David Roth, of WPP, which co-authored the report, says: "The nation's most valuable 75 brands have all risen to the top in a highly competitive, crowded and uncertain environment. Consumers value innovation, and it is key to helping UK companies' future-proof their brands, deliver sustainable growth and increase in value; ever more vital in a post-Brexit world."
Quora rolls out broad targeting
Question and answer platform Quora has announced the launch of broad targeting to its ad offering, which it launched last year. With this targeting option, ads run across the platform and adapts its targeting as the system learns which audiences engage with the ads. The company says it now has an audience of 300 million monthly unique users, up from 200 million reported last year.
An ad on Quora
Amazon
Amazon to surpass Microsoft as 3rd highest Ad seller
Amazon will surpass Oath and Microsoft to become the third largest digital ad seller in the U.S. behind Facebook and Google. In a report from data and research company, eMarketer it was announced that Amazon will more than double their ad growth over the course of the year.
The research estimates that the business will bring in $4.61 bn from all of their digital advertising over the next 12 months, a total which equated to just over 4% of the market. If the projections are true and the growth remains on a steady trajectory, then Amazon can expect to control 7% of the market by the end of 2020. This will be seen as a major coup, but the figure will still be well short of the market leaders – Google and Facebook – who between them control nearly 58% of the market.
Twitter
Twitter brings back chronological timelines
For those out there like me that use Twitter as a rolling (live) news feed and not as a forum for discussion, the latest change is a welcome addition. Twitter users can now opt-out of the algorithm that displays what the platform thinks are the most relevant tweets to the user. Tweets will now be displayed in chronological order and this may be of some concern for the advertisers who will have to see how it impacts their visibility on the platform.
Announcing the change on their "Show the best Tweets first" setting so that when it was turned off, the user would only see tweets from followed accounts displayed in reverse chronological order. Previously, when the setting was turned off, Twitter would still display missed tweets, tweets from recommended accounts and a not exactly "pure" chronological timeline.
Snapchat
Snapchat launches shoppable ads
Snapchat is launching a new set of eCommerce advertising features, including shoppable advertisements. The shoppable Snap Ads will launch for all advertisers in October, and new product catalogues will allow advertisers to use their existing product feeds to help scale and automatically create ads for Snapchat campaigns.
Snapped
As its share price dips to half of its IPO, a 6000 word internal memo has found its way into the hands of journalists. TechCrunch are reporting on the how CEO Evan Spiegel sees the road to recovery for the social media brand – including focusing on returning to their core service of being the 'fastest way to chat' and targeting older users. Which would no doubt include people like me – who have no idea how to use, or why they should use Snapchat – but thankfully they're looking for people with buying power, which rules me out of their target demographic.
Facebook
Facebook announces stories ads
Following the launch of Instagram stories ads last year, Facebook is to follow suit with the same offering for advertisers. The format supports every objective that's currently available for Instagram stories ads, including reach, brand awareness, video views, app install, conversion, traffic and lead generation. Facebook's full suite of targeting and measurement capabilities is also available for stories ads across platforms.
According to Facebook, 68% of people say they use stories on at least three apps regularly, and 63% plan to use stories more in the future.
Again? Really?
In various, endless, news outlets over the weekend, was the report that Facebook had admitted that the data of 50 million of its users (including CEO Zuckerberg and COO Sheryl Sandburg) had been compromised following in a recent data breach.
Zuckerberg (born in 1984 – coincidence? I think not!) faced criticism as he again apologised with full android sincerity (without really offering much concrete as to what he would do to resolve issues currently plaguing his company) to Facebook users. Facebook has repeatedly come under fire this year for lax security and a seeming inability to protect its users from fake news.
Pinterest
Pinterest to hit $1 Bn?
Also in Marketing Land, there's a story on the prediction that Pinterest ad revenue is likely to reach $1 Bn by 2020 as it looks to hit half that this year. While Marketing Land goes in to a bit of detail on why, the fact that Pinterest has been at the forefront of a lot of visual ad formats (shoppable pins etc.) has been a major driving factor.
October
Bing
Bing to improve web crawler efficiency
According to a story on Search Engine Land, Bing is working on making sure their crawler doesn't miss new content and at the same time overload your web servers.
Fabrice Canel, principal program manager for Bing Webmaster Tools, provided an update on his team's efforts to improve the efficiency of their web crawler, BingBot. In a blog post Tuesday, Canel said the team has made numerous improvements based on this feedback and thanked the SMX audience for its contributions. He said they will "continuing to improve" the crawler and share what they've done in a new "BingBot series" on the Bing webmaster blog.
Bing Ads Editor now supports in-market audiences
Bing Ads advertisers can now manage in-market audiences in Bing Ads Editor according to a recent blog post.
In-market audiences, currently available only in the US, are comprised of people deemed to be in the process of making a purchase in a particular product or service category. Bing Ads' algorithms take into account numerous purchase intent signals from Bing, MSN and other Microsoft properties. It will be interesting to see how this works for users and when it is rolled out to other markets.
Bing insertion orders
Bing have been really upping their game the last few months, and with Google seemingly involved in one scandal or another lately, have been ticking along in the background, upgrading their offering in organic and paid search. The latest development – featured in Search Engine Land – is the ability to create recurring insertion orders, helping to streamline the process of ensuring your campaigns run smoothly.
Bing's intelligent search
Also on Search Engine Land, there's a breakdown of Bing's keynote at SMX East in which was discussed a desire to create 'intelligent search. The article gives a historical overview from the presentation on the various types of result, showing their progress so far. It also features the fact that Bing will index your Office 365 content – allowing you to more easily return your own information as well as that of the web at large.
YouTube
YouTube now counts ad engagement even faster
YouTube now counts 'engagement' for YouTube for action ads at 10 seconds, not 30 according to the latest news, with Google suggesting that the new attribution will better reflect the role of video in the customer journey.
In an update this week, YouTube announced it is changing the attribution criteria for TrueView for action video ads. TrueView for action ads are designed for performance advertisers and feature call-to-action banners at the base of the video ads. The announcement mentioned that two key attribution points were changing and they are as follows:
YouTube will now count an 'Engagement' whenever a user clicks or watches 10 seconds or more of a TrueView for action ad when using maximise conversions or target CPA bidding. That's a change from 30 seconds.
A 'Conversion' will be counted, by default, when a user takes action on an ad within 3 days of an 'Engagement.' If you want this changed, you will have to ask your Google rep to customise this time frame. That's a change from 30 days.
For users who click your ad, YouTube will still attribute conversions according to the conversion window you have set (the default is 30 days).
The shorter engagement-to-conversion window will mean faster ramp up times for target CPA campaigns and more current reporting, says Google.
DuckDuckGo
DuckDuckGo reaches 30 million queries per day
DuckDuckGo, the privacy-focused search engine, posted on Twitter that it has reached a new milestone, breaking 30 million queries per day on average.
The company said it took seven years to reach 10 million searches in one day. To get to 20 million searches, it took another two years. Now, less than a year later, it is now at 30 million searches per day, therefore showing a 50% growth YoY.
Speaking about the growth to Techcrunch, Founder of DuckDuckGo, Gabriel Weinberg said: "We've been growing by approximately 50% a year pretty consistently so at a macro level it isn't too surprising, just the numbers are getting bigger!
"That said it has been even increased on top of that this year, especially in the past two months."
Amazon
Large search budgets move to Amazon according to agencies
A small survey of agencies found some advertisers are making large moves to Amazon advertising according to Search Engine Land.
The reported on a CNBC survey of several advertising execs which found some advertisers are shifting large percentages of their Google search budgets to Amazon.
Executives in the survey said some advertisers that sell on Amazon are moving 50% or more of their search budgets to the site.
Advertisers shifting budget to Amazon
The shift from traditional search ad budgets to Amazon has potential implications for Google and Bing as they face growing direct competition from the online retail giant. As Third Door Media Editor-in-Chief Ginny Marvin notes in her preface to the survey findings: "The disruptive nature of Amazon's ad business is starting to show, which begs the question: has the Google-Facebook duopoly been put on notice? Perhaps it has."
Industry news
Digital stats for the week
Marketing research and business intelligence portal Statista has already released a slew of digital nuggets…
UK is a nation of smartphone addicts
With smartphones allowing us to access the internet anytime and anywhere, a recent YouGov survey looked at specific situations to reveal when people in the UK most frequently use their mobile phones in some way. These are the results: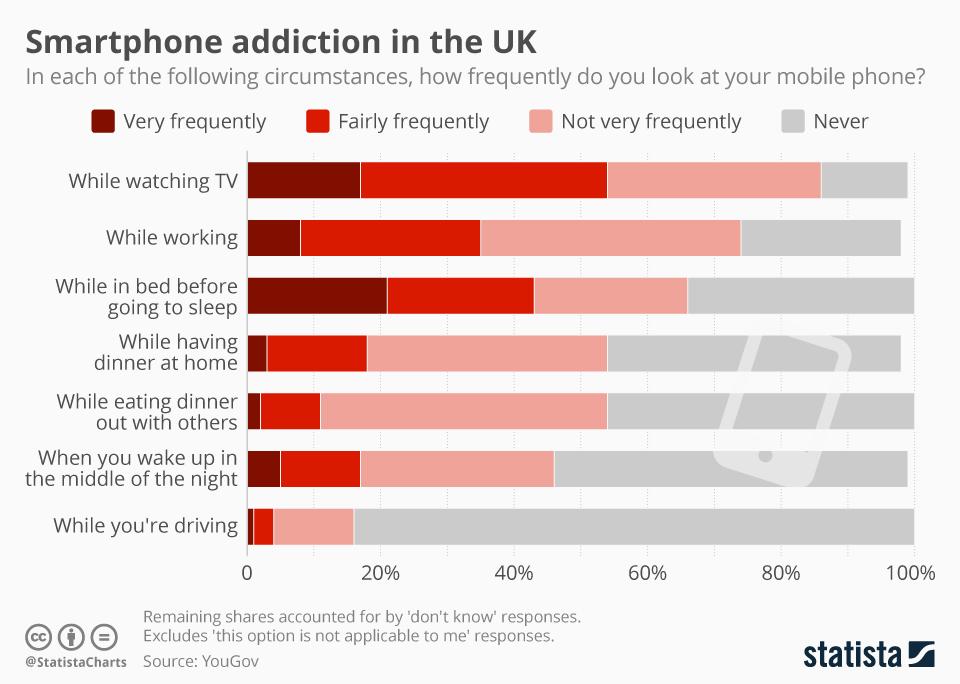 Netflix is responsible for 15% of global internet traffic
Underlining the popularity of streaming services, Netflix accounts for the most megabytes with 15%. Youtube isn't too far behind with 11.4%. Further back but still with a significant share, Amazon Prime Video is responsible for 3.7%.
Can digital technology make the world a better place?
Countless app makers, device manufacturers and internet companies have lofty aspirations to connect the planet, help people live happier, healthier, more fulfilled lives. But only 42% of consumers globally agree that digital technology can help solve the biggest problems of our time, according to a report by the Dentsu Aegis Network and Oxford Economics, which questioned 20,00 respondents from ten countries.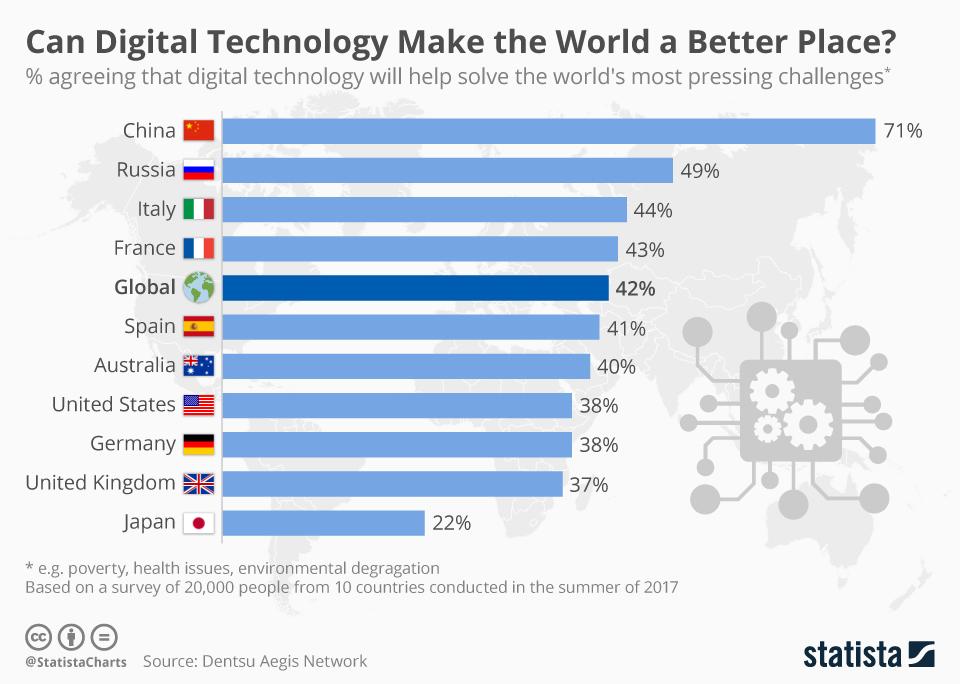 Simulmedia
In a development I'm almost certain I've seen before (possibly Channel 4? Yeah, they did something similar, but it was only for their All 4 platform), Simulmedia are opening a platform for D2C brands to programatically purchase television ads. At Click, we've been talking for a while now about the inevitable merging of digital and traditional advertising, it's great to see a big and positive step forward.
Google
Google Search Console is sending notices for slow loading pages
Google is sending out a new type of notification to those who have verified properties in Google Search Console. The new messages inform site owners about really slow pages that take too long to load. The notice, which follows the search engine's Speed Update earlier this year, references how slow specific pages are with this specific website and how to fix the issue.
Google now lets you search in image results
Google has announced the US roll-out the Google Lens button within Google Image search results on mobile. Google Lens, which was introduced in May 2017, a visual search tool allows users to learn more about the images they click on within Google Image search. Google said "Starting today, when you see something in an image that you want to know more about, like a landmark in a travel photo or wallpaper in a stylish room, you can use Lens to explore within the image."
Here is a GIF of it in action: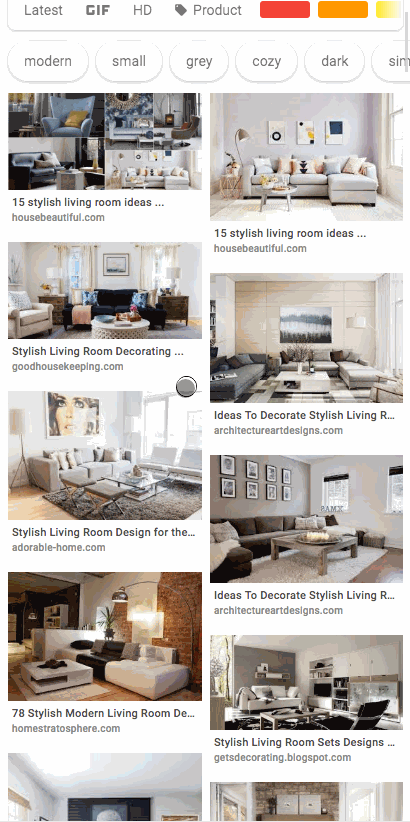 Source: Google
Google's made it easier to delete your history and control ad settings
Having faced mounting criticism about how it manages users' data, Google is now showcasing privacy settings directly within search. Google says it will take similar steps for greater transparency across some of its other products as well.
On the company's blog, Eric Miragli, Director of Product Management, Privacy and Data Protection Office, said:
---
We're also providing quick access to the privacy controls in your Google Account that are most relevant as you use Search. For example, to control the ads you see when you search, we give you access to your Ad Settings. Additionally, you can access your Activity Controls to decide what information Google saves to your account and uses to make Search and other Google services faster, smarter and more useful
---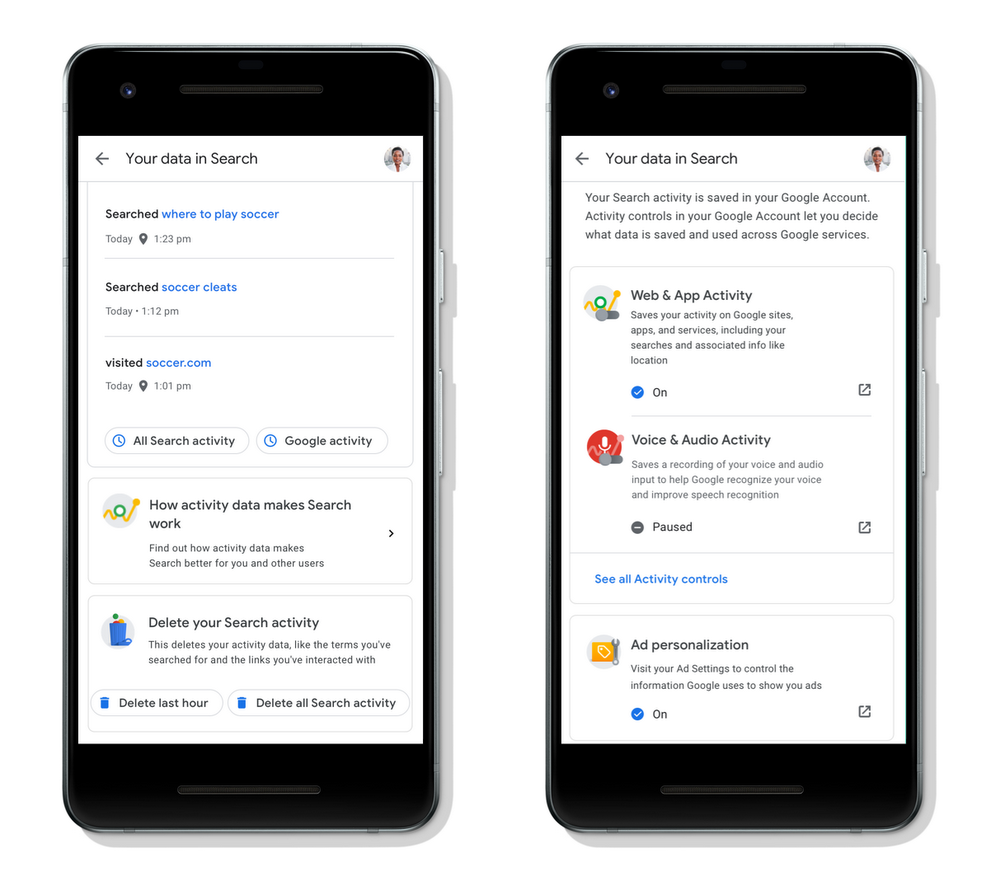 Source: Google
---
Google local pack starts to show booking buttons
Google is now pushing booking and scheduling services in local results through Reserve with Google. A 'book' or 'schedule' button to some of the local search results within the local pack in web search. These new features will be rolling out over the next few days in the US. Here's an example taken from Google's blog: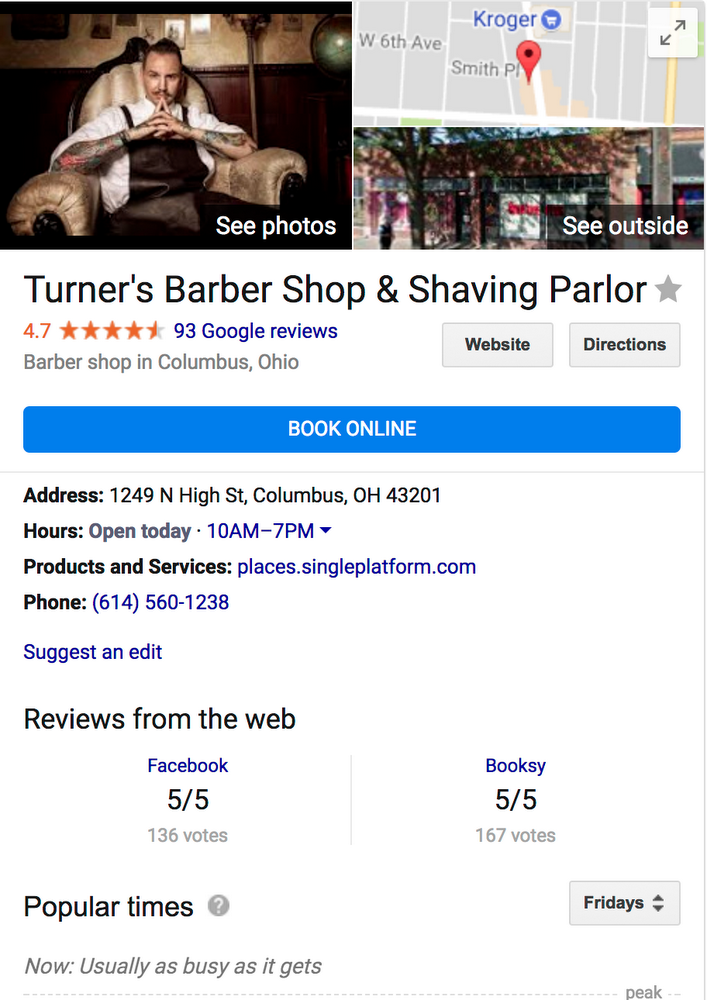 Google Duplex
Again reported in Search Engine Land, is a story on Google's Duplex – the AI powered appointment booking system. Apparently, this week, Google has added the option to allow Google Assistant to call your business in GMB (Google My Business). While it was only demoed in May, this undoubtedly represents alpha or beta testing of a tool I think may prove to be pretty important to the future of search and of SMEs.
Google Knowledge Graph
Google patent expert and all-round fantastic SEO resource Bill Slawski's site features an in-depth piece on how the Google Knowledge Graph updates itself by answering questions. Based on a patent that details the below three methods the Knowledge Graph uses to update itself, there's some interesting discussion of possible implications:
The knowledge Graph may be updated with one or more previously performed searches.
The knowledge Graph may be updated with a natural language query, using disambiguation query terms associated with the entity reference, wherein the terms comprise property values associated with the entity reference.
The knowledge Graph may use properties associated with the entity reference to include information updating missing data elements.
Google hotel results
Search Engine Land has a review of the latest update to the way Google returns hotel search results today, with an image of the new look results featuring in an overview alongside a trip down memory lane, with equivalent images from 2015 as well as a few of the tested types from the last year. With Google's rich results having cost various travel and leisure industry sites a lot of traffic in the past, it'll be interesting to see what effect this will have on various hotel room comparison sites.
Facebook
Facebook at FoM
Marketing Week is covering the Festival of Marketing and, in this article, specifically a presentation from Facebook's Planning Director – Ian Edwards. Some of the key stats reported include:
35,000 new Facebook business pages go live every day
A 'Messenger Experience' campaign by Victoria Beckham saw 60,000 consumers engage with the experience in fourteen days
21% of sales in the US are driven by email marketing
75% of European brands' marketing data was rendered obsolete by GDPR
November
Google
Google Search Console stats show directly in search results
Site owners will now be able to see a selection of stats in search results following the news that Google us rolling out the feature. The plan is designed to bring more attention and awareness to features within Google Search Console.
In a recent post by Barry Schwarz, he wrote: "Google may show verified site owners a brief dashboard of their website performance statistics from Google Search Console right in the search results, as a teaser, to get them to click into Google Search Console and learn more about their sites.
"The dashboard shows clicks, impressions and average position for the past 28 days compared to the previous time period. It also offers additional tips on how to improve their site in search. Google was quietly testing this feature a month ago, but as of this morning, it seems to be rolling out to all site owners."
He also shared the following image:
---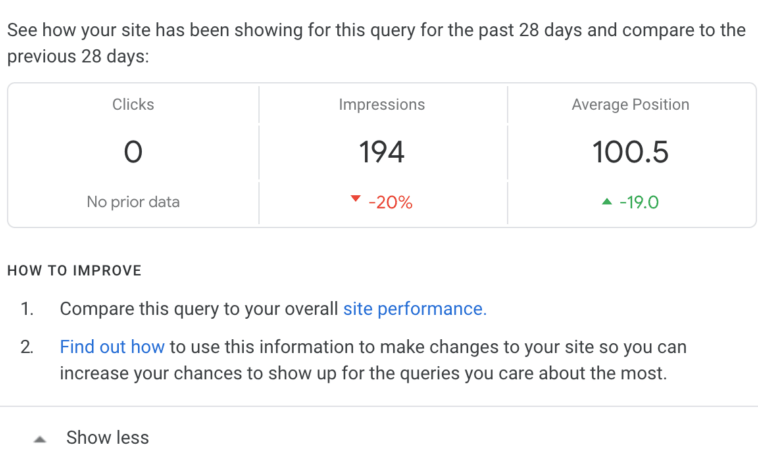 ---
To see this dashboard in the search results, you need to be signed in with the Google account that has access to the web site property in Google Search Console.
Google asks SMBs if they'll accept calls from Google Assistant
Google is currently testing business owner interest in receiving calls from an AI robot. In the latest news from the search engine giant it has been revealed that in a single market test they are asking Google My Business profile owners whether they're willing to accept "Google Assistant calls."
The company explains that this means two things: 1) let customers use Google Assistant to book reservations and appointments and 2) allow Google Assistant to confirm factual information about the business.
Google News to help publishers 'find their sites'
Google has confirmed it will be making changes to Google News to help publishers find their sites and articles in Google News.
This confirmation came in the help forums from Lisa Wang of Google after months of complaints from news publishers that their content is not showing up in Google News for relevant queries.
Google News issue confirmed. "We are working on an update which should help resolve some of the issues that publishers have raised around finding their sites or particular articles in Google News," Wang wrote. "We estimate this will be ready in the next few weeks and will provide another update at that time."
Google wouldn't clarify the issue when approached by Search Engine Land as to what this update is fixing. As users of the service here at Click Consult, we'll certainly keep an eye on developments.
PageSpeed Insights now powered by Lighthouse
Google has rolled out a new update to its PageSpeed Insights tool, the first large update since January 2018 when Google began using real user data from the Chrome browser to measure page speed of a site.
On its blog, the search engine said: "We're happy to announce that PageSpeed Insights (PSI) now uses Lighthouse as its analysis engine. This allows developers to get the same performance audits and recommendations everywhere: on the web, from the command line, and in Chrome DevTools. PSI also incorporates field data provided by the Chrome User Experience Report (CrUX). Version 5 of the PageSpeed Insights API will now provide CrUX data and all of the Lighthouse audits. Previous versions of the PSI API will be deprecated in six months."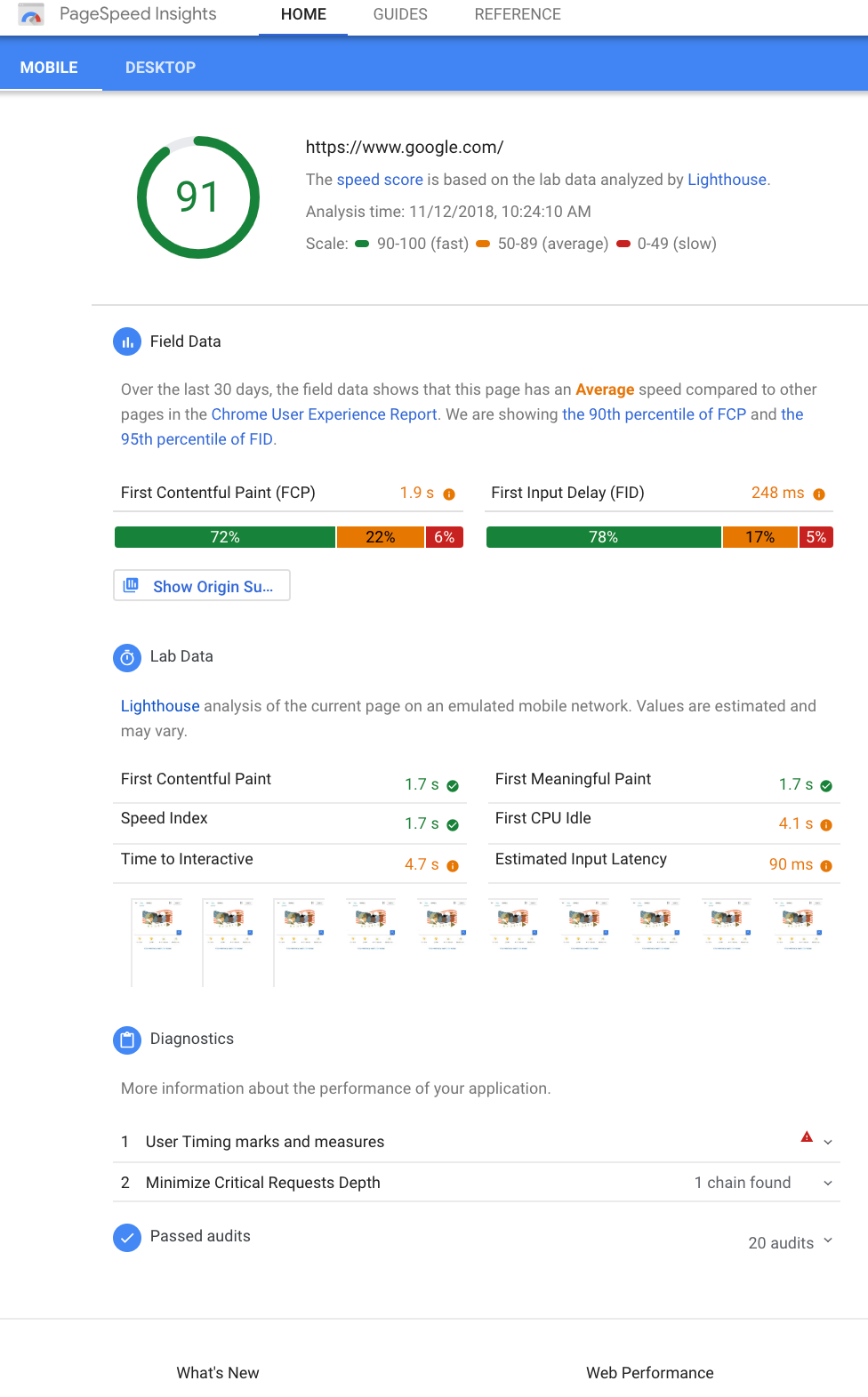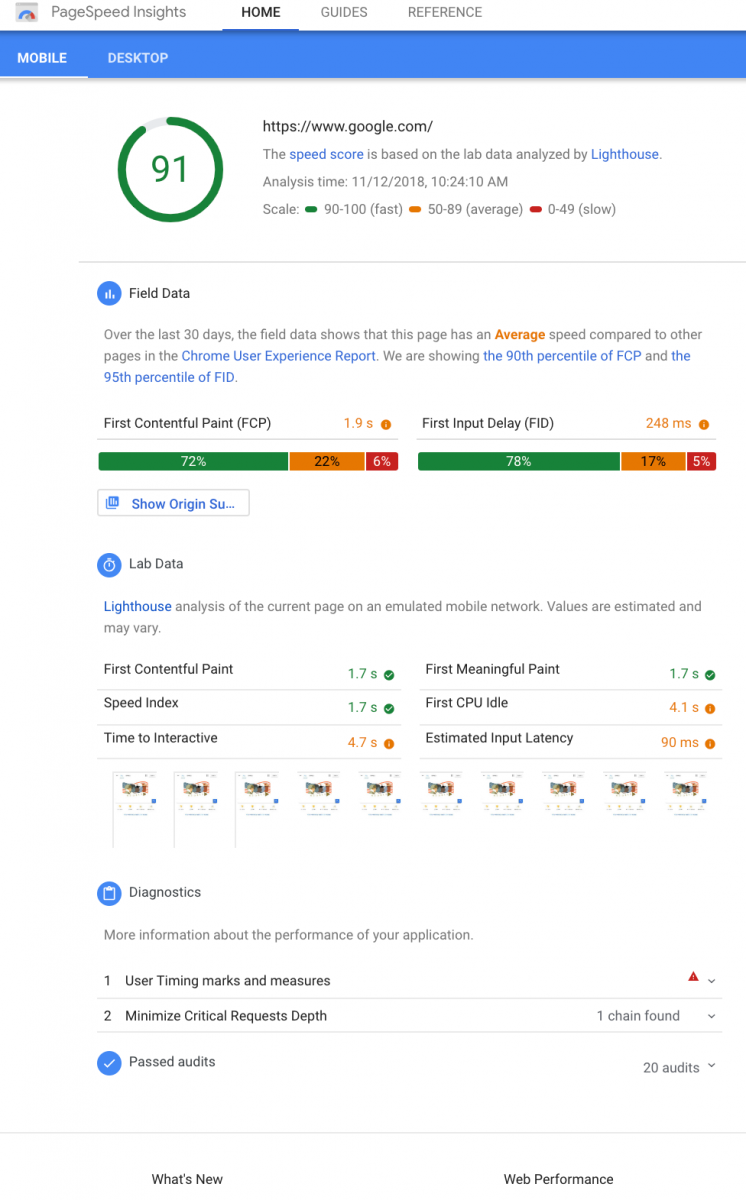 Source: Google
Diversion causes Google disruption
An internet diversion that rerouted data traffic through Russia and China disrupted several Google services on Monday, including search and cloud-hosting services.
Service interruptions lasted for nearly two hours and ended about 5:30 p.m. EST, network service companies said. In addition to Russian and Chinese telecommunications companies, a Nigerian internet provider was also involved.
Google confirmed Monday's disruption on a network status page but said only that it believed the cause was "external to Google".
Reports of slowdowns and unavailability began at 1:12pm PST, according to the Google Cloud Status Dashboard that monitors uptime for the enterprise service. However, consumer apps like YouTube were also affected with users encountering slowdowns and reliant third-party services seeing other disruptions.
Google told the Wall Street Journal that no data was compromised with encryption preventing any exploit. Meanwhile, the company currently has no reason to believe that the incident was malicious.
Search Console updates
The index coverage report in Google Search Console now uses Mobile-First indexing data for sites that have been migrated (migrated properties have been notified by email.) In particular, the error counts and new issues will reflect the status of Mobile-First indexing. Indexed page counts are not affected by this change; this is a reporting change only; it does not reflect any changes on your site.
Additionally, Google is dropping some of the old reports. Google has been posting notices throughout the old version of the Google Search Console letting users know that some of the reports are going away. The notices can currently be found in the old Google Search Console, within the Search Analytics report, Rich Results report, AMP report, Links report, Internal Links report, Manual Actions report, Mobile Usability report, Index Status report and Crawl Errors report. All these reports will be going away at some point in the future.
Google faces Russian civil case
Russia has launched a civil case against Google, accusing it of failing to comply with a legal requirement to remove certain entries from its search results, the country's communications watchdog said on Monday.
If found guilty, the internet giant could be fined up to 700,000 roubles ($10,450), the watchdog, Roscomnadzor, said.
It said Google had not joined a state registry that lists banned websites that Moscow believes contain illegal information and was therefore in breach of the law.
Google confirms 'zero results' feature for some queries
Google has confirmed that it's rolling out a new search-related feature where only a single, direct result is shown for queries related to time, calculations, and various conversions – and only on US mobile at the moment.
SERoundtable.com spotted Google experimenting with the feature earlier this year, which Google dismissed as a glitch.
Google gave the following statement to Search Engine Land:
---
As always, our goal with search is to help people quickly find the most relevant information. For queries where we have extremely high confidence that a user is seeking a calculation, unit conversion or local time, we will show a single result to improve load time on mobile. Since our initial experiment in February, we worked to remove ads and improve the triggering quality for this experience to be sure that we're serving users what they're looking for, and we will still provide the option to tap to see more results
---
Source: 9to5Google
Google's local pack adds 'sold here' label on query match
Google has added a new label to the local pack results in both desktop and mobile search. When you search for an item and Google knows the local store has that item, Google may show a label named "sold here" in the local pack's description. This is similar to the website mentions label launched in 2017 in the local pack.
The move is expected to aid local businesses who can use the 'sold here' feature to increase brand awareness and boost exposure on Google.
Google rolling out new search bar
After months of testing, Google is rolling out the new search bar for the search results page.
Google has begun rolling out a new search results page design that has the a rounded search bar that sticks to the top of the page as you scroll through the search results. Google began testing this new design back in August and is now rolling it out to all searchers.
In a post by Barry Schwartz, he said: "The main difference from the old search bar header is that the new one now will stick to the top of the search results page as you scroll down to see more search results. The old design did not do that, in order to access the search bar, you had to scroll back up to the top of the page."
Facebook
Facebook bans accounts over US midterms interference campaign
Facebook has disrupted a disinformation campaign targeting the US midterm elections first detected by American law enforcement, Sky News has reported.
The campaign appears as if it could be tied to the same Russian company that has been charged with interfering in the 2016 presidential election, although Facebook's investigation is ongoing.
In a statement published the night before polls opened, the company said it had been contacted by the police about suspicious behaviour believed to be linked to foreign entities.
Facebook said it was revealing the details of the campaign before it had all of the facts due to how soon the polls open.
Facebook "failing Black employees"
An ex-Facebook employee published a memo Tuesday saying the company is failing its black employees and users. Mark Luckie, who previously worked at Twitter and Reddit, sent the memo internally before resigning in November. He says the odds at Facebook are stacked against those communities.
Facebook is failing its Black employees and its Black users. Here's why: https://t.co/PJSRrFJZrO pic.twitter.com/LeCYxCwBpX

— Mark S. Luckie (@marksluckie) November 27, 2018
The memo's release is another headache for Facebook, which is weathering public-relations storms and a leadership exodus in the wake of a data scandal. Its publication also draws attention back to concerns over diversity among Silicon Valley employees. A 2017 analysis found that only 1% to 8% of employees were black at Facebook, Intel, Amazon, Twitter, Microsoft (LinkedIn's parent company), Google and Apple.
Facebook docs seized by MPs
A cache of Facebook documents has been seized by MPs investigating the Cambridge Analytica data scandal. Rarely used parliamentary powers were used to demand that the boss of a US software firm hand over the details. The Observer, which first reported the story, said the documents included data about Facebook's privacy controls.
MP Damian Collins, chair of the culture, media and sport select committee, later told the BBC that he believed the documents were "highly relevant" to his inquiry and has, reportedly, threatened to publish them. Facebook has demanded their return.
Instagram
Instagram: videos generate 21% more interaction than images
Quintly's Instagram 2018 study analysed 44,432 profiles and over 8.9 million posts over the first three quarters on 2018, it found that videos get up to 21% more interactions than images, despite images being the most popular type of post.
The study also found that 31% of overall Instagram posts have more than 300 characters in their post description, highlighting the recent popularity of lengthier descriptions (largely thanks to users believing that it is favoured by the algorithm).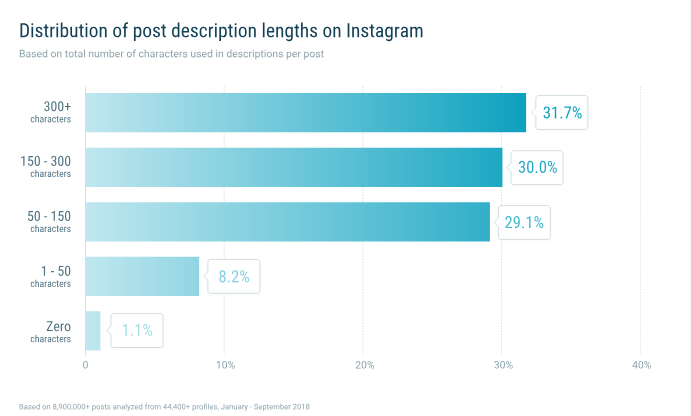 Source: Quintly
Industry news
UK advertising to "increase to £20.8 bn in 2019"
This means it will surpass the £20 bn mark for the first time, up from £19.9 bn in 2018 according to the latest media and marketing forecasts from GroupM, the world's leading media investment group.
GroupM forecasts 6.0% growth for 2018, down from 6.4% in 2017. Its 2019 growth prediction from earlier this year is shaved to 4.8% from 5.1%. A significant contributor to global advertising growth, the UK still looks to remain stable due to the high levels of digital advertising growth. Digital is around 60% of all advertising investment and accounts for all net UK advertising growth. The medium continues to grow organically, predominately from SME investment, with signs that larger advertisers are becoming more circumspect about incremental digital investment.
Quora launches Promoted Answers
With many businesses already acquiring customers organically through their answers on Quora, the platform has launched Promoted Answers to allow anyone with a Quora Ads account to extend the reach of their answers. The format provides a flexible canvas to share detailed information about a product or service that goes beyond the characters allowed in normal ad copy and helps to facilitate engagement through upvotes, comments, and follows. Promoted Answers on Quora. Promoted Answers have all the same targeting options that are available for other ad formats on Quora. When a user clicks on the Promoted Answer ad unit, they can read the full answer.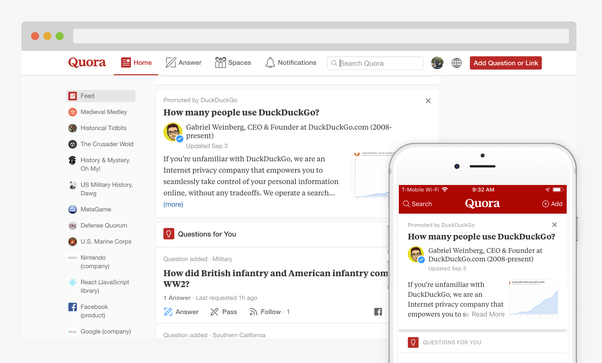 Bing
What's the most searched-for term on Bing?
Ahead of adding Bing, Amazon, and YouTube data to its Keywords Explorer, an Ahrefs study has revelased that the top keyword searched-for worldwide on Bing is…Google (and by quite a majority). Here's the full top ten:
Source: Ahrefs
Bing makes changes to Partner Program
Bing Ads is making a change to how it determines status in its Bing Partner Program, shifting it to a calendar-year evaluation. The change is scheduled to take place in January 2019.
The program consists of three tiers – Elite, Select and Partner — and includes resellers, agencies and technology providers that meet certain spend and certification criteria.
According to SEL: "Tier status for Bing partners will now be based on meeting the program requirements, based on a formula including billings and output, from January 1 to December 31 of the year. As Bing notes, the new schedule better aligns with the industry standard and advertisers' own own billing schedules.
"Partners can move up or down tier levels depending on the results of an annual performance review. Benefits increase as a member's status moves up.
"With a calendar-year focus, agencies currently enrolled in or looking to join the Bing Partner Program will likely find it easier to gauge their potential tier status in the program."
December
Google
Google updates related searches
Google has rolled out a couple of changes to the related searches section in mobile search results. Google has begun including image thumbnails next to some of the related searches in mobile search results. In addition, a featured snippet with an option to see additional details may show when you click on a related search result, rather than just taking you directly to the search results page for that query.
According to Search Engine land's Barry Schwartz: "Featured snippets are becoming more important, not just because of Google Assistant and Google Home and not just because it is the "position zero" in Google's search results but also because they now are used in related searches."
Google questioned over political bias
Google chief Sundar Pichai has faced accusations of political bias from US politicians and of having "programmed" bias against conservative views into its algorithms. Questioned by members of the House Judiciary Committee about the way his tech firm runs it business, Mr Pichai denied the accusation saying he had "issues" with studies that claimed to show the firm's search results excluded right-wing views.
He was asked by Republican committee member Zoe Lofgren why, when she googled the word "idiot" under images, a picture of President Donald Trump came up. In response, Mr Pichai explained that keywords were matched against billions of page results and ranked for relevance, popularity and how other people are using the word.
Google+ to shut down early
Google has decided to shut down the consumer version of the social network four months earlier than it originally planned after the discovery of a new bug that affected around 52.5 million users – although no third party was involved. Google+ will now close to consumers in April, rather than August. Additionally, API access to the network will shut down within the next 90 days.
According to Google, the new vulnerability impacted 52.5 million users, who could have had profile information like their name, email address, occupation, and age exposed to developers, even if their account was set to private. Apps could also access profile data that had been shared with a specific user, but was not shared publicly.
New Search Console AMP enhancement report
The AMP enhancement report will now combine some over-specific issue types into fewer generalized issue types. When the migration is complete, you will see an increase in generic issue types with a corresponding decrease in the specific issue types that were combined into the general type. As an example, the following two issues would be combined as shown:

Source: Google Support
More competition in Google Shopping
A new report from Searchmetrics has examined Product Listing Ad results in the UK, France and Germany and finds more competition since January, after the EU issued its record 2.4 billion Euro antitrust fine. The report says, "the number and diversity of comparison shopping services appearing in Google Shopping units has dramatically increased".
The report also found that comparison sites are now acting as agencies. The report notes, however, that many of the CSS providers appearing in the ad units are not "established online price comparison sites". These companies are effectively acting as agencies on behalf of merchants, many of whom are new market entrants. Searchmetrics observes that for these CSS "agencies," their own product comparison pages are irrelevant because CTRs go directly to merchant sites.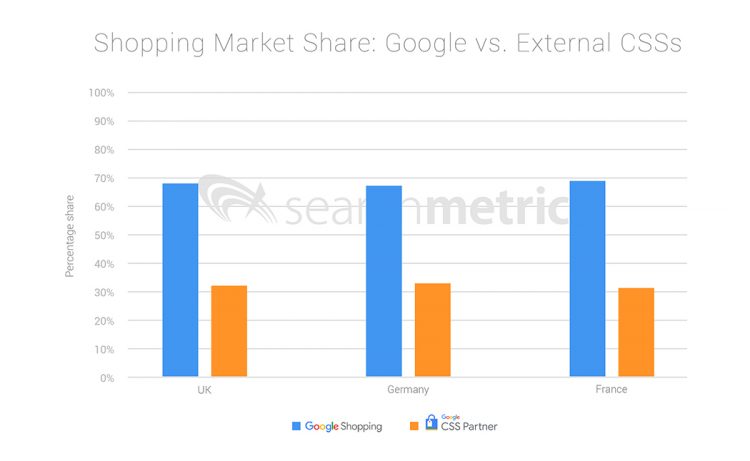 Source: Searchmetrics
Google redirecting old Search Console reports
Google has announced that it's sunsetting some reports within the old Google Search Console; many of these will redirect from the old to the new Google Search Console on 13th December. The Search Analytics, Links to Your Site, Internal Links, Manual Actions, Mobile Usability and Index Status reports are all going to redirect to the new Google Search Console equivalents.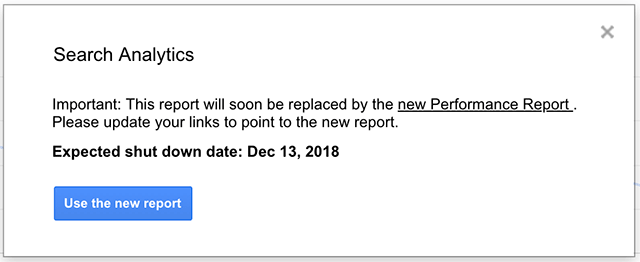 Image: Google
Google Display
Marketing Land reported, on the 14th, that conversion bidding is coming to Display campaigns. As with Google Search ads, the option will be there to skip the CPC model for Display ads, instead choosing to pay according to a target CPA. While the upper limit is $200, ruling out some big budget items, the majority of campaigns which look to promote products or services within this limit will only need 100 conversions in the last 30 days with a conversion time of under seven days for 90% of these in order to qualify.
Google Posts
Search Engine Roundtable published a blog detailing a marked drop in traffic from Google Posts since Google moved the posts to the bottom of the Knowledge Panel. One of the better offerings from the Google My Business platform, local search experts will be understandably upset – though many in the article's comments were claiming to have seen a lot of 'spammy' content in the posts.
Another update?
Go to guy for algorithm update news, Barry Schwartz's Search Engine Roundtable is reporting a possible update to the algorithm over the last weekend (15th and 16th). While the various tools are reporting slight increases in SERP flux, there seems little evidence of anything significant and – if we may be so bold as to predict Google's response – this 'is one of the many tweaks and changes made one a daily basis').
Facebook
Facebook could soon know where you're going
Facebook has filled a series of patent applications for technology that uses your historic location data to predict where you will be going next. Buzzfeed News has discovered that the social network has filed a patent application entitled "Offline Trajectories" for a technology can predict where you're going "based at least in part on previously logged location data". Based on the application's wording, it'll be able to use your previously logged location, as well as other people's, to make predictions.
Facebook offering to compete with Google Search ads
Facebook is starting to test search ads in its search results and Marketplace, directly competing with Google's AdWords. The social network has revealed that it is running a small test of ads in search results on its flagship mobile applications—both in its primary search function and its Marketplace eCommerce section. Select advertisers in the automotive and retail/eCommerce industries are participating in the test, and it is currently limited to the US and Canada.
They'll be repurposed Newsfeed ads featuring a headline, image, copy text, and a link in the static image or carousel format that can point users to external websites. Facebook declined to share screenshots as it says the exact design is still evolving. Facebook first tried Sponsored Results in 2012 but eventually shut down the product in 2013.
Facebook retargeting
Depending on uptake, the death of Facebook retargeting ads is now delayed until Spring of 2019 – when the Facebook 'Clear History' feature will be ready – according to Marketing Land.
Facebook
In what I can only assume is a 'Producers' style tax scam, Facebook has revealed information on another data privacy breach. This one, which it will be arguing with various watchdogs was reported promptly (despite a two month delay), allowed app developers access to user's photos that had been either semi uploaded or cancelled mid upload. The breach, which could cost Facebook hundreds of millions, occurred in September and Facebook has advised that it will be contacting those affected.
Instagram
Instagram testing new "creator accounts" for influencers
These profiles, aimed specifically at influencers, offer a set of tools allowing to better use the platform for their own needs. The new profile type will echo what Instagram already offers businesses since 2016, and according to Hollywood Reporter, "is meant for the traditional talent, digital influencers and artists who proliferate on the platform".
Bing
Microsoft tackles offensive search results
Microsoft has "taken action" to change its Bing search engine after it was found to give "horrifying" results for some terms. Journalist Chris Hoffman discovered Bing suggested racist topics when he looked up words such as "Jews", "Muslims" and "black people". Bing also ranked widely debunked conspiracy theories among the top suggestions for other words.
Jeff Jones, a senior director at Microsoft, said: "We take matters of offensive content very seriously and continue to enhance our systems to identify and prevent such content from appearing as a suggested search. As soon as we become aware of an issue, we take action to address it."
Industry news
Global cart abandonment rate 76.9%
SaleCycle has revealed that the average global cart abandonment rate for Q3 2018 was 76.9%. In terms of sectors, cart abandonment was highest for travel sites during this period, with a rate of 81.1%; fashion sites saw the lowest with an abandonment rate of 73.5%.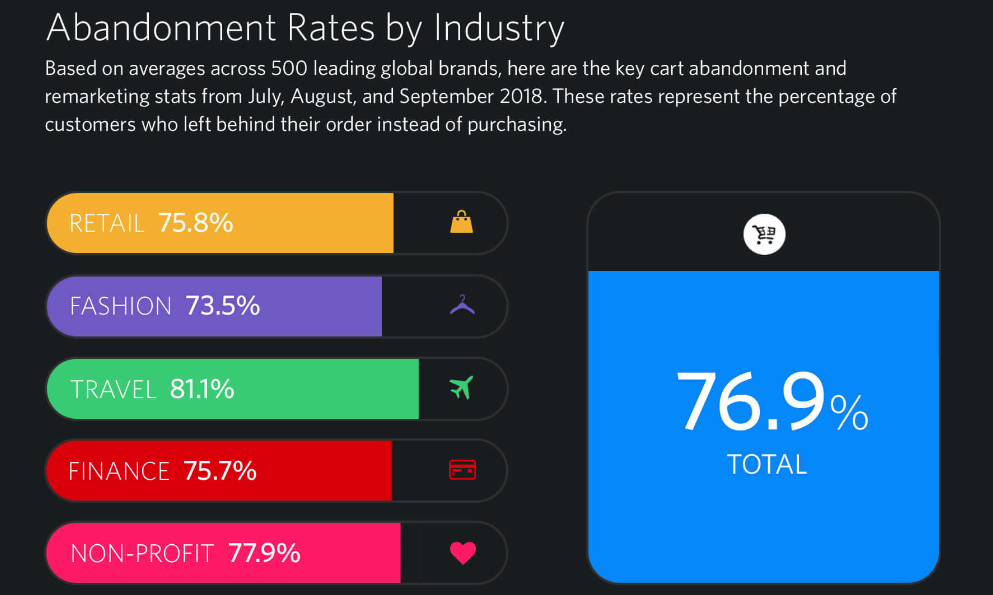 Image: SalesCycle
Physical retail still relevant for big brands
While 7% of UK shoppers browse exclusively in-store before making high-value purchases, over a quarter (28%) of consumers like to look at an item at a physical store before making a purchase – even if they have browsed and researched it online. This paves the way for 'concept stores'. Regarding the payment stage of the transaction, 32% of shoppers still prefer having the option to pay in person, underlining the importance of an omnichannel offering in this climate.
Mobile device-like targeting comes to ads on car rooftops
A San Francisco start-up the contextual targeting of mobile to digital-out-of-home (DOOH) signs, offering taxis and rideshare drivers (such as Uber's) what it calls a "digital smart screen", allowing advertisers to run targeted, geofenced campaigns. Firefly has apparently run more than 50 ad campaigns already, during a beta testing period in San Francisco and Los Angeles, with hundreds of cars on the road.
"Being the first at building out the IP is going to be the main differentiator," said co-founder and CEO Kaan Gunay. "Over half our team are engineers, and we have been extremely focused on developing core IP to make sure it's scalable."
Amp
Marketing Land features a story on the slow adoption of AMP which, with Google's major backing, was expected to be adopted relatively quickly. While the article is thin on facts and figures, it does point to some good secondary sources – including an article that makes the case against AMPs much touted rapidity and to WordPress' official AMP plugin.
Year in search trends
Search Engine Watch has a nice overview of 2018's search trends – including an upward trend in searches including the word 'good' – which should provide another nice word to drop in to concatenate formulae across the industry.
AI
Marketing Week have an article online today that is a pragmatic and non-over-the-top dissection of the benefits of AI to the consumer. In an article which remains level headed despite the history of articles dealing with AI, and the fact that it's a post sponsored by Salesforce (go native advertising), the article makes a number of good arguments dealing with some of the currently available options for brands. It also features the below graphic:
---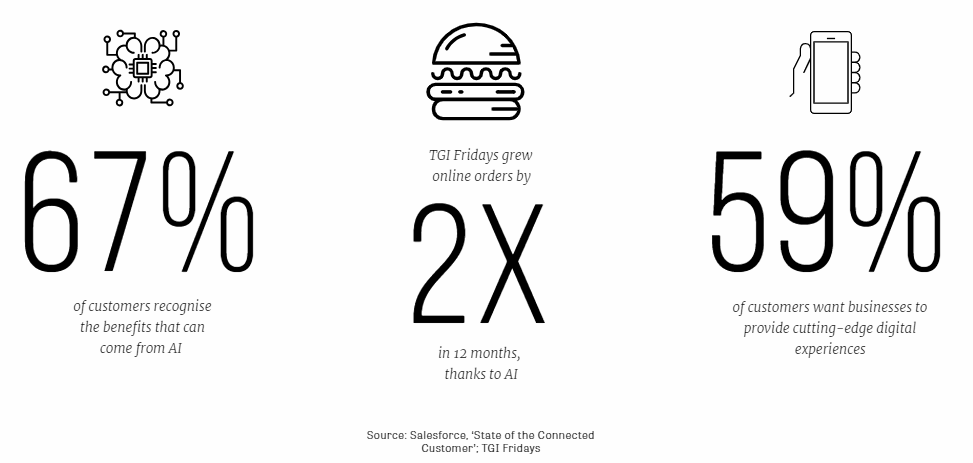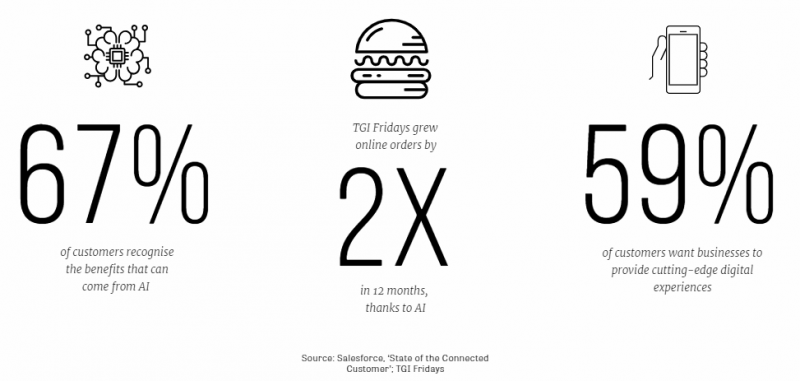 ---
Twitter
Best of 2018
Twitter has released a best of 2018 list which features a number of brands – including Heinz Ketchup, Budweiser and Bud Light and the NBA – according to Marketing Land. There's a host of 11 categories – leading to Marketing Land attempting to ask what seems to be a pertinent question: 'why should we care?' – which essentially boils down to the list of campaigns as unique ways for marketers to consider using Twitter.
And finally
It wouldn't be a year in search without, well… the year in search, and here it is…
---
---
Click Consult collectively wrote almost 50'000 words of news coverage this year. That takes a level of commitment – but a level required to stay on top of an ever changing industry. To find out what we can do for your brand, why not contact us?