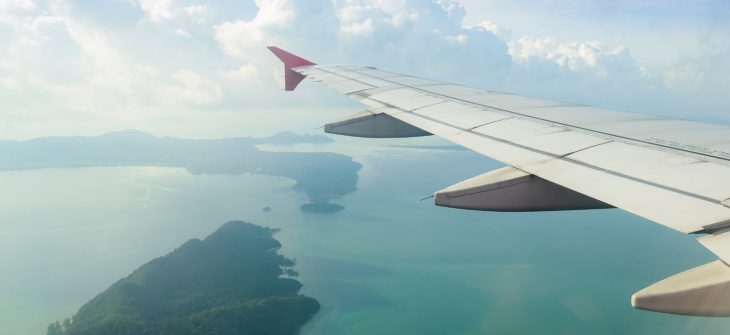 Ideal destinations: How cheap holiday companies compare in the SERPs
Charlotte Chapman, Head of Technical SEO at Click Consult reviews cheap holiday companies' search engine performance to find out who's sinking and who's swimming
---
This is a lot of people potentially browsing online for their perfect trip and then booking this trip through one of the many online travel market leaders. The way people are searching for the perfect trip has changed, with people being more specific than ever about what they want.
Ten years ago, people would search for 'cheap holidays' but over time this has given way to more long tail searches such as 'cheap beach holidays', 'cheap all inclusive holidays' or 'cheap holidays turkey.' This indicates the decline in trend for the term 'cheap holidays' over the last ten years, as shown in Google Trends:

Source: Google Trends
Users now have a greater tendency to utilise long tail search terms when searching for a holiday, with brand name, country, resort and terms including 'all inclusive', 'package', 'last minute' and 'deals' proving to be among the most popular. The opportunity for long tail dominance is therefore massive: people are more likely to convert using long tail search than from using generic searches, which tend to satisfy the research/information element of the buying decision process.
January is by far the peak booking time for holiday bookings and as the cost of travel increases, holiday companies are competing now more so than ever to offer cheap holidays, meaning a need to dominate price-related long tail queries. With this in mind, our team of search experts have analysed four of the travel market's leaders to gain an understanding behind the reasons for their online success:
–   Low Cost Holidays
–   Icelolly.com
–   Holiday Discount Centre
–   Sunmaster
---
www.lowcostholidays.com
Low Cost Holidays (LCH) is an established, trusted brand, with over ten years' experience, helping more than two million people travel abroad every year. This success has been mirrored in the organic search results, as demonstrated in LCH's organic visibility:

Source: SearchMetrics
Unfortunately, in late May 2014 the visibility of the site took a slight dip and has since been on a gradual decline. This drop in visibility ties in with the Panda 4.0 algorithm update, designed to prevent sites with poor quality, thin or duplicate content from ranking well in Google's top search results. Low quality and thin content is classed as a page that adds little or no value to those who use it. It doesn't necessarily mean that a page has to contain a certain number of words.
There are also several ways that duplicate content can occur. Either when a site has a large amount of content that is copied from other sources on the web or when there's a lot of replicated content within the site itself. It makes sense that Google targets sites that don't display original, quality content as after all it is trying to present results which provide the best answer to search queries and not those that appear numerous locations across the web.
What defines a high quality page of content?
Each page should be unique, substantial, relevant and engaging. Content should be written to answer a question or provide information or entertainment for users, meaning it should only ever be written for humans and never for search engines. The content needs to be significantly different to content on other sites as well as within the site itself.
Content should attempt to focus on long tail opportunities, especially those related to conversational search. Since there are so many different long tail combinations that searchers may use, this means that potentially more pages will need to be created, thus reimagining the website as a hub of information and entertainment, whilst always staying related to the site's core offering. This will result in Google rewarding the site which it feels has the most valuable content.
Why was LCH penalised by Panda?
LCH's content is satisfactory at first glance, with some substantial written content focused on valuable long tail search queries. Content is categorised into countries and resorts, as well as all-inclusive, last minute and family holidays. However, after analysing the country-specific pages, there is SEO content in tabs, found near the bottom of each page on top of the already substantial content on the page. This copy seems unnatural and is arguably useless from a user perspective.
There is also a duplicate website found at lowcostholidays.ie. Google disapproves of multiple pages, subdomains and domains with substantially similar content. We would advise that the content on the .ie domain should be rewritten in order to ensure the .com copy remains unique. This, as well as the SEO content on country pages, is likely to have substantially contributed to the Panda penalisation.
LCH employs four standard content tabs across the country level pages, intended to provide information about the country regarding culture, prices and offers, things to do and where to stay. This is closer to the type of in depth content Google now demands from all high authority websites. However, based on the competitive nature of the travel market, these tabs provide only a snippet of information compared to TripAdvisor or Lonely Planet, for example.
Although the comparison of an ecommerce website to an informational website appears extreme, this is the mind-set that all websites must adopt in order to survive online from 2015 onwards. LCH should be a salient brand name when a user begins their journey towards booking a holiday, and the website should therefore provide everything a user could need, including the widest selection of destinations possible and in-depth information about each one so that the user can make an informed choice.
---
www.icelolly.com
Similarly to LCH, icelolly.com/ has been trading for close to ten years and is a leading travel comparison site for package holidays, flights and hotels. Of the sites we researched, icelolly.com is by far the worst affected by Google's algorithm updates. Its significant drop in organic visibility is shown in the graph below.

Source: SearchMetrics
On May 22nd 2013, Penguin 2.0 was rolled out and icelolly.com subsequently lost a huge amount of organic visibility, dropping from 39,539 in search visibility to only 12,168 in just a couple of weeks. icelolly.com claim they have nearly one million unique visitors to the site every month. We can assume that the number of visitors has also dropped in line with visibility, unless a large majority of visitors are loyal to the brand and are returning.
Penguin 2.0 considers the quality of a site's backlink profile. Sites that rely on paid, irrelevant, unnatural and spammy links are more likely to suffer from ranking drops or a Google penalty, resulting in a loss of organic visibility or a complete removal from Google's search results. The big difference with Penguin 2.0 versus 1.0 was that it went deeper, taking any page on your site into account. In the past, Penguin only analysed your homepage links.
Why was icelolly.com penalised by Penguin?
icelolly.com has a very unnatural backlink profile with 45% of links classed as a high priority for audits when run through Link Detox. This is substantial evidence to explain why icelolly.com fell victim to the algorithm update.

Source: Link Detox
The majority of these high risk links are from low quality sites and after reviewing some of the links, it's evident that these links still exist, which could be the reason for a lack of recovery, especially after the recent Penguin 3.0 update.
Not only are the quality of links very low, icelolly.com has also been heavily targeting the key term 'cheap holidays' in terms of anchor text from these low quality sites. This over optimised anchor text is unnatural and certainly not what a natural link profile looks like.
Typically, there should be little exact match anchor text in a natural link profile with brand terms appearing heavily, as well as generic phrases, urls and a mix of exact match with brand. If your top anchor text terms include substantial exact match or keyword rich anchor text (as below), then you are sending big signals to Google to that your link profile is unnatural and therefore risking a Penguin-related penalisation.

Source: SearchMetrics
How can icelolly.com recover?
Icelolly.com is now back where they were in 2010 regarding search visibility, with branded keywords as their top ten traffic driving keywords. In a competitive market which is highly long tail focused, they are going to continue to suffer until the toxic links and over optimised anchor text is removed and replaced with high quality natural links. Icelolly.com should then focus on improving content to hit the many long tail variations that holiday makers are searching for and stay away from trophy keywords such as 'cheap holidays'.
**Updated February 2020 – To find out how icelolly.com recovered, you can check out LinkResearchTools' Penguin recovery case study.
---
www.holidaydiscountcentre.co.uk
Holiday Discount Centre is one of the UKs leading travel comparison sites for over 40 leading travel brands and, like icelolly.com, has a very low quality backlink profile with over 50% of links classed as high risk. This appears to have unsurprisingly resulted in a Penguin 2.0 penalty.

Source: Link Detox
Unlike icelolly.com though, Holiday Discount Centre has begun to recover. More than a year after the previous Penguin update, Google released a Penguin refresh named Penguin 3.0 on October 17th 2014.  For those that had battled Penguin since May 2013, this was a much anticipated opportunity to see if their hard work during the past eighteen months to clean up the link profiles had paid off.

Source: Search Metrics
As the graph above demonstrates, Holiday Discount Centre has seen an increase of 700 in organic visibility since Penguin 3.0 was rolled out, showing the start of a definite recovery. This will gradually continue to increase over time as new links are gained naturally to replace those that have been removed or disavowed.
This is a great for Holiday Discount Centre their visibility will soon increase gradually back to where it was over time with the addition of natural links.  Holiday Discount Centre could also improve the long tail targeting of content on the site to increase their traffic from holiday makers that are at the latter stage of the buying cycle instead of just researching.
---
www.sunmaster.co.uk
Finally, we will review the Sunmaster website, which prides itself on 21 successful years of offering cheap holidays, hotels and flights.
Sunmaster had however had a difficult 2014 regarding organic search: a large decrease in visibility between the May 16th – 30th 2013 correlates with both Phantom and Penguin algorithm roll outs.
Source: Search Metrics
May 2013 was a rough month for webmasters, with two significant algorithm updates released. The first was called Phantom on May 9th 2013; it's understood that this targeted content rather than links, although Google never confirmed this. Phantom was followed quickly by Penguin 2.0 on May 22nd 2013.
As mentioned, Phantom focused on content and resembled Panda more closely than Penguin. Content issues commonly seen from 'Phantom-ed' sites range from thin content, affiliate content, scraped content and low quality content as well as heavy cross linking from company owned domains using exact match anchor text.
On April 24th 2014, Sunmaster appears to have seen a slight recovery. However this is not in line with any algorithm updates and isn't a major increase anyway.
How can Sunmaster recover?
Sunmaster needs to heavily analyse their backlink profile, remove any unnatural links, disavow links that can't be removed and then heavily analyse the content on the site. When analysing the backlink profile we found 41% of the backlinks were high risk and were low quality, including many directories.

Source: Link Detox
The content on the Sunmaster is also poor and doesn't seem to be trying to target the long tail at all. The content needs to be more substantial and informative for users and although attempts are being made to write content for each resort, no internal linking is being used and the content is quite thin.
---
How do other cheap holiday websites compare?
There are also many other cheap holiday companies across the web that have similar issues to the four highlighted above. However, www.onthebeach.co.uk is one of the winners, with a steady increase in visibility since Dec 2012. It did suffer a drop back in early Aug 2012, but recovered and came back stronger by the December. The drop wasn't in line with any key algorithm dates – something definitely happened but without further analysis we can't be sure what caused it. On The Beach does a good job of content and keyword targeting and, with no visible penalties, they will continue to increase in visibility and therefore maintain their success.
Similarly, www.travelrepublic.co.uk is cruising along and not much has changed for them in terms of visibility for the last two years. However the site is thin on content and the content Travel Republic do have is hidden in tabs that don't expand when JavaScript is disabled. Therefore it doesn't follow best practice and Google more than likely can't crawl and index this content.
---
So who are the losers and what can they do to improve their visibility and start competing again?
All four leading travel sites have been penalised in some way by either a Panda or a Penguin update. However, icelolly.com and Sunmaster stand out as being the sites that need more analysis and some help to kickstart their recovery.
Remove or disavow unnatural links
Unfortunately many of the links that once brought success now have a negative effect on the sites in question. Essentially, they need to start from scratch to build up natural backlink profiles to rebuild authority and trust. In order to recover from penalisation for unnatural links pointing to your site, it's imperative to audit all links and either remove or disavow the unnatural ones, so Google will no longer count them.
Then, when Penguin refreshes, once the unnatural links have been cleaned up, Google will regain trust in your site and you'll start to see an increase in visibility. However it can sometimes take a couple of refreshes for a site to completely escape a Penguin penalty and this can take up to six months in certain cases. This is because it can take several months for Google to re-crawl all the pages on a site and therefore see the changes that have been made.
For step-by-step guidance on how to audit your links, remove ones that are toxic and recover from a Google penalty, download our free eBook.
Optimise content
Once the link profile is natural, content is the next major concern. Without adequate content, the sites will struggle to rank for terms and will miss out on the 70% of people in the UK that take at least one holiday a year.
Most of the travel companies highlighted in this blog are completely missing out on long tail opportunities: they need to fully analyse their content to identify areas for improvement. Long tail opportunities can also be identified by carrying out effective keyword research. By removing thin and duplicate content, visibility should improve when Panda next refreshes.
Download our simple guide to SEO for hints and tips on best practice for content optimisation.
Fine-tune technical performance
The travel companies also then need to ensure all technical aspects of their sites are to a satisfactory standard to ensure that nothing will hinder their organic search performance once the backlink profile has been cleaned up and the content is substantial and valuable.
Moving into 2015, the four online travel leaders highlighted in this blog each have a long journey with stops at link removal station, keyword research junction and content optimisation lane, before they become leaders of organic search.
Category: SEO, Organic Search, Editorial Picks, Google Penalties
Tags: panda, Google penalty, link auditing, link removal, Penguin, google penguin, cheap holidays, serps
Industry: eCommerce & Retail, Travel, Tourism & Events
Share this: