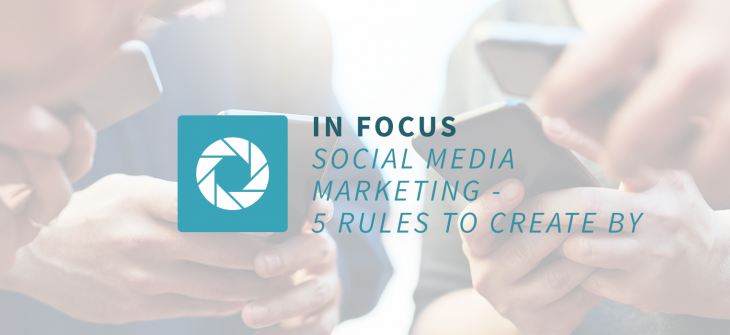 In Focus: Social Media Marketing – 5 Rules to Create By
As we get closer to the end of the first quarter of 2022, January '23 doesn't seem that far away. How is your Social Media marketing strategy going?
---
The number of global social media users is expected to reach almost 3.43 billion in 2023 (Statista, 2020). To put that in perspective, the global population is estimated to reach 8 billion at the end of 2022/beginning of 2023 – making the percentage of social media users a huge 42.88%.
Before we get into it, we want to stipulate that social media is ever-evolving, we cannot guarantee that this list will be relevant in 6 weeks/months/years time. The rule of thumb is take what we write as inspiration for your own brand of content.
Social Media Strategy

It's fairly quick and easy to put together a simple social media strategy that looks at content on the whole. By spending some extra time investigating what can work well for each channel, your strategy becomes a well-rounded document – it also allows for changes in specific platform algorithms.

*tidbit número uno* Prioritise the quality of your content over the number of your posts and sites that you use. Which leads me to our next point…

Consistency is Key

We're not suggesting that every day you need to post specifically at 12:09 pm per channel. Researching into time slots that do well with a specific algorithm on your chosen platform gives your content the best chance of being seen.

*tidbit número dos* Keep close to the tone you're wanting to convey, do you want it to be very corporate, or a bit quirky? If the tone changes a lot, your audience will possibly get confused about who you are and what your company represents.

Tailoring your message

LinkedIn has a very different audience to Twitter, and while there could potentially be some crossover between the various channels you're using. Understanding what your audience generally interacts with per platform will enable you to tailor your message and be relevant to what specific demographics want to see.

*tidbit número tres* Keep up with trends that you see to keep your content even more relevant, be forewarned that trends don't hang around so it's important to not get left behind.

Results and Analytics

Many of the everyday social platforms have built in analytics that allow you to measure metrics such as:

Reach and engagement for Facebook
Impressions, retweets and mentions on Twitter
Clicks, impressions and interactions on LinkedIn
Engagement and impressions on Pinterest
Likes, comments and mentions on Instagram
Views and engagements on Instagram Stories

However, if you have a CTA (call to action) that redirects a user to a specific page on your website, using Google Analytics to track a user's journey from platform to landing page to the rest of your website (if they're interested enough).

*tidbit número cuatro* Before you can analyse your strategy, it's best to set some KPIs and goals. Setting boundaries on what success looks like will help you accurately report on results.

Be Creative!

Last but certainly not least is to hone your creative skills and have fun with the content you push out into the social world. You can have some fun with posts while keeping a corporate tone of voice, you can be tongue-in-cheek while still respecting the brand guidelines. This is about creating something authentic and real rather than stiff and robotic.

*tidbit número cinco* Generally speaking, people like people, and buy from that experience. Posting about how great your company is (even if true) all the time can be tiresome for an audience, and a more personal approach to the content can increase engagement.

---

It can be as easy as 1 2 3 (4 5)! Social media needn't be something that fills you with dread, it can actually be very fun. Having a social presence will complement your other digital marketing efforts. For users exploring who you are and what your company is all about, an active Facebook/ Twitter/ LinkedIn account will help them paint a picture of your visions and values; which will hopefully lead them to become an interested buyer.



Share this: