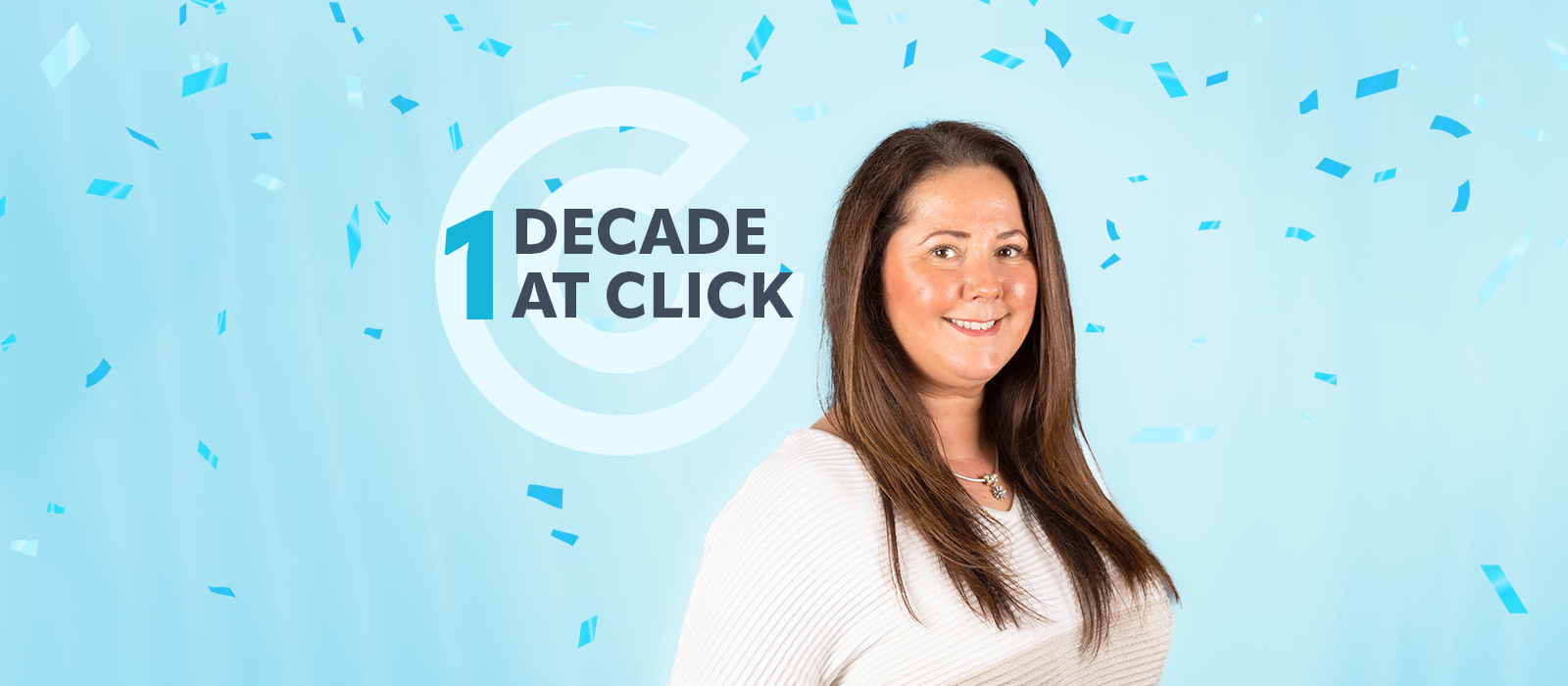 1 decade at Click – Zoe Grant
Aug 4th, 2022
On 3rd August 2012 the number 1 song in America was "Call Me Maybe" by popstar Carly Rae Jepsen, we urge you not to listen to it. On 3rd August 2012 our number 1 HR Advisor, Zoe Grant, joined Click!
What do you enjoy most about your role and why?
Being in HR enables me to do what I enjoy doing the most, which is interacting with people and getting to know almost every single person in the company. I embrace being able to develop friendships, strengthen relationships, and interact with new people.
HR is very much a service role that facilitates me to help others, it is also extremely varied where no two days are the same. I am responsible for payroll, recruitment, onboarding, and working one-on-one with employees and managers who need help or guidance. There are endless ways for me to help the people around me as well as making sure things run smoothly for the rest of the company.
Having a positive impact is what I strive to do. This can be achieved in so many ways for instance constantly adding value to the company through hiring the right talent to ensure they grow with the company and to contribute to our overall success. Click has a great company culture which inspires me to continually strengthen the employer and employee relationship.
What are you most proud of from the last 10 years, personal or career?
Completing my CIPD Level 5 Associate Diploma in People Management (HR). In lockdown 6 months ahead of schedule.
What is the most important lesson you have learned in your career?
Having a job I enjoy. Working in HR provides me with so much job satisfaction with plenty of opportunity to grow.
If you could say anything to your 10-year younger self, what would you say?
Only you can make it happen and change things around you. So be strong and confident in your choices.
Some really wise words from our HR superstar. Zoe is one of our 'for lifers', which is testament to the culture we're so proud of.
We were facing a challenge with growing our generic campaigns profitably. However through adopting a test and learn approach with Google and Click Consult we are extremely pleased with the uplift in clicks, demand and ROI that has enabled us to scale up sustainably.
Paul Gray
Marketing Director

Since moving from our old PPC supplier to Click, we have seen some very impressive results all round! All key PPC metrics have moved considerably in the right direction. ROAS, Conversions, Conversion Value, Clicks and Impressions are all up, and CPCs are down considerably.
We're very pleased that we made the switch to Click, and we're so impressed with their PPC work that we have just given them some SEO projects too!
Jack Stubbs
Marketing Manager

Click Consult has helped us to develop an online marketing presence that continues to inch upwards. The team manages our account exceptionally, communicating clearly and frequently about the progress.
They are responsive and proactive in their approach and are considered an important component within our digital marketing activities.
Peter Lingley
Chief Operating Officer