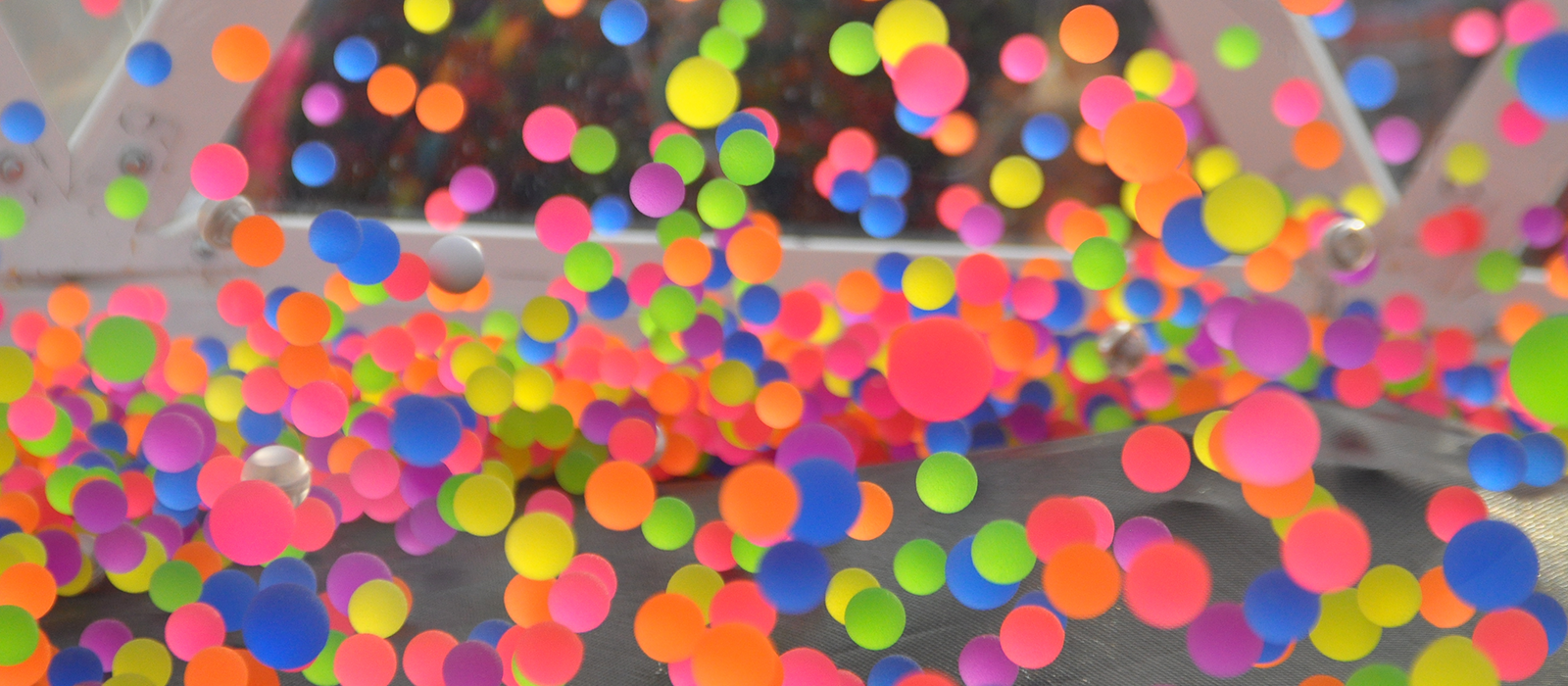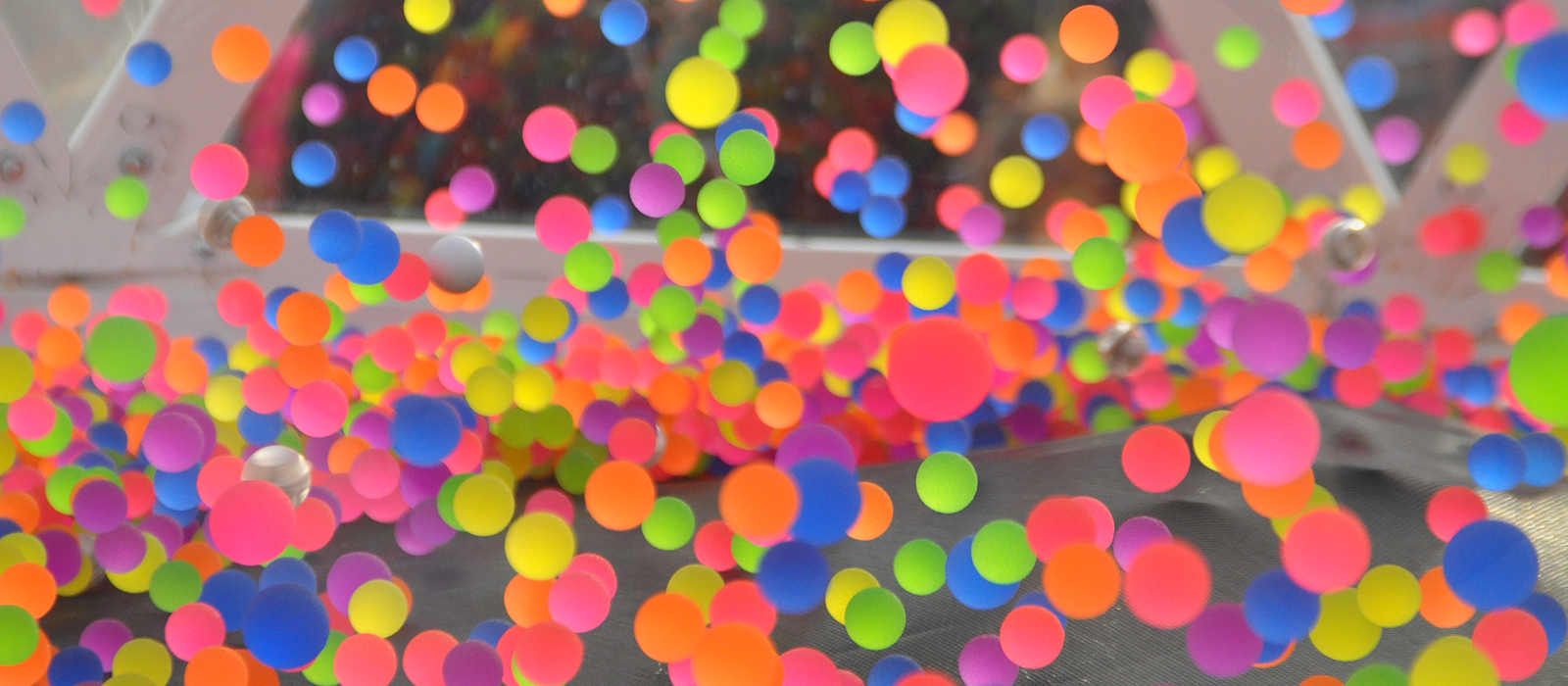 7 ways to minimise your bounce rate
Nov 21st, 2017
Are your bounce rates a cause for concern? If so, what can you do to persuade visitors to stay longer on your site and take the action you want them to?
---
Bounce rates: a summary
Bounce rate is a metric available in Google Analytics showing the percentage of all sessions on your site in which users viewed only a single page and left your website without browsing any of your other pages.
A high bounce rate could suggest that your content: doesn't answer the question that the user was asking; isn't relevant to the marketing call to action (CTA) you're using to drive users to those pages; or doesn't offer users clear, easy paths to the next steps you want them to take
While no one can claim to know exactly how bounce rate affects your organic search ranking (SEO), a high bounce rate can send a signal to Google that people aren't getting what they are looking for on your site. And, since Google is all about rewarding site's that provide high quality user experience, that's not a good thing.
Your bounce rate can give you insights into flaws on your site in everything from site design to content.
How do you know if your bounce rates are a cause for concern?
HubSpot has produced average bounce rates for different types of page. This is interesting, but too generic to tell us much as it doesn't take into account industry or website objectives.
---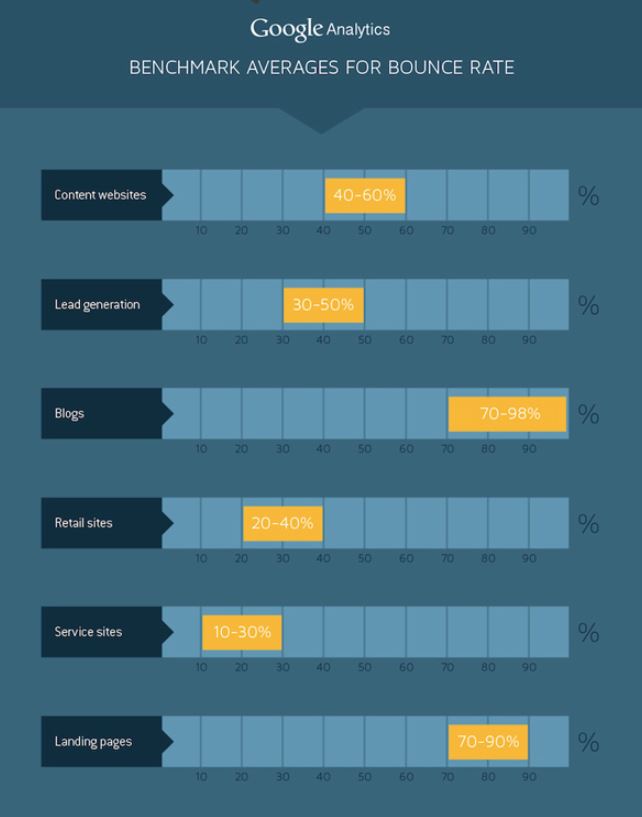 Source: HubSpot
---
You should be familiar with your site's traffic patterns and tracking your bounce rate against your brand's own goals and past performance; a sudden spike in bounce rate will immediately alert you to a specific area that may need attention. But, as with all metrics, bounce rate needs to be considered contextually; a high bounce rate is perfectly normal for some types of page. For example, if someone comes to a help page and gets their answer, they leave. The page served its purpose and provided a good user experience (UX).
I covered how to check your own bounce rates in a previous blog. Here's how to get a picture of how you're performing against others in your industry.
Compare your bounce rates to the average for your industry
Google Analytics has an interesting benchmarking feature in the 'Reporting' tab, under 'Audience'. This allows you to choose from over 1,600 industry categories for comparison and performance metrics including session duration, new sessions, and, of course, bounce rates. You can add controls for traffic levels and geographic location to keep your comparisons as relevant as possible.
The values in the table show the percentage by which your property outperforms or underperforms the benchmark for each metric. A positive value (for example, 67.80%) indicates that your site outperforms the benchmark. A negative value indicates that your site underperforms the benchmark.
---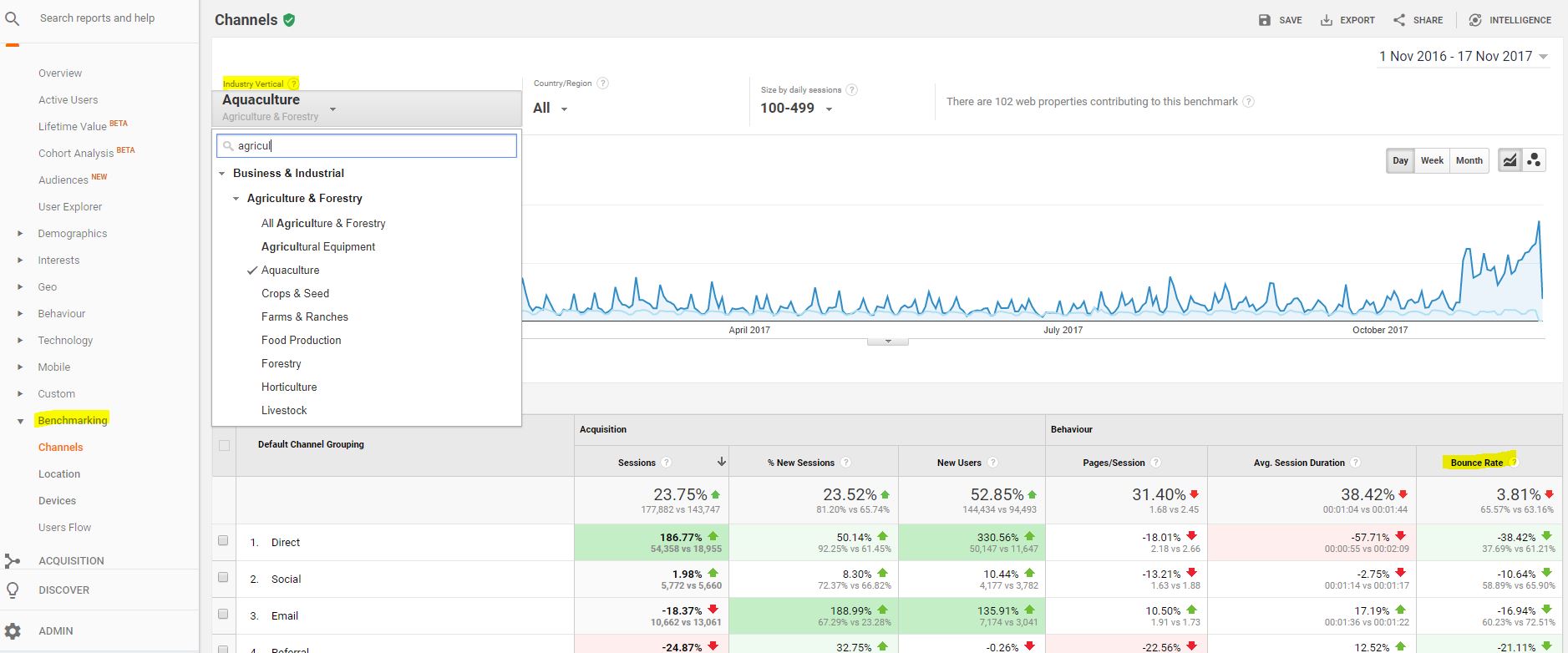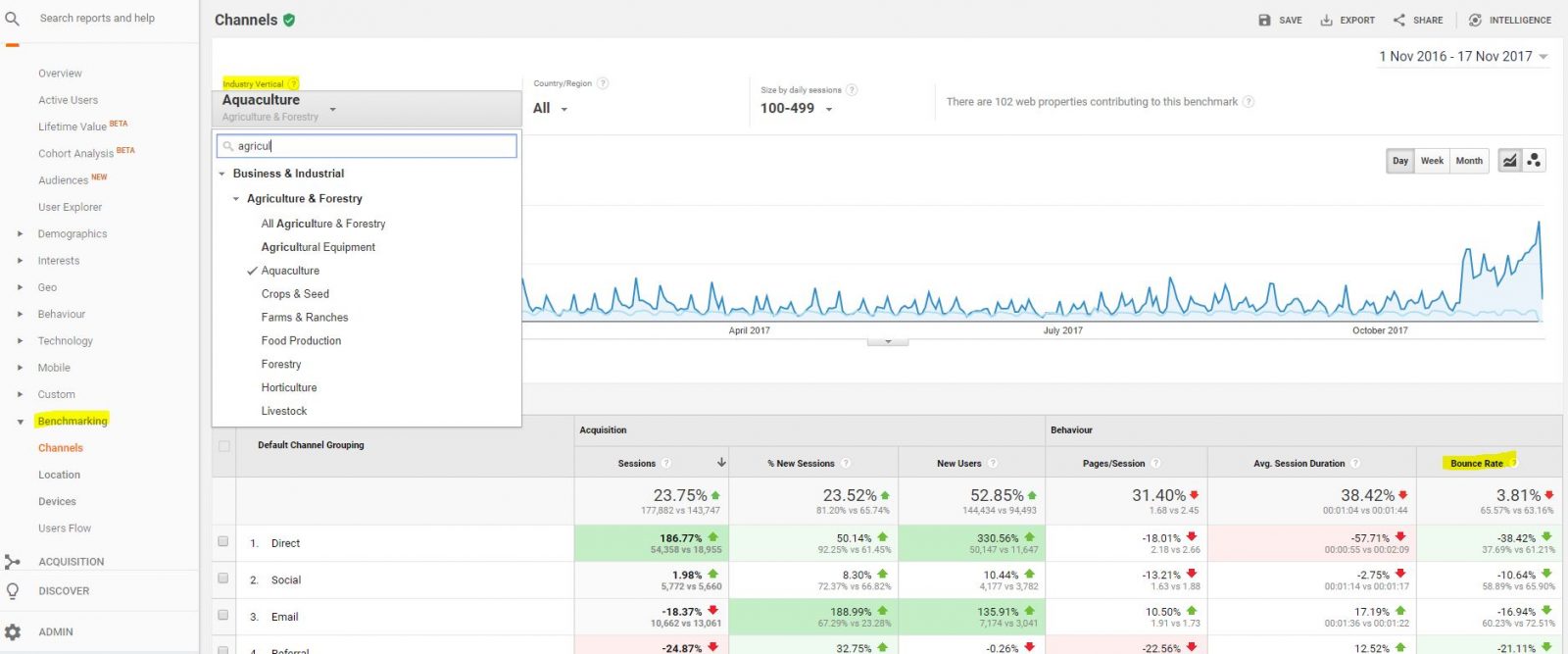 ---
Another useful stat to compare is the 'Pages/Session', as this shows you how far visitors click into sites in your industry and realistic expectations for your own.
Attract the right visitors
1. Create multiple landing pages with content tailored for different levels of intent
What's the point in generating a high level of traffic if they've got little chance of finding your site relevant or interesting, and even less chance of converting? This is bad news for your bounce rate average as well as your SEO. Aim to provide a rich, personalised experience for each section of your target audience. Creating content that meets specific needs and intent isn't just about keywords; you need to be strategic and this involves defining what you want to achieve, and knowing your market and your audience inside-out.
2. Optimise your meta tags
Your meta title and description can be a make-or-break deciding factor in a user's decision about whether your content is relevant to their search query and worth checking out. While you want to encourage people to click through to your site, you want them remain engaged with what they find there, so your metas need to be accurate descriptions of what to expect on the landing page, and should contain key terms relating to the landing page's purpose and function.
Meet visitors' expectations
3. Know your audience
You can only offer relevant content to your audience if you have an insight into the topics that they're interested in – the questions they're asking and the problems they want to solve. Ask yourself how you can provide specific answers, solve problems, and address their interests and intent in your content. This is where good keyword research comes in.
Your visitors will only stick around – and hopefully convert – if you're offering them genuinely valuable content that meets their needs at the time of searching – whichever point they're at of the customer journey.
While identifying relevant keywords remains an important, ongoing exercise, you need optimise web content for user intention and experience (UX), rather than concentrating on keyword volume alone. Your traffic may increase, but your bounce rate will too – and it's unlikely you'll see any impact on conversions.
4. Draw them deeper
Include links to other relevant content on your site, whether that's landing pages, product pages, service pages, blog posts, etc. Think about other pages that people interested in that piece of content will want to see, and link to them throughout the content, or at the end, eg 'related blogs' or 'related resources'. Consider what would attract visitors deeper into your website, such as blog posts that explore aspects of the topic in more detail or associated products.
5. Make sure paid search calls to action (CTAs) and landing pages match
Paid search (PPC) isn't all about getting people to click on your ad – if you want a respectable conversion rate, you need to put careful thought into what they see when they arrive on your landing page. The content of each landing page should follow logically from the ad that triggers it, giving users a consistent message. Remember that your landing page can influence your page rank and CPC (cost-per-click) as it's part of the criteria Google uses to determine your Quality Score.
The type of landing page you create will depend upon the goal of your ad campaign, as well as match the intention level – ie, where they are on the customer journey – of the search you wish your ad to show for.
---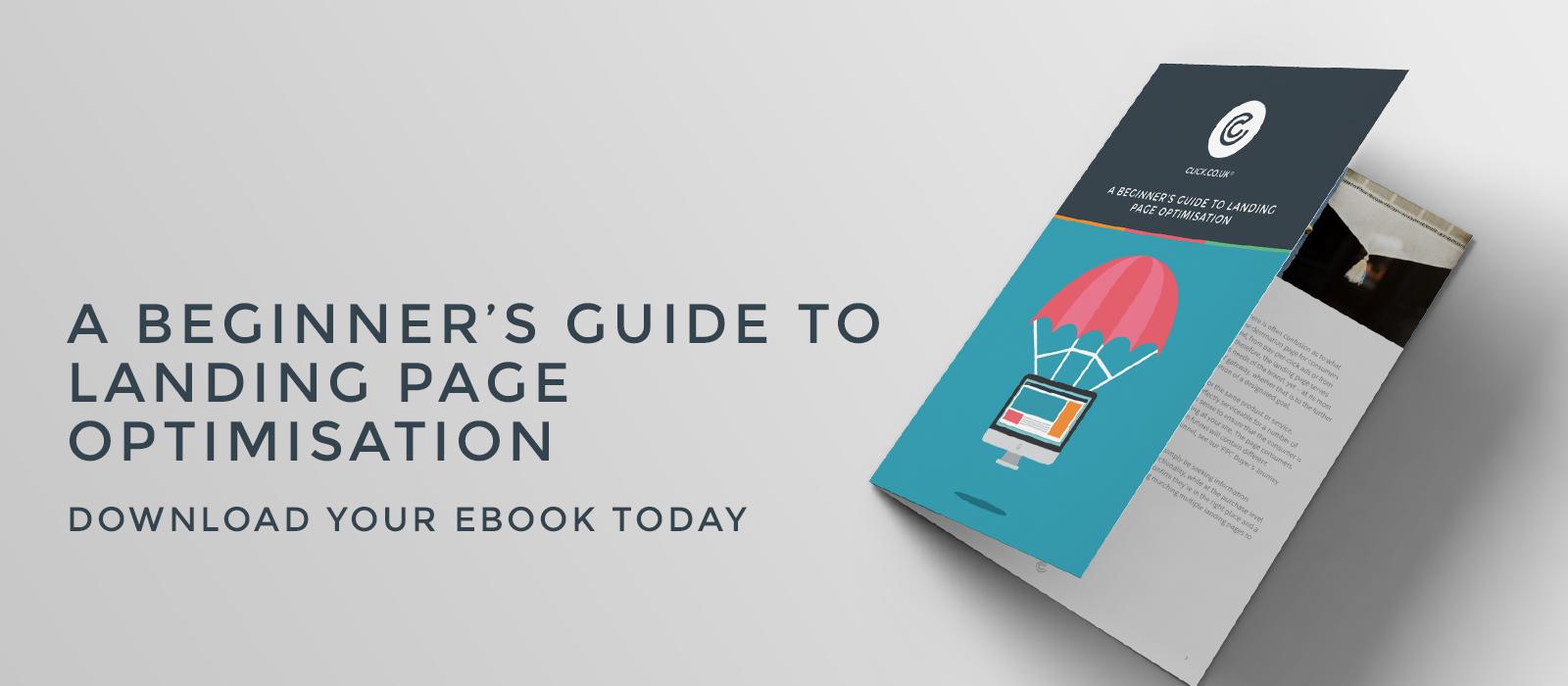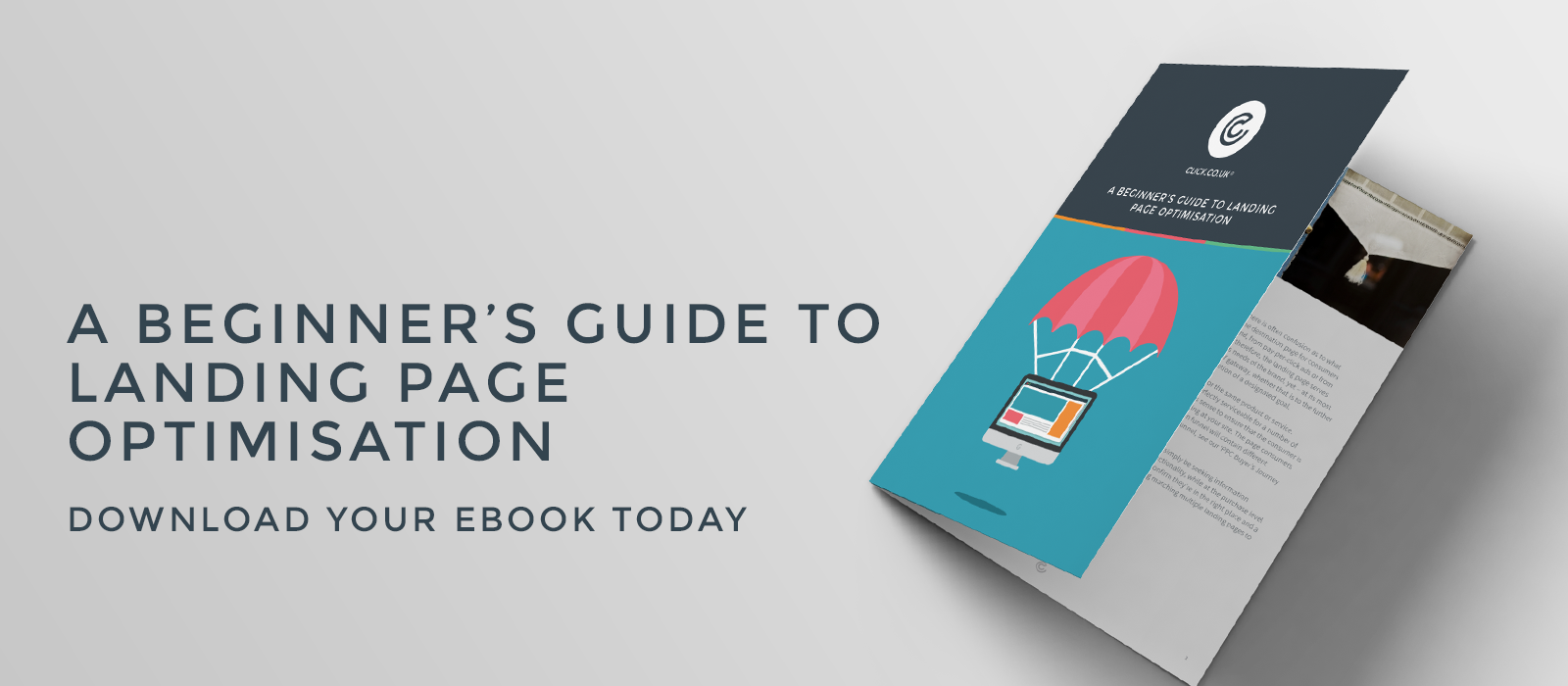 ---
UX: Optimise you visitor journey
6. Make it easy for visitors to use your site
Loading time is a major contributing factor to page abandonment. According to KissMetrics, half of consumers expect a web page to load in 2 seconds or less and 40% of people will abandon a website that takes more than three seconds to load. Ideally, each page should load in under a second.
Make your pages as uncluttered as possible for ease of navigation – and get rid of distractions such as pop-ups.
The design of your eCommerce website's navigation bar can be critical to the experience of your online visitors, and small tweaks to the design of your navigation layout may dramatically increase your conversion rate. Indeed, Econsultancy observe one particular instance where an online kilt retailer added simple filtering options to their navigation bar and saw an increase in conversions of 26% as a result.
Mobile searches now outstrip those on desktops and tablets – and mobile users expect to get the information they need quickly and simply, or they'll simply go elsewhere. 53% of mobile site visits are abandoned if pages take longer than three seconds to load. Being Mobile Friendly isn't a nice-to-have; it's must.
---
Use Google's 'Mobile Friendly Test' to get an understanding of how the search engine perceives your website, and ensure your mobile offering avoids these common mistakes. If you're not already doing so, now may be the time to invest in Accelerated Mobile Pages (AMP), especially since forms are now supported, as well as images, videos and iframes
Our Senior Organic Search Executice, Stu Jones
---
7. Make your CTAs (calls-to-action) stand out
Saving the best until last, CTAs are probably the biggest factor when encouraging visitors to explore further into your site. What do you want the visitor to do? Download a brochure, subscribe to an email newsletter, or a call back request? Make it clear and simple for them to take the next steps. Limiting the options on each page can be an effective technique.
Bonus tip
It's an obvious one, but often overlooked: set external links to open in new tabs to that visitors don't have to leave your page to view them.
Next steps…
Conversion rate optimisation (CRO)
CRO is the process of optimising your landing pages to encourage visitors to take actions you want them to, by experimenting with various design features, layout and CTAs. The results give you valuable insights into what influences your customers' online behaviour that will have long term benefits for your business. The important thing about CRO is that you take a structured approach of testing and analysis, to allow you to evaluate your ideas for making improvements before you commit to making them permanent, rather than relying on guesswork.
Our Simple Guide to CRO explains how to do this, step-by-step.
---
Our organic search experts are passionate about SEO. Contact us today to claim your free site review and find out how to increase relevant traffic, boost conversions and drive up revenue.