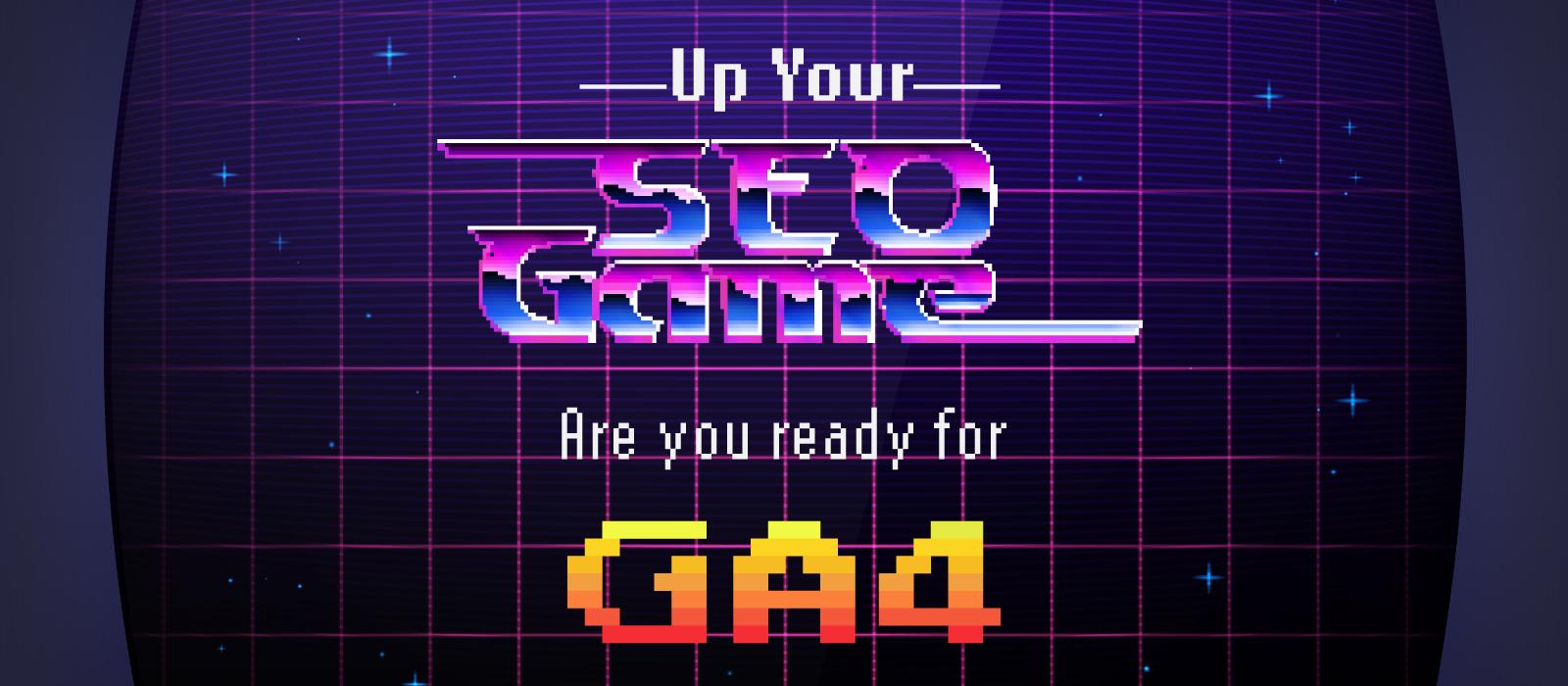 Are You Ready For GA4?
Jan 26th, 2023
We've previously discussed Google's announcement that as of 1st July 2023, Universal Analytics will stop processing hits – meaning that anyone who uses UA will want to start making the switch to the new platform. In this helpful guide, Click Consult have explored all the must-know facts about Google Analytics 4 ahead of the big change and the actions you should take to be ready!
Since this article was written in October there have been a few updates to what we know about GA4, we have updated to reflect these changes*
What is Google Analytics 4?
Google Analytics 4 is the latest edition of Google Analytics, the popular tracking software used to measure traffic and engagement across a user's website. With the vast majority of websites now requiring visitors to consent to cookies in order to monitor user behaviour as part of new GDPR compliance legislation, GA4 was introduced partly to reduce this reliance when it comes to tracking.
By using machine learning to generate insights and predictions, GA4 allows for the recording of events across different platforms and devices in instances where user consent is not given for tracking. This means that Google Analytics 4 is less likely to be impacted by data compliance changes, making your future data more reliable and less subject to potential gaps.
*Latest Features
Google Analytics 4 introduces a wide new range of features, from extra customisability to in depth reporting. Let's run through some of our favourite changes below:
Cross-device reporting from both website and app data to provide a better understanding of the customer journey
Native Debug Mode for in-depth live testing
A focus on event-based data rather than session-based hits
Includes privacy controls such as consent mode and Google Signals
Anomaly detection alerts for data deviations
Customisable Funnel Exploration for the creation of flexible reports
Google Analytics 4 vs Universal Analytics
There are a few core differences in how data will appear across both UA and Google Analytics 4. This can be a bit complicated to understand, so Click Consult have outlined the main things to look out for when first using your new GA4 property!
Measurement Model

Firstly, it is important to note that Universal Analytics' measurement model of data collection is based upon session and page views, whereas Google Analytics 4 instead bases this upon events and parameters. Rather than following Universal Analytics' "hit types", GA4 considers every tracked activity to be an event.

This can make comparing data between your current and new GA4 property hard to do, as hits from Universal Analytics may not translate directly to a relevant GA4 event. This results in GA4 and UA also having a number of different metrics, with GA4 introducing engaged sessions, average engagement time per session and engagement rate (in the context of the number of engaged sessions relative to total sessions).

Views vs. Data Streams

As opposed to Universal Analytics' separate views, GA4 uses data streams for app and web data collection. Views in UA allowed users to see and customise data based upon a set of filters, with many choosing to have a test view to trial new filters, an unfiltered view to gather all site data and a main view used for primary analysis.

GA4 also does not currently support filters in the traditional sense, with only the options to exclude/include internal traffic available under the Data Settings of a property. Instead, the Analysis Hub can be used to apply a filter based upon dimensions and metrics to your data in a report which can then be saved.

Events

Events in Universal Analytics were previously mapped out via a Category, Action and Label with their own assigned hit type, which could be seen in UA reports. As mentioned above, all tracked engagement and activity on GA4 is captured as an event rather than as a specific type of hit – meaning there is no longer a distinction between "hits".

Events in GA4 now instead consist of an event name and parameters (automatically collected parameters and custom parameters), with no specific reference to Category, Action, and Label unless added. Google therefore recommends reframing your data collection to follow GA4's model rather than attempting to port any existing UA event structure across. To retain Category, Action and Label data for analysis (if used as parameters), these should be set up as custom dimensions under the Custom definitions section of your settings.

GA4's Enhanced Measurement however, now allows for specific events to be collected automatically including File downloads, Video engagement, Outbound clicks and Scrolls. Any bespoke or enhanced measurement goal can be marked as a conversion within your account's admin settings.

Ecommerce

For ecommerce tracking, a number of event and parameter names have changed between Universal Analytics and GA4. This means that users who had ecommerce tracking in place for their UA property will not be able to simply copy their existing UA ecommerce events and parameters over, as this will not correctly record data. Additionally, just switching details in the current UA ecommerce implementation will likely cause issues with the ecommerce tracking and can result in both the UA and Google Analytics 4 ecommerce reports being incomplete.

Google therefore recommends that duplicate events are created for the GA4 property with the new relevant names and parameters, meaning that there is a separate UA and GA4 ecommerce implementation. The required parameters for different ecommerce tracking events in GA4 can be found on Google's Analytics Help Hub.
Setting Up Google Analytics
With a Universal Analytics Account
Anyone with a UA property can now sign up for a GA4 account simply with the GA4 Setup Assistant. This allows you to start to collect new data without your current Universal Analytics being removed or affected. It is important to bear in mind that when setting up GA4 through this method that if you plan to utilise Google Tag Manager to manage events, that your GA4 data stream is not also set to pull through based on an existing gtag.
In the Admin settings of your current Universal Analytics account, select the correct property before clicking onto the "GA4 Setup Assistant". This will then give you the option to either connect to an existing GA4 Property (if you have one), or create a new one for your website.
After selecting the option to create a new GA4 Property, you will be prompted to add a name for this new property as well as select the reporting time zone and currency, alongside your industry size. After this, accept the Analytics Terms of Service and the Data Processing Amendment to create your account.
In the Property column of your new GA4 account, click into the Data Streams section and select the option to 'Add stream' for either iOS app, Android app, or Web – depending on your needs.
For websites, you will then be prompted to add your website's URL and select a stream name. GA4 will then create a unique measurement ID for this stream that will be used to start tracking.
You will then be required to set up a data collection tag by placing this measurement ID manually onto your website by following the 'Install manually' steps on the data stream page, or by setting up a GA4 Configuration with Google Tag Manager.
After 24-48 hours you will then be able to see information in your new GA4 account, given that the above steps have been followed correctly.
From scratch
If you're completely new to Google Analytics, you are able to set up a brand new GA4 account without having to worry about any previous UA properties. This can be done by following Step 2 onwards, with the difference being you first have to set up your Analytics account by following the Create Account process under the Admin section of Google Analytics.
What is the deadline for GA4?
Whilst there is no deadline to set up GA4, as Universal Analytics is being phased out on 1st July 2023, we recommend that you try and set up your GA4 account as soon as you can in order to ensure that your data is collecting correctly before Universal Analytics stops processing hits. This can also give you time to familiarise yourself with all the changes you can find in Google Analytics 4, from data streams to attribution!
Unfortunately, there is currently not an option to migrate your data from Universal Analytics to GA4 as they use different data models – meaning that there is no simple way to directly compare the traffic and information from the two account types. Setting up your GA4 account early can help ensure that you have historic data in your Google Analytics 4 to compare to rather than having to start from a blank slate in July. This can be useful if you wish to compare GA4 sessions, goals or conversions to previous months – helping to monitor growth and performance!
How can Click Consult help you?
We know that this switch can seem daunting. That's why Click Consult have a dedicated GA4 Set Up service in which we sort all these changes for you, from setting up your data streams and creating custom reports to linking your associated properties.
Is your account already up and running, but you're worried something might be wrong? Click Consult also have a GA4 Analytics Audit available to help ensure that your account is set up correctly and is pulling through the information that you need, highlighting any errors or areas that need changing. We can help you every step of the way!