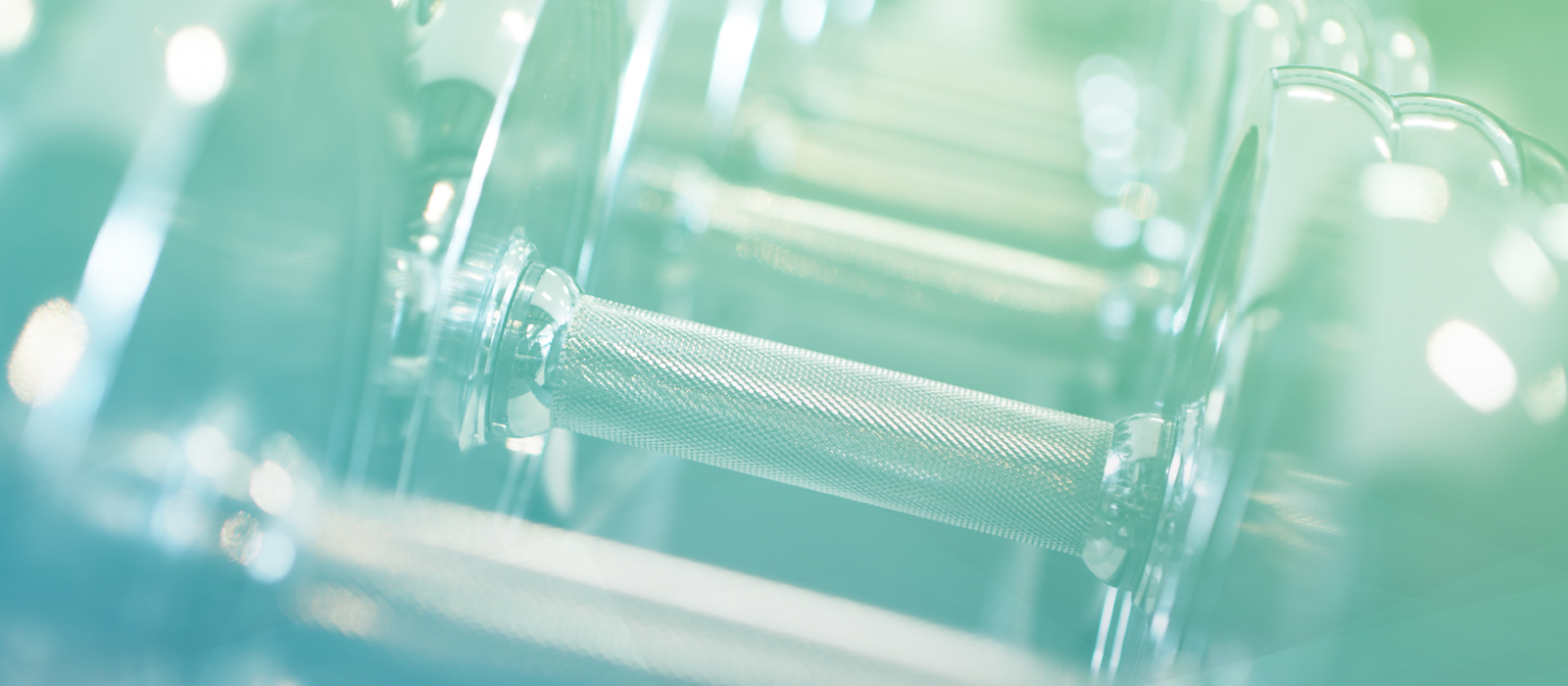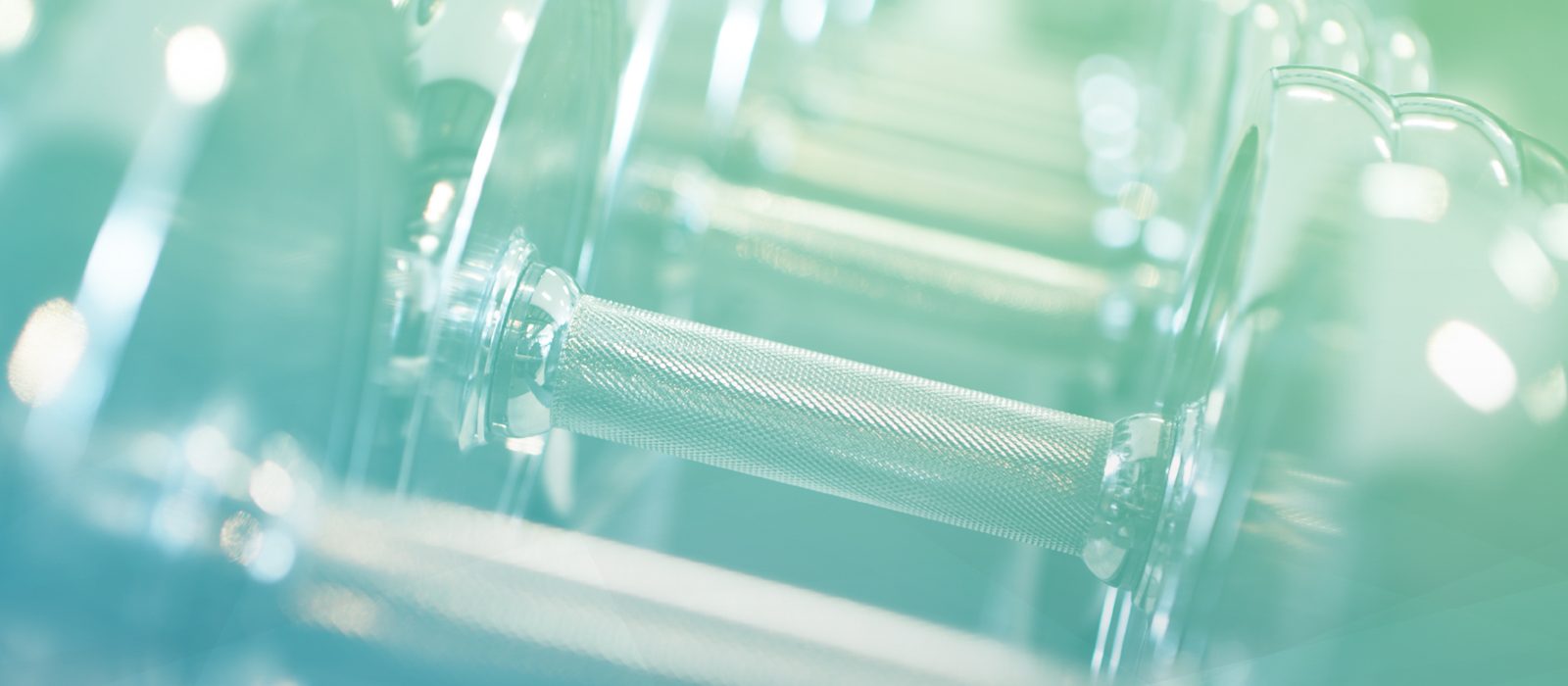 Beefing up the organic presence of gym companies in the UK
Jan 21st, 2015
Nearly 13% of the UK population were registered to one of the UK's 6,019 health clubs or gyms in 2013, according to futurefit.co.uk. The fitness industry as a whole grew by more than 5% between 2012 and 2013, with the total market value estimated at almost £4billion.
The UK is more educated than ever about the need to incorporate exercise into daily life and the internet has made the process of joining a gym or health facility simpler and more efficient. It's also easy to search for your closest gym before comparing the equipment, classes and offers that best suit your needs. For this reason, the prominence of fitness clubs within the search engine results pages (SERPs) of the major search engines has never been more important in reaching the target market.
In this article, we investigate the organic online presence of three companies with the largest overall share of the UK gym market:
•    Virgin Active Ltd
•    David Lloyd Leisure Ltd
•    LA Leisure Limited
We analyse SEO for gyms using specific businesses as examples, looking particularly at visibility improvements or decreases at times when Google released algorithmic updates.
Virgin Active Ltd
Virgin Active (VA) operate 118 clubs in the United Kingdom, satisfying the needs of the premium gym-goer, with many clubs offering swimming and spa facilities, as well as complementary towels, internet and lockers. VA is the UK's largest gym company, with 8% share of the UK market. However, during 2014, profitability has come under pressure from falling membership rates and competition from budget gyms. In order to combat this, VA invested £100million in renovating clubs and introducing innovative technology.
In order to understand the online authority of VA, we will analyse the website in three specific areas:
–   Backlinks
–   Keyword optimisation
–   Content
Backlink profile analysis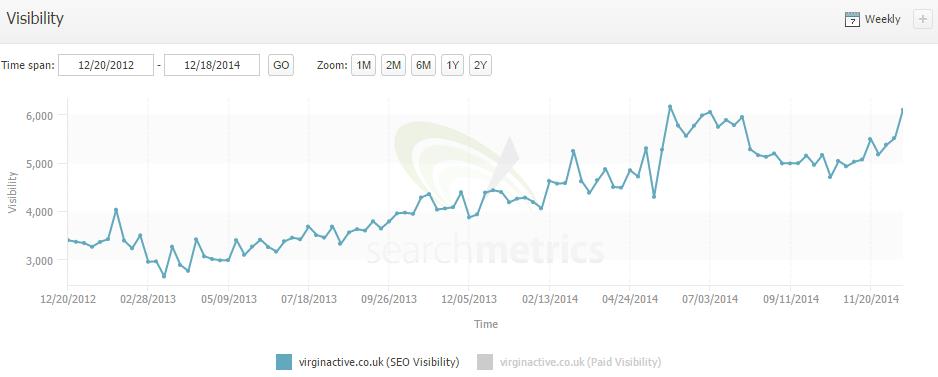 Source: SearchMetrics
The graph above shows Virgin Active's visibility within Google throughout the last two years, with VA currently ranking for more than 5,000 keywords and almost 2,000 keywords ranking on the first page of Google. The company is therefore highly competitive online and the positive organic visibility growth indicates a strong, healthy backlink profile and a particular focus on high quality content.

Source: MajesticSEO
Since April 2012, Google have released a series of algorithmic updates, known as Penguin, with the intention of demoting high ranking websites whose positions were attained via link or content building practices deemed illegal under Google's webmaster best practice guidelines. This change in strategic direction is evident and highlighted in the above graph, which shows the number of NEW referring domains found each month (with the green line representing 2014 and blue for 2013). It's plausible to conclude that the scale of link building efforts by VA has been decreased in order to ensure the backlink profile is safe from future Penguin-type updates.

Source: Link Detox
The table above shows the percentage of links that require a link audit, in order to ascertain their potential to be penalised by future Penguin-type algorithmic updates. The information within the table is encouraging, since the majority of the site's links have either a low or medium priority for link audit. It's therefore reasonable to assume that the majority of links being built to the Virgin Active website are healthy, natural and from sites in the same vertical as VA.
Keyword targeting analysis
Virgin Active is currently ranking for the industry's most generic term, 'gym', in position 10 for an incognito browser with the location set to United Kingdom. However, even in an incognito browser, most people will not set their location to UK, meaning the ability of Virgin to rank for such a generic term is based solely on the user's location. For example, if the user's location is London, VA will rank third for 'gym'.
VA's emphasis on providing content is evident from the number of weight related information-based keywords the site targets and ranks for. For example, VA rank on the first page of Google for such terms as 'waist to hip ratio', 'weight chart' and 'what weight should I be for my height'. This final 'question-based' search term is testament to VA's understanding of Google's Hummingbird algorithmic update of 2013.
Google updated their entire algorithm to ensure suitable search results for complicated queries such as questions. VA are conquering these types of search queries from the excellent blog section, with content ranging from 'How To' guides to advice on looking good.
The site's top level category pages use meta tags that are optimised for keywords which are unlikely to increase organic visibility. These include terms such as 'innovation', 'epic equipment' and 'fast classes'. However, it would benefit the organic visibility of the website far more to use descriptive key terms for all on-page SEO elements and particularly within the meta title.
For example, rather than using 'epic equipment', which VA rank in position 5 for, a more suitable meta title would be 'Virgin gym equipment', which is far more relevant. This is out of sync with the quirky branding synonymous with Virgin, but meta titles are the most important on-page factor for indicating to Google the keywords the site wishes to rank for. It is therefore necessary to optimise the meta titles with only the most lucrative, achievable keywords.
Content optimisation
Virgin Active dedicates an entire section of its website to the provision of relevant, high quality information from blogs and tools for their current and prospective customers: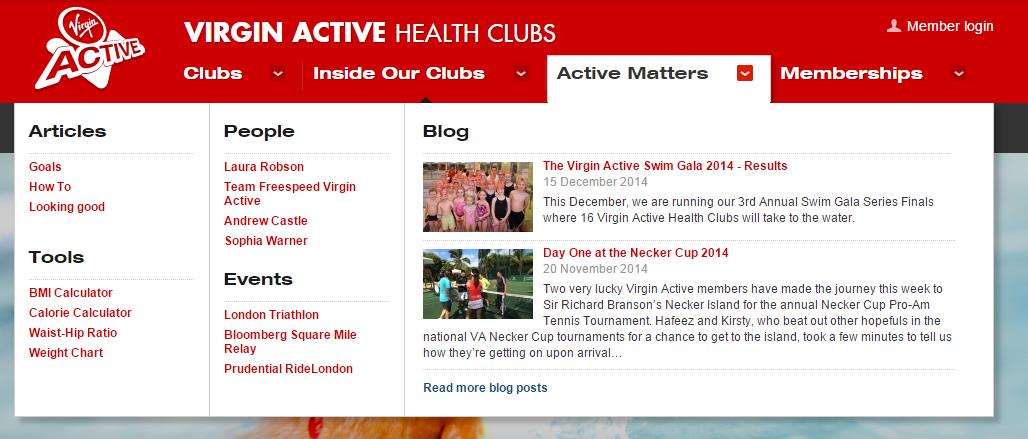 As mentioned in the previous section, Google released their Hummingbird algorithm update in August of 2013, which completely changed the way in which Google's search engine searched for results to queries. The update allows Google to cope far better with conversational queries, such as complicated questions about niche subjects.
VA are utilising this change well with their 'Active Matters' section of the site, particularly for the 'How To' subsection, which seeks to answer the niche queries users may be asking. This is exactly the type of content that the search engines like because it is central to the industry and answers relevant queries, rather than being written for the sake of being found by the search engine.
David Lloyd Leisure
David Lloyd Ltd has a UK market share of 3.8% and is the second largest gym company in the UK, with more than 90 leisure clubs, 450,000 members and over 6,000 employees (according to ibisworld.co.uk, 2014). Similar to Virgin Active, David Lloyd's profits have come under pressure from falling membership numbers and competition from lower cost gyms in 2014.
Backlink profile analysis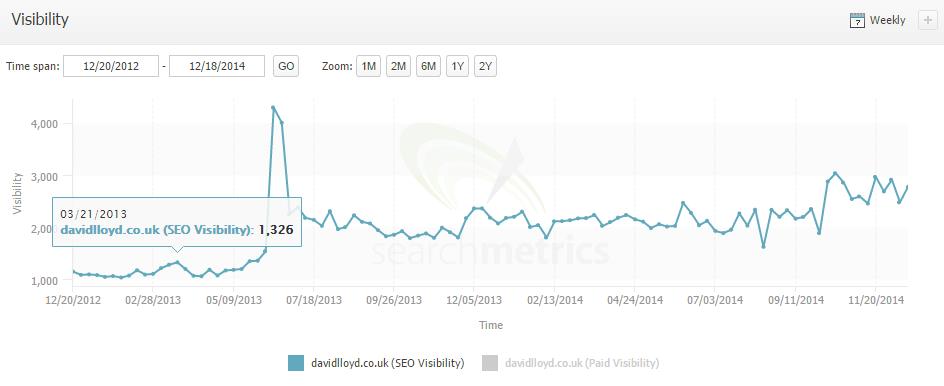 Source: SearchMetrics
The above shows David Lloyd's search engine visibility over the last two years and, in similar fashion to Virgin Active, the site shows no large decreases or improvements in search visibility. David Lloyd (DL) currently ranks for more than 3,400 keywords, with more than 1,000 ranking on the first page of Google.
The only notable visibility movement occurred around mid-October 2014, which saw DL's organic visibility increase from around 2,000 to around 3,000. This improvement in visibility could be the positive result of the Penguin algorithm of October 17th, whereby competitor websites may have been penalised. Therefore, DL may now be ranking for terms for which these penalised competitors are no longer ranking, thus increasing their organic search visibility.
Source: MajesticSEO
Similarly to Virgin Active, the quantity of referring domains found monthly during 2014, compared to 2013, has decreased in-line with the restrictions of a post-Penguin link building world.
Our downlaodable Link Auditing, Removal & Recovery eBook  explains how you can remove toxic links and recover your website if you've been hit by a Google penalty such as Penguin.
Keyword targeting analysis
The home page mistakenly uses the keyword 'home', followed by the brand name 'David Lloyd Leisure' as its meta title. Based on the respectable domain authority of 59 for this website, and a home page authority of 66, it is a missed opportunity to use such a poor meta title on the home page.
Instead, we would recommend the company undertake appropriate keyword research process and choose a valuable keyword to improve the organic performance of the homepage. For example, Virgin Active include the ultra-generic term 'gym', in their home page meta title, and rank in position ten when location settings are set to UK in an incognito browser. It is not unreasonable to think that DL could achieve similar organic rankings for a generic term, since the link profiles and domain authorities of both sites are similar.
The 'At David Lloyd' webpage acts as a top level category page to explain the facilities available at DL centres, but again, the meta title used serves no purpose for improving organic traffic to the page, since users are unlikely to search for the term 'At David Lloyd'. A far better choice of keyword for this page might be 'David Lloyd facilities'. This term has a small amount of search volume, whereas 'At David Lloyd' has no search volume according to the Google keyword planner tool.
Content analysis
The 'Your Goals' section of the website houses a series of subcategories for pertinent topics, similar, which resembles Virgin Active's 'Active Matters' content. The DL content also focuses on answering commonly asked questions, such as 'What are the best types of exercise for weight loss?'. However, each subcategory houses just three articles.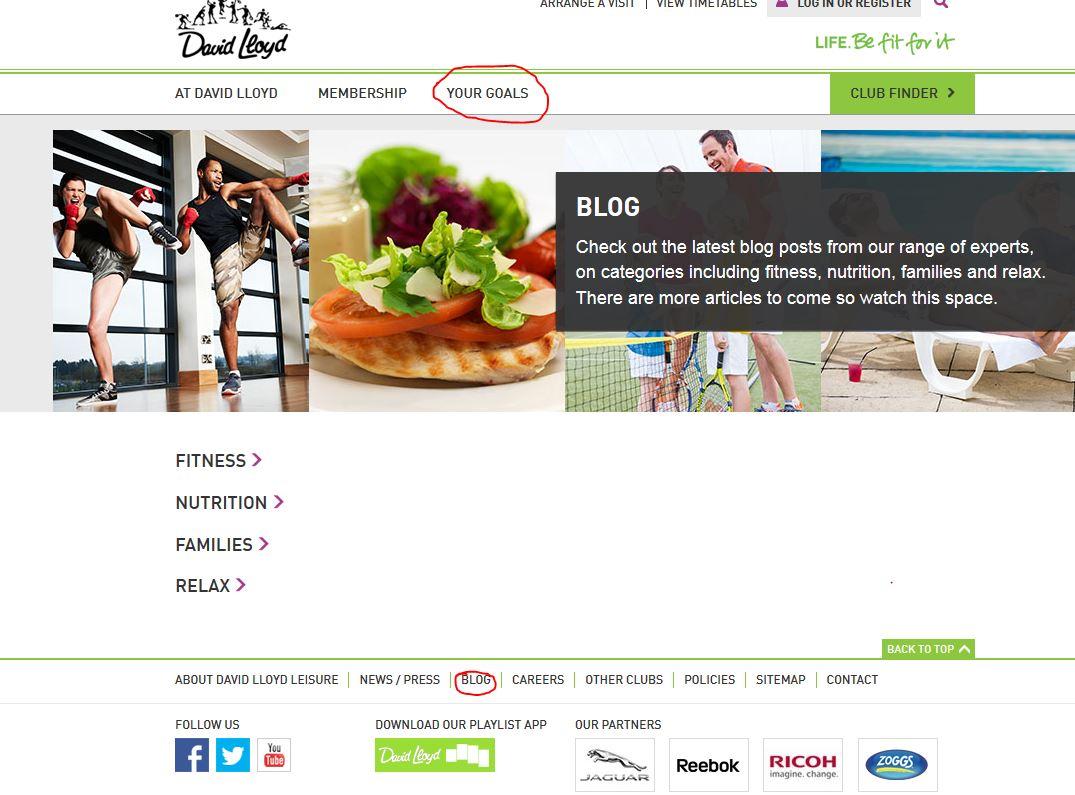 In contrast to the 'Your Goals' section, DL's blog section houses a large number of articles which, again, seek to answer these Hummingbird-type user queries (acting almost as an archive of articles featured in the 'Your Goals' section). Yet the blog cannot be found using the top level navigation, and instead can only be reached using the footer navigation. Although this is unlikely to affect SEO performance, it would be far better from a user experience perspective if the subcategories included more articles and if a navigational link to the blog section of the site was present at the top of the page. In doing so, all authority attained from links for blog posts would filter naturally throughout the site, since they would be higher in the hierarchy of the website.
LA Leisure
LA Leisure is considered to be a mid-market gym chain, trading as LA Fitness (LAF). The company has over 200,000 members, with 24 clubs in London and a further 56 clubs across the rest of the United Kingdom and Ireland.
LAF gyms are marketed as a value for money gym option, with emphasis placed on personal training and coaching for members. Similarly to the other companies analysed so far, LAF has struggled to retain members during the past five years as the economic climate has worsened.
The following identifies a number of potential issues which could be prohibiting the ability of the website to rank well within the organic search results of the major search engines.
Backlink profile analysis

Source: SearchMetrics
The salient decline in visibility shown in the graph above came during the end of August 2013, correlating with the time that Google released their Hummingbird algorithm change. To refresh, this was not an update to the existing algorithm, but an overall complete change to the way Google search works.
Although the severity of this decline is harsh, with visibility decreasing by more than 80% by mid-September 2013, visibility was regained by mid-December 2013, and increased rapidly to over 4,000 by September 2014, before again decreasing to a visibility score of around 3,300 currently. The newest decrease in visibility occurred around the time that Google released their Panda 4.1 update, which punished deceptive content practices, and we'll visit this more in the content analysis section. However, the decrease may have been either solely or dually affected by the Penguin 3.0 update of October 17th 2014. This update penalised sites with manipulative link building practises.

Source: Link Detox
The table above shows the health of LAF's link profile. There are a large number of backlinks which have been flagged as having a high priority to be audited. This may be the reason for the recent drop in LAF's organic visibility. However, without conducting an audit, it is not possible to know whether the link profile has been penalised by Penguin 3.0.
It would be highly advisable for LAF to conduct a manual audit to assess the quality and potential risk of all links considered to be of high and medium link audit priority. A quick review of the high audit priority links indicates that a large number of these backlinks are from link directories and article directories. These are usually considered to be low quality links, synonymous with manipulative link building practices and are therefore an inherent risk to a backlink profile.
Keyword targeting analysis
Meta data
The LAF homepage meta title is 'Gym Membership | Fitness & Leisure Centre | Health Club | LA fitness', targeting a relatively large selection of keywords, with 'gym membership' as the priority. Similarly to Virgin Active, LAF ranks in position ten on SERP one of Google for 'gym membership' in an incognito browser with the location set to UK. However, most users will not amend their location settings, so the ability of LAF to rank for this generic term is based largely on the location of the user's computer.
The 'leisure centre' keyword is too generic to rank and 'fitness centre' ranks around position 13 for the same incognito settings as above. The 'health centre' keyword suffers a similar fate to 'leisure centre', ranking on Google's SERP four and out of click-through range.
The meta title would be more effective if it were shortened to include a maximum of two priority terms. In doing so, the meta title would indicate, without any ambiguity, that this page is classed as the absolute best page for a user to find upon entering those one or two search terms.
The top level categories feature a large amount of keyword duplication in the meta title and should be amended to also only include one or two priority keywords. For example, all subcategory pages under the 'inside our clubs' category include 'inside our clubs' within the meta title. This is unnecessary and does not follow webmaster best practise guidelines.
Redirects
A large number of the site's pages return a 302 response code, meaning such pages are being temporarily redirected. These pages include but are not limited to:
•    http://www.lafitness.co.uk/inside-our-clubs/gym/core-kit/
•    http://www.lafitness.co.uk/inside-our-clubs/classes/burn/
•    http://www.lafitness.co.uk/inside-our-clubs/swim/pool/
•    http://www.lafitness.co.uk/inside-our-clubs/families/classes-and-facilities/
•    http://www.lafitness.co.uk/membership-options/choosing/
•    http://www.lafitness.co.uk/fitness-advice/top-tips/
The practice of temporarily redirecting pages will negatively affect organic search engine visibility because temporarily redirected pages will not pass the authority ('link juice') yielded from backlinks pointing to that page to the new URL. It's therefore preferable for both search engines and users to always redirect pages using a 301 permanent redirect where possible.
With this in mind, we would recommend that LAF amend all pages that are currently being temporarily redirected to be permanently redirected. This will ensure that no authority is lost and that the website ranks as well as possible for all pages on the site.
XML sitemap
The LAF website may not currently have an XML sitemap. If this sitemap exists, it is best practice to reference the sitemap in the robots.txt file. Doing so will ensure the job of the Googlebot is as easy as possible, since the robots.txt file is the first place the crawler will look.
An XML sitemap is vital to facilitate the crawling and indexing of all pages of a website, as it allows the webmaster is directing the robot through a roadmap of the preferred routes through the site, rather than having the robot crawl the website in the same way that a human user would, such as through category to subcategory, and finally to product or information pages.
We think it would be highly beneficial for LAF to implement a dynamic XML sitemap to ensure as many pages of the website as possible are crawled and indexed.
Content analysis
The LAF website includes a large number of subcategories under the 'Fitness Advice' category, dedicated to providing training tips and information. These sub-categories include weight loss, running, nutrition and weight training.

Continuing to frequently update the website with this kind of information-rich content is ideal from building organic visibility because by doing so, LAF are increasing the number of keyword terms users can input to find the site.
The implementation of Google's Hummingbird algorithm change saw a shift in the world of search from the use of specific keywords to the notion of inferred meaning. In this respect, it has never been more important to understand the real reason behind why a user is searching about a specific subject. Some SEOs now theorise that this shift is exactly the reason for prohibiting the availability of search terms used to find a website ('not provided').
Personal trainers will be well placed to understand the frequently asked questions of clients regarding physical training, and it is questions such as these which high quality content should be written toward satisfying.
Each article is well written and focuses on a unique subject. However, the articles may improve organic visibility more so if they are written for more specific queries, rather than for generic areas, such as 'top 10 fat torching tips' or 'build muscle with free weights'. The 'Fitness Advice' section should act as an information hub, on par with the very best fitness magazines available.
Therefore, LAF should focus on particular areas of the body for the above topics and write very in-depth articles to satisfy queries about the topics, in order to yield the best organic visibility improvements. For example, alternative subjects for the blogs mentioned could be 'The 5 best ways to lose stomach fat', or '5 best free weight exercises for triceps'.
Notable competitors
The other major contenders within the online gym marketplace include www.bannatyne.co.uk and www.dwsports.com. Both websites enjoy a current organic search visibility of around 3,000 according to searchmetrics.com, which is similar to both the David Lloyd and LA Fitness websites. However, when comparing these sites with one of the world's largest gym companies, Fitness First; the www.fitnessfirst.co.uk website falls far behind the 3,000 visibility benchmark and struggles to reach a visibility score of even 250 during the last two years.
A logical explanation for this may be the relatively small number of pages indexed by Google in comparison to competitor websites. Fitness First has around 500 indexed pages in google, compared to Virgin Active's almost 5,000 pages and LA Fitness' 1,300.
This may be indicative of the need for Fitness First to engage users with new pages for high quality content, in a similar fashion to the 'Active Matters' and the 'Your Goals' sections of the Virgin Active and David Lloyd websites' respectively.
The website also makes some fundamental SEO mistakes regarding the homepage, such as the exclusion of a bespoke meta description, page content which includes the targeted keywords and no header tags or alt attributes for on-page optimisation support.
Also, it doesn't include a canonical tag, which may mean they are losing a large amount of authority due to duplicate versions of the same pages. For example, the secure and unsecure versions of the website don't redirect to one website. Without a permanent redirect or canonical tag in place, search engines will treat these as two different pages. The authority value gained from links to these pages could be combined to target one page, increasing the ability of the page to rank well organically.
Final thoughts
This study has attempted to analyse and ascertain the online organic SEO for fitness websites. Through their dedication to content, Virgin Active soars above the competition and its competitors would do well to observe and learn from its strategic use of content.
The webmasters of each website analysed neglect some of the basic SEO principles advocated by Google's guidelines and as a result, vital page and domain authority may be unconsciously lost.
In an industry dominated by information, trust is the key to successful relationships: ensure the content of your website reflects the information given by your best fitness trainers and both your online users and the search engines alike will hold you as a respected authority worthy of high search ranking positions.