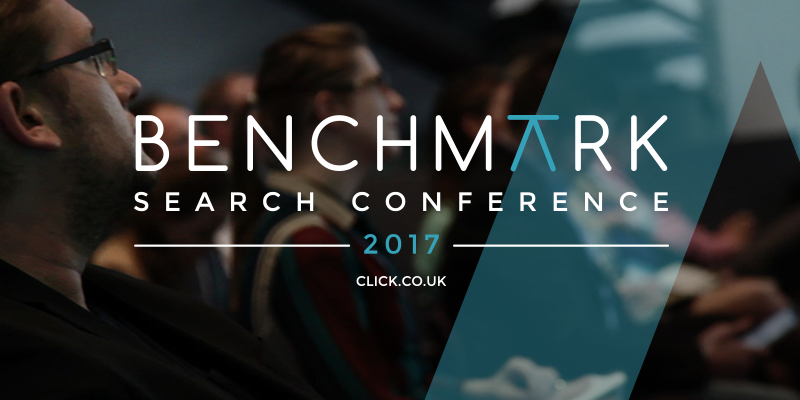 A look back at Benchmark Search Conference 2017
Jan 13th, 2018
The third of Click Consult's Benchmark Conferences, 2017 saw an additional 100 and some fantastic guest speakers, new and old – here are our reflections on each talk
---
Speakers
RankBrain in 2017 – Facing the Future of SEO – Omi Sido's Benchmark 2017 talk
Machine learning isn't just the future, it's already here – Omi Sido discussed how to prepare your brand for a present and future with RankBrain
---
When Google presents you with a list of ranking factors, Sido argues, it makes little sense to discount the third most important of them because optimising for it is difficult – and the Senior Technical SEO at Canon Europe, who began by defining himself as a practitioner rather than a speaker, would certainly be among the people to ask.
A fantastic way to start the conference, Omi began by ironically demanding that all bronze medallists be summarily stripped of their award for merely being the third placed in a competition, describing the decision by most SEO authorities to avoid talking about the importance of RankBrain and finding ways to optimise for it as a mistake of a similar nature as the suggested act of Olympian unkindness.
---
---
In fact – as the talk went on to discuss, and as we've discussed here at the Click head office and even here in the blog – discounting machine learning as it is presently is to leave yourself radically unprepared for the future of search, where RankBrain may serve as the arbiter in an organic version of the AdWords Quality Score for PPC.
This possibility (of machine judged quality) was then related to a patent filed by Google almost a decade ago that described a process of inferring quality and deciding organic rankings based upon consumer interaction with content in the SERPs.
This, while it is not immenent, seems a reasonably safe bet for the organisation of SERPs in a future where RankBrain earns a gold rather than bronze medal at the ranking factor Olympics. It is Google's stated aim to ensure that their results are the best possible answers to consumer queries and there seem to be few ways to ensure this than consumer interaction – which will need to be monitored and judged and constantly learned from by either RankBrain or one of its descendants.
---
---
In this future, while links will no doubt remain important, Sido states, there will be far greater emphasis placed on aspects of your analytics data that will have been of secondary consideration – like click through rate, time on page, session length and various other signals that could be viewed as indicative of a positive user experience by whichever algorithm Google is then using.
For this reason, it is vital according to Sido, that we begin to keep pace with what RankBrain wants now to avoid having to make a large step up in future.
One of the trends of the conference also began with Sido's talk – the concept that machine learning is rendering the 'one size fits all' theory of SEO (that you can apply the same techniques across industries and expect similar results) not only obsolete, but counterproductive. He made a convincing argument, for all those unaware, that SEO needs to become ever more bespoke to avoid failing.
I was delighted to welcome Omi as one of the new additions to a speaker line up with some familiar faces; the man is a thoroughbred practitioner of technical SEO and a fantastic speaker from whom the hundreds of gathered marketers cannot have failed to take something new and exciting.
---
SEO Strategy Based on Competitor Analysis – Alan Reeves' Benchmark 2017 talk
Your sector's SERPs are unique to your industry – so too should be your strategy for optimisation, according to our own Director of Search, Alan Reeves. Here's what delegates at this year's Benchmark Search Conference learnt from his talk
---
Alan's talk was all about using competitor analysis to inform your search marketing strategy.
He began by emphasising that, although he focuses on the white goods and insurance industries for the purposes of his talk, what works in your industry will be different. You need to find out what your competitors are doing to rank highly and follow the same kind of strategy.
What are Google's ranking factors?
Google's algorithm is made up of over 200 ranking factors (too numerous to cover in one presentation); you can't analyse competitors for all these factors as you'd never have time to optimise your own strategy.
Studies have attempted to weight Google's ranking factors. Searchmetrics' last global study, covering all industries, was in 2016. The global leader in SEO marketing and analytics has since said this will be their last global study, as there's no single ranking that works for all industries – search is becoming bespoke and personalised:
---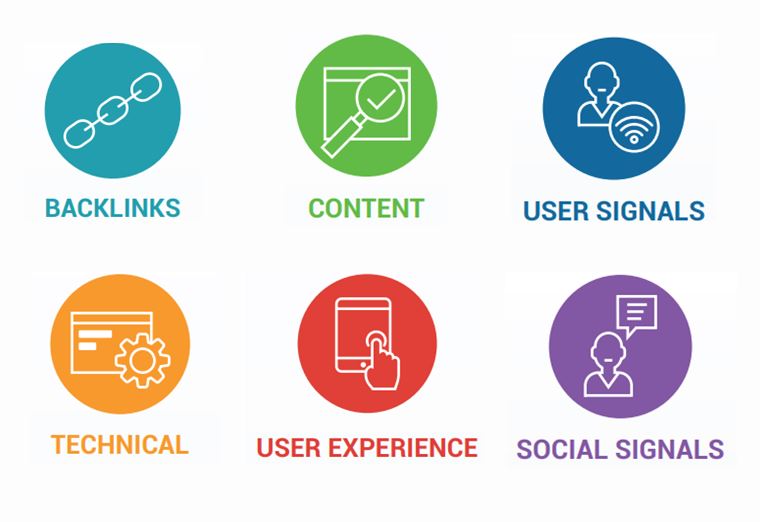 Searchmetrics' ranking factors
---
Despite this, they saw a correlation between number of backlinks and ranking in top positions.
A similar study by Moz back in 2015 not only included quantitive data correlation, but insights from industry experts. Its data also ranks backlinks as the top factor, so this was the main focus of Alan's guide to competitor analysis.
---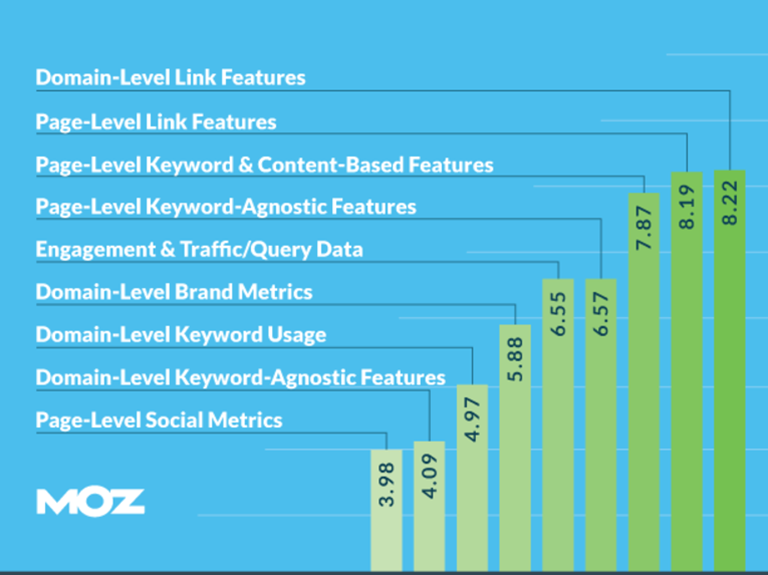 Moz's ranking factors
---
What is a backlink?
Alan clarified that by backlinks, he meant links from another site to your own that pass on authority, trust and relevancy from the search engine's point of view. The process can also be called earning links, link acquisition, or outreach.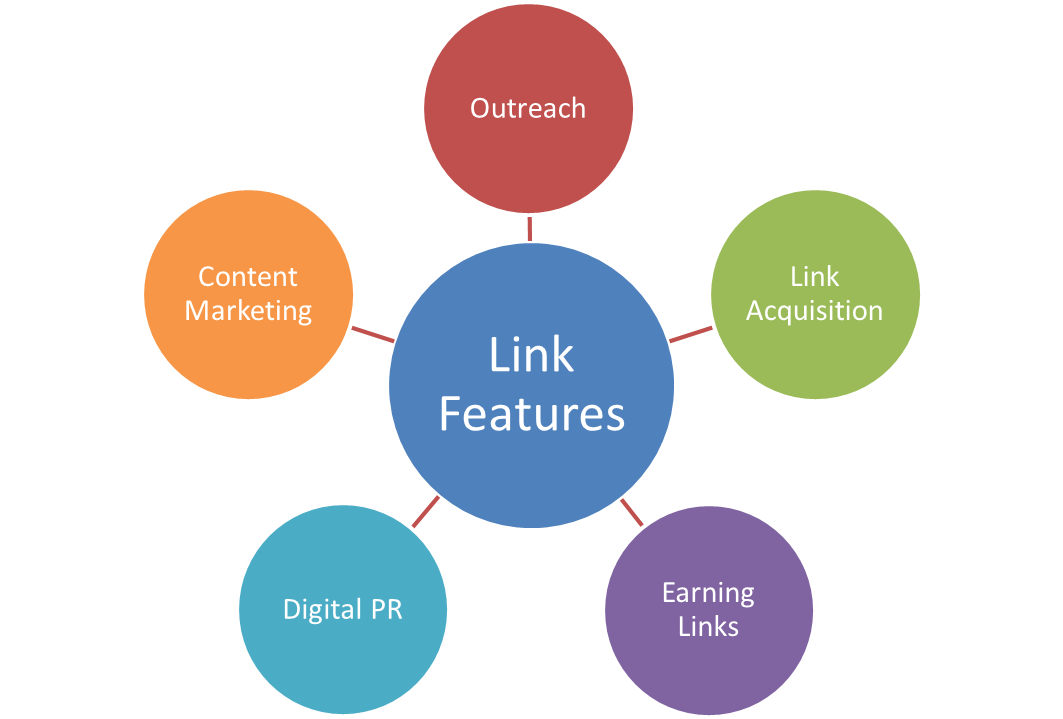 Link features
---
In the rest of the blog, I'll go through the main steps Alan went through to carry out your own analysis of competitors' linking strategies, and the insights he'd pulled out through his own research on his two industries of focus.
---
Identify your competitors
Firstly, you need to identify the market leaders in your industry, so that you can emulate their strategies and success.
Carry out thorough keyword research
Find as many relevant keywords as possible – a minimum of 300 – using tools such as Google Keyword Planner, SEMrush or Moz. Once you have a list, find out who's ranking in the top 50 positions for each term. Then plot this on a graph – using a tool such as Tableau, as in this example:
---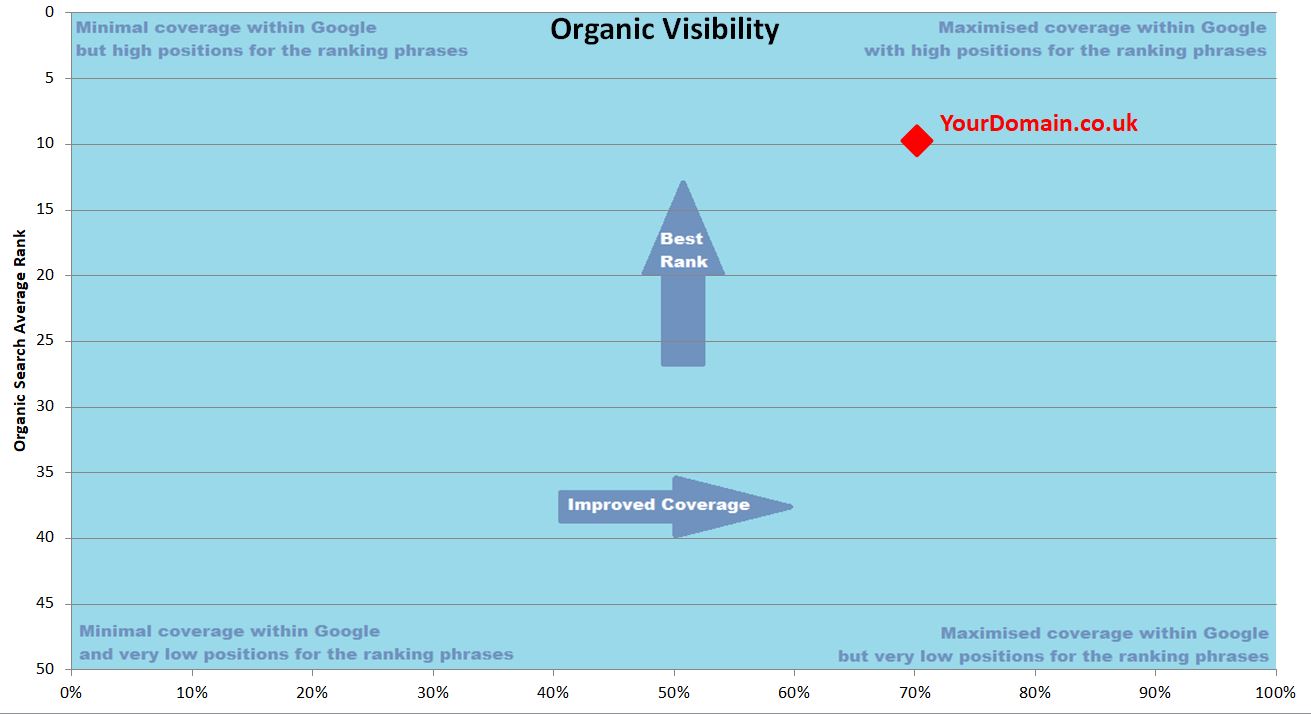 In this XY graph, X axis shows coverage, while the Y axis shows average rank
---
Alan's example exercise was with the white goods market, using a list of 2,300 keywords (such as washing machine, dryers, Smeg fridge, chest freezer, etc).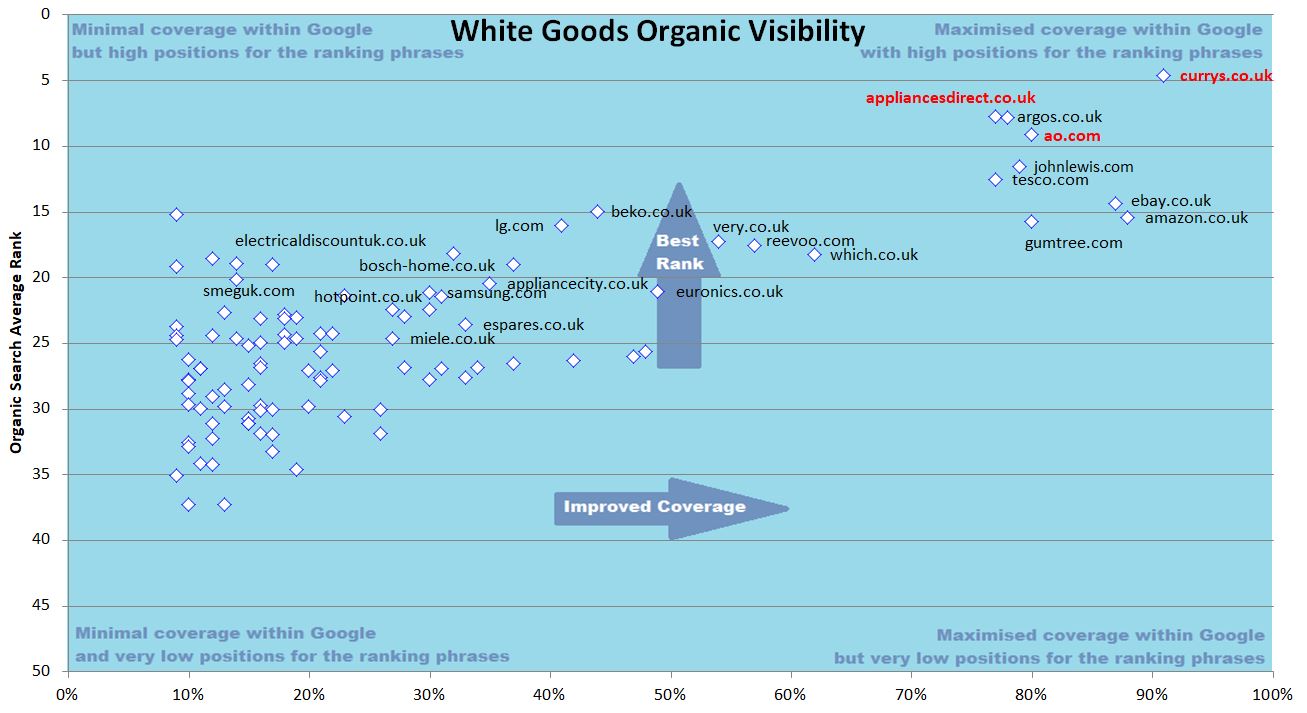 White goods industry's organic visibility
---
The market leaders appear in top right corner – these are the ones ranking for the majority of keywords and in the top positions. This is how they stack up:
Currys: 91% coverage and average rank of 4.7
AO: 80% coverage and average rank of 0.2
Appliances Direct: 77% coverage and average rank of 7.8
You should bear in mind that, as in this example, you will also be competing with other brands who may not immediately spring to mind when it comes to your product or service, but are still ranking for exactly the same keywords. In addition, Amazon and eBay always rank highly for eCommerce keywords in terms of coverage, but they don't always appear on P1.
In his second example, Alan turned to the insurance market covering car, home, travel, motorbike insurance etc, using over 2,000 keywords. As might be expected, the big four comparison sites appear in the top right quadrant.
MoneySuperMarket (by far the market leader): – 93% coverage and average rank of 4.4
Go Compare: 81% coverage and average rank of 9.5
Confused.com 78% coverage and average rank of 10.3
Compare the Market: 78% coverage and average rank of 10
Alan caveated that he didn't choose these sites for analysis as their backlink profiles would be too vast.
However, another brand stood out to Alan – the motorbike insurer Bennetts:
---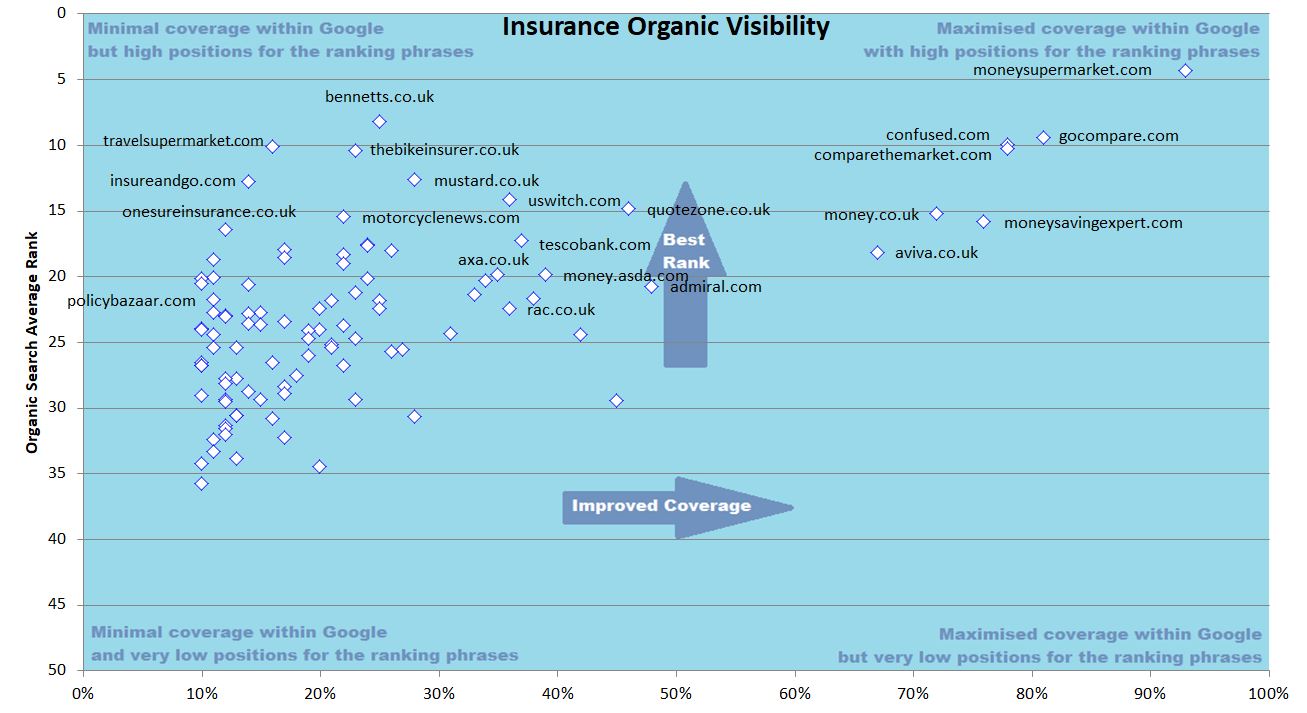 Insurance industry organic visibility
---
Alan was intrigued that a couple of other motorbike insurance sites appeared in the chart. He also explained that the graph was not a completely accurate representation of their marketplace because it contained keywords to do with travel and car insurance – which they don't cover. When he narrowed his research to just motorbike insurers, Bennetts moved further to the far right, indicating them as market leaders, but still directly competing with the big four comparison sites.
The sites Alan focused on were:
Bennetts
The Bike Insurer
MoneySuperMarket
Scooter Insurance chosen (for comparison as it's not ranking as well as the others)
Carole Nash
Alan used Searchmetrics to examine the visibility of keywords for which these sites were ranking, their position (and weighted by search volume). He looked for major drops in visibility around Google updates – specifically Penguin.
Here's an example of a site that was hit with a Penguin 2.0 penalty in May 2013:
---

Penguin drop graph from Searchmetrics
---
If this is the case, discount the competitor in your analysis as it shows they've probably been doing unnatural, manipulative linking tactics (which you obviously don't want to emulate).
Four points of focus when carrying out outreach for link building
1. What quality of links is needed?
2. How quickly do they need to be earnt?
3. What kind of anchor text should you use?
4. Where should they link to?
What quality of links is needed?
Look at each unique referring domain that gives the most authority. This can be done using tools such as Majestic, Open Site Explorer, Ahrefs and Google Search Console. (All of this information is publicly available and none of clients are used in this analysis).
1. Download all referring domains for each competitor
2. Categorise all domains into Domain Authority (DA) buckets (DA is a metric calculated by Moz their representation of Google PageRank so it's like an indication of authority of these sites)
3. Plot the results on a line graph
---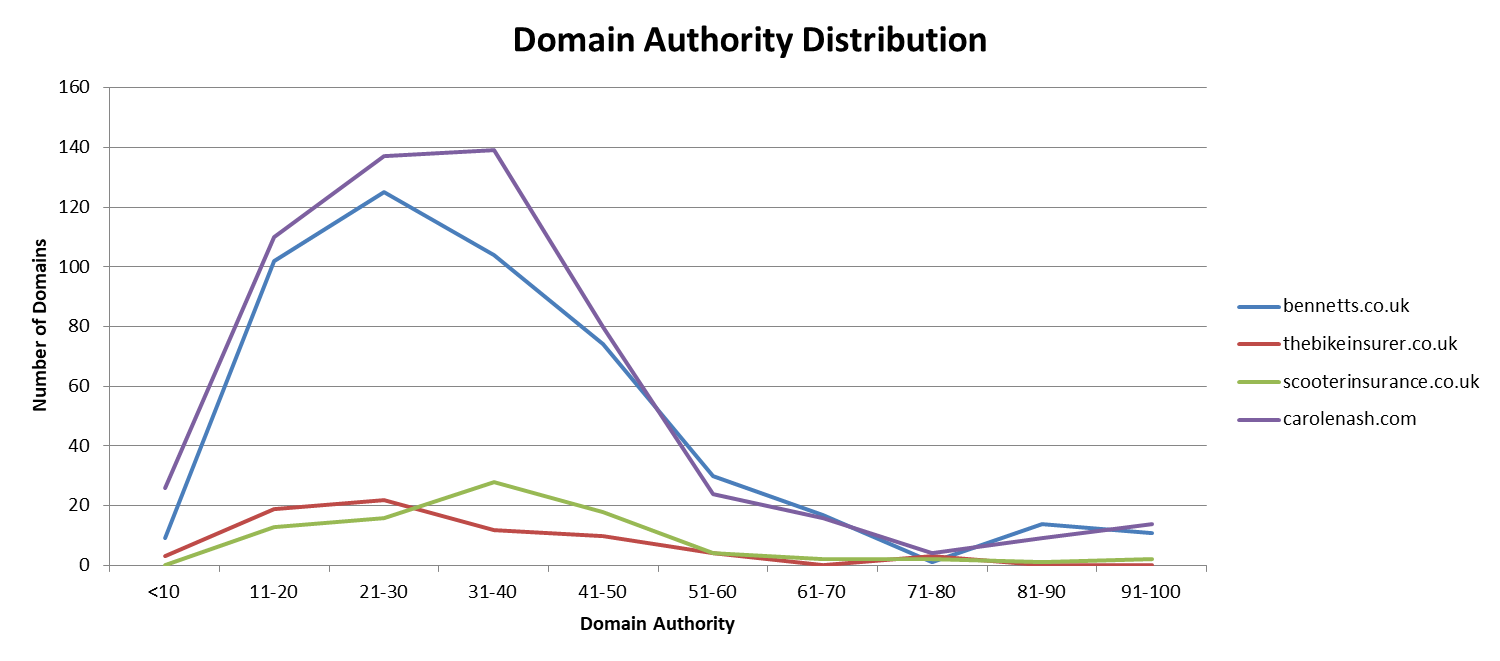 Domain Authority distribution
---
This tells us the Bennetts have authority from nine domains that have a DA between 0 and 10, and 100 domains that have DA between 11 and 20.
In most industries, you'll find that market leaders tend to peak at around 20 to 40 DA area. This makes for a natural linking profile in this industry. When carried out for your own industry, this will give you a benchmark for the link profile you want to achieve.
It also tells us that if you put all efforts into building links on the higher end (or lower end); Google will see this as deviating from the norm and therefore judge the links to be manipulative and unnatural.
Alan carried out the same exercise, focusing on the comparison sites. The inclusion of MoneySuperMarket and Go Compare in the graph skews the scale as they have such a vast number of links, but we see the same shape in the graph:
---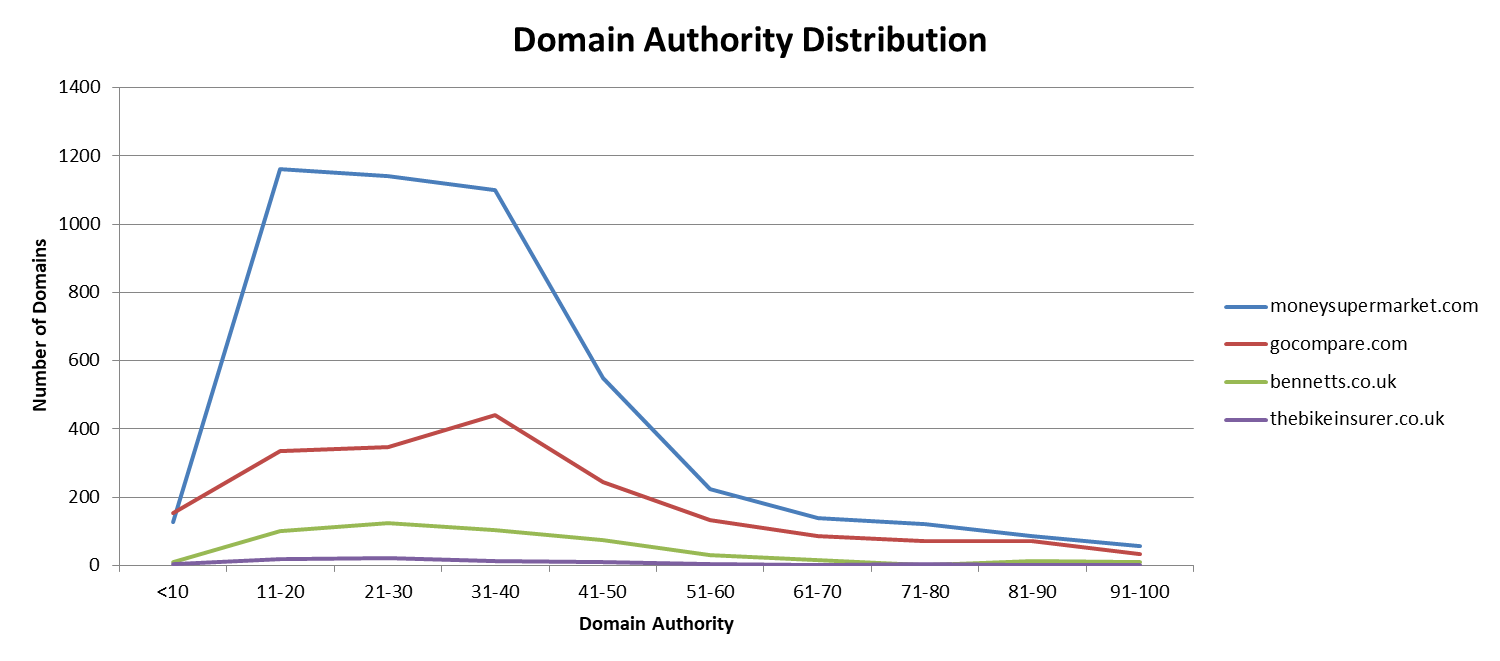 Domain Authority distribution – comparison sites
---
Alan highlighted that The Bike Insurer was ranking really well in the XY graph, but only has a fraction of the links of other brands (more on this point later). All of this data allows you to plot a graph of what your backlink profile should look like.
According to Alan: "The next slide should be your favourite slide – get this right and you'll be on the right track."
---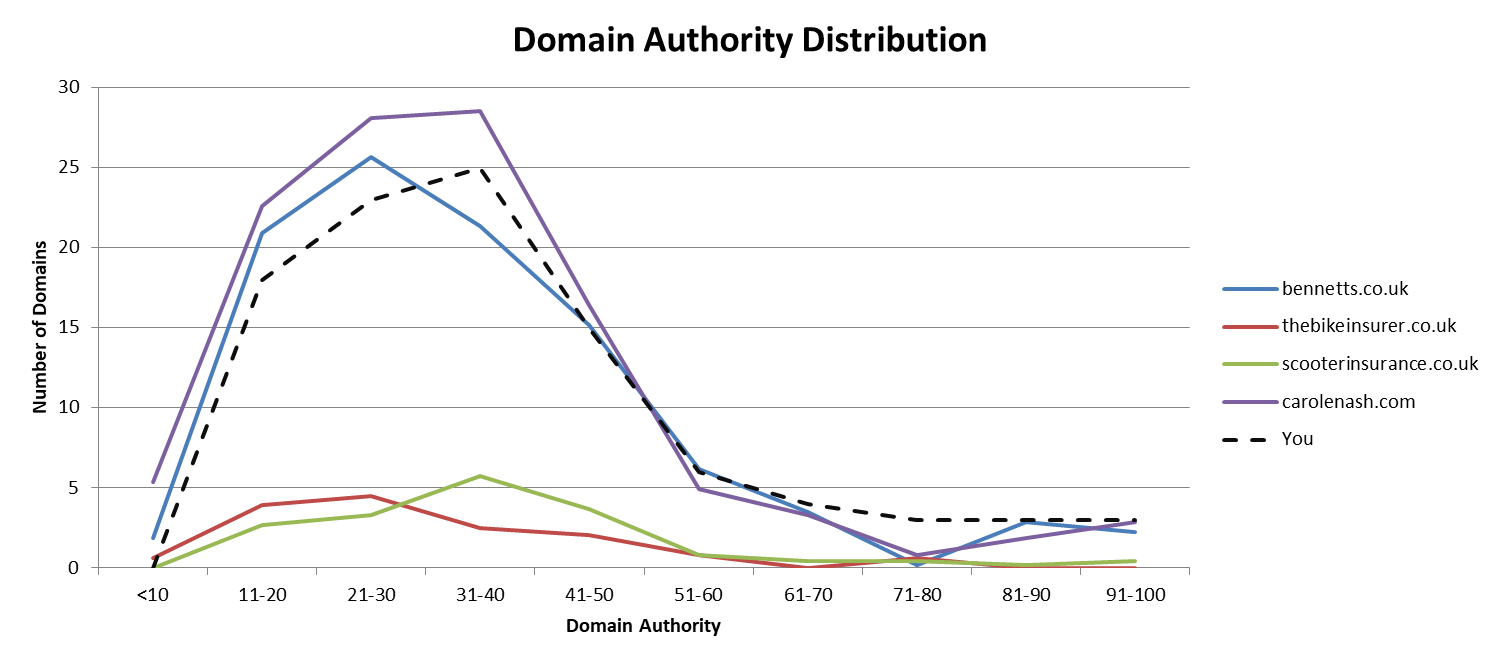 Domain Authority distribution – what you should be aiming for
---
Go for quality rather than quantity of backlinks – but not to the point where it seems manipulative – keep the natural shape as shown in the graph.
This informs the type of content you need to create to achieve these links and will help you to plan the long term strategy for your outreach and content marketing campaigns, your budgets etc.
You'll need to refresh this graph every six months as it changes all the time.
How quickly do links need to be earnt?
Alan emphasised that this can't be done overnight, not least because it will appear manipulative to search engines.
The next step is to look at your competitors' referring domains. Ahrefs is a good tool for doing this as it shows links, when they were discovered and when they were discovered for the first time.
As part of Alan's research, he went back over the last three months for the insurance providers, looking at new referring domains acquired per month.
---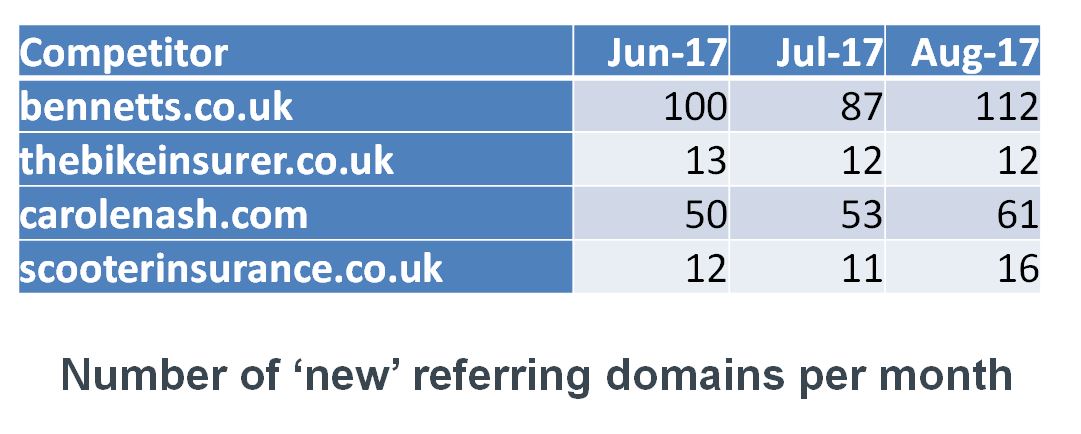 This shows you how many links you need to aim to earn in order to compete, eg, this table suggests aiming for at least 12 per month
---
What kind of anchor text should you use?
Download lists of your competitors' backlinks, and categorise their anchor text into:
URL/naked links – Using the URL itself, eg:
---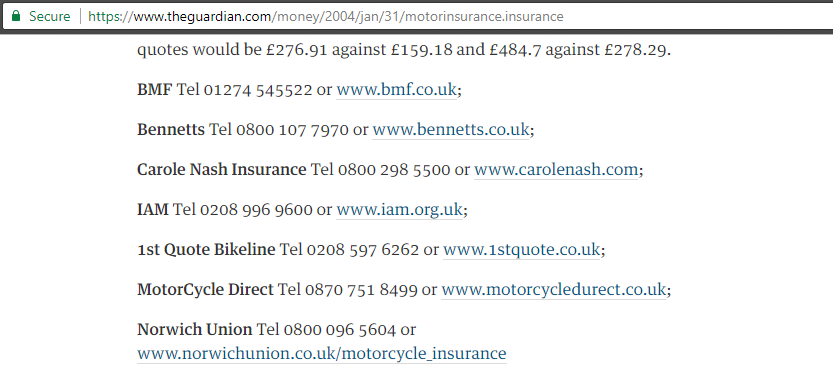 ---
---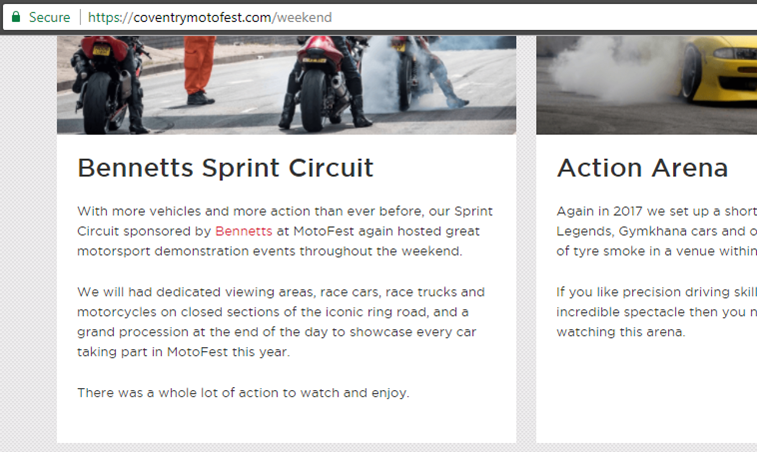 ---
Generic/headline keywords – Or 'exact match' anchor tax using the trophy keywords:
---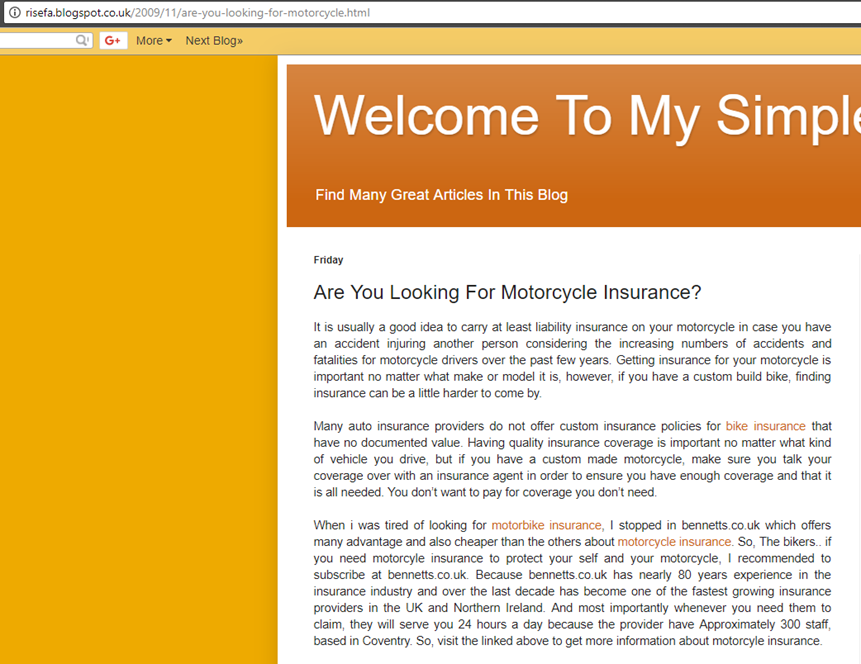 ---
---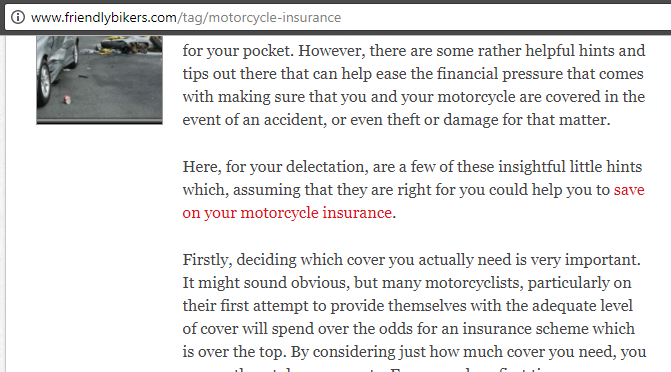 ---
Hybrid/Brand + Keyword – Containing brand name and keyword:
---
---
Noise – Download now, click here etc:
---

---
There's also a seventh category: spam. Alan speculated that Carole Nash had been hit by a spam attack, as each of these words appears as anchor text over 100 times:
---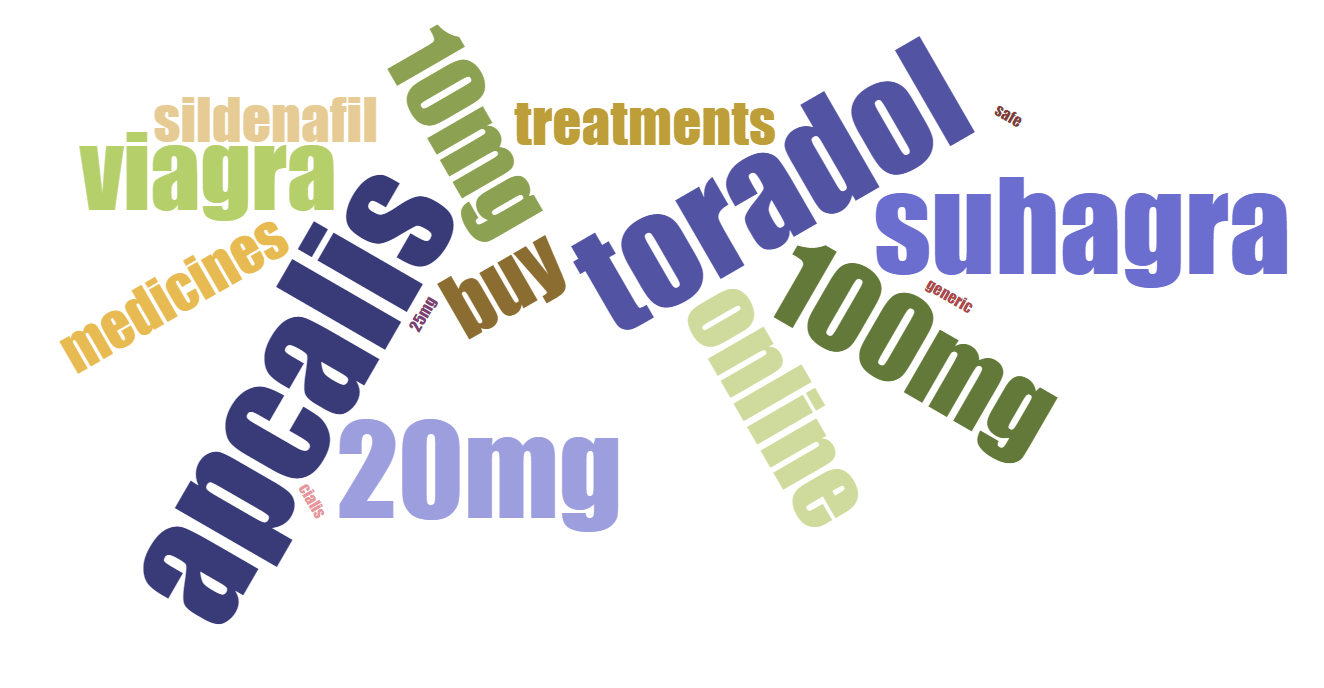 Carole Nash's spam anchor text
---
Most of the links pointed to pages that no longer exist on the site. Therefore Carole Nash's backlink profile was excluded so as not to skew the data.
The link profiles can be visualised like this:
---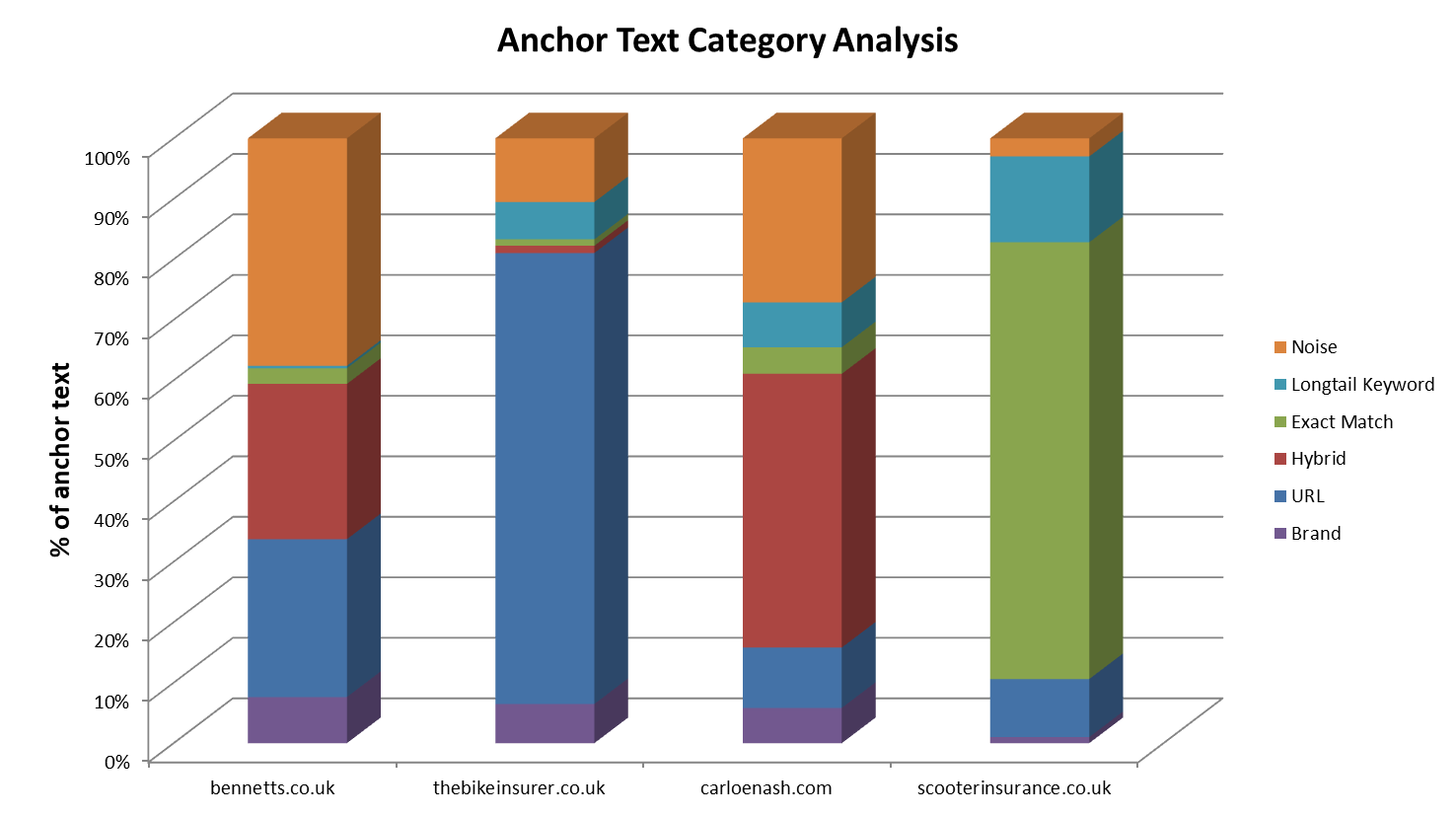 Anchor text category analysis
---
This tells us that 80/20 rule (brand vs keyword) when earning links is no longer reliable because:
The majority of Bike Insurer's anchor text is the URL itself (as mentioned earlier, this is the site that doesn't have anywhere near as many links but are ranking really well).
Scooter Insurance has got a lot of exact match links, such as 'scooter insurance', but it doesn't rank on P1 for this term as Google isn't easily fooled and recognises that this term is not the business' domain or brand name.
It also tells us that:
In this industry – you should be looking for at least 40% of your anchor text to be your brand or your URL – ideally 80%. (Incidentally, Alan said he found URL anchor text works better than brand for Click Consult's own clients.)
Hybrid anchor text is the second choice to aim for as it includes brand or URL.
You shouldn't be tempted to use your exact match or trophy keyword as an anchor: 4% should be the maximum in this industry, and long tail 7%.
Where should they link to?
Look at your competitors' backlinks and where they're linking to on their sites.
First, download lists of your competitors' backlinks. Then categorise their linked pages into:
Homepage
Commercial Pages, eg, get a quote, product page
Content Pages, eg, blog, FAQs
---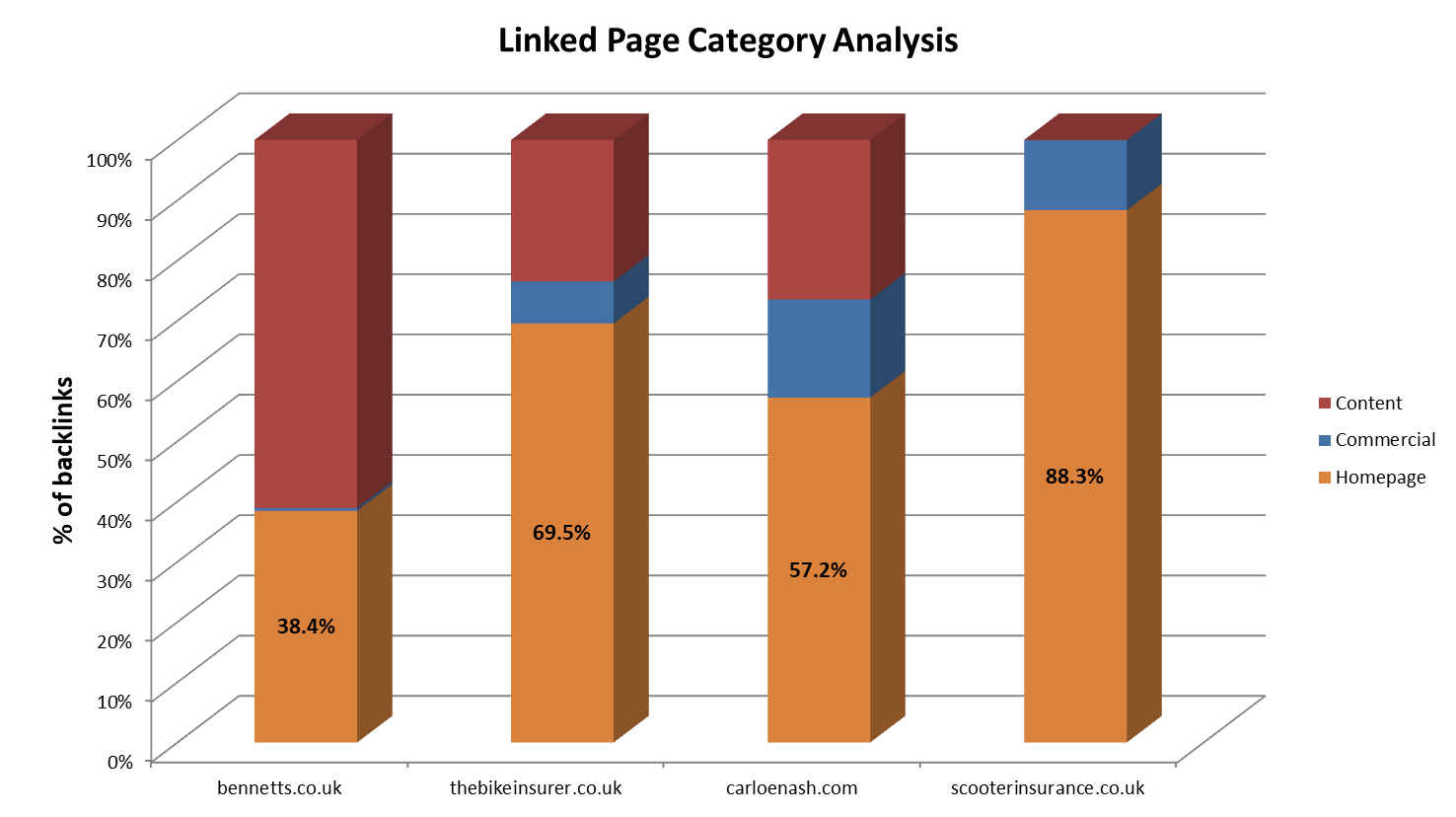 ---
There are evidently two different types of tactic used by The Bike Insurer and Bennetts. The Bike Insurer has got a lot of URL anchor text which correlates with the fact that the majority of links go to its homepage.
Bennetts, on the other hand, takes a much more content-focused approach. The majority of its links to back to its resources section, Bike Social, and it's the great quality of this content that's earning the links.
Although it might sound counterintuitive, you should avoid 'forcing' links to commercial pages, as these are not necessarily the pages that you want to rank. Rather, link to these pages internally via pages that contain good content for a more natural linking pattern.
Key takeaways
Keyword lists should consist of a minimum of 300 keywords.
Unless you are number one for all of your keywords (and even if you are), there are things to be learned from your competitors.
Find your key competitors and research:

Inbound link quality
Inbound link frequency
Inbound link anchor text
Inbound link destination

Refine your list of links by referring domain to make the list manageable.
Plot links by DA (Moz) to determine your industry's natural distribution curve.
Monitor link acquisition rates to determine how fast you need to accrue links.
Find out what distribution of brand/exact and long tail anchor text works best (a minimum of 40% brand as a rule of thumb).
Link juice flows, but where it starts is down to tactics – again, this will be unique to each industry.
Watch Alan's talk
---
Watch Alan's presentation in full
---
Alan's full slide deck available below
---
Life After Search – Tomorrow's Discovery Engines – Tom Cheesewright's Benchmark 2017 talk
This year's annual Benchmark Search Conference covered a wide range of topics and Tom Cheesewright, Founder of Applied Futurism Practice, gave us an insight in to where he sees the future of search and what businesses should be doing in order to prepare for the next technological revolution
---
Tom opened by talking about transactional memory and how we often outsource parts of our brain to other people. We ask them to remember birthdays, or, in some cases there is gender splitting in his house where he remembers some jobs and his wife others. He told the audience that he might take up the role of remembering things such as car insurance but not what time he's meeting friends or family at the weekend. So this begs the question, why can't we outsource parts of our brain to computers and machines? Why can't we get them to remember the things that we need, when we need them and where exactly we can get them from?
He argued that we already do and that, in order to get to the conference or around a city that he didn't know, he wouldn't manage without Google Maps, thanks to being born without a sense of direction.
---
---
He then argued that we are going to do more and we are going to give more to computers in order for them to assist us. In his role as an Applied Futurist his research suggests that we will outsource more and give machines more control especially over our wallets, which presents a real challenge to people in the search industry.
Tom told the audience that the main question was that if we are going to give away control of our decisions, our selections, our research and our purchasing, then do we in fact search or do we just accept what we are given?
---
We outsource bits of our brain to machines already – soon they'll control our wallets, technology is lubrication and full automation is the final expression of this friction reduction.
---
He told the crowd that we were "A race of toolmakers and that we always have been.
"Ever since the first caveman picked up a rock and used it to stove in the head of whatever animal they were chasing. They did this as it hurt less than using their first. We are toolmakers.
"We use technology to cut friction, to make our lives easier, to make it less painful to do things faster."
He enthused that we have to think of technology in the broadest sense of the word; that we simply can't focus on phones and laptops but that we have to look at history. He said that the future was reliant on the past, it is the appliance of science and that it goes back to things like language, meaning that William Shakespeare was in fact a coder.
Looking at the evolution of technology, Tom suggested that it was the lubricant of life and cuts the friction of how we work. He suggested that if we were to visit the science museum opposite the venue and use one on the original computer's 'baby' we'd have to fill in a complex code in order to make it perform a simple task.
Whilst this was revolutionary, people evolved and put more effort into making computers work for us. We then added a screen to computers so that we could point and click, we built in Wi-Fi to replace the 'dongle' and then we moved to laptops, tablets and smartphones.
The latest development to flourish in the market was voice technology, where we speak to a device to find out what we need. This all has an impact on those in search as they have to not only keep up but predict future trends.
What's next?
Well, according to Tom, the next step, (and indeed the dream scenario) is full automation, where we use visuals and augmented reality to hand over the day to day running of our lives. He looked at the five-step buyer model and how this deals with our need for improved technology and indeed for our future online behaviour.
The first step deals with problem recognition, where you realise that you have a need and that you have an end goal even if you're not quite sure what it is yet. The research phase is where you then find a solution to that problem. This leads to the third phase where you have more than one solution or product so you cross evaluate them. You then make a purchase decision and ultimately evaluate post purchase.
---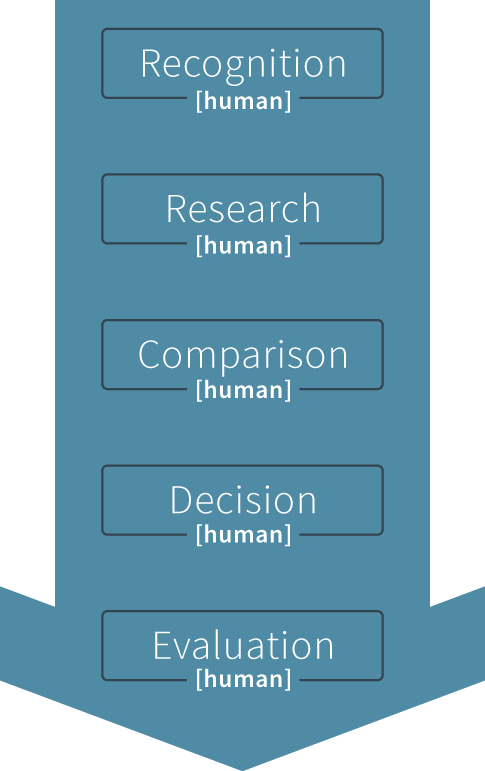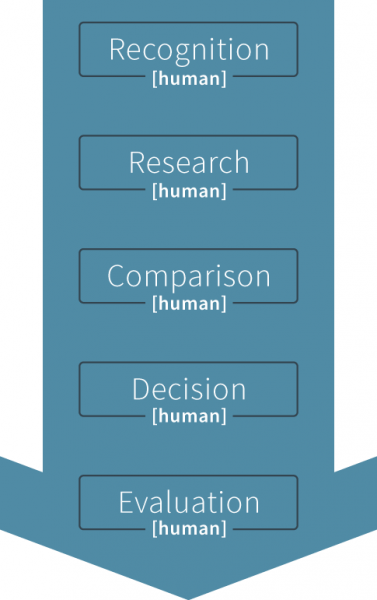 Tom explained that we initially controlled the entire buying process
---
If we look at how technology has changed this however, it is clear that we still need the first stage and the last two. We still make the decision in terms of recognising the need, but a voice search then highlights the information we seek and the list of alternatives. We then make the buying decision, click buy and enter out payment method before evaluation.
According to Tom, voice search is a poor method of research and evaluation so we instead just let it make the choice, meaning we get what we're given.
Those in search will have to make sure that they are therefore the most returned search for that topic to ensure told like Siri and Alexa choose their product first. In an example he said that a regular buyer of cornflakes has asked Alexa to order more for him and instead of his usual own brand he was left with Kellogg's cornflakes. As he was saving time in the first place and removing the friction, he didn't change his purchase and settled for the automated choice, further emphasising the need for brands to rank first.
---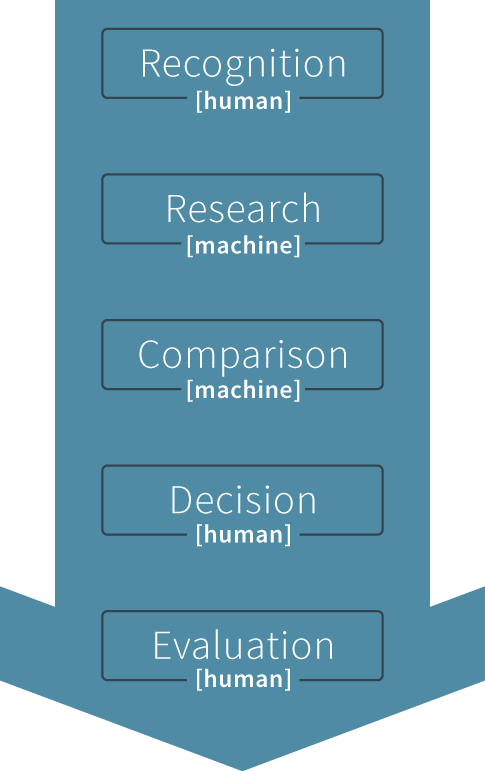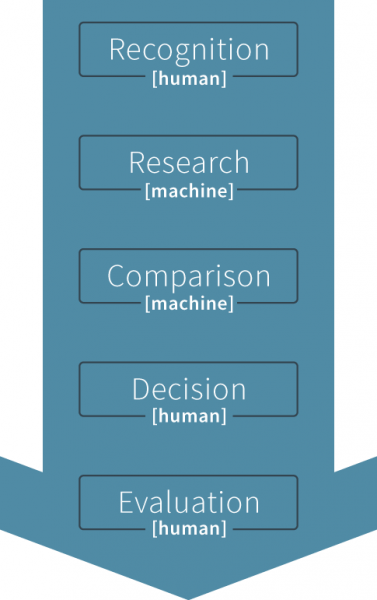 We have relinquished some control of the process as we develop technologies
---
Tom told the crowd: "I think that this is going to change, I think that the progress of the reduction in friction means we're actually going to eliminate the human from a lot more steps in this process.
"We'll get to the stage where the machine recognises the need, not us. It knows what we want or what we need before we do. It does the comparison based on what we have previously ordered. It makes the buying decision and pays with our stored information and then it evaluates based on how we say that we received the item.
"The next step is visual; we'll use products like Google Glasses and smart fridges to do our food shopping. Wearable tech will let us open the fridge, see that the milk is low or out of date and then order it accordingly."
---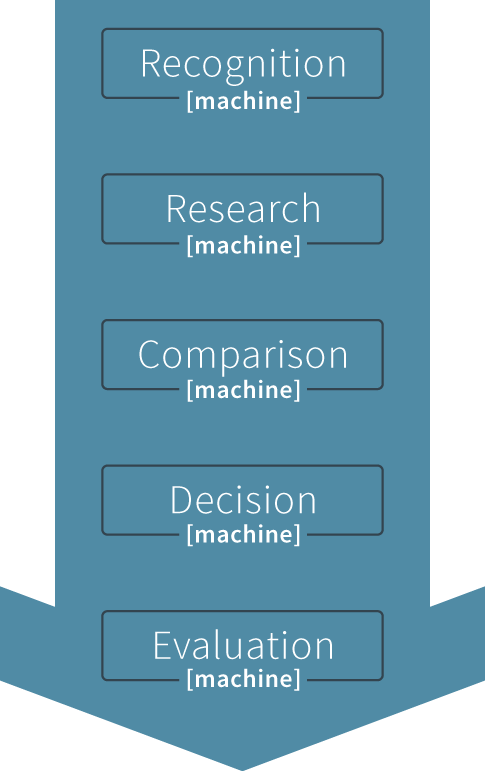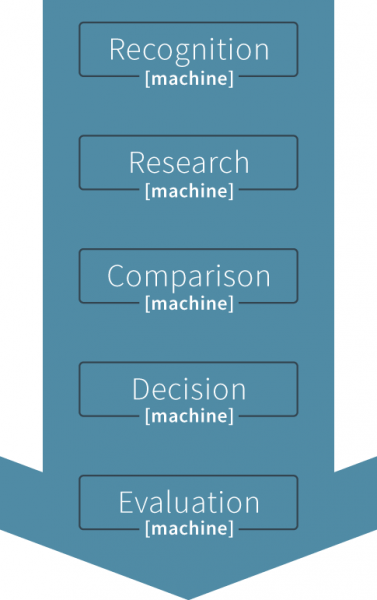 Eventually Tom predicts that the buyers process will be fully automated
---
If this is to be the case then Tom argues that in ten years we'll all be spending 10-12 hours a day in augmented reality. The only major hurdle could be social acceptance where we have to learn to live with the fact that we will spend more and more time with cameras on our heads and being filmed by others 24/7. Think of the current craze of in car camera to prove liability in traffic accidents.
On his last holiday, Tom said that the levels of acceptance in technology were apparently, "Everybody either had a drone, smartphone or a GoPro and the beach was shot in full 360 degree, high definition."
All of this is down to the fact that technology is getting smaller and lower powered and that things such as the number of steps you take in a day can tell how active you are, while heart rate and breathing can suggest mood and health.
So what does all of this mean? Well today the battleground is search. It's where all of the brands are competing and where most of the expenditure is in terms of digital marketing. In the future we'll look harder at data and less at the low impact things like toilet rolls and milk are ordered. If we can mirror the EU even when we leave, we can see how data is being used and we, the consumer can take back control of information and processes. Machines will do what we want because although they are in control, we are at the helm, maybe not physically but with our minds and our habits.
Tom's final point related to an audience question surrounding how much conversation we might have with voice search. He explained that the use of voice search was intrusive and didn't sit well if you were in a group of people, or using the service on a train or whilst others were watching television. He suggested that it would be more conformational than conversational and that visual search offered us the chance to grab more information and make better decisions quickly.
Key takeaways
Currently eCommerce is a human process, but this is about to change.
Voice interface is removing the human research element of a purchase.
Soon machines will recognise need due to prior inputs.
Augmented reality (AR) will eventually become a full time experience.
We are increasingly monitored – our steps, sleep, heart rate etc – and this will lead to AI making informed decisions about what we want.
While search is the main battle ground in digital now, in the future it may be a battle to compete for the attention of consumer owned (rather than branded) AIs.
Brands need to start building their experience and knowledge of AIs to ensure they are relevant when the change comes.
---
Excel Formulas Every PPC Professional Needs – Anu Adegbola's Benchmark 2017 talk
Anu Adegbola, Zoopla's Paid Search Manager and self-confessed Excel geek shared some of the great formulas that had been invaluable to her career in paid search over the past ten years
---
She began her Benchmark 2017 presentation by admitting she used to be "that little girl who used to play on my dad's laptop creating tables and graphs while everybody else was outside playing", and could talk about Excel all day, but instead managed to squeeze an impressive host of useful formulas and tips with the Benchmark audience.
Anu established that Excel could be used by PPC professionals for a number of things, including campaign creation, reporting, budget modelling (to allow you to determine which parts of your accounts you want to target spend depending on your return you're getting), competitor tracking and ad scheduling. But Anu's talk focused on campaign creation and reporting.
Campaign creation
Consider your high intent keywords – the ones that are more likely to lead conversion and revenue. How many of them are there, and how big do you want your campaign to be? This will be determined by your budget.
How can you make your ad copy as relevant as possible as, in terms of Quality Score? You need to make sure your keyword matches your ad copy and landing page.
Match type and how your site is actually structured.
Anu demonstrated how Excel can be used to optimise for this.
Keywords
Starting off with keyword formula, Anu recommended using the concatenate formula (which is designed to join different pieces of text together or combine values from several cells into one cell) for keywords and match typing.
For Zoopla, the different aspects that make a very high intent keyword are: number of bedrooms, type of property, whether it's to rent or for sale, and location.
If you apply concatenate properly, for these keywords you can generate 96 possible keyword combinations, as the slide below demonstrates:
---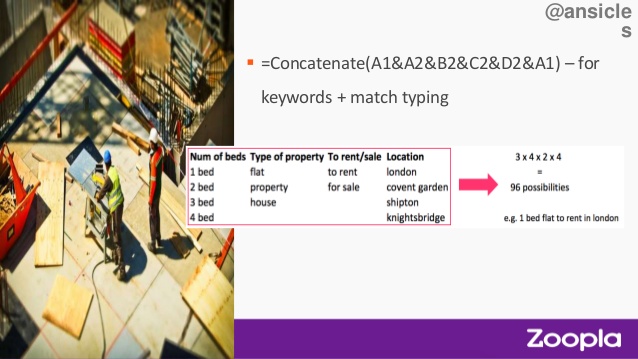 ---
Take the first line in the slide, for example, by putting A1 at the front and end, you can set your match type, you automatically set up your phrase match for all of these keywords.
This can be used for keywords and match typing, but particularly for exact match and phrase.
For a match type of broad match modifier (BMM), Anu recommended using a formula such as substitute, because for BMM you need a plus sign in front of each word. To do this easily in Excel, you need to insert the plus sign before the first keyword, and then do substitute from space to space + (to make sure there's a space in between each of the words).
In this example, '1 bed hotel to rent in London' becomes the BMM version of '1 bed hotel to rent in London':
---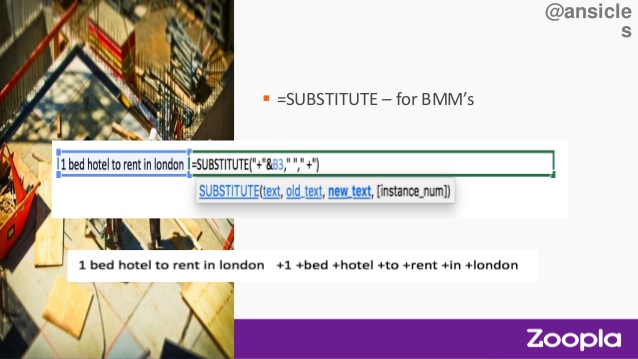 ---
Ad copy
Anu moved onto how to use Excel to create and optimise ad copy. She recommended using the proper formula to ensure each word was capitalised, as she finds this format increases CTR.
In this case, the keyword becomes the headline copy of the ad as: '1 Bed Hotel To Rent In London':
---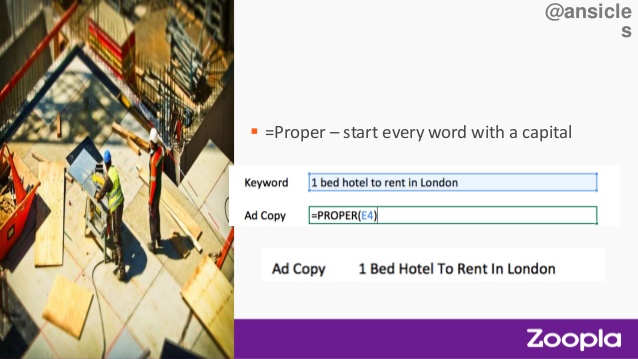 ---
Moving onto the description line, where you have more characters to play with to include features, USPs and CTAs, you can use concatenate by putting find at the beginning, using the & sign to refer to your keyword, then adding extra copy after that.
Anu pointed out that it's a good time to bring the trim function into play so as not waste any characters spaces:
---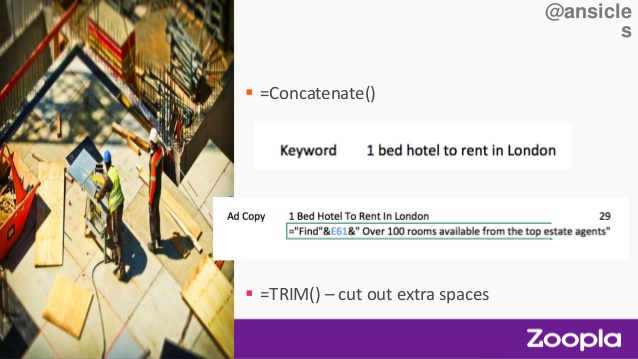 ---
You can also use the LEN, which allows you to see how many characters you have for each line to ensure you're working within the limit and maximising the space available.
---
We are always looking for an instant return from our paid search; Excel can help with this through several must-use formulas

Zoopla's Anu Adegbola
---
Reporting
When she first started as Paid Performance Manager at Zoopla, Anu was disappointed that the agency they were using wasn't providing daily or weekly Excel reports – so decided to create her own.
With reporting, you need to ask yourself:
Who is it for?
How often does it need to be done? For example, your internal digital team might want to have more frequent visibility of performance, such as daily or weekly; while your CEO may only want reports monthly or quarterly.
How large is the account (therefore what size does the report need to be)?
PPC reporting: a case study
Anu showed us the report she created for Zoopla:
---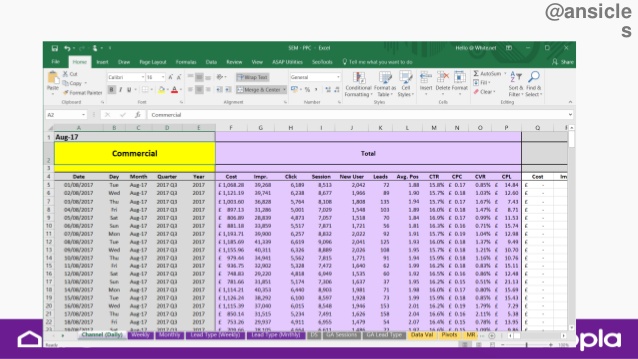 ---
The tabs show daily, weekly and monthly activity. It has a tab for raw data, as well as data pulled from DoubleClick, Google Analytics and AdWords, and all of Anu's formulas.
She admitted that putting such a detailed document together is very time consuming at the beginning but, once the template is set up, maintaining it can be quite straightforward.
---
Easter egg incoming!
Anu shared a tool not many people know about yet: the SEOTools extension, which provides additional formulas for manipulating your data.
Here's screenshot:
---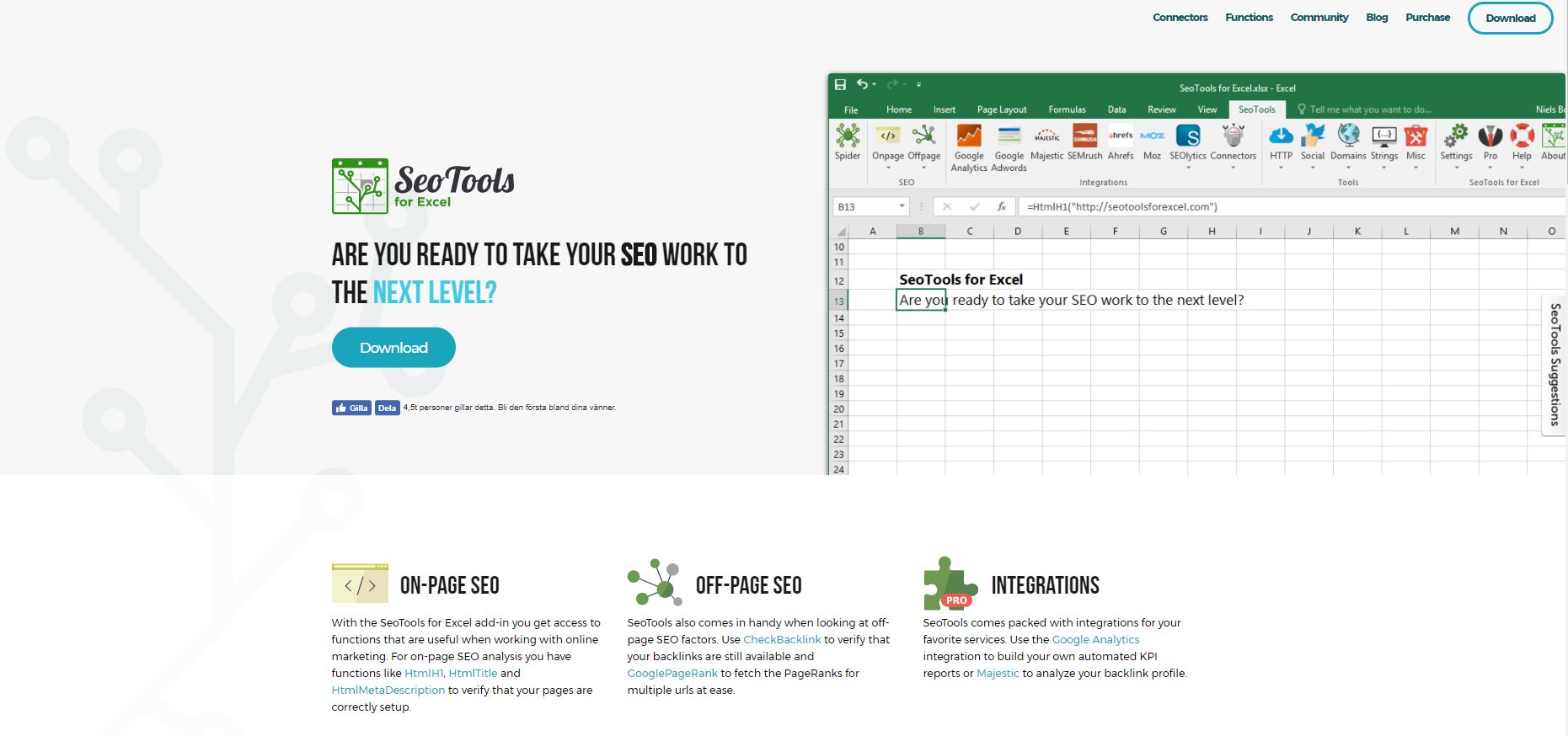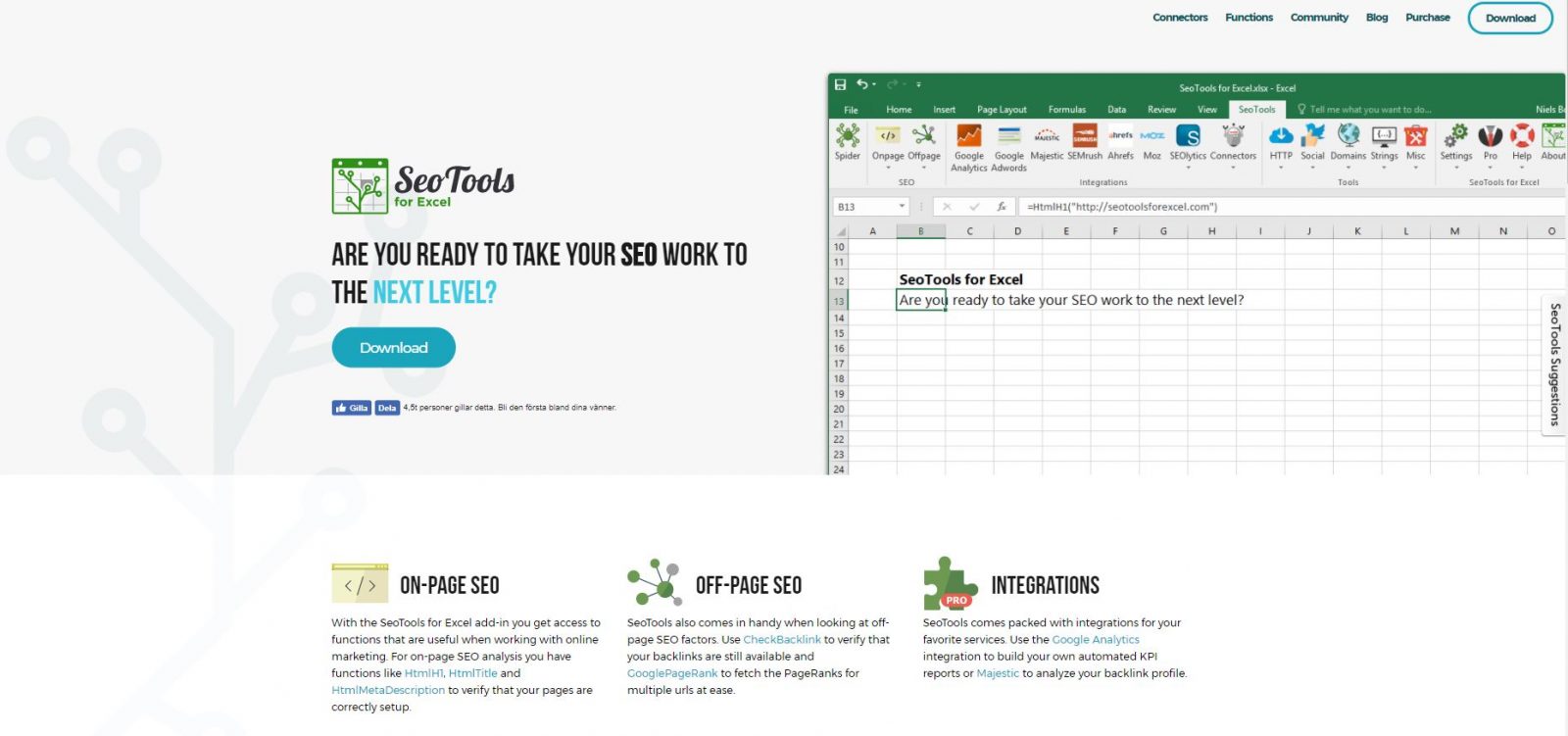 ---
Formulas used for reporting
The text formula allows you to control the format of your data.
Sumifs is a good way of summing up your data, whether this is impressions, clicks or costs, according to different groupings. For example, if you have several campaign reports over several days, but you only want to see performance over a weekly or monthly basis, you could use this formula to aggregate your costs column, and then a particular date or date range.
The search and isnumber formulas are a good way to categorise something that's in a cell and there are a few variations. The search formula identifies what you put in the bracket and generates a number where it is found.
Now the isnumber formula determines whether data in a certain cell is a number. Combining this with the previous search formula, which returns a number if the formula can find an instance of the query, means you can use these formulas together to apply rules only when a certain query appears in a string:
---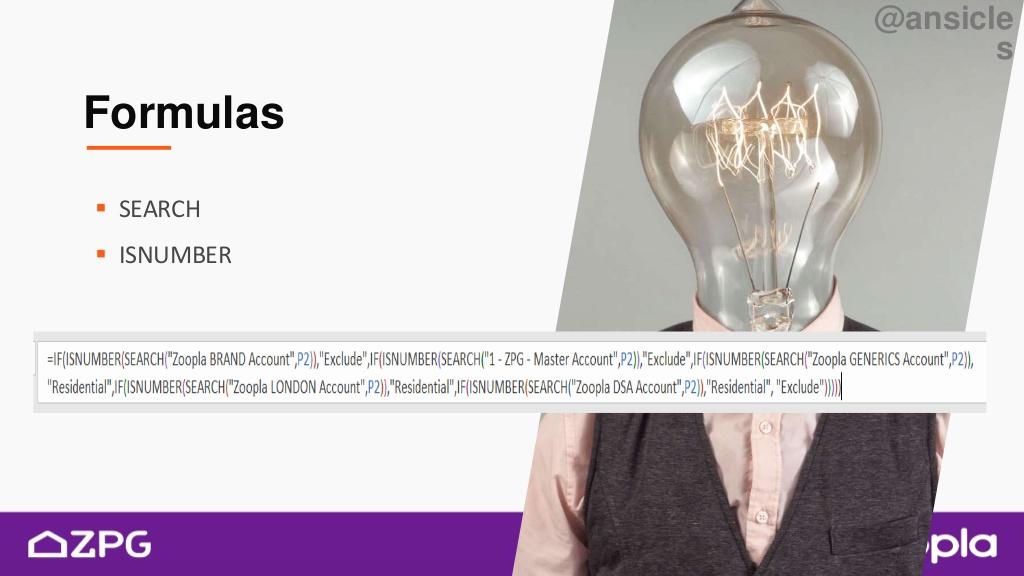 ---
Anu uses the SEO formula RegexpFind to find cells containing particular words and replace the contents of that cell with that term written out in full, regardless of what else the cell contains. A limitation with this is that there is a limit to the amount of arguments you can use in the formula. A way around this is to add more options using concatenate.
While Vlookup is a popular formula, Index Match opens up more options to look up values in a table based on data in other rows and columns.
Lean up your file
As formulas take up a lot of space, it can take a long while for your file to load, for you save or do anything else while the calculations are working.
So, save all the formulas on one line, in one tab, then call use it when needed to manipulate your raw data by copying down the formula then copying and saving the values produced in another tab.
---
Easter egg incoming! Part two
ASAP Utilities is a downloadable tool (currently only available for PCs) that allows you to implement many of the formulas discussed here without remembering them.
One way Anu likes to use it is for reformatting the dates, as she doesn't like the default format when downloaded from Google Analytics:
---
---
The tool can also be used for manipulating text, formulas, removing or adding characters. It makes finding large batches of landing page tracking URLs less painstaking than doing manually.
---
Key takeaways
The 'concatenate' and 'substitute' formulae are vital for keyword list creation.
The 'trim' formula can resolve any potential problems with wasted space.
Reporting takes time, creating a great reporting template takes longer – but crucially the latter needs to be done only once.
The 'SEO Tools' extension for Excel can be extremely useful.
To maintain a lean file, save all formulas on one line in one tab and work your data around this to prevent excessive loading times.
ASAP Utilities is a must to save time on various repetitive tasks (such as date representation conversion from US to UK).
---
Prefer to watch the talk? Here's Anu's video in full:
---
The Power of Storytelling and How to Create a Compelling Story – Bas van den Beld's Benchmark 2017 talk
Good storytelling is one of the most important things a business or brand can do if they are to build trust and connect with their audience
---
They have to build a rapport through similar interests and share where they have come from. How often do you see shows like Dragon's Den where the product isn't great yet the investors commit their spending based on the people and their story? In the latest running of the annual Benchmark Search Conference, Bas van den Beld, Digital Marketing Strategist at State of Digital, explored this topic and told us why and how to tell a great story.
In his opening gambit, Bas told the crowd that soon they would no longer have to pay to go to conferences but in fact they would be paid to attend. This is because attention is currency and brands want to talk to the right types of people. One common problem is that businesses don't often get to engage with their customers for long enough. The level of competition is vast and it can be difficult to repeatedly attract return custom unless you build brand loyalty.
This is done in the storytelling phase and it is how true, loyal connections are made. Businesses want to tell everybody that their product is the best and that there are more reasons than not to buy from them.
---
Attention is currency and marketers are going to increasingly have to work hard to earn it.
---
Many businesses therefore decide that they have to start storytelling. The problem is that they don't know what storytelling is, this is where Bas came in.
Bas opened with a slide saying 'Once upon a time' and his message to the crowd was that ever since we were little we have fallen in love with stories and that the right stories stick. If you can tell your audience where you came from and how you formed, you build and emotional connection and more importantly trust.
One of the early takeaways was that your story is the first opportunity to affect the mind of the consumer and to tell them about what sore of business you are. He said: "The earth was still flat until somebody checked. We believe stories and we don't check them. They are a great way to say, this is us, this is what we do, come and see."
---
---
Bas offered up three steps to the perfect pitch to your clients and audience. Preparation, structure and the story. He told the crowd that just like when it comes to making a meal, preparation was key. You have to get all of the components, make sure they are perfect and then put them together.
In terms of the structure, he spoke about telling a joke. You wouldn't put the punchline anywhere other than at the end as this spoils the effect. You need to set the scene and build up to the key point. For businesses this is where they are presently and where they plan to be in the future.
Then he discussed the story itself and said that it needs to be engaging and that you have to ensure that it follows a logical path whilst remaining engaging.
Compelling examples
Bas then talked about brands that had done well in terms of storytelling. He referenced Deepcrawl, who used a personal story about how the founders stumbled on a problem and thought that the solution would be to leave their jobs and set up a company that dealt with the problem.
He then looked at Nike and how they have always included their customers in their stories. The video he showed was a 1980's advert for running shoes. It depicted a runner who couldn't go on and his alter-ego encouraged him. The message here was that the shoes were perfect for running in and it was all in the mind, It referenced the 'Just do it' moniker and created a feeling that the products were made for 'you'.
We then heard a tale about how Microsoft had created a story from their user's comments on their website. They found a review which told the story of a young boy whose father had passed away and whose ghost was still present on a video game, (his father held the lap record on a racing game) this told a personal story about remembering playing the game with his dad.
The final story was about a man who was holding a garage sale, when he met a gentleman interested in a piece of art. The two got talking and ended up at a bar discussing their lives, the first man gave up his couch for the stranger who needed a place to stay. This got him thinking and he started to rent his spare rooms to those attending conferences and concerts and so Airbnb was born.
All of these are great stories and you can hear more from Bas by watching the video below.
---
---
Key takeaways
The right stories stick – and, for businesses, the right story can also build trust.
Storytelling is not a means to an end – it's a craft and a craft with existing structures and expectations.
Your audience should always come first – you want to be relevant or face losing attention.
In order to be relevant, you need to know what makes your audience tick.
Remember that you are not the hero of your story – "you are Yoda", your consumer should be the hero.
Take your consumers on a journey – specifically the hero's journey.
Follow the four key elements: situation, obstacle, approach, and plan.
People don't care how until they understand why – a story is the why
Data and creativity in paid search – Dave Karellen's Benchmark 2017 talk
Dave Karellen, Click Consult's Head of Paid Search talked the Benchmark '17 crowd through the key facets of modern PPC marketing and why creativity is as important as data for a successful strategy
---
More like math men than Mad Men, Karellen began, but that isn't the only thing required of the modern PPC professional – interpreting data requires the ability to look at trends creatively.
To emphasise this point, Karellen then proceeds through a set of example data – at first the data shows a steady trend, but while the technically minded may see a flat performance as exemplifying steady returns, some creative thinking should be applied and various segmentation strategies used to examine this performance in various ways.
---
---
With this in mind, Karellen proceeds to give a breakdown of these techniques – showing varied trends in performance across audience segments, screen resolution, device types and more to show how it is possible to see the performance of ads across different demographic and audience types.
By doing this, he says, it is then possible to test various strategies of reaching them in order to achieve the best possible performance – highlighting the need to test strategies rather than keywords.
While Google's revenue still predominately comes from ad spend, it is almost certain that paid search will see continuous development and improvement – to tools, testing functionality and more – and that means it will be necessary to constantly update and improve as time goes on.
---
---
This is a concept clearly visible in the specific creativity section of Karellen's talk – with various options and techniques now available to personalise ad copy for mass audiences. It is not just the technical side which requires creativity, however, and he went on to discuss the benefits of creative over generic ad text.
No longer is PPC restricted by a lack of space – there is enough room now, he suggests, to ensure that your ads speak to people in a way that encourages them to convert. While thousands of products may seem to be a daunting task, Karellen suggests that the underrated ad customisers update and the power of 'IF statements' enables advertisers to scale their creativity.
We at Click were proud to see one of our own deliver a talk filled with such actionable insights to a rapt full house at the conference and can only assume, from the chatter afterwards, that there will be a host of brands upping their game over the coming months.
---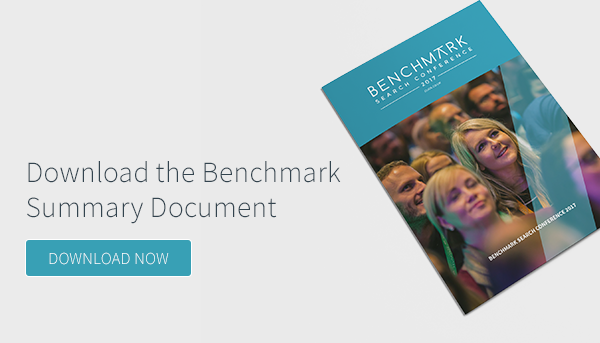 ---
Communicating in a crisis: Trust in turbulent times – Amanda Coleman's Benchmark 2017 talk
The speakers at Benchmark had a lot to say about social media, such is its centrality to online marketing. We heard about using social media for sales and leads, brand awareness, and personal branding. Amanda Coleman, GMP's Head of Corporate Communications, focused on a different, non-commercial perspective – which nonetheless reveals truths about communication and relationship-building that apply to both the public and commercial sectors
---
Amanda has worked for Greater Manchester Police (GMP) for 16 years, but this year her talk focused on social media communication in the wake, and aftermath, of the Manchester Arena attack in May 2017 when 22 people died (which is still an ongoing investigation).
She began by emphasising the importance of enhancing public relationships, establishing trust, and building a community of advocates on a daily basis to create an authentic foundation for interaction in more turbulent times. Her team regularly posts content with a 'friendly vibe' that aims to engage people, showing what goes on behind the scenes, presenting the Police as real individuals.
The key is building confidence among the public so that they feel they can approach GMP when they need to, whether they need help or if they information to share; and also so that they come to regard the GMPs social media channels as the go-to sources of accurate information in times of crisis.
GMPs rules for successful social communication
These bullets are critical in a crisis, but also for every day online comms:
Speed of response – not just in terms of recognising what's happening but also how people are reacting online.
Honesty – acknowledging what's going on.
Accuracy – a level of understanding about concerns and issues in the area; and being candid about what you don't know as well as what you do know under pressure.
Continuity – invested over the last seven years to ensure consistency and continuity across each social platform.
Remembering the people – easy to prioritise the process over the human aspect when under pressure.
Managing comms: pre-social media
Before social media, Amanda says the Police's (and other organisations') role in communicating with the media was much more straightforward: an incident would take place, the organisation would prepare and deliver information to the media, and updates would be provided when appropriate: linear and easy to control.
Managing comms in the age of social media
In Amanda's experience, when there's an incident or emergency, the first place people find out about it, and look for information, is on Twitter. Fake news often rears its head: after the Manchester Arena incident, Amanda found fake photos of victims posted on Twitter after five minutes.
There's demand and appetite for information and posts come from a plethora of different sources. GMP's job is to cut through this glut of postings and emerge as the most credible source of accurate information. Again, accuracy, honesty and speed are the key factors that GMP takes into account.
GMP: May 2017
To demonstrate her points, Amanda gave us an insight into how GMP manage the communication of details about a major incident (using the Manchester Arena attack as an example), alongside liaising with and supporting the victims and their families.
The golden hour
How an incident is dealt with in the first hour defines how things develop.
Amanda explained that the Police have a national protocol for any kind of terrorist incident, which means that, in the initial stages, they will publish information on Twitter predominantly because of the speed with which it allows them communicate. Amanda said it's often the case that they ask the media to refer to Twitter to answer their questions.
Luckily, she said, this is something they'd already agreed with journalists prior to the May 22nd incident. On this evening, GMP posted their first tweet about the incident within 20 minutes; although this sounds like a long time to react, Amanda points out that this was a quick response considering it happened at 10.31pm.
She recounted what happened on the evening: "The on-call press officer was contacted within ten minutes and called me to say 'I'm putting this out – it might be something, it might not' – and that was a call we had to make. We knew at that point very little other than that something had happened and, at the end of the day, it if it had been nothing, I don't think anybody would have been particularly critical of us – and we would have accepted it if that had happened. We acknowledged that there was an issue and told people we'd keep them updated as we found out more.
"The key issue for us in the initial stages is preserve and protect life so the message was 'keep away from the area because we don't know what's going to happen'; for example, there could have been a second device so we had to try and make sure we could keep people away."
Within an hour Amanda and her team were in the office, starting to plan out their strategy: how they would communicate, how much information they were going to put out and – crucially – how this would work alongside supporting those involved and their families, as well as staff welfare.
Moving quickly, they'd soon issued the first proper statement out, which confirmed fatalities and within four hours, GMP's Chief Constable has issued a statement on camera.
"We were trying to get as much information out as we could in lots of different ways – including footage and CCTV stills – so that people could understand what was going on but also then hopefully come forward with information."
This comms activity, to put it into context, was happening in the background of an incident that had triggered critical threat level nationally, which clearly required a huge operational response for police, who were also at that time making arrests.
With social media saturated with information of varying accuracy, and huge public and media interest, Amanda's team created and posted an infographic containing the key facts, including a timeline of events and statistics.
Takeaways
Communicating in a crisis
Amanda's main advice is to keep it simple:
Understand what's happening
Explain the future
Focus on those affected
Involve people
Keep the flow of information
Return to normal
What you should be doing now
Whether you're an SME, large corporation, or public sector organisation, preparation is key:
Start the conversations now – build the right relationships; don't wait until a crisis happens.
Understand your brand – especially in terms of mood and voice.
Make it 24/7 – social media is real time.
Plan and test – what can go wrong? How can you be flexible and adaptable?
Listen to your customers – social media is about two-way communication.
Looking to the future
While many organisations' emergency comms plans will take into account what needs to happen in the first hour, first day, and first week, in these sort of circumstances, organisations like GMP need to think longer term.
Within two weeks of the incident, large scale concerts were planned by The Courteeners and Arianna Grande (who's benefit gig was in aid of the Arena explosion, where she was the headline act) – which put the onus on GMP needed to instill and maintain confidence among the public that they would be safe.
Amanda emphasised that the recovery period following such a major traumatic incident will be a long one. While the Police and the community must resume 'business as usual' the incident continues to impact on GMP and the lives of those in Manchester.
---
---
Don't be awesome! Just be alright at everything – Zak Edwards' Benchmark 2017 talk
Following a lunch break, a suitably energetic Zak Edwards took to the stage to talk to the freshly sated crowd about how they need to know a little of everything
---
While we may never get to know how well he impersonates Yoda, those watching Edwards' talk will have been left with little doubt as to why Prezzybox has been such a great success.
In a manner that will have no doubt pleased fellow speaker Bas van den Beld, Edwards' talk was a storytelling masterclass that weaved the evolution of Prezzybox with his personal journey in marketing and a number of actionable insights to ensure that the Benchmark branded pens and notebooks were kept busy by the assembled marketers.
---
---
In 1999, Edwards begins, and with little idea how, he decided to make a fortune online – one of only a few million to do so, shortly before the dotcom bubble burst in approximately 2001. One of the captivating things about Edwards' talk is that it is punctuated by mistakes made and lessons learned ('who needs products on the home page?').
It is through these mistakes, he maintains, that he has learned his jack-of-all-trades approach to marketing. Only by knowing a little about a lot has he been able to avoid overlooking things – as he may have done as an expert in or evangelist for a specific marketing skill. In addition to this, he states that having enough general knowledge to know which questions to ask is a great way to overcome the silo mentality that can stunt the progress of brands of any size.
---
---
Edwards he says, pointing to an interview he gave to The Guardian, likes to be the 'thickest person in the room' – and while it's difficult to see that being the case a lot of the time, it's easy to see the sense in such an ambition.
By ensuring that he knows enough to know what he doesn't know, so to speak, Edwards is able to recognise what a job entails, how it is best practiced and is, therefore, able to employ the best person for each position.
It is also a notable talk for a period of second hand discomfort it provides in the form of a number of marketing horror stories that perfectly encapsulate the idea that someone somewhere, just didn't get it. So, with that in mind, it's time to get cracking and start being alright at a much larger group of things.
---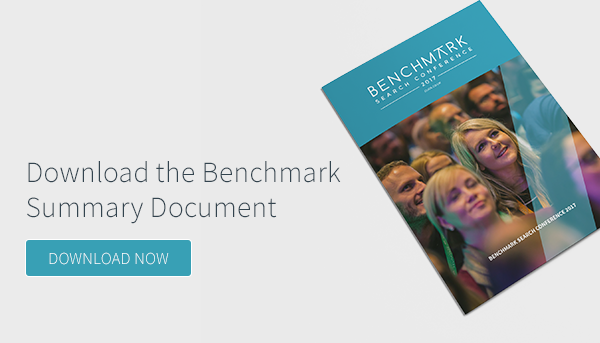 ---
SEO tactics to implement tonight – Lukasz Zelezny's Benchmark 2017 talk
Appearing back at Benchmark for the second time, Lukasz Zelezny, Head of Organic Acquisition at uSwitch first apologised to the audience, saying that he had to jet-off, (literally) after the conference for his wife's birthday, which he'd forgotten until 48 hours earlier. What he hadn't forgotten however were some of the most insightful and useful SEO tips that businesses should be implementing straight away
---
One of the key takeaways from the early part of Lukasz's talk was the importance of having the correct tools in place. He mentioned a few that businesses should be using and explained that Searchmetrics would be his example platform. The tips that he had, which businesses could use right away were as follows:
Use a snapshot approach to keyword research
Implement Gap Analysis
How to deal with answer boxes
---
---
For the first of these tips, he suggested that there were certain parameters that you had to look at to see where you were ranking and the filters that you should apply to make sure that you are not looking for too broad search terms.
He pulled up data for uSwitch – the utilities comparison site, as to where they were currently ranking and for which terms.
---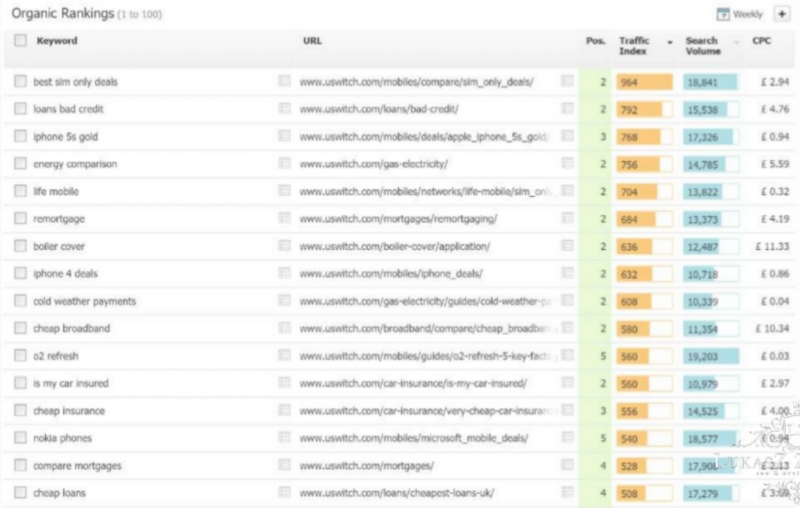 ---
Lukasz explained how the list was very mixed and that he needed to filter it down in order to ensure that he has the most relevant keywords for the business. To do this he went into the internal filters of Searchmetrics and selected all of the keywords that were ranking in positions 2-10 (Those in P1 are already performing). These are the results that appear on the first page, as they are the only ones that matter. He joked that if you want to hide a dead body, put it on the second page of Google as nobody looks there.
He also filtered it to show all of the keywords that had between 1000 – 20,000 searches in the search volume panel. This is because they were too low under 1000 to really matter and were likely to be too broad above 20,000 to get a fair set of results. Those over 20,000 could be generating traffic based on them being branded or for direct competitors. uSwitch don't want to rank for these terms because although they might get some traffic it won't be very relevant.
By applying the filter, Lukasz then generated a much more targeted list, with which his team could work on. He generated a list of keywords that pointed to many areas of the website, meaning if one of them was too competitive you can target offer products and landing pages.
He then looked at the trends in terms of click-through rate based on the top 10 results produced by a Google search.
---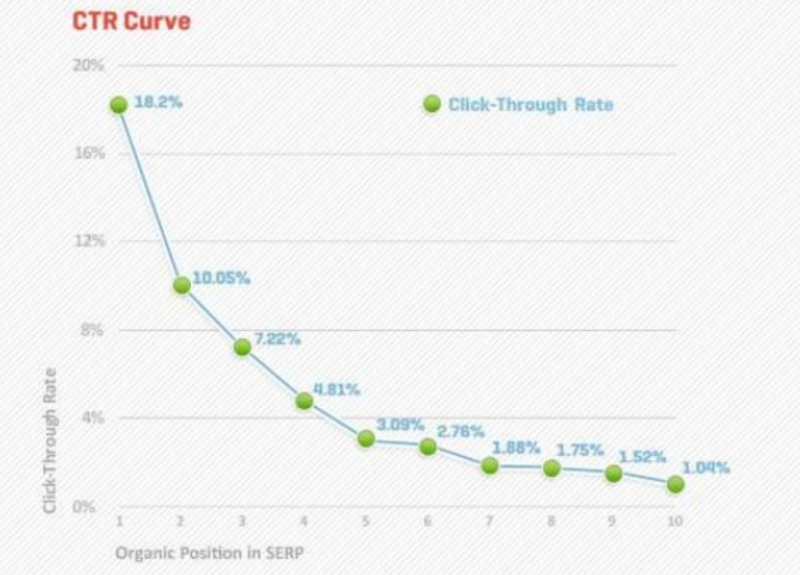 ---
As you can see from the organic CTR distribution model above there is a figure of 18% for P1 CTR in organic search. Lukasz touched on the point that this may be challenged by others in the industry but it was really to show the disparity between the top positions and the others on page one. If you are in P5 -10 it really doesn't matter as the CTR is nearly always the same. The sweet spot is in the first three positions. If as a business you take a keyword and multiply the number of organic searches by the CTR you will get the number of visits. The gap between the calculation for P1 and P2 in Lukasz's example was a huge 1401 visits to the landing page. This is an enormous amount of potential business lost.
---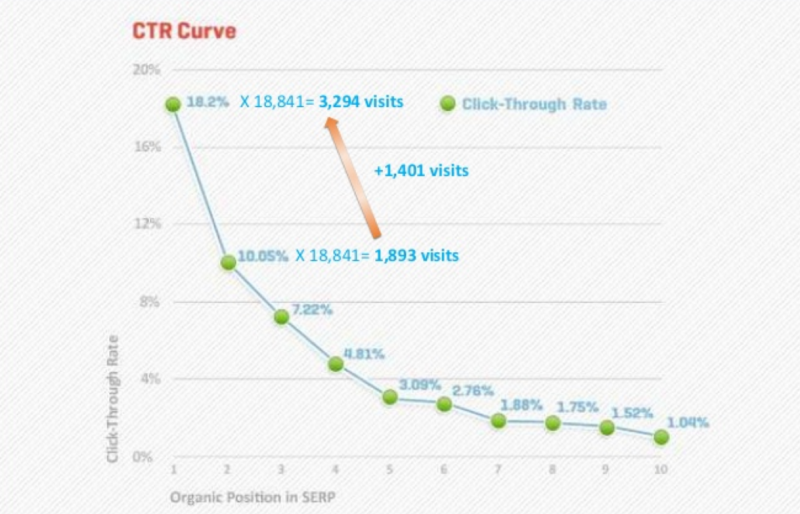 ---
The next stage is to calculate your traffic index (TI) potential which is done with the following formula.
---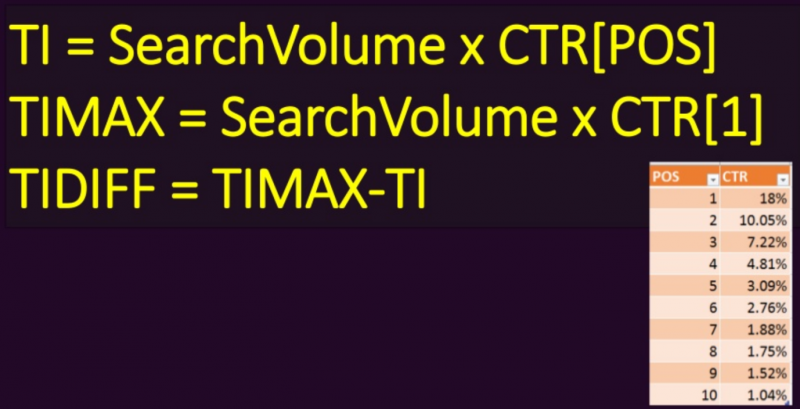 ---
If you then sort the results in your spreadsheet based on search volume and TI Difference (TIDiff) you will end up with two sets of keywords. This list can be ordered to see where potential overlaps occur and where you can target to bring the value of ranking for a keyword up. These lists will look as follows.
---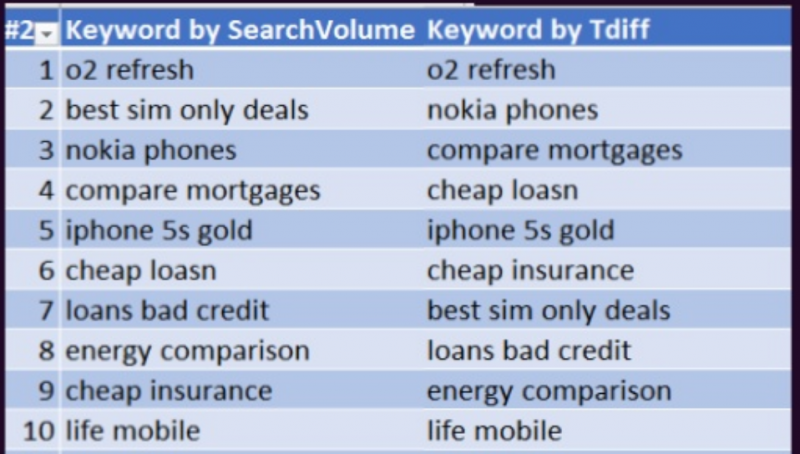 ---
With enough research and data, you can evaluate opportunities and improve rankings by choosing your battles well.
For tactic two Lukasz spoke about gap analysis and how important it was to look at what both you and those businesses directly in your market are targeting. Once you have these lists it is essential that you compare them and that you pull out all of the keywords that your competitors are ranking for that you are not.
You should also look at the keywords which you hold the upper hand over and maintain focus on these to keep your gap in place. This means you will have greater coverage and should outrank your competitors.
Lukasz recommended using SEMrush to compare domains and suggested using the built in gap analysis tool. This all adds to the information that you gather and that you can feed back to the copywriting team when you generate new content to fill the gap.
When given the example of comparing the top 100 keywords for which the Independent and the Telegraph rank for on Google.co.uk, Lukasz found that there were a lot of common words like Facebook, Daily Mail etc.
This is too broad, so he refined the search to contain the word 'Scotland' and generated the following.
---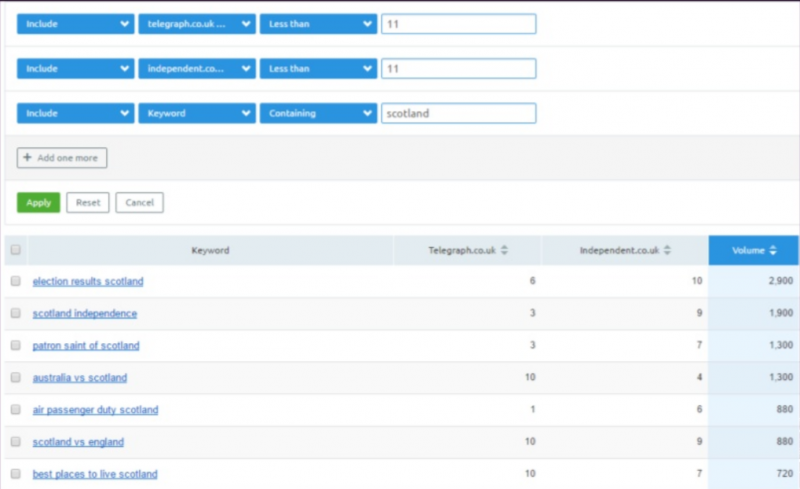 ---
Using this information you can draw up a strategy to maintain or outrank the competitors. This can be done over multiple domains at once meaning you have as much data as possible.
When Lukasz did this for his industry he was looking at how businesses were ranking for keywords surrounding 'mortgages' with which uSwitch didn't rank in the top 10 positions. Below are his findings and they seemed to point to mortgage calculators, something that uSwitch didn't have in place. The below images show the results first and the brief he then sent to the content team to fill the gap.
---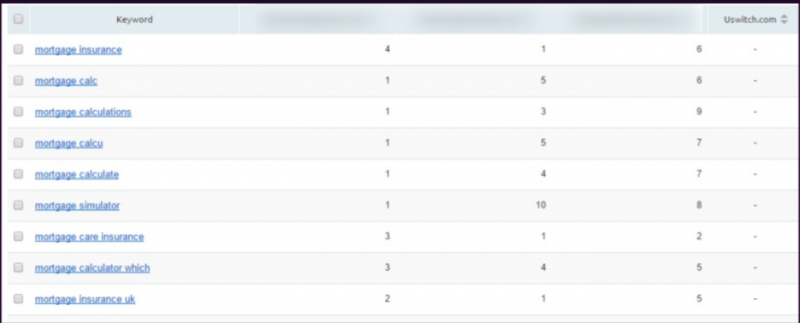 ---
For the final part of his talk, Lukasz spoke about dealing with answer boxes. These are the results, usually when the query is a question, which sits between the PPC at the top of the page and above the organic search results.
Lukasz used the example 'What is a smart meter?' and uSwitch were occupying the answer box. He explained that this was a double edged sword, as they were where they wanted to be but were also exposed by Google as giving the best answer on this question. This query might have a large search volume and if a competitor targeted the term it could be lost if your answer was not the best available.
---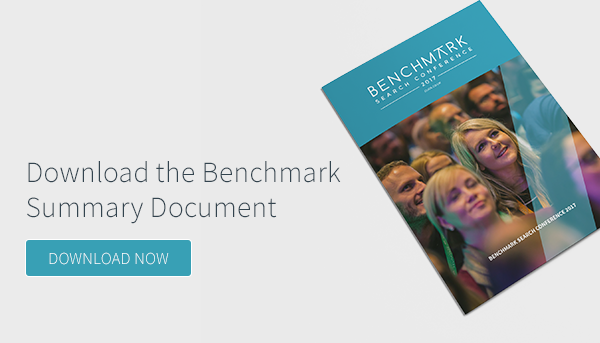 ---
The benefit is that if you then target the term for organic and paid search then you could, in theory hold three of the top results on the page, an ad, the answer box and the organic page.
In order to get to the answer box you are relying on artificial intelligence (AI) picking up the text on your website. This is difficult because the human mind and the way that we search are so much more advanced. Lukasz recommended using simple English for your content where possible to fulfil this need and bridge the gap between man and machine.
In order to be considered for an answer box it is pretty much a given that you will also rank highly organically. This will because you have the content that provides an answer and fulfils other searches. Lukasz provided these handy tips for boosting your chance of getting an answer box.
---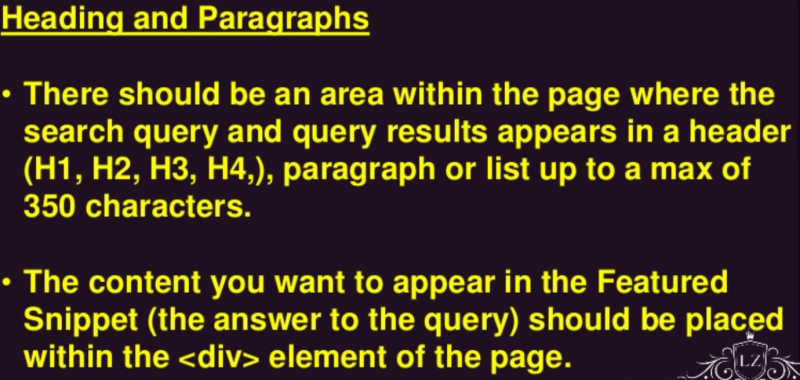 ---
Lukasz's talk looked at:
Use a snapshot method of evaluating keyword opportunities using multiple tools and calculating worth vs cost on improving keywords which already rank
Title tag modification
Strong tags
Alt tags
IMG filenames (keyword)
Header modification <h1><h2><h3>
Internal links with keyword anchors
GAP is about analysing the non-brand keywords missing from your profile that your competitors all rank for but your brand does not and looking for opportunities
For pages with answer boxes, you have the opportunity, with paid and organic, to feature three times for a single query, so pursue it fully.
Divs may help when pursuing the answer box
---
How to prepare for Google's Mobile First index – Nick Wilsdon's Benchmark 2017 talk
With more time served in search marketing and digital strategy than most agencies, Nick Wilsdon's advice is not to be ignored – and so pads and pens were in action again as he discussed the impending arrival of Mobile First SERPs
---
As we've reported on the Click Consult blog, Gary Illyes has announced that the Mobile First roll out is due early next year, so it is no surprise that Wilsdon began by advising that immediate action is key to avoiding a major drop in performance once the roll out arrives – and that a responsive site, unblocked JavaScript and good site-speed are the absolute minimum expectation for brands to avoid such a drop.
Once this is achieved – treating mobile as the primary journey for consumers – a brand can move on to the merely urgent. Beginning with technical SEO, Wilsdon outlined four key areas to focus on achieving before the end of 2017. These include:
Site architecture – obviously, there is a lot of effort involved in migration to HTTPS and it cannot be done while there are issues with CMSs and other underlying architectural features.
HTTPS – not only to prevent warnings, but also to unlock access to HTTP2, push notifications and more.
Sitemaps/Shopping Feeds – these need to be thoroughly inspected to ensure that there are no legacy issues.
Fix crawling errors – there was a nudge toward sponsors DeepCrawl with the recommendation that crawling errors must be addressed.
Wilsdon then moved to the opportunities that will present themselves with the move to Mobile First as the primary journey. This includes the demonstration of the improved load speed of HTTP2 versus the last (1999) update to HTTP, then a weighing of the pros and cons of AMP – which, while not his first choice insofar as the future of the web (he would prefer a more open, mature approach to performance), is improving all the time and due to be first indexed and the first port of call for featured snippets.
---
---
He then moves to the real future of search – that of the conversion of the web into data streams – sources of data that will enable service providers to seamlessly exchange data in order to facilitate ease of purchase, the ease of accessibility of all areas of the web from all areas of your life.
Obviously this presents concerns for brands, as Google seeks to provide all information from the SERPs and, therefore, reducing the necessity for visiting individual sites. Nevertheless, he says, it is necessary to follow the trend, but to do so with our collective eyes open.
Whatever your opinions on the future, however, there can be no doubting that Mobile First is the present and, as Wilsdon reiterates at the end of the talk, action needs to be taken immediately – even if it's to just achieve 'mobile friendly' as a damage limitation exercise prior to carrying out the rest of the work.
---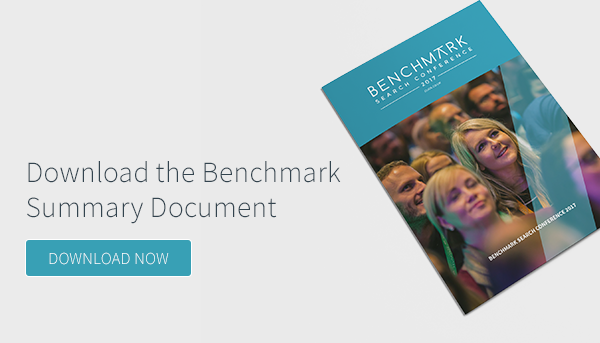 ---
Why we can't teach SEO – David Edmundson-Bird's Benchmark 2017 talk
In the latest write up from the Benchmark Search Conference, we look back at the speech from David Edmundson-Bird, Principal Lecturer in Digital Marketing & Enterprise Associate Director: Digital Innovation at Manchester Metropolitan University
---
Returning to Benchmark (MMU first sponsored the event in 2016) David discussed why he can't teach SEO to his students and the struggle that many of them face when they try to enter the industry. He discussed preparing his undergraduates with the skills to make it in an agency or working for a business in the 'digital' sphere.
He also implored businesses to 'take a chance' on those leaving university as it can be highly rewarding for both parties and these graduate often have the skills and proven ability to learn and grow.
So the question really is how someone can learn all of the skills to be a success in the digital industry but not be able to learn SEO. Well, in his speech David started by telling us that this is the most common question he faces.
---
---
He said that the truth is the industry moves too fast and that what a student would start learning in 2014 on a three year degree would not be relevant in 2017 upon graduation.
There is no way to teach SEO to students that will not be out of date by the time they finish – the future is apprenticeships.
He gave the examples that in 2014 SEO's were focusing on:
Site speed is not a factor
The PR team does the outreach
Trawl the backend for all 'bad' links and get rid of them
Think about keywords
What do people type in
He then had his 'OMG' moment in 2017 where the focus should be:
Site speed and mobile – 'Aaaaargh'
You need to do proper outreach as an SEO
Think about UX
You should be doing AMP
Think about voice search
People type words that have meanings and are questions
Do schema markup
'Oh, and nobody cares about bad links they have little impact.
All of the metrics that his team now face are about getting the students work ready so that there is no drop off and they can learn as they go and adapt within the digital industry. He said that he wanted to give the students a 'shelf-life' that went beyond 24 months.
---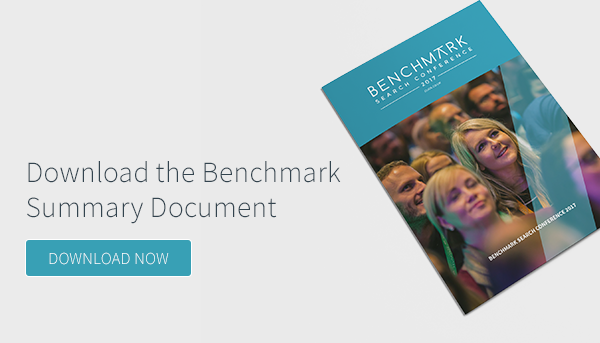 ---
So if a university can't teach you where to learn how to do SEO, then what are the options? Well, David suggests that on the job is the best place to learn. In the short term you can do an internship or work on live projects, or students and graduates can do part time projects to gain experience. The next step would be as a work experience placement or a summer job, where skills can be learned in a working environment and the final area is in the long terms placements and degree apprenticeships where those entering the job are rewarded financially and in terms of skills.
He then finished with the 5 W's, Who, What, Where, When and Why as you can see in the slide below.
---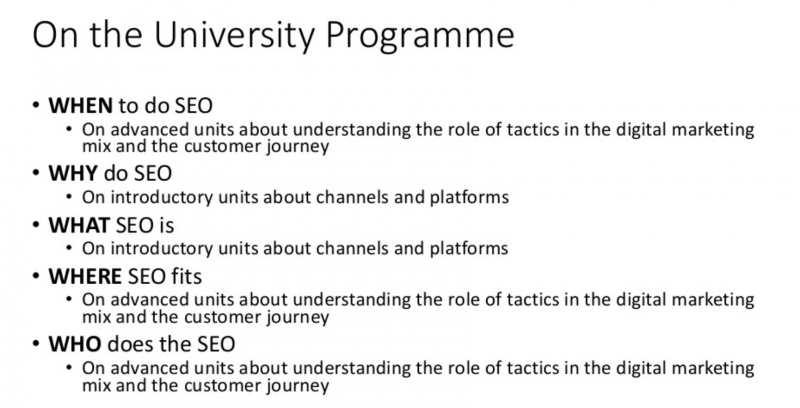 ---
Key takeaways
What was a priority in 2014 is old hat at the end of a three year course, so educators must be attempting to make students work ready.
Universities must concentrate on teaching students:
WHEN to do SEO
WHY to do SEO
WHAT SEO is
WHERE SEO fits
WHO does the SEO
In order to ensure the industry has graduates that know HOW to do SEO is through placements and live projects.
Agencies and brands need to take responsibility for nurturing talent.
Degree apprenticeships are almost here and we need to make it work for the good of the industry.
---
Measuring complex customer journeys – Sabrina Garufi's Benchmark 2017 talk
We've spoken about it on our blog before, but Sabrina Garufi – Agency Development Manager for Google – was at Benchmark to encourage the gathered marketers to move away from 'last click' when measuring conversion
---
While a cynic, prior to the presentation, may have seen Garufi's talk as promotion of the latest Google pet technique – there will have been few, if any, last click evangelists left in the room once it was over.
Beginning with a summary of her travel to the conference (her plane, train and automobile adventure) culminating in a quick jaunt in a lift to the second floor of Manchester's Bridgewater Hall, Garufi posited that, surely, the full credit for the success of her journey should be given to the 'elevator'.
The allegory here should be obvious – just as such a complex journey cannot be simplified to apportion credit to one particular form of transportation, the modern customer's journey with its almost innumerable steps and variegated interactions with various iterations of a brand's presence, should not be so over simplified either.
---
---
Following the introduction, Garufi then gave a rundown of the various rule based attribution methods that brands can implement in order to assist with growth before introducing (or reacquainting) the crowd with the 'data-driven attribution' model available to accounts meeting the required spend and conversion benchmarks – a model which constantly learns and seeks to optimise performance.
This method has been growing almost exponentially in adoption since its release, Garufi advises, aiding in the understanding of many cross channel and cross device marketing endeavours.
She then walked the crowd through a number of success stories from various retailers, for which the creativity demonstrated when driving and tracking conversions through AdWords clearly show the fallibility of the last click attribution model and how some adopters have vastly improved performance.
---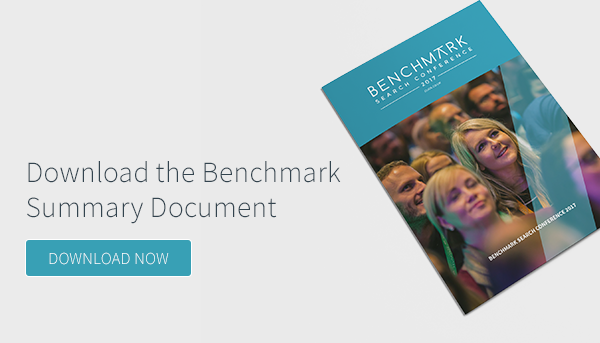 ---
The last section of Garufi's talk dealt with the future of attribution – with the Googler offering some insight into an upcoming AdWords feature for 2018 that will undoubtedly make the gathered paid search professionals extremely happy – with it offering the ability to better connect Adwords and Analytics.
---
Time to migrate to HTTPS: the simple way to do it right – Gerry White's Benchmark 2017 talk
HTTPS increases visibility, improves security and, with 0.1% of the web currently using it, it represents a competitive advantage
---
HTTPS migration is like conducting an order, Gerry White begins, quoting a Twitter friend, only everyone's playing the wrong instrument and all the instruments are on fire. While he did admit that the transitions he's handled have been slightly smoother, but that it has proved tricky for even the largest of brands.
He then proceeded to state that Just Eat saw ranking improvements following their transition and that, despite Neil Patel's advice, it is important that you consider migration and in some cases it's vital.
Despite Google attempting to sell him amplifiers, further research revealed that both AMP and HTTP2 require HTTPS to perform at their top level. In addition to this, White pointed out, the 'not secure' label is likely to become more prevalent and more prominent as time goes by – something which will almost certainly cost sales and custom down the line.
---
---
White then began to walk the gathered marketers through the various methods of transferring to HTTPS, giving warnings about possible pitfalls and putting some urban legends to bed (like the odd rumour that you should block HTTPS in robots.txt after migration in order to prevent duplicate content).
He then advises dual running your two sites in order to track, discover and repair any errors that creep in to your site as a result before offering some fantastic insight into the process.
---
---
White's talk, while delivered at a pace in keeping with a man who confessed he was keen to get to the networking event, bears multiple watches and is absolutely packed full of actionable advice for anyone that hasn't yet begun the process of moving to HTTPS. However, before he ended the talk, he did leave the audience with a number of last tips and examples for the SEOs in the room. All in all, White's talk was a personal highlight of the day and anyone that missed it should look to watch it before they consider approaching their migration.
---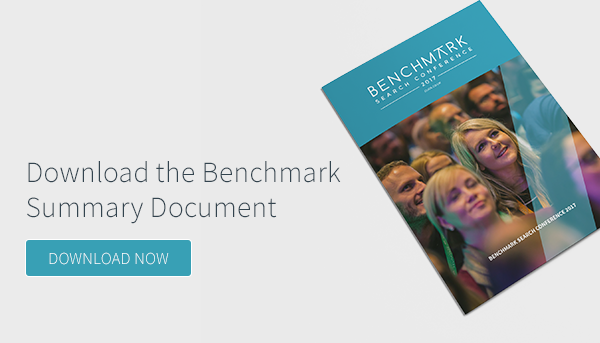 ---
Click Consult is committed to driving best practice forward in the search marketing industry. This is why the Benchmark Search Conference has become the leading conference for in-house search marketing professionals. Contact us today to see what we can do for your brand.