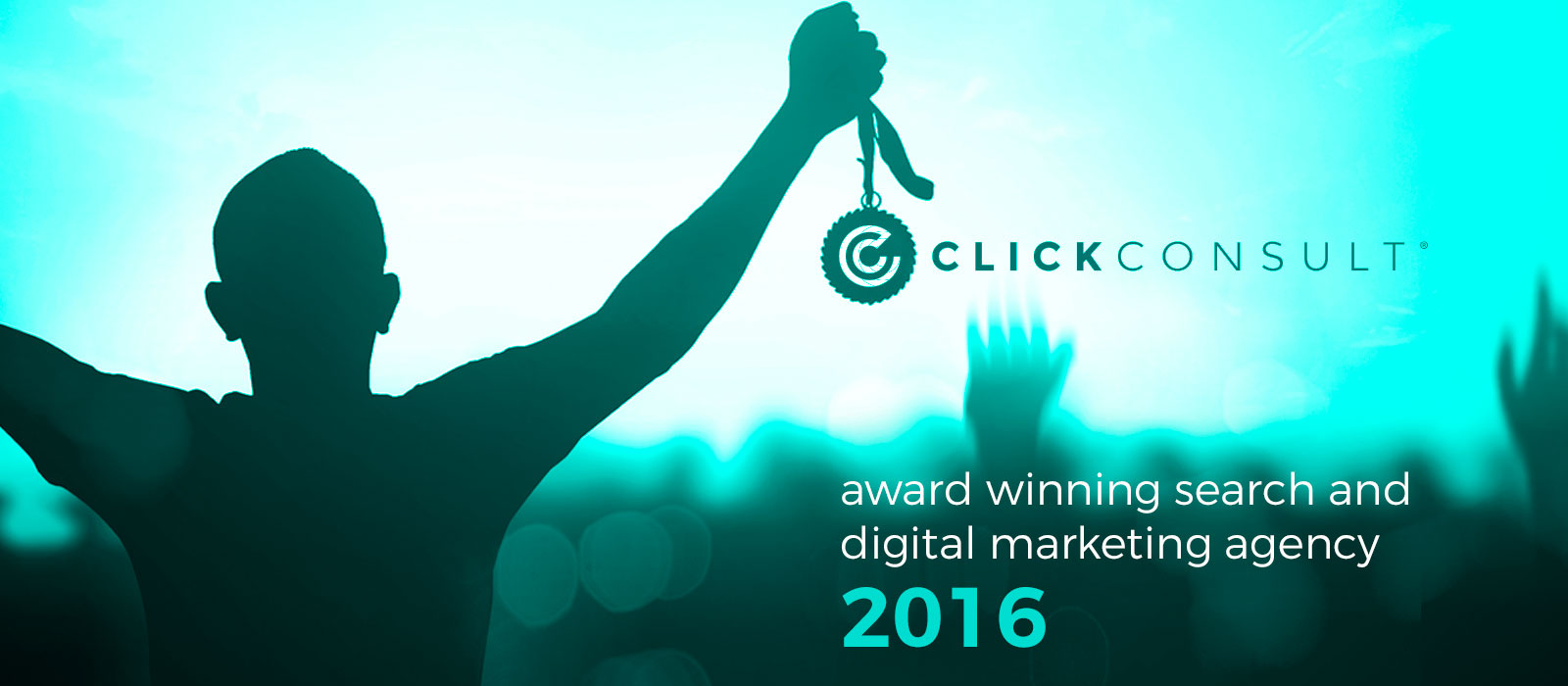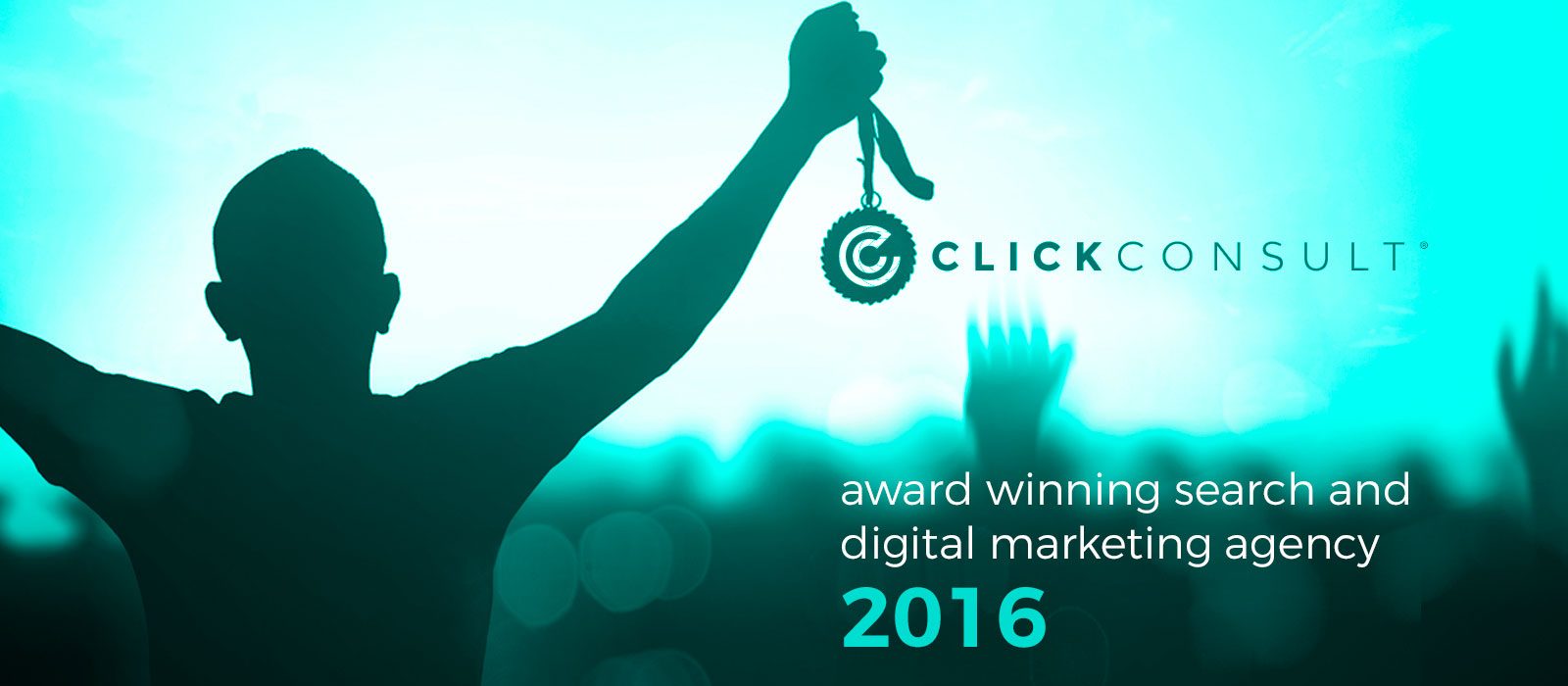 Click Consult: award winning search and digital marketing agency – 2016
Jan 2nd, 2017
2016 was a great year for Click Consult, with gains made in various rankings and an award win for campaign work for Oxfam and LloydsPharmacy Online Doctor
---
Awards and special mentions
The Drum Search Award – Best Charity/Not for Profit Campaign
High quality content, an holistic approach and a devotion to the client brand made Oxfam Unwrapped one of the best organic search campaigns of the year!
We're delighted to have won one of marketing's most prestigious awards – The Drum Search Award for Best Charity/Not for Profit Campaign for SEO – for our innovative and passionate campaign for Oxfam Unwrapped, featuring social media, earned media and design work.
---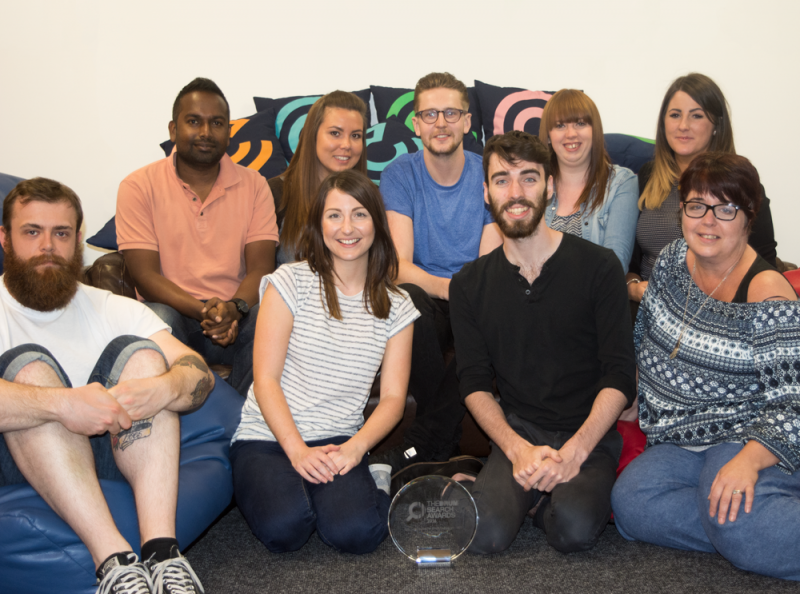 The team behind Click's Oxfam campaign success (back row, left to right) Byron, Charlotte, Adam, Faye, Kerry (front row l-r) Andy, Sophie, Jacob, Beth
---
Our CEO Matt accepts the award
---
Oxfam's Unwrapped project encourages people to buy from their charity gift range, with the proceeds helping to transform lives through the alleviation of poverty.
Click Consult's role was to increase awareness of this brand through an organic search (SEO) strategy encompassing content marketing, blogger outreach and social amplification.
Our campaign centred around bespoke content that would be of high interest and appropriateness to a diverse audience in a heavily saturated blogosphere.
We wanted to empower targeted bloggers to get involved with our campaign and be proud to be part of it. For the campaign to be a success, bloggers needed to be happy to provide a link to the Oxfam Unwrapped pages as an endorsement (earned media) through quality content specifically crafted to resonate with blogger themselves.
The campaign reflected the client's overall message 'We Won't Live With Poverty' and so was crafted as such to invite bloggers on board, to join a movement, to make a change and blog against poverty with meaningful, compelling and interesting content for them to share with their valued readerships.
---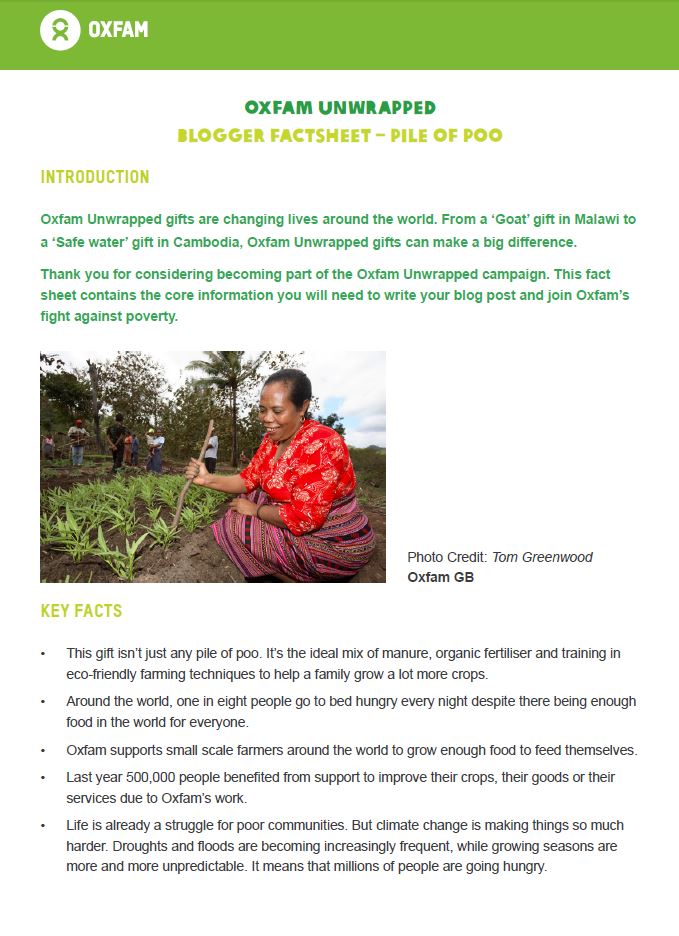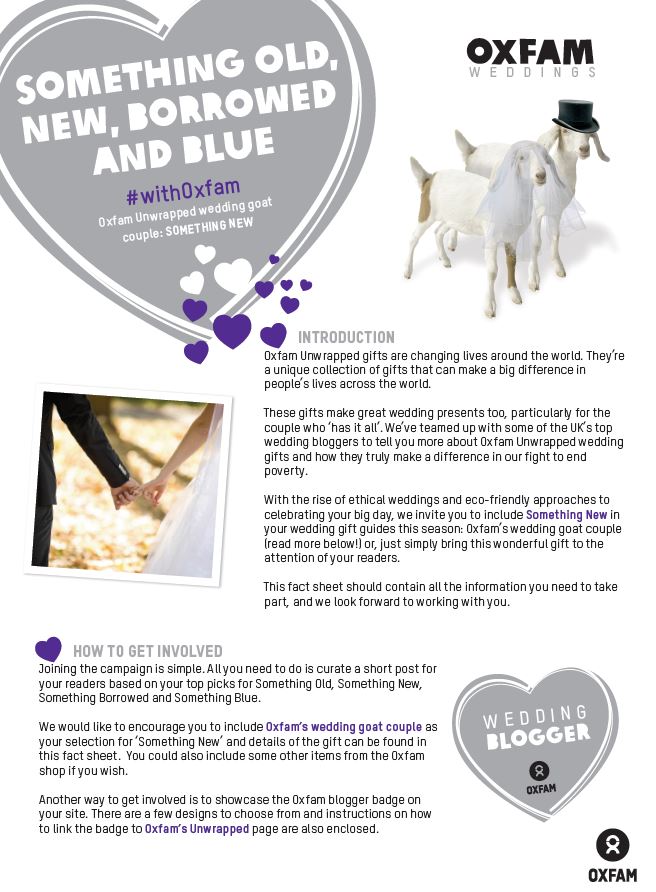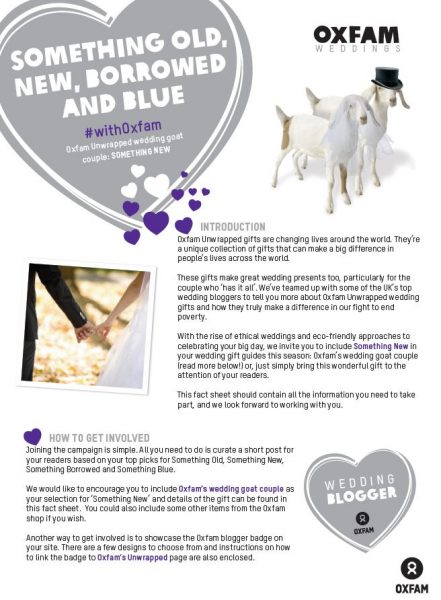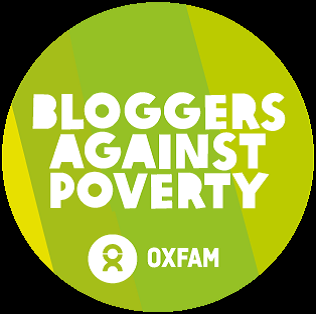 Some examples of the content we created for Oxfam
Performance Marketing Awards – Special Commendation
The special commendation came for Click Consult's mixture of multi-media asset creation and the provocation and harnessing of genuine empathy with and good feeling for Oxfam. Though peak interest in the charitable gift idea had diminished, we felt the same spirit expressed during its peak in 2006 could be recaptured by a bespoke, dynamic content marketing campaign.
The award came as Click Consult met and exceeded the client's brief by:
Increasing brand awareness across a broad range of demographics.
Positively impacting page rankings across the 'Unwrapped UK' keyword targets.
Increased the organic rankings for the vital 'Charity Gifts' search term.
Created natural, high quality, shareable content.
Created a campaign which empowered bloggers – making them want to be part of it.
FSB Digital Award!
---
Up against tough competition, we were ecstatic when our name was read out at last night's awards dinner at the Hilton in Manchester and rushed on-stage to accept the accolade from broadcaster Andy Crane.
The FSB judges were impressed how Click has identified and developed new opportunities for our clients using digital and social engagement and delivered demonstrable growth through our innovative marketing campaigns.
We've developed and expanded our content marketing and social media campaigns offering over the past year, delivering strategies that support and amplify our core organic search (SEO) service. This has seen us welcome on-board a significant number of new team members with the skills and experience to develop end-to-end campaigns that combine technical, creative and social factors and place user experience their heart.
---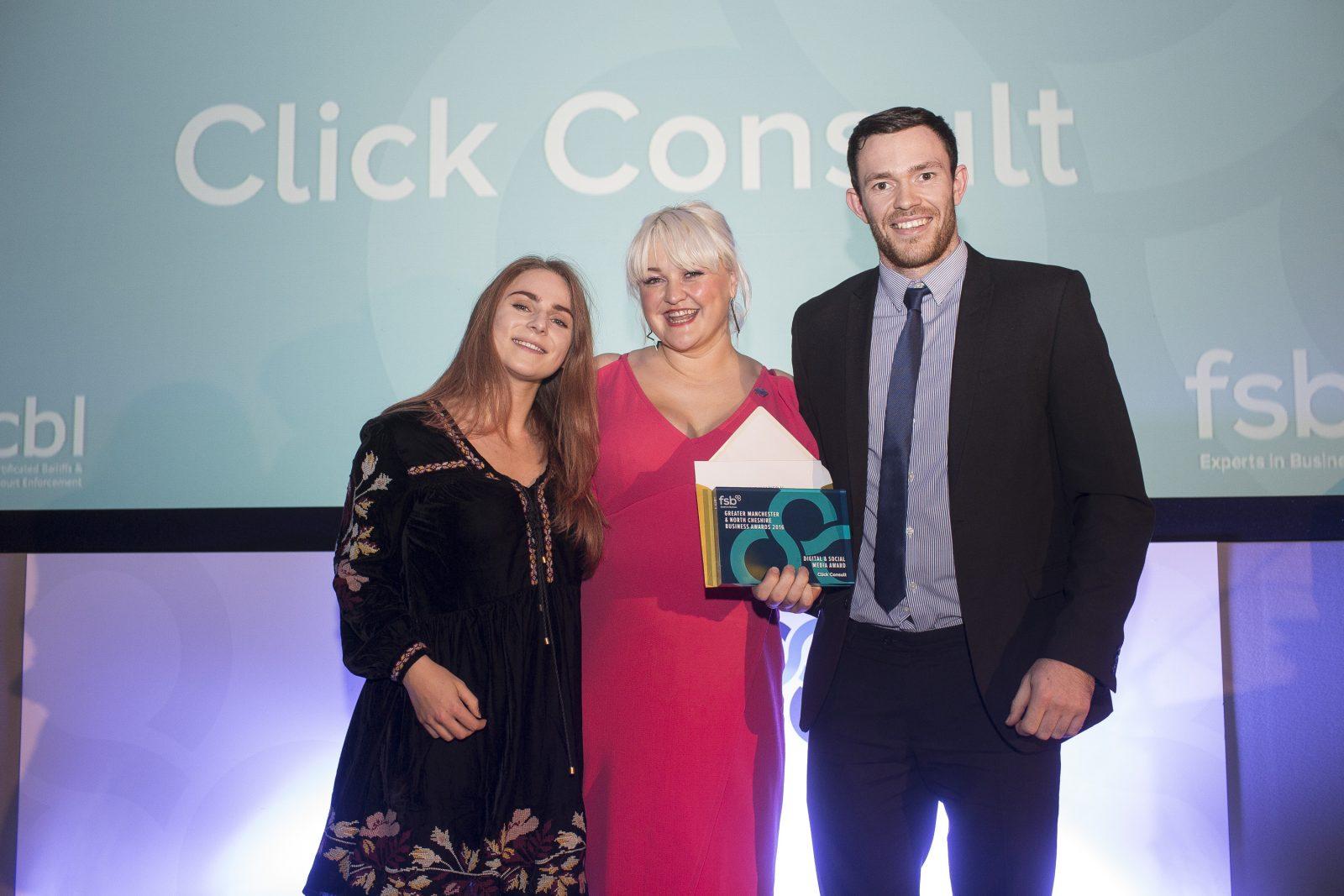 ---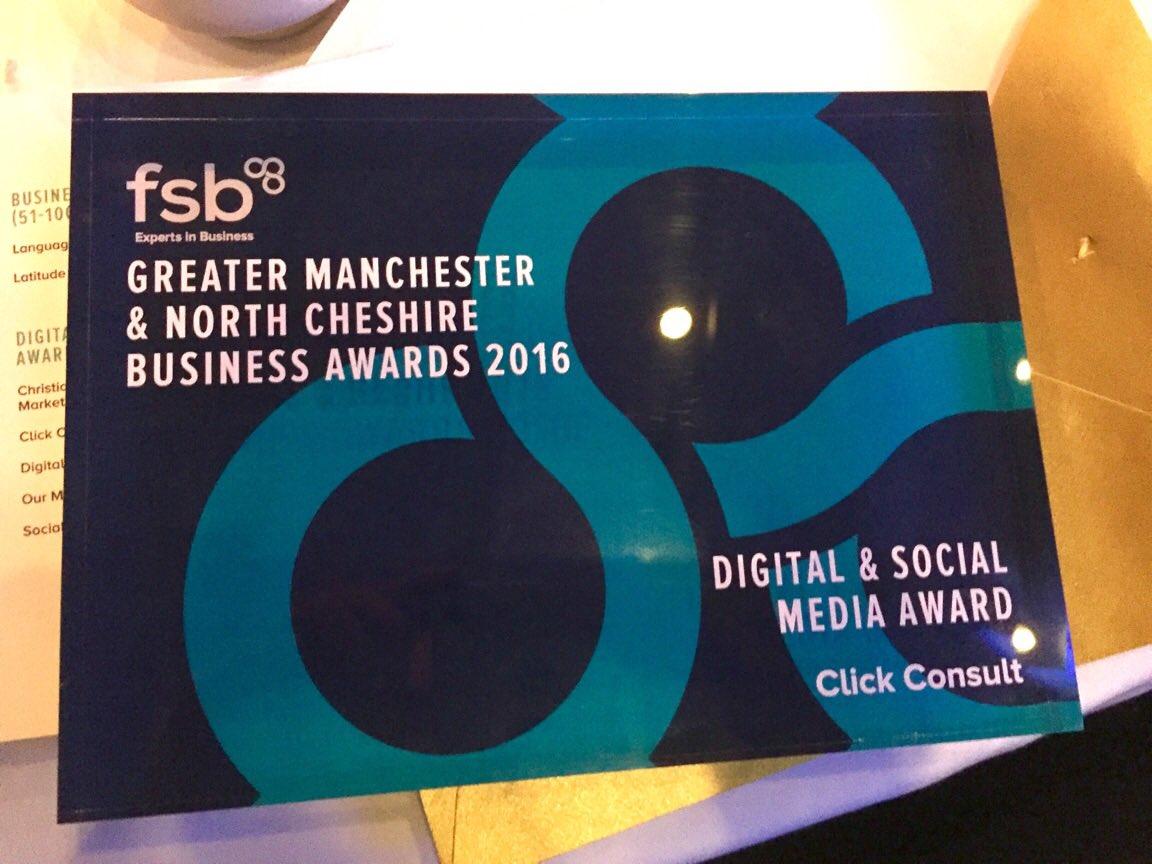 ---
Congratulations too to our table companions, Jazmin Cabrera and Ellen Kelly from Avant PR, who won Young Entrepreneurs of the Year and The Chairman's Award, as well as Urbanpaw Professional Grooming who were up for the New Business Award and brought along a canine ambassador for the brand, Olive (below)!
---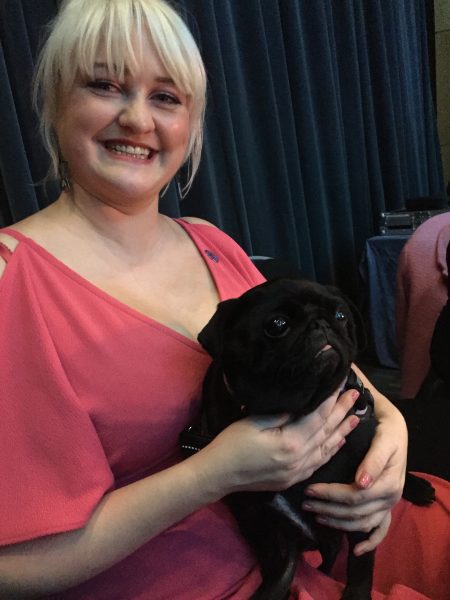 ---
You can take a look our creative campaign work among our case studies. Below is a snapshot of a Children's Bedtime Stories eBook we created for a client campaign, launched to coincide with World Book Day.
---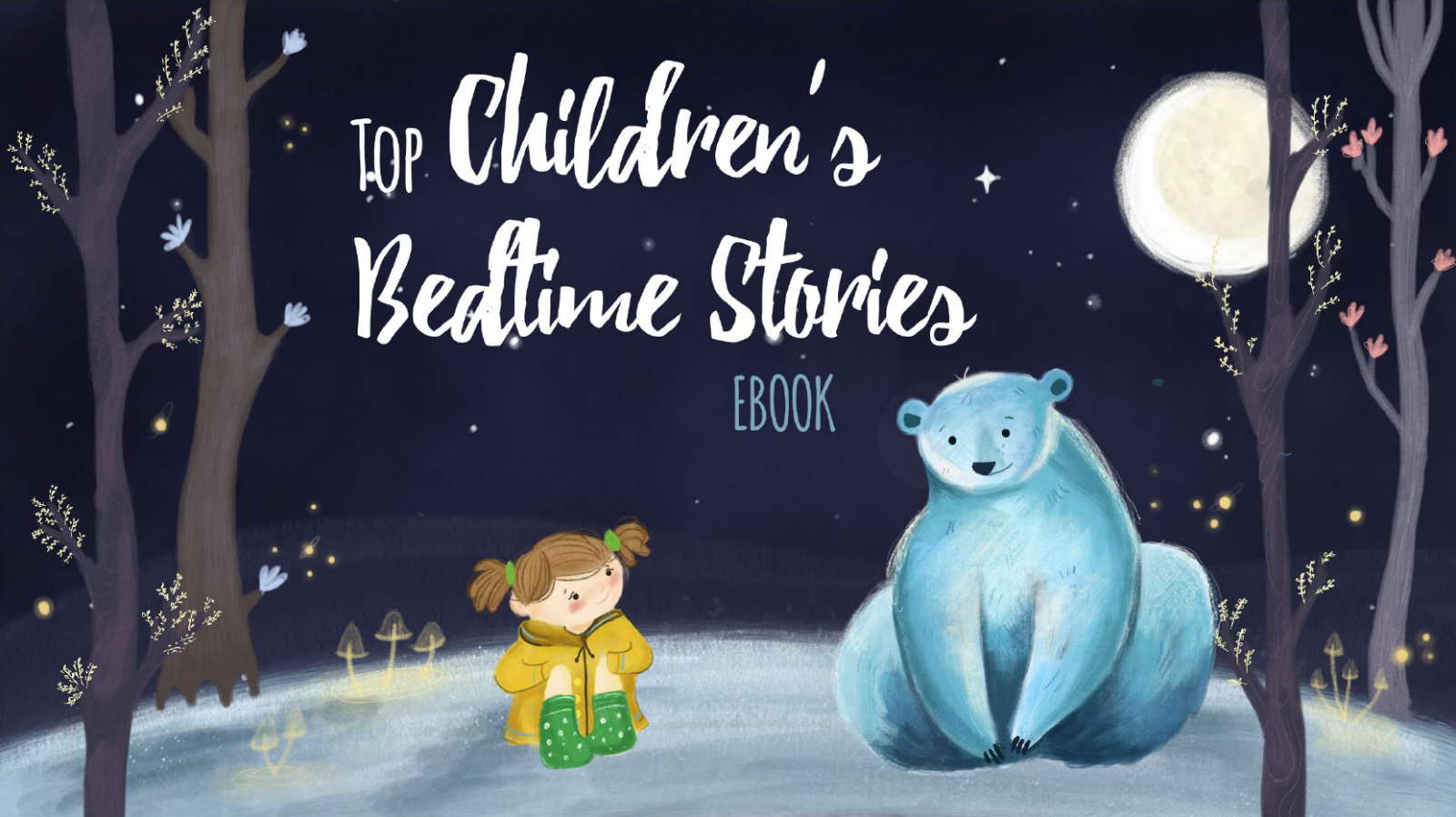 ---
A proud Matt Bullas, our founder and CEO, said:
"A long list of achievements and accolades confirms the great work we've done this year, combining high-achieving creative and technical talent with pioneering technology to deliver data-driven, content-rich ROI-focused campaigns that exceed client expectations."
Other award wins this year include:
Digital Impact Awards 2016 – Best Use of Digital in the Healthcare and Pharma Sector for LloydsPharmacy Online Doctor
Northern eCommerce Award 2016 – Best Beauty, Health & Well Being eCommerce Site 2016 for LloydsPharmacy Online Doctor
The Drum Search Award 2016 – Best Charity/Not for Profit Campaign for Oxfam
Digital Impact Awards
Following hot on the heels of the DMA award shortlisting, the latest win for Click Consult's work on behalf of LloydsPharmacy Online Doctor is being recognised far and wide, as well as eliciting some worrying creaks of complaint from the trophy shelf.
Its second award so far, the LloydsPharmacy Online Doctor campaign has previously been shortlisted for numerous awards over the last twelve months while its latest win came just last month at the fantastic Northern eCommerce Awards.
---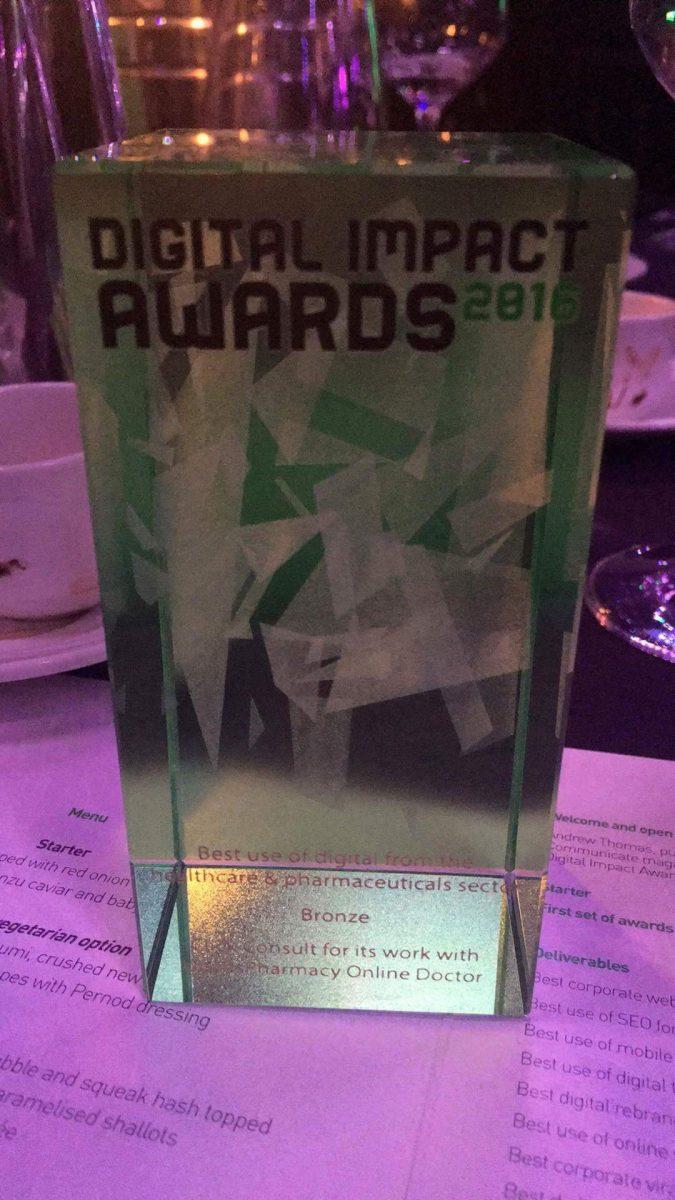 ---
The campaign's highly impressive results, across a range of important metrics for the brand, have clearly been catching the eyes of judges on several industry award panels.
A 144% increase in organic sessions
An increase in online revenue of 17%
Increasing organic revenue by 77.59%
An increase of page 1 terms to 36
More details are available regarding our award winning campaigns on our case studies page, or you can have a quick look at the below video for a closer look at the LloydsPharmacy Online Doctor campaign and the results achieved.
---
---
We're proud of the relationships we build at Click Consult, but they're in no small part due to the performance of the experts we have working with our clients. With this in mind, Click Consult again thanks the fantastic teams we have here. We look forward to the upcoming shortlists and award ceremonies, and the continuation of the fantastic relationship we have with LloydsPharmacy Online Doctor.
---
Northern Ecommerce Awards
Producing results that just could not be ignored, a mixture of savvy outreach, campaign communication and solid hard work, the Lloyds campaign, already a success, has now been officially recognised with an award for results such as (but not limited to):
A 144% increase in organic sessions
An increase in online revenue of 17%
Increasing organic revenue by 77.59%
An increase of page 1 terms to 36
This award, which will serve as a nice partner to 2016's other award (for our Oxfam campaign), is a proud moment for everyone here at Click Consult and great recognition of not only the work but the client relationship built over the last couple of years.
---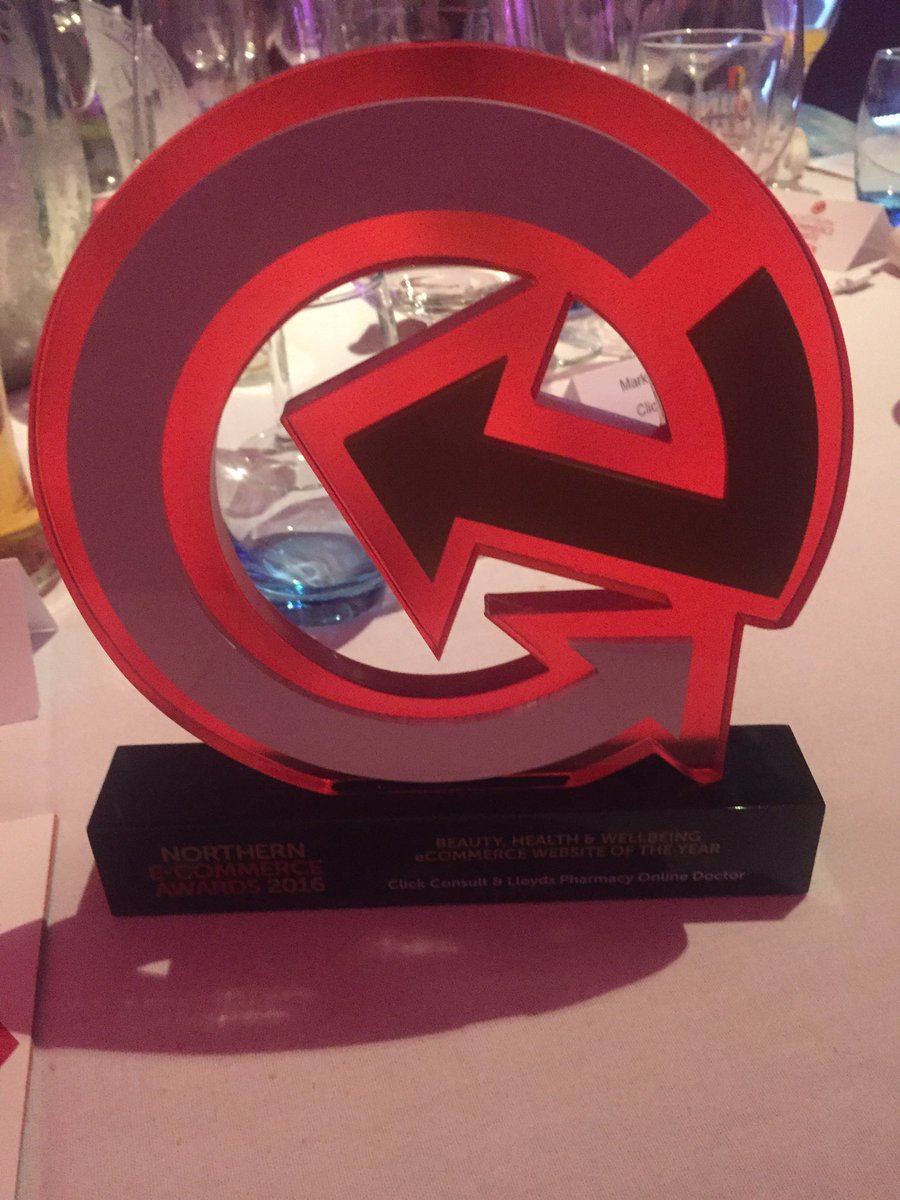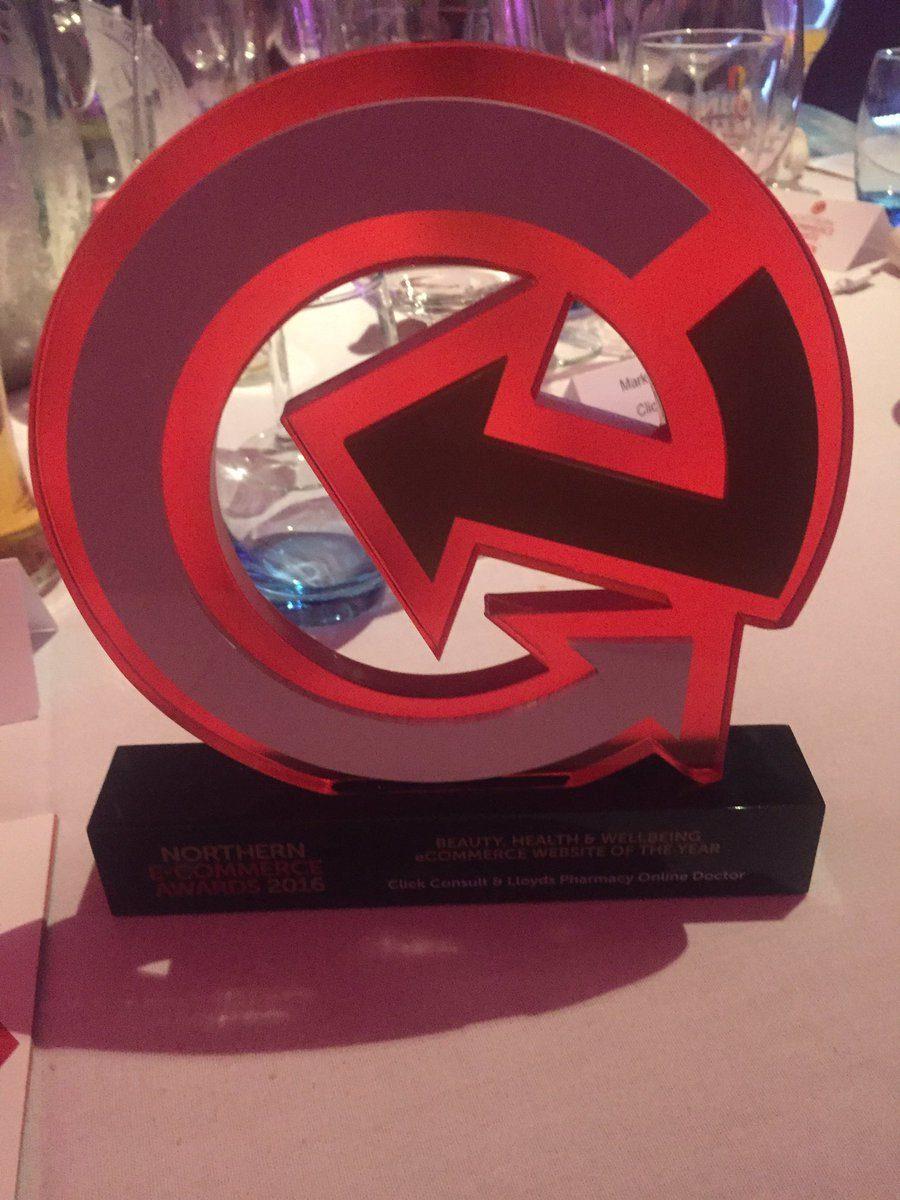 ---
This year's award season is far from over and we appear on numerous shortlists (we never tire of hearing our name mentioned amongst the industry's elite), so it may not be the last award of the year, but far from resting on our laurels, each award makes us more determined to improve, and set the bar higher for ourselves and our competition.
---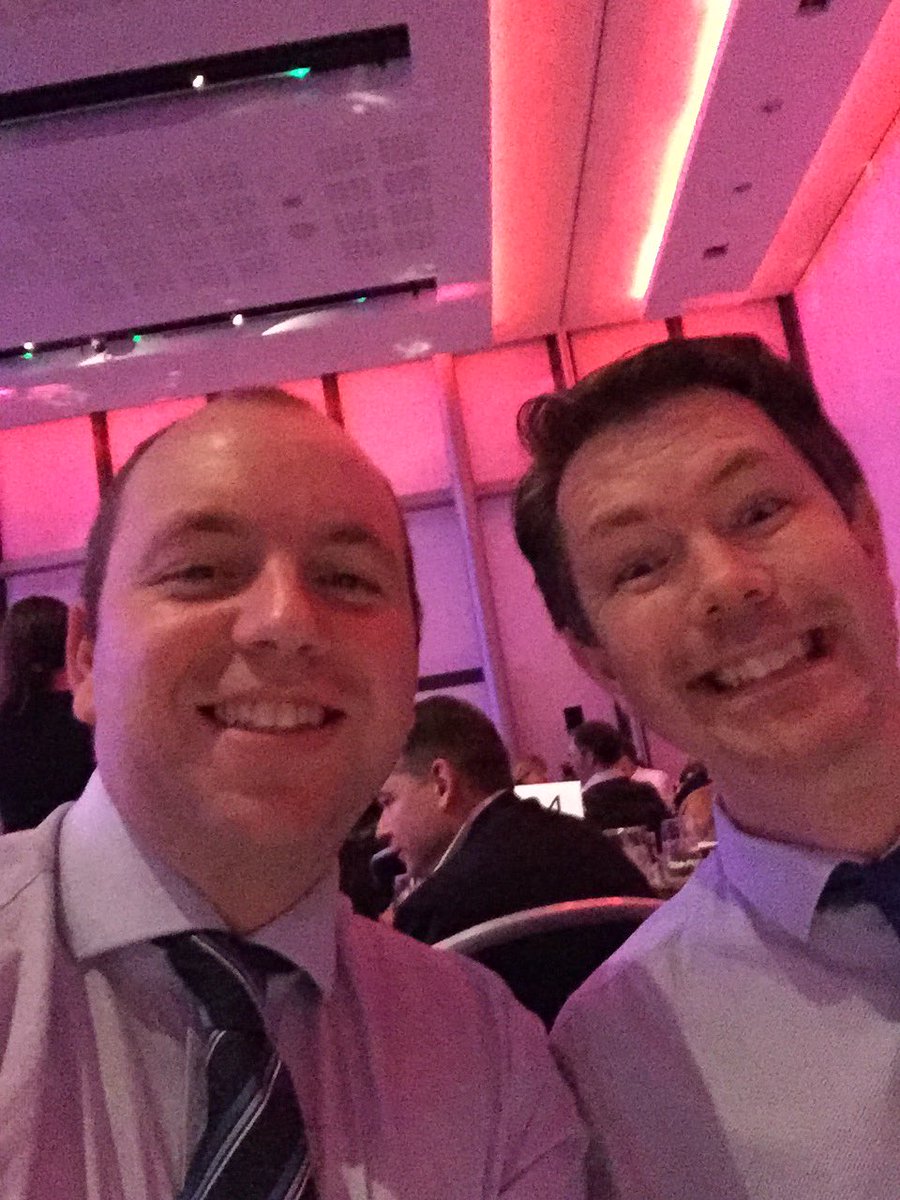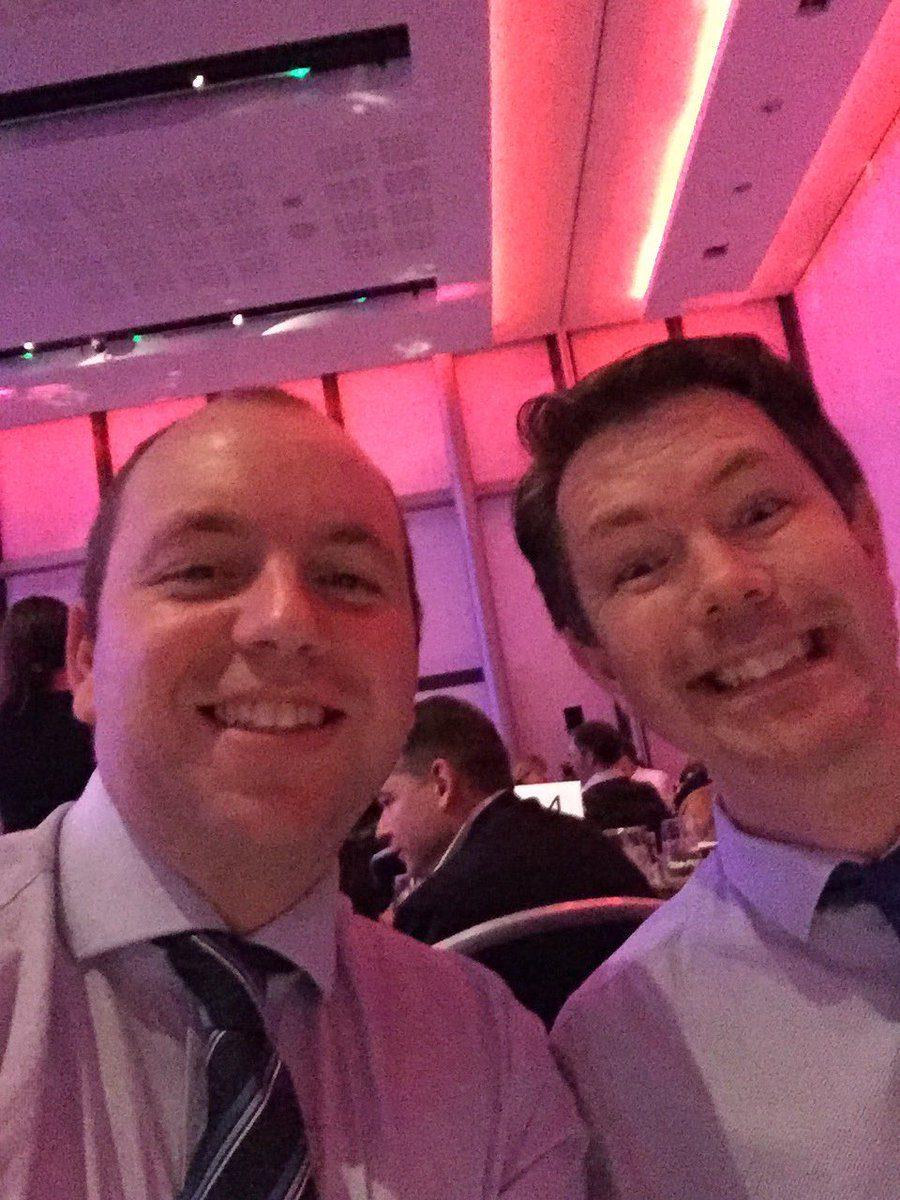 ---
Represented at the awards by Alan Reeves, Simon Buckland and Mark McGonigle (the latter two pictured above), the whole team were delighted when the news came in at 10pm yesterday (21/09/16) that, in the words of Director of Search Alan Reeves: 'We're going to need a bigger shelf!'
---
---
We're incredibly proud of the work that has gone in to this campaign, and of the results achieved, so – in case you've missed it – you can watch the video case study of the LloydsPharmacy Online Doctor campaign below.
---
---
Industry rankings
Econsultancy Top 100
An impartial ranking of the UK's top 100 digital marketing, design and build, technical and creative agencies, the Econsultancy Top 100 Digital Agencies Report lists them according to their directly digital attributable fee incomes. In addition to features, in-depth analysis and commentary on the state of the industry, Econsultancy presents a wide range of useful information to help client-side professionals choose the right agency to help them achieve their goals.
How we compare
Click Consult retained first place position in the North West of England for SEO fees, with 85% of the company's £4.4million digital fee income attributable to our award winning organic search service.
---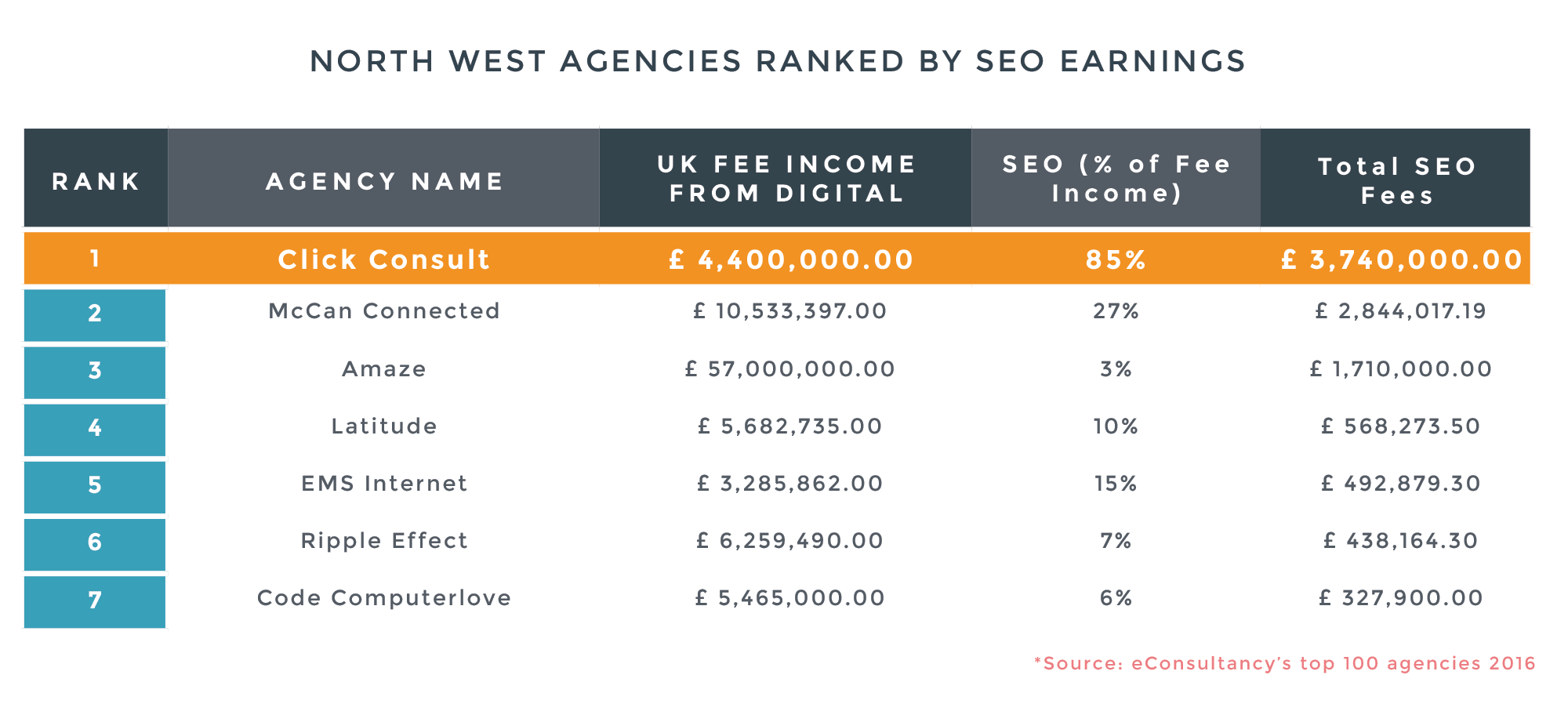 ---
We place 50th of the marketing agencies.
---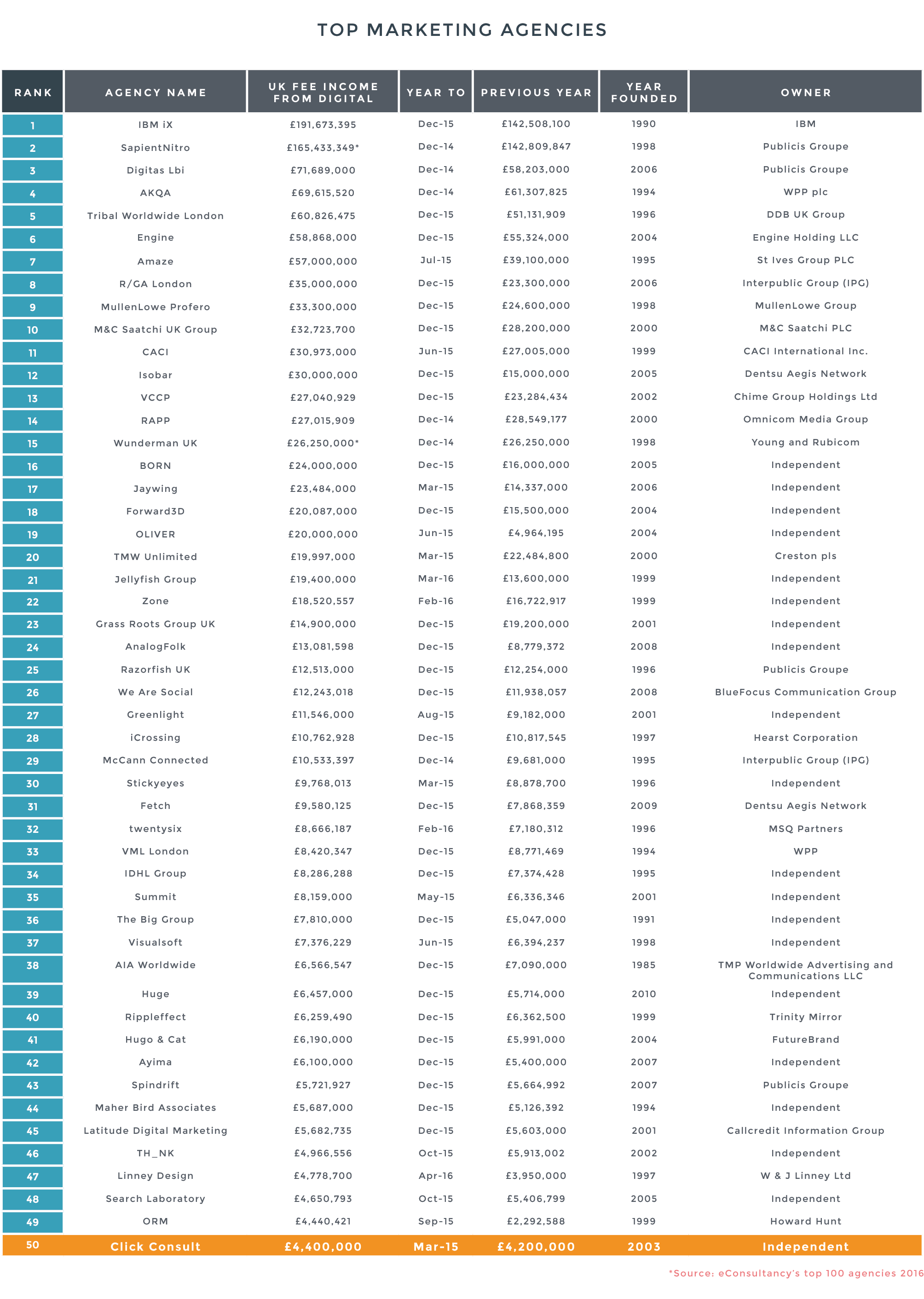 ---
Making us the 34th highest placed independent in that category.
---

---
In addition, Click Consult also ranked 28th in the UK for fees earned through media buying (PPC).
---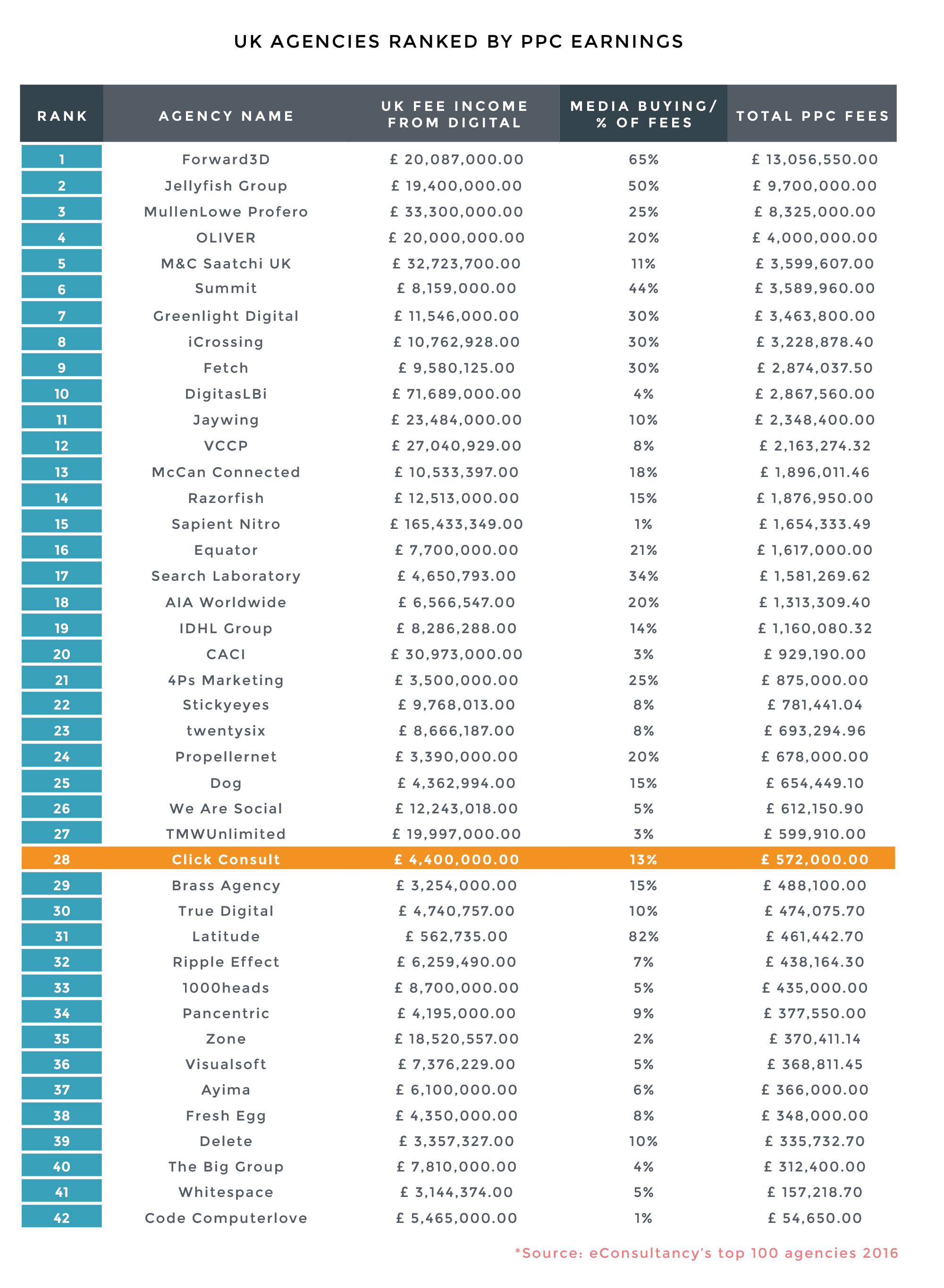 ---
The Top 100 Digital Agencies report is the definitive listing of the UK's largest digital agencies. The guide features in-depth analysis and commentary on the state of the industry, along with information on each agency to help client-side professionals choose the right partner to help achieve their business goals
Econsultancy
---
Regarding the performance, Click Consult CEO Matt Bullas commented: "We've become not only a regular feature of Econsultancy's top 100 list, but are showing progress each year. With strong showings in all of our core services contributing to a fantastic overall performance, we have a lot to be proud of.
"Following an award win for our Oxfam campaign and some great client wins, I think it's safe to say we'll be there again next year, and I have a feeling we'll better ourselves again."
---
Drum Independent Agencies Census
Click Consult has been a regular fixture in The Drum's Censuses for some years now, though this year sees it feature in a group analysed separately due to a 'unique income profile'. With this step up in category comes a new level of competition for places, yet Click has still excelled.
In a step that cements Click Consult's position as one of the top performing search marketing agencies in the country, this latest census places Click Consult at position 29 of the 33 selected to feature in the Media section for turnover, while it comes in at position 7 for client rankings – above all but one of the top ten agencies in the turnover ratings.
CEO and Founder, Matt Bullas stated:
With 2016 shaping up to be one of Click Consult's most successful years for client satisfaction, retention and fees as well as award nominations and wins, it is fantastic to see us regularly appearing at the top end of such prestigious rankings – especially for client rankings. There can be few better indications of agency performance than the happiness of the brands it represents.
The Drum's Independent Agency Census is compiled exhaustively from a wide range of company information and client testimonials and this year features 180 agencies from across the UK. To read more about the census, visit The Drum.
Drum Census
The last year has been a good one for Click Consult. Since the 2015 census, there have been seven trophies added to the collection in the reception area, a host of high profile client wins and a number of exceptional new experts added to teams across the company.
The 2016 census, therefore, comes with welcome recognition of the progress Click Consult has made in the last twelve months. While financials in the 51-99 are so competitive that even an increase in turnover of more than £150,000 was only able to lift Click a single place (moving from 26 in 2015 to 25 this year – though ranking 10th of those based in the north of England), it has made progress in the table that matters most.
---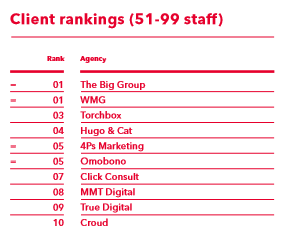 ---
Click Consult is proud of the brands we work with and of the award winning work we do on their behalf. It was, therefore, a fantastic boost to everyone that it has moved up, a tremendous, nine places in the client rankings – from position 16 to position 7.
---
I was reminded today of my words following last year's census – I was pleased with a strong performance in a new, larger category. I was looking forward out –performing ourselves in the 2016 census, but how could I know how well 2016 would go for Click Consult. I'm very proud of everyone and will say, again – onward and upward.
Matt Bullas, Founder and CEO
---
As ever, when Click Consult sets the bar high, it will begin the push to raise it further. With more award ceremonies coming up in the next month, we'll see if this year's trophy haul gets any larger and keep working to meet and exceed client expectations and looking forward to another great year of great performance and growth.
Prolific North Top 50 Digital Agencies
The Prolific North Top 50 Digital Agencies is a definitive listing of the North's largest and best digital agencies, spanning SEO and PPC, web, content, mobile and eCommerce. It's now widely recognised across the region as the benchmark for the region's digital sector.
Prolific North work together with one of the UK's leading independent research companies, Mustard Research, and financial reporting company, fame BVD, to make an informed decision on the top 50 digital agencies in the North of England. The judges examined the accounts of over 150 digital agencies that are either based in the North or have offices here, as well as asking the agencies themselves to submit supplementary financial and related data.
Our founder and CEO Matt Bullas said: "A long list of achievements and accolades confirms the great work we've done over the past year, combining high-achieving creative and technical talent with pioneering technology to deliver data-driven, content-rich ROI-focused campaigns that exceed client expectations.
"Ours is a fast-moving industry, in which we've established ourselves as thought leaders who remain ahead of the curve on industry trends, search techniques and new technology in order to deliver the very best service for our clients. We're committed to continuous innovation, and the past year has seen us invest in developing our service offerings and our people, as well as launching our own industry-leading suite of tools and techniques in TRAX technologies, and hosting our inaugural Benchmark Conference in Manchester (watch this space for news of Benchmark 2016).
"Our emergence as a clear leader in search marketing is reflected in our client wins over the past 12 months  – including significant brands such as Oxfam, Netflights, and Truprint – who have selected Click Consult to execute their search strategy."
Industry Partnerships
Google Premier Partners
While there were plenty of announcements following the release of the 2016 list of Google Partner certifications, Click Consult just couldn't resist the chance to boast about its ever growing list of specialisms.
Click Consult was one of the first specialised search marketing agencies in the UK – founded in 2003 – and also one of the first to be certified a Google Partner in that first year. As a result, Click Consult has been privileged to a lot of advanced information and advice (on changes in Google's approach and best practices) over the years, becoming so familiar with Google's approach that it has been able to predict changes, staying ahead of the curve with its own approach to search and digital marketing.
---

---
Our 2016 paid search specialisms:
Search ads
Mobile ads
Display ads
Shopping ads
---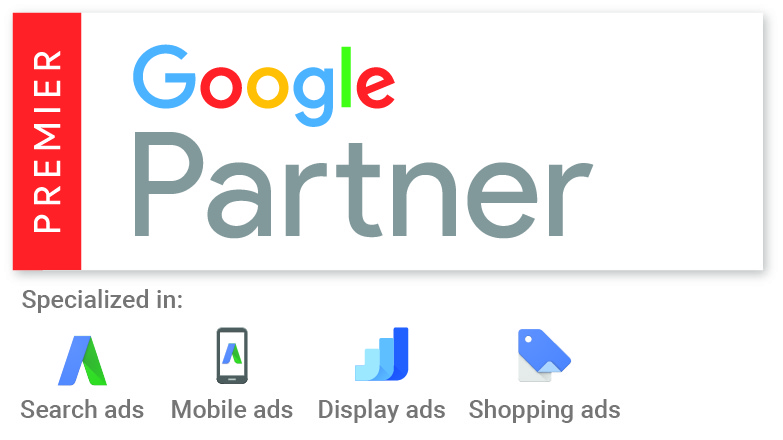 ---
So, despite the number of blogs you may see announcing premier partner status by other agencies, the hope is that you'll forgive this announcement as indicative of the tremendous pride Click Consult has in the work of everyone throughout the agency that makes it possible for it to be so consistently listed along with the best and brightest in the industry worldwide.
---
2016 proved to be one of Click Consult's most successful to date, let us help your brand have your most successful year – contact us today.