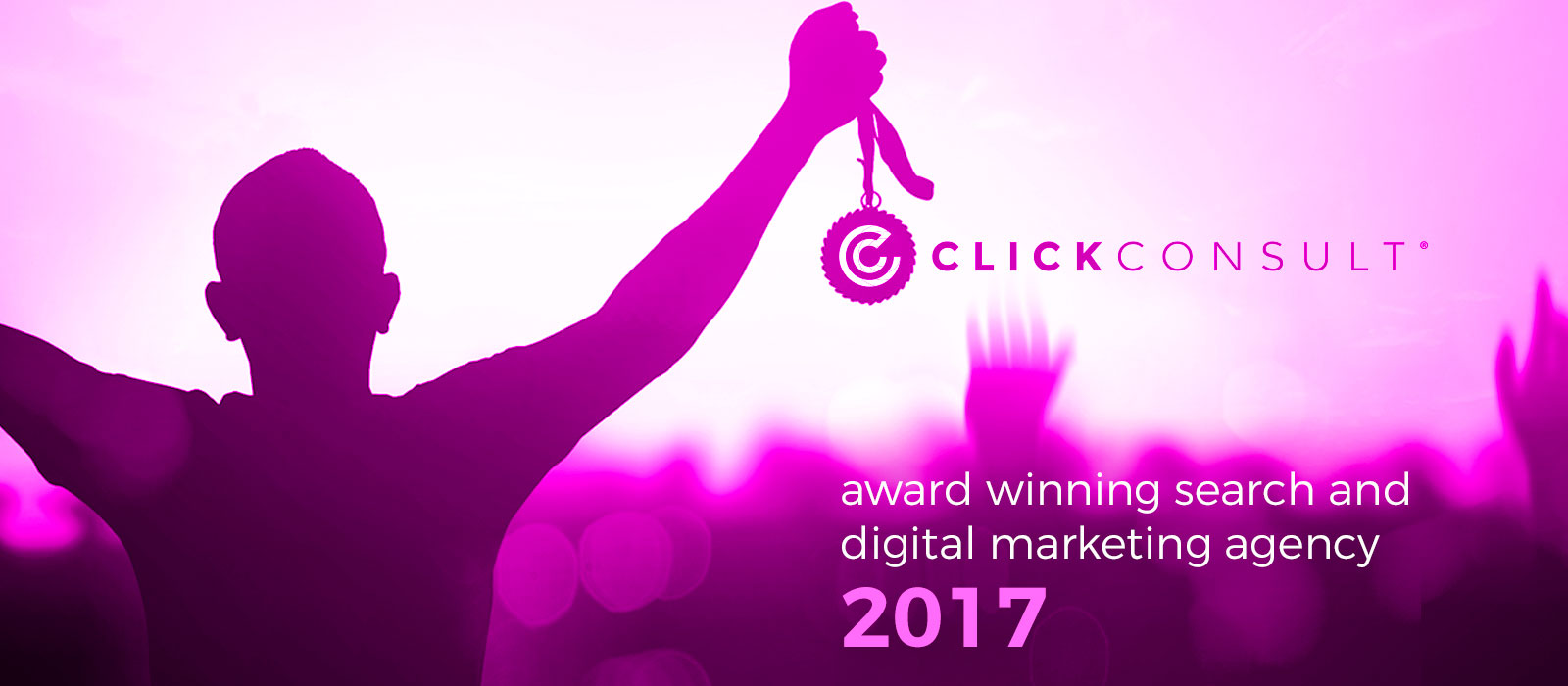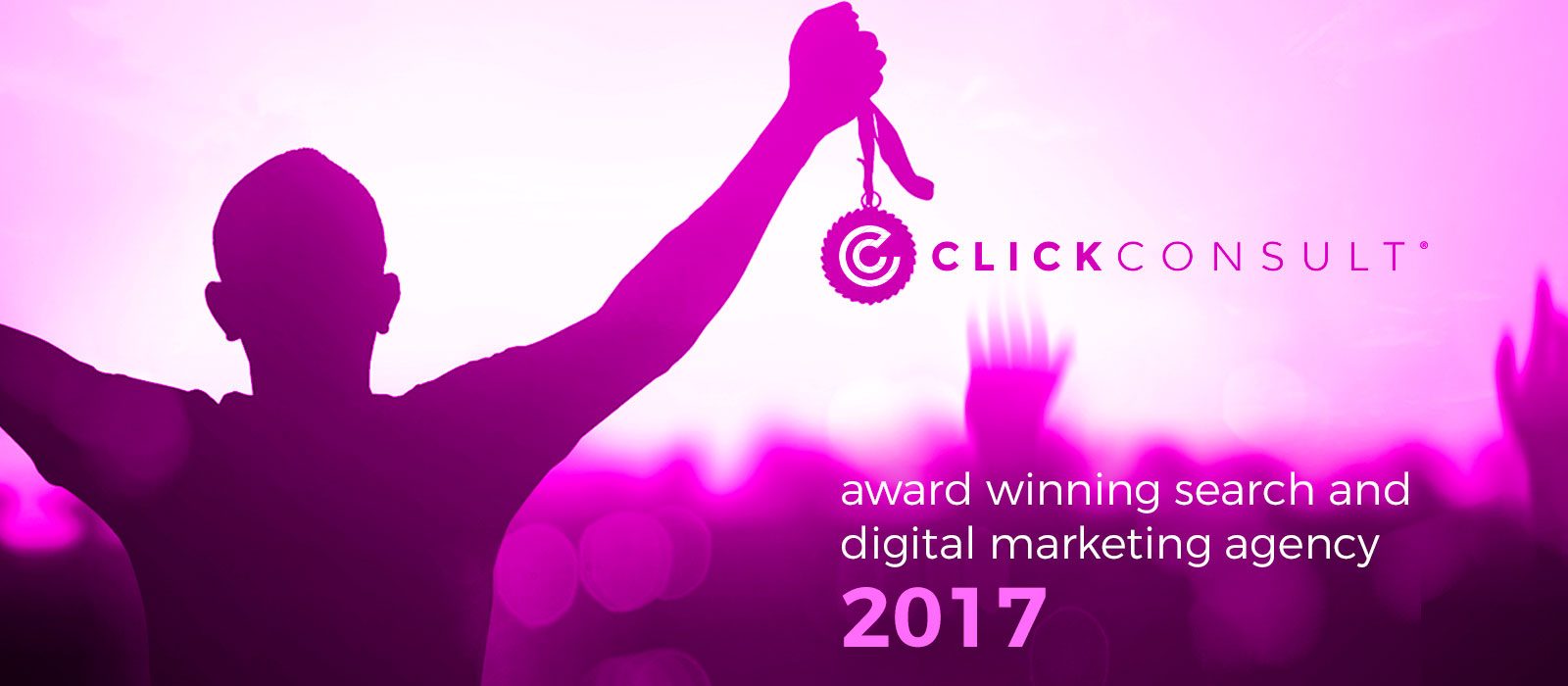 Click Consult: award winning search and digital marketing agency – 2017
Jan 10th, 2018
Our best year to date, 2017 led to 54 nominations and 14 wins (you can see a full list of nominations here) and great results in the industry rankings – roll on 2018!
---
Award wins
UK Agency Awards
We picked up two gongs at last night's UK Agency Awards at the Montcalm Marble Arch: Digital Agency of the Year and Best Not-for-Profit for our Oxfam campaign, 'We Won't Live With Poverty'.
The Awards celebrate creative, design, digital, marketing, advertising, media and public relations agencies based in the UK. The event, which rewards exceptional agencies, campaigns and talent in 22 categories, is judged by leading in-house marketing professionals from some of the UK's biggest and best brands.
---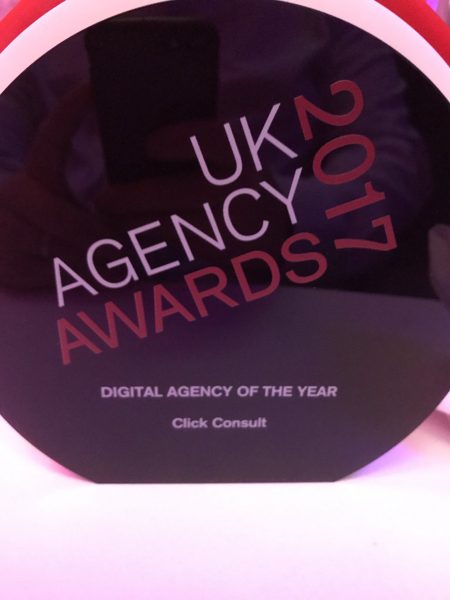 We beat off competition from all over the UK
---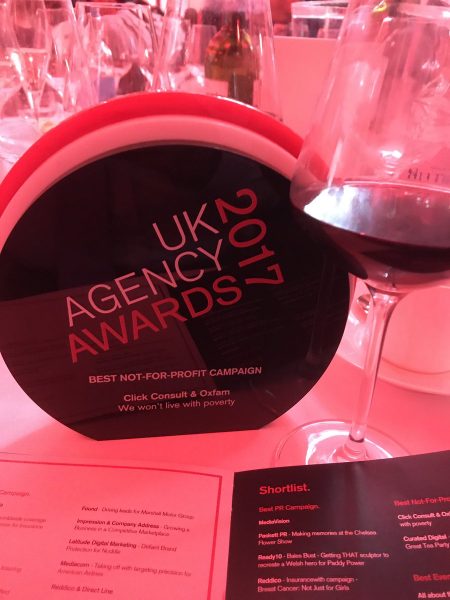 Our fourth accolade for our work with Oxfam
---
Our CEO and Founder, Matt Bullas, said: "We're elated about our wins – 2017 has been an incredible year for Click.
"The work that we do for our clients is the driving force and we love implementing campaigns that really make a difference. It is especially pleasing to be recognised as best digital agency against stiff competition from all over the UK.
"This is proof to the hard and varied work our teams are doing and shows that we are playing our part in one of the UK's largest and fastest growing industries.
"Here at Click Consult we are continuously developing our offering and looking at fresh techniques to bring out the best in the brands we work with.
"The business that we have secured over the last 12 months and the results that we have seen for existing clients puts us on track for our best year ever."
Drum Search Awards 2017
We not only met, but exceeded, expectations and created a campaign so successful it was last night named Best Financial Services SEO Campaign at the Drum Search Awards 2017!
---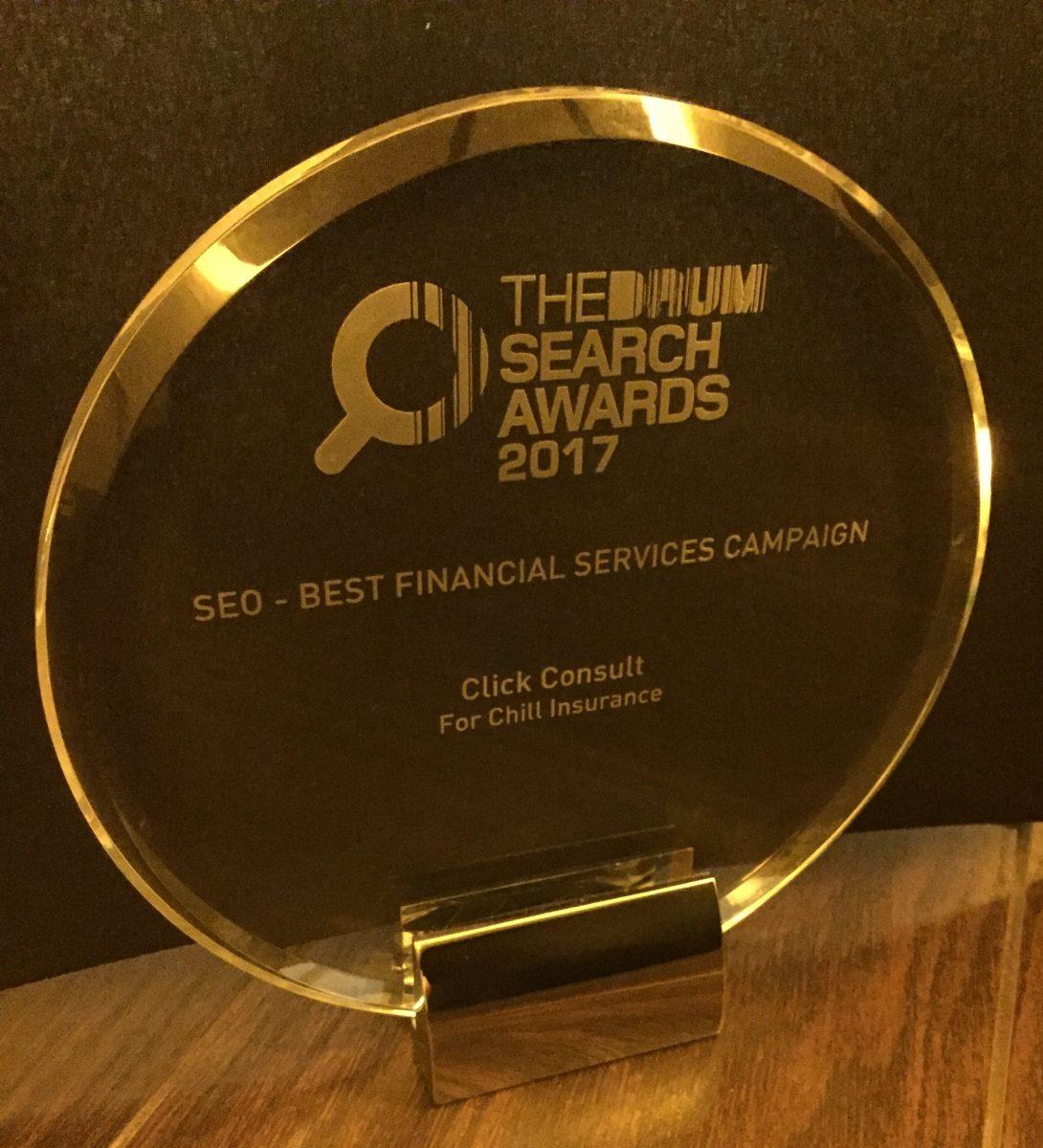 ---
The brief  was challenging – creating a campaign that would be of high interest and relevancy to a diverse audience in a heavily saturated sector – but it was a challenge we were able to rise to, combining the following aspects as part of our strategy:
The huge success of our campaign improved, and continues to improve, organic traffic for the brand, as well as allowing Chill to reduce their paid search spend dramatically, with a cost saving of up to €90,000 whilst improving performance.
The results showcase our combined expertise in both technical and creative SEO. The brand have rocketed up the rankings in one of the most saturated and competitive markets. The headline figure are as follows:
---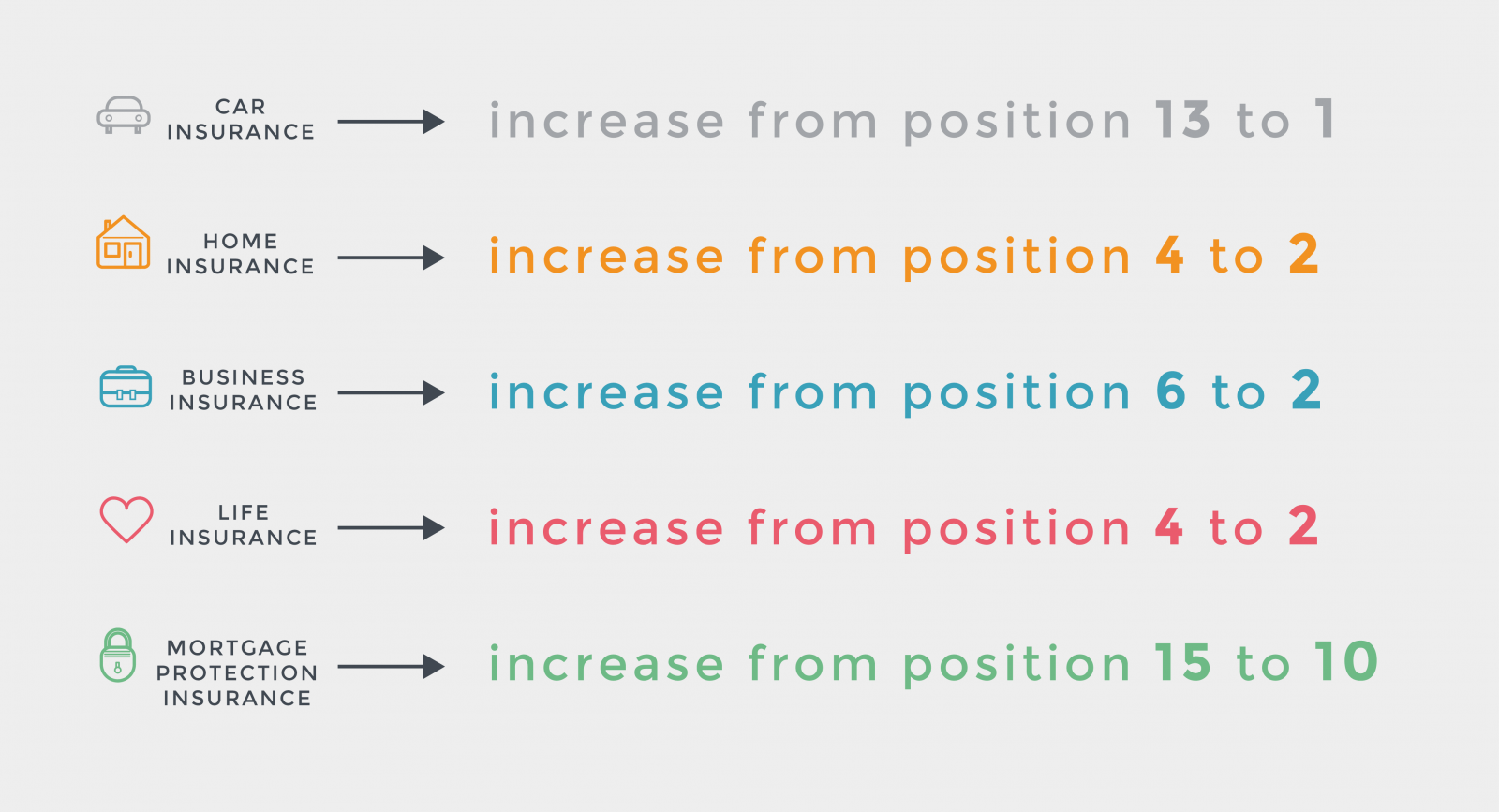 ---
---
Ticking all of the boxes and exceeding the expectations is always part of the plan here at Click Consult. We are always looking to help and if we can deliver whilst saving the client money then that's a double win. Here's what they had to say about us:
---
Click have returned terrific results for our business as a result of the work they are doing on our organic visibility. They're also the best agency we've worked with in terms of understanding our business objectives and communicating progress regularly. Our conversions have increased considerably since we started working with Click and we're seeing a fantastic return on investment. Click from the initial pitch have delivered on their promise of delivering data driven solutions for particular SEM problems. I have found them both knowledgeable and effective in delivering results

Fergal Lynch, Head of Marketing Chill Insurance
---
Speaking about the win, Click Consult CEO and Founder, Matt Bullas said: "I'm delighted with the performance of the team and we are all thrilled with this latest Drum Search Awards.
"These awards highlight the very best work from the industry and it represents a gathering of those at the top of search marketing. We are proud to be included for such a wide variety of awards and for an assortment of clients.
"The team have worked incredibly hard and as a business we are moving forward to ensure that we deliver the best possible results for our clients.
"The business that we have secured over the last 12 months and the results that we have seen for existing clients puts us on track for our best year ever."
Our organic search campaign for Oxfam was also recognised at the Drum Search Awards – Highly Commended for Best Charity/Not For Profit Campaign.
---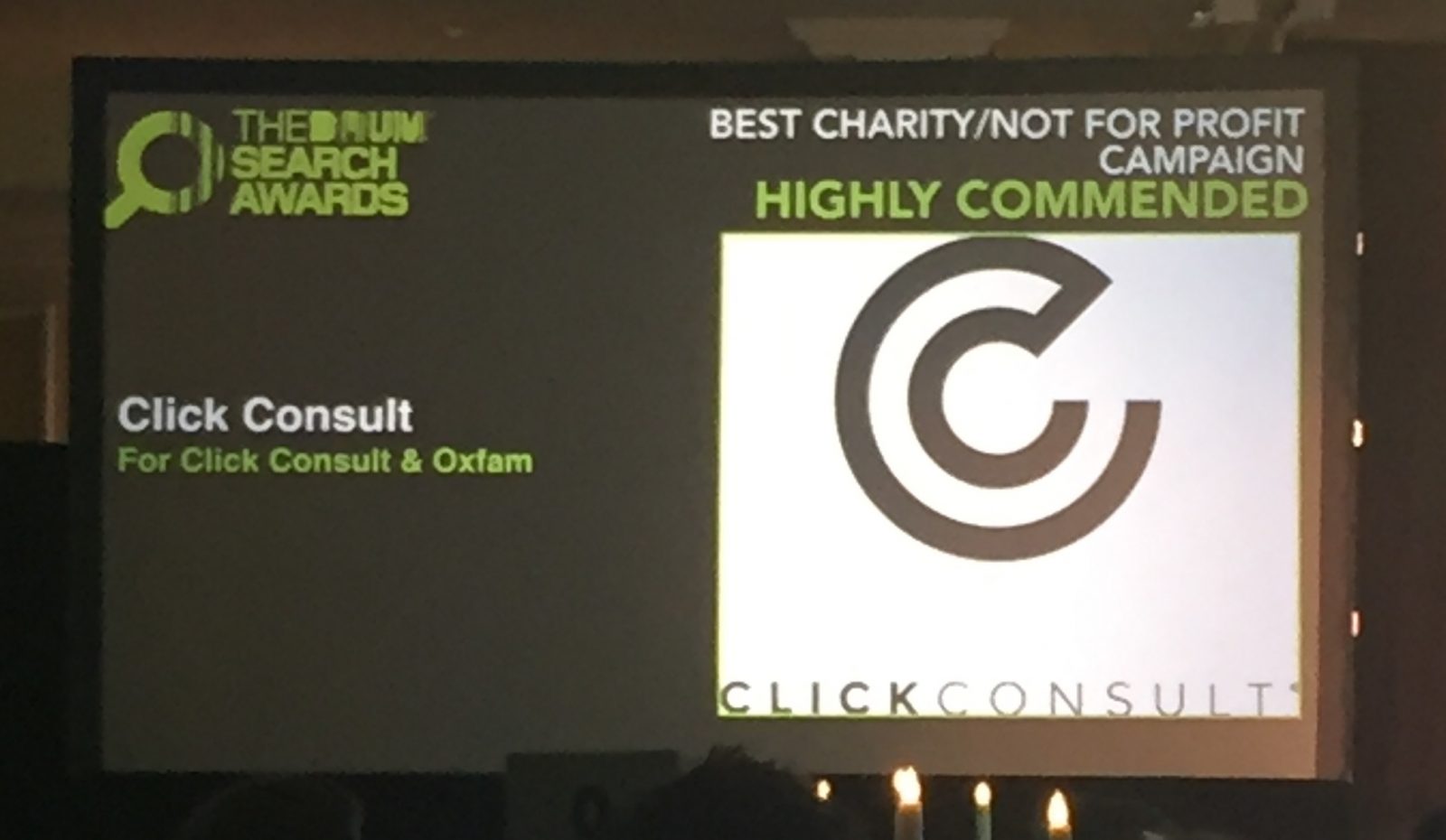 ---
Northern Ecommerce Awards
Each year seems to bring greater numbers of accolades as Click Consult proceed with their push to become the leading search marketing agency in the north of England. Two further wins – one being another agency specific award in recognition for the leaps and bounds Click has taken year on year – has taken the total to five (plus one highly commended runner up).
---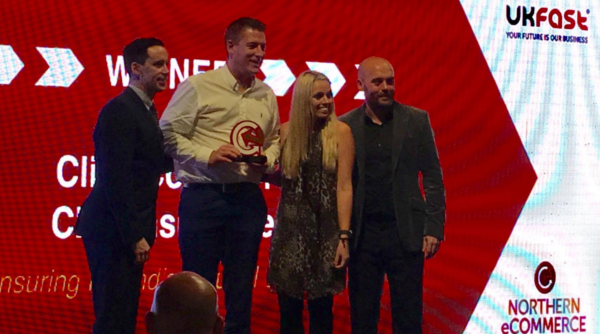 ---
With the agency's work attracting fantastic praise from awards of this calibre, the teams involved should be extremely proud. Not only has Click Consult proven over and over that the work it does on behalf of clients is second to none, the agency's commitment to progress and thought leadership within the industry has seen an increasing number of agency level awards.
The awards won were:
B2C eCommerce Website of the Year – for our work with Chill.ie
Best Large eCommerce Agency 2017 – for an ever growing list of accomplishments in 2017
---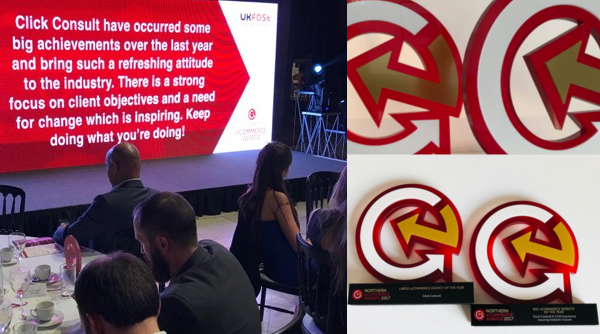 ---
After such a fantastic evening – with a great location, host, company and a number of award collections to make, it is understandable that the Click founder was in high spirits:
---
Last year was a phenomenal success for Click as an agency, so it's difficult to find words for the level of industry recognition we've seen this year. It's fantastic to see the structures and strategies we've been building internally are having a real impact – not just for our clients, but on the industry as a whole. I know the team can keep it up and I look forward to seeing what comes next.
Matt Bullas – CEO & Founder
---
With so many more shortlists yet to reach their ceremony and more shortlists to be announced, it could well be Click Consult's finest year to date.
Digital Impact Awards
In what has been a busy start to the awards season with the team here at Click picking up four awards from ten nominations since the start of September, we last night added another three to the cabinet.
At the annual Digital Impact Awards held at The Brewery, Chiswell St, London, Click Consult where honoured with three awards for work conducted on behalf of our clients.
---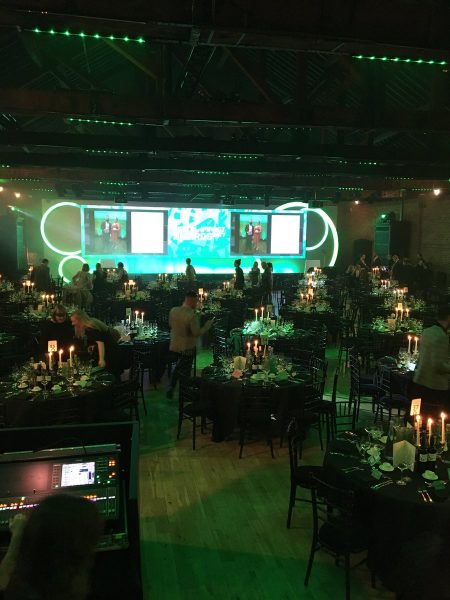 Getting ready for the Digital Impact Awards
---
For our work with Chill Insurance we picked up a 'Silver Award' for our latest campaign, 'Insuring Ireland's Future' in the 'Best use of digital from the financial services sector'.
We were also awarded two 'Highly Commended' accolades for our work with Oxfam and LloydsPharmacy Online Doctor.
Oxfam's awards came for the campaign 'Dressed by the Kids' in the 'Best use of digital by a charity', and LloydsPharmacy for their campaign 'Just what the online doctor ordered' in the 'Best use of digital from the healthcare and pharmaceuticals sector'.
---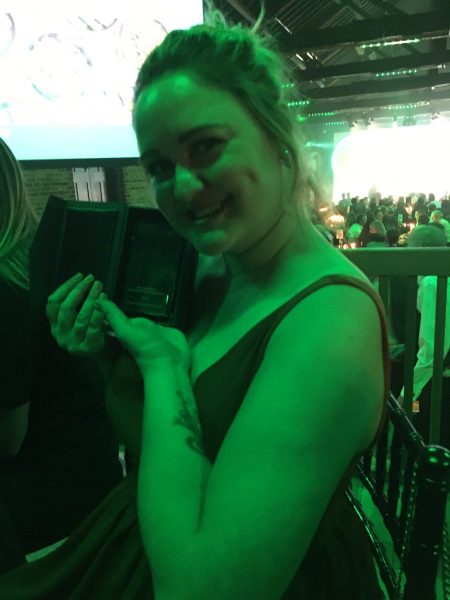 Chloie with our Silver Award for Chill Insurance
---
Speaking about the wins, CEO and Founder of Click Consult, Matt Bullas said: "Here at Click Consult we are very proud of the work that we do for our clients and it's great to be rewarded for the campaigns that we have put together.
"These three awards are for everybody at Click Consult as everything we do is a team effort.
"We use proven search marketing tactics and our bespoke suite of tools to create campaigns that deliver results."
Northern Marketing Awards
There was plenty of glitz and glamour at Hilton Deansgate in the heart of Manchester yesterday evening as the cream of Northern marketing talent gathered to celebrate the past year's successes.
As headline sponsors, we opened the proceeding by offering a bottle of Jack Daniels to the table who tweeted the best selfie with the #NMA2017 hashtag (well done table 14!) before the awards got into full swing.
Presenters Andy Crane and Emma Jesson handed out a total of 19 prized purple 'N's to companies, organisations, institutions and agencies from every corner of the region.
---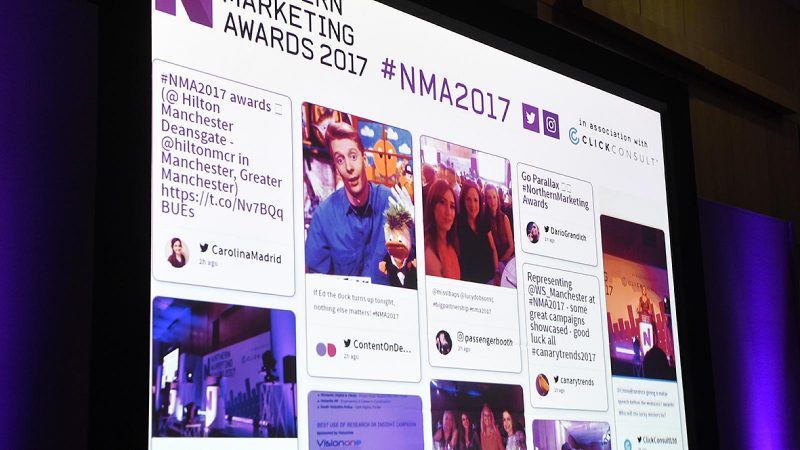 The NMA twitterboard
---
The Click Consult team was shortlisted in three categories, and we were ecstatic to take home the Best Professional and Financial Services Award for the creative organic search campaign for Chill Insurance.
Click Consult's founder and CEO Matt Bullas said: "Once again, it's a true pleasure to sponsor the awards, which honour the very best creative and data-driven marketing that the North has to offer. To receive an award ourselves is the icing on the cake. We've been working with Chill for the past three years to enhance its visibility and build up leads and our collaboration continues to achieve fantastic results."
---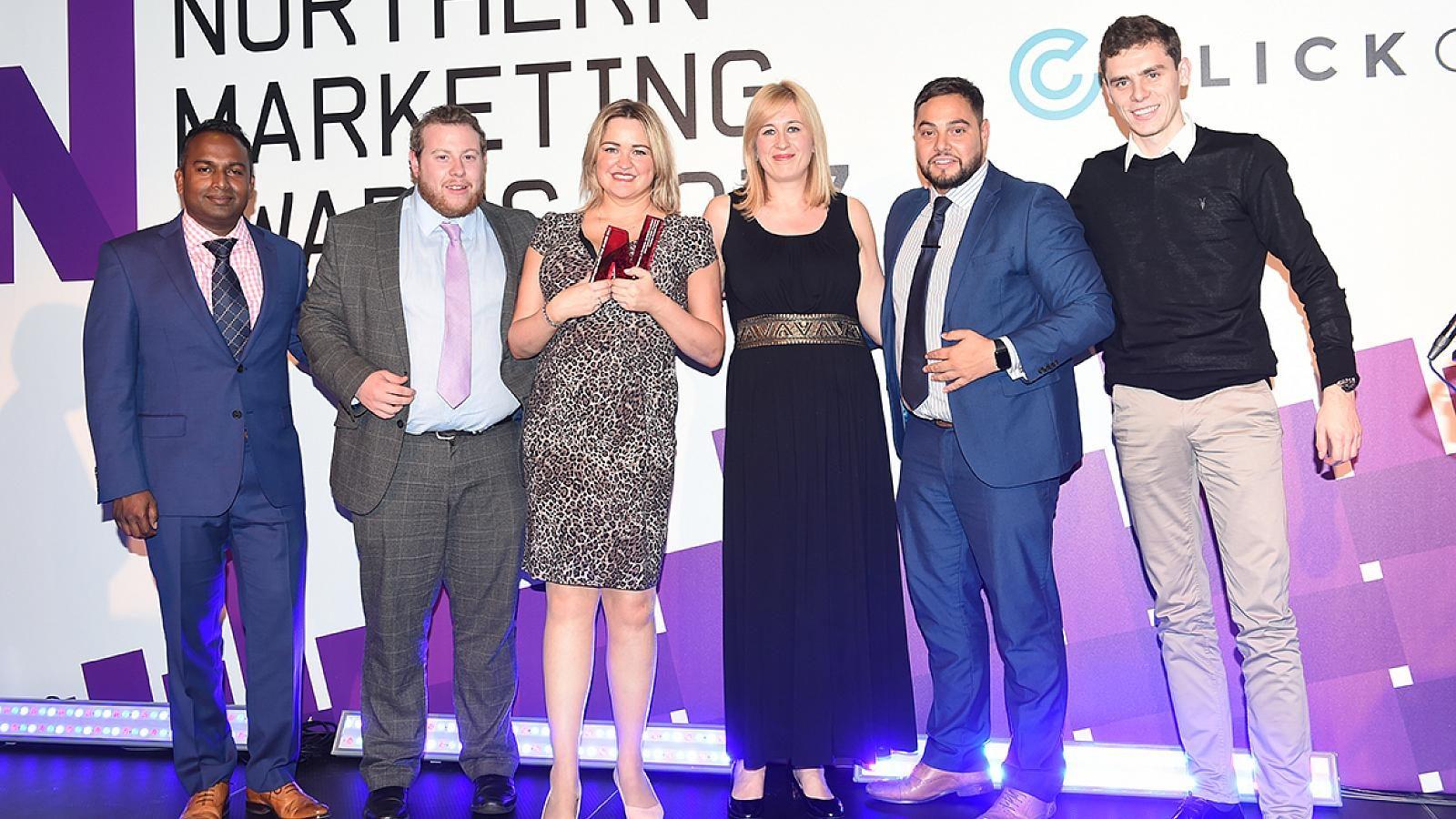 The Click team as proud as punch
---
The judges commented: "This was a well-executed campaign that engaged creatively to drive some amazing results. An overall great campaign which really impressed the judges."
It's not the first accolade the Chill campaign has received over the past year. We were also rewarded with Best B2C eCommerce Website of the Year at the Northern eCommerce Awards, as well as Best Financial Services Campaign at this year's Drum Search Awards.
---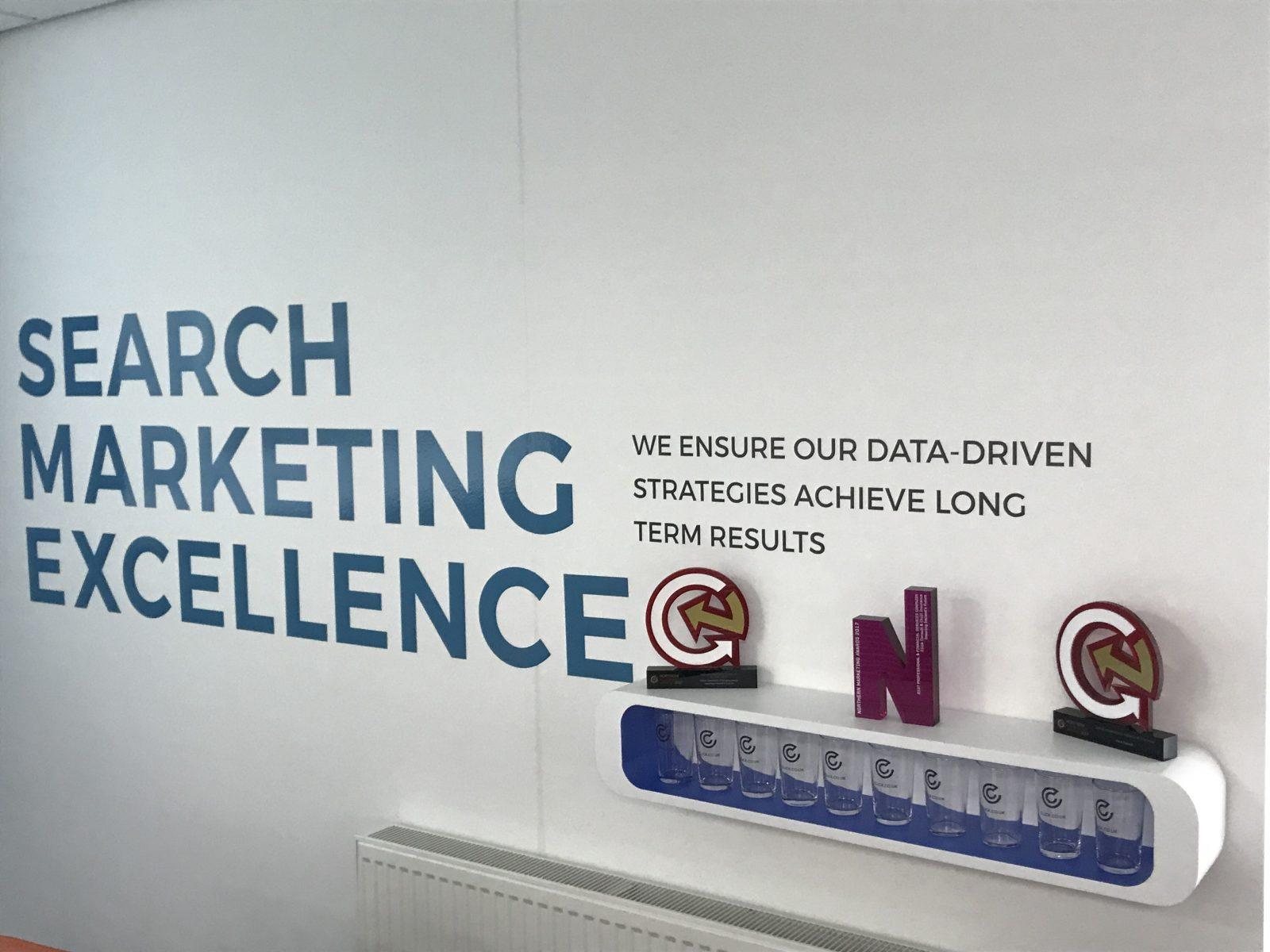 ---
FSB Greater Manchester and North Cheshire Business Awards
Our Head of SEO Mark and Senior Business Development Manager Fahim attended the ceremony at Manchester's Hilton to collect the plaque – our second consecutive win at the regional FSB awards. Last year, we took home the Digital and Social Media Business Award.
We're proud to say this latest award is our eighth for 2017, including:
Best Digital Agency (UK Digital Agency Awards)
Best Large eCommerce Agency (Northern eCommerce Awards)
Best Professional and Financial Services Campaign (Northern Marketing Awards)
B2C eCommerce Website of the Year (Northern eCommerce Awards)
Best Not-for-Profit Campaign (UK Digital Agency Awards)
Best Charity/Not-for-Profit Campaign (Drum Search Awards)
Best Financial Services Campaign; (Drum Search Awards)
---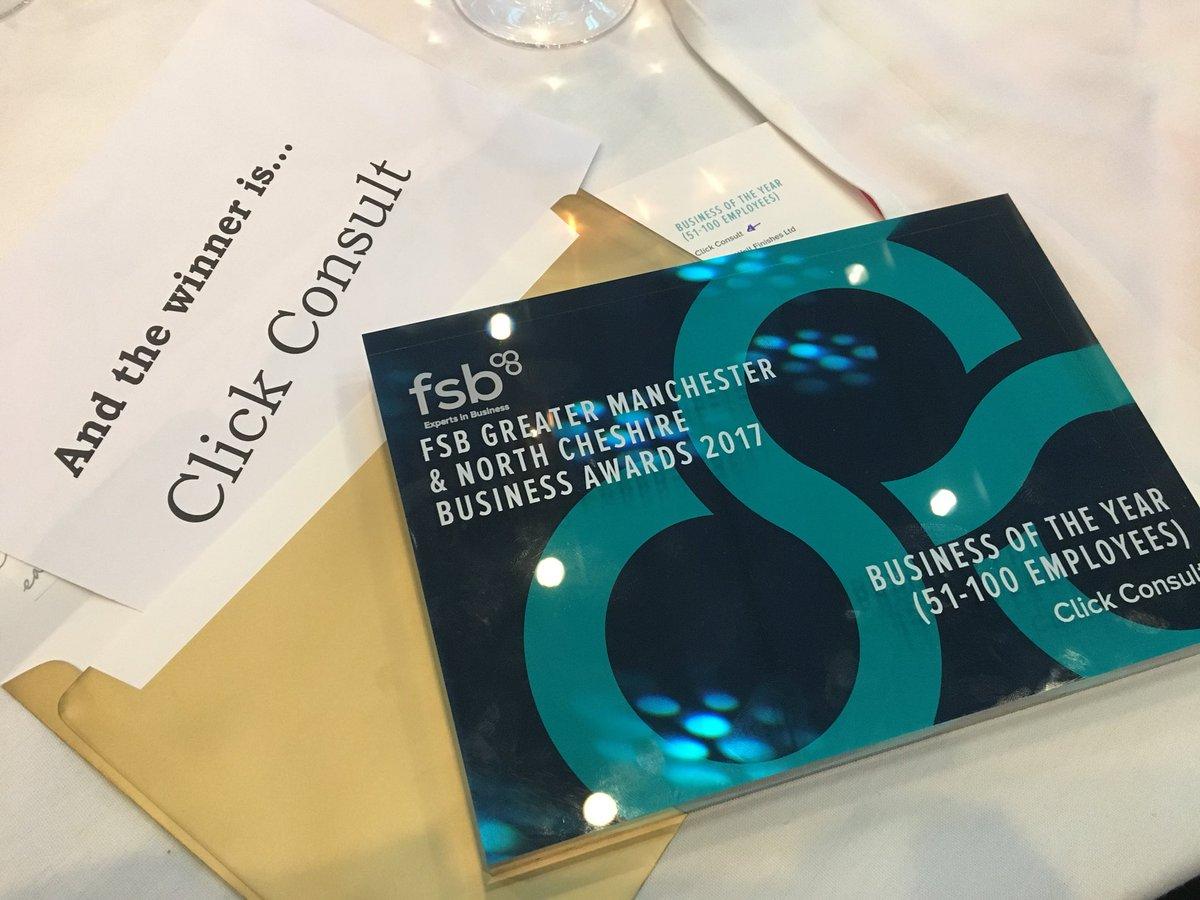 ---
This year we have focused on our people and have increased the number of staff in a client facing roles by 45%. We're dedicated to bringing the brightest talent in-house, and this is reflected by ever increasing status of our client wins and breadth of industry recognition – a testament to the skills and dedication of our people. Here's to 2018 and beyond!

Matt Bullas, Founder and CEO of Click Consult
---
We focus on building long-term client relationships and we understand that the only way to guarantee we deliver strategies that put them in the strongest position to maximise their ROI and smash expectations.
With this in mind, 2017 also saw us establish and formalise our core values – the Six Pillars of Search Marketing Success:
Strategy
Our data-driven strategies are unique to each individual client, with integrated approaches focused on delivering impressive ROI.
Technology
We have exacting standards about the technology we use – and if nothing exists, we develop our own.
Creativity
We ensure that creativity is at the heart of every campaign.
Relationships
We maintain transparency, ethics and honesty in all our partnerships.
Thought Leadership
We pride ourselves on staying several steps ahead of the search marketing curve.
People
Our team is comprised of passionate search marketing professionals who have a reputation for delivering results.
Rankings
Prolific North Top 50 Digital Agencies
---
The Prolific North Top 50 Digital Agencies is a definitive listing of the North's largest and best digital agencies, spanning SEO and PPC, web, content, mobile and eCommerce. It's now widely recognised across the region as the yardstick for the digital sector.
As well as improving our position in an ultra-competitive market, we are also proud to be the third highest independently owned business in the list. With big buyouts and large corporations increasing their presence in the North it is a testament to our ethos that we continue to thrive.
To establish the list, Prolific North work together with leading research company Mustard Research to make an informed decision on the top 50 digital agencies in the North of England. They evaluate over 150 digital agencies that are either based in the North, or have offices here, as well as asking the agencies themselves to submit supplementary financial and related data.
---
---
Discussing the report, Click Consult founder and CEO Matt Bullas said: "This report caps another memorable year for the team here at Click Consult and we are delighted to feature so highly on Prolific North's Top 50 Digital Agencies list.
"Such is the importance of this list, we decided to act as headline partners again this year, further instilling our belief that some of the best performing work in the search marketing industry is coming from the agencies which feature.
"Not only have we seen our position rise but we are now one of the top three independent companies on the list. The hard work that the team here at Click Consult puts in, paired with our ethos and our desire to inspire and invent new technologies, has led to numerous awards, accreditations and most importantly client wins.
"We combine creative and technical talent with our pioneering proprietary technology to deliver data-driven, content-rich, ROI-focused campaigns that exceed client expectations.
"The past year has seen us invest in developing our service offerings and our people, as well as launching our own industry-leading suite of tools and techniques in TRAX technologies, we will also be hosting  our very own search marketing event, the Benchmark Conference for 3rd year running in Manchester this September.
Econsultancy Top 100
In a top 100 featuring what must be a record low of 26 independent agencies, Click Consult showed it is more than capable of competing with some of the world's top media groups. In a year which has seen some fantastic client wins, good growth in turnover and award after award, Click Consult can be more than a little pleased with its showing in this year's top 100.
To begin, the overall tables saw Click rise seven places on last year's performance, placing at 73 of the 100 agencies across the UK.
---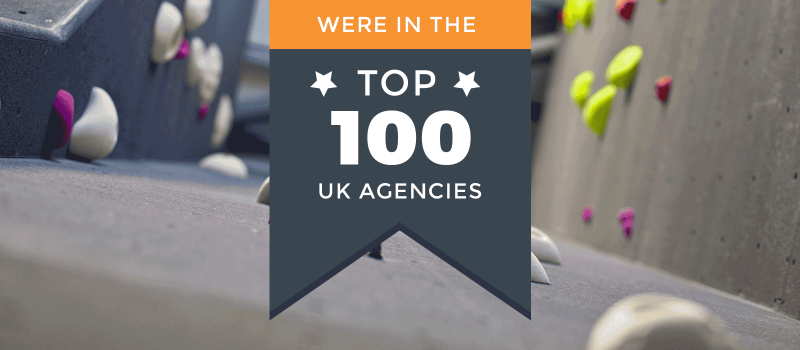 ---
Strong performances continued in the broken up tables, too, with Click Consult placing number 44 of the 57 full service marketing agencies – which represents an impressive six place climb over 2016. While SEO and PPC by fee sees rankings of thirty from forty-seven and thirty-second of forty-six respectively, Click Consult also placed sixth of seven for the North West region overall.
---

---
However, when the table is restricted to independent agencies, the improvement is even starker – with an increase of 19 places on the previous year, demonstrating Click Consult's amazing performance against independently owned competition (finishing as the top performing independent in the North West region).
---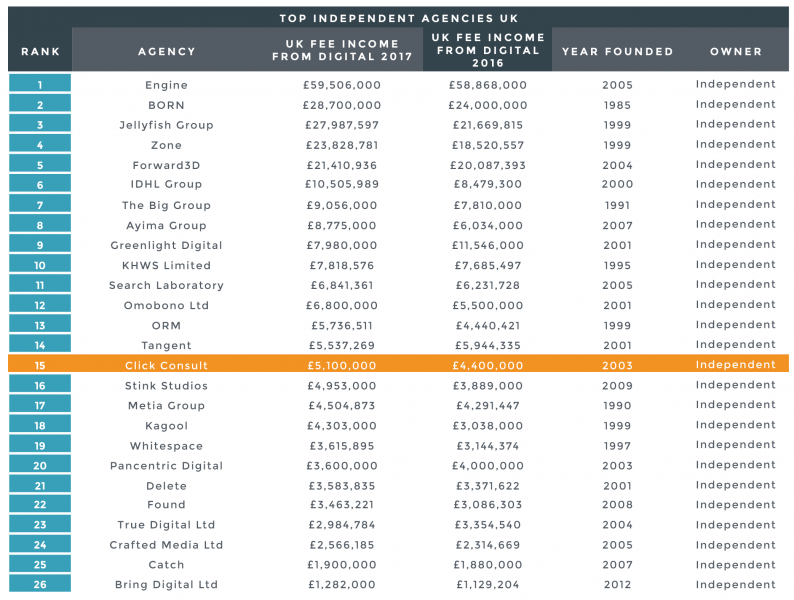 ---
When the North West was again split by service, Click Consult retained its position as the highest fee earner for SEO for the second consecutive year and also finished fourth for PPC fees.
---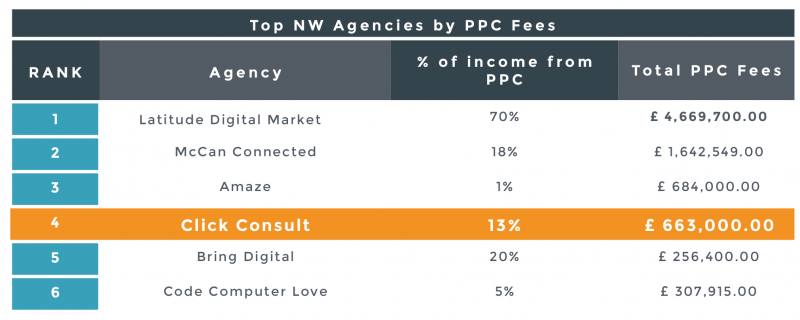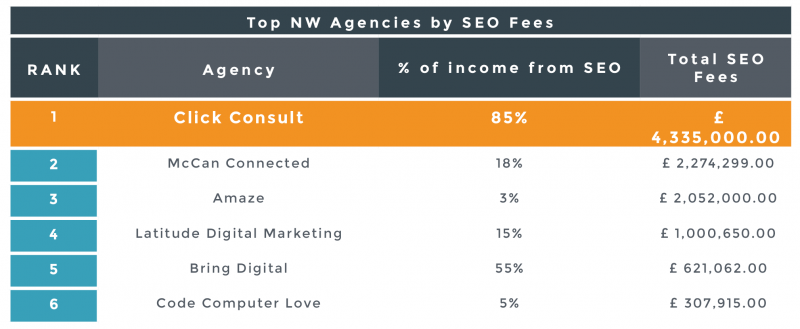 ---
All in all, it's been another year that Click Consult can be extremely proud of with industry accolades now backed by clear improvement in the rankings of one of the most prestigious reports in the digital sector.
With the recent success of the third Benchmark Search Conference (showing 30% growth year on year) and taking the crown as the UK's best digital agency for 2017, the future is looking fantastically bright for everyone at Click Consult – clients included.
The Drum Top 100 Independent Agencies
With award win following award win at the moment, some great client wins and exciting upcoming pitches, Click Consult has exceeded expectations time after time. Nevertheless, it is still an honour to be recognised amongst the top 100 independent agencies in the United Kingdom.
While we are more than prepared to let our work for clients speak for itself, the accolades that are coming thick and fast through the doors here at Click are gratefully received and help us to demonstrate to clients that our unique approach to search marketing not only works, but works extremely well.
---
With our place cemented for another year in the RAR Top 100 and now The Drum's Top 100 Independent Agencies, we can look forward to pushing forward for ourselves and our clients, to achieve greater and greater things – as I know we're capable of doing.
Matt Bullas, CEO and Founder – Click Consult
---
With plenty of accolades still up for grabs as 2017 draws to a close amidst the digital sector's award season, it is unlikely to be the last piece of industry recognition to come to Click Consult this year (we've already had to hang two or three additional shelves in 2017), but with each accolade and as the pride in our work grows, so too does our determination to improve and to do more again next year.
---
Find out what an award winning agency can do for you – contact us today!