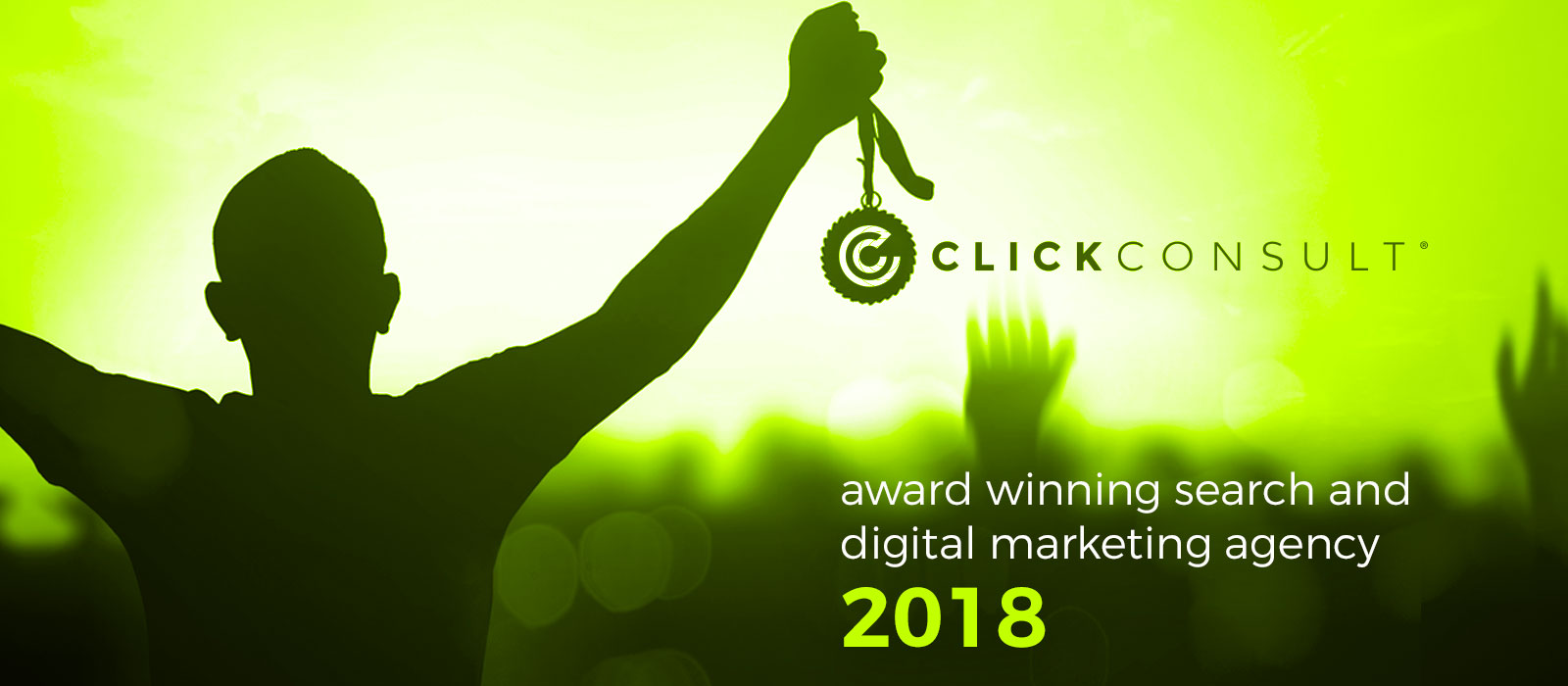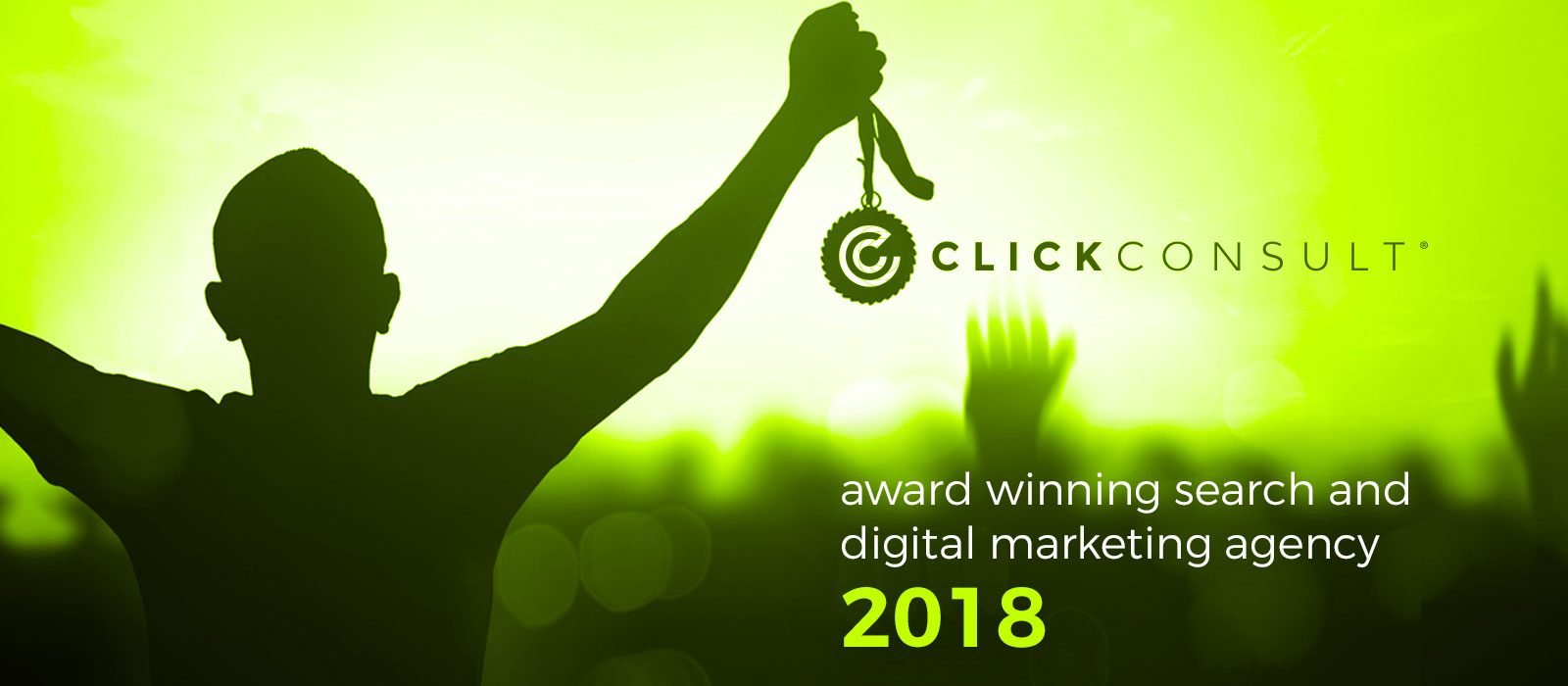 Click Consult: award winning search and digital marketing agency – 2018
Jan 10th, 2019
The accolades keep coming! Another amazing year for Click Consult as we collected more trophies for straining shelves! The year's awards in review is always a delight for us – but especially so when the year was as good as 2018
---
Northern Digital Awards
Here at Click Consult we know that you have to stay ahead of the curve if you are to be successful, which is the reason we have constantly evolved to keep growing our offering and delivering  optimum results for our clients. In an industry that is constantly evolving, we've made it our mission to stay ahead of the game in terms of creative innovation, thought leadership, and technology development. So we're delighted to have recognised yet again for our success.
In the Search Agency category, we were up against stiff competition from:
Branded3
Circus PPC
Digitaloft
Epiphany
IDHL Group
Mabo Media
RUN2 Digital
The judges said that really liked how "Click Consult has a strong client base, they have been through tough times but it seems to have only made them stronger".
---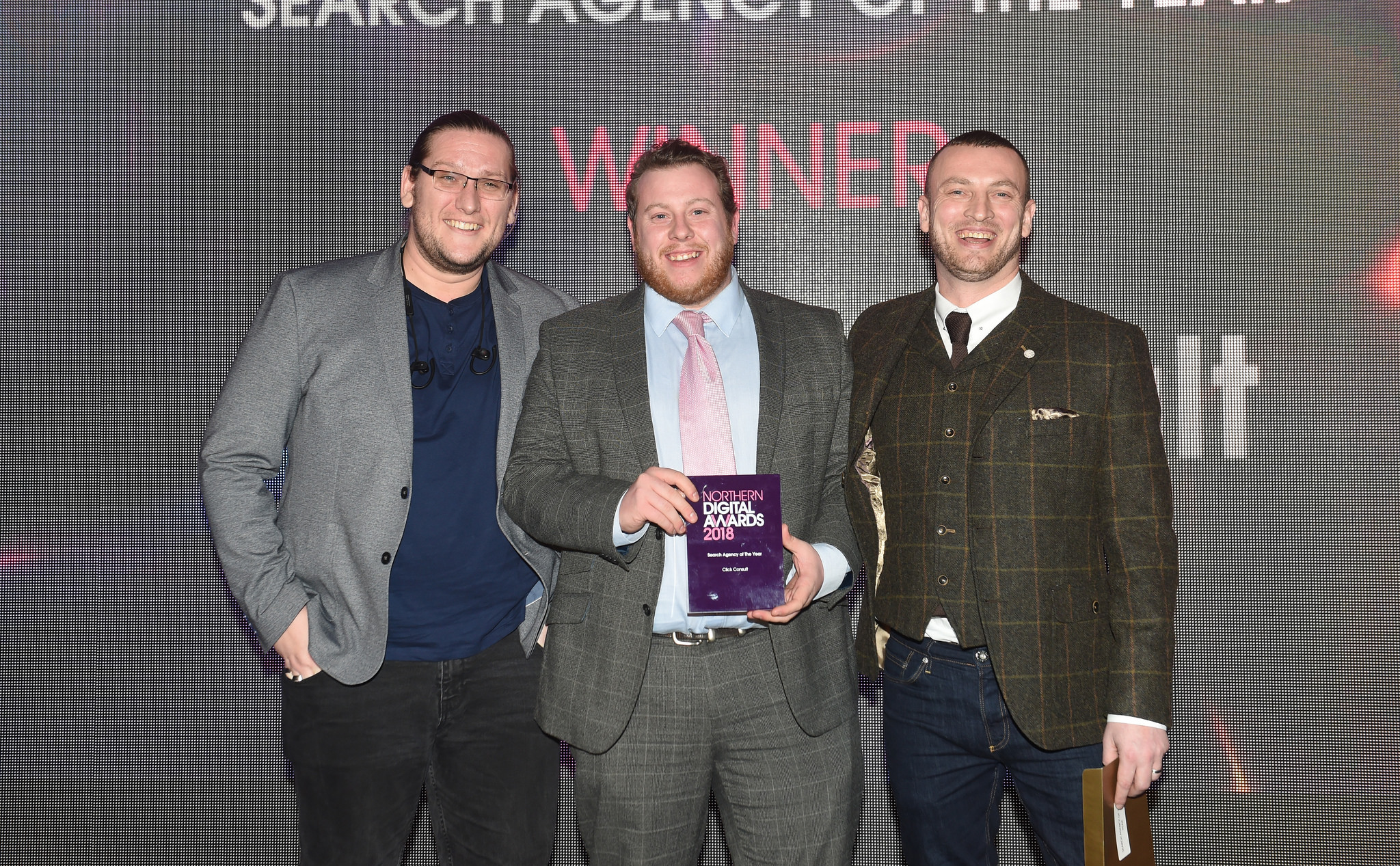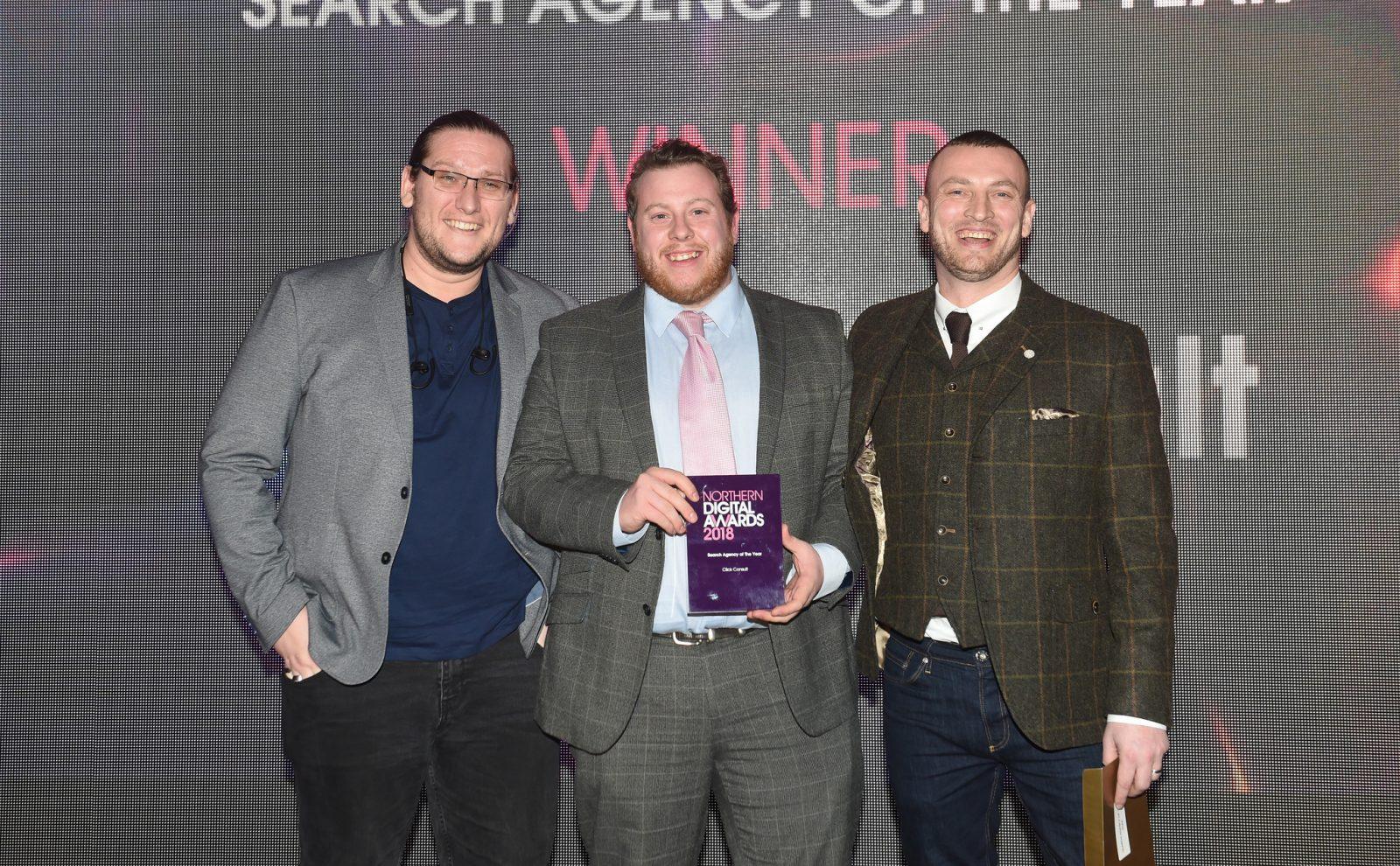 John and Scott accept our Best Search Agency award at last night's ceremony in Leeds
---
"Our approach to search marketing has produced some incredible results for our clients and bolstered our standing within the industry. We are very proud to be shortlisted for awards and even prouder to win them. Any accolade is a testament to the ambitious, creative and data-driven work that our teams produce in order to succeed," say our CEO and Founder, Matt Bullas.
"We've positioned ourselves firmly at the fore of the sector with an ambitious thought leadership programme that aims to share best practice, raise standards across the sector and help us to tackle some of the biggest challenges facing our clients."
Our results speak for themselves: our client base has increased significantly and with an array of big brands choosing us for their search marketing campaigns. Our team is one of the most accredited around with training a fundamental focus; this has led to company accreditations including numerous RAR recommendations and our listing as a Premier Google Partner and Bing Select Partner.
Our previous wins include Digital Agency of the Year 2017 (UK Agency Awards), Large eCommerce Agency 2017 (Northern eCommerce Awards), and two accolades at 2017's FSB Merseyside, West Cheshire & Wigan Business Awards.
A full breakdown of our recent accolades can be seen below:
---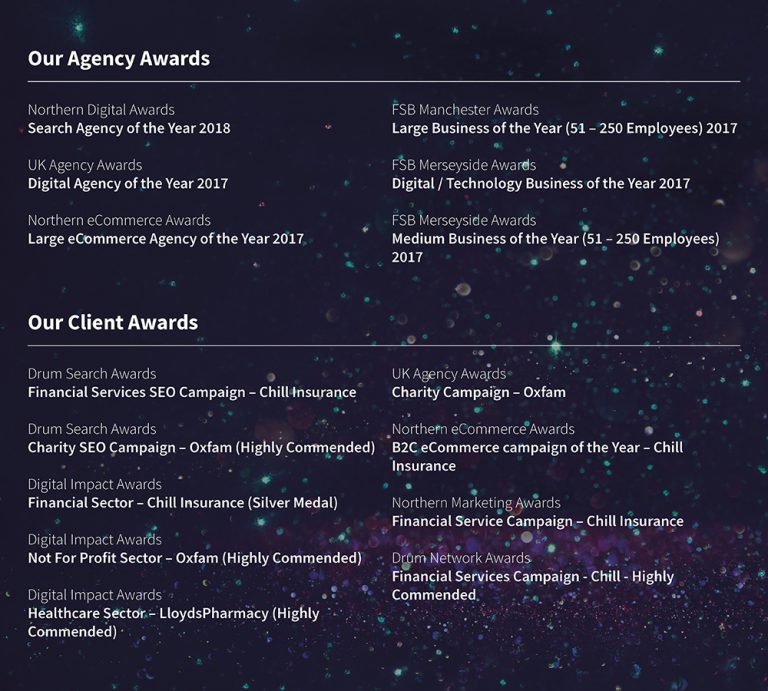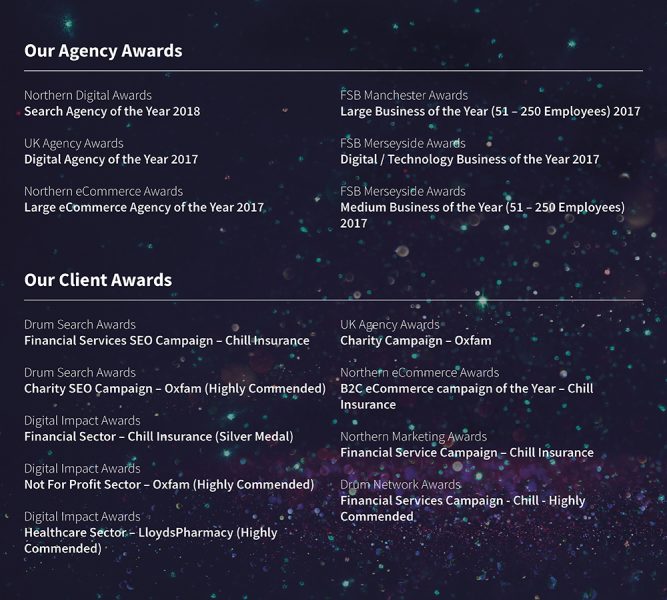 ---
Performance Marketing Awards
While the PMAs fall outside of what seems to have become a kind of award season in the marketing industry (generally late summer/autumn), they are by no means an easy trophy to pick up. It is for that reason that it's a tremendous privilege to announce that Click Consult has picked up a fantastic award at this year's ceremony.
Represented by Kerry Mullin and the Marketing team's very own Scott Rumsey, the PMAs saw fit to award Click Consult with a highly commended prize for the work we've carried out on behalf of Julian Charles, as well as an overall award for most effective agency. The judges were full of praise in their summary notes for the key win.
---
In what has been a search marketing success story, Click Consult collect this coveted award off the back of a record-breaking year for exceptional client performance, the development of new in-house technologies, and profits and revenue. Winning a number of large contracts, the search specialist agency continues to advocate the benefits of performance marketing far and wide, contributing over a fifth of turnover to results-driven marketing and investing in industry growth through a growing body of research and leading events.
---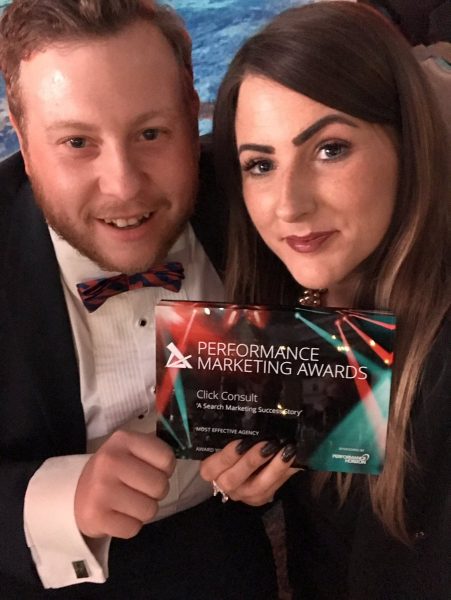 ---
This award is made all the more impressive when you consider the stiff competition Click was up against – beating agencies such as Merkle | Periscopix, iProspect and ROAST to the award on the night.
---
We've really hit the ground running in the first quarter of 2018, with some fantastic clients coming on board and a string of shortlistings for numerous industry awards. This latest win is a testament to how Click Consult is not only growing in stature, but industry recognition – growth that is well deserved, and thanks in no small part to the talented team Click has assembled. The PMAs are notoriously competitive, so to come away with an agency award and a highly commended category prize is a phenomenal achievement.
Matt Bullas – CEO and Founder, Click Consult
---
With another award ceremony set to take place tonight – with Scott and Kerry to attend again, one day older and wiser and with a win under their belts already, we'll see if they can add to the number of trophies they'll be bringing home for Click Consult's 2018 collection.
The Drum Search Awards
It's not every day an agency can say they're at the top of the industry, but after two wins in two days it can start to feel like it. Represented again by Scott and Kerry, Click Consult were summoned to a London stage to collect a prestigious industry award – this time the 'Best Charity/Not for Profit Campaign'.
As one of the world's most recognisable charities with a portfolio that stretches internationally, we asked if it was possible to raise the national profile of the brand with the latest campaign. Back in 2016 Oxfam ran a campaign titled 'Dressed by the kids': but we wanted to know if we could do better with the 2017 campaign. Amongst other things, we generated 76 million impressions through a variety of SEO and social media work.
---
This award makes clear once again that Click Consult's commitment to the six pillars of search marketing success – strategy, technology, creativity, relationships, thought leadership and people – is not only working, but working at a level that has cemented Click as one of the finest search agencies in the country. The last few years have been filled with industry recognition, but to achieve so consistently is testament to the fact that we are not prepared to rest on our laurels. Once again, congratulations to everyone that played a part in the win. I know we can keep up the great work.
Matt Bullas – CEO & Founder, Click Consult
---
With the bulk of the award ceremonies yet to come, Click Consult is well on its way to needing even more shelf space and may have to consider making Scott and Kerry a permanent award ceremony partnership.
We're all really proud here at Click, not only of the work, but for the fact that we've helped extend the reach of Oxfam UK in these campaigns.
Northern Marketing Awards
The ceremony which we also sponsored, took place at the Hilton, Deansgate Manchester, the same venue as this year's Benchmark Search Conference and welcomed some of the best talent from across the North.
From a hugely competitive shortlist we were pleased to pick up the top honour in the Best Retail campaign (on & off-line) for our work with Julian Charles.
---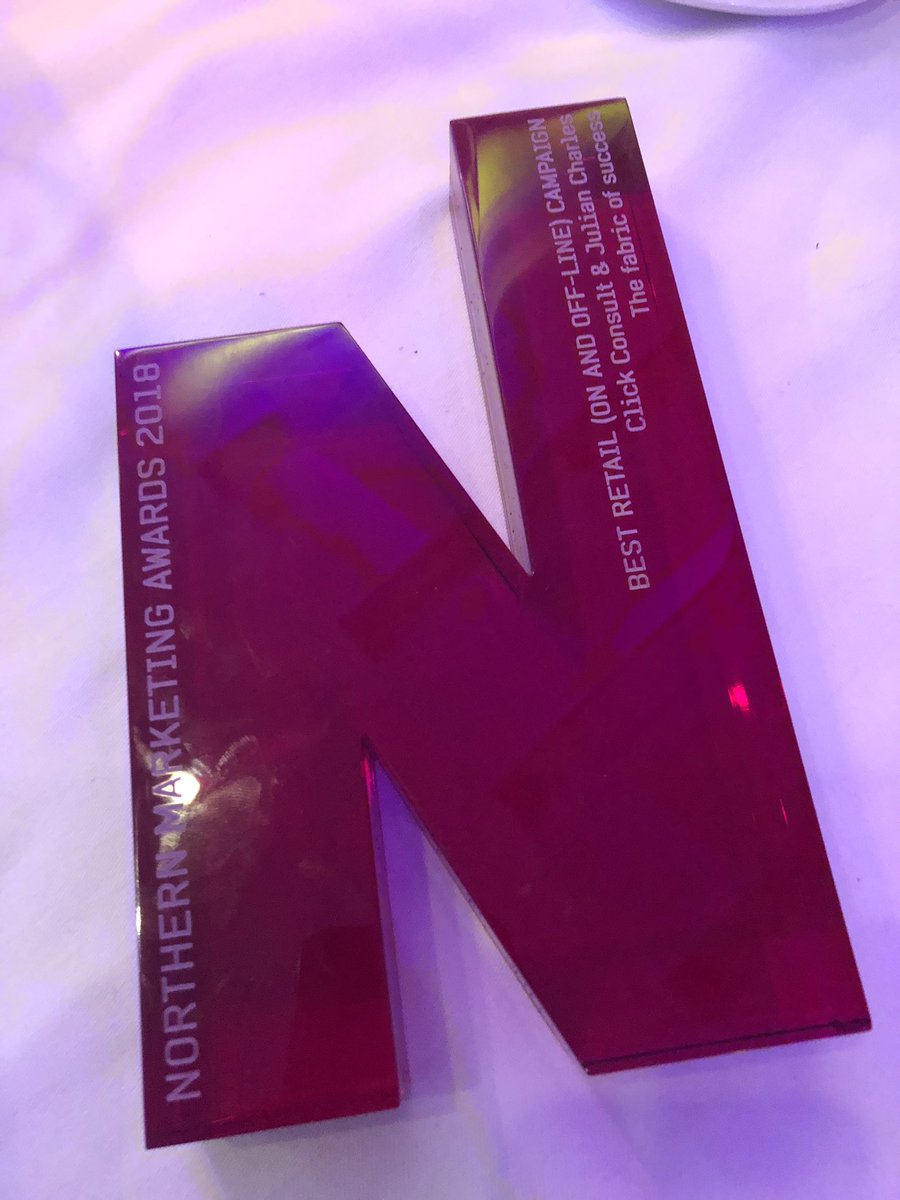 ---
In the campaign Julian Charles (formerly Rectella), recognised the potential of online and we assisted them from the grassroots to huge retail growth with a paid online advertising strategy focused around key retail dates.
Some of the key results from the campaign were as follows:
Impressions +7.30% (Over-delivered by +46%)
Clicks +27.39% (+36.95%)
Transactions +124.06% (+24%)
Revenue +124.62% (+66%)
ROI +89.13% (+256.5%)
---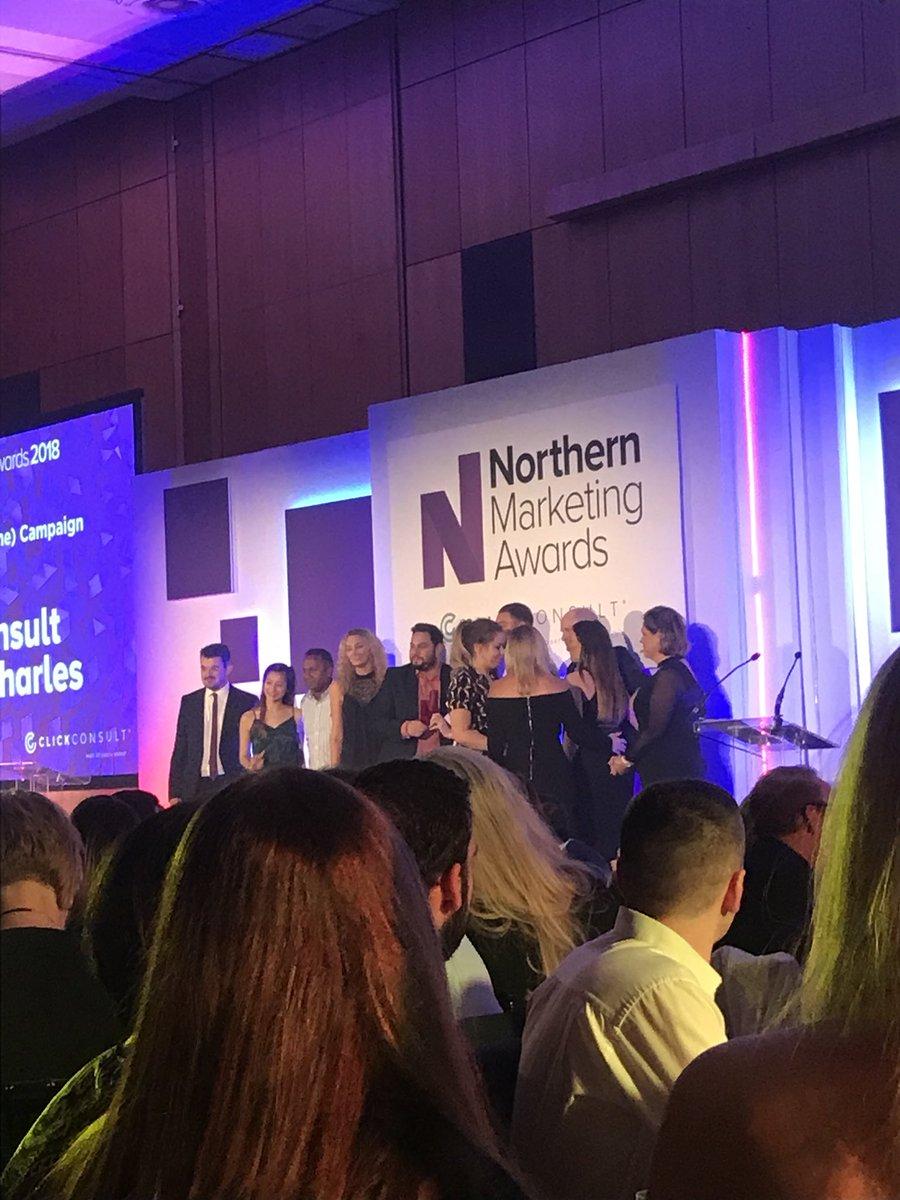 (Team Click accepting our award)
---
Speaking about the award CEO at Click Consult, Matt Bullas said: "These awards are a testament to all that is good in the North of England and we were once again delighted to sponsor the event.
"There is some fierce competition in our industry, with ground breaking campaigns being produced daily so it is a real honour to win for the third consecutive year.
"Our client, Julian Charles are a pleasure to work with and their passion to be at the pinnacle of the industry drives us to produce the best possible results, something that this campaign proves.
"The award was our first for this client and we look forward to many more in the future."
Digital Entrepreneur Awards
Last night we were delighted to end our most successful year ever on a real high by picking up the top prize at the Digital Entrepreneur Awards in Manchester.
In what was a highly competitive category the team at Click Consult were called to the stage to pick up the trophy for Best Digital Agency, our third such accolade this year following on from our Search Agency of the Year and Most Effective Agency of the Year awards.
The awards represent the very best in the industry and to land the big one was a reflection of the excellent work that our teams have put together. This year we have had a real focus on not only our clients but as an agency as a whole.
Speaking about the award CEO at Click Consult, Matt Bullas said: "This award is a fantastic way to end our best ever year. We've seen a lot of change in the industry over the last 12 months and we know what it takes to be at the top of our game.
"Back in October we were approached and acquired by the Ceuta Group, allowing us to expand from a midsize agency in the North of England to a truly global search and digital marketing business.
"Awards such as the one we picked up last night reflect this and is a contributing factor to us winning and retaining work with some of the biggest brands.
"This year we have challenged the market and provided thought leadership in the forms of both our quarterly marketing magazine and our annual search marketing conference – Benchmark.
"We were so pleased to be back in Manchester last night – the home of our conference and look forward to another successful year in 2019."
The 14th running of the awards took place at the historic Principal Hotel in Manchester.
Rankings
Prolific North Top 50 Agencies
For many in the industry, Marketing – whether on or offline – is something that happens in the capitol; yet year after year, agencies in the north have grown, consolidated and progressed, picking up numerous awards (with Click contributing more than its share), big clients and producing fantastic campaigns. The north has, by no means, been left behind by the – outperforming numerous London agencies and picking up a stellar list of clients.
For this reason, Click Consult is proud to sponsor this list – which looks at more than 150 northern agencies each and every year to calculate the top 50 – and to play a part in recognising the tremendous work that the north of England is doing in the digital sphere.
---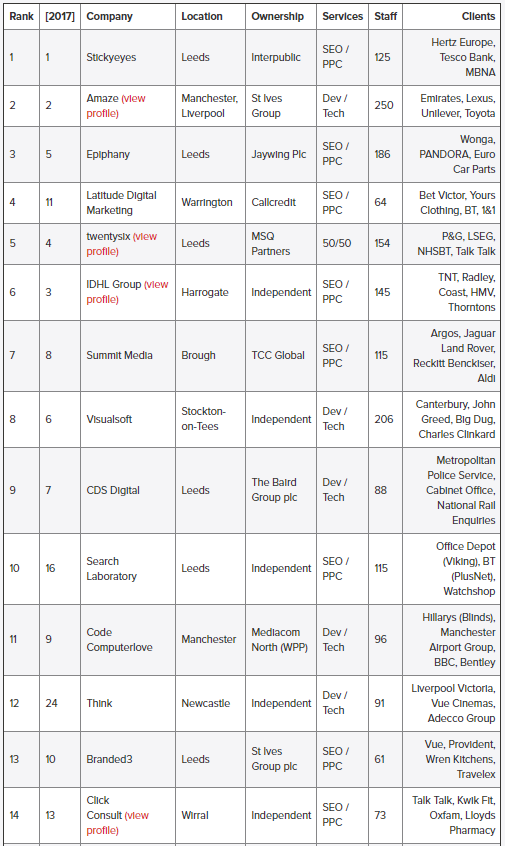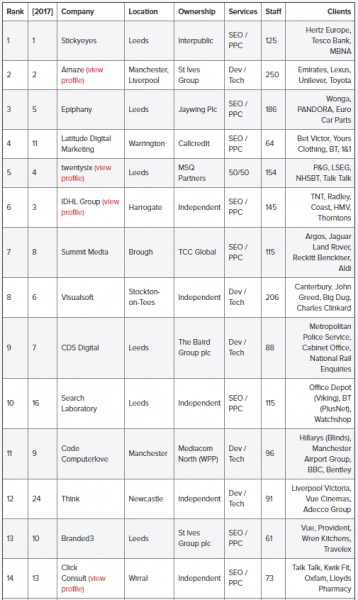 ---
Click Consult is yet again in the top 15 agencies – and 5th in the list of those which are independently owned. While we've dropped a place this year, it is a pleasure to see Click remain steady in the face of stiff competition from agencies with global parent companies. With independent agencies proving themselves to be more agile and able to respond quickly to a client's needs, we can only keep doing what we do best and know that success will follow.
---
It's fantastic to be a major part of the north's growing digital industry, and to once again sponsor the recognition of the north's triumphs as a whole. With recognition for Click's work coming thick and fast, it can only be a matter of time before we're climbing the table and I'm already looking forward to seeing what next year's list shows!
Matt Bullas – CEO & Founder, Click Consult
---
In addition to 15th place overall, Click Consult is the 5th best placed independent agency and 3rd in the North West.
Econsultancy Top 100 Agencies
2018 has been a phenomenal year for Click, with some fantastic clients coming on board, the creation of new key roles and celebrations for our 15th birthday!
Our CEO and Founder, Matt Bullas, had this to say: "Our inclusion in this prestigious report is a testament to how Click Consult is not only growing in stature, but industry recognition – growth that is well deserved, and thanks in no small part to the talented team Click has assembled."
Running in its 16th year, the Top 100 Digital Agencies report lists the largest digital agencies, ranked by their fee income from digital activities in the UK. The report features in-depth analysis and commentary on the state of the industry, along with information on each Top 100 agency to assist client-side professionals in choosing the right partner to help achieve their business goals.
As well as featuring agencies ranked by fee income, the report includes a regional breakdown, a list of the most respected agencies, most influential people and profiles of agencies, providing useful benchmarking data for digital agencies and supplier selection resources for marketers. The total fee income of the Top 100 agencies surpassed £2.8 bn this year.
Other findings from the report include:
The top five agencies hold 40% of the fee income of the entire Top 100.
Half of the entire fee income is held by the top eight agencies alone.
Full service/marketing agencies dominate the ranking with 65% of the total fee income of the Top 100.
A third of Top 100 agencies say that their projected year-on-year growth in fee income for 2018 is approximately 20%.
Whilst 48% of agencies in the ranking are independent, agency groups hold 76% of the entire fee income of the Top 100 compared to independents.
View the Top 100 Digital Agencies 2018 ranking or download the full report.
Drum Top 100 Independent Agencies Report
The census lists the best-performing independent agencies in the UK and we've been placed at 38 for 2018.
The report provides the most comprehensive picture of the UK's independent agencies, benchmarking them from all marketing disciplines against their peers based on financial performance, recognition of excellence through award wins and client satisfaction scores from The Drum Recommends.

From spotlighting the best-performing firms in the country to pinpointing sector trends, the census uncovers powerful insights about the marketing business today.
Click Consult is joint second in the North West with Preston-based Wash Studio.
---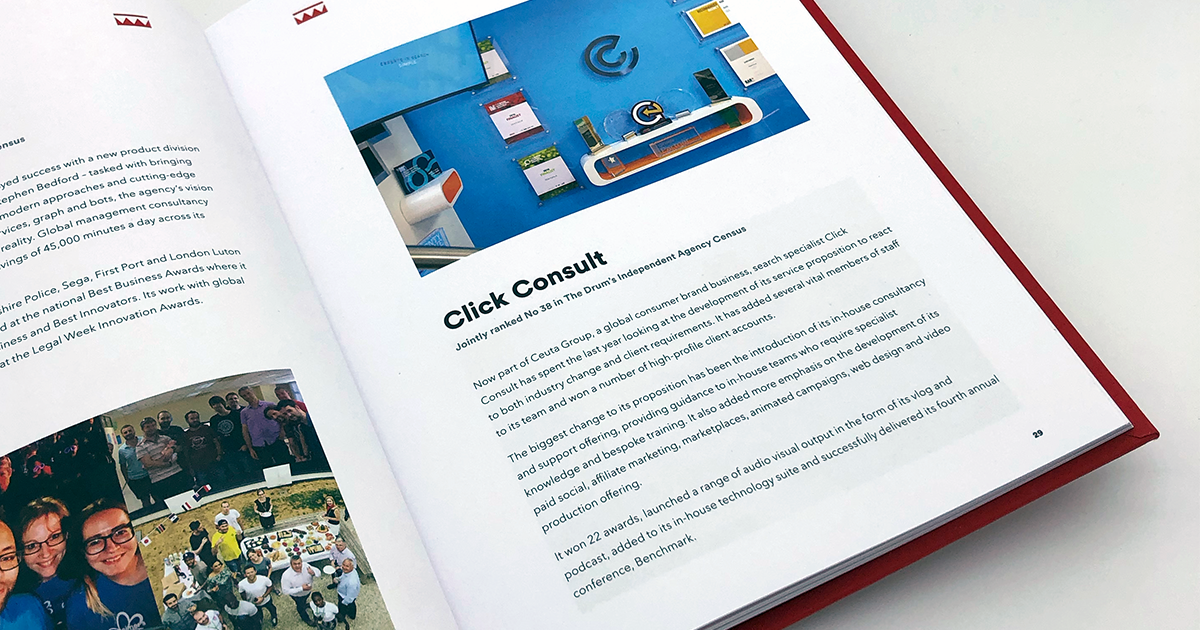 ---
Our CEO, Matt Bullas, had this to say: "Our inclusion in this prestigious report is a testament to how Click Consult is not only growing in stature, but industry recognition – growth that is well deserved, and thanks in no small part to the talented team Click has assembled. Having taken home five industry awards this year – including Digital Agency and Search Agency of the Year –  2018 has proved one of our strongest years ever. Roll on 2019!"