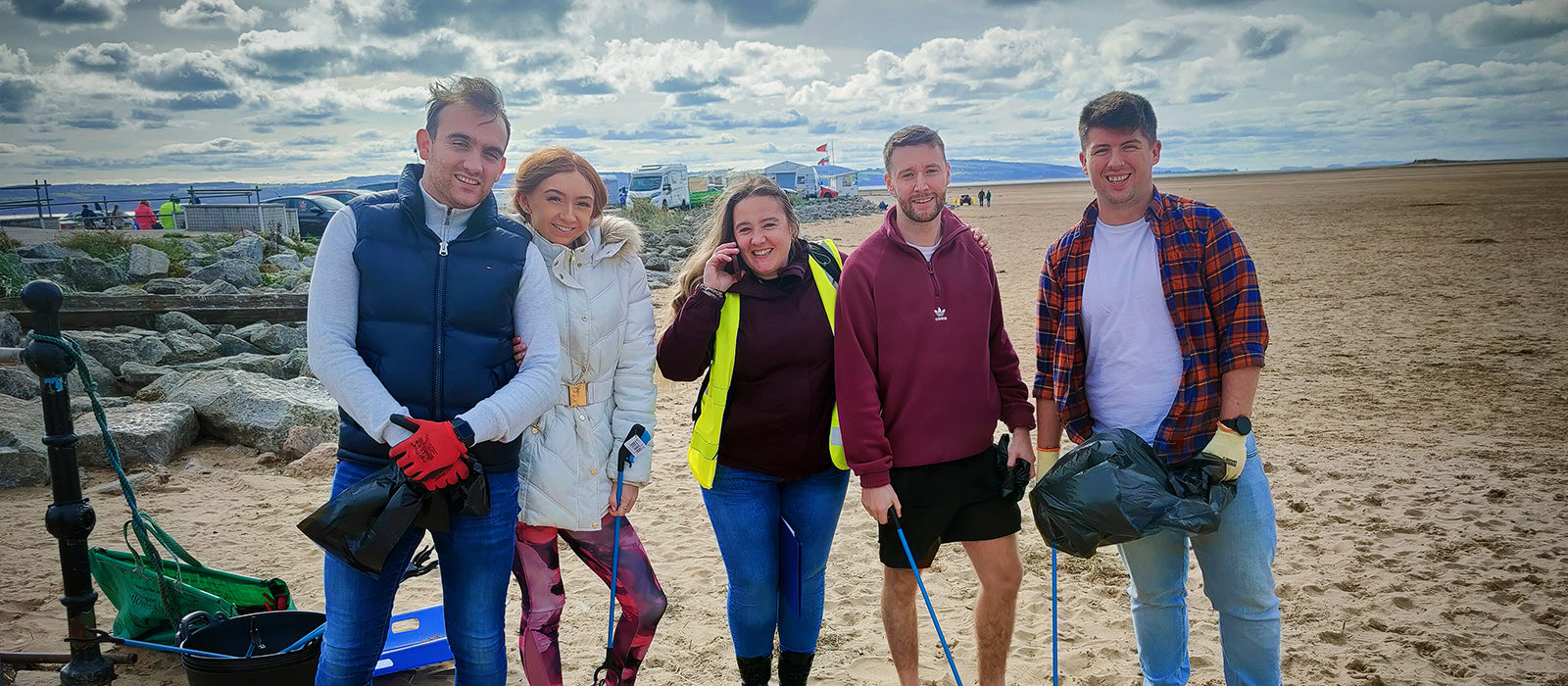 Click volunteers at the Great British Beach Clean
Sep 21st, 2022
On Channel 4's 'Great British Bake Off' a complaint about a "soggy bottom" might land you in Paul Hollywood's bad books, but at the Marine Conservation Society, a soggy bottom might be an indicator of a very hard worker.
The Marine Conservation Society has been running beach cleans and litter surveys for nearly 30 years. Lara, our own Senior Content Marketing and Social Media Executive (and self-confessed environmentalist), was keen to add to the 30 year tradition to help clean up Britain's beaches.
On Saturday 17th September, the team at Click along with the West Kirby community joined forces to be a part of the Great British Beach Clean.
2021s beach clean came with positive data, from a decreasing amount of litter being found across the UK, including the average amount of plastic bags on beaches dropping from a high of 13 in 2013, down to just 3 in 2021.
With plenty of volunteers picking up their litter-picker and donning some sturdy gloves, we loved doing our bit to preserve the natural state of our beaches.
Lara, (with help from the volunteers), recorded over 750 pieces of rubbish littered across the Wirral beach, and had the following to say;
It's bittersweet that the event was so successful. On one hand we picked up a lot, but the fact that it was there to begin with really makes it hit home that such a beautiful spot can still be significantly affected by litter. More needs to be done to protect our beaches and the wider ecosystems they are a part of.
The cleanup helped to pave the way for more local coverage on environmental conservation, with Wirral Globe featuring the story on their publication. With sustainability and protecting the ecosystems we live in being part of a larger agenda, we hope (with the help of the coverage) that more people will be encouraged to be more conscious of the environment they live in, and be a part of the change to clean up our planet.
Sarah Davies, Corporate Partnerships Manager at the Marine Conservation Society stated:
We are delighted Click Consult and Oceans took part in the Marine Conservation Society's Great British Beach Clean. Every volunteer makes a difference by removing litter that would otherwise end up in the sea and potentially harm wildlife. The data collected at the end of the cleanup supports us to campaign for and implement positive change to protect our ocean; including plastic bag charges and better wet wipe labelling.
If you're interested in getting involved in beach cleans and crucial conservation work, you can follow the Marine Conservation Society on:
Facebook – @mcsuk
Twitter – @mcsuk
Instagram: @mcs_uk
LinkedIn: – mcsuk
We have been working with Click for the past few years where they designed and built brand new websites for a few of our healthcare brands. Since launching, we have seen traffic increase up to 8000% on certain websites and we now rank very highly for keywords on Google.
If you are looking to drive more users to your website and increase your SEO rankings I would highly recommend having a chat with Click to see how they can help!
We currently use Click as our SEO provider and find them very proactive in working with us to drive performance.
They use KPIs to demonstrate an increase in performance and support us in what actions to take to improve our natural search.
Lucy O'Shaughnessy
Commercial Director

The team at Click put together a campaign that underpinned our objectives and have achieved fantastic results within a very short space of time.
Julian Charles