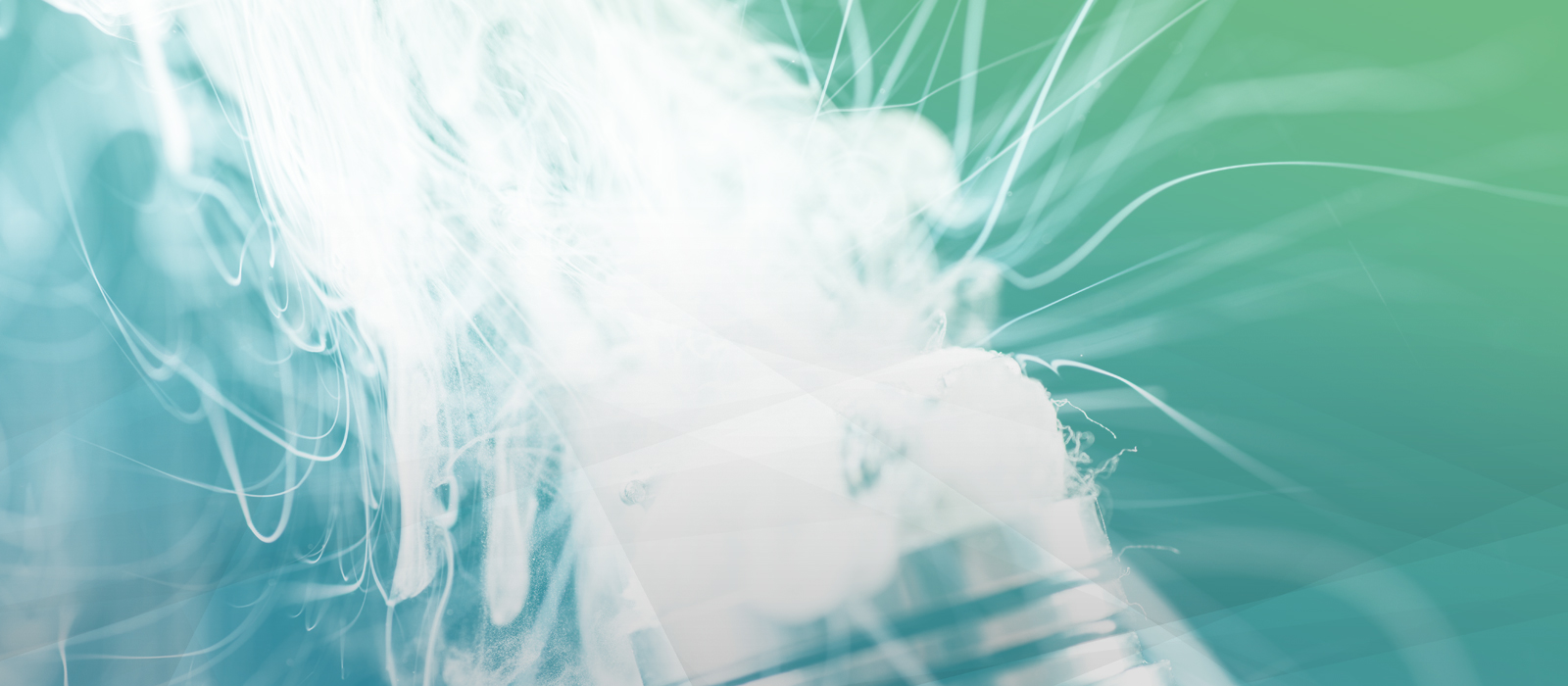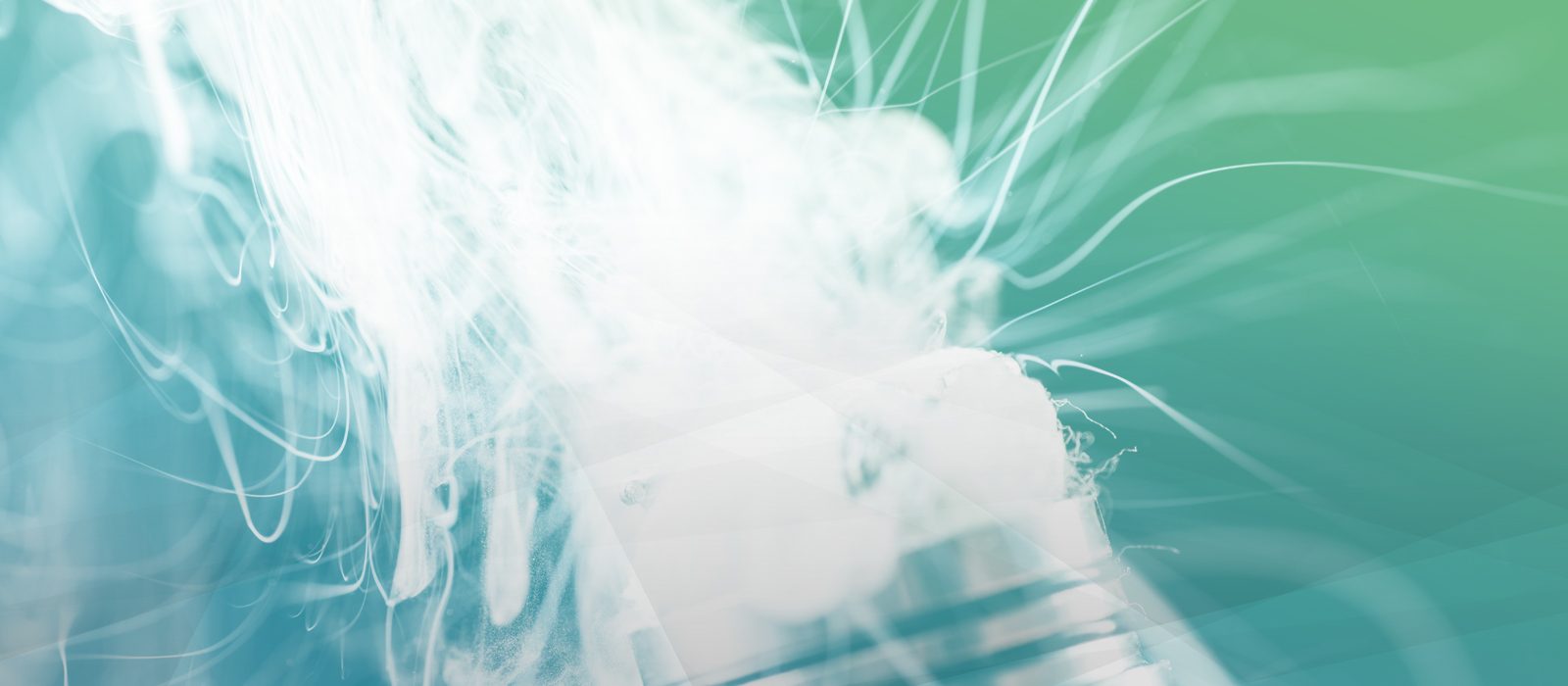 E-cigs: Whose search visibility has gone up in smoke?
Feb 11th, 2015
In 2005, British businessman Greg Carson launched the first 'Electro Fag' onto the market as an alternative to conventional cigarettes

---
The decision by Parliament to exclude e-cigs from the smoking ban which came into force in the UK in 2007 resulted in a boom in popularity to the point where there are now over 250 independent suppliers of e-cigs and the industry is said to be worth $1.5billion globally. This surge in popularity is highlighted in the below Google Trends graph, which is based on the number of searches conducted in the UK for the term "electronic cigarettes" over the past ten years:

Source: Google Trends
From this graph, it is clear that the smoking ban introduction in the UK really helped to launch this industry and create one of the most competitive and complex markets for SEO practitioners to participate in, particularly as e-cig brands are barred from placing PPC ads on Google:

Source: Google AdWords policies
So which of the main e-cig competitors has come out on top?
---
www.VIPelectroniccigarette.co.uk
VIP is perhaps the most recognisable brand offline in the industry and therefore generates more hybrid (brand & keyword anchor text) searches than any other brand in the industry with the term "VIP electronic cigarettes", for which there are 1,600 local monthly searches according to Google Adwords.
However, this level of recognition is not replicated in their online visibility with the brand only appearing twice in the top 10 SEO positions for the five most searched for terms in the industry (in 9th for "electronic cigarettes UK" and 10th for "e-cigs UK").
A closer examination using Search Metrics reveals that the search visibility for the site has actually dropped significantly over the past 12 months. The first notable drop occurred in March 2014 and coincided with the launch of Google's 'Unnamed Update' on the 24th March 2014. This was believed to be a soft Panda update, an algorithm which specifically focuses on the quality of on-page content.
It appears to be an issue which VIP has yet to fully recover from, despite an inspection of their on-page copy revealing that their content is generally at a good level with more substantial amounts of content than their competitors and no signs of over-optimisation. The only issue afflicting their on-page content is external duplication, particularly on their homepage. This suggests that the current content has been on the site for some time and is due a refresh. This would likely rectify many of the issues which caused the visibility drop in March 2014:

Source: SearchMetrics
From the above graph it is clear that another drop in visibility began in the middle of June 2014 and this eventually resulted in VIP recording their lowest levels of visibility over this two year period. This does not coincide with any known Google update and it is entirely possible that this was some form of manual action penalty from Google relating to VIP's linking profile, which is considered to be riskiest of all the competitors examined according to Link Detox which gave them a risk score of 3,481 and deemed that 41% of the links in their profile are a high audit priority:
Source: Link Detox
Manual inspection reveals that the vast majority of their links are either noise links (48.53%) or keyword focused (40.95%) with only 0.87% of the links being brand focused. A noise link is where the anchor text is not specifically focused on exact match keywords (ie "e-cigs") or brand (ie "VIP") but instead links to your site from a random word or phrase such as "click here" which is not related to your brand or product/service offering.
Although high levels of noise links are to be expected in a natural linking profile, the lack of brand is a large warning sign to Google. Additionally, the usage of exact match anchors in the profile appears to be highly programmatic, with the top seven referring anchor text making up 5% of the overall profile.
Visibility began to increase again in October 2014 and this coincided with the launch of the Penguin 3.0 algorithm on the 17th October 2014 which was designed to assess the quality of linking profiles:

Source: SearchMetrics
This suggests that VIP have made active efforts to remove and/or disavow links from its profile which Google considers to be unnatural. This potentially just leaves the Panda issue to clear up before the site begins to experience search visibility levels similar to those at the beginning of 2014.
---
www.totallywicked-eliquid.co.uk
Totally Wicked have previously experienced higher search visibility levels than any of the other competitors analysed, with their peak being recorded in the middle of 2014 on the back of the VIP drop in visibility. It appears that this wasn't just a case of benefiting from the poor strategic decisions of others though, with the site experiencing significant visibility increases in May 2014 on the back of the launch of Panda 4.0 on 19th May 2014:

Source: SearchMetrics
The reasons for this are not entirely clear, with a manual inspection of the site revealing that the content is generally less substantial than that on VIP and also suffers from the same substantial on-page duplication issues. The only area where Totally Wicked has the edge is with its news section, which is more regularly updated than that on VIP. Nevertheless, it is difficult to see how Totally Wicked can continue to get away with such poor on-page content for much longer.
One algorithm which they have not failed to escape from is Penguin, with the site suffering a search visibility drop when Penguin 3.0 was launched on October 17th 2014 and another when Penguin Everflux was launched on 10th December 2014:

Source: SearchMetrics
The high risk nature of their linking profile is confirmed by Link Detox, which classified them as a high risk domain with an overall score of 2,212 and deeming 30% of the links in their profile to be a high audit priority. Manual inspection reveals that their linking profile is similar to that of VIP, with significant levels of noise (59.99%) and keyword (37.32%), but very little brand (1.33%). There is significant variation in the keyword anchors used, but many of these are programmatic and link specifically to product landing pages. This appears to be an issue which is still harming the performance of the brand online, with visibility yet to increase after the drop: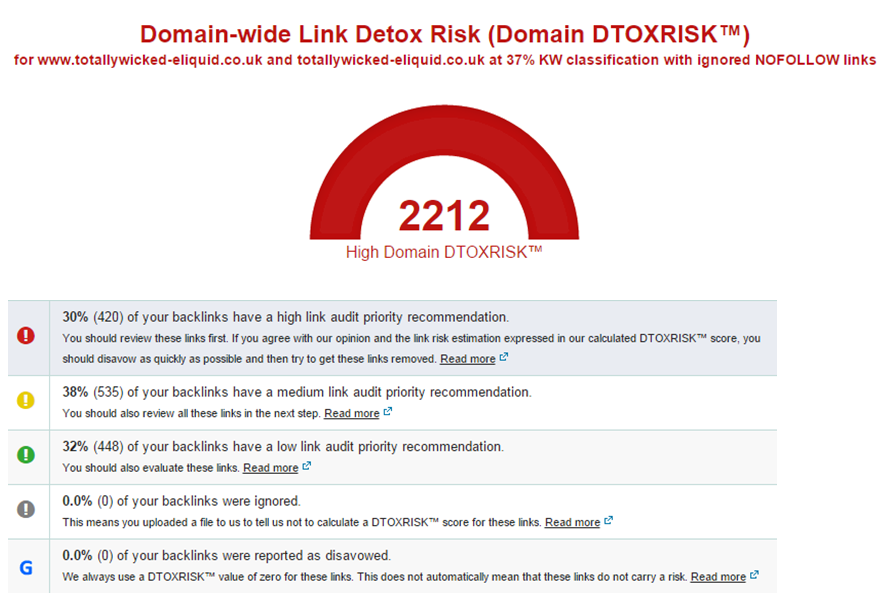 Source: Link Detox
---
https://uk.govype.com
Vype are currently P1 on the largest term in the industry ("electronic cigarettes") and have had a major increase in search visibility over the past three months as the fortunes of totallywicked-eliquid.co.uk and VIP have declined and, more importantly, on the back of the Penguin Everflux algorithm. This is on top of the visibility increases Vype experienced shortly after Penguin 2.1 was launched in October 2013:

Source: SearchMetrics
This has occurred as a result of Google deeming their linking profile to be low risk, something which is confirmed by Link Detox, which assigned them an overall score of 967 and branded just 15% of their links to be a high audit priority. This is the lowest perceived risk out of all the competitors analysed: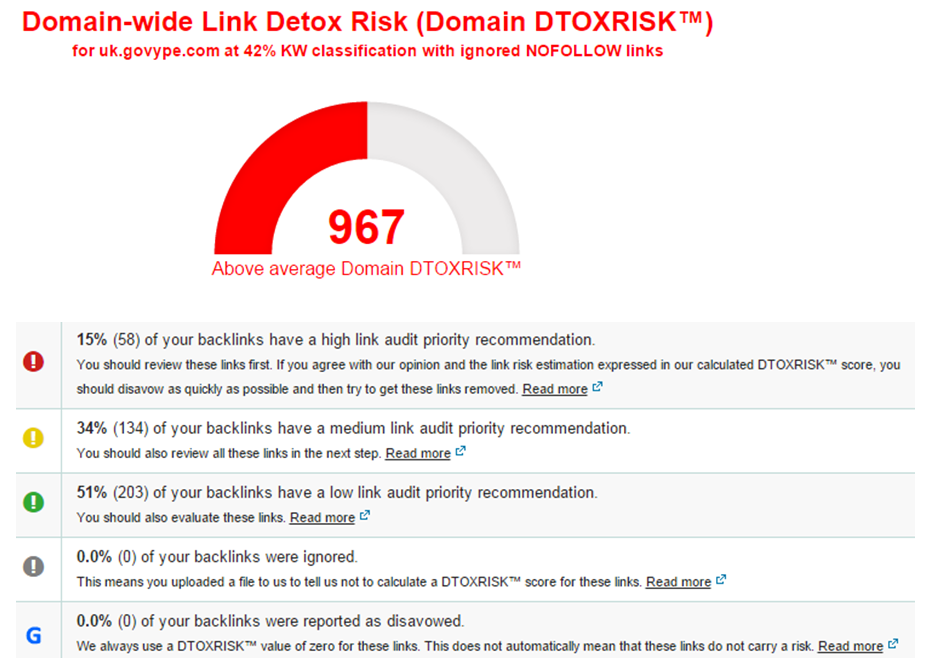 Source: Link Detox
However, a manual inspection using Open Site Explorer data reveals that the anchor text being used is currently highly programmatic with the top six keywords targeted making up 79.14% of linking profile and it is very clear from this that the head terms are their focus. In total, keyword links make up 79.69% of the linking profile, with noise links making up 17.58%. Again brand is very much underrepresented (2.11%) and with this current split, it would be a surprise if Vype do not run into problems eventually despite the recent increases. It would be advisable for Vype to now focus their efforts on building brand links over the coming months in order to consolidate their current position and improve their link split.
It would also be advisable for Vype to focus on expanding their on-page content as it is currently quite thin and duplicated externally in some instances. However, this is not as significant a problem as it is for VIP and totallywicked-eliquid.co.uk. Indeed, the minor decline in visibility which began in March 2014 coincides with the launch of the unnamed updated which is hypothesised to be a soft Panda update:

Source: SearchMetrics
One ace which Vype do have up its sleeve is that they are one of the few competitors in this industry who have migrated over to https URL on the back of Google suggesting that secure sites would benefit from ranking increases over those with unsecure sites. This may well have contributed to recent visibility increases.
---
e-lites.co.uk
e-lites are another recognisable brand who have benefited recently from visibility increases. However, they are still not quite at the visibility levels which they were achieving in early 2013 prior to a sharp decline which occurred in mid-February of that year. This came almost three weeks after Panda #24 and it is therefore unlikely that this major visibility drop was a result of this algorithm update as the impact would likely have been felt far sooner. This is despite the content on the e-lites website being low quality, unsubstantial and duplicated heavily externally:

Source: SearchMetrics
It is more likely that the website received a manual action as a result of its poor linking profile, with Link Detox assessing it as a high risk domain with an overall score of 2,481 with 31% of the links in its profile deemed to be a high audit priority. Manual inspection reveals that the majority of links in the profile are noise links (86.82%) from low quality directories and side bars. The large number of image-based links is a primary reason why many of these links have been classified as noise, leaving just 7.95% of the link profile being keyword focused.
Source: Link Detox
However, there was a notable increase in visibility at the end of June 2014 which does not coincide with any relevant algorithm updates. It is possible that this was the result of a manual action being lifted on the back of disavow efforts. This is the more plausible explanation, with e-lites still being afflicted by poor on-page copy; a problem they should now prioritise amending if they are to achieve the visibility levels achieved two years earlier.
---
www.10motives.com
Ten Motives are another industry player who will also need to address content issues if they are to take a larger search share, with their homepage content currently being highly duplicated externally and non-existent on product landing pages.  However, they so far appear to have escaped any visibility drops on the back of Panda updates. This is despite them suffering a sharp visibility decrease three weeks after the release of Panda 4.0 in May 2014:

Source: SearchMetrics
Given the time which passed before the visibility drop and the temporary visibility increase shortly after the roll out, it is entirely possible that this was a manual action from Google with Link Detox assigning them a score of 1,321 and 21% of the links in the profile judged as a high audit priority: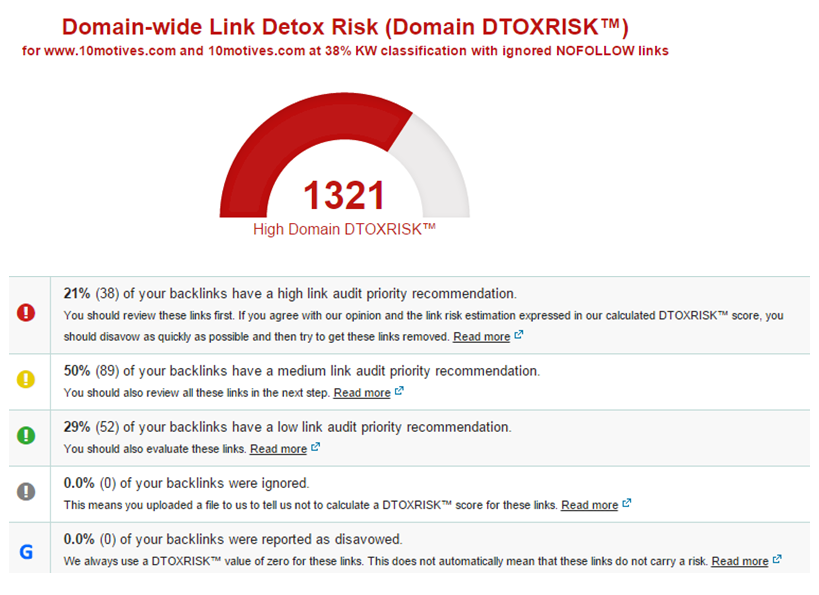 Source: Link Detox
As with the majority of other competitors analysed, the majority of links are either noise (49.95%) or keyword based (42.39%) with very little brand in the profile (7.35%) despite there being more individual links from the keyword "ten motives" than any other. Visibility has started to increase though over the past couple of weeks and it will be interested to see whether or not this means they have successfully removed a manual action if there was one placed.
---
www.njoy.com
Despite being one of only two competitors who have migrated over to a secure URL, Njoy currently has the lowest visibility levels of all the competitors assessed. They did experience levels of visibility comparable with that of some of the smaller competitors between November 2013 and May 2014 but have subsequently dropped significantly:

Source: SearchMetrics
This drop in May 2014 coincides with Panda 4.0 and an on-page inspection confirms that this is still a problem area, with content being thin and low quality across the board as well as being heavily duplicated.
Their linking profile is not spotlessly clean either, being assessed as being high risk by Link Detox with a risk score of 1,207 but with just 18% of the links in the profile being assessed as being a high audit priority: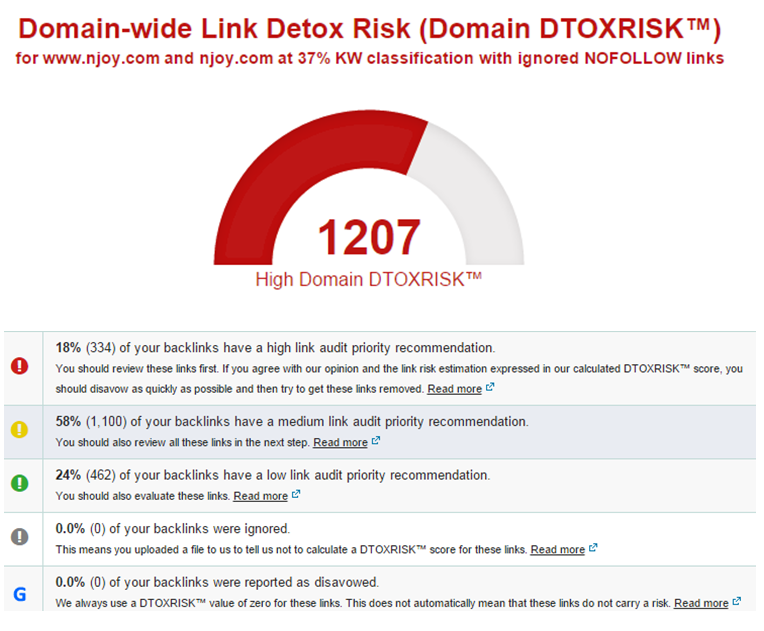 Source: Link Detox
Noise is once again dominant in their profile (84.10%), with competition based links being a large contributor towards these. However, Njoy are one of the few competitors who have a large brand focus with 10.15% of their profile being brand focused and just 3.89% being keyword focused. This is certainly not the riskiest profile in the industry.
---
Who's winning?
Despite Totally Wicked currently having the highest overall visibility score, they have suffered significant visibility drops in recent months on the back of Penguin updates which has punished them for their poor linking profile. At the same time, Vype have been closing the gap owing to their lower risk profile, which has helped them achieved P1 on the head term. In any other industry the Vype linking profile may have caused them issues, but in an industry where all the major players are afflicted by high risk profiles, this appears to be the best of a bad bunch.
Low quality and duplicate content is another industry wide epidemic and even those who have escaped ranking drops on the back of Panda updates are still unlikely to win any prizes for their on-page copy.
This means that there are significant opportunities available to the first competitor to address both of these concerns. VIP appears to have achieved the first step, with all the signs suggesting that they have had a manual action revoked. If VIP can now match this with much improved on-page content, then they could be in a position to take significant online market share from their competitors.
It is entirely likely that on-page content is going to be a major battle field in this industry moving forward, with Google Trends forecasting that interest in this industry has reached a plateau:

Source: Google Trends
This means that those competing in it will now likely begin switch their attention to longer tail keywords as a means of maintaining their current growth levels and high quality on-page copy will be absolutely essential if this longer tail terms are going to be leveraged successfully.