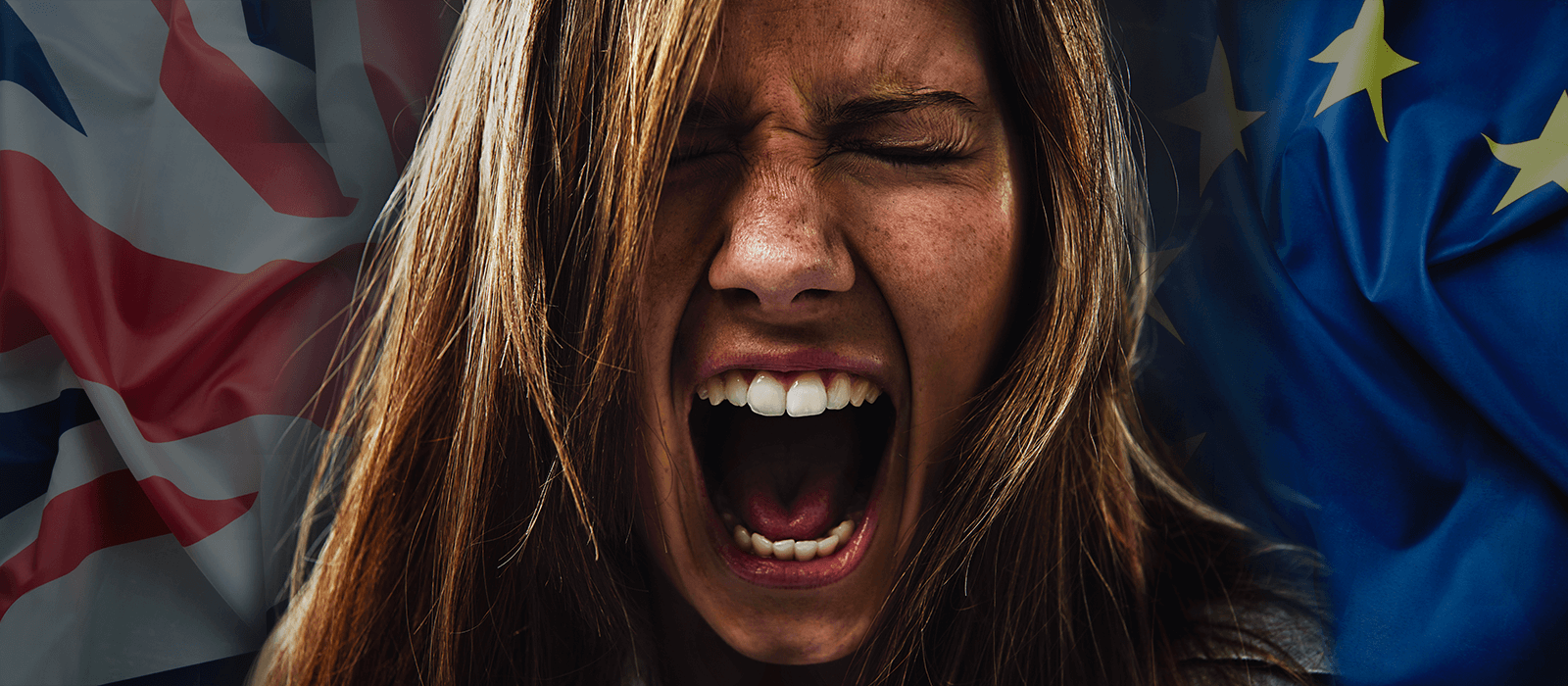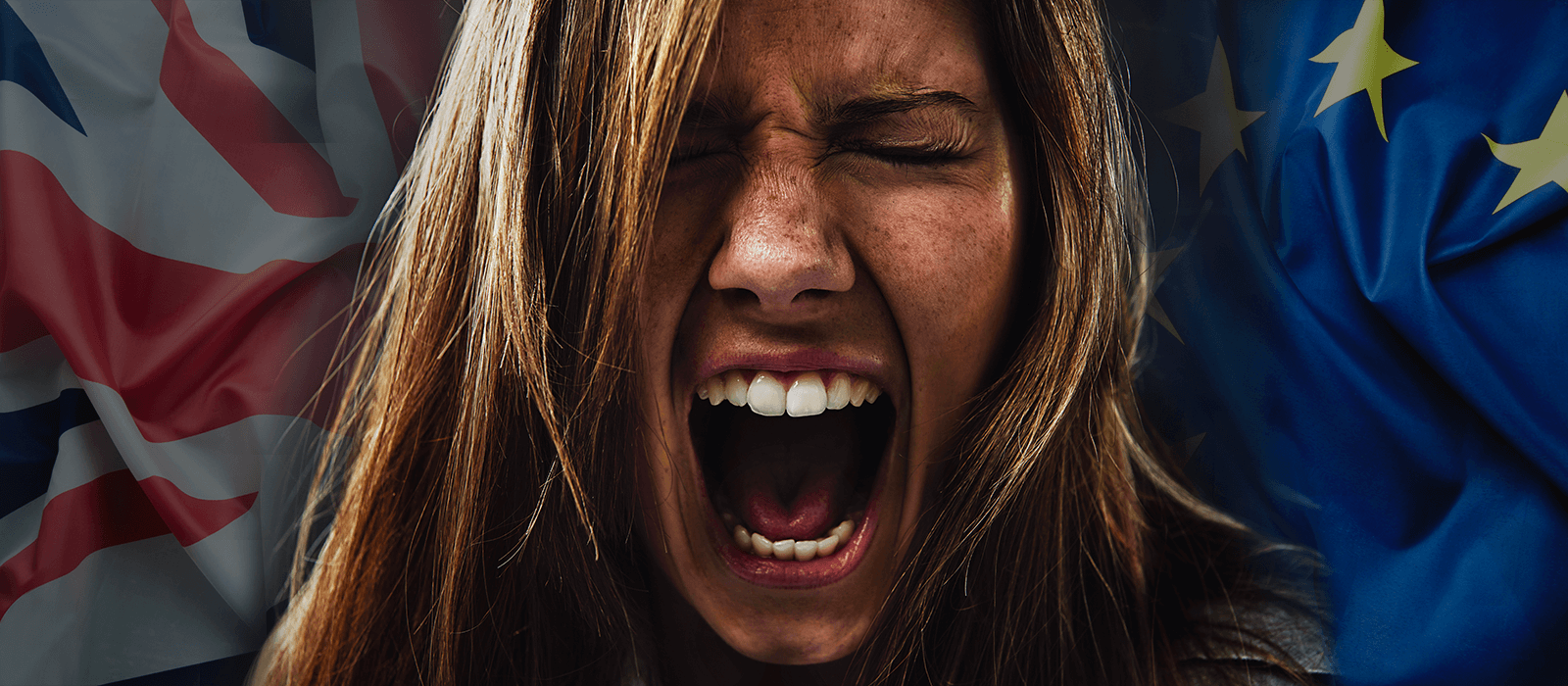 How Brexit has inspired marketing campaigns
Apr 26th, 2019
With negotiations between government and the EU still underway, I thought I'd share some good examples of how Brexit has been utilised for marketing campaigns.
Back in June 2016, the biggest referendum in UK political history was held, to decide whether or not as a nation, we would remain or leave the European Union (EU). For months prior to the vote, political parties travelled around the country proposing their for and against arguments, with business, border security and financial matters being at the forefront of each party's campaign. With a majority vote of 51.9%, it was declared that the UK would leave the EU and trigger a two year process in which the Government would open talks to negotiate the best possible way to leave the EU and secure the best trade deals for our country.
Two years on from the vote and for many of us it still feels like we're no clearer on how or when we're going to leave the EU. With the original date being the 29th March, the proposed date has now passed and for the majority of the population, the process doesn't seem as direct as it should be. There is still a lot of uncertainty surrounding the economic future of the country and how secure the business industry will be, with no deal being agreed as of yet.
Although it's still not clear how Brexit will affect UK businesses once we leave the EU, some big name brands and organisations have utilised the decision to promote their marketing campaigns. For many, Brexit can be a delicate subject to be associated with, and some have been frowned upon for sharing their political views; but if done tastefully, it can be a huge success for any brand and its marketing campaign.
Take back the remote control
Channel 4
Take back the remote control! #BrexitUncivilWar is on tonight 9pm pic.twitter.com/BYHXXwIDpl

— Channel 4 (@Channel4) January 7, 2019
One of the main talking points post referendum was the infamous big red bus, stating the UK could send £350 million to the NHS instead of the EU. For many people this was a sore subject as it seemed this wouldn't be as simple as the advertisement on the bus displayed. With so much attention and press surrounding the pro Brexit bus, Channel 4 created their own version ahead of their program "Brexit: The Uncivil War": by displaying the message "Take back the remote control; watch the gripping new TV drama".
The message was replicated just like the pro Brexit bus and travelled around the UK to promote the channels Brexit related drama. With research showing 180 million tweets were made globally since the referendum, it's no wonder why Channel 4 wanted to create a strong campaign for their new show.
Dividing the nation since 1902
Marmite
Love it or hate it. pic.twitter.com/09YDVfK6F2

— Marmite (@marmite) March 28, 2019
In a world where most campaigns are promoted on digital platforms, consisting of video, interactive games and sound; Marmite went against the grain and went for a more simplistic campaign, which shows how simplicity can go a long way. Marmite are known for their simplistic designs and for their most recent campaign, they played on the phrases we're all familiar with, "Hard Brexit, Soft Brexit or No Brexit", relating to how we're going to leave the EU.
To replicate this in their marketing campaign, Marmite created their own Brexit related phrase "Hard Breakfast, Soft Breakfast, No Breakfast", in relation to their famous slogan "Love it or Hate it". Alongside this, Marmite also created the tagline "Dividing the nation since 1902", playfully mocking the political situation the nation is currently in. Marmite's simple but effective campaign is an example of how brands can strip back from modern day marketing techniques and go back to basics. This advert was not only seen online but it was also printed into national newspapers and shows how to successfully execute a Brexit inspired campaign.
Love Immigration
Jigsaw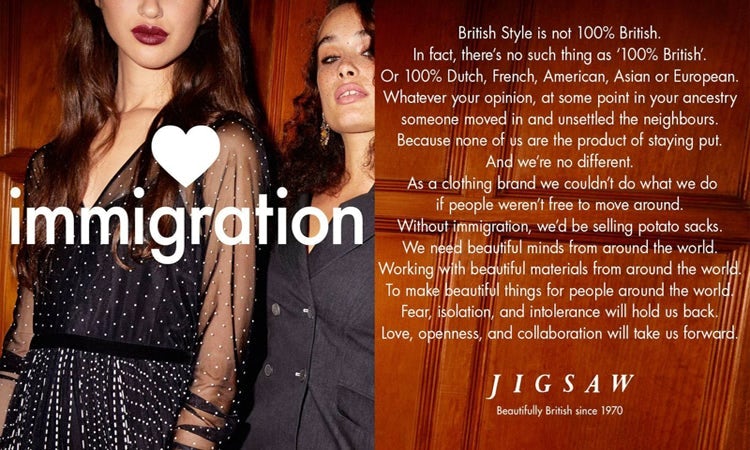 One of the main talking points prior to the referendum was immigration in the UK and the values of free movement around the EU. For some people, this was one of the major reasons which decided their vote, whilst many couldn't disagree more. Clothing brand Jigsaw took inspiration from this subject and created a pro-immigration campaign, titled "Love Immigration".
The brand believed that some of the countries well-known values had been lost prior and post referendum and wanted to create a bold marketing campaign which outlines who we are as a nation. Along with powerful images of models from different countries wearing the brands clothes, Jigsaw created a bold manifesto which was displayed on their website, in tabloids and in London's Oxford Circus tube station; creating a positive talking point around the brands mission to support immigration and how there's no such thing as being "100% British".
During an interview regarding the campaign, Peter Ruis, CEO of Jigsaw said the following:
Be it people, cloth, the stone floors in our shops, the film to shoot our campaigns. We are all part of a vibrant, tolerant, global Britain. These are things we believe in as a brand.
This message really was reflected in the brand's "Love Immigration" campaign and it sets a powerful statement to not only the UK as a nation, but also to its competitors. It was reported that more consumers were interested in the powerful manifesto Jigsaw created, over their actual products; which shows how successful this campaign was.
Here is a selection of Brexit inspired marketing campaigns which I feel have been successful for a number of reasons. Big names such as HSBC, Paddy Power and Virgin Atlantic have also created powerful campaigns in relation to Brexit and shown their competitors how to deliver a successful, politically inspired campaign.
Great to be back at #benchmarkconf2019 for the second year running! Looking forward to hearing all the latest tips and tricks to succeed in the industry I love
Rae Coppola
SEO Manager - SharkNinja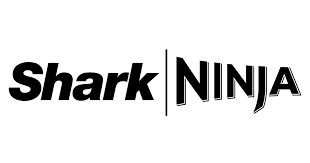 From the outset of the project, Click Consult clearly understood our business objectives and formulated a search strategy that would help to deliver commercial results across key product areas. They have been professional in their approach, shown great attention to detail and the results achieved to date have been thoroughly impressive.
We currently use Click as our SEO provider and find them very proactive in working with us to drive performance.
They use KPIs to demonstrate an increase in performance and support us in what actions to take to improve our natural search.
Lucy O'Shaughnessy
Commercial Director