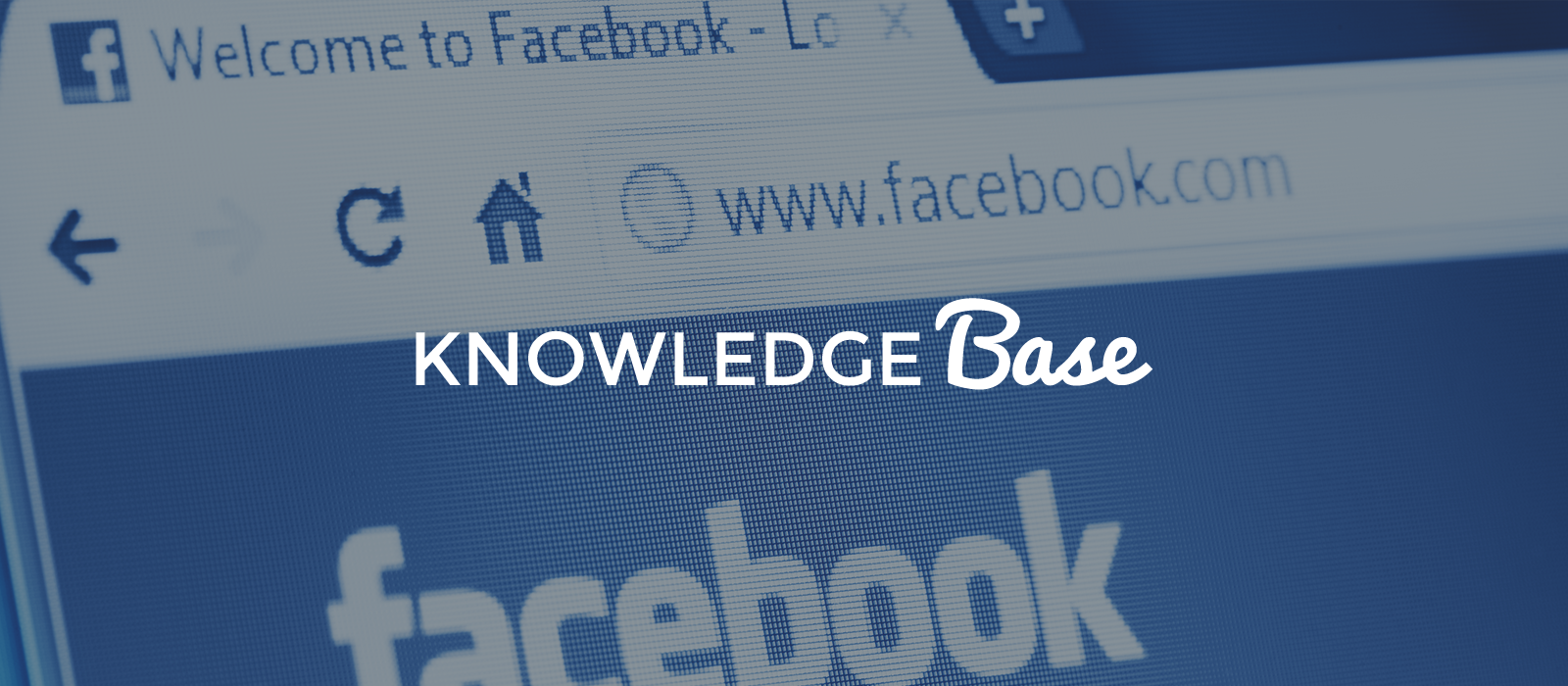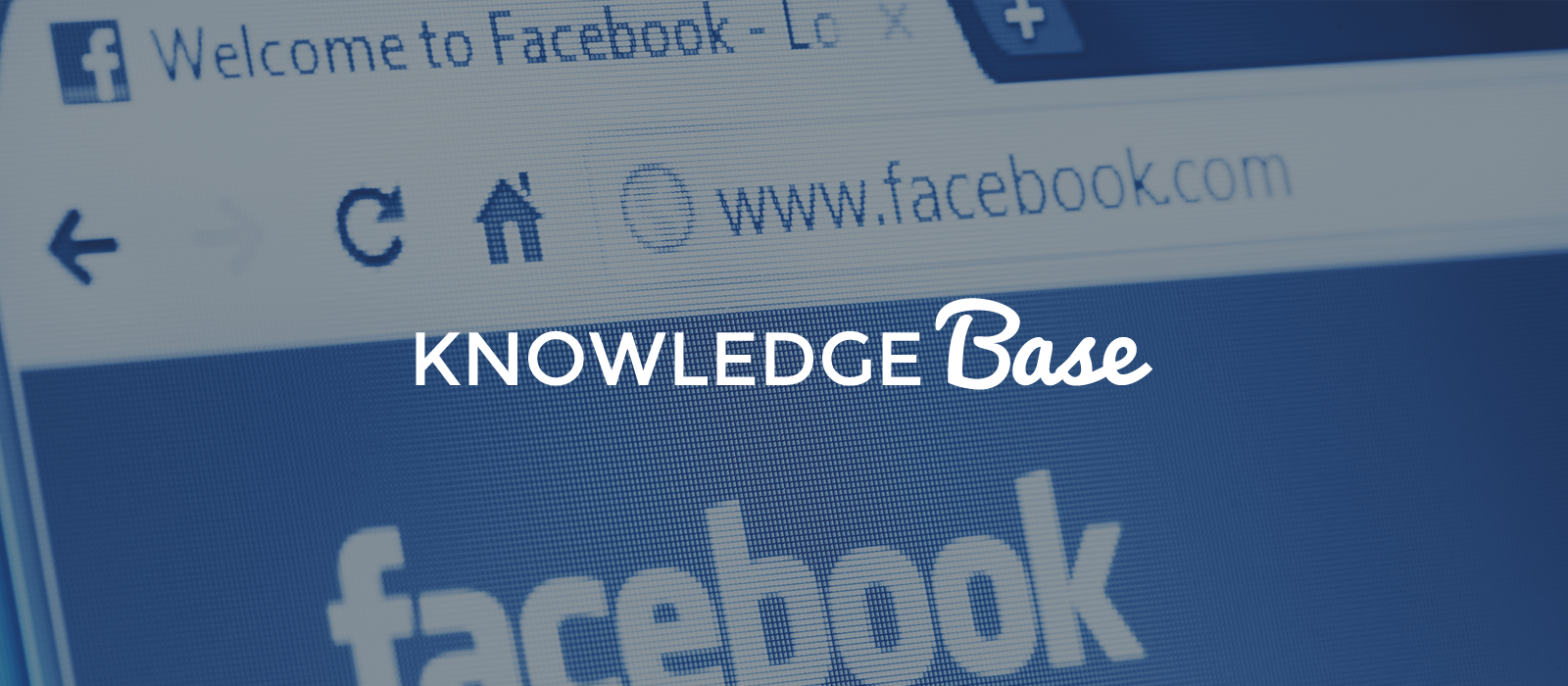 How to grow your business with Facebook ads
Jun 5th, 2019
The beauty of Facebook advertising campaigns is that they can be as simple or sophisticated as you need them to be. However, the range of format choices can be daunting.
Social media advertising is effective  – a 2017 Curalate Consumer Survey found that 76% of consumers have purchased a product that they saw in a brand's social media post, with 11% buying online immediately and 44% buying online at a later time. But your performance and ROI depends on matching the type and format of your ad to your specific objectives. So here's our guide to the different types of Facebook ads, and when you should consider using them.
Types of Facebook ads
Dynamic ads
Very similar to Google Shopping ads, Facebook's dynamic product ad offering is fantastic for eCommerce, allowing brands to upload a feed to Facebook to show their product ads with Photo, Carousel or Collection formats. They automatically promote the most relevant items from your product catalogue based on the person's interests, and retarget people who have shown interest on your site or app, making it a powerful tool for recapturing lost conversions.
Best for: Making sales.
Lead Gen ads
These make it easy and intuitive to give their details by mobile and desktop using pre-populated forms, and can take many forms, including quote or demo requests, newsletter subscriptions, and event registrations. These ads are great for any brand that thrives on lead generation by reducing the user journey. It also has great potential as a remarketing tool for previous non-converters.
Best for: Generating new leads.
Instant Experiences (formerly 'Canvas ads')
These are specifically targeted to mobile devices, instant experiences let you create a full-screen experience and can be added to most ad formats.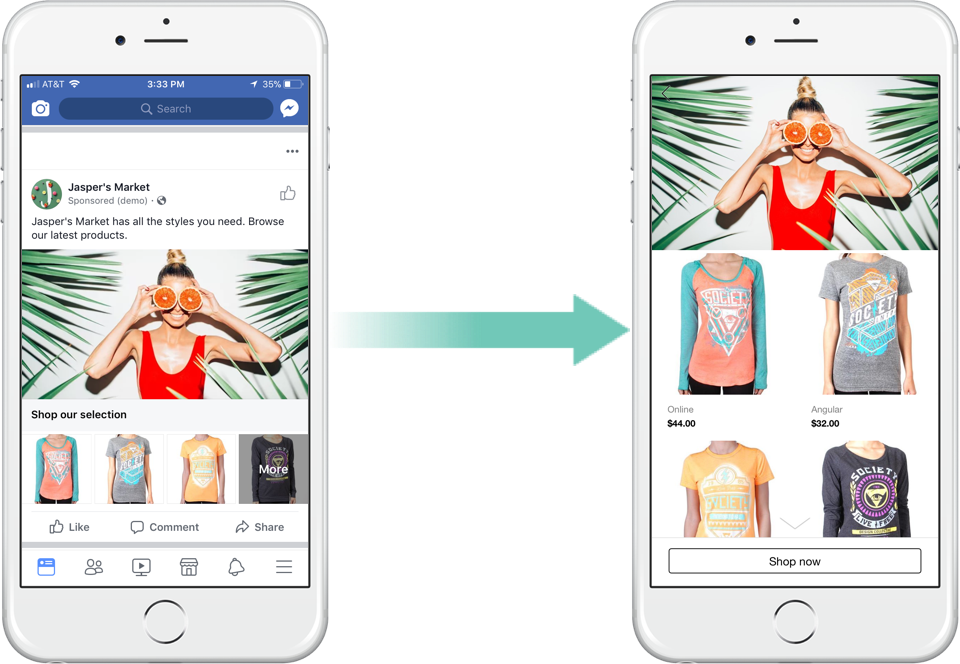 There are five templates for Instant Experiences:
Instant storefront
This allows you to display products in a grid to provide a 'shop window' experience; at allows you drive people to your website or app to make a purchase.
Instant Lookbook
Works as a kind of digital ad catalogue and allows you to demonstrate your products in action.
Instant Form
This provides an easy way for people to share their contact information if they are interested in learning more.
Instant customer acquisition
Does what it says on the tin. Useful for driving conversions and encouraging explicit call to action.
Instant storytelling
These provide an engaging way of encouraging people to explore your business, then click through to your website or app.
Best for: Boosting engagement and nurturing interest and intent; driving purchases without the customer having to leave Facebook or Instagram;
Top tip: Ideal for retail and travel: If you're a retail, eCommerce, flight or hotel advertiser, you can use collection to show an inspirational video or image alongside your brand, product or service.
Photo ads
These allow you to get your message across with engaging, high quality images imagery (photos or illustrations) and copy. You should keep copy to a minimum and let your imagery do the talking; Facebook only allows 20% of your ad to be text in any case.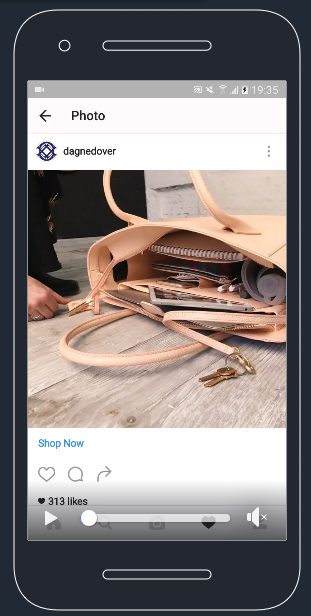 Best for: Driving unique traffic to your website. According to a Facebook experiment, a series of photo-only ads outperformed other ad formats in driving unique traffic. Raising awareness of  a single, tangible item.
Top tips
Show people actually using your product to showcase the benefits. Pictures of actual people always work best on social media because it's, er, social.
Play with different images and formats before you commit to a particular ad, and always preview how your ad will look in the wild before you run it. You can do all of this over at the Creative Hub.
Video ads
More people are now consuming video than ever, with Facebook predicting that 78% of mobile data will be video by 2021.These allow you to tell a story sight, sound and motion, and are available  in a range of lengths and styles – from bite-size to feature length…
'Snackable'
Use GIFs already posted on your page, or upload directly via Ad Manager.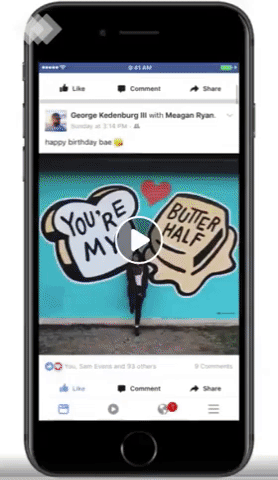 Vertical 
When watching landscape videos, the viewer is often directed to look left to right. However, in a vertical format, there is no clear horizon as it shifts depending on framing. This creates an opportunity to direct people's eyes by panning up and down and utilising the height of the vertical space.
In-stream
These ads function like traditional TV commercials and aren't interactive, so there's no way to promote a landing page or click-through. However, you can link to landing pages via the Audience Network, so don't overlook the added reach and potential ROI. You can take advantage of the fact that they're non-skippable to tackle more complicated topics.
Best for: Capturing attention and making an impression.
Top tip: Don't be afraid of using humour. According to Facebook, funny videos are 70% more likely to be watched till the end that informational ones.
Carousel ads
Though particularly useful for eCommerce brands – with the option to show up to ten product images or videos, the option to link to anywhere on the web means that the ad type is useful for any brand that wants to make the most of their creative space.
You can choose to let Facebook optimise the order of the carousel images, based on each card's performance, or arrange them yourself to tell a sequential story, make sure that you opt out of the automatic optimisation feature.  The interactive format encourages people to swipe through for more. Think carefully about your call to action as this should inform what your final card looks like.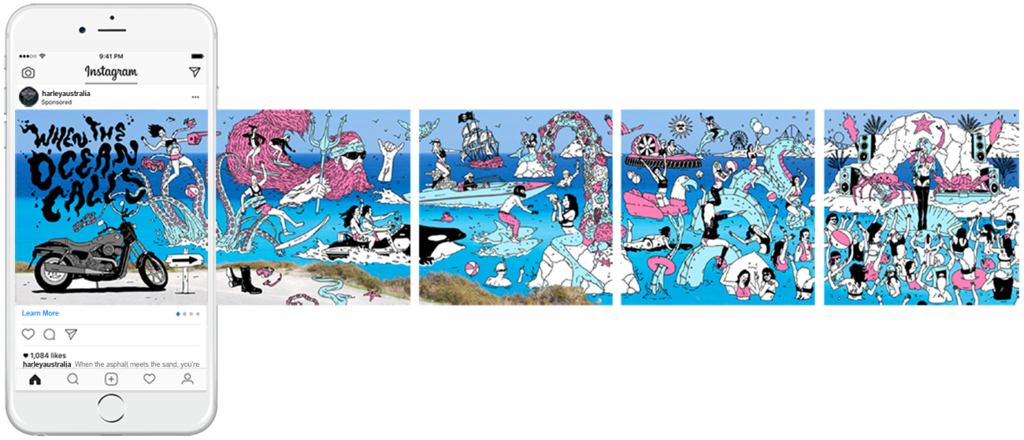 Best for: Driving traffic to your brand's site through product images or storytelling; showing off multiple products; highlighting different features or details of a single product; giving people step-by-step advice on how to use your product or services.
Top tip: Make the most of the interactive element when planning your creatives. Try using interlinking images or visual cues to prompt your audience to keep swiping through the carousel cards to see the rest of your creative (as in the example above).
Collection ads
These help your audience to discover, browse and purchase products and services from their mobile device. Your an-feed ad can feature four products under a hero image or video that opens into a full-screen Instant Experience when someone interacts with your ad.
Instagram ads
Instagram ads are part of your normal Facebook targeting options. The photo and video sharing platform is ideal for brands who want to showcase their creatives, particularly if they fit
within a popular category such as fitness, food, fashion or make-up. With no additional campaign creation required, this is a fantastic cross-platform opportunity for brands, with Instagram targeted as part of Facebook's ad network.
There are four formats for Instagram ads (which mirror Facebook ads): Image, Video, Carousel, Collection or Stories.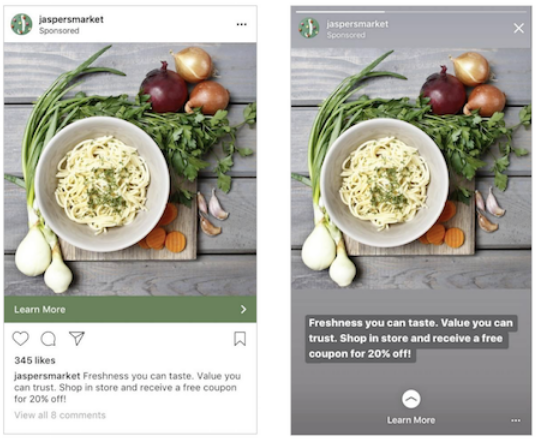 Examples of an Image ad in an Instagram feed (Left) and an Instagram Stories ad (right)
Best for: Brands that already have an Instagram following
Top tip: Many people see Instagram as a platform for inspiration and 60%  say they discover new products on Instagram, so take advantage from immersive formats such Stories ad formats such as Instagram Stories present a big opportunity for advertisers
Story ads
These build on on the hugely popular Facebook's native Stories feature which allows users to post content that appear at the top of the Facebook app. Brands find them useful for sharing tips and advice or introducing new products.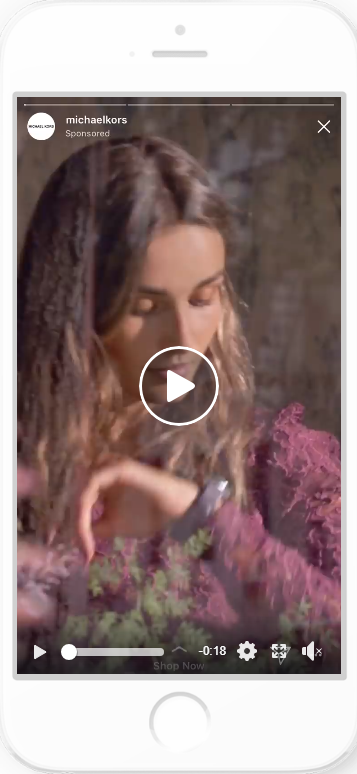 Best for: Creating customer interest and inspiring action – Facebook claims that 58% of people say they have become more interested in a brand or product after seeing it in Stories.
Top tip: If you already have great content on Instagram Stories, you can easily cross-share it on Facebook.
Slideshow ads
Video-like ads made of motion, sound and text made up from your existing images, Facebook describes them 'lightweight', so they can be viewed across devices and different connection speeds.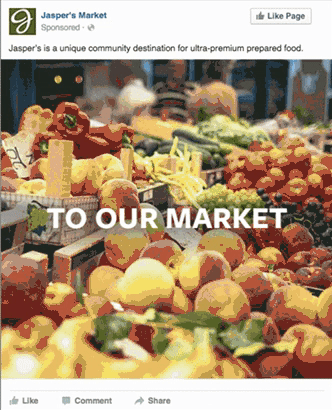 Best for: Businesses that want to showcase an array of products/services to their target audience without investing in high-quality videos.
Top tip: Plan your ad with a storyboard to decide which images to feature and in what order, to create a narrative for your ad.
Messenger ads/'Sponsored messages
Messenger ads work like ads across other Facebook platforms – they automatically deliver ads to the placement that's most likely to drive campaign results at the lowest cost. The ads appear in the Chats tab in recipients' Messenger app. When they tap on an ad, they'll be sent to a detailed view within Messenger with a call-to-action.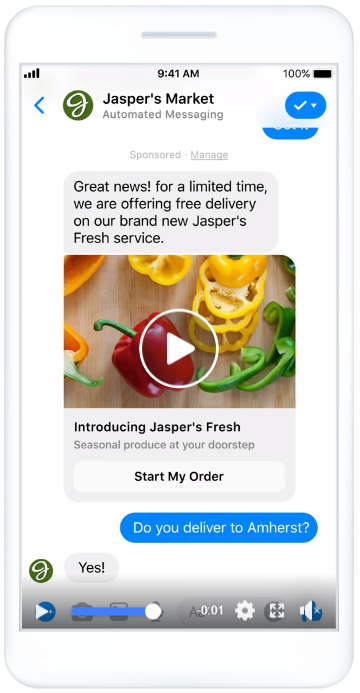 Best for: Starting conversations with individuals.
Top tip: Be ready to respond promptly when a customer replies to your ad.
Playables
This format is aimed at mobile app advertisers to drive higher quality and higher-intent users to install their apps. They allow you to show a call-to-action throughout your demo so that people have the option to download your app at any time during the ad.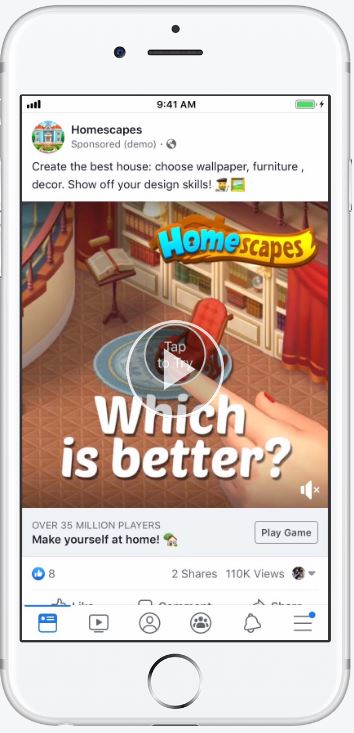 Best for: Giving potential customers an interactive try-before-you-buy preview of your app.
Top tips
Test different copy to see what encourages more people to play.
Make sure you ad accurately represents your app.
We've been impressed by the way Click quickly grasped the positioning of our business and focused our PPC campaign around our objectives. Click didn't just view our PPC campaign in isolation, but looked at our business strategy as a whole and how paid search could fit in with and complement other areas of our marketing activity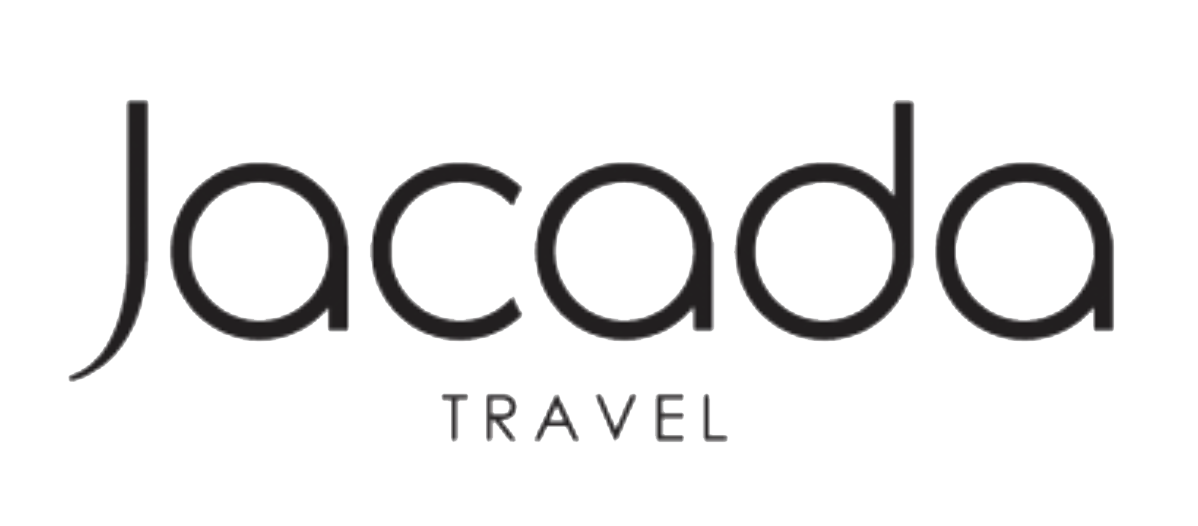 We were facing a challenge with growing our generic campaigns profitably. However through adopting a test and learn approach with Google and Click Consult we are extremely pleased with the uplift in clicks, demand and ROI that has enabled us to scale up sustainably.
Paul Gray
Marketing Director

We currently use Click as our SEO provider and find them very proactive in working with us to drive performance.
They use KPIs to demonstrate an increase in performance and support us in what actions to take to improve our natural search.
Lucy O'Shaughnessy
Commercial Director