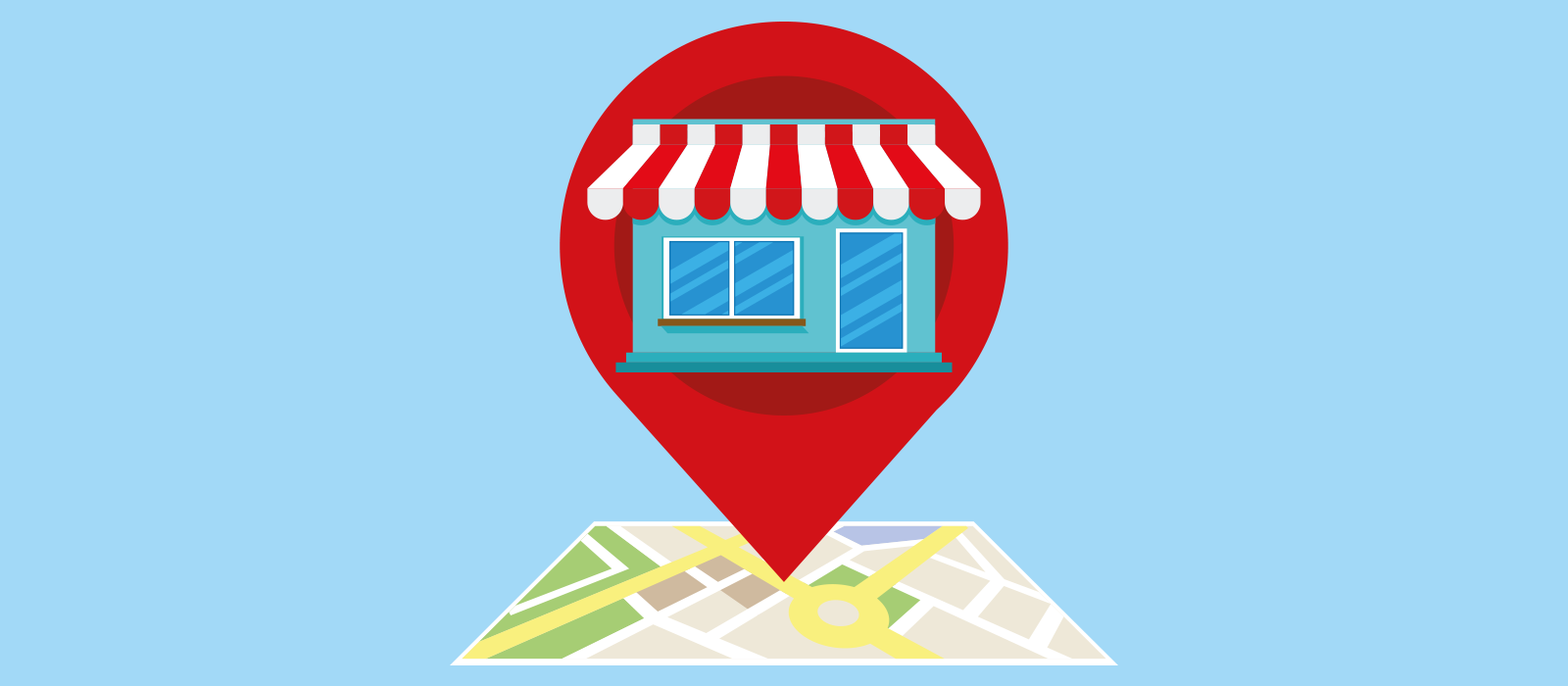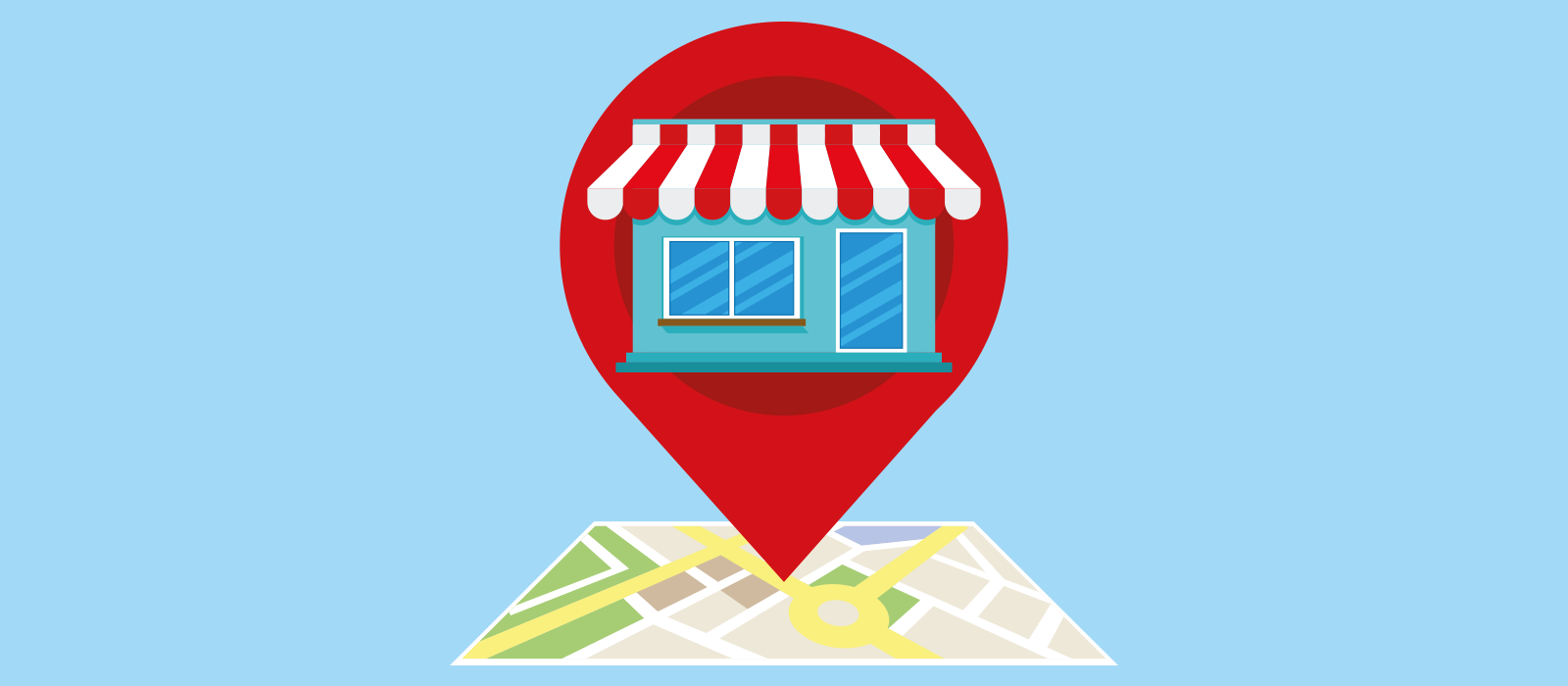 Local Search and Local Service Ads – Time to prepare?
Jul 8th, 2019
Local search is one of the fastest growing areas of digital marketing, with businesses spending huge amounts in order to get visitors to their site and, ultimately, a conversion
---
We have covered this in great detail and, in truth, the model is a pretty simple one for big eCommerce sites. But what if the needs are different and we look at smaller, local businesses?
Imagine for a minute that you are looking for a red dress; you type into Google the search term 'red dress' and are greeted with a results page such as the one below.
---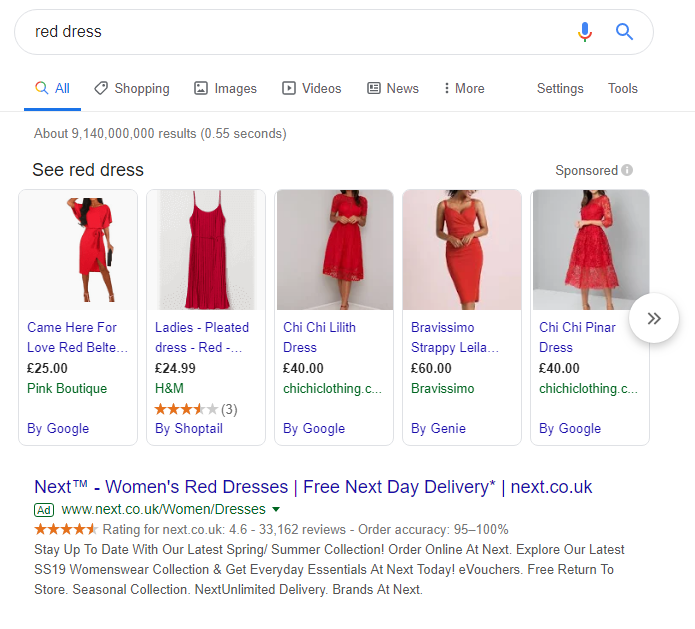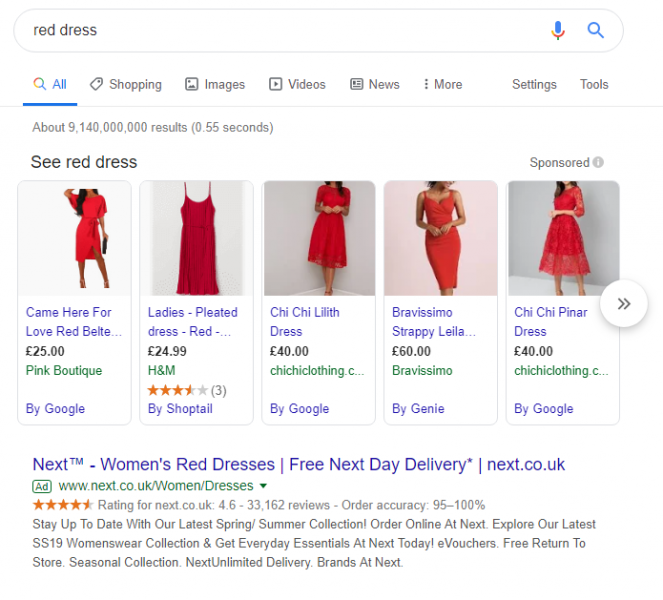 ---
It is clear to see that your search has come up trumps and that you are indeed shown a selection of ads for red dresses. The five that are visible with images are from a variety of brands bidding on the search term 'red dress' and their position on the carousel will be determined by some of the filters ads rely on and the calculation between the bid price and the quality score of the business in question.
Below the carousel you can see the first of the text ads, this one from Next, based on the above and the optimisation in the text. All of these things suit the customer's needs; they'll probably be happy with the results, click on one of the ads and make a purchase (the conversion). The item will be posted out, the buyers chosen address and therein ends the perfect buyer's journey. But what about a haircut, this is not a product that can be bought based on an image, doesn't get delivered and requires far more from a search. This is where local search comes into play.
Currently if you conduct a search for 'barber shop' and you have opted into the location options in Google, then you will be greeted with a list of search results similar to the one below.
---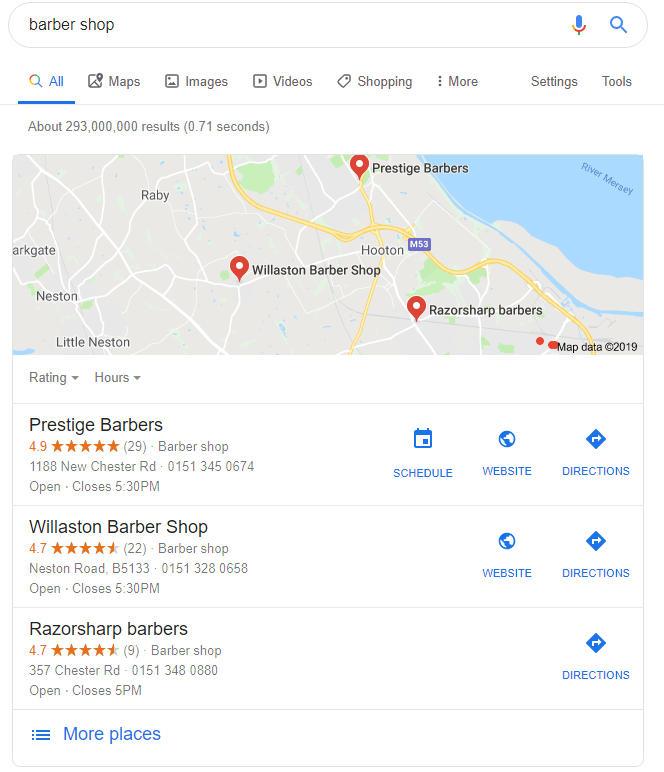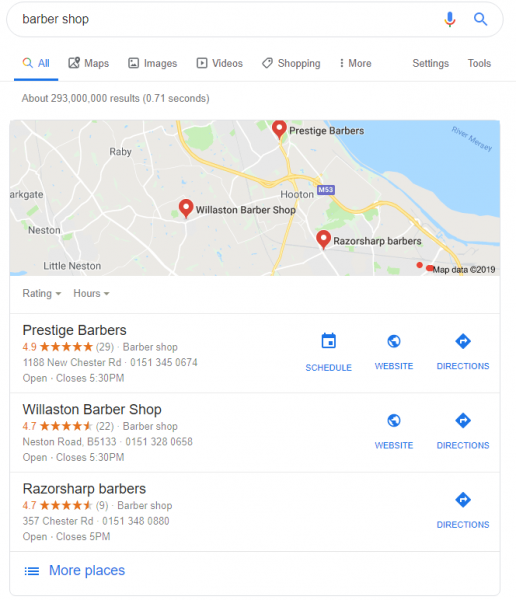 ---
This image shows the location of places to get a haircut, from a barber shop, in and around you area. Again, the search has worked perfectly and the user is given the answers or the options they require.
If we look at the first result, Prestige Barbers, we can see that there are a number of CTAs listed. As well as the basic information such as name, address and phone number there are three icons, Schedule, Website and Directions. The latter pair are common and do exactly what they suggest, take you to the website of the barber shop and give you directions in Google Maps. You can often see a Call button, allowing you to phone and make an enquiry. What we are interested in however is the Schedule icon.
Clicking this opens up the following screen. As you can see, you not only have access to the map but you also have a list of services available from the vendor.
---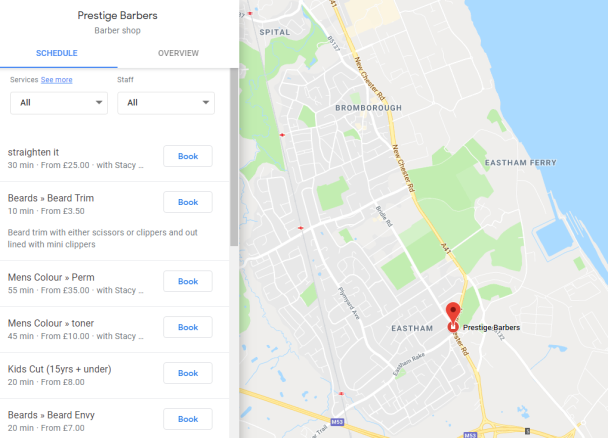 ---
At the top of the box on the left there are also two dropdown menus, the first for the type of service that you require and the second for the person offering the service. These can be seen in the following two images.
---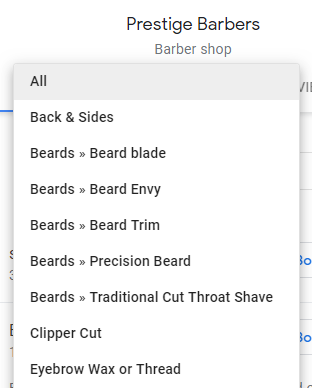 ---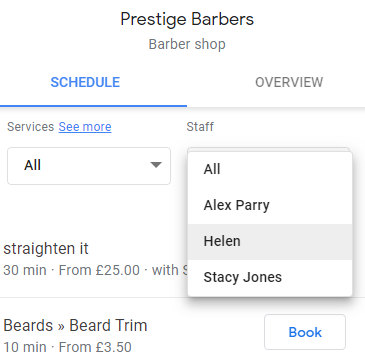 ---
We know that these options are hugely popular as they epitomise the very idea that personalisation, authority, trust etc, are at the front of mind for Google. After choosing the service and the service provider the next stage of the process is that you then choose the time and date. This is something that is key to the feature as it keeps the prospective buyer moving along the purchase journey.
---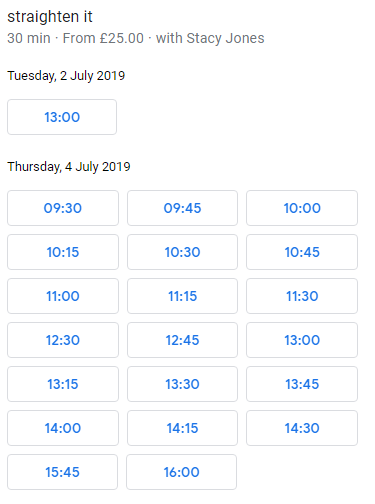 ---
This all culminates with the opportunity to finalise the booking cycle with the payment option. By confirming and paying for a service the user has reached the final point of the online sales journey, all they need to do now is actually attend the appointment.
---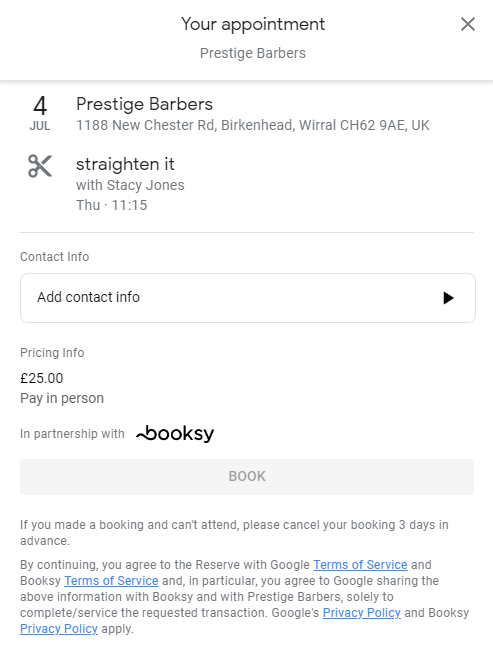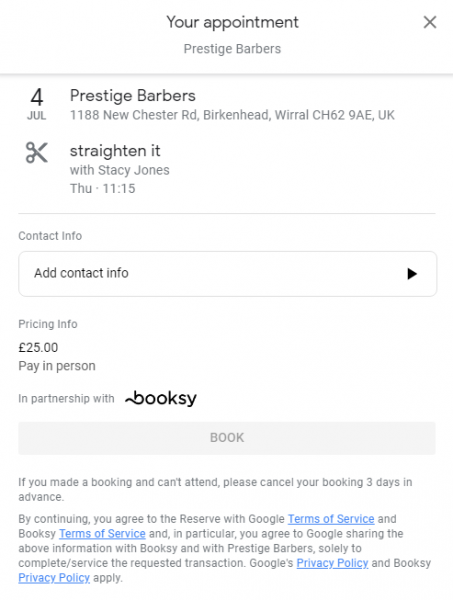 ---
This is a really neat addition to Google Search and will no doubt have an impact on the bottom line of businesses. AS such now if the perfect time to make sure you are prepared for this should the roll out to the UK come in the next few months. As and when Google pushes this out we'll run through a comprehensive set up here and in the form of a resource so look out for that.
Local Service Ads
Something for businesses here in the UK to think about at the moment however, is the paid aspect of local search. Currently rolled out in the US and Canada, this is another Google product that could soon head over here (and why wouldn't it, such are the benefits). With that in mind we thought we'd get ahead of the game and look at the setup, it's also useful for those who currently trade in the US and Canada.
What are local service ads?
Local Services ads allow for brands to advertise their business on Google and receive leads directly from potential customers. These leads come in as phone calls and messages sent through the Local Services ad.
The business running the ad can reply to messages, track bookings and manage all of their leads at any time online and through the app which is Android & iOS compatible.
What are the benefits?
There are many benefits from being listed in local search through Local Service ads
Get seen at the top of Google
Connect with potential customers who are searching for services that you provide and are most likely to book
Make use of simple tools to help you get started and create a personalised profile
Use the mobile app to communicate with customers at any time
Build trust with the Google Guarantee
Pay only for leads related to your business and the services that you offer
Customers choose you: You only hear from customers who have specifically selected your profile out of all the rest
How do they work?
The Local Services unit is shown at the top of Google Search results when people search for the services that you offer in your area. Potential customers can click or tap on your ad to either call you or send you a message request. When they do, you'll get an email and notification from the Local Services ads app. From this point on, the lead is yours to turn into a customer.
To ensure that you continue to receive messages, respond to as many of them as you can (even if you decline to provide the requested service). If you regularly fail to answer calls or respond to messages, your ad ranking may be affected.
At this time, Local Services ads are available only for certain service categories and areas such as:
cleaning services
electricians
estate services
financial planning services
plumbers
pest control
locksmiths
Benefits of Local Service ads
There are many benefits of Local Service ads and they include:
Increased exposure
The ability to connect with customers at the moment they're looking for services you provide, ultimately leading to higher conversion rates
Access to an easy-to-use management platform
Receiving the Google Guaranteed badge – a signal of trust, and along with Google reviews a great way to build authority
Limit wasted time, as customers come directly to you
Increased chance of turning more leads into customers
Optimising the performance of your ads
As we have written in the past, there are no definitive answers when it comes to how the Google algorithm works. With over 300 signals, all with differing levels of importance, brands must be doing everything possible to get their ads to show and their site to rank for their chosen keywords. As always with your search marketing you should:
Focus on the quality of your offering, making sure you are showing relevant pages and ranking or relevant keywords
Invest time on rating and reviews
Respond immediately to your messages and phone calls (failing to do so may lower your ad ranking)
Put a focus on your Google My Business listing
The cost of ads
The cost of ads depends on a number of factors and the main selling point of these ads is that you only pay for leads related to your business and the services you offer. The actual costs change depending on the type of lead, your location, and the type of job needed. You only pay if you receive a message or phone call through the platform.
You can set a weekly budget based on the number of leads you want to receive, and you can always track your progress in the app by viewing your payment and charge history. You can also set up a monthly payment plan which should mean you never exceed maximum budget. If for whatever reason you get leads that exceed your monthly budget, they will be credited back to you.
One other thing to note is that trust and reputation is a two-way thing with Google. If you get a number of 'spammy' leads that don't appear legitimate, you can dispute it with Google.
Final thoughts
We often see that businesses and brands are missing out on conversions and this is largely due to the fact that their targeting across all areas of search is too stretched. Drilling down on the exact terms that you audience is searching for and serving up ads to people in the local area who can actually book and use your services is a must.
---
Need help with your search marketing? Why not get in touch? Or subscribe to our newsletter for industry leading insights.