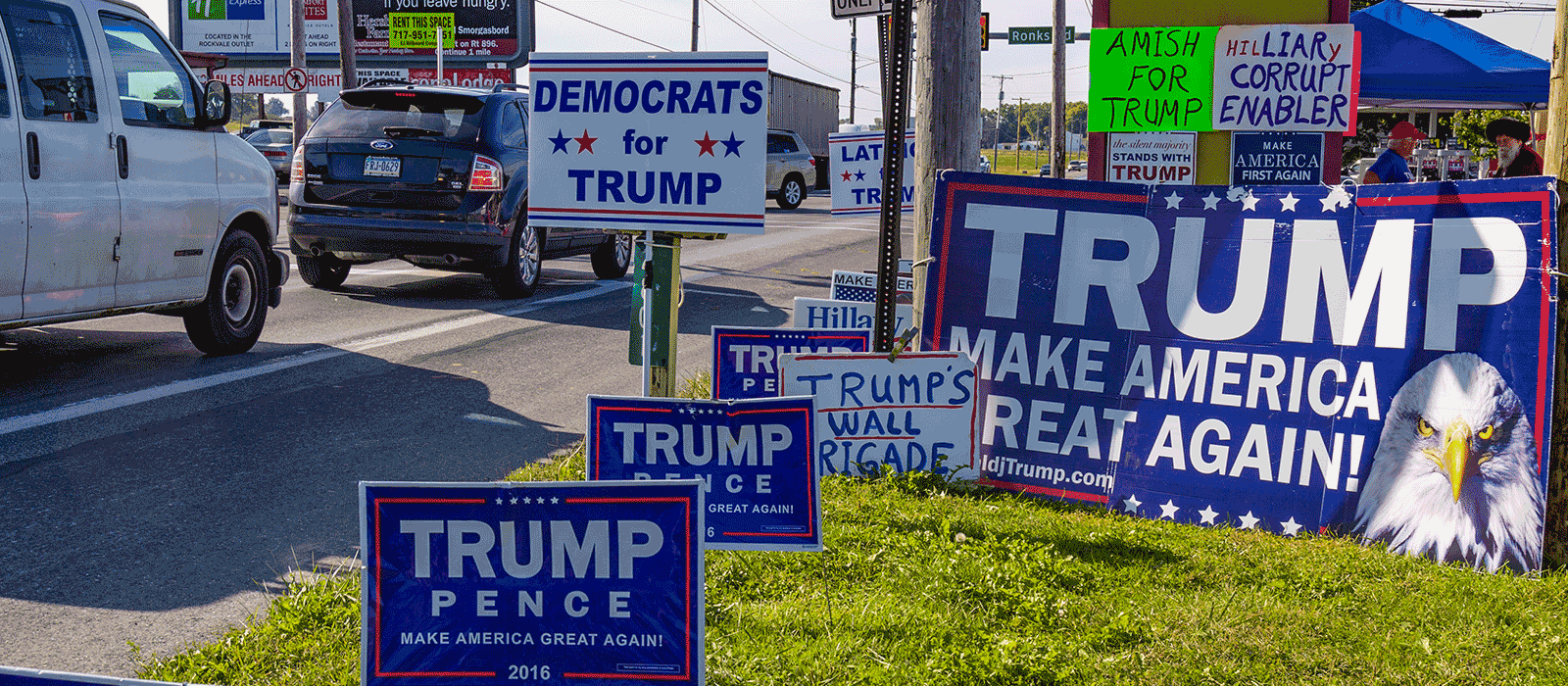 Marketing lessons from Donald Trump
Nov 24th, 2016
"We will make America strong again. We will make America proud again. We will make America safe again. And we will make America great again." – Donald J. Trump
---
Here in the UK, media outlets have led with one story over the last few weeks, that of the US election and the surprise victory of Donald Trump. Pollsters were left flummoxed as their insights, research and predictions came to nothing.
For the third time in the last 18 months, after a Conservative win in the 2015 General Election and Brexit this June, these so called experts, again got it wrong.
It's fair to say that the rhetoric spouted by the Trump campaign was pretty one sided, a vision of a single, great nation that would in turn marginalise so many. There was talk of walls, talk of religious groups, talk of FBI inquiries and locker room talk, yet nothing seemed to derail 'the Donald' when it came to his run for presidency. You often hear the term 'The Teflon Don' when talking about gangsters to which nothing sticks, and it's no surprise this term has made it into so many headlines over the last 14 days. In truth his team gave a marketing masterclass.
It seems scarcely believable that the so called leader of the free world is a man who marketed himself as the leader of so few. In the wake of the latest election, which saw billionaire property mogul, confirmed as the 45th President (elect) of the United States, we thought we'd look at the marketing strategies that got him there and the moves that made the difference when it came to Election Day and the results below.
---

Source:statisticbrain.com
---
In the marketing world there are a thousand different factors to making a campaign successful, but in truth Trump harnessed just a few, and they're the few that matter.
Audience
Knowing your audience is vital when it comes to marketing and in the case of an election the audience is in essence already set out for the candidates. The audience for the 2016 US election was the 218m voters who were eligible to cast a ballot. They were the members of the public with US citizenship, who were of voting age, either residing in the US, or abroad.
The way the elections take place 'across the pond', simply winning the popular vote isn't enough. Candidates have to win 270 of the 538 Electoral College seats. These seats are split across the 50 states plus Washington D.C, and are allocated to each state based on the number of voters in the state. If a candidate wins  California, the state with the largest number of Electoral College votes (55), they add them all to their tally in just the same way the candidate winning North Dakota and Montana would take the full 3 votes for each of those states.
This is where dividing and targeting the votes gets complicated. There are 'safe seats' and swing seats' in the US. Safe seats are the ones with a large enough margin – based on polls and previous elections to remain with the incumbent party. The swing seats are the areas of the country where the voters are more likely to change and the Electoral College votes are therefore 'up for grabs'.
Each campaign targeted the states that were either too close to call or were leaning towards either the Democrats (Clinton) or the Republicans (Trump). By spending time and money in these areas a positive result was more likely.
This is the prime example of getting your audience right, knowing who to target and when to target them. The candidates would look at their budget and run adverts and parts of the campaign at certain times in certain states.
So how does that relate to what we do?
Well we might not be able to make you president, but here at Click Consult we are confident that we can increase your online visibility and put you in a position to win over new customers and retain existing ones.
A targeted approach when it comes to selecting an audience is a must. Trump didn't go after the Black vote in the election and in fact only polled 8% in the final total for this demographic. He made this decision after his predecessor, Mitt Romney, only polled 6% four years earlier. It is well documented that the policies of the Republican Party are not as well received as those of the Democrats in this group and therefore it wasn't worth using excessive budget here. We understand this and that's why we help our clients manage their budgets and target those more likely to interact.
---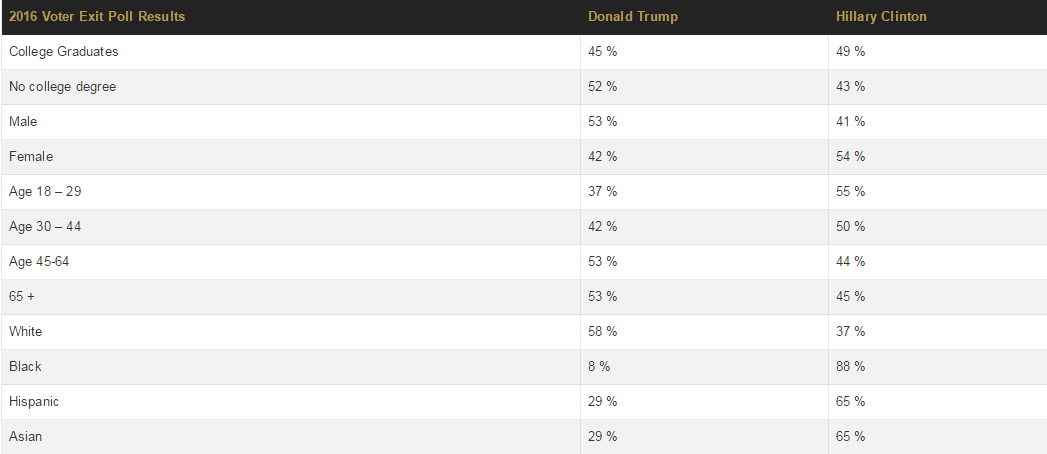 Source:statisticbrain.com
---
If the method of deciding the winner was based on the popular vote – the total number of votes cast for an individual – the result would have been very different with Hillary Clinton receiving around 1.7m (at the latest count) more than Trump.
As ever though, Trump was bullish and emphasised that he got his strategy right and his audience right by sending the following tweet:
---

---
In essence he was suggesting that he left those areas of the market that were too costly or time consuming to chase. He didn't target areas where victories would be difficult to come by. Trump and his team knew that marginal gains were the way forward and targeted state that could swing.
We follow this ethos and know how to manage a client's expectations. We've seen a lot over the years and can identify the best way for your business to make quick wins, increased market share and better ROI.
The importance of audience can't be underestimated and that's why here at Click Consult we dedicate our time getting to know you and your target market. Looking back at some of our previous case studies it's clear to see our success. We can put together a comprehensive keyword strategy to make sure your business ranks as high on the search engine results pages (SERPs) as possible.
We can target and engage with buyers through a paid search campaign, create great ads that convert leads into sales, communicate with potential customers based on set demographics through social media and improve your digital standing with colourful content and innovative design.
Branding
The branding side of the campaigns is one of the most interesting aspects as to why Trump tasted success and Clinton didn't. As the property mogul bellowed from his soapbox, 'MAKE AMERICA GREAT AGAIN' the public was captivated. It was a war-cry for the disgruntled, a warning for the fearful, a caution for the sceptical and a rally for the nostalgic.
---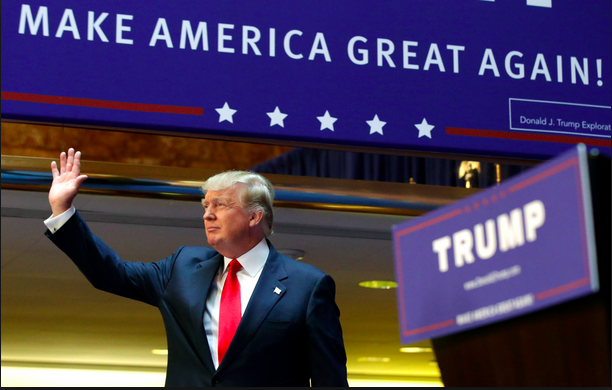 Source:odessey
---
There was a time when America was great, when industry was booming, when the national debt was down and when employment was high. The housing crisis hadn't hit and the stock markets were stable. It was a time when the likes of Trump thrived and a time when the 'average Joe' made their money, sold their ideas and chased their dreams.
The reality of this election was that it happened at a time when none of the aforementioned was true. It was in the 'Make America Great Again' slogan that voters began to believe in Trump and that was something that we looked in greater detail.
Trump gave a clear message, repeated it and repeated it again. Hillary didn't. When you think of all the great brands out there it's easy to remember their motto. This becomes the brand and is perhaps the reason many of you are still trying to remember what her slogan was. Officially there were three, 'Stronger Together', 'I'm With Her' and 'Love Trumps Hate. The campaign also used, 'Hillary for America' and 'Fighting for Us'. This caused confusion, and the mixed messages meant there was a lack of brand identity. In essence her campaign was targeting so many different audiences they diluted the meaning behind each.
---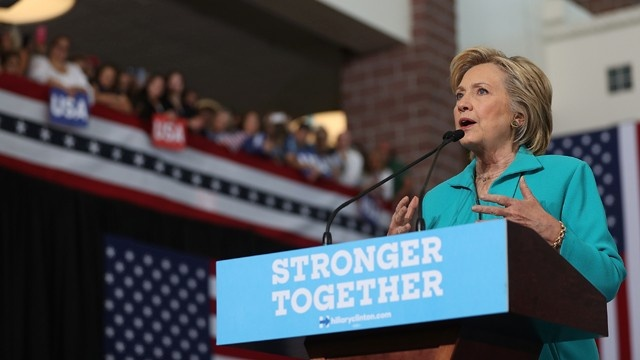 Source:denverpost
---
There is an area where we can help. We understand the importance of clarity and feel that by understanding your brand we can create bespoke campaigns that engage at every level, across all platforms and with the best returns.
Repetition
It goes without saying that one of the tactics that marketers use the most is repetition. After identifying the audience and the brand, the aim is to get your message out.
You can see from the quote at the start on this piece that Trump used repetition as a major part of his campaign. He made his pledge and drilled it into the mind-set of the waiting public. The emphasis on the word 'we' was vital. It suggested that by working together great things were possible. Indeed this is something that we believe in also.
We aren't fools here at Click Consult; we know that you know your business better than anyone. We also know that the awards our team have received suggests that we know ours. By working together we can highlight areas of importance and potential growth and together we can make your business great.
Social media
The 2008 U.S election was the first to be contested with any real social media presence thanks to the founding of Facebook (2004) and Twitter (2006) and whilst it was also an important part of the Barack Obama's 2012 campaign, 2016 was where its impact really kicked in. Indeed such was the reach and focus of both Trump and Hillary Clinton campaigns in the latest election, many are speculating that this was the area where in fact the election was won or lost.
As a Senator and former First Lady you could expect a large social following for Hillary, and she doesn't disappoint with over 11m Twitter followers and 9m likes on Facebook but in the 2016 election Trump was king. His near 16m Twitter followers and 15.2m Facebook likes are testament to that. The important thing when it comes to followers is that the number means nothing unless you get through to them and engage with them. Trump does this with aplomb and is probably the reason he once referred to himself as 'the Ernest Hemingway of 140 characters.'
Indeed he also won praise for his social media prowess from an unlikely source when Dan Pfeiffer, Obama's highly-regarded former digital and social media expert, was quoted as saying that Trump is "way better at the internet than anyone else in the GOP which is partly why he is winning."
---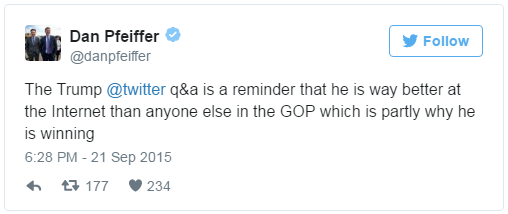 ---
For all of the good that comes with social media there is an argument that it in fact only echoes the thoughts of your current interests. Users seem to follow people or businesses that are tailored to their demographics, especially age, race, social class and location. This often means that the information that voters are subjected too is in line with their current political leanings.  We have learnt from this and are well positioned to instruct and advise clients on best social media practices. The research that we conduct can open up new routes to market and highlight new audiences.
Following this, our campaigns team, harness all of their creativity to ensure that everything in your workflow connects your brand to your audience in the correct tone and at the right time.
Budget
Budgets for the advertising side of a political campaign have swelled over the last few elections and in fact the amount of money being raised and spent during the run up to the final nominees being selected is also on the rise. Looking at the spending by both parties on the 2016 campaign is frightening. Trump raised in excess of $795m whilst the Clinton campaign raised an eye-watering $1.3bn. Once the money had been counted the next problem was how and where to spend it in order to get the most exposure.
When it came to the allocation of budget, those at the head of the campaign looked at every possible strategy to identify the areas, states and demographic groups to target. They knew that by putting their resources in the right places they would have the best chance of hitting their targets.
They also understood that each individual part of the election campaign was important and if they could pull them all together then success was more likely. Here at Click Consult we feel the same. We understand that there are multiple components in the overall strategy of a business and our team of dedicated paid search professionals are here to advise you.
Working with you to determine a budget and then offering a comprehensive plan of action, we are confident that we can not only hit your targets but exceed them. Over the years we have worked with a huge range of clients with differing budgets, and we know what it takes to make a project successful. We understand the importance of having a dedicated account manager to guide you through the process and know that the research that we undertake will highlight shortcomings from a paid search prospective.
Creating controversy
It seems strange to write that creating controversy might actually be a marketing strategy but in truth this is an area of the campaign that Trump excelled in. Those working in PR often say that 'there's no such thing as bad publicity' and in the case of Trump, he proved this with aplomb. At almost every opportunity in the campaign Trump provided the waiting press with a golden soundbite. The coverage that his comments received is unprecedented and there has now been a value attributed this.
According to Borrell Associates who work as data analysts and watchdogs for the advertising industry, the disparity in terms of the value of 'free' advertising, generated between the candidates was huge. According to their latest set of data, for every dollar that the Trump campaign spent they received $189.80 in free media coverage. In the case of the Clinton campaign however there was only a return of $26.60 per dollar spent. This difference of $163.20 per dollar spent, represents a huge amount of publicity and in truth may well have been one of the key factors.
This is one of the areas we would definitely encourage our clients to stay clear of but should you encounter problems we have just the solution. If penalties are placed against your site, no matter what the reason, we are here for you. Our in house organic search team have a wealth of experience at removing and repairing backlinks. They also know the best practices for improving search visibility and rebuilding brand identity through our bespoke, reputation management practices.
Final thoughts
In an age of marketing where we are forever looking forward and trying to stay one step ahead of the curve, Trumps victory actually points to days gone by. It was a win for the traditionalists, where having both a brand and the right channel to push was vital.
Traditional is good. "If it ain't broke don't fix it" and we know that. They key is to take the traditional methods and implement them in the digital age. We can learn a lot from the Trump campaign, about how they chose to go after quick wins and where small margins can make a big difference. We unite as individual teams here at Click Consult to form the whole and each area of our expertise can be utilised to ensure that your business become great or great again.
---
Click Consult is proud of its strategic approach to search and believes that pushing the boundaries of best practice forward is an important part of what makes it an award winning search marketing agency. To find out what Click Consult can do for your brand, contact us today; or for actionable industry insights, check our blog or resource pages.