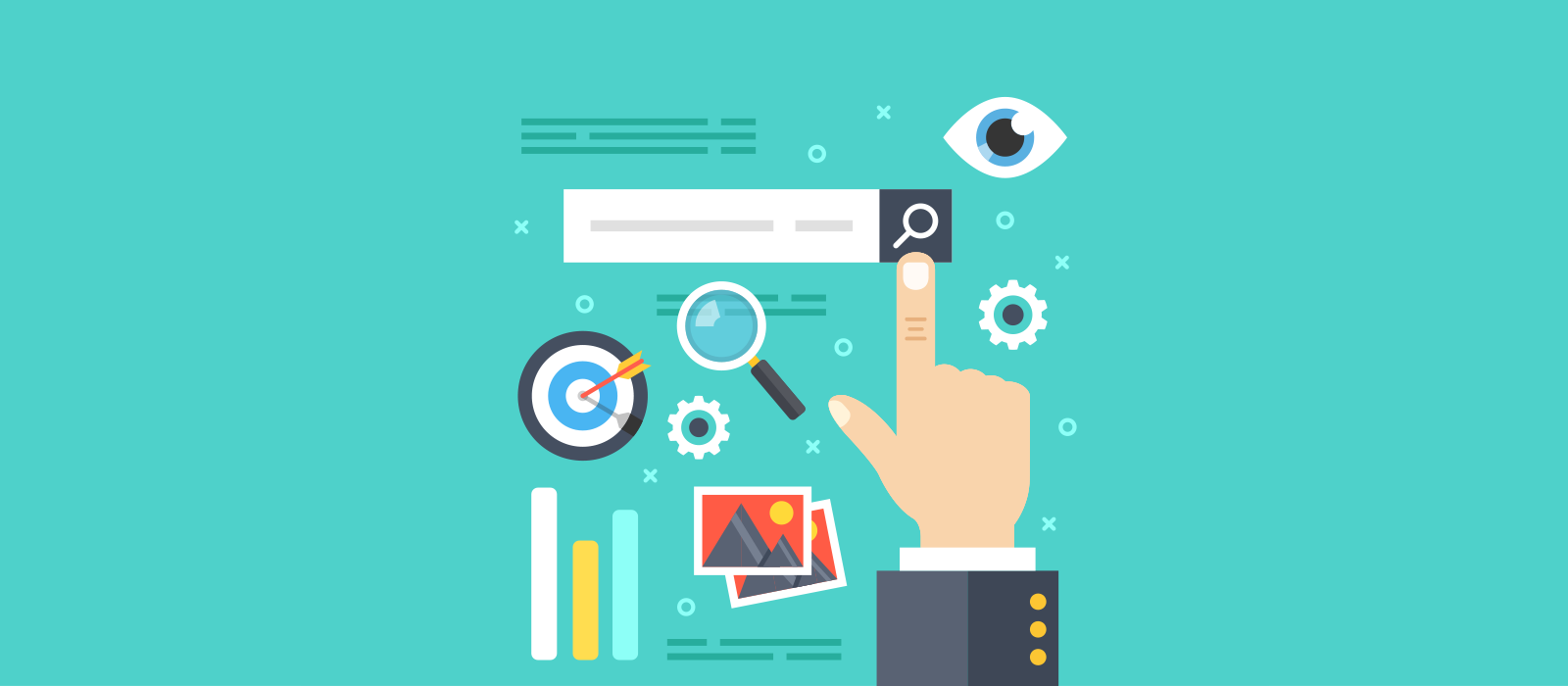 This month in search [June 2022]
Jun 21st, 2022
May was quite the month for updates – even in a few successive years of turbulent algorithm activity, and some of that has spilled into June. Here we'll be running through the top search and digital marketing stories from the month ahead
---
Friday 16th June
Advertiser identity
Required by Google in certain verticals, advertiser identity will now be required in a similar way by Microsoft Advertising. Honestly, the main surprise is that it isn't required across verticals for all advertising, but I suppose baby steps and all that.
::laughing smiley::
LinkedIn has caved to user demand and is now allowing people to express amusement at a post on the professional platform in a move that will no doubt cause apoplexy in the section of users employed (they surely wouldn't have the time otherwise) to tell people that it's not Facebook.
Thursday 16th June
Coupons in search
This is a nice feature from Bing. Reported on SE Roundtable is the addition of coupons in organic search results. As someone who is innately awful at shopping, this is the kind of thing that would make me consider 'Binging' a shopping query.
Wednesday 15th June
Goodbye Amber
Search Console has moved to a simple pass/fail for its error reports, doing away with the 'valid with errors' category. These problem URLs are still easily discoverable, but the new report style will – Google says – allow for better prioritisation of workflows. See the below comparison from the announcement: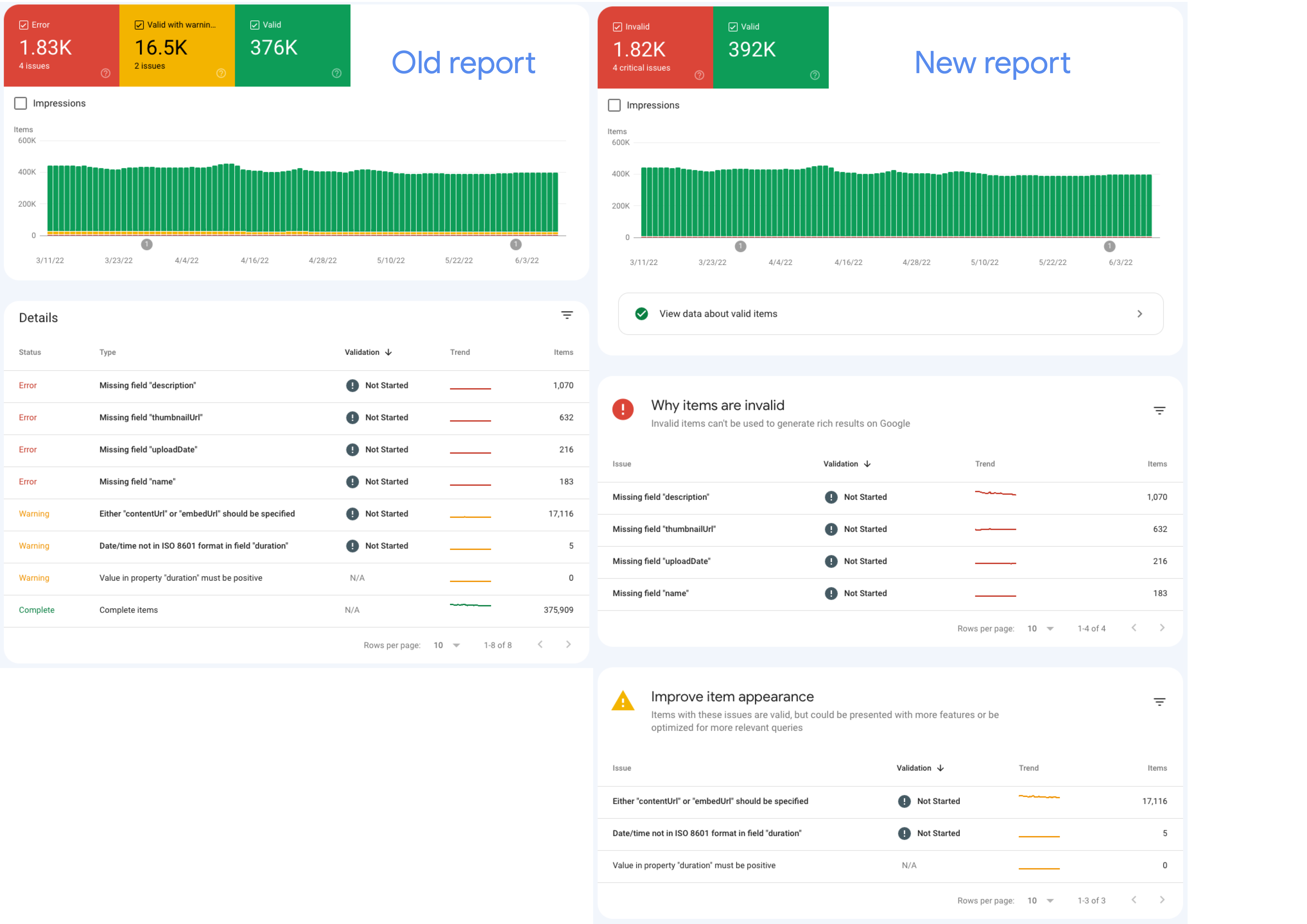 Discrepancies between Search Console and Analytics data explained
Honestly, this may be the blog from this year that will save me the most time in future. In fact, it's a blog I've written a number of times without even realising – in replies to queries from clients and colleagues. Despite that, I've never realised that this was something I needed to publish – thankfully Search Engine Journal's Roger Montii has done it for us all. Thank you.
Just go already
Facebook will be prioritising its feed around video content, apparently. This latest change will be in an effort to push Reels, develop a recommendation engine and facilitate sharing through messages, according to the internal memo seen by The Verge and reported above by SE Journal. Honestly, it just feels like the latest in a long line of attempts to capture the zeitgeist from a new platform (that it can't just buy) and move away from what it does best – which is allow boomers to share far right propaganda.
Tuesday 14th June
Web3
Digiday features a story on media agency adoption of Web3 which features among its opening paragraphs:
As the elements that encompass Web3 — the metaverse, NFTs, blockchain, crypto, gaming and DAOs — wend their way into the marketing universe, media agencies are taking heed and learning their makeup and potential as quickly as possible, but without rushing too fast.
Which is an odd sentence to read during huge crypto turmoil and following the death of Luna.
I've made my general cynicism and scepticism around crypto, NFTs and DAOs clear in the past – it's a pyramid scheme (don't let that stop you buying the dip if you're so inclined, we haven't seen the last bitcoin boom, though we also definitely haven't seen the last crash).
Nevertheless, it's interesting to see how huge media agencies like Publicis are so tentative in their exposure to Web3 despite the huge optimism of executives like the Publicis investment lead quoted in the piece:
"We do very much believe this is the first inning of a nine-inning game," said Cohen. "Over time, blockchain technology will have an impact on almost all businesses — [but] it will not happen overnight. Our focus in Web3 has really been foundational at the core thinking about the infrastructure required to operate within essentially an entirely new economy."
It's a weird time at the minute – and it's only going to get weirder.
Structured Data for Shopify
Another 'not really a news story' story – this time from Go Fish and a guide to the best structured data for Shopify stores. Excellent piece.
Mozilla Cookie Jar
Search Engine Land features an article on the latest privacy offering from Mozilla Firefox and it might be the thing that overcomes my own inaction. Whenever I set up a new computer for anyone, I install Firefox as the custom browser and set DuckDuckGo as the search engine, but I use Chrome at home due to the number of plugins I use for various SEO related tasks and, because I'm a deeply lazy man, I never bother to add a secondary browser for my own use. This has me planning to spend ten minutes on it at some point soon. The announcement reads:
Total Cookie Protection works by creating a separate "cookie jar" for each website you visit. Instead of allowing trackers to link up your behavior on multiple sites, they just get to see behavior on individual sites. Any time a website, or third-party content embedded in a website, deposits a cookie in your browser, that cookie is confined to the cookie jar assigned to only that website.

This approach strikes the balance between eliminating the worst privacy properties of third-party cookies – in particular the ability to track you – and allowing those cookies to fulfill their less invasive use cases (e.g. to provide accurate analytics).

With Total Cookie Protection in Firefox, people can enjoy better privacy and have the great browsing experience they've come to expect.
Monday 13th June
LaMDA
A Google engineer, suspended for a confidentiality breech, has apparently claimed that the LaMDA machine learning algorithm has reached the point of sentience (a claim which has been denied by a Google spokesperson).
Our team, including ethicists and technologists, has reviewed Blake's concerns per our AI principles and have informed him that the evidence does not support his claims. He was told that there was no evidence that LaMDA was sentient (and lots of evidence against it).
There's a transcript of the conversations that apparently convinced him here. There's no doubting that it's impressive and that we're heading toward an uncanny valley moment here, but – for me at least – it's a good trick rather than actual sentience. Although the fable that LaMDA tells is far too 'Saviour Machine' for my liking.
May 2022 core update
It might not actually have been done. According to SE Roundtable, there have been major rumblings following its official conclusion. Very much summed up by Glenn Gabe's tweet featured in the article.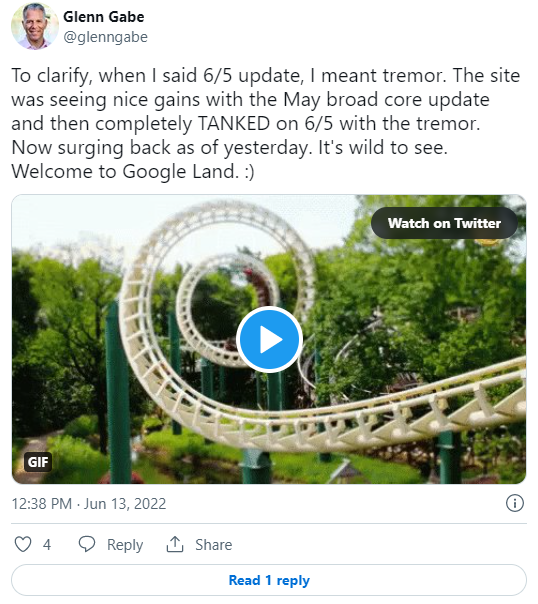 Rival Ads on YouTube?
Reuters is featuring a story on Google's offer to allow rival ad platforms to place ads on YouTube as part of its response to a European Commission probe. What isn't in the article, and is sheer speculation on my behalf, is the fact that this is possibly the first real opening up of a propriety Google platform – and what that might mean for other technologies that provide an unfair advantage to the tech giant. I've mentioned on this blog previously that this might be the future for FLoC (or whatever they call its replacement), Google's answer to cookieless ad personalisation. Clearly this will provide them with an unfair advantage over smaller platforms – could that lead to an open-sourcing of the solution?
Friday 10th June
May 2022 core update
Google Ads API version 11
Latest version of the Google Ads API has been announced on the Google Developer blog. You can watch a video on the subject below:
---
---
Five years
The marvellous Fahim Choudhary has been at Click for five years (a little more if you count the first go around) – and we're grateful to have him. You can get to know him a little better here.
Thursday 9th June
May 2022 core update
Wednesday 8th June
May 2022 core update
It's taking a bit of time, this one. As ever, Mr. Barry Schwartz has the details – this one, again, on Search Engine Roundtable. Google, as ever, has been less than helpful (I covered some possible reasons for that just over three years ago). They have stated that there will be periodic refreshes of this particular update, however, and that they may not tell us when.
JavaScript optimisation for speed
Not news per se, but a good blog from the team at OnCrawl on some simple techniques to improve the performance of your site's JavaScript.
Tuesday 7th June
Ahrefs search engine
Search Engine Land is covering the beta release of Yep, Ahrefs new search engine, which has apparently set them back the tidy sum of $60 Mn. I had a quick muck about with it, and it's very much in its infancy, but it's always good to see something trying to take on Google.
Contextual advertising
This is something I've been talking about since the announcement of cookiegeddon, but there's an article on Digiday (albeit sponsored content from a company offering it as a service) covering contextual advertising in a little more detail than I've gone into previously. Despite the potential usefulness of federated learning of cohorts (FLoC), I think a contextual approach will likely be a big winner in the coming years.
New Google Ads Travel Features
Search Engine Roundtable talks about the new features Google has added to their offering for hoteliers – including the ability to add hotel rates to Google Business Profile, and new Performance Max campaigns for 'travel goals'.
Monday 6th June
Automatically created assets beta
Search Engine Roundtable features an article on a Google Beta which provides 'automatically created assets' for ad campaigns. I'm not sure I'd trust this level of automation, but the help document does make some interesting claims.
Twitter acquisition hits the rocks
Musk, who decided to massively overpay for the social media platform – at least in part to fix its problem with bot accounts – has started to protest that bot accounts are a sufficient reason to reconsider the deal. The business genius' extremely public takeover efforts have so far knocked 12% off Twitter's stock price and 40% off Tesla's. Generous individuals may claim this to be an effort to reduce Tesla's stock price, which Musk has (also very publicly) stated was too high, but it seems to me like another in a long line of things that come under the general umbrella of 'stuff Musk has done because he's too online'.
Expanded text ads coming to an end
As we've covered elsewhere, Google is about to call time on expanded text ads. As of the 30th of June, responsive search ads will be the only search ad type that can be created. You can read more information on Search Engine Roundtable, or in our blog on the subject.
---
Need help keeping on top of the rapidly changing world of search and digital marketing? Why not contact us and speak to one of our experts today, and see what they can do for you?