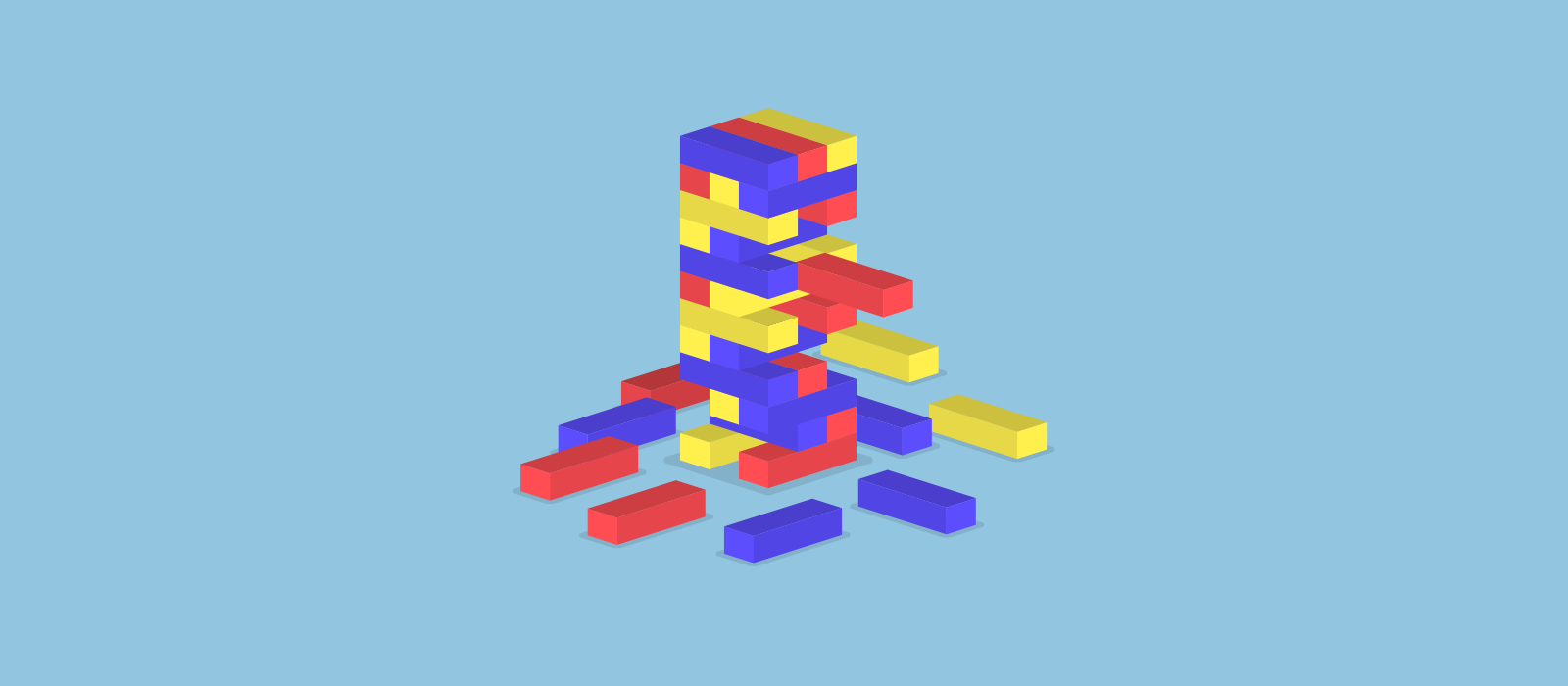 PPC 101: Keyword strategy
May 12th, 2016
Keyword strategy development for paid search is similar to that for organic search: the process of creating buyer personas, looking for gaps in the market, ranking for priority and searching for the golden ratio of high traffic, low competition
---
What is a paid search (PPC) keyword strategy?
PPC keyword strategies are multi faceted, taking in data mining and analysis, research and creative elements. However, the process can be reduced to four key elements of research and execution: creating buyer personas, looking for gaps in the market, ranking for priority and searching for the golden ratio of high traffic, low competition, and reading and catering for intent.
Based on the above, here are 4 steps to help you develop a winning keyword strategy for your AdWords campaigns.
Identify your audience
As with an organic keyword strategy, begin by creating buyer personas for whom you can identify levels of intent and types of queries that may typify these stages. The next step is to brainstorm words or terms around your goods and services. Put yourself in you customers' shoes and think about who, what and where they will be searching for when trying to connect with sites like yours.
Combine this with information from your Analytics account to see what consumers are searching for on your site or to check anchor text for inbound links.
Refine your list
Now that you've built up a list of words, try using a concatenation tool, such as Merge, to create a list of long tail search terms you can then proceed to refine.
After removing non-applicable terms, you can refine the list using a keyword research tool to check for traffic, for example, using Google's Keyword Planner – enter your URL and your industry and it will show you suggestions with search volumes. Other useful sites are Keyword Tool, Soovle and UberSuggest.
This process of refinement is about finding those areas which are best suited to your brand's financial and market position. By narrowing down your list by those terms with the highest traffic and a recommended bid which is within your comfort zone, you can reduce your list to terms you know you can successfully compete for, that have sufficient traffic to drive conversions and which are representative of your brand.
Once you have these lists, you can then segment them by the level of purchase intent they demonstrate: more specific searches often demonstrate that a searcher is much closer to making a decision to buy, as demonstrated in our spiral diagram below. For example, a 'buy white adidas trainers' search is much closer to conversion than simply 'white trainers'.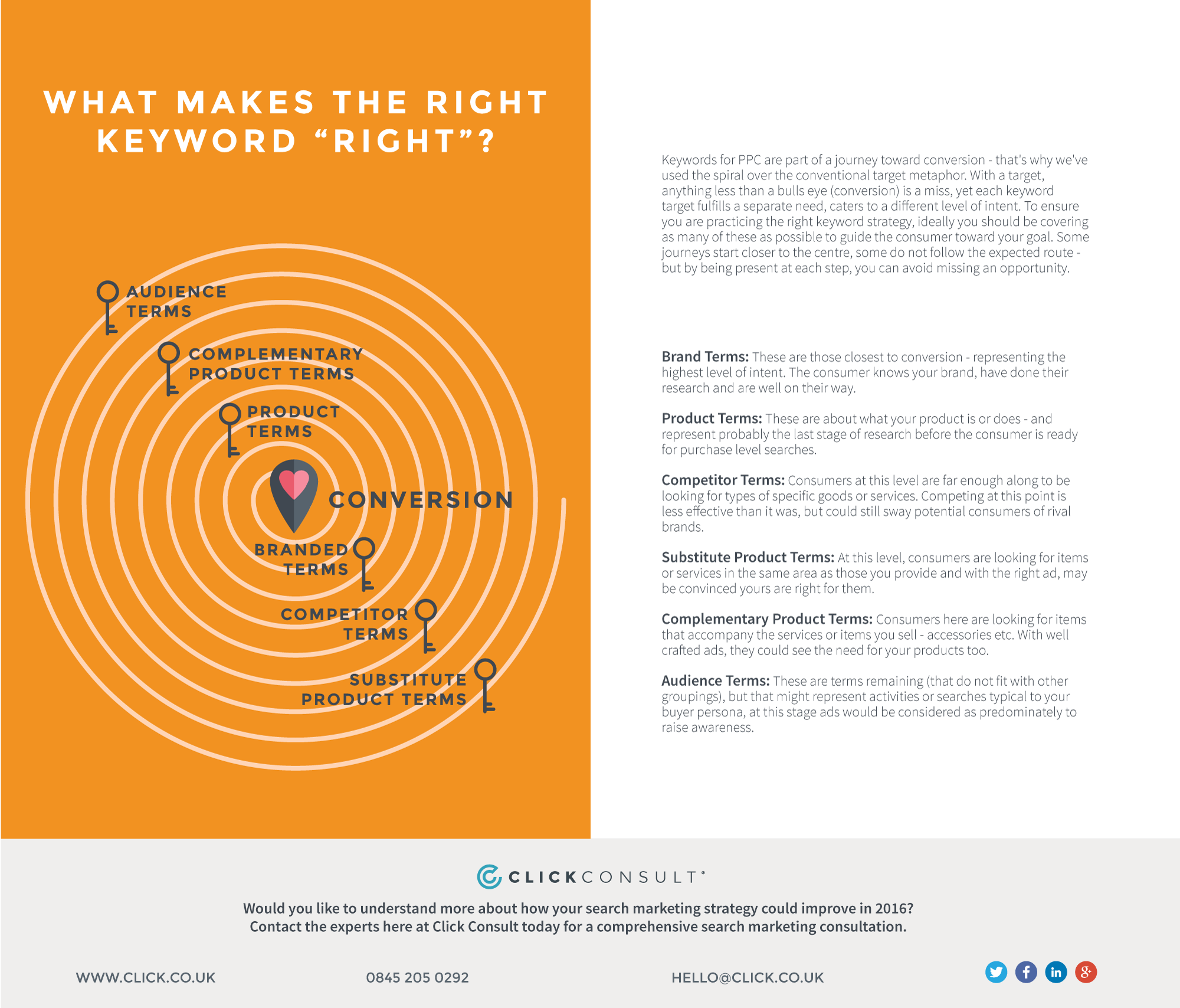 Group your keywords
Next, you'll need to group these under common themes to form your campaigns in Google AdWords. Google recommends 5 to 20 keywords per ad group, and each ad group should contain keywords that directly relate to the group's theme. These ad groups will form your specific matches with keywords of these five main types:
Broad match
Broad match keywords will "include misspellings, synonyms, related searches and other relevant variations". These more generic terms are useful to ensure a higher number of impressions and a greater flow of traffic, but are the least effective at targeting.
Broad match modified
Broad match modified keywords will "contain the modified term (or close variations, but not synonyms), in any order". Your ad will show only when someone's search contains the words within your keyword, or close variations of the words (close variations can include synonyms, abbreviations and misspellings).
Phrase match
Phrase match keywords "are a phrase, and close variations of that phrase". Your ad will show only when someone searches for a term that contains the keyword within the phrase, with or without additional words before or after it, as well as close variations.
Exact match
Exact match keywords include "exact term and close variations of that exact term". These keywords give you specific control of which search terms you want to match, which helps with budgeting and results in high relevancy.

Review performance & tweak as necessary
Through careful and consistent review, you will begin to identify more keywords for which to compete and more you should exclude ('negative' keywords'). Ensure keyword research is a key and regular part of your PPC account management time.
You can develop your campaigns using AdWords' search query report (SQR) tool. The SQR allows you to research what queries are connecting to your current keywords and allows you to refine your targeting and identify opportunities that you are currently missing. Improving relevancy is one part of improving Ad Rank and Quality Score, which can boost your click-through-rate and save you money in bids.
---
Want to learn more about PPC?
Download our Simple Guide to Paid Search (PPC), a jargon-busting intro to how paid search can help you achieve your business goals.