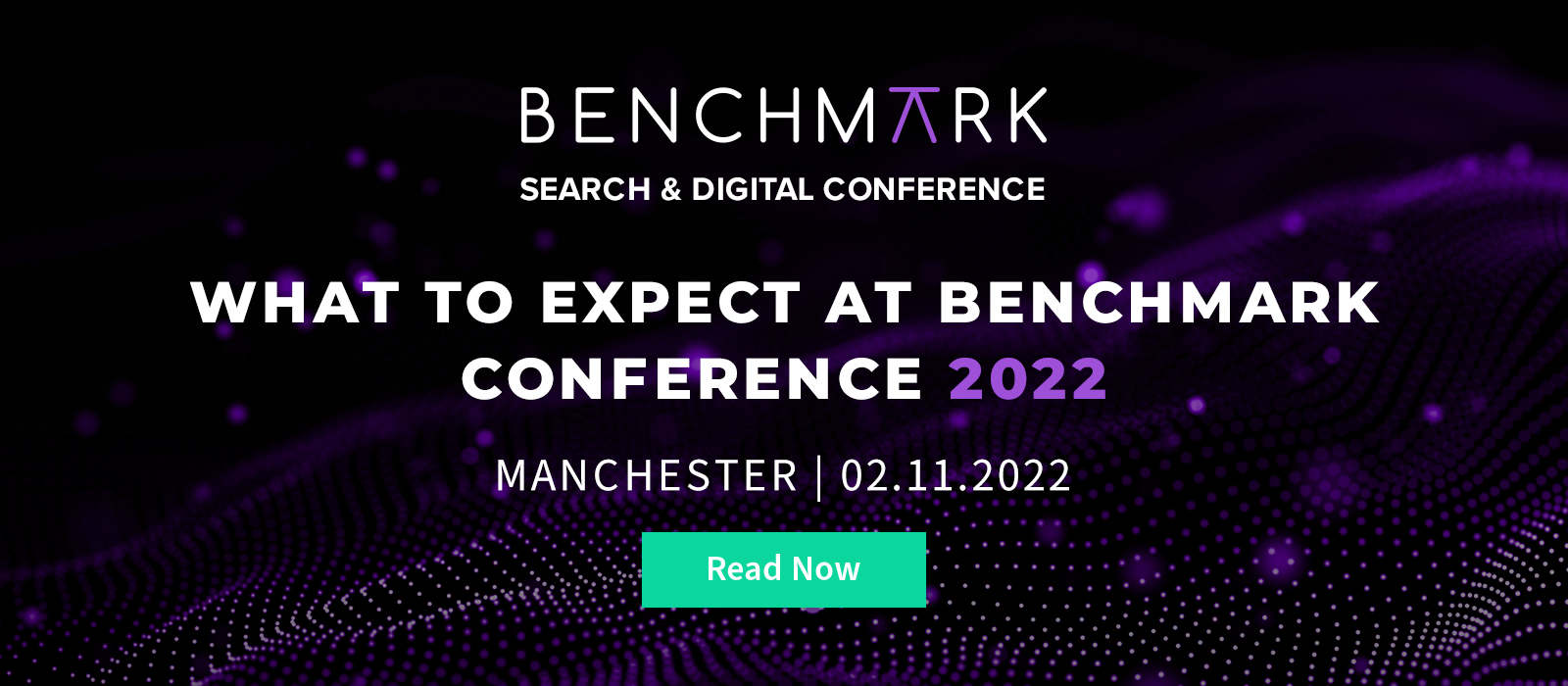 What to expect at Benchmark Conference 2022
Oct 25th, 2022
The 6th annual Benchmark Search and Digital Marketing Conference is just around the corner on Wednesday 2nd November, taking place at Manchester's Science & Industry Museum. With a week left to go, here's everything you can expect to see at this year's conference.
Following the last Benchmark Conference in 2019, the anticipated search and digital event is back with a bang – and with lots of core industry changes taking place, it's not one to be missed. Originally intended to take place in September, the change in schedule has meant that there have been some slight changes in the day's agenda – so make sure you check out the Benchmark programme for the full day's running order.
The team have been working extra hard behind the scenes to bring you world-class industry speakers at the top of their game. The new Benchmark date has meant we've been able to take advantage of the knowledge of new updates to search through events like Search On 22 to inform this year's Benchmark conference – so you can be sure you're getting the latest news and updates, as well as thought leadership pieces provided free of charge to all of our delegates.
Delegates will also be able to take advantage of the interactive panel session, where the floor will be opened up for discussion and provides a prime opportunity to ask the questions that matter most to your company, and how you can apply key methods into your own marketing strategy. This year's panel sessions will discuss, "The Future of Search & Digital Marketing: Predictions for 2023 and Beyond."
The Talks
This year's talks are brought to you by some of the biggest search marketing innovators who have firmly stamped their mark on the industry. You'll find out how they became top level industry experts and how they remain at the top of their game; as well as their thoughts and opinions on some of Google's most talked about updates (including the Helpful Content Update, GA4, and much more).
From thought processes, strategies, and techniques; our speakers are best placed to share with delegates the methods in which you can make your own impact in the world of search by taking your marketing game to the next level.
Benchmark has established a reputation for attracting the best search marketing thinkers and speakers from a diverse range of global brands, covering subjects across SEO, PPC, content marketing and social media. Take a look at what some of our previous delegates have said about Benchmark:
Great event again, getting better and better each year #benchmarkconf2018 @ClickConsultLtd thanks for having me! pic.twitter.com/nqSPRnZg9y

— James Rowland – CIM Marketer of the Year 2020 (@JamesRowlandSEO) September 5, 2018
A brilliant day with the SEO experts at #BenchmarkConf2018 – everything from AI in #ContentMarketing to search planning to disaster management. To-do list now includes checking out opportunities in voice search. Think I'll ask Alexa!

— Geoff Noake (@AdPlace) September 5, 2018
We're looking forward to welcoming all of our delegates to the 6th Benchmark Search and Digital Conference. There's still time to apply for your Benchmark Conference ticket, register your interest today.
Our marketing team attended Benchmark the other week and we all came away with some interesting insights!
Delegate
Gumpo
Excellent conference, well done all.
Brilliant talk by Giulia Panozzo about causal impact and understanding the impact of SEO changes
Petra Kis-Herczegh
Yext