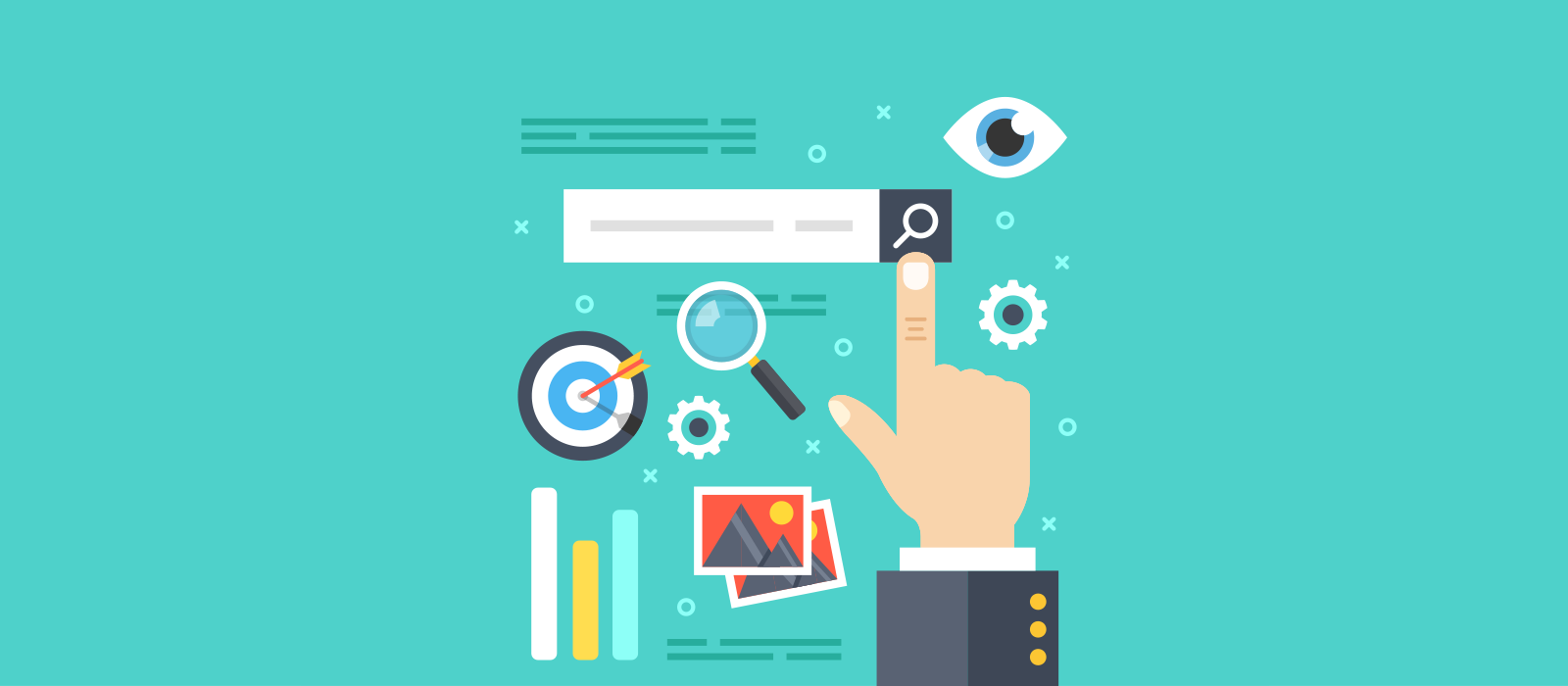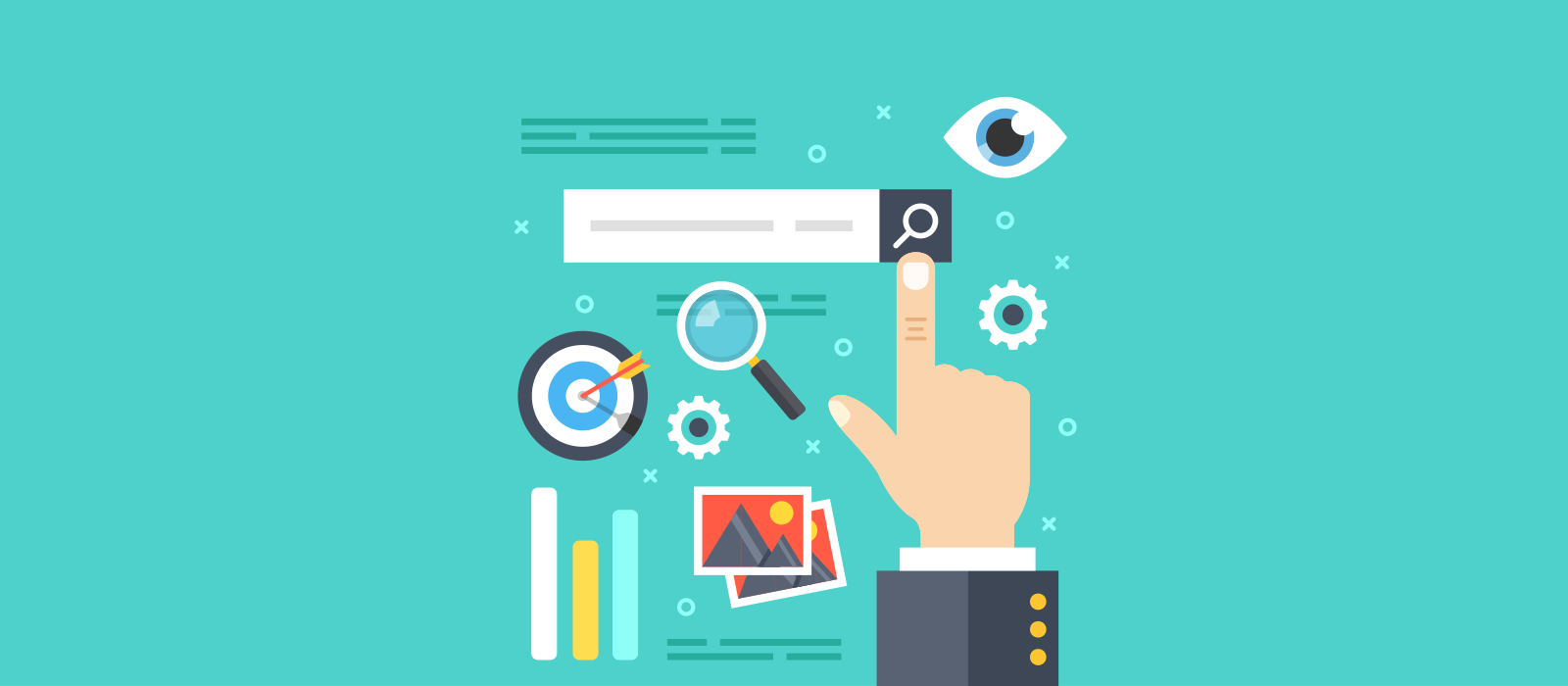 That year in search marketing [2016]
Jan 6th, 2017
In order to make everything a little easier to access, we're combining our weekly (sometimes weekly) search news blogs in to annual reports – here's 2016
---
September
With temperatures reaching a balmy 108 degrees on Thursday and 90 on Friday (the hottest for some time) on the Mozcast site, the minds of many SEO professionals began to scan back through the year for any indication of what might be afoot, naturally landing on the long awaited Penguin 4.0 iteration. Initially, with several sources reporting dramatic variability in SERPs positions, some rankings appeared to back up the theory, but with the Labor Day public holiday falling on Monday 7th, there was little to do but speculate until the US returned to work on Tuesday and we could get an official response.
---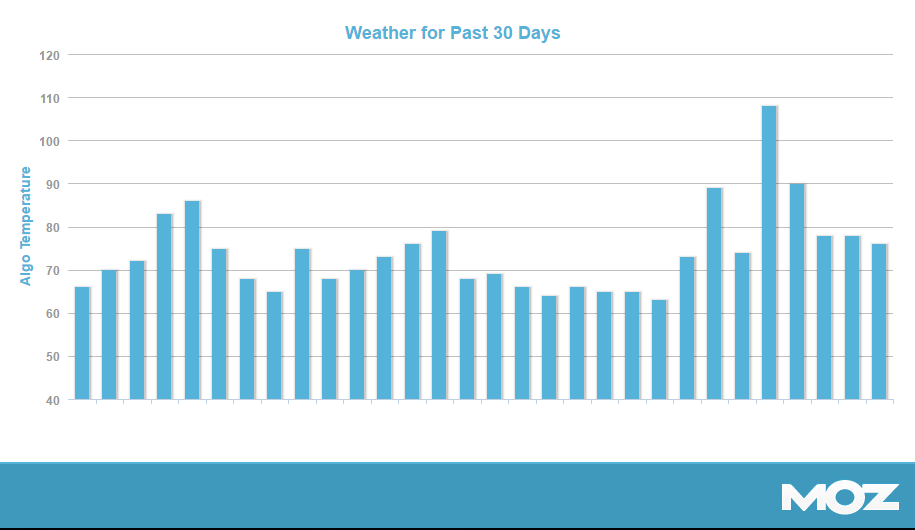 ---
This response came late last night in an official Google Webmaster Hangout. During the conversation, John Mueller – familiarly polite and non-committal – answered that we could scratch Penguin off our list of potential candidates for the visible fluctuations experienced over the weekend.
---
@glenngabe @pedrodias @rustybrick We'll call it "Eddies in the space-time continuum"?

— John Mueller (@JohnMu) September 6, 2016
---
Despite this piece of information, however, Google has not formally confirmed anything at this stage, leaving people to continue guessing as to the factors behind the data trends. What we do know for certain is that Google has been making a lot of changes to the way in which Google local results are displayed and their positions calculated – with spammy results clamped down on recently.
---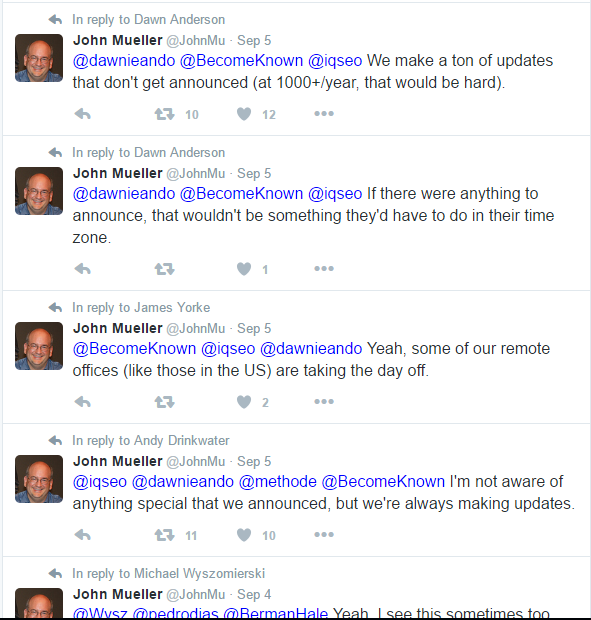 ---
The consistent denial that the update is part of any named algorithm change or announced update and that it is instead just one among the 1000+ unnamed updates Google perform every year seems to indicate that it is simply continuation of ongoing improvements to local results – though whether it has been a quality update or an update to the local algorithm remains to be seen.
---
Here at Click Consult, we've monitored the situation closely, with additional SEO health checks undertaken for all of our clients, across the many client accounts we manage, monitor and maintain, though there have been fluctuations, they have been within the margins attributable to the regular daily fluctuations visible every month – and nowhere near, thankfully, the drops reported elsewhere over the weekend – with several clients seeing greater than predicted improvements. We will continue to monitor the situation as it unfolds, but are confident for the moment that – as ever – most sites adhering to best practice will not be negatively affected and that while work is ongoing on local SERPs results, fluctuations should be expected but not overly worried about.
For now, though, we'll leave you with John Mueller's latest Webmaster Hangout:
---
---
October
Penguin 4.0 – One month on
With such a high volume of search relating to what's listed on Google, it's no surprise that any updates at their end can change strategies and spark mass panic amongst industry experts. When the Penguin 4.0 update launched in late September, many in the industry were intrigued as to how it would affect their clients' online presence. One month on and it's fair to say that many in the industry are full of praise for the version. Penguin 4.0 took longer than most updates and there was a gentle buzz around the industry as to exactly when it would hit, (version 4.0 came nearly 2 years after the last update, Penguin 3.0).
The latest development is seen as both a welcome and more forgiving update, working in real time with pages and described by many as 'granular' in its approach. The early reports suggest that the update is targeting individual pages and not entire domains, giving a clearer picture as to where the 'bad' links lie.
Of course it's still early days for the algorithm and we'll continue to monitor the impact of Penguin 4.0 across the industry.
Rule changes to Google Privacy Policy
As search and web browsing habits evolve, so too, do advertising habits and search engine privacy laws. In the last few weeks Google has made one of their biggest changes relating to how adverts follow users. A change in the wording of their privacy policy means that the company can merge the data that they have from their 2007 acquisition of DoubleClick and that which they have gained from Gmail and other tools.
By putting the two pieces of data together they have essentially said that they 'may' be able to customise DoubleClick Ads to you name of other personal information, meaning a more targeted approach for advertisers. This policy and the new wording is part of the small print for all new Google accounts and existing users are given the option to 'opt out' in the revised terms.
Understanding why the development came to pass, a spokesperson for the search giant, Andrea Faville, told ProPublica that Google's change in privacy policy was an update to adjust to the "smartphone revolution".
Explaining the update she said: "We updated our ads system, and the associated user controls, to match the way people use Google today: across many different devices," whilst adding that the change "is 100% optional." If users do not opt-in to these changes, their Google experience will remain unchanged.
New features for Keyword Explorer
With clever, unique content, playing a vital role in how a page finds its ranking position the need for those working in SEO to come up with clear keyword strategies is imperative. Tools such as Keyword Explorer are worth their weight in gold and as such any improvements are welcomed by the industry. Over the last few weeks we have seen may updates to the tool and a recent blog by Rand Fishkin, highlighted the very best.
Writing on his blog for moz.com, he explained that the added benefits include:
Rank checking within the Keyword Explorer lists
Improved accuracy for keyword volume and coverage
Directly transfer keyword to campaigns
Each of these new features will benefit those working in search for different reasons. In a competitive marketplace where high frequency or very 'general' keywords are the target, the first tool will show if a particular word or phrase already ranks on the first page. This can give those in search the option of a 'quick-win' by allowing them to target some of the words that do not rank as highly. It can also reveal a lot about the climate in which a client operates.
The second change is one which is brought about with the 'marketer' in mind. By competing with Google AdWords, the team behind Keyword Explorer are confident that they can give you the most dynamic and trustworthy search data around.
The final change will also be music to the ears of those businesses working in search. As campaigns become a more popular way of allocating client budget, the ability to transfer keyword lists directly to a campaign can save a vast amount of 'man hours' and bring about the best results to drive positivity in SERPs.
November
Mobile internet usage surpasses desktop
In an age of ever improving connectivity and where time is one of the most important commodities that we have, it is no surprise that mobile internet usage continues to surge. According to statcounter.com, a leading global stats agency, October 2016 was the first time that the internet usage was greater on mobile devices than on desktop worldwide. This shift is one that has come about in a relatively short period of time – just seven years ago; back in October 2009 the percentage of internet usage that was conducted on desktop was nearly 100% and now finds itself at 48.7%.
---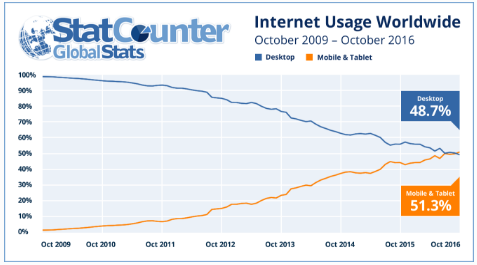 Image Source: StatCounter
---
So what does this mean for marketing? Well, it means that the powers that be – in terms of search rankings, will have to make allowances. According to Aodhan Cullen, CEO at StatCounter: "These findings should be a wake-up call, especially for small businesses, sole traders and professionals to make sure that their websites are mobile friendly. Many older websites are not."
In the UK, desktop browsing is still ahead with a 55.6% market share. This share is however shifting and the mobile usage data is accelerating to a position that reflects the worldwide stats, something that may be of more significance as the country moves towards Brexit.
---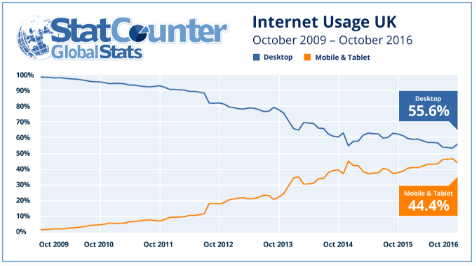 Image Source: StatCounter
---
Cullen continued: "Mobile compatibility is increasingly important not just because of growing traffic but because Google favours mobile friendly websites for its mobile search results.
"Post-Brexit, UK businesses should be aware that as they look to trade outside of the EU, that India for example has over 75% internet usage through mobile devices."
As Google continue to use mobile-friendliness as a ranking signal we need to ensure that we help and guise our clients on mobile optimisation.
Search ads generate 50% of digital revenue in 1st half of 2016
Following on from the news that mobile search has surpassed desktop search it is clear to see that this is one of the biggest factors when it comes to digital revenue. According to a survey by the International Advertising Bureau (IAB), overall search ad revenue represents 50% of all online sales, a 19% increase year on year and this trend looks set to continue.
---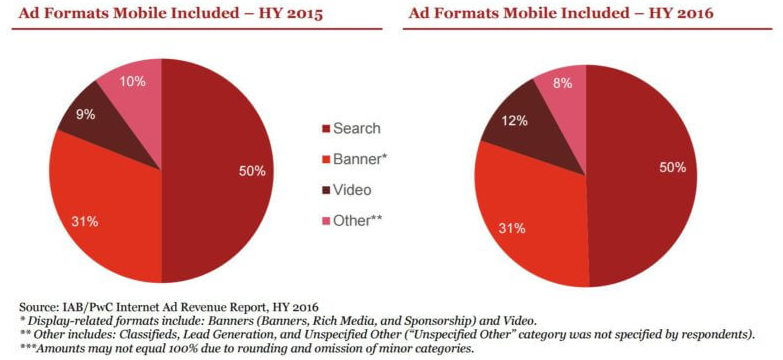 Image Source: Interactive Advertising Bureau
---
The report highlighted that 74% of desktop advertising is captured by the top 10 ad sellers and publishers, whilst the numbers are higher and these transactions occur on a smaller number of ad sellers, namely Google and Facebook. Looking at the areas in which consumers are buying from online ads, the top sectors in the first half of 2016 were:
-Retail
-Financial services
-Auto/motoring
-Telecoms
– Leisure and travel
-Packaged goods
-Electronics and computers
-Pharmaceuticals and healthcare
-Media
-Entertainment
It seems as though after the boom of smartphone sales, businesses are catching up with consumer needs and 2016 is the start of the real digital advertising boom.
News UK to roll out full scale content strategy
News UK, the owner of some of the most recognisable brands in British media, including the Sun, The Times and The Sunday Times, has vowed to become the largest producer of original content in the country.
The parent company has taken inspiration from many other news agencies and plans to not only utilise their large collection of data, but their vast number of staff and advancements in technology.
At present, there are thought to be around 7 million registered users across the titles and this enormous amount of data mean that the group can expect plenty of interaction and ultimately that they can produce an ever growing social media following. As we know here at Click Consult, original content is a must for the performance of brands and websites in SEO terms and utilising this 'data bank' and encouraging interaction, will go a long way to making this project a success.
Discussing the strategy, Ben Walmsley, digital commercial director at News UK said: "We have identified four main opportunities: video, mobile, branded content, and programmatic. We are making senior hires to bring expertise from outside of the business. All of this will be underpinned by a rich data catalogue, so brands can target our audiences but also discover their own audiences across our properties."
Whilst News UK's head of video Derek Brown commented: "We looked at BuzzFeed's Tasty and went: 'That's good, we should do that'. We want to tell more brands that we're making videos in that area. We are excited about next year, as publishing video is going to be big [for us]. Our ambition is to become the biggest producer of original content. And I believe we are quite far ahead of our competitors."
The project, if successful is sure to increase the brands online presence and improve its results in SERPs.
December
Google
Images in Sitelink extensions for ads
Google appears to be testing out the inclusion of image extensions in sitelinks (known as 'visual sitelinks') for mobile search, as well as a carousel format. No official announcement has been made about this by Google.
---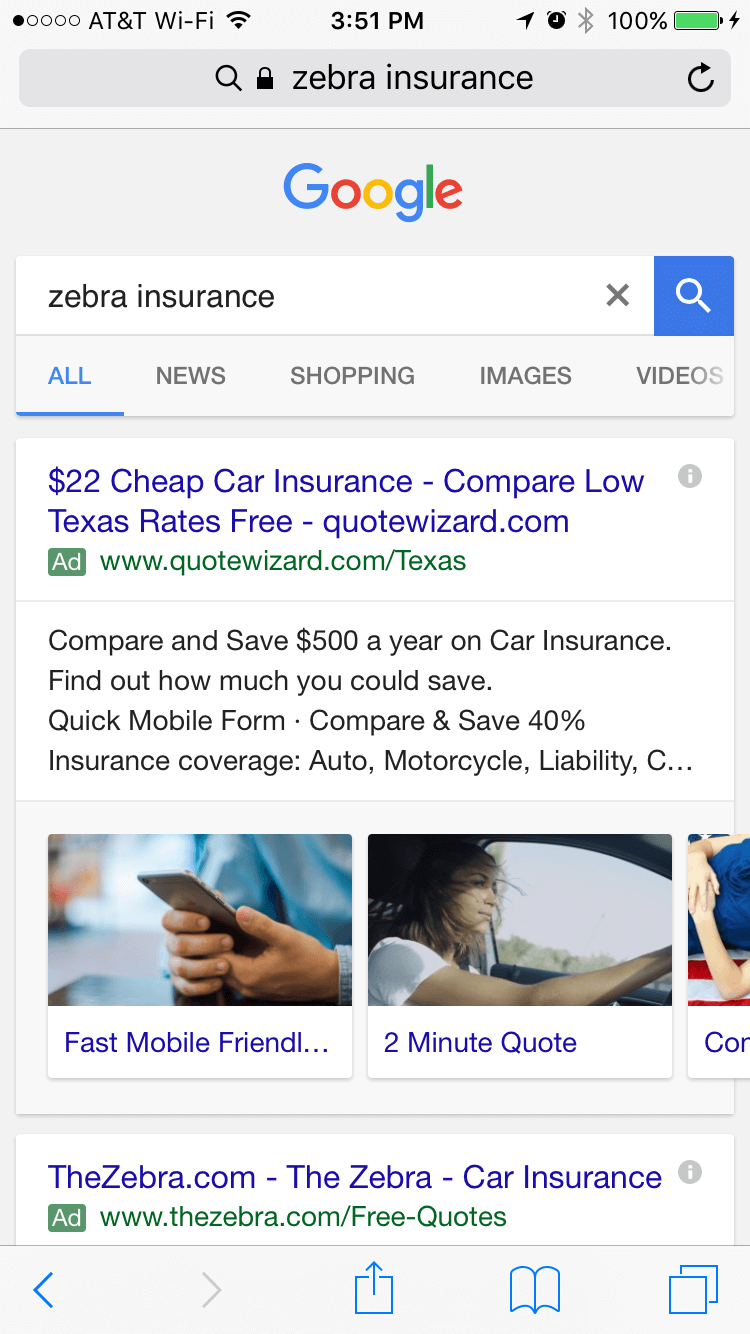 Visual sitelinks in mobile search results
---
Real-time chat from SERPs
Google is also testing a new Google My Business feature that allows people to message businesses directly from Google search results. The test is only available to selected businesses at the moment. Below is a screenshot provided by Google, which advises businesses that using the real-time chat feature means they need to be prepared to respond promptly to customers , as customers will see an average response time when they send a message.
---
Example of real-time chat feature
---
Goodbye to content keywords
The content keywords feature used to play a large role in monitoring Googlebot activity and was the only way to see what it found when it crawled your website. The feature had become obselete now that site owners have access to Google Analytics. Announcing the change, Google said:
---
The words on your pages, the keywords if you will, are still important for Google's (and your users') understanding of your pages. While our systems have gotten better, they can't read your mind: be clear about what your site is about, and what you'd like to be found for
---
New 'know before you go' feature
Since introducing the Popular Times feature last year, Google has begun to to show information including popular times, live visit information, and typical visit duration. This data appears below your regular business information on Search and Maps. The idea is to help customers decide when to visit your business and estimate how much time they'll spend there. The information is based on aggregated and anonymised data from users who have opted in to Google Location History.
---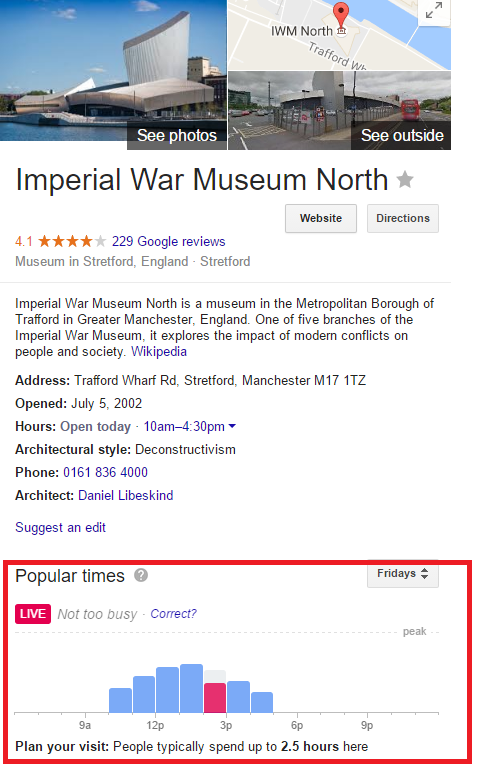 What 'know before you go' looks like' in the SERPs
---
AdWords improvements
As consumers increasingly turn to mobile as a "door-to-the-store", Google has launched new distance and location reports in AdWords to help marketers understand where their store visits come from.
First, new distance reporting shows store visits based on how far away people are from your store when they search. For example, if your store visit rate is highest within a mile of a store, you could apply targeting around that specific radius. You could then set higher bids for nearby consumers and show them specialised ads like "Get up to 50% off in-store with holiday doorbuster deals until noon!" Store visits distance reporting is available now for Search campaigns and will be rolling out to Shopping Campaigns soon.
Store visits performance is also coming soon to geographic and user locations reports. This will allow you to see which geographic areas are driving the most ad clicks that result in a store visit.
Pinterest
Pinterest has introduced a rotating showcase feature for business profiles, which allows brands to present a hand-picked selection of ideas at the top of their profile and help to "shape the story of their business". You can choose up to five boards to feature, and use it to highlight Buyable Pins.
---
To keep up with the latest in search marketing, sign up to receive updates from our blog – or contact us to see how we can help your brand.