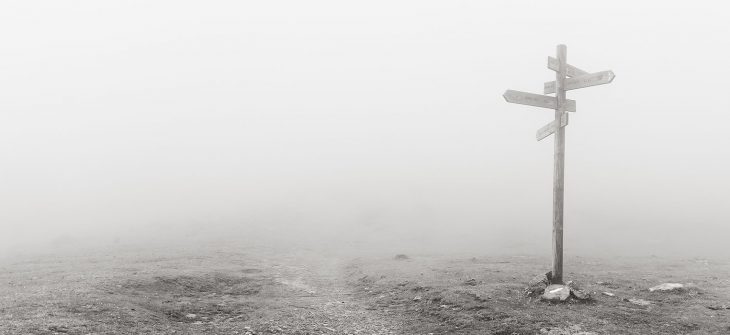 Search interrupted – how disruptive technologies are changing search marketing
There has seldom been a time since the early nineties when disruptive technologies were not causing waves for the business models of established brands, but are we entering an era where those disruptors are themselves now facing disruption?
---
There has been a trend since the dotcom bubble burst for successful digital and technology brands to diversify as they grow and, for a long time now, this diversification of the big brands (Google, Apple, Microsoft etc.) has led them to compete with established brands in new industries.
While by no means the norm, in some cases this has resulted in the young upstarts unseating some high profile names (Blackberry's share of the global smartphone market, for example, is now 0%).
But Google is now all grown up (at the ripe old age of 18) and Microsoft is probably old enough to be your dad (at the age of 42 – the age of the meaning of life). Both are so well entrenched in their core markets that it was worthy of comment when Microsoft's dropped below 90% market share in the OS market in May of 2016 – with some older versions of Windows actually having a greater market share than all 'other' OS competitors.
With this in mind, some economists have gone so far as to state publicly that the tech and digital markets naturally gravitate toward monopolies (though former chief economist for the Federal Trade Commission Dr F.M Sherer has put this down to failures in anti-trust legislation more than a peculiarly digital or tech problem).
To expect conditions to remain the same, however, seems historically naïve – the kind of thinking that led to NewsCorp purchasing MySpace for $580 million only to sell it again for $35 million six years later. Elon Musk has invested an awful lot of money in the construction of Gigafactory 1 – ostensibly to manufacture lithium ion batteries, yet a team led by 94 year old John Goodenough has been making announcements about a solid state sodium ion battery that could give Musk quite a headache in a few years' time.
One of the most bankable facts about technology and the world of digital is that it's virtually impossible to predict more than a few years ahead. Take the following chart from Business Insider:
---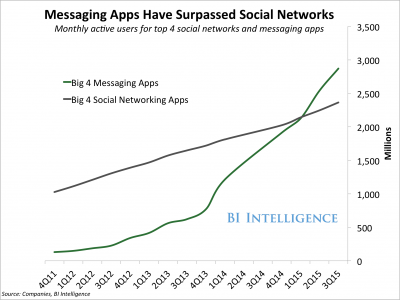 ---
It's a change that many marketing departments are only just coming to terms with, while some social media apps are beginning to look less and less secure (I'm sure Twitter has nothing to worry about really…)
Google, in a post titled Search in the Age of Assistance identified four trends which are changing search:
---
---
One of the most apparent and surprising things about these four is that Google, while present, is not a market leader in three out of four of the areas represented and its Google Assistant is really only ahead of others due to the success of the Android mobile OS. This means that, for the first time in a decade, Google may not be the brand that controls the direction of search – having been disrupted by WhatsApp, Amazon, and various other brands that are either newly minted or new to a specific sector.
This means that Google is going to need to change, and change fast – this can be seen in the escalation of algorithm tweaks and changes over the last couple of years, the release of the Pixel smartphone, the unexpected 'not-an-advert' advert on Google Home and the drive behind and investment in the 'DeepMind' project – Google's AI.
There is a definitive link between a lot of these decisions which is that Google seems to foresee a one device future for the 'Age of Assistance' and is throwing its considerable weight behind it. As Search Engine Land recently pointed out, AI is already shaping the way we search and how results are presented to us and, while basic, Siri, Cortana, Google Home and Alexa are AI's that we are already familiar with, while chatbots are dealing with more and more of our brand interaction online.
There is also the flack that Google has received in the press for its search results which, by recently becoming a financial issue, will have leapt up the list of priorities. All of these factors, however, while perhaps removing Google from the driving seat are not placing any other brand in its place – instead, the search industry is becoming a self-driving car with technological advances deciding the speed of change and consumer behaviour, the direction.
However, marketers are and reasonably so, retaining their faith in Google as the horse to back. Their longevity has been sustained by its ability to adapt to changes in consumer trends and to monetise their various endeavours and while the Beauty and the Beast non-advert may have been a misstep, there is no reason to imagine that this will not continue regardless of disruptive technologies.
Advances in and new technology are certainly changing the way we search and, therefore, the way that search marketing has to be conducted (expect a much larger weighting on position zero as voice search increases in prevalence, for example), but it is not – at least not yet – at a point where any foreseeable future does not involve Google as a major player.
As such it is now more important than ever for brands and agencies alike to prepare for the next few years of increased unpredictability, as they will need to ensure that they have what it takes to be agile with their strategies. While it is certainly possible to prepare for much of what lies ahead (another step toward the mobile focus may be months rather than weeks ahead, but it is nevertheless imminent), we are reaching a tipping point with a number of technologies as yet in their infancy and that is going to make for an interesting time ahead.
---
Click Consult have been leaders in the search marketing industry for more than a decade. To see how Click Consult can help your brand, contact us today – or check out our resources for more actionable advice.
Share this: