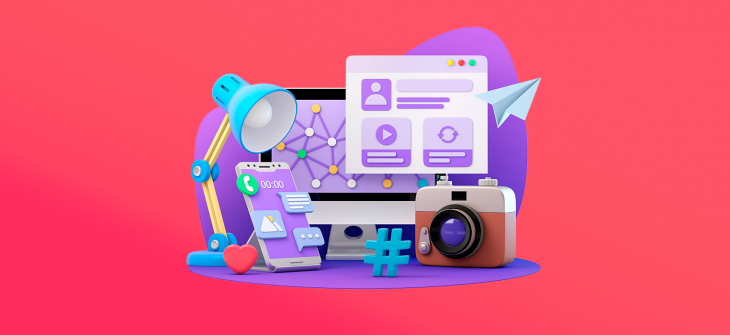 Our top five content marketing and digital PR trends for 2021
Despite the potential volatility of 2021, at the end of 2020 our experts put together predictions for the coming year in a single free resource, but here are some of the top trends our content and digital PR experts believe need a closer look
---
Especially popular with consumers as they are convenient and can be listened to anywhere from the gym to at your desk, a podcast can be anything your brand wants, whether or not it's related to your core service or products – and if it is, you can have special guests such as industry experts and even customers themselves.
Sophie Edwards – Head of Campaign Outreach
Underused by brands despite their popularity, podcasts have yet to reach the peak of their popularity. The UK is lagging behind most western countries at the moment with 18% listening to a podcast in a given month, but that may have something to do with the lack of relevant localised content, with much UK content provided by the BBC (which has its own audio app) while independent UK content is more difficult to come by.
This provides brands with an opportunity, however, to either fund independent creators, or to provide UK consumers with something unique and enjoyable to help get them through what is likely to be a tricky year. With the influencer model presenting diminishing returns (with the increased expense of high reach influencers unlikely to represent value over many smaller influencers) and trust issues rising, there will be brands looking for a way to engage niche audiences – and the pre-proven audio model seems like it could be a great fit.
Just as, as I've mentioned when talking about podcasts previously, General Electric began creating sponsored content for radio (before employing the simple, Spaghetti Western actor Ronald Reagan to front television content) and resurrected the idea in the mid 2010s, there is ample space for more than mattress companies and meal box brands to build brands using audio. With niche creators entering the podcast industry all the time, 2021 should be the time for brands to make the most of them – especially in the UK.
---
Consumers like to see the face behind the business, and video is the best way to do this. Having a presence on video can also build consumer confidence by creating a character for your brand.
Sophie Edwards – Head of Campaign Outreach
Similar to podcasts, video is another opportunity to interact with consumers – though it requires more resources, both in terms of production and from the consumer. However, brands can – as our head of campaigns stated – use video to build both relationships and consumer confidence.
As lockdowns begin to ease in the spring, for example, brands can create video showing the protective and preventative measures that are in place to ensure consumer safety until complete vaccination is reached, but they can also film product demonstrations, answer common consumer complaints or queries and offer new solutions to problems that may only have started to occur during the pandemic (think of the amount of sponsored 'home workout' content you've seen.
2021 may be difficult to predict, but there are commonalities with all previous years – brands need to build trust, they need to provide useful content and they need to inspire confidence in their audience. Video is able to do all of these – and with structured data options and timestamping, can be the perfect answer to how to and FAQ content requirements.
---
Make sure you say something meaningful and decide on a brand message so that all content has consistent messaging.
Sophie Edwards – Head of Campaign Outreach
Just as messaging will be important to social media in 2021, it's important across your marketing mix – and it's just as important, therefore, to have a consistent brand message. Whether or not you choose to have your brand participate in the conversations that come around in 2021, it's important that all parts of the brand are singing from the same hymn sheet.
While I'm not certain it's necessary for all brands to have something to say on all topics – I'm of the opinion that Shell, Exxon and other major polluters should face legal action over their greenwashing rather than continue their efforts to bamboozle the public with claims of green energy, while banking firms should probably keep quiet on issues of poverty – but whatever you decide to do, you need to ensure that you are consistent with your messaging. People will check.
---
The industry has shifted away from traditional guest posting and blogger collaborations to focus on bigger, bolder and more creative PR campaigns that will attract the attention of journalists.

More digital marketers are creating PR campaigns than ever before, which is great to see, but it also makes coming up with campaigns that cut through the noise that much harder. Content marketers will need to be on their A game in 2021, delivering world-class campaigns in order to stay ahead of the curve. This means you should put more time than ever before into research and ideation.
Andy Smith – Head of Content Marketing
As digital and traditional marketing grow closer together, we would expect the requirements for success to grow also. Just as old technical techniques for boosting rankings have been consigned to the past as Google's algorithm developed, content marketing has had to develop too.
Though there are fewer manual action or link-based penalties these days, that doesn't mean Google has neglected links in the development of the algorithms it uses to rank pages. In fact, it is just better at judging the quality of links and adjusting the weighting it gives them (though it's not perfect, so keep submitting those disavow files) and that means digital marketers need to up their game – and it's through digital PR that brands can do this.
---
SEO knowledge in the media is still a little old-fashioned. There are a number of publications who fear that any external links will damage their search performance, for instance, and will avoid using them if possible. This makes link acquisition from journalists difficult unless you give them a really good reason to link.

For that reason, we expect to see more interactive campaigns in 2021, such as calculators, maps and interactive tools. Because they require readers to go to the web page itself, journalists can't avoid linking to them.
Andy Smith – Head of Content Marketing
The more competition there is, the more you're going to have to stand out to earn that coverage. However, with so many new and emerging ways that brands can easily (or at least with reduced difficulty) present data and ideas, there should be no excuses for supplying anything less than unique.
Journalists, in an age with underfunded and understaffed newsrooms, need content – but they won't they won't cover just anything, so make sure your content offers something unique, interactive and useful to the journalist's audience.
---
These are just a few of the key trends available in our 2021 Search & Digital Marketing Trends Report, so take a look to see what is on the way this year – or contact us to see what we can do to keep your brand ahead of the curve.
Share this: