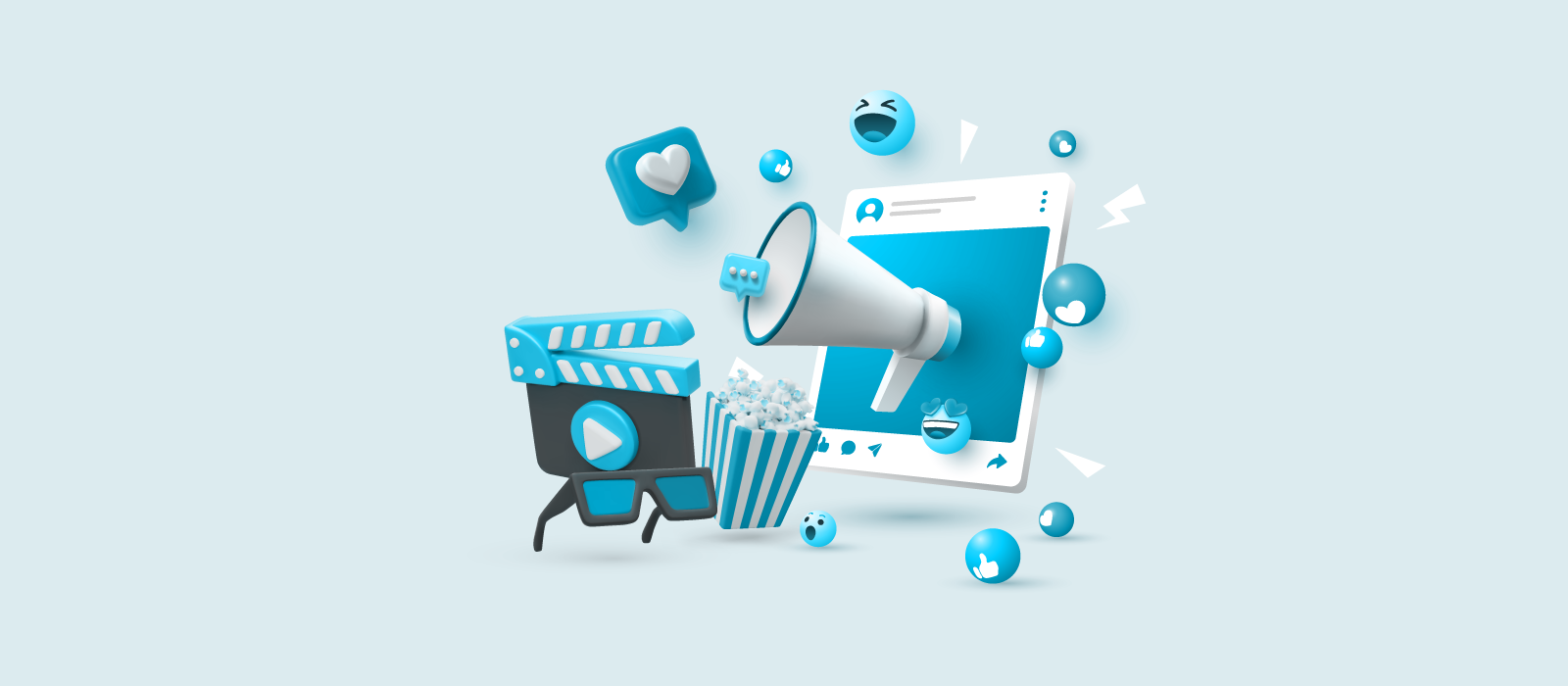 Barbie's marketing campaign masterpiece outlined
Sep 21st, 2023
How Warner Bros & Mattel captured hearts & smashed the box office
Greta Gerwig's nostalgic Hollywood hit, Barbie, has smashed the record for the most commercially successful film by a female director, grossing over $1 billion in box office sales. The box office hit had strangers greeting each other with "Hi Barbie" in the street, and groups of friends dressing head-to-toe in pink to immerse themselves in the 'Barbie World' cinematic experience.
Their marketing campaign is being labelled as 'genius', and marketers everywhere are discussing all the inventive tactics, and prying apart their strategy to understand how they skyrocketed (& boated, cycled, snowmobiled, and roller skated) to success.
The following is a breakdown of the Barbie marketing strategy, and all the record breaking tactics they used to drive success.
Teaser Trailer
From the very early stages of the marketing campaign, there was a lot of thought behind the teaser trailer, and where it would debut. The trailer, which showcased little girls in a prehistoric world playing with and then destroying their baby dolls after being introduced to Barbie, to the soundtrack of 'A Space Odyssey' was hiding a sophisticated message in itself; this movie was going to challenge the audiences idea of a 'traditional Barbie movie', reaching new heights that were 'out of this world'.
This trailer was then screened before the highly anticipated 3D sci-fi movie, Avatar. Strategically placing the trailer before an action, sci-fi movie aimed at adults sent a message about who the Barbie movie was for; it was not a family friendly movie for little girls, but a movie for adults who enjoyed immersing themselves in new worlds that mimic the challenges and ideals of reality.
This teaser created a buzz amongst the target audience in the early days, meaning when the marketing activity ramped up, everyone was already eagerly awaiting the movie's release.
The power of recognisable branding
From the get-go, the Barbie marketing campaign was unapologetically pink and 'girly'. This has been something that Mattel & Barbie have been consistent with since its launch in the 50s – establishing themselves as a well-known and recognisable brand. Applying this same theming to the marketing of the movie achieved several things:
Reinforced the identity of the Barbie brand, making it enticing and memorable
Ignited nostalgia in adults and teens who played with Barbies as children and evoking an emotional response for the brand and what it stands for
Reinvented the colour pink – which has in the past been demonised – giving people the chance to indulge in the colour, and bask in a wonderful girl-power movement
The use of AI & AR technology
Many marketers are looking to incorporate the emerging and growing Artificial Intelligence (AI) and Augmented Reality (AR) technology into their marketing campaigns – and the Barbie strategy was no different. One element of AI that Barbie unveiled during their marketing campaign was the 'Barbie Selfie Generator'; this AI tool allowed users to input their own images, which would then generate character posters and editable text options.
Other AI elements included Google pages turning pink when Barbie queries were searched, and Barbies and Kens cheering you on when swiping on the dating app Bumble.
Social media
On social media, Barbie World was featured in over 1 million TikToks, and the original "Barbie Girl" song by Aqua was streamed more than 3.5 million times on Spotify since the release of the film in July.
Instagram was equally as popular. The @BarbieStyle Instagram account follows a range of multicultural Barbie dolls around the world – giving audiences worldwide a chance to engage with the brand in a friendly and inclusive environment. According to research conducted by Google, 64% of respondents stated they would take action after having seen an ad they thought to be diverse or inclusive.
The Barbie Selfie Generator (mentioned above) was an ingenious way to get the audience to share 'user-generated content' across social media channels, immersing them within the Barbie world and connecting them to the movie.
Influencer marketing was also a key element of this campaign. Barbie collaborated with several influencers across all social media platforms. Fashion influencers all over the world were sharing their Barbie inspired looks, beauticians were sharing pink-tastic Barbie inspired make-ups, as well as many more content creators embedding the Barbie world with their niches.
Nostalgia marketing & "Kidult" consumers
The Barbie Selfie Generator was also instrumental in playing on the mindset of nostalgia marketing and "kidult" consumers. This added an element of gamification to the campaign, mimicking the way in which we played with Barbies as children by immersing ourselves in the fantasy world.
Nostalgia marketing has cropped up numerous times in recent pop culture – with the older generation looking back at their childhood, and the younger generation immersing in the idea of simpler times. Some of the more popular ones include Netflix's hit series Stranger Things, which encapsulates the era of the 80s.
A further way that Barbie tapped into nostalgia marketing was Margot Robbie's 'method dressing' for each of the movie premiers. Each of her outfits embodied one of the iconic Barbie dolls of the last 7 decades.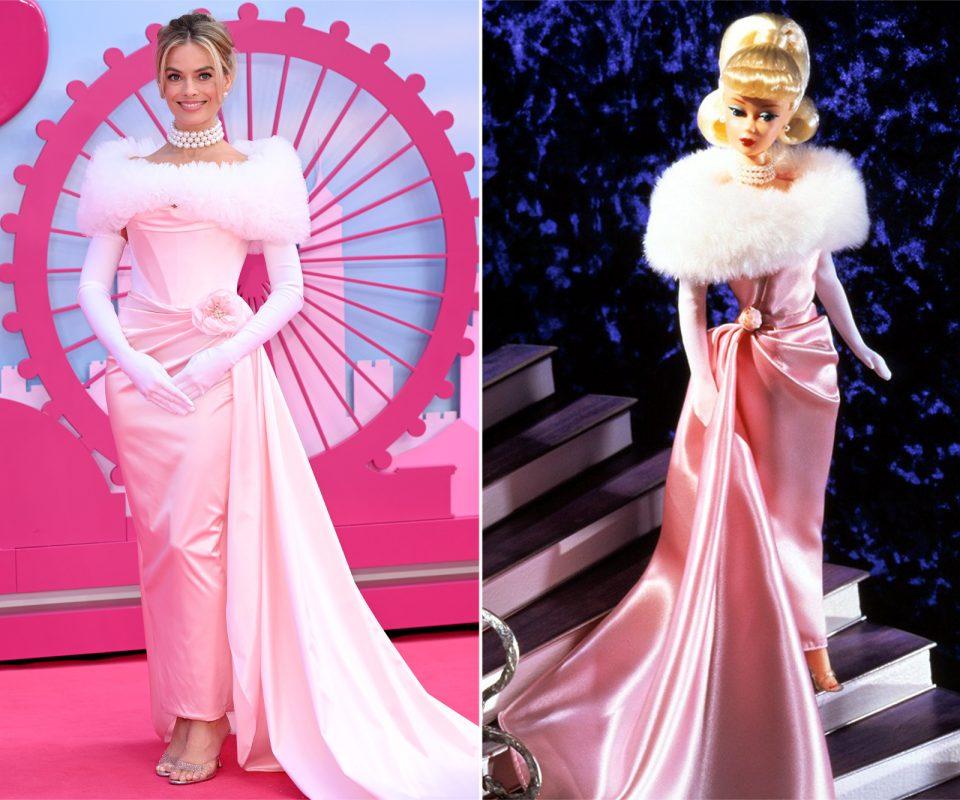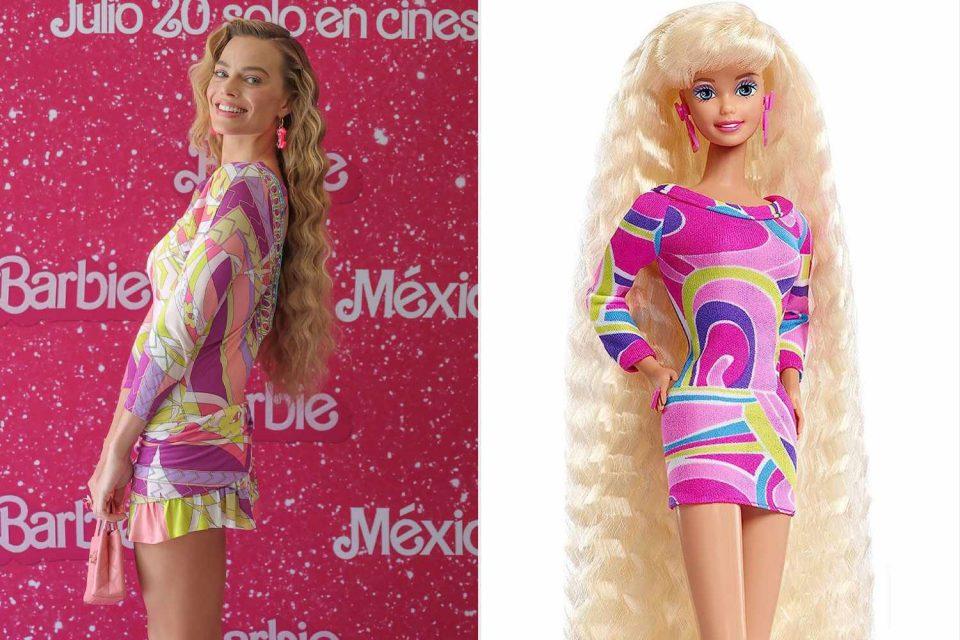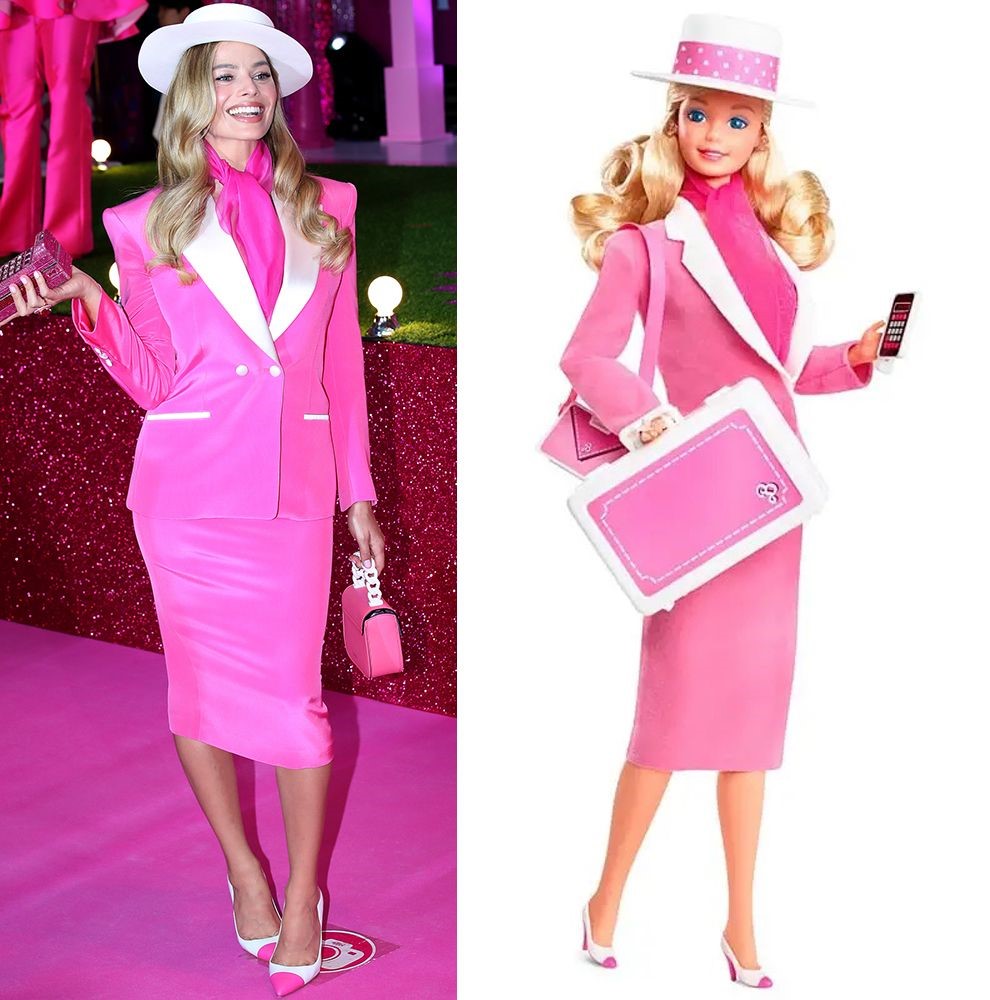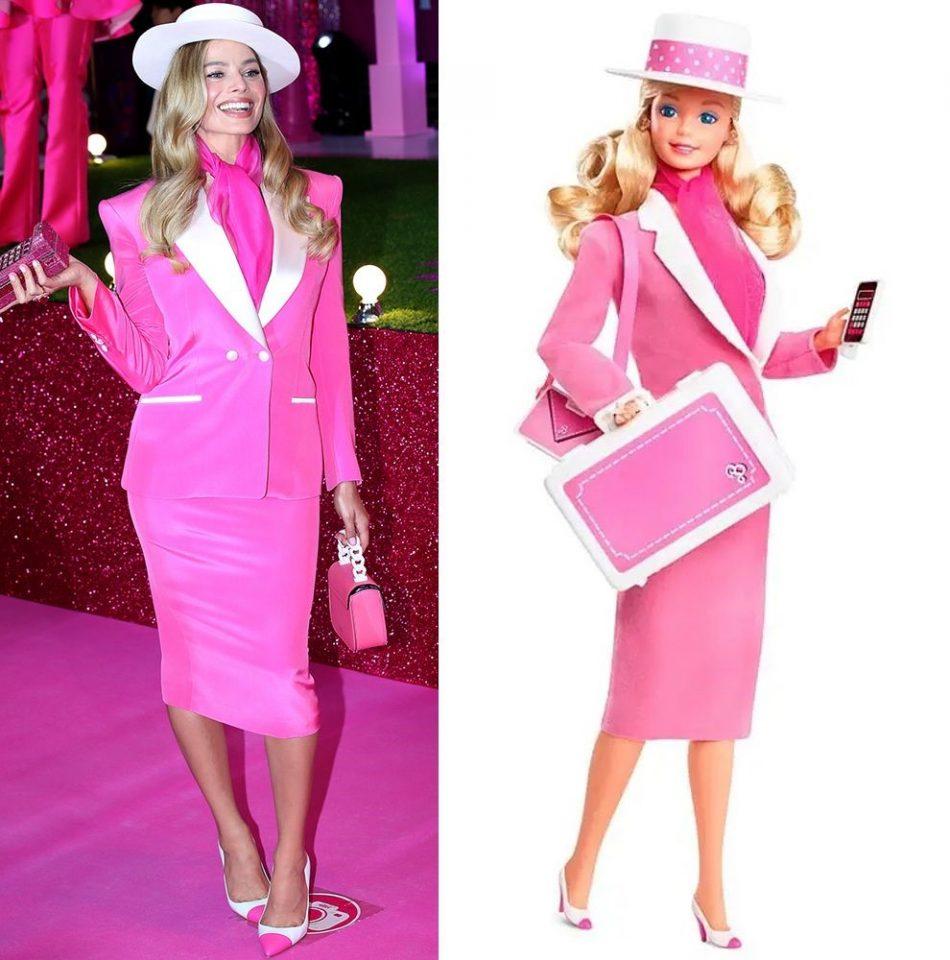 In a similar fashion, "kidult" consumers – who make up 25% of all annual toy sales – are increasingly spending money or enjoying aspects of their childhood particularly if they didn't have access to, or couldn't afford them when younger.
This rekindling of childhood memories evokes an emotional response, using this to build a connection with the movie.
Understanding your audience
Over the years, Barbie has been the topic of controversy. As a child we adored her, as a teenager we were taught to protest against the values and body standards she represented, and now as adults we encourage our children to play with a new era of Barbie that aims to inspire young girls to be whatever they want to be. The ingenuity behind the Barbie movie was they understood our love-hate relationship with the doll, using the tagline "If you love Barbie, this movie is for you. If you hate Barbie, this movie is for you."
"We wanted to recognize there were legions of Barbie fans, but that Barbie had quite a history and there are people who felt like Barbie wasn't for them. This was a movie that understood that and was acknowledging it… it allowed the tent of people to experience this movie and to realise that it understood the journey that Barbie has been on for the last 45 to 50 years." – Josh Goldstine, Warner Bros. President of Global Marketing
This expanded their target audience to…well everyone! By simply acknowledging this love-hate relationship, they are not only addressing those with fond childhood memories playing with Barbies, but also those who have felt misrepresented by the brand over the years. They are recognising the past criticisms they have received, and are embracing a new era of Barbie that has a renewed commitment to diversity and inclusion to reconnect with and expand their consumer base.
Partnerships & collaborations
Barbie & Mattel made more than 165 collaborations and partnerships in the lead up to the film; in addition to this brands were eager to be involved in the movie sensation that was becoming more of a culture movement than simply a blockbuster hit. Some of the more memorable collaborations and partnerships include:
Barbie dreamhouse: Mattel parterned with AirBnB to build Barbie's Malibu Dream House.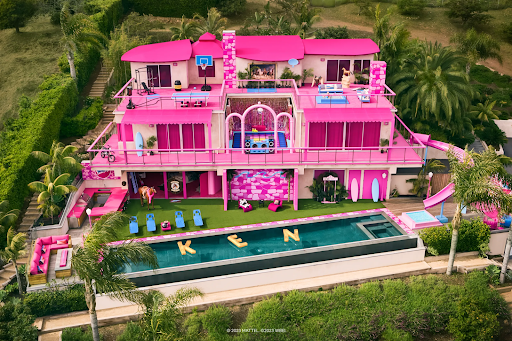 Progressive insurance: Progressive released an advert talking about their 'secret client' taking an insurance bundle out for their 'Dream Car' and 'Dream House'
Aldo shoes: Also released a range of Barbie heeled shoes that embodied the Barbie shoes that we all had when we were playing dress up in our childhood years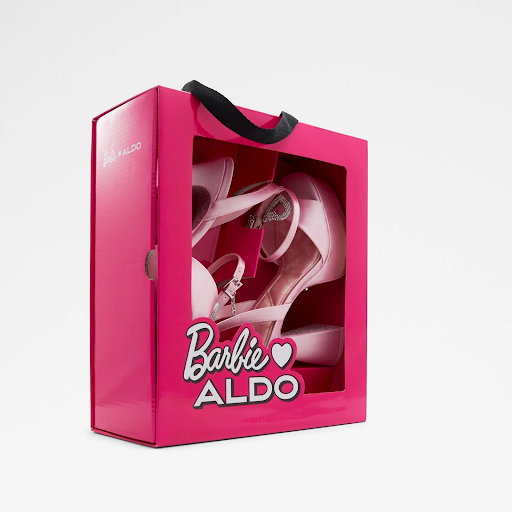 Clothing and accessories ranges: Several fashion brands have released Barbie ranges, such as a clothing range from Forever 21 and an accessories range at Claire's
Ruggable collection: Ruggable released a range of pink Barbie themed rugs
Through these numerous collaborations, Barbie & Mattel were able to target a diverse range of people across a multitude of ethnicities, gender and generations.
Barbenhemier
The highly anticipated film based on the Manhattan project, Oppenheimer, was due to launch on the same weekend as Barbie. Normally the launch of another highly anticipated film on the same weekend could be problematic for some brands – however on this rare occasion, the audiences collaborated to create an internet sensation.
Whilst not necessarily part of their original marketing strategy, the Barbenheimer sensation was simply a happy accident that took off, and showcased the power sharing memes across social platforms.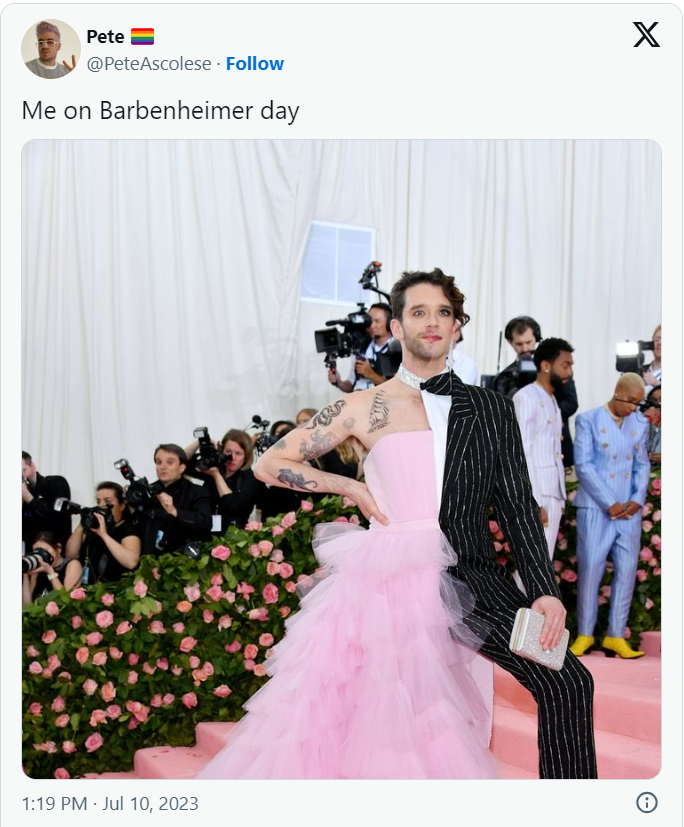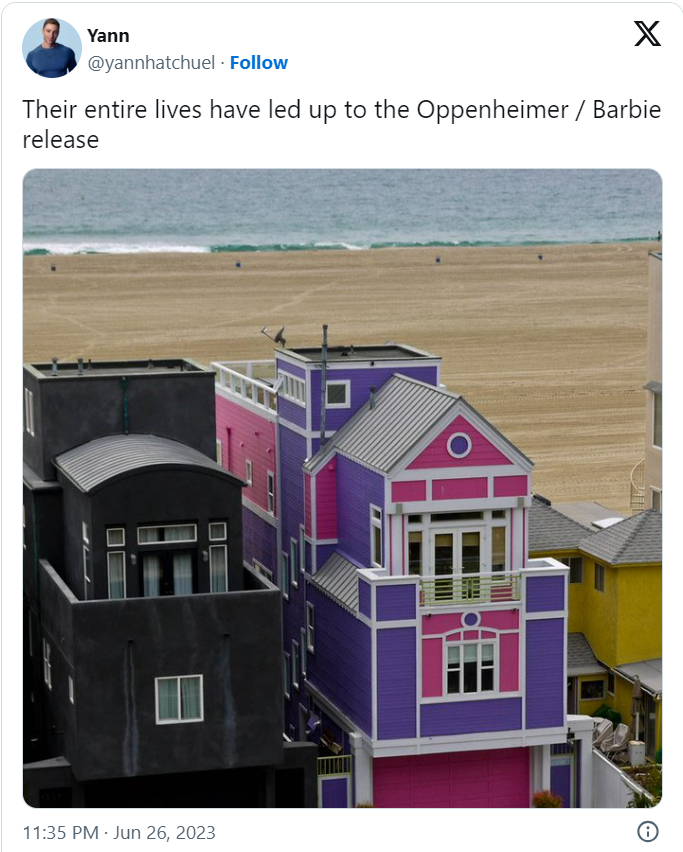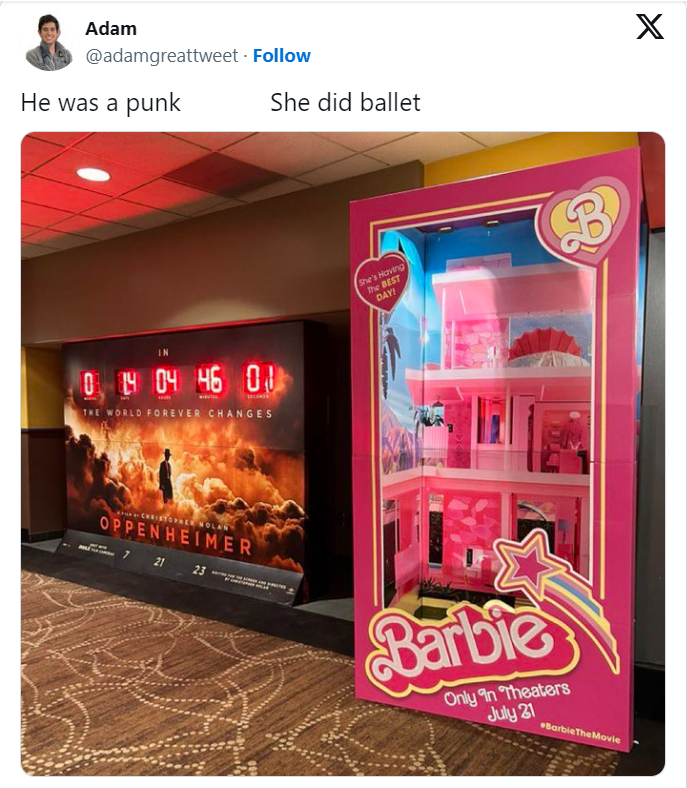 The genius behind the Barbie marketing campaign
The record breaking Barbie movie was the blockbuster hit of 2023. Behind this sensation was a genius marketing campaign made up of a variety of innovative tactics to drive success. From evoking emotional childhood memories and triggering nostalgia, to racking up hundreds of collaborations and partnerships to expand reach and target a wider audience, Barbie's marketing strategy was one that marketers will be talking about for years to come.