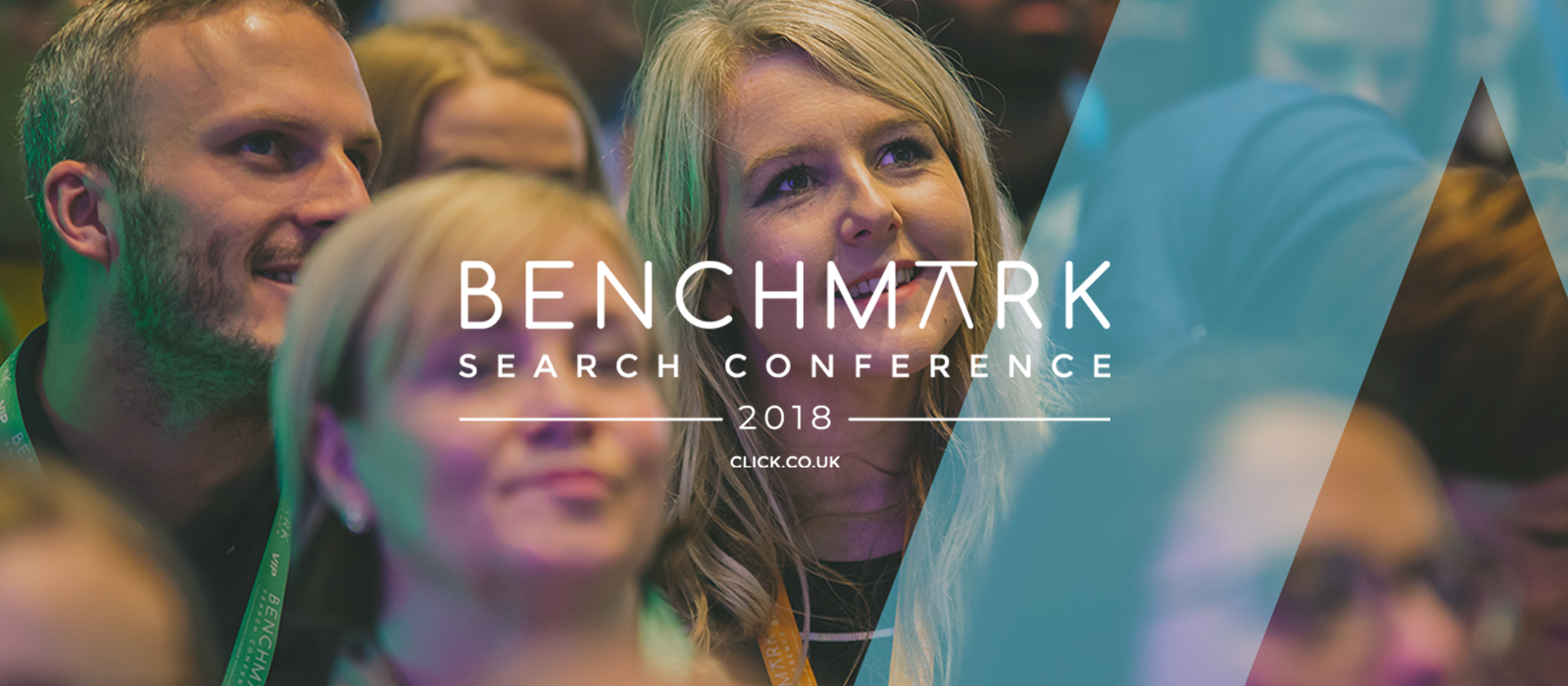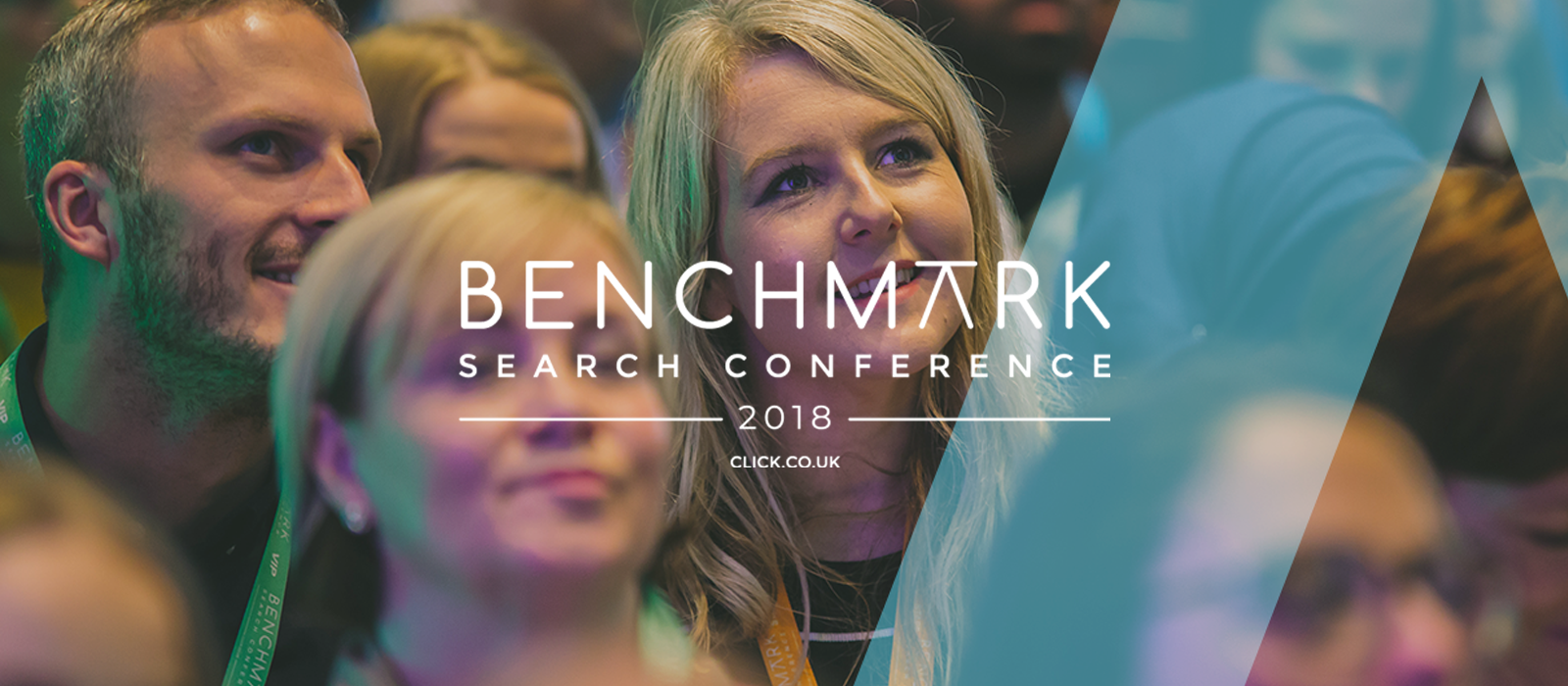 Benchmark Search Conference 2018
Sep 6th, 2018
With a brand new venue and welcoming a new host, Benchmark returned to Manchester twice as large and just as packed with search marketing insights
---
Having sadly outgrown its original home at Bridgewater Hall, Benchmark switched venues to the Manchester Hilton to welcome over 300 delegates – who were there to watch talks by some fantastic speakers from some of the most recognisable brands in Europe.
Sponsored this year by headline sponsors SEMrush, drinks sponsor PERCEPT and with event partners Searchmetrics, DAN, Digital People and Juice Academy, the event – organised by Click Consult – was hosted for the first time by Tom Cheesewright, futurist and regular guest on UK television and radio.
---
Great event again, getting better and better each year #benchmarkconf2018 @ClickConsultLtd thanks for having me! pic.twitter.com/nqSPRnZg9y

— James Rowland SEO (@JamesRowlandSEO) September 5, 2018
---
Morning sessions were enough to keep the gathered marketers on their toes, with talks ranging from Artificial Intelligence's (AIs) impact on marketing (Ellie England) to technical SEO (Omi Sido) by way of a look at how On The Tools, purveyor of comedic building trade videos, built its audience and established its brand – winning collaborations with some of the industry's biggest brands.
Following a break for coffee and to digest some of the main talking points, we were happy to welcome a new speaker in Kristal Ireland who used her vast digital experience to tell us how to switch a major brand online in only five weeks, before welcoming back to the stage some familiar faces and Benchmark favourites – our own Dave Karellen and Google's Sabrina Garufi.
---
Great day so far @ClickConsultLtd's #BenchmarkConf2018!
Good Speakers 👍
Good Coffee 👍
Good Freebees ✅
Good Wings 🍗 pic.twitter.com/rv7LJV1Z9y

— Michael McGougan (@mmcgougan90) September 5, 2018
---
The early afternoon dived right in to the technical aspects of search again, with talks from renowned SEO expert Fili Wiese, Deloitte's Nisha Ram and Click's John Warner before breaking for afternoon coffee to recharge the batteries.
The conference and day drew to a close with some fantastic, cutting edge insights from Barclays' Victoria Olsina who provided the tools for the gathered marketers to make the case for driving site speed projects forward; Ben Irons then gave some insights in to the objectives and strategies that have driven 'notonthehighstreet's fantastic growth.
---
Great day at #benchmarkconf2018 so far. Highlights of this morning were definitely @OmiSido on Technical SEO and @ClickConsultLtd's Dave K on Machine Learning pic.twitter.com/A5ojxJa6mO

— Dan Marshall (@digitallydan14) September 5, 2018
---
The talks, from Shayam Dattani and Nick Wilsdon will undoubtedly have helped to future-proof the marketing strategies of a lot of brands present, dealing with the topics of user centric search and how to implement a marketing strategy that includes the use of the Alexa smart speaker.
The event concluded with a talk on the importance of using external expertise to help build an in-house digital team. Considering Berian Reed stepped in at the request of headline sponsors SEMrush at the last possible moment, we couldn't have been happier to see him excel as the closing talk.
---
We'll be delving deeper in to each of the talks over the coming weeks, so make sure you subscribe to the blog – or check out our resources section for even more insights from Click's years of experience.