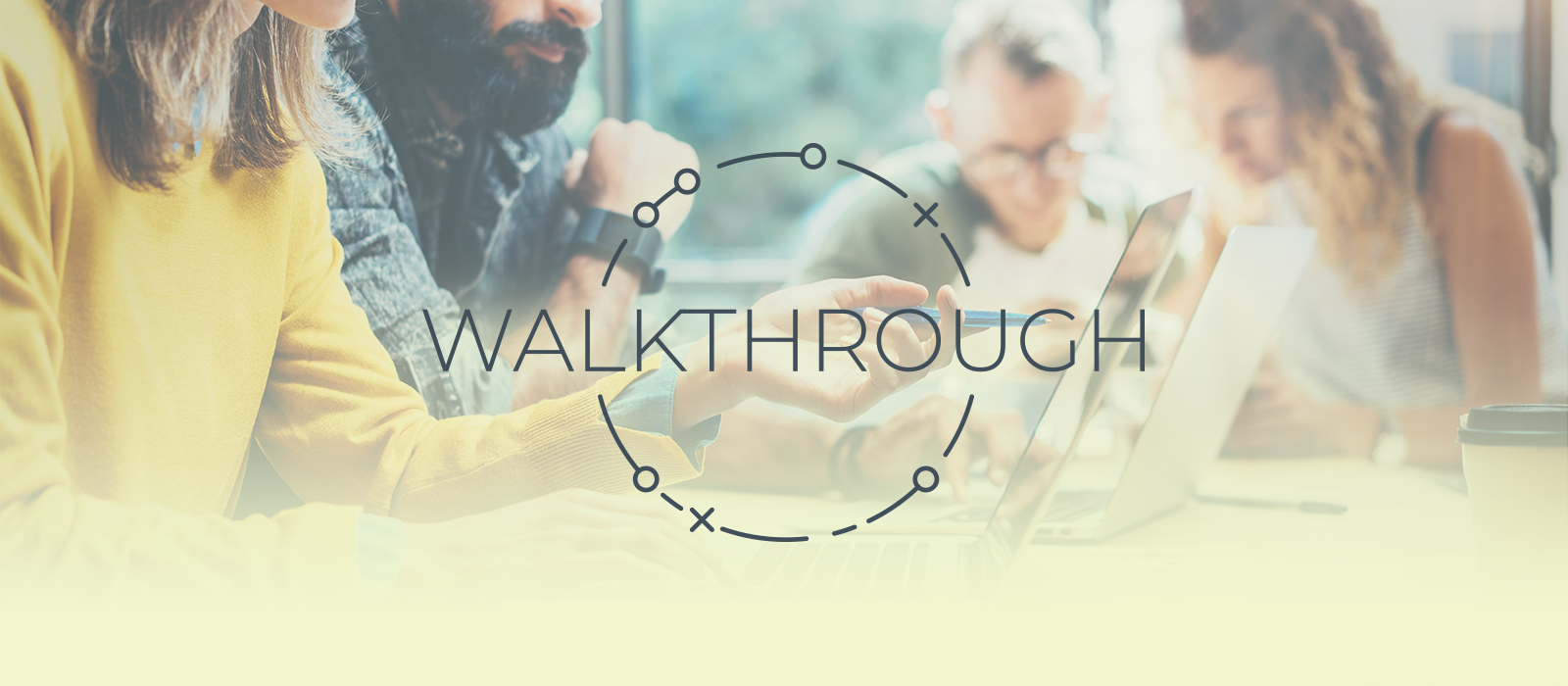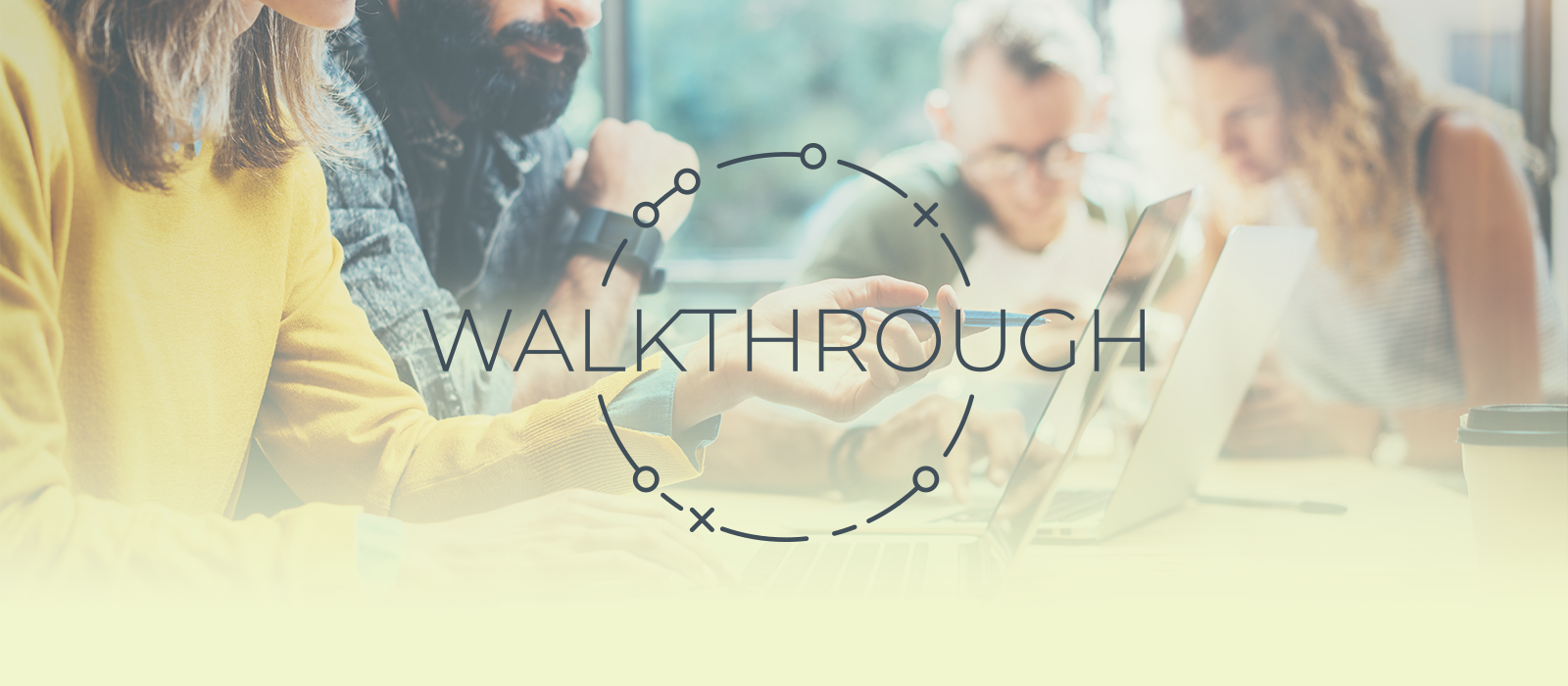 Walkthrough: How to use Google's Keyword Planner
Nov 29th, 2017
Half the time, it's impossible to find, let alone use – nevertheless, we bring you our walkthrough of Google's Keyword Planner.
We're going to assume you have a list of keywords already and are simply looking to expand your lists and obtain some more data (if not, you can take a look at our guide to SEO strategy to create one – a process that can be used for both SEO and PPC).
What is keyword planner?
Keyword Planner is a Google tool within Google's AdWords which enables brands to get visibility of search volume and potential costs of specific keywords and also to build out their keyword lists for both SEO and PPC purposes.
How to use Keyword Planner
First up, you'll need to log in to AdWords before you can use the tool, then you can access Keyword Planner. Here there are two distinct types of research you can do through the tool:
Keyword research – you can use Keyword Planner to find additional keyword targets for your AdWords campaigns and SEO keyword targeting which are relevant to your industry, landing pages and marketing collateral.
Building on or improving your keyword list
Building out your keyword list predominately involves the top of the two options above – 'Find new keywords and get search volume' – which is broken in to three options. These options are, loosely, a keyword generator, a concatenation tool and a keyword explorer.
Keyword generation
The first step to building or improving your keyword list using Keyword Planner is to generate some keywords – this can be done quite quickly and easily by expanding the 'Search for new keywords using a phrase, website or category' box.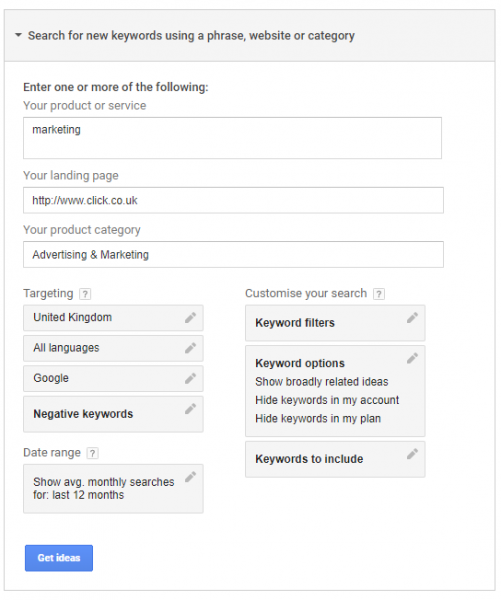 A dummy example using the Click Consult site.
If you input your service or product offering, site address and product category and click 'Get Ideas', you will be taken to the next screen which will give you keyword ideas, search volume, the level of competition you can expect and a suggested PPC bid amount.
In addition, you can reorder the results by search volume, competition (and the rest) which can allow you look for more niche terms to target.
The box below this in the main option list is 'Get search volume data and trends', but as the other two options both show this data, we can leave this and use the keywords generated in the first step and use the concatenate function in the third.
Concatenation
By expanding the 'Multiply keyword lists to get new keywords' box, you have the option to paste some keywords in to the two revealed boxes and further extend your lists.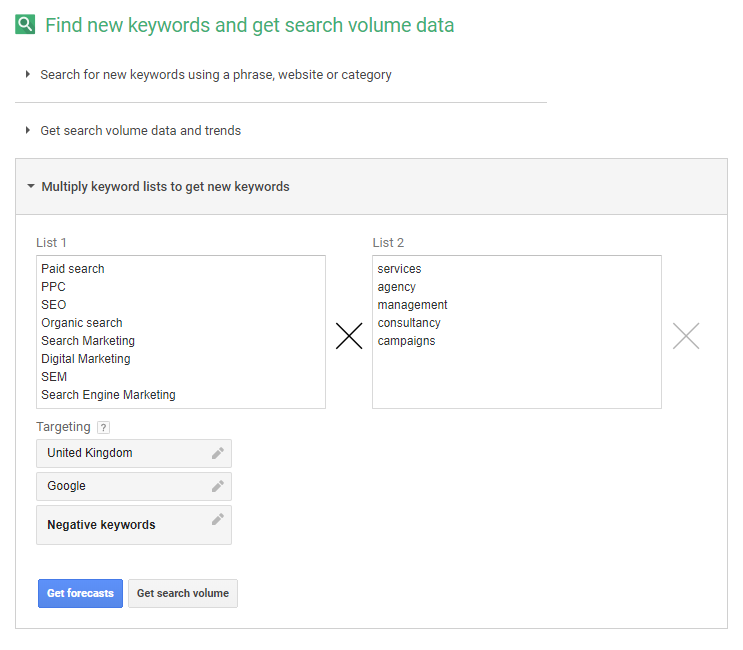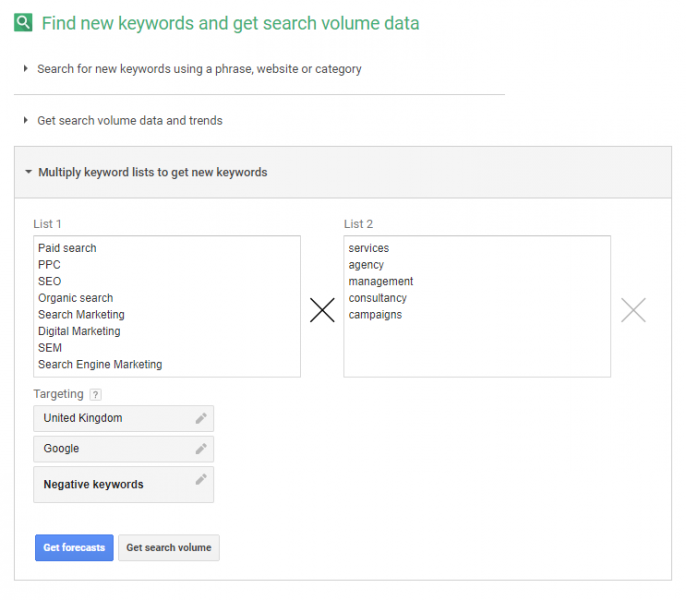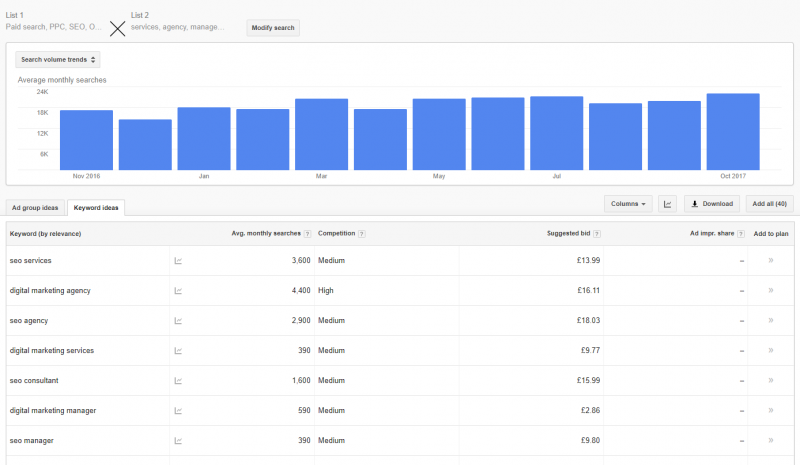 These keywords can then be incorporated in to your AdWords account – using the 'Add all' button at the top right of the table – or downloaded for reporting.
Planning budgets
Having downloaded the keywords from the previous step, you can then use them to create a performance forecast for your possible campaign (for which I've just used broad match for ease of input, but wouldn't recommend it for most campaigns – for more information on match types, see our blog on the subject).
---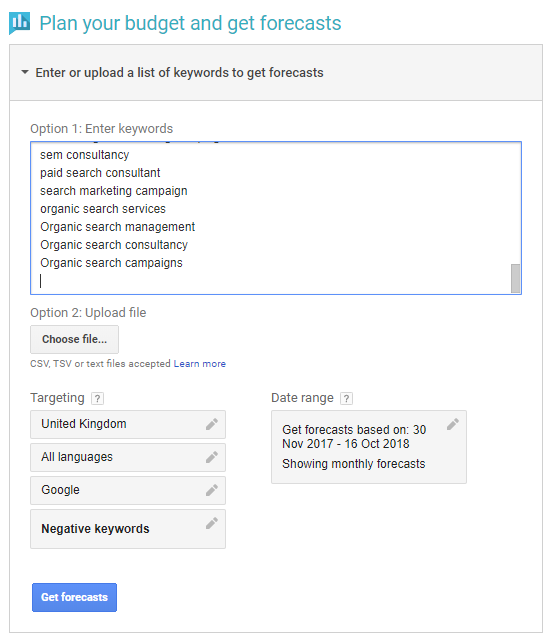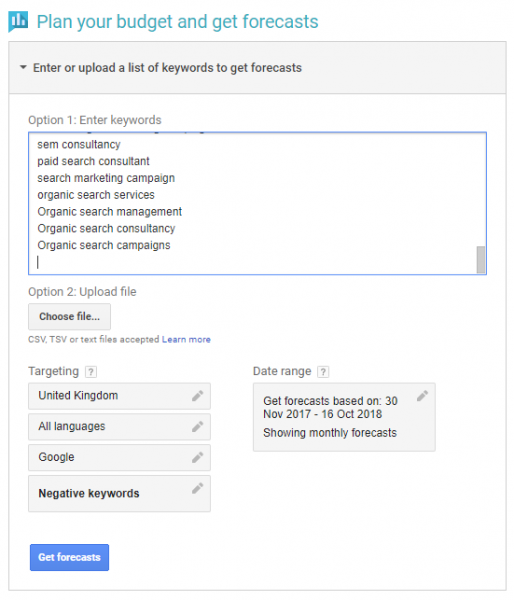 ---
This option (under the 'Plan your budget and forecasts') tab, allows you to make projections regarding possible AdWords campaigns carried out with your uploaded keywords.
You can look to experiment with the graph slider to optimise your possible campaigns for impressions, clicks or cost, allowing you to make decisions about how best to incorporate this group of keywords in to your strategy (again, this is excessively large and diffuse for most Ad Group requirements, but used for illustration – see here for advice on keyword groups).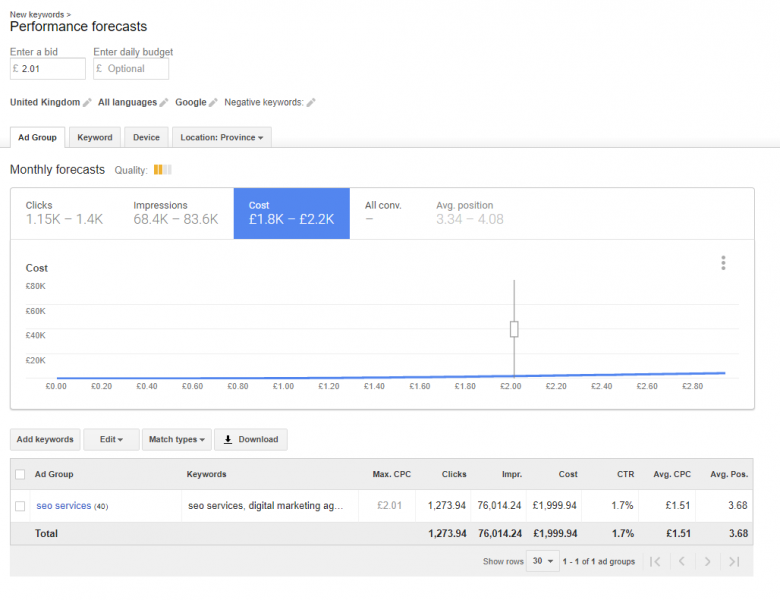 By using these forecast modifiers, you can look to craft a rough budget for your campaign (notice the Avg. Pos. is 3.68 – something you can improve by improving your Ad Quality, which will also potentially lower your cost).
Chums has a clear vision of the performance we want from our PPC and SEO campaigns and Click Consult have consistently delivered this over the years.
I see Will Dixon and Charlotte Chapman, together with Peter Smith who manages our account, as part of our marketing team. They have each spent the time to understand my team personally, the wider business at Chums and our customers, all of which has been crucial to achieve the targets and growth we've set over the years.
I'm more than happy to recommend the team at Click
Paul Gray
Marketing Director

We currently use Click as our SEO provider and find them very proactive in working with us to drive performance.
They use KPIs to demonstrate an increase in performance and support us in what actions to take to improve our natural search.
Lucy O'Shaughnessy
Commercial Director

From the outset of the project, Click Consult clearly understood our business objectives and formulated a search strategy that would help to deliver commercial results across key product areas. They have been professional in their approach, shown great attention to detail and the results achieved to date have been thoroughly impressive.