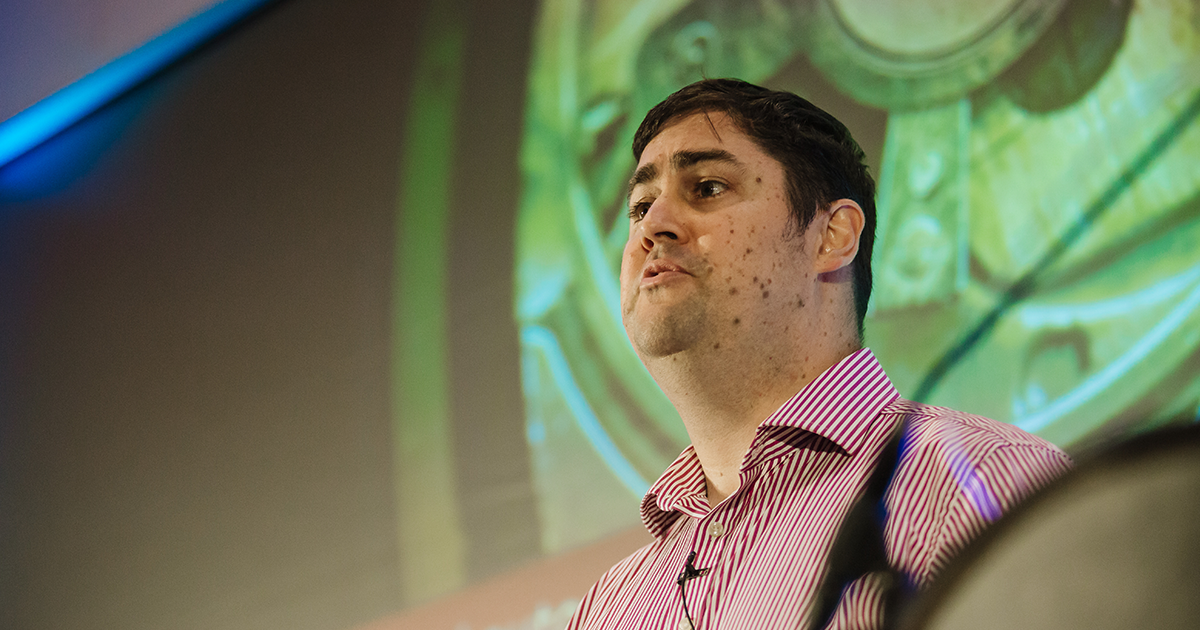 Nick Wilsdon's 'How to Create Google Data Studio Dashboards for SEO' Talk – Benchmark 2019 Reviewed
Oct 15th, 2019
One of the stalwarts of the Benchmark Search and Digital conference returned this year with Nick Wilsdon returning to discuss Google Data Studio and the benefits of automating your reports for SEO
---
One of the key themes from the last 12 months and indeed a hot topic at the 2019 conference has been the emergence of Data Studio as the go to platform for those looking at streamlining their workflow and increasing their productivity. We have heard many speakers discuss the merits of building Data Studio reports but few in as much detail as Vodafone's Nick Wilsdon. Here's what he had to say…
Nick started by telling the audience about his experience as an SEO and that he felt that it was essentially an 'execution problem' and not a 'knowledge problem'. He suggested that there is no easy fix for SEO but that if businesses and brands were logical and took an adaptive approach both to their own site and to the industry updates, then they would be able to achieve long term search marketing success.
One of the most important things for businesses to consider was the need for understanding and presenting their data in a way that could be easily digestible and which would help them to identify areas for improvement. For this he declared his love of Google's Data Studio and emphasised a point Omi Sido had made earlier in the day about it allowing you to pull data from more than 500 official sources and 64 connectors, making it possible to produce not only data visualisation, but data storytelling.
The possibilities with Data Studio are such that if you can implement it into the way you work the reward is very high. To that end Nick set out the business case for working with the platform and explained how his team at Vodafone had incorporated it into the way in which they work.
According to Nick there were many challenges within the business and he needed to utilise Data Studio to solve  them. He said: "We needed  a single report for multiple stakeholders. This needed to have the detail that would answer top level questions but would also need to be digestible for all arms of the business. These reports would be for multiple people and operational teams, they had different needs and we had to engineer a strategy for all of these people.
"The next challenge that we had was that we had 22 markets and how do we use this project to standardise the reporting that goes on around the business, especially as this was a real opportunity to up our game when it came to data reporting. We knew we could use this as a vehicle for standardisation.
"We also needed to be data-driven and have the reports fully automated, SEO has gotten very complicated now. We needed to know how to get the data needed by all teams and put them in one location. If you were to just do manual reporting for the 22 markets then nothing else would get done. Automation is key.
"The final challenge was that there aren't enough data scientists out there and the strain on internal resource is huge, so we relied n this project being front heavy with a view to running in the background and massively reducing workload in the future."
---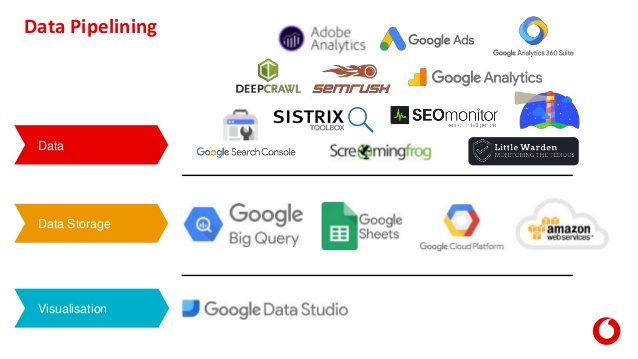 ---
Nick then attributed the success Vodafone have seen and continue to see as a direct result of utilising Data Studio and embracing the platform. He showed the audience the above slide and said that if they were to harvest their data from several sources and report on them separately the amount of resource needed would outweigh the returns, hence the need for a visualisation tool like DS.
---
---
Nick's talk was a highly informative and he emphasised the need to be mindful of budgets and that if you be creative with the data – especially from a cross-over point of view then the time savings are huge. He told the audience that one of the main benefits of using and choosing Data Studio was that it was easy to connect with common data sets like Google Analytics and Search Console – he also said that the various APIs and things such as Google Sheets could be pulled in using the preset connectors. The key takeaway here was that you 'don't need to be technical to make Data Studio work.
---
---
The full talk can be viewed above as can Nick's full slidedeck but for those looking for the 'why' well Nick says that Data Studio is:
Amazingly accessible
Aesthetically pleasing
Allows you to pipeline data
Adds value – through better UI than tools like Search Console
We should write for robots
---
To keep up to date with the latest search and digital marketing thought leadership – sign up to our mailing list. Or contact us to see what we can do for your brand.