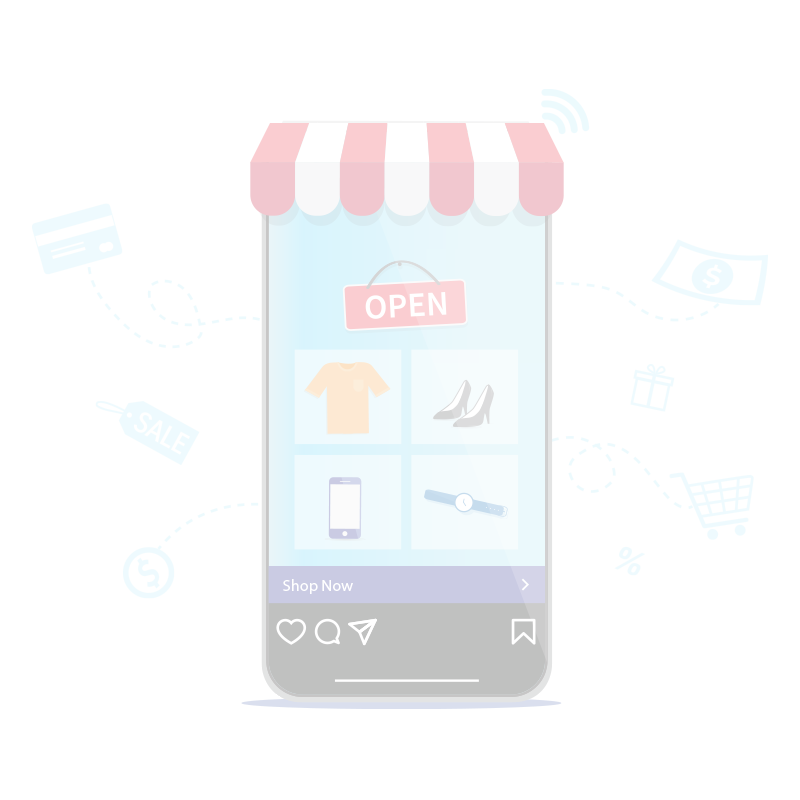 Social Media and eCommerce
Sep 17th, 2021
We looked at how to get the most out of eCommerce sites and what you can do in terms of boosting performance. In this piece we'll look at how to use social media to get more conversions.
The number of people who are regularly downloading new apps, visiting websites or buying products directly from posts that they have seen on social media is one the rise. Statista recently (Q1 2021) explained how 45% of U.S. internet users between the ages of 18 to 34 years have purchased something via social media. This trend shows not only the importance of getting your ads, content and messaging right but that you also need to think about the platforms that your audience uses and when they are likely to see your posts which could affect eCommerce.
What is Social Media for eCommerce?
As a gentle reminder from last time, eCommerce is a vital part of business in the modern online world, there are a few things you need to do to make sure your eCommerce activity isn't doomed from the beginning. Of course social media is also enormous, and is continuing to grow so it makes sense that the two go hand in hand. If done right social media allows you the opportunity to direct your audience towards your products and services and engages them to the point that they feel part of the brand.
Who are eCommerce Customers?
eCommerce customers are multi-channel and multi-device users, flitting between websites, emails and social media pages using an array of sophisticated devices, from smartphones to tablets and everything in between. While bricks-and-mortar stores are by no means redundant, the entire retail experience now exists online, too, and the success of your brand hinges on how well you optimise your digital presence and your customers' experiences (CX).
How can you reach them and retain their interest?
A social media ecommerce strategy is a set of social media tactics you can use to market your ecommerce business.
Depending on your business model and goals, your strategy may focus on:
promoting an ecommerce destination, i.e. driving traffic to a website or branded app,
selling products directly on social media,
communicating with customers, both pre-purchase and post-purchase,
collecting insights about your industry (your audience, competitors, benchmarks for success)
Here are our 7 top tips for connecting eCommerce and social media in order to drive results
Set your goals
The first thing that you need to do is to set your targets and to decide what it is that you want your social posts to achieve. There is often a huge amount of time that gets wasted because brands publish content and engage with followers at the wrong time or when there is no means of monitoring progress. Before you invest time, money and effort into your social media for eCommerce, make sure that you have a clear understanding of your audience.
Think about:
How much traffic you want to generate
How many followers you currently have
What their engagement rate is like
How many of them have converted or are likely too
If you set targets based on these fields it should be very easy to see if you are connecting or not.
Think brand, not product
If you are looking to sell a certain product then it makes sense that you direct your traffic to the page where they can make the purchase. The problem with relying on this model is that it doesn't always provide the best value and some customers prefer to be taken through the sales funnel by visiting the top level home page of your website. Sellers in general struggle to build up an engaged following if they are just linking to individual products so it is vital that you focus on the brand as a whole.
As a business you need to think about the content that you publish and make sure that it's beneficial to your followers. You should look at the issues and topics that the audience cares about, utilise the news they read and link in products to these areas to increase brand relevance.
Communicate!
Social media and review sites mean there's now more than you and your customer involved in the decision to buy: third party reviews and other user-generated content are increasingly influential.
Social media is the ideal platform to showcase products, demonstrate how they look or work and even allow users to indulge in a little fantasy browsing with aspirational images and inspirational ideas, as well as allowing customers to upload their own content. Research indicates that visuals are processed 60,000 times faster than text. Furthermore, 40% of people respond better to visuals than to text alone.
With sites such as Facebook and Pinterest featuring 'buy now' buttons, it's even possible to use social media as an additional sales platform. Increase your shareability factor by aiming to provoke a response with your content, especially interest, amusement, pleasure or excitement – research shows that buying decisions are based on 80% emotion and 20% logic.
Get blogging
Blogs may seem so 2010, but in truth they are more relevant now than ever before. Blogs allow you to publish far more content than social posts so why not use your social media channels to link to this longform content and enhance user experience (UX). You can engage with your audience at a far greater level on a blog and can offer solutions or recommend other products as well as informing them of the benefits of buying from you.
If you are retailing clothes then a blog can be a great way to explain trends, look at new ranges and offer practical advice to the shopper that a social post might not be able to do. Producing blog content can help to turn an online brand into a recognised thought leader in a given niche and build trust.
User generated content
User generated content (UGC) is something that is often ignored by businesses and in truth this is one of the biggest mistakes a brand can make. Free UGC is something that can reinforce your brand and if you engage with the author and share their reviews you not only build trust but increase your audience.
One of the best things that you can do is to reward your followers, run promotions and competitions and make highly shareable content with the end goal of leading to conversions. It is a great way to show how much other customers love a brand and its merchandise. A recent study revealed that 82% of consumers say that user-generated content is "extremely valuable" when considering if they should buy an item.
Be social and make it shareable
Much like the above point, interaction is key. If you are running a social account with the purpose of boosting brand awareness and leading to sales then you have to be social and engage with your audience. This is not all about being a salesperson however, but more about nurturing the audience and leading them to conversion. If you are social and build conversations then the audience is far more likely to convert when you offer then the sales related post.
To get posts to translate to increased traffic and sales requires that retailers engage and connect with followers. When people have positive and compelling interactions with a business, they are much more likely to recommend the company to others.
In a similar vein brands should use images and stats as hooks for the audience. Their content should be shareable and this will encourage others to interact and follow you which will ultimately lead to more sales in the long term.
#
Hashtags have become a staple on most social websites. Twitter, Facebook, Instagram amongst others use them and so should you. They provide retailers with a means to enhance their organic traffic by reaching a relevant audience who search for those specific terms.
Implementing these points are a sure fire way to success and will allow you to grow as a brand and increase sales and profitability.