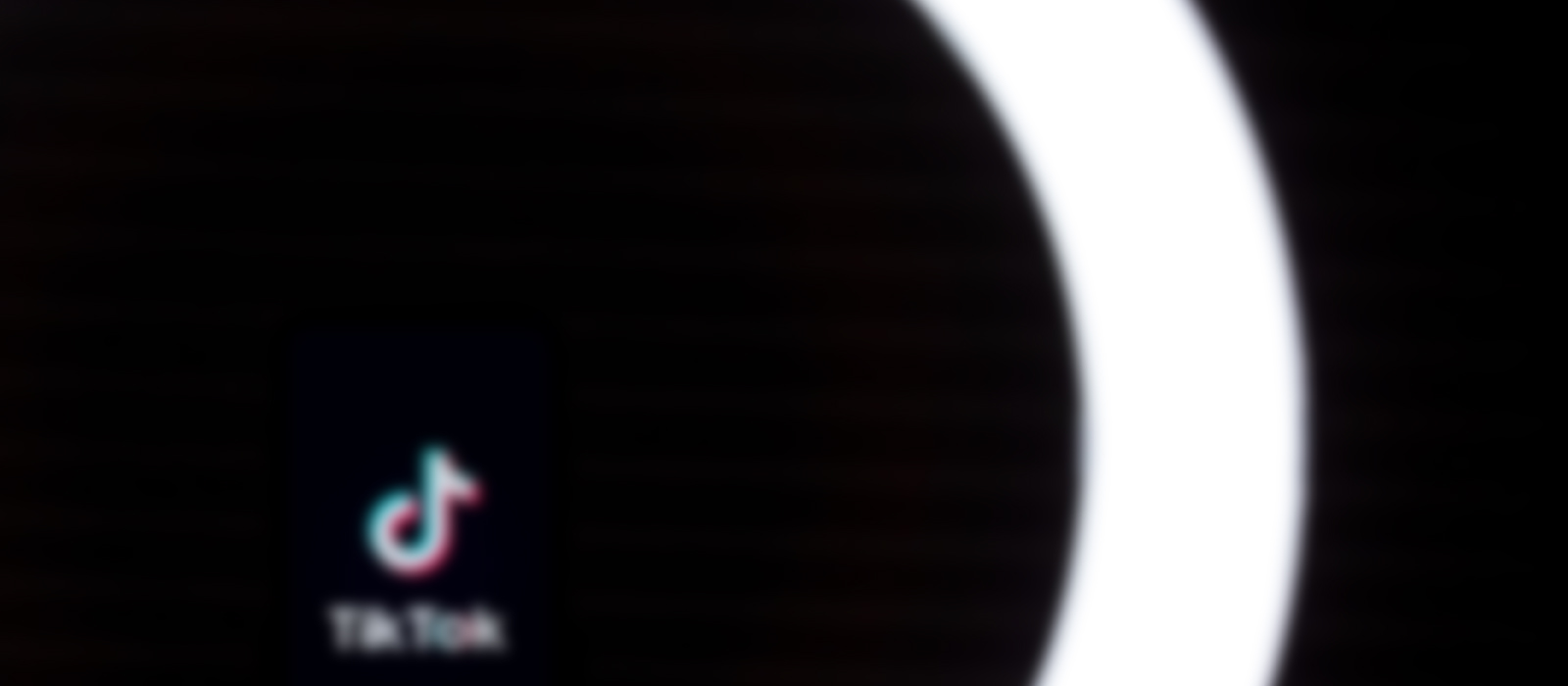 101: The TikTok algorithm and how to use it to your business's advantage
Jan 16th, 2023
At the time of writing this, TikTok has over 1 billion monthly users, that's over 12% of the 7.837 billion people that inhabit the earth.
The below passage is taken from TikTok.
Business Accounts are public profiles that allow brands and businesses to use our marketing tools to build a cohesive marketing strategy on TikTok.

Businesses engaging consumers in an entertaining way
Businesses looking for more commercial-focused tools

A few things you can have access to with a Business Account:

Web Business Suite

Available on your computer, the Web Business Suite is a central location for the additional features you have with your Business Account. The features include Analytics, Workspace, and Activity & support.

An email address on your TikTok profile
Exclusive access to pre-cleared sounds through our Commercial Music Library
The in-app Business Creative Hub
With TikTok's average user opening the popular app 19 times per day it's no surprise that it has been such a global phenomenon. Upfluence data shows that TikTok has considerably more engagement than either Instagram and YouTube at all follower levels investigated. TikTok's already impressive engagement rate gap between its competitors (IG, FB & Twitter) is growing significantly, is there any stopping it?
The engagement rate seen was across different levels of followers and accounts, meaning that businesses could see a median engagement rate of 5.6%, in comparison to Facebook's 0.07%.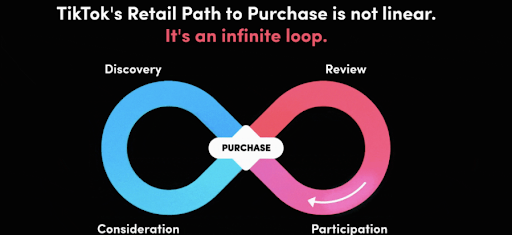 If this isn't enough to tempt you, it is believed that TikTok is a key part of a consumer's path to purchase, but rather than a defined and linear start and end point, TikTok's customer journey is described as an 'infinite loop' (see image to the right).
Algorithm awareness
Understanding how algorithms shape users' online experiences is imperative to using them to your business's advantage.
While this article prioritises TikTok's algorithm it is important to note that due to this platform's success many other social networks are adopting (or have already adopted) short-form videos. Making engaging content is something that can't always be taught, and creativity comes from within. However, learning new techniques is never a waste of time, and many of the considerations that follow can be transferred to other social media platforms if TikTok is not for you.
Our Social Media team are experts at the TikTok algorithm and regularly keep up-to-date with current and relevant trends so you don't have to.
The "basic" algorithm rules
TikTok was made to be addictive, and this is due to its strategically-designed algorithm. The concept is simple on the surface, much like many of TikTok's features – but what lies beneath certainly isn't.
The high levels of engagement on the platform have meant that many brands are flocking to it in the hopes of getting attention on the personalised 'For You' feed.
What is the 'For You' feed?
TikTok states that:
For You feeds enable people to discover an incredible diversity of ideas, creators, products, and entertainment. Our system recommends content by ranking videos based on a combination of factors based on your activity on our app, which includes adjusting for things you indicate you're not interested in.
TikTok users and their For You Page (FYP) are a match made in social media heaven thanks to the clever AI running in the background while you passively scroll through video after video…after video…
TikTok states that its technical model powers the recommendation system, but to make it easier to understand:
We publish guidelines for content categories that are ineligible for recommendation, tools to help customize recommendations, and educational resources that explain how our content recommendations work
The image below shows the "basic rules" of the TikTok algorithm and what influences what you do (and don't) see.
While the system determines which videos a user would be interested in seeing, it does help if a video is viral, or "trending".
How to find what's trending
Unlike other social media platforms, users can see the algorithm working in real-time under the guise of the 'For You' feed. This feed uses a unique "interest graph" that works using a user's interests and content that they interact with, capturing likes and dislikes and associating you with other user groups who share those interests.
When speaking to CNBC TikTok's Blake Chandlee, President of Global Business Solutions, made one of (the many) differences between TikTok and its social counterparts such as Facebook very clear.
Facebook is a social platform. They've built all their algorithms based on the social graph. That is their core competency. Ours is not. We are an entertainment platform … The difference is significant. It's a massive difference.
This "social graph" intends to connect a user with a network of like-minded people of any relation to inform advertising. It assumes that all users have the same interests and buying behaviours as each other – which is simply not the case.
Authors in Electronic Commerce Research and Applications state that:
With the rapid development of social commerce, how to push and diffuse marketing messages in online social networks (OSN) more effectively has increasingly become a significant issue
The text above leans heavily towards TikTok's 'interest graph' inasmuch as finding out what people will engage with based on what they choose, will be considerably more effective than grouping a few connected individuals together and assuming they will all like the same things. Does this call into question marketing demographics and how we leverage our efforts to engage with like-minded people? Perhaps not, and perhaps this is not the time for an existential question, however interesting the hypothesis.
Considering that a user is always changing, adapting and evolving, will the interests decay over time – how does TikTok's unique graph work at this point?
Understanding the algorithm gives the creator a lot of leverage to become viral, as with all marketing techniques, knowing what your audience is looking for is vital to the success of a brand.
Potentially the understatement of the year, but there are a lot of trends on TikTok. From trending audio to hashtags, and everything in between, the possibilities are endless.
A lot of trends call for a lot of opportunities to make it big on social media, and gain the following and engagement – and in the end, conversions – you've been looking for. However large numbers of trends can take up a large portion of your time, how are you meant to do other aspects of your marketing (like writing a blog, for example) and make the brand you represent online viral all in a day's work?
Hashtags
What I'm about to say comes from a place without judgement:
Please, stop using hashtags that are not relevant to your content!
It's easy enough to copy+paste the same hashtags over and over again that have a lot of engagement/ followers, but it will prove detrimental to your TikTok marketing efforts. In fact, the AI will find it difficult or impossible to categorise your content if too many, or irrelevant hashtags, are used. As a result, there is a risk that your video will not play well or will rarely be suggested to viewers.
Experts in all things TikTok recommend three to four hashtags that are as individual and unique as the content you post.
You can undertake some research into hashtags that are trending natively on the app. Find it under the Discover tab and see if there are any opportunities for your brand, also be on the lookout for hashtag challenges your business can participate in.
You can also follow #trendalert on TikTok to help identify anything that's gaining popularity you could get involved with.
Features
Trending features such as effects and audio can also help you on your way to TikTok stardom. You need to ensure that a feature is still popular enough to get views and engagement, we suggest going on the feature's page and looking at the most recent videos that use it, if they're more than a few days old then you can safely assume that the popularity has already peaked.
IMPORTANT INFORMATION
Business accounts on TikTok are not able to use popular songs unless they have the required licence for use, due to the risk of running into copyright issues. Music that's available for commercial use can be found in the Commercial Music Library.
TikTok SEO
Peter Kay's "cheese?…Cake?" routine comes to mind when looking at this unlikely pairing. On the surface, TikTok SEO is as much of an oxymoron as cheesecake and the reality can be just as sweet.
In September, the platform announced an increase from a mere 300 to 2,200 characters in video descriptions where they stated that:
Increased characters gives creators a chance to generate engagement while becoming more searchable and better recommended by TikTok to viewers
Captions, in addition to hashtags, are all words that help to contextualise a video. This contextualisation is definitive proof that these words (or, keywords) contribute to the TikTok algorithm.
Search Engine Land recently investigated Google's indexing of TikTok videos to further explore TikTok SEO.
When searching for generic TikTok terms, for example, "TikTok recipes", the expected result would be videos straight from the app. However, the reality of such a search prioritises results sharing viral recipe trends from TikTok, with the videos from the platform ranking eighth or lower.
To increase your visibility on Google, you could consider sharing your TikTok creations on other platforms, such as YouTube Shorts (Google – expectedly – will prioritise its owned channel).
Zoe Ashbridge, author of the article on Search Engine Land stated that:
Captions help the TikTok algorithm sort videos by topic and could even boost visibility via Google search
It'll be interesting to see the potential evolution of the symbiotic relationship between Google and TikTok.
No two TikTok feeds are the same, your content should be natural and relevant to your business and not be made purely to attempt to go viral, other than that, actually enjoy creating your content, this will shine through.