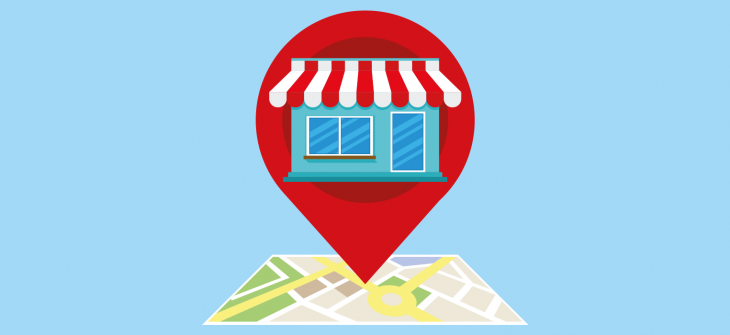 The ultimate guide to local SEO
2020 taught us many things about how business is conducted and how companies have to adapt in line with consumer buying habits to survive and thrive in the increasingly online world
---
Since the start of the global Covid-19 pandemic, many businesses have been forced to close their physical stores and move to selling online. All of this means that eCommerce instantly jumped to the top of the priority list for many brands.
Something that is often neglected however is local SEO which allows you to target an audience who are much more likely to convert given their proximity to you. The information that you should be adding to your site so that you get picked up in SERPs for 'near me' terms is vast but, in truth, relatively simple to execute.
This blog looks at what exactly local SEO is, the things you can do to give your brand or business the best opportunity and tips to assist with your online profiles.
What is local SEO?
Local SEO is one of the most versatile types of digital marketing and is also one of the fastest growing areas of the market. In essence, optimising a local SEO strategy for your business allows you to directly target potential customers, who are looking for products in both your marketplace and your location, at the exact time that they are searching for them.
By making sure that you are at the top of Search Engine Results Pages (SERPs) and business directories in a local setting, you are giving your company the best possible chance of picking up extra sales, extra web traffic and offline visits.
In a world when mobile search is growing at a rate of knots, and where 'savvy' consumers are looking for the most accurate returns in their search, it is something of a sin to miss out on improved connectivity and a mobile friendly approach to search.
In principle, local SEO is the practice by which you can increase your chance of appearing on page one of search results whether that be through conventional organic results or within the local specific sub-sections.
The need for information such as shop opening times is more important than ever; there is also something of a post-pandemic push towards supporting local businesses, so making sure that businesses can easily be found, regardless of the number of units or the size of the business, is vital. 
With so many brands claiming to be 'global' it is essential that they remember this in fact means that they have a large local network. In order to remain at the top and beat the competition they therefore have to optimise their website, their Google My Business (GMB) listing and provide as many details as possible to assist those searching for products and services.
Why is Local SEO Important?
In the digital world we often (nearly always) push the issue that a good, well optimised website is crucial if you are to grow as a business, this is just due to the nature of consumer shopping habits, but that doesn't mean it's the death of the high street just yet. 
Local SEO can be important even for those businesses who don't have websites as it allows you to provide important contact and location based information. Of course, if you do have a website, and you should, then local SEO is a great way to drive not only more traffic but more relevant traffic both on and offline. Users that find you based on location are usually more engaged and, therefore, are more likely to convert.
An added benefit of well executed local SEO practice is the appearance of localised results within conventional organic listings. For generic phrases such as 'plumbers' the results given contain a mixture of both national organisations and local businesses. This is therefore a major advantage for local businesses that historically may not have appeared for search terms such as this.
To perform well in local SEO, you must adhere to traditional SEO rankings factors as per any standard campaign, however there are a number of unique components that are aligned and weighted towards local SEO.
Local search ranking factors
The industry experts over at Moz were recently asked what they believed are the main ranking factors in local results, here's what they came up with from highest impact to lowest:
Google My Business Signals (Proximity, categories, keyword in business title, etc.) 

Link Signals (Inbound anchor text, linking domain authority, linking domain quantity, etc.) 

Review Signals (Review quantity, review velocity, review diversity, etc.) 

On-Page Signals (Presence of NAP, keywords in titles, domain authority, etc.)

Citation Signals (IYP/aggregator NAP consistency, citation volume, etc.)

Behavioral Signals (Click-through rate, mobile clicks to call, check-ins, etc.) 

Personalisation  

Social Signals (Google engagement, Facebook engagement, Twitter engagement, etc.) 
If we look at all of these in more detail it should be possible to highlight gaps in your digital strategy and therefore areas you can improve in, many of which will be 'quick wins'.
Google My Business
Google My Business is a free tool, set up by Google to provide users with local businesses through Google Maps. 
Properly setting up your GMB listing is an integral part of getting your business noticed by both Google and potential customers. GMB is one of the first things that users will come across when searching and so you must have your business listed, verified, and properly managed. A common mistake is that a large portion of GMB listings are unclaimed, believed to be over 50% in early 2021. This should be your first task.
Link signals 
Local businesses should aim to attract links from local, relevant, and authoritative websites for positive impact on their site. The backlink profile of a local business highlights to Google and other search engines the value of your site for a particular query. Make sure you build quality, relevant links and consider the correct areas to focus on. Think local at all times, local newspapers, local publications, local blogs, local social accounts, the list goes on.
Review signals 
Positive online reviews help to paint your business as trustworthy, reliable, and legitimate. Having positive reviews online not only has a significant impact on the decision-making process for potential clients but will also contribute to local search ranking factors.
Local SEO ranking signals consider the total number, frequency, diversity, and quality of reviews that are generated for the business.
On-page signals 
Search engines will look out for the use of keywords that are highly relevant in order to work out where your site belongs in relation to a particular query. Details such as name, address and phone number (NAP) on pages also assists in on-page ranking factors. Google uses this information to determine important proximity details for your rankings. 
You should also remember that an increasing number of searches and particularly local searches are coming from mobile devices so mobile optimisation, friendliness and mobile site speed are things to consider also.
Citation signals
Citations are great for getting consistent information about a business out digitally and also help in the acquiring of local backlinks from legitimate and authoritative websites. Where searchers use directories and citations to find products and services and their contact details, search engines use citations to confirm necessary information.
Behavioural signals 
Behavioural signals are actions that your audience users indicate how they interact and engage with local business listings and websites. The most common user signals that are monitored include:
Click-Through Rate (CTR)

Mobile Clicks to Calls

Social Media Check-ins
Personalisation 
People don't see the same search results. 
Search engines keep about as much data about search history as you'll let them. They use search history, browser history and even clicks to tailor search results to each user. Even when two people use the exact same search language search engine algorithms use whatever data is available to tailor search results to a specific user. Here are two of the things that you can consider.
Firstly, as mentioned above language is a consideration and users want to see search results in the language they used to search. Search algorithms also crawl for content relevant to people searching from specific locations so you need to think about that also.
Social signals 
Social signals refer to a webpage's collective shares, likes and overall social media visibility as perceived by search engines. These activities contribute to a page's organic search ranking and are seen as another form of citation, similar to backlinks.
You should consider the following according to bigcommerce:
Post daily: Keep your brand at the top of social media news feeds.

Use images: Images greatly increase interaction rates for all social media types.

Listen: Hear what people are saying about your brand and respond to critique in a constructive and positive way.

Monitor: There are several free social media marketing apps which track shares, re-tweets, likes and keywords associated with your brand.

Contests: contests and giveaways are a great way to increase interest in your brand.

Partnerships: Share links and produce original content with other popular brands.

Cover all the social media bases: Produce content for all of the top social media sites.
Developing a local SEO checklist and strategy 
Every business that relies on local customers visiting their bricks-and-mortar premises need to incorporate local SEO into their search marketing strategy – this is particularly important as the shift from desktop to mobile means an increasing number of us are using mobile devices to search for specific, nearby businesses on the go.
---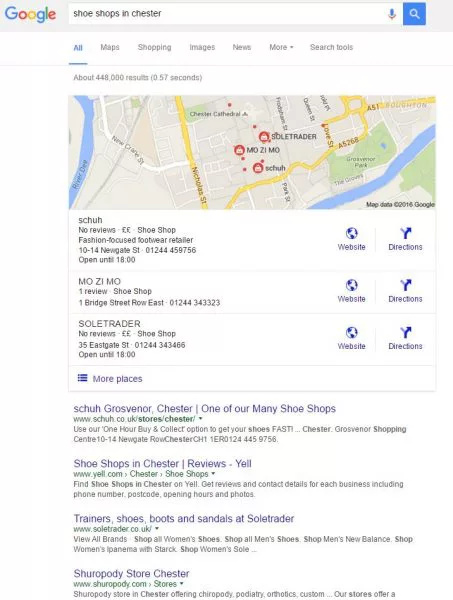 ---
To perform well in local search results, you must adhere to traditional SEO best practice as per any standard campaign; however there a number of unique components that are aligned towards local SEO
How to optimise for local search queries
Name, address and phone number (NAP)
The NAP on your website needs to be identical to how it is shown on your Google My Business profile page, as it's critical that Google categorises you as the same organisation. This is the case for both single and multiple location pages. The information can be shown anywhere on the page, but the footer is most common for single location businesses.
If for any reason your information such as your phone number or email address is shown as an image, ensure it has a corresponding alt tag with the information being shown in either text or number format and have the phone number displayed elsewhere on the page.
Keyword optimisation
As in the case of conventional SEO, you should optimise your landing pages for local terms. Make sure that your business name, targeted local keywords and the business location are included on all landing pages in all of the significant on-page locations. This means that each element should be included in:
Meta title

Meta description

Opening H1

Image alt tags

On-page copy
However, as in the case of standard SEO, keywords should appear naturally in the copy.
On-page content
An important aspect of local SEO is ensuring that the copy across your website is high quality and extensive. In the case of local SEO, this must be the case on all local pages on your website.
Location-specific landing pages should ideally be 300 words in length and include information about the local area. If you have multiple local pages on your website, you have to ensure that each page has unique content.
Embed a Google map
Each location landing page should have an embedded Google Map based on the business address. Embedded maps can be easily re-sized to fit around copy on the page and not only does this provide good user experience, it also provides Google with vital local based information about your organisation. When setting up this feature, make sure that your address matches that of your Google My Business listing.
Semantic markup
When optimising your website for local SEO, it's critical to optimise your website with semantic markup. For local businesses, the markup of important information such as the business address, telephone number, opening hours and map data is important as it allows Google to understand the context of the information shown on the page.
Think 'hyperlocal' with advanced local SEO tips
There are several topics in search marketing that come up over and over again and one such example is personalisation. Users want to be targeted with the correct content at the correct time and, when it comes to the results that are displayed on search engine results pages (SERPs), they are no different
Users want information that best serves a need and a major part of this is to do with advanced local searches or hyperlocal searches.
Imagine the scene – you are at home and want to head out for dinner. Your search might appear similar to the following:
---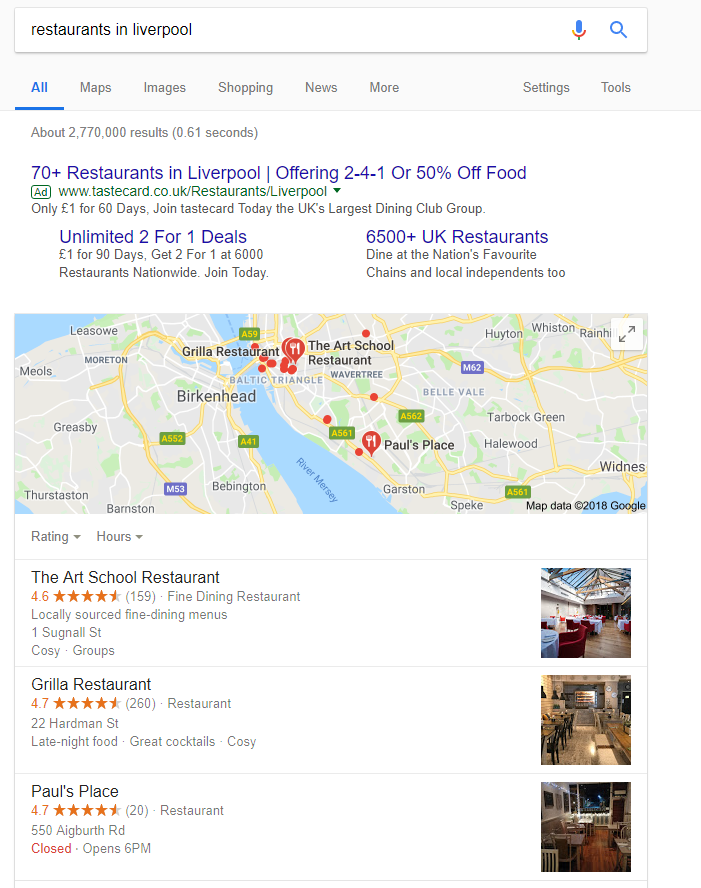 ---
With the advancements in technology however and with location services more accurate than ever there is now a precedent for a hyperlocal search which means you can look 'on the go' for businesses that best suit your needs and which are in your vicinity. We have covered extensively the importance and indeed the shift towards a Mobile-First environment and how this is perhaps the most significant development in recent years. A search in this format might display the following results, for example:
---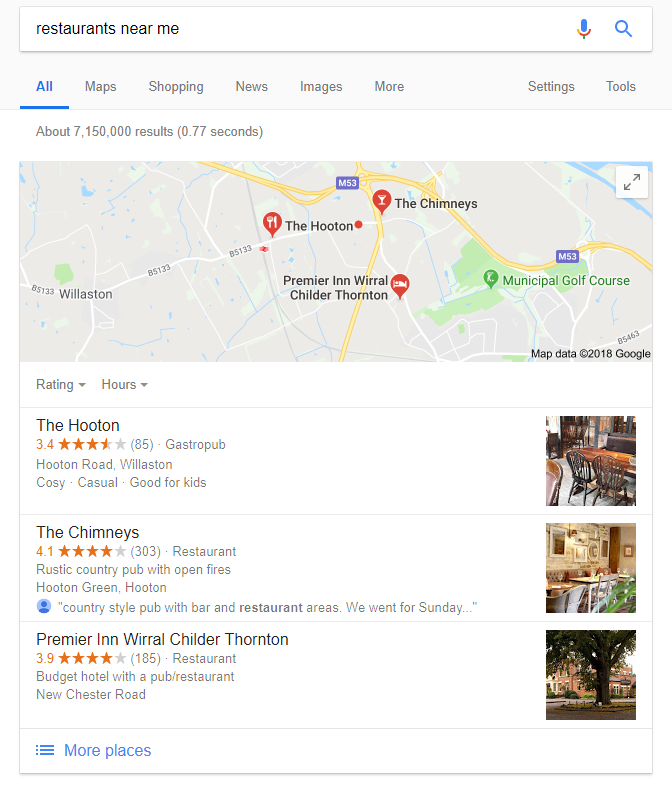 ---
We have covered extensively the importance and indeed the shift towards a Mobile-First environment and how this is perhaps the most significant development in recent years.
With the time poor, information rich nature of the users searching habits it is no surprise that they are using both mobile search and local search more frequently. Google has adapted to this and over the last few years paid particular attention to how searches with hyperlocal intent are displayed and, indeed, ranked.
From a consumer perspective, the very reason that a search is conducted is for research purposes. Buyers want answers and access relating to where, how and when they can purchase and that doesn't change whether they are buying a coffee or a car. According to a report by Forbes Insights customers still like to do their research online but make their purchase instore (N.B. this is changing and will continue to do so). In their study "A Split Screen: Online Information and a Human Touch," customers prefer to mix technology and in-store visits for major purchases.
It also found that nearly 50% of retailers surveyed said that their customers are looking for an 'omnichannel' shopping experience. In terms of those using a search engine prior to buying and choosing where to buy from the number is 82%, which shows the sheer power of being at the top of SERPS for your most relevant and your industry's most competitive keywords.
For businesses who are trying to gain local business with a local search strategy, Google Trends has identified the importance of utilising the 'near me' suffix to searches as is displayed below:
---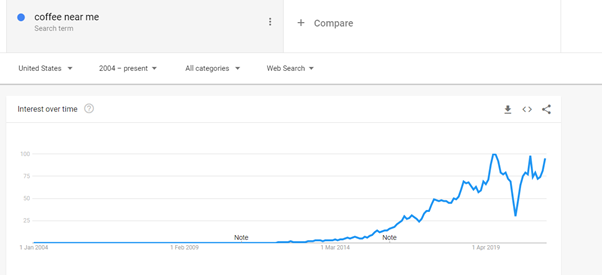 ---
*The dip in this chart is a direct reflection of the national lockdown in 2020 and the closure of all coffee shops
Google has acknowledged that insofar as they have the following to say: "Across our client base we are still seeing more than 50% of the traffic from these queries coming from desktop — and more than 80% of the clicks but there is a shift".
---

---
What are the 'near me' ranking factors?
'Near me' queries as a whole are a relatively small (but expanding) part of local search volume, but these searches are clear signals of local intent and consequently represent high-quality traffic for businesses targeting locally.
In a statistic-led study of Google's Local SEO Ranking Factors report by Search Engine Land, they found that when looking at ~600 searches, which included ~6,000 Google My Business (GMB) pages, as well as the corresponding domains/pages that the GMB pages linked to, the following factors had the strongest positive correlations with ranking well in Google's and 'near me' searches:
Google reviews

Total number of backlinks with searched city/region in the anchor text

Percentage of backlinks with searched city/region in the anchor text
They also found that link metrics were some of the strongest indicators of good rankings, so it's not surprising that they also matter for 'near me' queries. The example that they used was that TripAdvisor have an aggressive use of 'near me' in internal link anchor text may be one of the reasons those URLs rank so well for local queries:
---

---
One area where there was a differing of opinion in terms of ranking factors was in relation to distance as a search ranking.  The search below shows a selection of coffee shops near to the searcher. These are sorted apparently by distance.  Yet when you expand the results in the second image the distance does not become the natural order proving that although it is the primary factor for the users it is not the primary result that is displayed.
---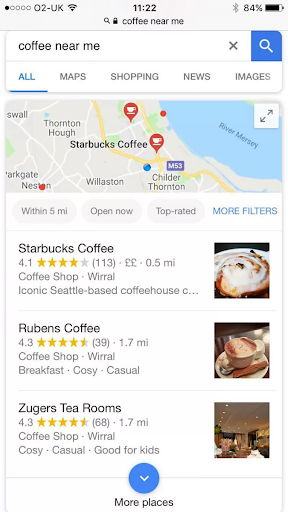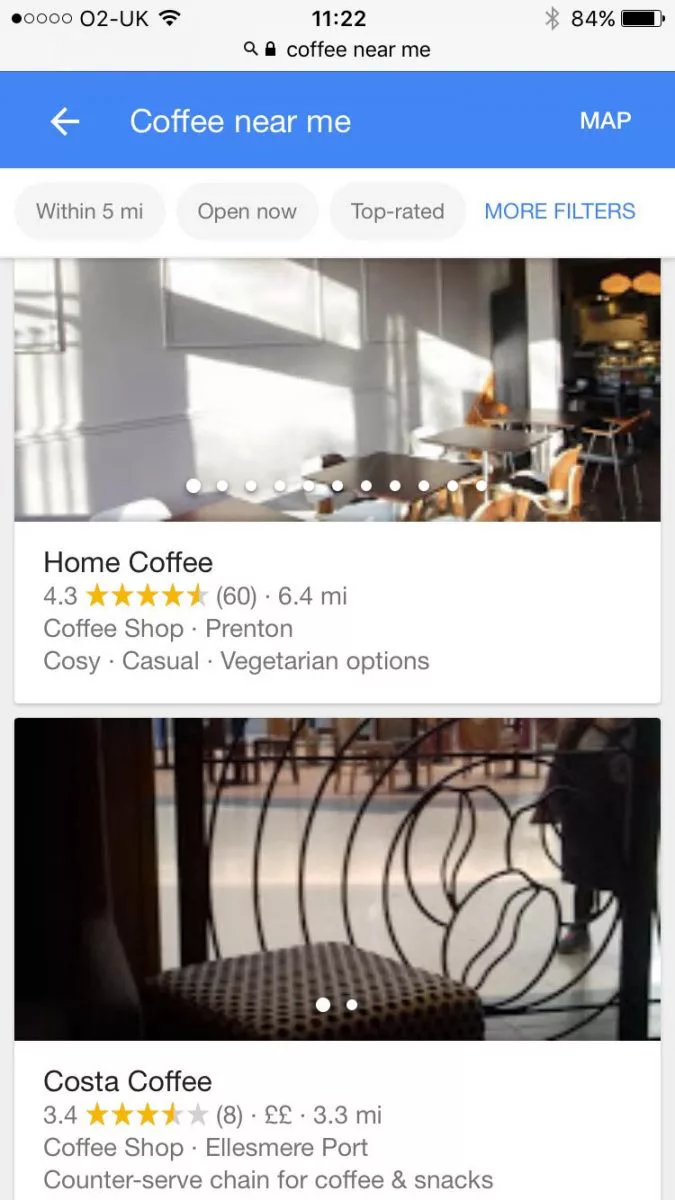 ---
Indeed it appears as though the GMB ranking carries more weight.
Set up your Google My Business profile
With a log in/sign-up page that promises to help you 'Manage', 'Connect' and 'Understand', Google My Business seeks to be a hub for a number of Google's small business products including (but not limited to) local listing info for maps, Google reviews, 'Insights' and the latest addition 'Website'. The platform (not to be confused with Google Business Solutions) is a good starting point for any start-up looking to hit the ground running.
By signing up to Google My Business you can tell Google directly the name of your business, the exact location, what it does, opening times, what it looks like (upload your own images), and many more attributes.
It is of particular relevance to the map results and the 3-pack listings. For instance, Google smartly tells the searcher whether the business is open or closed right now and pulls out images to give users more of an idea of what to expect.
In order to view performance in a hyperlocal environment GMB also offers a huge amount of data in Google Analytics, so you have the stats to back up the strategy.
Not only does Google My Business make it easier for it to know what's what about your business, it also improves the search experience for your customer – giving more 'at a glance' information than the traditional SERPs listings do. What's more the service is free to use.
Reflect hyperlocal terms in your on-page content 
An important aspect of local SEO is ensuring that the copy across your website is high quality and extensive. In the case of local SEO, this must be the case on all local pages on your website.
Location-specific landing pages should ideally be 300 words in length and include information about the local area. If you have multiple local pages on your website, you have to ensure that each page has unique content.
Once you're sure of your hyperlocal term, make sure it is reflected in your titles, descriptions, body text, alt. text of images etc. so when Google crawls this content – and potential customers read it – both know your business is there.
A top tip from Search Engine Watch on this is that if you are located near a well-known place or landmark (university, sports stadium, monuments etc.)? It might be worth reflecting this in your onsite content.
Please use schema markup
When optimising your website for local SEO, it's critical to optimise your website with semantic markup. For local businesses, the markup of important information such as the business address, telephone number, opening hours and map data is important as it allows Google to understand the context of the information shown on the page.
By including the relevant markup, you can make Google's job of displaying the necessary information and call-to-actions about your business even easier.
Currently Google accepts markup for (among other things):
Opening Times. Even down to seasonal changes

Including latitude and longitude

Restaurant-specific properties. Such as food served, how it can be delivered, how to reserve a table etc.
Consider adding markup to the content pages on your site as a best practice accompaniment to the information in your Google My Business profile. It will ensure that when Google is crawling your site, it will deliver the most trustworthy, up-to-date and relevant information.
---

---
It might also be worth noting that if you have multiple locations then make sure that you make landing pages for each of the sites. This will maximize your appearance in search and allows you to optimise the content further.
Social media impact of local search marketing
With nearly 3 billion social media users all over the world, it's a given that social media marketing must not be ignored by businesses. Hyperlocal marketing is the type of marketing, which is aimed to reach potential customers within certain areas but knowledge hut suggests that: "Brands must think global and act local, and their social media marketing strategy must be modified accordingly."
There are five main reasons why a business particularly in retail can benefit from this type of strategy and in the latest study by Martech they picked up on the following points:
Reach out while your prospect is attentive – Local Social Monitors can act as both active and passive method of communication. If a user posted a Tweet online, there is a small time frame (approximately 2-3 minutes) where the user is expecting a response, voice, or an opinion to that post. If retail firms respond within that window, they'll receive the full attention of the customer. The response must provide a call to action, or build a conversation.
Personal triumphs vague – Marketing is effective when it is more personalised and relevant to the area in question. Build a more intimate relationship between the brand and the customer.
Targeting social influencers –Local Social Monitors provide necessary tools and features that will provide deeper insight into the social media user or customer. Rewarding influencers will be the simplest and best way to reach out to new local customers and empower the brand locally.
Point of sale is key – Customers use social media to reach out to the world to receive an opinion of what they wish to purchase. Encouraging purchase, through sharing the sales for that day, or reward points received. Customers are not always aware of great deals, and for them to be informed will increase UX.
Measure success – Few local social media tools provide the functionality that enables businesses to measure the success of their social media strategy. Combining social media data (sentiment, influence, reach) with retail metrics, means it is now possible thanks to cross-platform technology – such as APIs and cloud technology to get the best results and adapt your strategy.
The future of local SEO
When discussing the future of local SEO and advertising our very own John Warner gave this analogy…
"It's been a long week, you've been for a few drinks and now, as you totter from the bar, a Google Maps powered overlay begins to guide you to the nearest taxi rank. Your smart watch or fitbit, however, disapproves – it knows how long it's been since you last ate, how dehydrated you are and it knows how tomorrow's performance will be impacted by the evening's drinking.
"Your view begins to populate with signposts to your favourite eating establishments, an advisory note pops up in the corner of your field of vision, or is spoken to you by the voice of your celebrity fitness guru, it reminds you of the health and productivity costs of going straight home without eating and drinking. In another corner, your bank or credit card assures you that a kebab is within your weekly budget.
"It's a little science fiction, but not as far removed as you might think – in fact, the way in which Google has begun to reorganise local search results and has increased the available advertising options and rankings weightings for local suggests that it is already well on the way to preparing for it."
While the possibilities open to augmented reality (AR) advertising are currently restricted to the mobile screen, this is mainly because we remain firmly in the infancy of visual wearables and because of the current lack of connectivity of various wearables. 
As the internet of things (IOT) begins to develop, however, insurance companies are likely to extend premium discounts from dash-cams and apps for car insurance to fitbits for life insurance. 
Consequently, it cannot be long before early adopters are followed into the wearables market by consumers seeking a saving on various insurances; or look for other benefits to lifestyle options.
So, what can brands do to prepare for the coming of this new technology? The simple answer is that even the largest brands will need to begin developing sound and dynamic local strategies as search marketing becomes increasingly geo-targeted and personalised (a trend easily visible even without cqonsidering AR). 
Quite simply, it will not be enough to wait for this to happen, brands need to ensure that their local strategies are already well advanced by the time such a change comes.
This means that, while the importance of keyword rankings and SERPs positions is unlikely to diminish in the near future, there will be increasing emphasis placed on local search, local links, citations and reviews, meaning that the nature of campaign outreach may need to be adapted to include more local bloggers in areas targeted for growth, that geo-targeting will take on a new level of importance in the quest for personalisation and data-driven search marketing and that the largest brands may well be increasingly within the reach of global giants when it comes to market share – at least on an area by area basis.
Final thoughts
All in all, as the world of marketing is about to become much larger and yet more focused, search marketing strategies will require detailed planning by area as much as by demographic, and therefore it is imperative that this begins immediately, that signals from the industry are monitored and followed, and everything possible is done to avoid a surprise later down the line.
---
If you would like to find out more about how Click can support your digital marketing strategy, reach out to one of our team for a free consultation.
Share this: