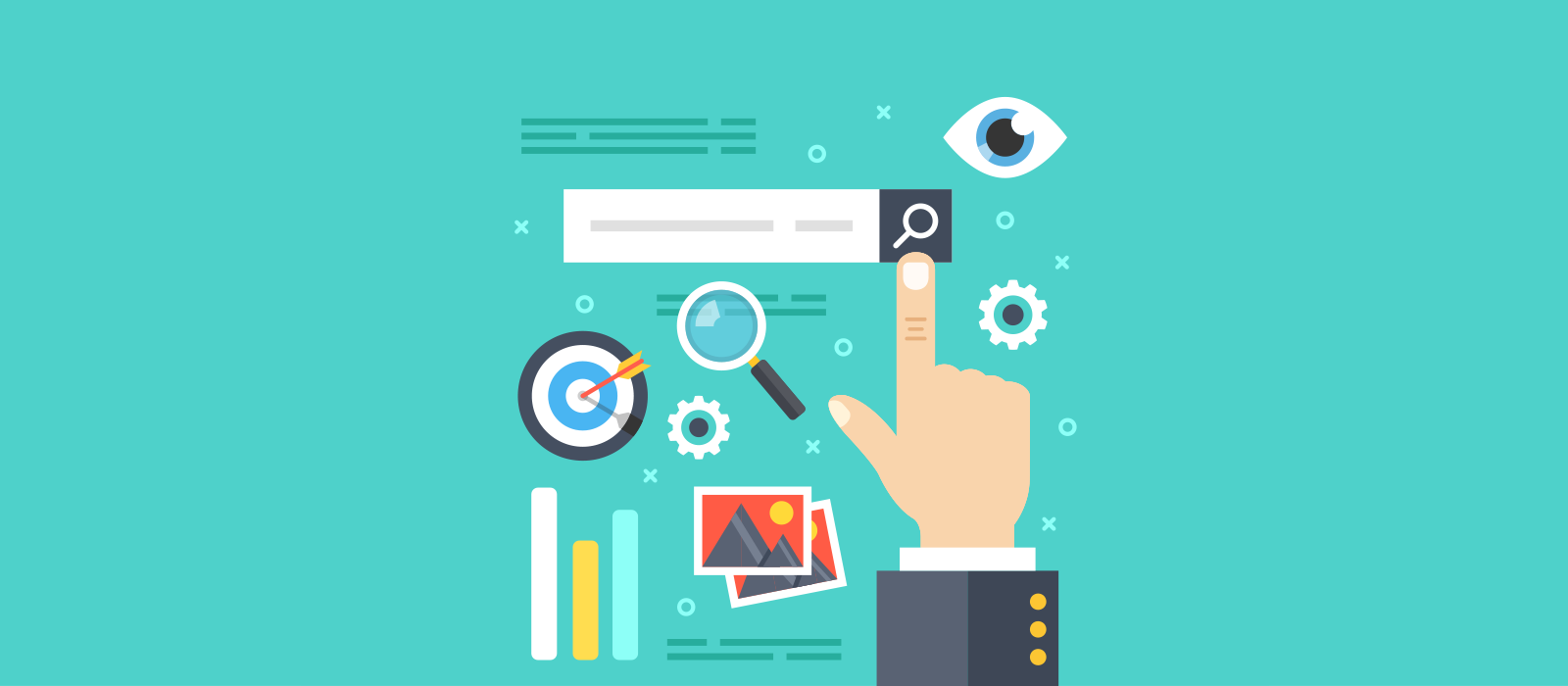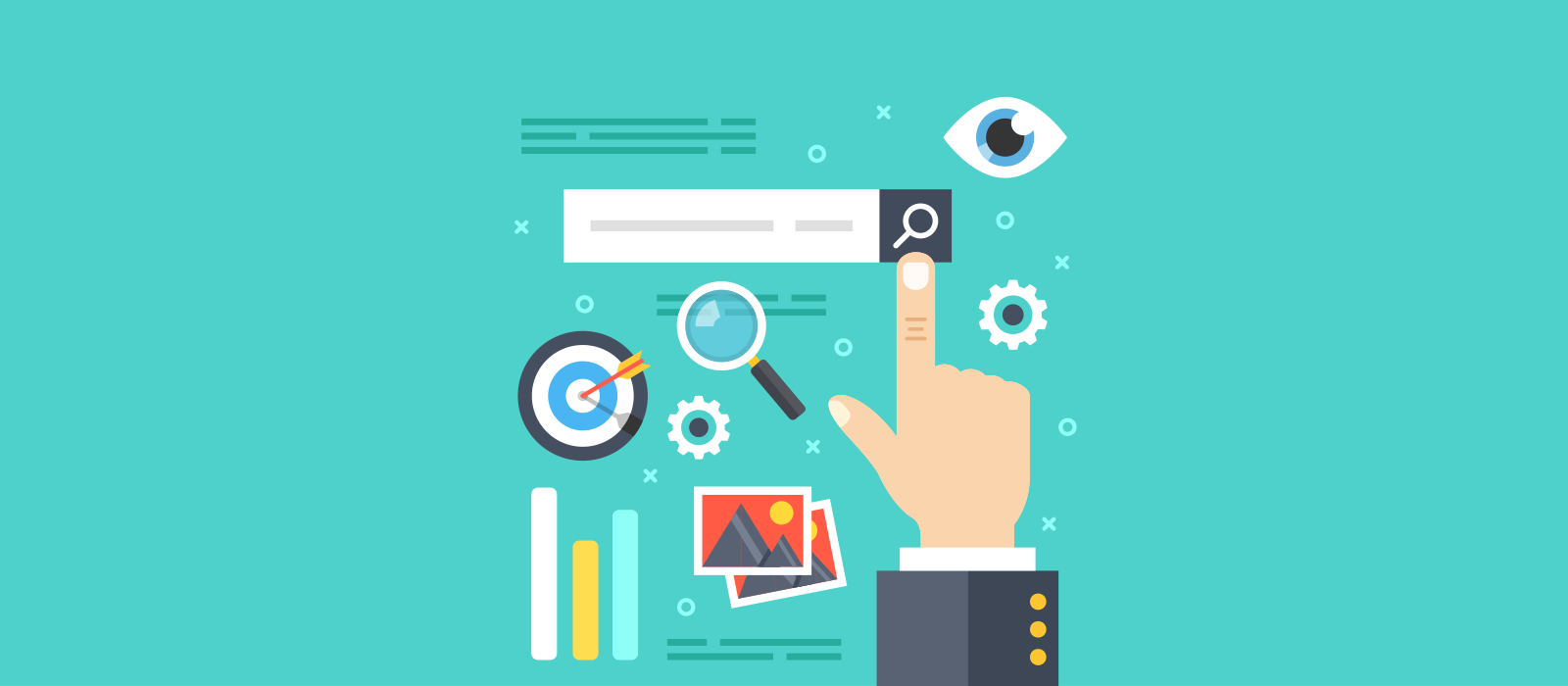 That year in search marketing [2019]
Feb 16th, 2022
The annual culmination of our (mostly) daily updated "week in search marketing" blog posts – here's 2019 in search marketing
---
January
Google's internal SEO strategy
There's a review of the information shared by Googler Sean O'Keefe over at Search Engine Land which details the numerous bits and pieces of information that make up Google's own approach to SEO. With much of the advice regarding getting the basics right, it would seem that Google suffers from the same issues as any other company – getting the foundations in place is tough and takes time (even though the changes themselves may not be overly complex), especially when you consider it wasn't long ago that it was being pointed out how badly some Google services ranked.
Google Assistant
Search Engine Land's post on Google Assistant theorises that the business model for the platform may be transactional more than advertising based. While I imagine advertising will play a part (they're unlikely to ignore a revenue stream), the article's 'why you should care' summary reflects the position we've been taking here at Click for some time.
Google starts as it means to go on
In weekly 'something happened' news, there was some volatility across most of the major tools over the weekend. Search Engine Roundtable has a roundup of various sources – though, from what I can see it appears to be part of the ebb and flow of recent changes, with no clearly identifiable target industry. As such, I imagine another algorithm adjustment rather than a more widely impacting update.
Google fined €50 million for breach of GDPR
Google has been slapped with a major fine by France's National Data Protection Commission (CNIL) over a lack of transparency, incomplete information, and failure to properly obtain user consent as required by GDPR.
In the first major enforcement of the EU's General Data Protection Regulation (GDPR), France's CNIL. said it had levied the record fine for "lack of transparency, inadequate information and lack of valid consent regarding ads personalisation".
The enforcement action stems from two complaints made by None of Your Business (NOYB) and La Quadrature du Net (LQDN) on the 25th and the 28th of May, 2018. These organisations accused Google of lacking the legal basis for collecting and processing user data in connection with their ad personalisation system.
This enforcement has already sent shockwaves through the internet as it has massive implications for companies' reliance on Terms of Service Agreements for all sorts of data collection.
---
People expect high standards of transparency and control from us. We're deeply committed to meeting those expectations and the consent requirements of the GDPR
Google Statement
Streaming giants including Amazon, Apple, Netflix and Spotify have been accused of breaking the EU's data regulations.
GMB update
Google has released an updated version of its 'Google My Business' (GMB) app to allow users to share the service-areas and information about their business via Maps and Search, increasing their chances to be discovered. Google will guide new users through the setup process with prompts for local service area businesses and existing GMB users will now be able to edit their business information from the app dashboard.
Google experts to take over paid search campaigns
Google has begun notifying some advertisers that it will take over management of their campaigns unless they opt out. Google's email says Google Ads reps will start making changes to advertiser accounts if advertisers don't opt out.: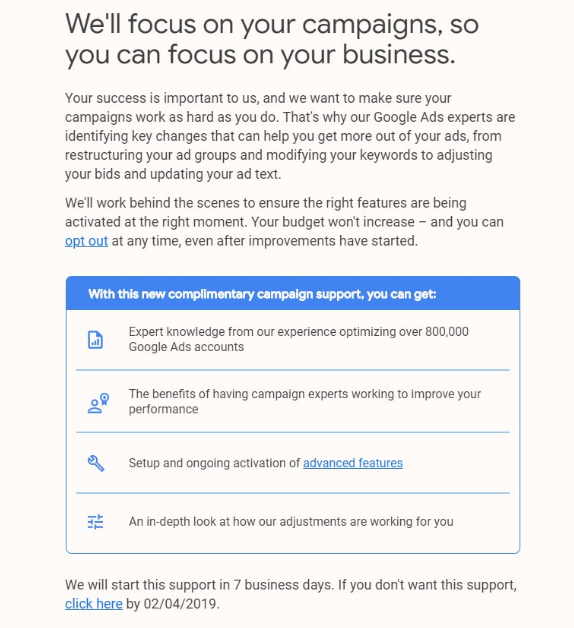 A Google spokesperson told Search Engine Land, "Our sales teams are always looking for ways to help customers get the best results from Google Ads. We are rolling out a pilot program that we believe will help businesses optimise their accounts. As always, we build customer feedback into the final product. Customers are in full control of the account and can accept or reject recommendations as they desire."
Google News
After Google blogged last week to reiterate its advice around doing well in Google News has caused the SEO community to speculate the search engine is gearing up for a crackdown on publishers in Google News for violating their guidelines.
The post was followed up by a tweet from Danny Sullivan:
No fixed timeframe for algorithmic impact
Danny Sullivan
Google's John Mueller has confirmed that "there is no fixed timeframe for algorithmic changes to take effect", tweeting:
"There is no fixed timeframe for algorithmic changes to take effect, past the need to recrawl and reprocess pages from the site. In general, these are not penalties, so instead of just waiting, I'd recommend getting objective input from peers early on, eg, by posting in a forum."
John Mueller
Instagram
A new feature will allow people to post across multiple profiles according to a Marketing Land article. Marketing Land, who seem to be the only ones working this week, offer a convincing summation in their 'why you should care' section, stating that for marketers on the go it may be useful just for the speed of posting over accessing their social media management tools.
'Eggstrodinary' results sees Instagram record break
An Egg, Just a Regular Egg, Is Instagram's Most-Liked Post Ever…
Reporting on the story on Sunday night, The New York Times revealed that a photo of an egg, orange and lightly freckled, outperformed Kylie Jenner's birth announcement as the most-liked Instagram post ever.
That's it, that's the story. The egg has more than 29 million accounts liking it as of Monday morning, when it was still gaining them at a rapid pace.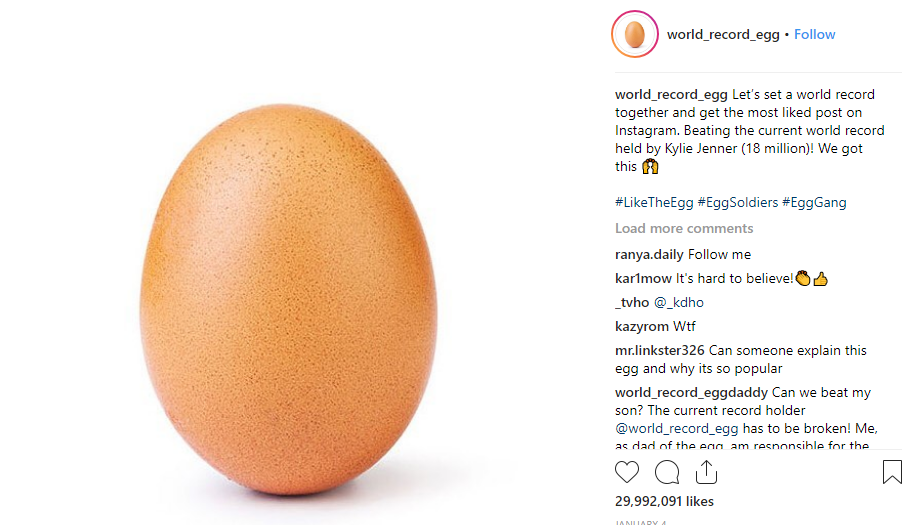 We do not yet know who posted the egg on Jan. 4, why it was posted, or why this attempt to set a record actually worked, but it just goes to show that in the world of digital marketing, anything can go viral.
Instagram lets marketers share posts across multiple accounts
Following on from the nonsense of the egg, in another Instagram first, the social media platform has announced that marketers can now share posts across multiple accounts. The new feature is designed to provide a better experience for people who often post to multiple accounts simultaneously.
Instagram rolled out a new feature that gives iOS users managing multiple accounts the option to share a post across two or more of the accounts under their management. "We are rolling out this feature to provide a better experience for people who often post to multiple accounts," says an Instagram spokesperson.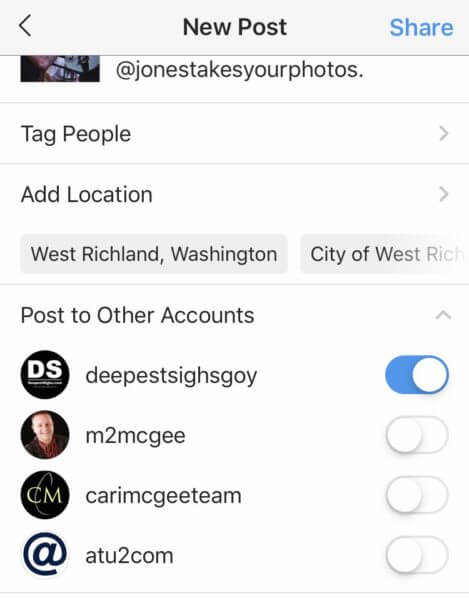 Influencers on the network will also benefit from the feature, making it easy for them to share the same promotional content across their separate Instagram accounts.
Reddit
Expect more ads to hit Reddit soon – Marketing Land feature an article on the 'front page of the internet's new Vice President of Ad Products. The power of Reddit's audience cannot be underestimated and, while it introduced a host of ad options last year along with the site redesign, the addition of former Twitter Director and one time Googler Rizvi should make paid search specialists sit up and take notice.
Reddit CPC
First up is the news that Reddit is launching a cost per click (CPC) ad option – something Reddit is quoted to as something that will "complete the suite" along with cost per impression (CPM) and cost per view (CPV) options. The introduction will be the first new product since Reddit hired Shariq Rizvi as it's VP of Ad Products and Engineering. Reddit, which boasts more active users than Twitter and a much better engagement rate, is seldom considered for paid search campaigns – but is likely to take on a more prominent role in 2019.
Twitter testing 'original tweet' tag
Twitter is taking a step to try and make it a little easier for you to identify the originator of a tweet thread, in the event that it isn't obvious. The company is testing a new tag that appears under a tweeter's name and leaves no doubt that person is the original tweeter. The tag appears to have been rolled out only to a small percentage of Twitter users.
"Twitter's purpose is to serve the public conversation. As part of this work, we're exploring adding more context to discussions by highlighting relevant replies – like those from the original Tweeter," Twitter's director of Product Management Sara Haider told TechCrunch in a statement.
New Twitter interface
Twitter is rolling out a new interface for web-users that comes with some shortcuts, an updated trending section and a newly-designed emoji button. "A new Twitter is coming. Some of you got an opt-in to try it now. Check out the emoji button, quick keyboard shortcuts, upgraded trends, advanced search and more," the company tweeted early on Wednesday.
With this update, Twitter has kept in mind little aesthetic updates to make it easier to see who all are involved in a conversation. "These changes, alongside the way Twitter's desktop version has condensed from three columns into two, should make it easier to both read and send tweets," The Verge reported.
Facebook tightens up on content quality
Facebook has introduced a Page Quality Tab "designed to help people who manage Pages understand how well their Pages comply with our guidelines… To start, we're including content removed for policies like hate speech, graphic violence, harassment and bullying, and regulated goods, nudity or sexual activity, and support or praise of people and events that are not allowed to be on Facebook."
It includes two sections:
Content we recently removed for violating a subset of our Community Standards and;
Content recently rated "False," "Mixture" or "False Headline" by third-party fact-checkers.
Here's a screenshot: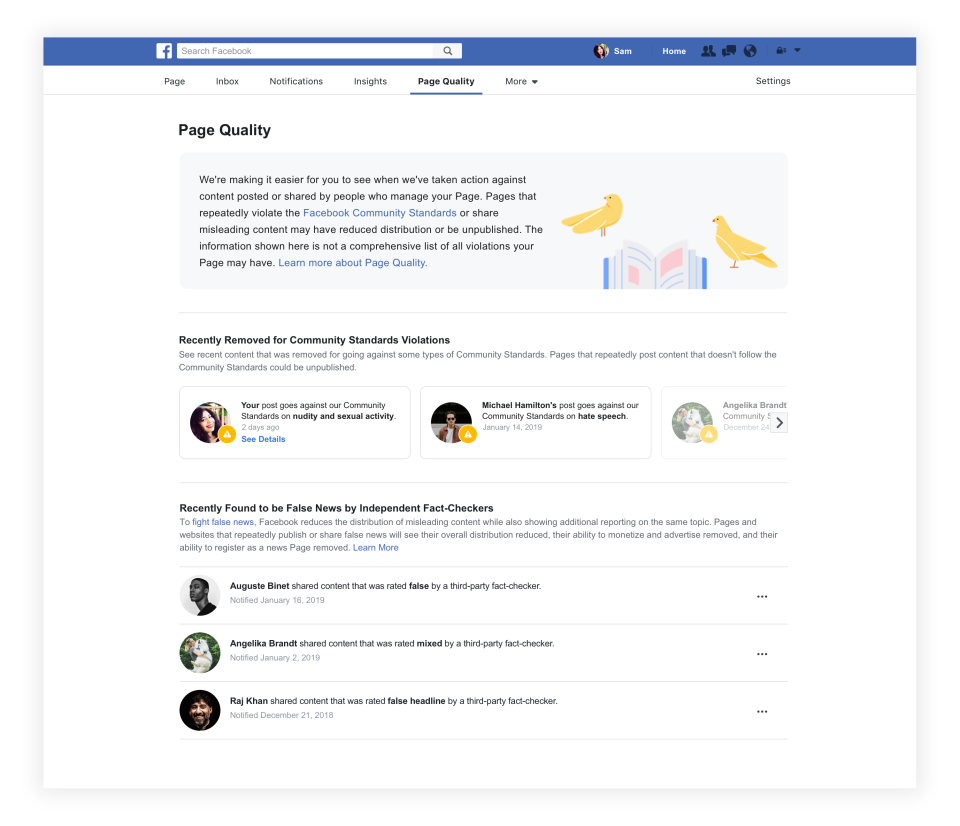 The platform also said it will be removing Pages and Groups that are connected to ones that are violating its standards.
Facebook gets interests data wrong 27% of the time
Three quarters of US Facebook users say they didn't know that the platform classifies and half say they aren't happy about this. In addition, 27% of Facebook users say the platform's classification of their interests is inaccurate. These statistics are based on a study from Pew Research Center, who asked a representative sample of users to reflect on the data that had been collected about them. The findings of this study are particularly relevant to Facebook marketers who target ads to users based on their interests.
Facebook withdraw research app
Facebook is a company that – since I signed up to it in about 2006 – has gone from a new era in social networking, a way to keep in touch with people and avoid people you never liked by pretending not to see their poke; to the front-end display of a global conspiracy to destroy humanity (there's a great podcast episode here which tells why the former was never true). It should come as no surprise, therefore, that they have had to bow to pressure to withdraw an app that allowed users to rent their privacy to Facebook for up to $20 a month (in actual fact, they had breached iOS terms of service and were blocked before making the removal announcement).
The app which, TechCrunch reports, was referred to as 'Project Atlas' in some internal documentation allowed Facebook almost full access to the contents of their phones. While sinister, however, it is almost certain that selling one's privacy will be fairly common practice before the end of the decade.
LinkedIn introduces interest targeting
The addition to its ads offering to allow advertisers to "own the conversations on the professional topics that matter to your audience".
With interest targeting you can:
Serve relevant ads and content that match a member's professional interests.
Deepen your influence with the buyer committee within your target accounts.
Reach those interested in pursuing a higher education certificate program.
Interest targeting will be available to all advertisers over the next week.
Interest targeting will be available to all advertisers over the next week.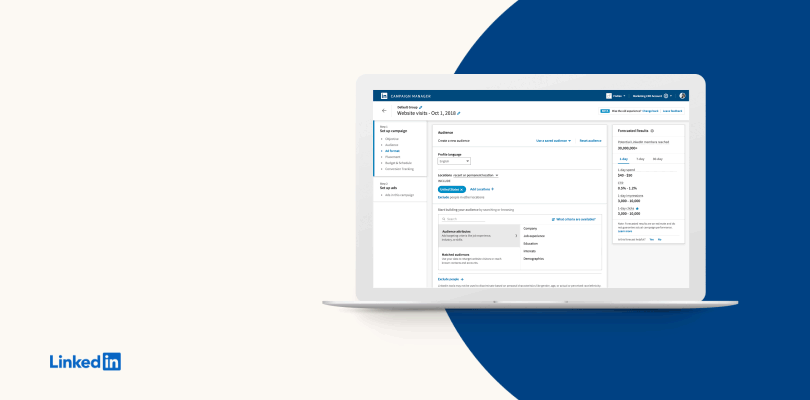 Amazon Sponsored Products ads now support dynamic bidding, bid adjustments
Amazon has added more bid management features for Sponsored Products ads in its advertising interface. The updates take a page from the Google Ads interface, so paid search marketers will be familiar with both the automated bidding option and the page placement report Amazon has rolled out.
Sponsored Products ads are targeted by keyword and can be used to promote sellers' individual products. They can appear at the top of search results pages, and further down on the results pages as well as on related product pages.
DuckDuckGo
After waddling along for a number of years, the privacy focused search engine's search figures have been on an incredible upward curve over the last few years – with 2018 seeing it earn 9 billion of the 25 billion it has served since 2010. While the share is tiny from a big picture point of view (as pointed out in the Search Engine Land article), it will be interesting to see how 2019 treats it with privacy and security issues likely to feature heavily in the press again with various Google and Facebook investigations either continuing or pending.
DuckDuckGo map and address searches now powered by Apple Maps
Today DuckDuckGo announced it was adopting Apple's MapKit JS framework for both desktop and mobile searches.
All the features available in Apple Maps will now be available for local and map-based searches on DuckDuckGo. The company had been using OpenStreetMap (and MapBox) for local results. While Apple Maps and Google Maps are visually quite different, many users may not immediately notice the change from OpenStreetMap.
DuckDuckGo said it it's one of the first global companies using Apple MapKit JS. It also stressed that it doesn't send any personally identifiable information to Apple or any other third parties in the process of delivering map results.
New rich results test
Search Engine Land are running a blog which features the new 'Rich Results test' from Google. It does say it's not covering all types of rich results… but it didn't do overly well on my first test…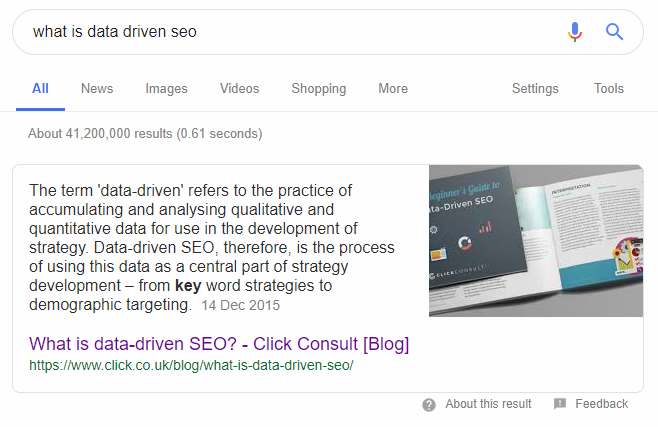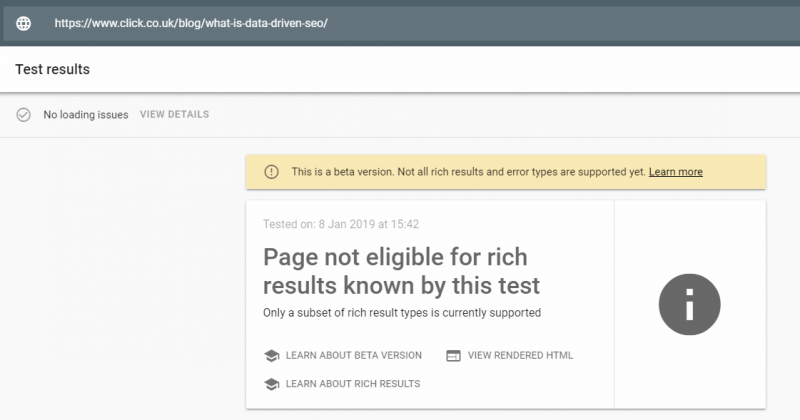 Universal Search
Bill Slawski, whose 'SEO by the Sea' site I reference a lot, has one of the better 'review' pieces that have come out in January, with an excellent blog on how the Universal Search patent has evolved since the first application was published in 2008 to its present pending application. Not only is the piece a good read, but sketches an outline of how search is changing and casts doubt on one of Google's more regular claims – that click data does not affect rankings.
Bing Ads launches page feeds for easier Dynamic Search Ads management
Page feeds in Bing Ads will be rolling out to all accounts over the next few weeks to help advertisers manage targets for Dynamic Search Ads.
'People Also Ask' on the rise in SERPs
A number one organic ranking in search results isn't what it used to be according to Ryan Johnson from Search Engine Land, with featured snippets and 'People Also Ask' terms filling the top spots.
In the past year, in addition to AdWords, increasing amounts of SERP space are being taken up by elements like knowledge panels, local packs and featured snippets. In fact, for non-branded search, the average CTR for the first position is now 19.3%.
Speaking about the increase, Ryan said: "The answer box was Google's most noticeable attempt to provide a definitive answer to queries. Unfortunately, this prime real estate was only limited to one answer. Google began to remedy this with the "People Also Ask" snippet (PAA), which allowed for variations in answers to the question and for searchers to see related queries.
"In the past year, PAA has started dominating SERPs and had become almost ubiquitous by year's end. This featured snippet became very prominent in July, 2018, when PAA started appearing in more than 40% of SERPs. When I last checked, according to MOZ, related questions/PAA are now appearing in 79% of SERPs."
CTRs on organic results on the decline
Research from SparkToro's Rand Fishkin and Jumpshot shows a drop in organic click through rate (CTR), on both desktop and mobile across the UK and US, with ads (PPC) and answers beginning to take some of their share (see tables below). According to Fishkin, this is due to "Google syphoning away large percentages of traffic to their own properties and answers in the SERPs."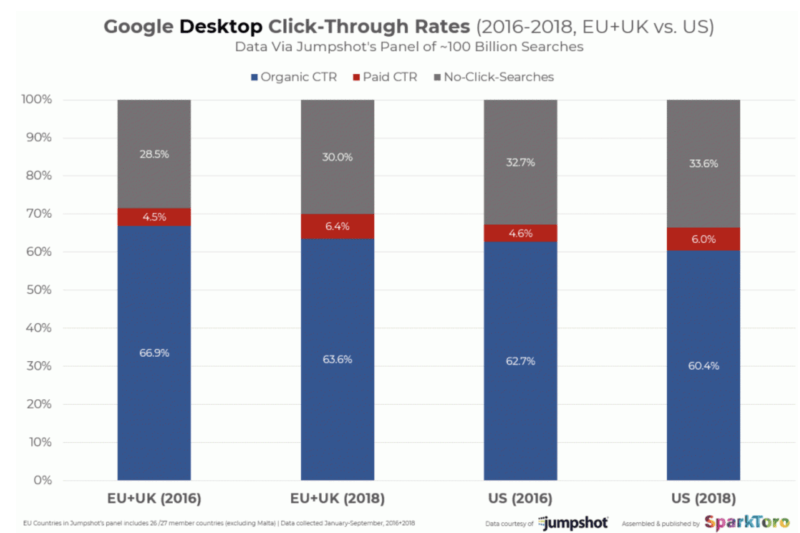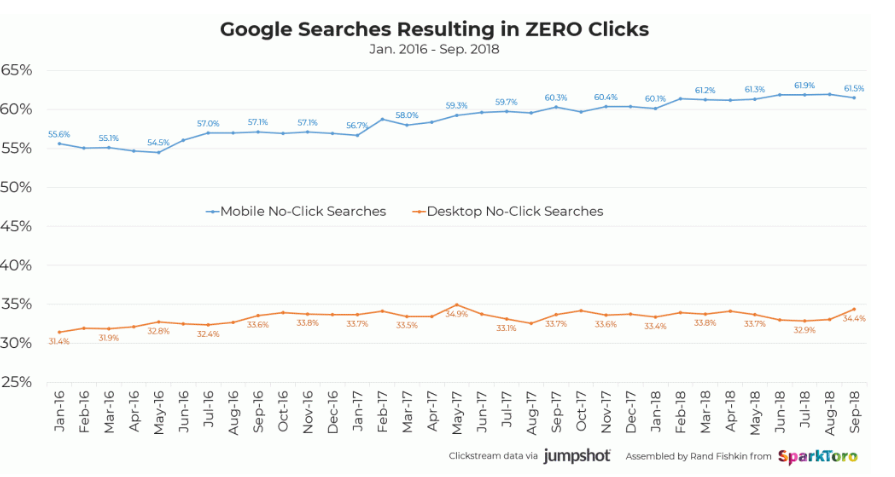 The steeper decline on mobile could be because carousels, answer boxes, local packs and ads dominate mobile search results.
Third of marketers unsure of 2019 strategy
Thirty six percent of business leaders are apparently currently unsure about their digital marketing strategy for the year ahead.
A survey of 1,021 UK workers carried out by digital marketing agency MarketingSignals.com has revealed that more than a third (36%) of business leaders are unsure about their digital marketing strategy for the year ahead.
37% of respondents admitted they aren't answering potential customer questions adequately enough on their own website, and 32% said they aren't actively retargeting visitors to their website; 29% said their website isn't fully mobile responsive; and 22% said they were not optimising their Google My Business listing.
Possibly misleading generalisation news
In what could probably be a regular feature, the latest possibly misleading generalisation news is carried by Marketing Land. The article which reports that Gen Z, who are, they rightly point out, due to become the largest generation worldwide (and in history), are so different than previous generations that marketers will need to immediately pivot to video if they hope to reach them.
Discounting the fact that the most important method of reaching Generation-Z has yet to be invented, the article (which also refers to them as 'kids') makes a point that this non-differentiated, homogeneous mass of humanity 'can smell a phoney a mile away' before recommending the employment of 'micro influencers'. The negative view of authority – from government to corporations – is used as a reason to create more socially conscious campaigns, while ignoring the fact that cynical adoption of a cause by a brand often leads to backlash.
While the article closes with a call to use marketing budgets wisely – which is a perfectly neutral and sensible suggestion – the clearest conclusion should be that, frankly, we have little idea what this generation wants or will want in future and there's only one way to tackle that – hire them, listen to them, try not to do to Generation-Z what previous generations did to millennials and tar them all with the same brush and treat them as an inconvenience for bringing with them new approaches to work.
Data Studio
There are a couple of bits of Data Studio news – something which both pleases and depresses me. While it's great that there will be new options – such as the opening up of community visualisations to developers and the improvements being made to the interactivity of charts– it does mean that the report I built at the back end of 2017 and updated late last year, is already due another overhaul.
Reputation and ranking
Search Engine Land featured an article late last week, that I've just gotten around to reading, that makes a few good arguments around the grey area of Quality Rater Guidelines impact on search results. It's a beast of an article that pulls in a number of sources we've quoted here in the past and some theories we've expressed elsewhere in the blog, but rather than try to sum up the thousands of words, I'll leave this link here and let you make up your own mind.
Quora ads
Another story on improved ad options featured on Search Engine Land yesterday, with a Quora announcement on the introduction of keyword targeting – allowing for brands to bid on the keyword targets they use for standard search ads. The article goes into some depth on the options – also listing the six targeting types presently on offer, namely: topic, question, audience, interest, broad and keyword targeting.
February
Reports of possible Google Search Ranking Algorithm Update
It was announced early on Thursday morning by Barry Schwartz, that there was plenty of 'chatter' about a possible Google search ranking algorithm. He posted the following on Search Engine Land:
I am seeing some early signs that there is a Google search ranking algorithm update happening today. Most of the signs are coming out of the UK, because maybe they have had time to process the changes. Are you noticing changes as of this morning with your Google rankings and organic search traffic?
There is some early and limited chatter in the WebmasterWorld forums about traffic and ranking changes in the Google search results.
Here is what tools are showing: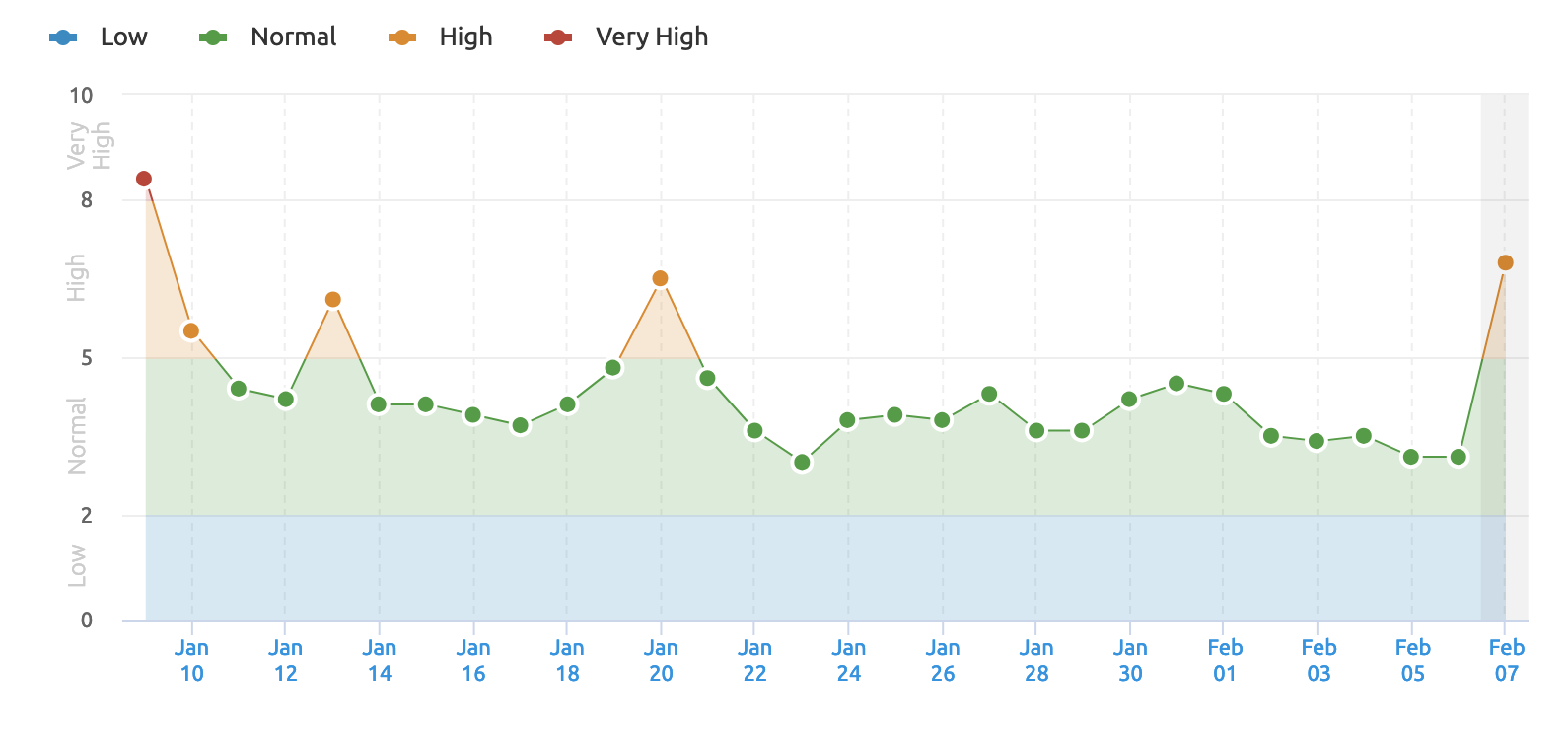 Google Search Console to consolidate Search Performance reports to canonical URL
Google announced on the webmaster blog that starting at the end of March 2019, Google will change how the Google Search Console Performance reports count metrics. Instead of using the exact URL, it will transition to using the canonical URL for reporting.
Google said "to help unify your data, Search Console will soon begin assigning search metrics to the (Google-selected) canonical URL, rather than the URL referred to by Google Search."
When Google launches this change, it will give you a few weeks to view both the old and new methodology so that you can see the differences. Google will also backdate the data starting as far back as January 2018 when the change happens.
Google My Business supports hotel check-in and check-out times
Google announced in its help forums that hotel operators can now enter their check-in and check-out times directly in Google My Business. Then it will display that information to searchers looking for more information about those times.
Kara Jancourtz, a community manager from the Google My Business team, said, "We're pleased to announce that hotels can now add their check-in and check-out times to their business listing in Google My Business….This information helps customers know when rooms will be ready and when they must vacate."
Note, this feature is only available for hotels.
To enter your hotel's check-in and check-out times, you can follow these six steps:
Sign in to Google My Business.
If you have multiple locations, open the location you'd like to manage.
From the menu, click Info.
In the check-in and check-out times section, click the pencil icon.
Enter your check-in and check-out times.
Click Apply.
Google text ads can now show on YouTube search results
Google says early tests have shown similar performance results for text ads on YouTube and Google Search.
With the introductions of features such as location extensions and calls-to-action in TrueView for Action Ads, YouTube ads have been gaining performance elements native to traditional Search advertising. Taking this a step further, YouTube announced SMX West in San Jose that Search text ads can now extend onto YouTube.
Ultimately it means that Google is incorporating YouTube into its Search Partners network.
In a piece by Search Engine Land it was revealed that YouTube have said it's been testing this option for a few months and has seen that, on average, text ads in YouTube mobile search results perform comparably to Google Search on a cost-per-conversion basis.
"This tells us that, even in a video context, text ads shown to the right person at the right time, matching the right intent, can be really effective at driving conversions," said Amy Vaduthalakuzhy, Google video ads product manager.
Ad extensions are not currently supported to appear on YouTube mobile search results.
Google adds voice input and spoken results to mobile web search
Google has added a microphone to the Google.com search field on Android phones to enable mobile web voice search. It's an interesting move given that users could already do voice search on the mobile web, with the Android keyboard microphone.
Beyond the microphone icon inside the search box, the major difference is that users will hear a spoken response now with Android mobile web searches rather than simply get a set of "silent" results. This voice response may encourage people to undertake more searches while their eyes are occupied, such as when they are cooking or driving.
In 2016 Google announced that 20% of mobile queries were voice searches. Since that time the company has not updated its numbers, though almost certainly the figure is larger today.
Google Assistant news
Google appears to be testing the delivery of ads in Google Assistant results. The screen below, from Gennaro Cuofano, who performed a search on an Android phone, shows an ad for an Executive MBA program in Italy. He added, on Twitter, that organic results were below the fold and "the answer on the voice assistant pretty much mirrored the search result page on that one".
Google Assistant, which is now on a billion devices, also now has an 'interpreter mode', that translates your conversations in real time.
Google regulation could "increase spam risk"
Google has warned that the Australian competition watchdog's proposal for a regulator to oversee its algorithm could open the door to spammers.
The Australian Competition and Consumer Commission is calling for tough new regulation of tech giants such as Google and Facebook was needed to protect the future of independent journalism.
He said the search giant was committed to transparency to ensure publishers and the public could understand how rankings worked but warned too much detail about how the algorithms worked could result in spammers gaming the system and bad outcomes.
However, Google's Vice President of search, Pandu Nayak, said: "The more open you are about how the algorithm works the more tools you give spammers to mess with it and the very people you're trying to support with your transparency are the ones who get hurt."
Google confirms EAT weighting increased for YMYL sites
In a whitepaper, Google has confirmed that weightings for various ranking signals change for YMYL queries. While it's not especially surprising (it would have been a surprise were this not the case), it's rare to have actual guidance on such subjects, so regardless of the lack of earth shattering content, the takeaways seem to back up most best practice advice around the subject – which is pretty comforting!
Google introducing shoppable ads on Google Images
The new format enables you to highlight multiple products available for sale within your sponsored ad among Google Images results. Google is currently testing this on a small percentage of traffic with select retailers, surfacing on broad queries like "home office ideas", "shower tile designs", and "abstract art".
Surojit Chatterjee, Vice President, Product Management – Shopping, said: "A recent study shows that Google is the first place US shoppers go to discover or find a new brand or product. But shoppers aren't just doing their searches on Google.com. We've seen that 50 percent of online shoppers said images of the product inspired them to purchase, and increasingly, they're turning to Google Images."
Google is also bringing Showcase Shopping ads to Google Images as well, offering shoppers "a more inspirational and rich visual experience".
Syndicated content could outrank original
Google's John Mueller has advised site owners that when content is syndicated elsewhere, it may outrank the original source – despite the presence of a canonical tag.
This information was provided during a Google Webmaster Central hangout on February 8th after a site owner submitted the question: "What factors might cause a piece of content that's been syndicated on a partner site to rank well?"
Mueller says there are a number of factors that go into determining which version of the content is most relevant for searchers.
While a canonical tag is a good way to indicate which is the original piece of content, it might not always be "correct," in the sense that the pages are completely different in the eyes of Google. For example, a block of text might be the same across both pages, but other content surrounding the text could be providing additional value.
It might happen that the content that you syndicated to some other website ends up ranking above your content. That's not always completely avoidable. So those are kind of trade-offs that you have to look at there.

I think the canonical [tag] is a good way to let us know that these two pages belong together. But it's also the case that a canonical isn't really correct in a case like this because the pages themselves might be completely different
John Mueller
Reply to reviews on Google Maps – desktop
Business owners with verified Google My Business (GMB) listings can now reply to reviews left about their business directly in Google Maps on desktop. Kara Jancourtz, a community manager from the GMB team, said in a Google support forum:
We're making improvements on how you can reply to reviews, and providing you with more information and tools to get feedback from customers. You can now reply to reviews directly with your business profile on Google Maps from your computer. Replying directly from Google Maps lets you manage your reviews without having to download the Google My Business app or open its homepage. Positive or negative, reviews are an opportunity to identify areas to improve the consumer experience
Kara Jancourtz
No internal linking penalty
Also on Reddit, Illyes also confirmed that Google does not have an internal linking over-optimisation penalty:

Is Google about to update the way anchor text is treated in line with site context?
We have noticed some chatter today relating to the way that Google treats anchor text and the possibility it will be tied even closer to the content that businesses publish when building links.
The post suggested that Google are updating their treatment of anchor text with a new patent and will be looking to contextualise links using the anchor text within a specified distance of the link.
This has been done to determine the association and nature of the link to the target domain and is quite probably a result. Some of the patents legal copy can be seen below: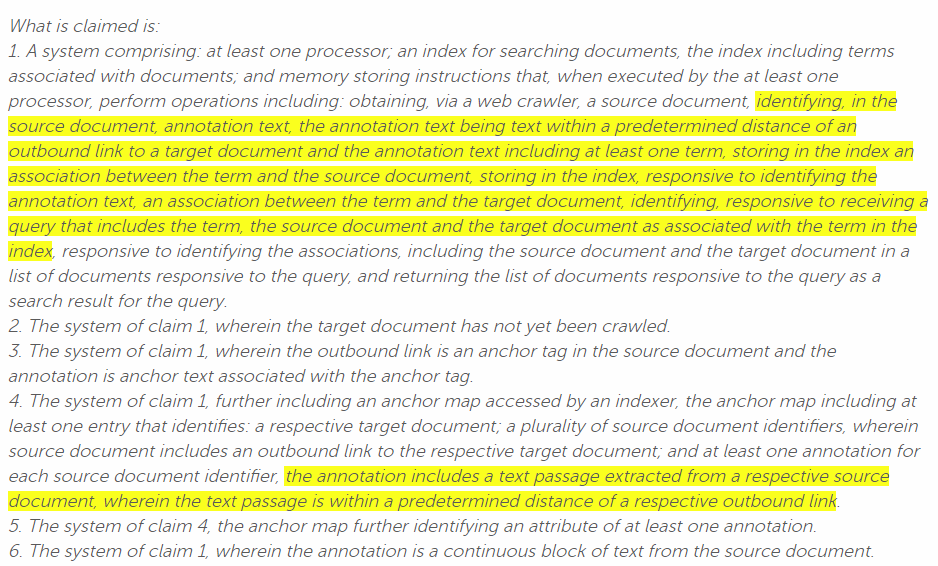 Businesses may be wise to think of anchor text in terms of the surrounding paragraph as well as just the keywords that will be used in the anchor text.
Map AR
Google Maps has started testing on the AR map feature it announced at last year's I/O conference. The feature, which will give an AR overlay in real time and include recommendations, is something I featured in a short story about a decade ago thinking it was all very futuristic but it seems that it'll be here a little sooner than I thought – meaning that many of the technologies I've been banging on about being necessary for the next digital leap forward may all see iterations hit the market in the next year or so – including AR glasses from a host of companies, subvocalisation devices and real time AR. While likely to be almost useless for a year or so after, these could be the next huge area for digital marketing investment.
Google is Letting All Online Retailers Upload Product Data to Search Results
Google announced it is expanding Merchant Center capabilities to all online retailers allowing them to directly provide up-to-date product information.
Product data feeds uploaded to Google Merchant Center are eligible to display in search results, which will be updated in real-time. This will give all retailers access to this capability and means there is no payment required and it's not necessary to have a Google Ads campaign.
Search engine journal reported the news and as long as you have a Merchant Center account and sell products in the US (initially), you can upload a product data feed directly to Google.
Along with this update, Google is adding new ways to assist retailers who markup their products for search results with structured data.
Google Search Console sending alerts for big ranking, traffic drops
Google is now sending alerts and notifications from Google Search Console when it detects a "substantial drop" in clicks to your website from the Google search results compared to previous weeks data. Google is basically looking at week-over-week data in the Performance report and if the data is substantially off, Google can send a notification to verified property owners in Search Console of the change.
According to Barry Schwartz there seemed to be some movement this weekend. He said: "Over the weekend I have been tracking a lot of chatter within the SEO community on WebmasterWorld and other channels of a Google update. Many of the automated tracking tools also show significant changes in the Google rankings starting on Friday, February 22nd through the weekend.
"There seems to have been an update over the weekend although Google has not chimed in about any of the chatter and I am sure they will just tell us that this is same old same old."
Moz suggest update to Domain Authority on the horizon
One of the SEO communities' leading tools – Moz, has revealed that there will be a significant update in the near future to the way the calculate Domain Authority (DA).
In an email this afternoon, Sarah Bird, CEO at Moz said: "Good data is essential — it's table stakes for SEO professionals. Great data can give you an edge. But exceptional data? Exceptional data powers true innovation and growth. And here at Moz, we want to give you nothing less than exceptional, whether that's with fresh rankings and link data or our proprietary metrics.
"That's why on March 5th, we're rolling out our first major update to Domain Authority in years.
"We know it's a metric you rely on. We're letting you know early so you can learn about the changes and have conversations with your team, clients, or stakeholders ahead of time."
In terms of what is actually changing the following two points were highlighted:
The new Domain Authority score will incorporate Spam Score and link quality patterns into a machine-learned model set to keep pace with the ever-changing Google algorithm. You'll be able to judge the value of your sites and your work more accurately than ever before.
Domain Authority has led the industry for years, but it required a few adjustments to best correspond with advances in the search engines. With this change, we can continue to provide the SEO industry with a leading score to predict ranking potential and show that metric over time accurately.
It will be interesting to see if brands see any fluctuation in current and historical scores starting from March 5.
Facebook alters targeted ads to include US ZIP code averages.
Facebook has announced a new feature which allows advertisers to target ads based on where a user's household income falls percentage-wise (top 5%, top 10%, etc).
The social media giant has added a new layer of ad targeting with the introduction of household income by US ZIP code. The feature will allow advertisers to target ads to US Facebook users based on the average income levels in the ZIP code in which they say they reside.
Facebook's ad targeting interface notes that its income level data is based on public information. The company also clarifies on its "Household income by ZIP code" info page that it worked to build these segments, "…in a way that considers your needs while helping protect people's privacy and guard against potential misuse." This is key at the end of a year where the platform has come under much scrutiny around the way it handles data.
It is not known whether or not a similar trial will be rolled out in the UK but we'll keep an eye out.
Facebook testing new Ads Manager interface
Advertisers have been getting sneak peeks at the changes Facebook is looking to bring to Ads Manager.
Last week, word started to get out that Facebook has a new version of Ads Manager in the works. Akvile DeFazio, who heads the agency AKvertise, said she got a look at the new interface Thursday. She compared the look to Reddit with the current navigation tabs at the top going away in favour of drop downs.
In a post on Marketing Land, Ginny Marvin said: "User interface updates always take getting used to — just ask any search marketer who's worked through the transition from the AdWords to Google Ads interface over the past couple of years. From this initial preview, though, it looks like Facebook Ads Manager will feel much more intuitive to advertisers using other platforms. That should mean higher productivity for those setting up, managing and analysing campaigns. (Facebook does not have an offline desktop editor like that of Google Ads and Bing Ads. That would be a nice addition.)"
There is no set launch date but Joe Osborne, a Facebook spokesperson said: "We're always testing out ways to improve our interface but have nothing new to announce at this time."
EU Copyright Directive finalised
The European Parliament and European Council have finalised the proposed European Union Copyright Directive with the controversial Articles 11 and 13 intact.
Collaborative coding platform GitHub warned last year that a proposed change to copyright rules in the European Union could lead to problems for developers who upload their source to remote servers and onerous conditions on those who host such platforms. Articles 11 and 13 which introduce so-called 'link tax' and 'upload filters' requirements with the potential to have a serious effect on everything from search engines to Wikipedia.
According to YouTube's CEO, Susan Wojcicki, who warns that the Directive will effectively act as a censorship machine: "Article 13 as written threatens to shut down the ability of millions of people – from creators like you to everyday users – to upload content to platforms like YouTube. And it threatens to block users in the EU from viewing content that is already live on the channels of creators everywhere."
Marketers not adopting AMP
According to Unbounce's 2019 Page Speed Report, 57% of marketers say they have no plans to implement AMP in the near future, while 23% are still considering it.
Those who haven't adopted the framework fall into three broad categories:
AMP requires a significant investment of developer resources.
AMP is poorly understood (or perhaps poorly messaged).
Google's past behaviour has made some people wary of AMP.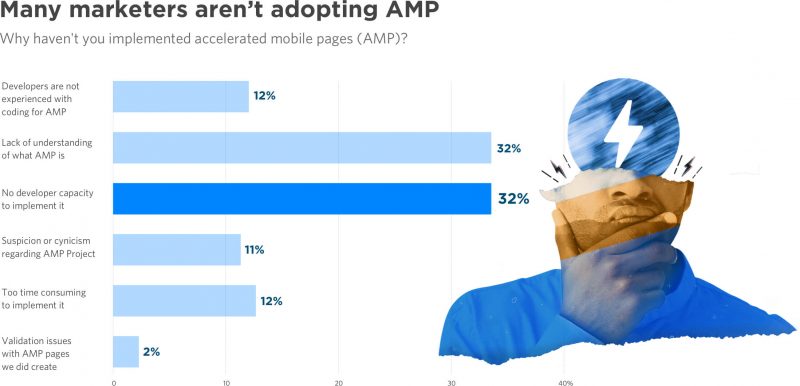 Source: Unbounce
These results are concerning, particularly as marketers also found:
When it comes to waiting for pages to load, most consumers think they're more patient than they actually are.
Nearly 70% of consumers admit that page speed impacts their willingness to buy from an online retailer.
LinkedIn has announced a number of new updates to its Sales Navigator lead prospecting tool. After completely overhauling the platform last year, LinkedIn is making it possible for users to share the Custom Lists they create between team members. The company has also added a new search exclusion filter option and more Sales Navigator Application Platform (SNAP) partners.
Along with the updates, LinkedIn reports Salesforce's CRM will now come with LinkedIn Sales Navigator pre-installed, making it possible to configure the Sales Navigator directly within Salesforce's Sales Cloud Setup Console.
Sharing Custom Lists. At the end of last year, LinkedIn Sales Navigator made it possible for the sales reps using the platform to create lead and account list to help track prospective and existing customers. Now, users will be able to share those lists among team members, making the platform more collaborative.
Search exclusions. Users will now be able to perform searches using exclusion filters: seven attributes that can be excluded from Advanced Lead Searches: company, geography, seniority level, title, function, industry or school. For Advanced Account searches, users can exclude geography or industry. LinkedIn has also expanded the "technologies used" filter available with advanced "account" searches on the platform, a feature sales reps can employ to find companies that using platforms like marketing automation technology, cloud services or a CRM.
LinkedIn has also introduced a range of 30-to-40-second how-to videos, designed to help users make the most of Sales Navigator features.
Predictions for voice search in 2023
Juniper Research has published the following stats:
The number of voice assistants in use will jump threefold to 8 billion by 2023 from 2.5 billion at the end of last year.
Voice commerce will grow to more than $80billion a year by 2023, but mostly will consist of money transfers and digital media like on-demand movies, music and TV shows, rather than physical goods.
Even though Amazon is the market leader in smart speakers, the eCommerce giant sees a fraction of sales from its Alexa virtual assistant, only about 2% of Alexa users have ever used an Echo smart speaker for shopping.
Click share coming to Search campaigns
Click share – the estimated share of all achievable clicks that you have received- has been available for Shopping campaigns since 2015. Now Google has begun rolling it out for Search campaigns and plans to have it available for all Search campaigns in the coming weeks.
The lower your click share, the more opportunity you have to capture additional clicks. For example, if your ad is clicked 20 times, but we estimate that it could have been clicked 100 times if you had more extensions, higher bids, or higher budgets, your click share is 20%.
Click share will be available at the campaign, ad group, and keyword levels for Search campaigns in the coming weeks.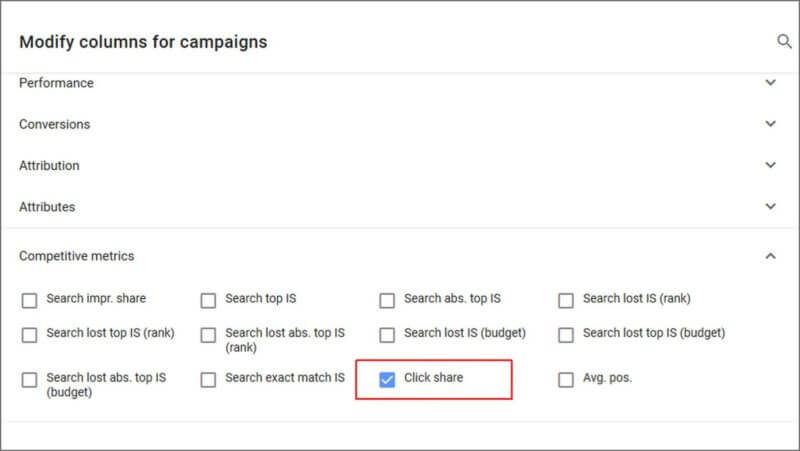 Source: Search Engine Land
Context clusters and entities
The shift to entities and context and away from keywords is a regular topic of conversation at Click – and anyone who regularly reads this or any other blog written by me will know I consistently recommend the Google Patent Guru Bill Slavski for information, and today is no different. SEO by the Sea features an article on another patent with clues to the future of search. The smarter Google's algorithm becomes, the more they are able to rank content based on a host of new quality and authority signals and patents such as these go some way to explaining the volume of EAT and related updates that rolled out in 2018.
Gary Illyes cites "pornyness" as ranking factor
On a recent Reddit discussion, Google's Gary Illyes said that "Country the site is local to, RankBrain, PageRank/links, language, pornyness, etc". This was in response to a question asking for elaboration on the three ranking factors (relevance, freshness and popularity).
The exchange continued:

Content is, well, you know
Zoopla, according to Marketing Week, are shifting from awareness to consideration and see content as key to their future success. Having achieved impressive awareness through past endeavours, their new CMO is looking to improve rankings and help consumers reach the point of purchase by building out a new content strategy. While this is nothing new, exactly, it will be interesting to see if they learn from the mistakes of brands that suffered from last years (above mentioned) quality updates, and how their new strategy takes shape.
No ad-block blocking
Google has,according to a Marketing Land story>, reversed a decision that would have seen the deprecation of the webRequest API and rendered most adblockers useless. After outcry from developers, however, and a study that essentially contradicted its stated reasons for implementing the change, Google has decided not to go ahead with the change.
Digital gangsters
The UKs DCMS select committee has branded Facebook 'digital gangsters' and a threat to democracy in a report which details Zuckerberg's contempt for parliament and UK electoral law's inability to deal with interference by third parties and foreign governments. The latest in a long, long, long line of negative news stories following the Cambridge Analytica scandal seems to suggest that Germany may not be the last to pass legislation specifically targeting their handling of 'fake news', meaning there are likely more changes to the timeline algorithm and moderation rules on the way.
Security issues report
Search Engine Land features the news that Search Console's latest iteration is to have a new security issues report. A feature in the old Search Console, the report has been relocated to 'Security and Manual Actions' in the latest version and will detail issues that Google finds on the site that may cause problems for users.
National Geographic becomes first brand to top 100m Instagram followers
National Geographic ventured into uncharted territory last week, this time on Instagram, where it became the first brand to top 100 million followers. But the publisher's success is more than organic. AdWeek reported that its revenue from social advertising was up 80 percent in 2018 compared with the previous year.
Digital ad spend to overtake traditional marketing spend in 2019
Digital ad spending in the US will exceed traditional ad spending in 2019, according to a forecast out last week by eMarketer.
In the report it was found that Amazon is making headway on the two market leaders, Google and Facebook, with an 8.8% rise in spend over the last 12 months.
From traditional ad spending. Spending share on non-digital advertising is down this year from 51.4 percent to 45.8 percent, led by directories like the Yellow Pages, which are down 19 percent. Spending on traditional print will drop nearly 18 percent and TV ad spending will decline 2.2 percent to $70.83 billion this year, a dip eMarketer attributed to lack of any big elections or sporting events.
Discussing the findings Monica Peart, eMarketer Forecasting Director, said, "the steady shift of consumer attention to digital platforms has hit an inflection point with advertisers, forcing them to now turn to digital to seek the incremental gains in reach and revenues which are disappearing in traditional media advertising."
The report predicts that digital will make up more than two-thirds of total US media spending by 2023.
March
Google Ads moved to first-price auctions
Google will move to first-price auctions for Google Ad Manager, its publisher exchange and ad server, by the end of 2019. At that time, it will also run a single, unified auction and remove last look, a significant shift that will resonate across the $48 billion programmatic landscape. The move only affects display and video inventory sold via Ad Manager, with no impact on auctions for ads on Google Search, AdSense for Search, YouTube, and other Google properties, and advertisers using Google Ads or Display & Video 360 do not need to take any action.
Google Ad Manager's Sam Cox said: "With this change, every offer from programmatic buyers will compete in the same unified auction, alongside inventory which is directly negotiated with advertisers. An advertising buyer's bid will not be shared with another buyer before the auction or be able to set the price for another buyer. The buyer that wins the auction pays the price they bid. By simplifying our auction in Ad Manager, we can help make it easier for publishers and app developers to manage and get fair value for their inventory.
"Since the change from second to first price will require both buyers and sellers to make changes in their programmatic strategies, we'll give everyone time to prepare over the next few months before we start testing. During this time, publishers and app developers will need to rethink how they use price floors and technology partners will need to adjust how they bid for Google Ad Manager Inventory."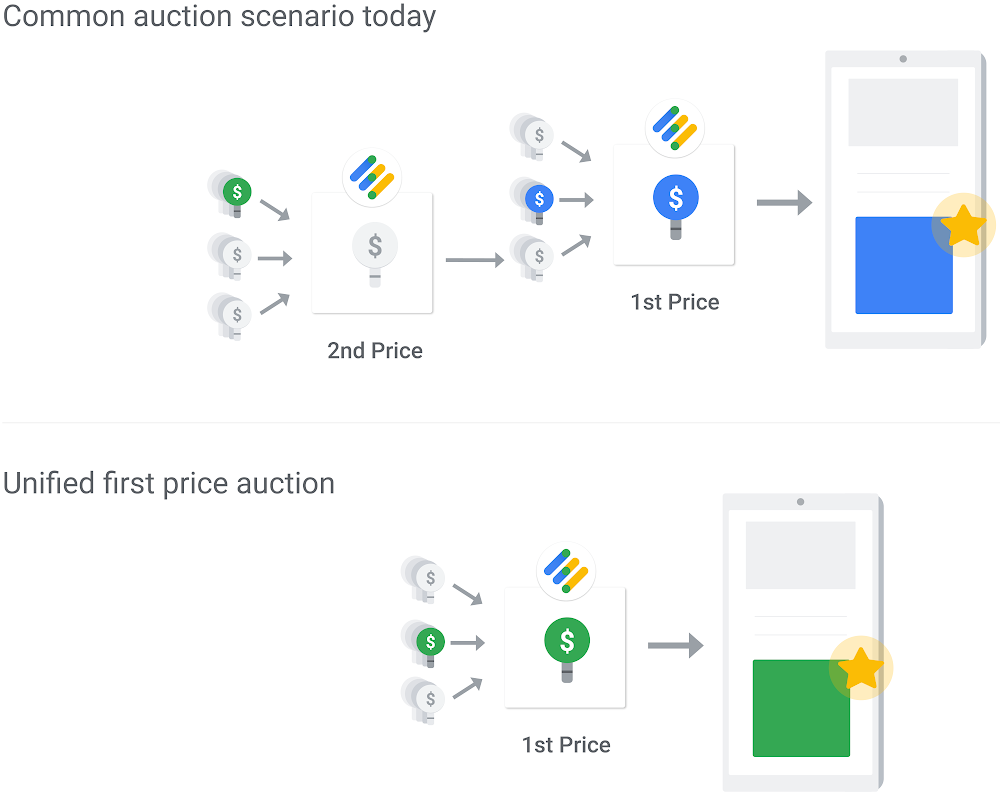 Source: Google
Algo update on 2nd March?
SERoundtable's Barry Schwartz had been speculating about an unconfirmed Google algorithm update on March 2nd. He said: "We had one on February 27th and February 22nd and now another unconfirmed one on March 2nd. They seem like tremors, maybe tweaks to previous updates. We have both chatter and trackers showing the updates."
Image from SEMRush, via SERoundtable
Google Ads API out of beta
Google has announced the production-ready release of the Google Ads API and advising businesses to start using v1 in their production systems as the v0 beta version of Google Ads API will sunset on 30th April, 2019.
The Google Ads API is the replacement of our AdWords API and brings significant advances in innovation and developer productivity. It can be accessed via gRPC with our client libraries and JSON REST for debugging. We are working on getting the last few features released so that all the features in the AdWords API also exist in the Google Ads API. In addition, new features are being added to the Google Ads API that will not be available in the AdWords API:
Google Ads Query Language makes querying more flexible.
Querying returns objects that can immediately be updated in the API.
Coding becomes easier as interacting with lists is more intuitive.
Querying and managing budgets is available to everyone for accounts using consolidated billing.
You can query, apply, and dismiss Recommendations.
Most resources can be mutated synchronously through a single service.
Querying change status in the API is more detailed.
Google Ads to retire 'average position' metric
Google has confirmed it is to sunset the 'average position' metric in Google Ads in the third quarter of 2019, having last year rolled out Impression (Absolute Top) %" and "Impression (Top) %, which describe what percent of your ads appear at the top of the page and absolute top of the page which "give you a much clearer view of your prominence on the page than average position does".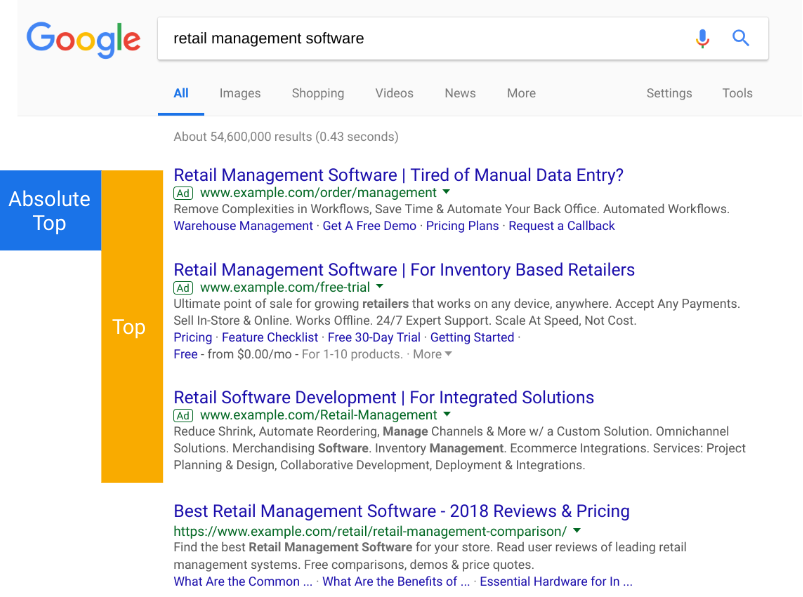 Source: Google blog
It also introduced Search absolute top impression share" and "Search (Top) IS, which show what percentage of the total available metrics your impressions represent and which it says "are the best metrics to use if you want to optimise for position".
Ginny Marvin at Search Engine Land wrote "Change is constant in search advertising, but average position has one of the few constants for more than 15 years. Yet, with the removal of right rail ads, in particular, its utility has sharply declined in recent years."
Google reacts to EU Copyright Directive
Google has issued a statement reacting to the finalised text of the new EU Copyright Directive, urging policy makers to take into consideration any " unintended consequences that may hurt Europe's creative economy for decades to come".
The controversial Directive has been criticised by consumer associations, creators, publishers and academics who warn that it will effectively act as a censorship machine, limiting the ability of millions of people – from creators to everyday users – to upload content, while also threatening to block users in the EU from viewing content that is already live.
The Directive creates vague, untested requirements, which are likely to result in online services over-blocking content to limit legal risk. And services like YouTube accepting content uploads with unclear, partial, or disputed copyright information could still face legal threats… [the latest version of the Directive] hurts small and emerging publishers, and limits consumer access to a diversity of news sources. Under the Directive, showing anything beyond mere facts, hyperlinks and "individual words and very short extracts" will be restricted. This narrow approach will create uncertainty, and again may lead online services to restrict how much information from press publishers they show to consumers. Cutting the length of snippets will make it harder for consumers to discover news content and reduce overall traffic to news publishers, as shown by one of our recent search experiments
Kent Walker, SVP of Global Affairs, Google
A reasonably quiet 24 hours in search and digital marketing (presumably while everyone finished off their update blog), with only a few big stories for us to cover.
Google ad labels
A few sources are reporting the spotted change in Google Ad labelling that was spotted on mobile yesterday. The move will be the first since 2017's shift from yellow to green labels and looks likely to reduce the differentiation between ads and organic results.
Yesterday was spent trying to get my spectacles repaired, but now that I can see again – here's Tuesday and Wednesday's news (which seems to promise digital competition, sterner privacy laws and break-up of the big tech companies).
Google broad core algorithm update
The Google SearchLiaison Twitter account announced that a broad core algorithm update (referred to, in many places online, as Florida2) has been rolled out over the last week (beginning on 12th March) – with the normal advice that there is no quick fix, it happens a few times a year and to continue implementing best practice.
Google launches News Initiative subscriptions lab for publishers
As digital advertising (often sold and served through Google) has failed to sustain many publishers, more have turned to subscriptions. And last year Google introduced "Subscribe with Google," a streamlined process designed to attract Google users who have payment cards on file. Google sign-in credentials are used as the publications' login information; publishers receive the subscriber information.
Google's Gingras said that roughly "50 partners from 19 countries have signed up to implement Subscribe with Google and publishers like The Washington Post, the Financial Times, Folha de S. Paulo and Nine Publishing are using the product." The company is also testing a contribution- or membership-based payment scenario.
He also discussed a new effort called the GNI Digital Subs Lab, which seeks to help publishers in North America and Latin America "transform their approach to digital subscriptions." It's intended to create sustainable business models for publishers.
Google fined another $1.7 billion by EU for 'abusive' AdSense publisher contracts
Google faces its third significant antitrust fine in the EU. This time the company was penalised 1.49 billion euros ($1.69 billion) for "abusive practices in online advertising" involving publisher contracts surrounding AdSense for search.
The fine "takes account of the duration and gravity of the infringement and has been calculated on the basis of the value of Google's revenue from online search advertising intermediation in the EEA," according to the European Commission (EC) statement.
Antitrust commissioner Margrethe Vestager issued the following statement in conjunction with the decision:
"Today the Commission has fined Google €1.49 billion for illegal misuse of its dominant position in the market for the brokering of online search adverts. Google has cemented its dominance in online search adverts and shielded itself from competitive pressure by imposing anti-competitive contractual restrictions on third-party websites. This is illegal under EU antitrust rules. The misconduct lasted over 10 years and denied other companies the possibility to compete on the merits and to innovate – and consumers the benefits of competition."
The EC said that Google's agreements made it difficult for Microsoft or Yahoo to compete for publishers' business.
Google Ads now makes reporting column recommendations
There are 13 categories of metric and attribute columns available in Google Ads. Now, Google has added a recommended columns category to call attention to columns relevant to your account and campaign settings.
According to Search Engine Land: With this update, Bid Strategy Type will no longer be a required column, freeing up your reporting tables to include a different metric or attribute.
"Recommendations are turned on by default. You can opt out of a specific recommendation, add the columns you want to show consistently or ignore them. You can also opt out entirely by clicking on the toggle button at the bottom of the columns list. Google suggests leaving the recommendations on to see future additions."
Public Google+ content is getting archived for future generations
Google's failed social media network could have been a huge step towards internet domination, and thanks to the Internet Archive, we'll always be able to access the data.
As the April termination date for Google's social network approaches, attempts are being made to preserve public content for posterity. The Internet Archive and the ArchiveTeam have taken to Reddit to outline their efforts to preserve public Google+ posts. If you've posted public content on Google+, chances are, it'll get archived.
Google Ads Editor version 1.0 launched
Google has announced Google Ads Editor v1, an improved version of the platform marketer's have been using over the past 13 years "that incorporates a significant update that addresses long-standing requests from the community". Features include:
Full cross-account management: For the first time, Editor now supports full, cross-account management, allowing you to easily add the same set of keywords across different accounts, update campaign settings across your entire book of business, or download relevant stats across any grouping of your accounts.
Design and usability: improved navigation features to allow marketers to execute tasks more quickly, including a right-hand Edit panel and search functionality.
Algo update yesterday?
The SEO community is speculating about a possible Google algorithm update over recent days, including Moz's Eric Hedekar:
On the SERoundtable blog, SEO commentator says:
There is some early chatter of a possible Google search algorithm update touching down last night and this morning, March 26th and March 27th. It might be too early for some people to notice or it might just be a blip. It also might be tweaks and tremors from the March 12th Google core update.
SERoundtable blog
Google to make emails more dynamic with AMP
Google today officially launched AMP for Email its effort to turn emails from static documents into dynamic, interactive experiences without having to exit the messages. An initiative first launched a year ago, AMP for Email is coming to Gmail, but other major email providers like Yahoo Mail, Outlook and Mail.ru will also support AMP emails. Some of the companies that already support this new format are Booking.com, Despegar, Doodle, Ecwid, Freshworks, Nexxt, OYO Rooms, Pinterest and redBus.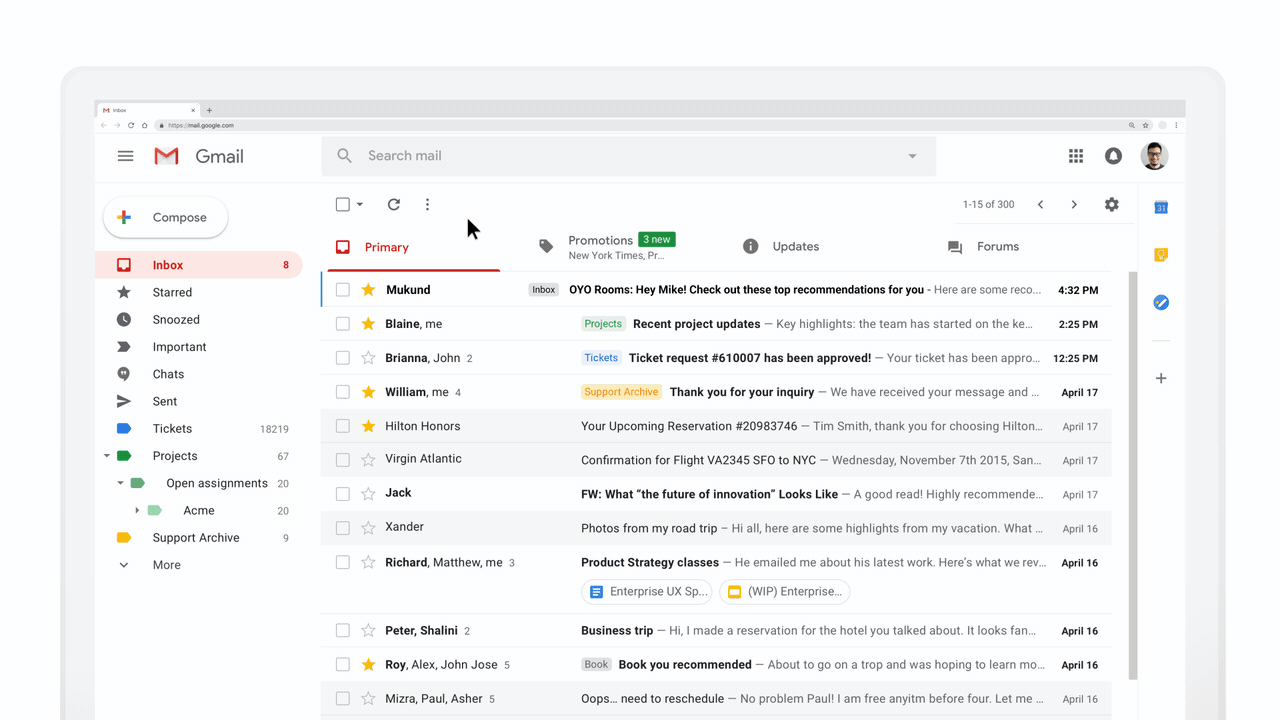 Source: TechCrunch
Google ploughs millions into local new project
Google is moving forward with its Local Experiments Project, an effort to fund dozens of new local new websites nationally and eventually globally. The Compass Experiment, will be a partnership between Google and McClatchy (MNI) to launch three new, digital-only local news coverage to three small to mid-sized US communities that don't have access to significant local sources of news and information. Google will have no editorial control over the sites.
Why are you just telling us now, Google?
SEOs have expressed frustration after Google 'announced' at the end of last week that it no longer uses the pagination markup rel=prev/next anymore (markup to communicate to Google that these pages are all part of a larger set of pages) – and hasn't for years.
Google's current stance is that the Googlebot is smart enough to discover the next page by analysing the links on a page and, therefore, a strong signal like markup rel=prev/next isn't necessary anymore. However, Google doesn't advocate removing this markup where it already exists as it can still be used by other search engines and by browsers, so it can still be useful for users, such as those whose browsers might use those annotations for things like prefetching and accessibility purposes.
Data focus grows for marketers
Marketers, publishers, marketing service providers, and technology developers expect their spending on data and data-related services to increase in 2019, according to 'The Outlook for Data 2019: A Snapshot Into the Evolving Role of Audience Insight' the fourth annual benchmarking report conducted on behalf of the IAB Data Center of Excellence. The vast majority of survey participants noted that cross-channel data measurement and attribution, and audience identification/matching are the most important areas of focus for them in the coming year.
Orchid Richardson, Vice President and Managing Director, IAB Data Center of Excellence, said: "While the industry is becoming more sophisticated in its application of data in marketing, communications and analytics, rapid growth in data analytics and solutions also presents challenge 53% of industry executives noted that the threat of heightened government data regulation was the main potential threat to deriving value from data.
Twitter Launches New 'Timing is Everything' for video
Twitter has launched a new analytics tool to help video publishers maximise their engagement, conversation, and viewership on the platform. You can also click on the chart to schedule media tweets in time slots that show the most engagement: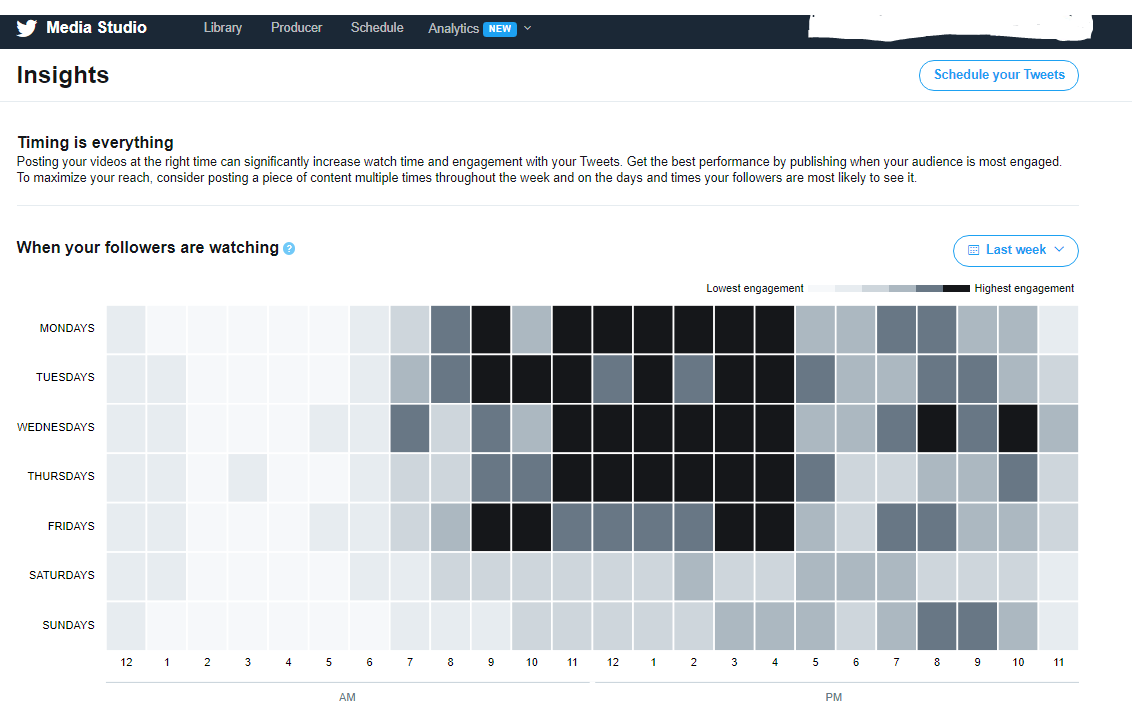 The chart shows when your followers are watching any video on Twitter, but not specifically your own videos. The tool can be found under the Analytics menu within Media Studio and is only available for accounts with 1,000 followers or more.
Moz's DA 2.0 has officially come into effect
Moz's Domain Authority (DA) score is one of the leading predictive indicators used to assess a website's ability to rank higher in search results relative to its competition. Domain Authority can be used by SEO professionals to gauge the strength of websites relative to competitors, thereby guiding decisions on keywords, topics, technical site issues and link building.
"Domain Authority 2.0 is built to scale and enables increased reactivity to changes in search engine algorithm updates," said Russ Jones, Principal Search Scientist at Moz. "Much like Google's recent efforts, Domain Authority 2.0 seeks to root out manipulation and give webmasters a clear picture of their site's strengths."
Agencies and in-house search marketing teams who use Domain Authority scoring to report progress month-over-month to stakeholders may see a significant change in their Domain Authority score. Moz has developed Guide to Domain Authority 2.0 and a webinar to help marketers and SEO professionals prepare for the change.
Website Hack Trend Report 2018
More than half of sites hacked in 2018 were done so for SEO reasons, according to malware removal specialists Sucuri. These hacks target web sites in order to try to manipulate the success of a site's SEO campaign and boost its rankings in Google, Bing or other search engines.
The report shows that 51.3% of all infection cases in 2018 were related to SEO spam campaigns, which is up 7.3% from the previous year, making it one of the fastest growing families of hacks in the past year. The "SEO spam family" as Sucuri defines it "is comprised of attacks that specifically target the manipulation of search engine optimisation".
New feature in GMB can display up to 10 business offers
A new feature in Google Posts can display up to ten offers from your business. Senior Product Manager for Google My Business, Amir Fish said: "We're making offers more prominent on Business Profiles on Google. The new layout introduces a dedicated space for business owners to feature their most recent offers—making a quick decision for their potential customers even easier."
How do you use it? When creating a post in the Google My Business App, you'll see an option to categorise it as an offer. From there, you can tailor the details to your specific needs. An offer can include a description of the promotion, a coupon code or any terms and conditions useful to your audience. You can surface up to ten unique offers in the carousel, providing a list of choices.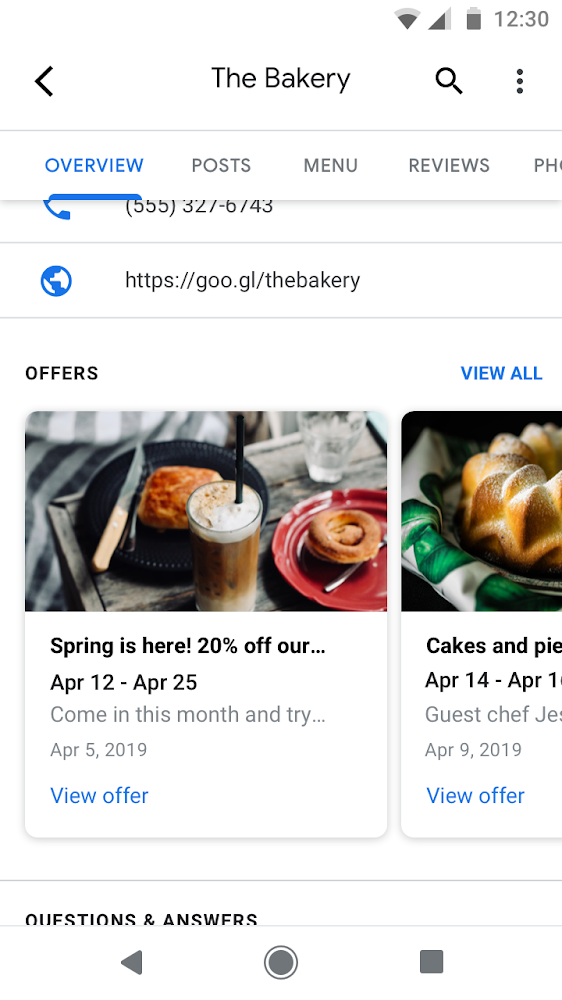 Source: Google
Shocking news – brands fail at voice search
Search Engine Land is featuring a report on how brands are faring in their voice search efforts and the overall takeaway is – they're not doing well. Good job a certain agency has been on the case to tell them what they need to do.
Changing shopping habits
Consumers want more info, more pictures, videos and anything else you can throw at them – says a report covered by Marketing Land. While the aim for eCommerce sites should have been to enhance product pages for some time, the stats in the article are still eye opening in places (with consumers stating a preference of 2-5 videos per product).
Facebook outage
Facebook went down, as did Instagram and, despite it being the largest and longest outage in its history – Google Trends suggests nobody cared.


Elizabeth Warren
2020 presidential candidate Elizabeth Warren has begun pushing for the break up of the big tech giants – whose control of data, she believes, is a threat to democracy and breaches monopoly regulations. In response to this, and to allay any fears of misuse, Elizabeth Warren's Facebook ads were briefly removed by Facebook.
One of the best bets to make it to the main event, Warren may be the first credible threat to Google, Facebook et al in the event she becomes the first female president of the US.
Stuff I haven't read yet
Continuing in the theme of digital regulation and legislation, the UK Government's Unlocking digital competition, Report of the Digital Competition Expert Panel was released today. I haven't had the chance to read the near 200 page report yet, but there seems to be some interesting mentions of 'pro competition' approaches – which, depending on the adoption of recommendations, could gel with Warren's campaign.
Benchmark 2019
We launched Benchmark 2019 today! The fifth Benchmark conference is now accepting ticket applications and raising the blood pressure of the marketing team here at Click. You can read all about it here.
DuckDuckGo
The privacy oriented search engine's CEO has testified before the US Senate Judiciary Committee, stating that privacy legislation doesn't need to be anti-advertising. DuckDuckGo, which uses context cues rather than behavioural, can serve as an example of what's possible, he believes – while also stating that privacy legislation could encourage competition.
Today's news is a sight for sore eyes – contact lenses have never agreed with me.
Pubcon
While we might not have been able to stretch to a jaunt to Florida, we were able to follow along with the talks via social media, and our Head of SEO – Mark McGonigle – has put together a list of key pointers from a conference that focused on some of the aspects of search that are most in the zeitgeist at the moment. You can read all about it here.
Dating your content
Not like that. Search Engine Land is carrying on a Google announcement of six best practice tips for temporally dating your content – you should:
Show the last time a page was updated
Use the right time code (UTC/CET etc.)
Whatever you do – do it consistently
Don't use dates arbitrarily connected to the content or dates in the future
Follow structured data guides
Minimise the number of dates mentioned on a page in order to avoid muddying the waters
'Don't treat Millennials like other generations' says article full of generalisations
I include this mostly as a how not to, but the article does have some interesting stats. I was sort of happy when, over the last six months or so, the word 'Millennial' was gradually phased out of marketing articles to be replaced by 'Gen-Z', but as this one popped up, I may as well address it – you can't make sweeping statements (even if backed up by 'research') about a demographic that covers almost 20 years.
I started university before almost every household had internet, while many of my millennial colleagues were still attending nursery school when smartphones became ubiquitous. Generations, generally, defy generalisation – it's why search and digital was able to offer something to advertisers – with the ability to cater to and personalise by person rather than broad demographic trend. It's a shame to still see 'Millennials did such and such' articles pop up in news media where we can forgive them for not knowing better, but marketers have far more precise tools available to them – we should ensure we're using them (speaking of which – there's a good bit on attitudinal segmentation from Deloitte here).
LinkedIn Launch New Professional Intelligence Platform
"Today, we're excited to introduce three new ways to help you easily target more of the right audiences from LinkedIn's network of 610 million professionals: lookalike audiences, audience templates, and the addition of Microsoft Bing search data to our recently released interest targeting product. These offerings are designed to increase the scale of your marketing efforts and improve ROI.
"As a marketer, you're constantly looking for ways to reach new audiences who are similar to your ideal customers. After all, if they're like those who are already engaging with your company, odds are they'll be more likely to convert and help grow your business."
LinkedIn's lookalike audiences combine the traits of your ideal customer with our rich member and company data to help you market to new professional audiences similar to your existing customers, website visitors and target accounts. Since these members are already on LinkedIn, they're in the right professional mindset to engage and respond to your brand.
What can you do with lookalike audiences?
Here are three ways they can help your business:
Reach high-converting audiences: With lookalike audiences, you can discover audiences similar to those who have already demonstrated an interest in your business — like engaged on your website or given you their contact info.
Get results at scale: Lookalike audiences can help you extend the reach of your campaigns to more qualified prospects. Customers in our pilot were able to improve their campaign reach by 5-10x while still reaching the kind of high-quality audiences that matter most to their organisations.
Engage new target accounts: For B2B advertisers pursuing an account-based strategy, you can use lookalike audiences to target your ads to additional companies you may not have previously considered. These companies match a similar company profile to your ideal customer — so you can win more deals.
Amazon to introduce video ads in mobile-app search results
Amazon.com is starting to roll out video advertising on its smartphone apps. Currently, nearly every search result yields a graphical ad unit at the top of the SERP. According to Bloomberg, video ads for relevant products will start to appear in those same positions.
The report says that "Amazon has been beta testing the ads on Apple Inc.'s iOS platform for several months," although I was not able to find one of these units after numerous product queries. Amazon's mobile app for Android will apparently be getting video ads later this year.
Minimum $35,000 ad budget. The Bloomberg report quotes unnamed persons familiar with the matter and says that "Amazon is requiring a $35,000 ad budget to run the spots at 5 cents per view to run the ads for 60 days, one person said. Prices can vary by category and not everyone pays a fixed rate, said another person."
Amazon has not directly reported ad revenues in earnings. It's grouped in with "other," which is dominated by ad revenue. In Q4 2018, Amazon reported $3.4 billion in "other" revenues, which means its advertising business exceeded $10 billion in 2018.
Bing Ads Editor releases updates to make Google Ads imports faster and easier
Bing Ads has made a few updates to the way Google Ads imports work in Bing Ads Editor.
The import and scheduling options in Bing Ads Editor (BAE) are now in parity with the Google Ads import options in the web UI. During the import process to BAE, you can now set bids, budgets and landing page URLs specifically for Bing Ads during the import process.
Additionally, from the "advanced Options" dropdown, you can check off the campaign aspects you want to import, just as you can from the UI.
Accordind to Search Engine Land: "These time-saving measures will make it easier to get campaigns up, running and updated on Bing Ads.
While Bing Ads has been making strides in delivering unique features to its platform, it knows that reducing friction between its platform and Google's is a significant incentive to getting advertisers started and continuing with it."
Bing Ads also noted that improvements to campaign mapping should make imports from Google Ads more reliable.
Slack hands over control of encryption keys to regulated customers
Slack announced today that it is launching Enterprise Key Management (EKM) for Slack, a new tool that enables customers to control their encryption keys in the enterprise version of the communications app. The keys are managed in the AWS KMS key management tool.
Geoff Belknap, chief security officer (CSO) at Slack, says that the new tool should appeal to customers in regulated industries, who might need tighter control over security. "Markets like financial services, health care and government are typically underserved in terms of which collaboration tools they can use, so we wanted to design an experience that catered to their particular security needs," Belknap told TechCrunch.
Apple launches new iPad Air and iPad mini
Apple has refreshed its iPad lineup. The company is (finally) updating the iPad mini and adding a new iPad Air. This model sits between the entry-level 9.7-inch iPad and the 11-inch iPad Pro in the lineup.
All new models now support the Apple Pencil, but you might want to double-check your iPad model before buying one. The new iPad models released today work with the first-gen Apple Pencil, not the new Apple Pencil that supports magnetic charging and pairing.
Unlike with the iPad Pro, the iPad mini still features a Touch ID fingerprint sensor, a Lightning port and a headphone jack. You can buy it today for $399 for 64GB. You can choose to pay more for 256GB of storage and cellular connectivity. It comes in silver, space grey and gold.
Ahrefs to build own search engine
SEO toolset provider is to launch its own search engine to rival Google and Bing that will address current issues surrounding privacy and distribute profits more fairly amongst publishers and other content providers. Founder & CEO Dmitry Gerasmenko posted on Twitter:
He explained his rationale in a series of following tweets:
We see the Internet as a global effort by humankind to preserve and multiply knowledge, which is as frequently coordinated as chaotic, often driven by economic forces, often by personal impulses…What we plan to do is to launch a search engine with commitment to privacy and 90/10 profit share model, meaning 90% goes to content creators, leaving 10% for expenses and profit… We are talking about hundreds of thousands of people who can make living by organizing knowledge. In our imaginary world websites might remove their paywalls since they get profit share from serving a good content, and it makes sense to make it convenient so people come back
Dmitry Gerasmenko
Amazon blocking ads for unprofitable products
In recent months, Amazon has been more aggressively enforcing its policy of suspending ads if the product being promoted doesn't make money. It's part of a series of recent moves by Amazon to help the company reach record profits. Basically, Amazon has been telling more vendors, or brand owners who sell their goods wholesale, that if Amazon can't sell those products to consumers at a profit, it won't let them pay to promote the items. For example, if a £10 duvet set costs Amazon that amount or more to store, pack and ship, the maker of the water bottle won't be allowed to advertise it.
LinkedIn teaming up with Adobe to further expand ad targeting
LinkedIn is teaming up with Adobe to bring its account-based marketing capabilities to users of Adobe Experience Cloud, allowing marketing and sales teams to use data from LinkedIn, Marketo Engage, and Microsoft Dynamics 265 to get more audience insight. Essentially, Adobe customers can use LinkedIn's audience data and ad targeting tools "to show ads to the specific decision-makers, based on job roles, locations, etc., to more effectively market their offerings".
European Union Directive on Copyright in the Digital Single Market
The European Parliament approved a new copyright law yesterday requiring online media companies to sign licensing agreements with musicians, authors, new companies and content creators in order to post their work. The main goal is to spur tech companies into proactively policing for copyright violations, instead of responding to complaints after the fact, The New York Times reports. It's a blow to a service like Google News, which relies on snippets pulled from the top of stories for news searches.
The two clauses causing the most controversy are known as Article 11 and Article 13:
Article 11 states that search engines and news aggregate platforms should pay to use links from news websites.
Article 13 holds larger technology companies responsible for material posted without a copyright licence. Tech companies already remove music and videos which are copyrighted, but under the new laws they will be more liable for any copyrighted content.
It means they would need to apply filters to content before it is uploaded. Article 13 does not include cloud storage services and there are already existing exemptions, including memes.
Canonical information added to URL Inspection Tool
Google has retired the info: command, an alternative way of discovering canonicals, saying it was relatively underused. Instead it recommends using its URL Inspection Tool within Search Console to see the Google-selected canonical. If you believe there's a better canonical that should be used, you can suggest a preferred choice for consideration.
April
Google Ads data glitch
Google Ads is currently alerting users that there is a reporting issue affecting this week's data. A notice that appears in the web UI at sign-in says, "Google Ads reporting for April 30 and May 1 (Pacific Time) is incorrect."
Google published a blog post with further details saying: "On May 1, at approximately 5pm PST, a bug caused Google Ads reporting for April 30 and May 1 (Pacific Time) to be incorrect."
Google has confirmed in the blog post that, "This bug impacts reports in all Google Ads interfaces, including any report data downloaded via the AdWords API, Google Ads API and Google Ads Scripts."
Is Google planning to charge for Google My Business listings
Google is sending out surveys to some local businesses to see if they would pay for some features they are currently getting free. Google My Business is a free service from Google that gives businesses the ability to update their information and in exchange Google provides searchers with local search results that are accurate and relevant.
This survey specifically asks local businesses how much they would pay each month for many services that are already included in Google My Business. Google can charge from $10 per month to over $70 per month to be listed in the Google local results, according to this survey.
This would be a shift in Google's current model, in which they only monetise for search ads
Google Display & Video 360 to default to ads.txt inventory, support app-ads.txt
Google has announced several brand safety-focused initiatives for advertisers using its Display & Video 360 (DV360) DSP. They include defaulting to ads.txt inventory, supporting app-ads.txt and providing a central hub for brand controls in the interface. According to Marketing Land, These brand safety initiatives are part of ongoing, and industry-wide efforts to clean up the digital advertising ecosystem and help ensure advertisers that the inventory they're buying is real and adheres to their brand standards.
Helping small business phones get smart with CallJoy
Google is bringing enterprise-like automated customer service and call intelligence capabilities to small businesses (SMBs) for a flat fee of $39 per month. Today, Google's Area 120 experimental products group announced the introduction of a new virtual agent and telephony product called CallJoy.
CallJoy promises to help small businesses offer better customer service, free up employees from having to answer the phone and convert more business by ensuring that all calls are answered.
Updates from Facebook's F8 2019
Facebook announced some interesting changes on the first day of F8, its annual conference about the future of technology. Emphasis was placed on privacy-focused social platform, but here's a summary of the other news:
Facebook is rolling out FB5, "a fresh new design for Facebook that's simpler, faster, more immersive and puts your communities at the centre… we've made it easier to find what you're looking for and get to your most-used features". People will start seeing some of these updates in the Facebook app right away, and the new desktop site will come in the next few months.
With more than 400 million people on Facebook belonging to a group that they find meaningful, Facebook's introducing new tools that will make it easier to discover and engage with groups of people who share interests:
Redesigned Groups tab to make discovery easier.
Making it easier to participate in Groups, including more content from your groups in News Feed.
New features to support specific communities.
New ability for users to shop directly from Instagram.
Shipping and direct payment options in Marketplace (US only at this time).
New feature to discover and watch Facebook videos together in real time.
Messenger Desktop app for Windows and MacOS to allow group video calls, collaboration on projects or multi-tasking while chatting in Messenger.
A dedicated space where you can discover Stories and messages with friends and family.
Addition of lead generation templates to Ads Manager.
Retirement of relevance score in favour of three new metrics to measure relevance.
Bing Ads is now Microsoft Advertising
Rik van der Kooi, corporate VP for Microsoft Advertising, said: "It's a simple shift because our clients and partners already know us as Microsoft, and many are already tapping into our new advertising products that go above and beyond search, such as the Microsoft Audience Network."
In it's announcement, Microsoft also said it would be introducing more advertising products with built-in AI and focusing on the Microsoft Audience Network and Sponsored Products.
Amazon invests £7 billion of music and video
Amazon spent $1.7 billion on video and music content in the first quarter, it disclosed last week. Investments in video and music, which are included in Amazon's Prime membership program, increased 13% from $1.5 billion a year earlier, translating to roughly $7 billion for the full year.
Even with the ramp up in content spending, Amazon is showing record profits. Last Thursday, the company reported $3.56 billion in net income, its most ever, while cash balance jumped to a record $47 billion.
May
New Speed Report coming to Google Search Console
Google announced at Google I/O they are testing a new Speed Report within Google Search Console that is powered off of CrUX data. This new report gives you an aggregated view over your web site field metrics and you are able to drill down into specific issues and even see specific examples of those issues.
The report is not live, but it is in beta right now and thus now available to everyone who uses Google Search Console.
Google Ads store visits, store sales reporting data partially corrected
Another update in the Google Ads reporting bug saga that started on May 2. There's progress on the store visits and store sales data inaccuracies.
Store sales and store visits data has been fixed for April 28 and 29, as well as May 3 onward. "We are actively working on correcting the data for April 30, May 1 and May 2 (all dates in PDT)," Google said in an update to its blog post on the bug Friday.
Google Maps update
Google Maps is braced for two huge new features that could alter how you use the popular app forever.
Speaking at its I/O developer conference last week, Google announced two updates that could alter how you use the software on a day-to-day basis.
They launched both Google Maps AR and Google Maps Incognito Mode. Discussing the former, Aparna Chennapragada, the vice president for Google Lens and AR at Google, said: "The cameras in our smartphones, they connect us to the world around us in a very immediate way; they help us save a moment, capture memories and communicate. But with advances in AI and computer vision we said 'what if the cameras can do more?', what if the cameras can help us answer questions such as 'where am I going?' or 'what's that in front of me?'
"Let me paint a familiar picture; you exit the subway, you're already running late for an appointment, or a tech company conference, and then your phone says 'head south on Market Street'.
"So what do you do? One problem, you have no idea which way is south, so you look down at the phone, you're looking at that blue dot on the map and you are starting to walk to see if it's moving in the same direction.
"If it's not, you're turning around, we've all been there.
"So we asked ourselves, 'what if the camera can help us here?'
With security and privacy being so high on the agenda the decision to launch Google Maps Incognito Mode is a welcome addition. It is said that the update will not save browsing history, cookies, site data or any information entered into forms.
Similarly, Incognito Mode for Google Maps will ensure places users search for will not be linked to their account.
Google unveils new look for mobile SERPs
The name of the website and its icon appear at the top of the results card to help anchor each result. Site owners can learn more about how to choose their preferred icon for organic listings here. Google has suggested it plans to add more action buttons and previews to search results cards, to give a better sense of the web page's content with clear attribution back to the source.
The change will also affect how ads are displayed. A black 'Ad' label replaces the green label, which is displayed at the top of the card along with a URL.

Before and after (Source: Google)
Google said: "As we continue to make new content formats and useful actions available—from buying movie tickets to playing podcasts—this new design allows us to add more action buttons and helpful previews to search results cards."
Facebook sues analytics firm Rankwave over alleged data misuse
Facebook is suing a South Korean firm it accuses of unlawfully using data to sell marketing and advertising according to the BBC.
The social network is asking a judge to force Rankwave to allow it to audit the firm's activities to see if user data was obtained and potentially sold.
A source at Facebook told the BBC it was as yet unable to say how much data or how many users may be affected.
The network said the move would "send a message to developers that Facebook is serious about enforcing our policies".
"Facebook was investigating Rankwave's data practices in relation to its advertising and marketing services," said Jessica Romero, Facebook's director of platform enforcement.
"Rankwave failed to co-operate with our efforts to verify their compliance with our policies, which we require of all developers using our platform."
Huawei and Google "handed lifeline"
Google will continue to work with Huawei after the US government handed the technology companies a temporary reprieve from trade restrictions that threatened to cripple millions of smartphones in Britain. The US Commerce Department has granted a 90-day licence for mobile phone companies and internet broadband providers to work with the Chinese manufacturer to keep existing networks online and protect users from security threats.
Google's share price plummeted by 2.5% yesterday after it suspended business with the Chinese tech giant, whose smartphone has seen astronomical growth, stoking fears of a 'technology cold war'. New Huawei phones will not have access to Gmail, Google Maps and other apps.
Google confirmed on May 19th that it would block new Huawei smartphones from accessing updates to its Android open-source operating system. The decision, which comes after Donald Trump added Huawei to a blacklist of companies the country could trade with.
News sites indexing down
Google seems to have stopped indexing recent content from news sites like the New York Times and the Wall Street Journal. Google has confirmed there is an issue they are working on:
What will happen to the Facebook zombies?
A new study finds that by 2050, the dead will outnumber the living on Facebook. Here's how the company is designing user experiences to face the billions of dead users to come. according to a study published by researchers at the Oxford Internet Institute, which aimed to estimate just how many profiles on the platform will belong to people who have died, before the end of the century. Based on projections of Facebook's number of users growing 13% every year, they calculate that by 2100, there could be more than 4.9 billion dead profiles on the platform.
Carl Ohman, one of the authors, said: ""Never before in history has such a vast archive of human behaviour been assembled which spans pretty much every continent, yet all this data is hidden away, controlled by a private company with no insight, no security, and basically no other leading principle than to maximise profit. That is problematic from a societal point of view."
Local data
An article on using local data went up on SEMrush today – featuring advice on creating local data segments for the purposes of PR. The article raises some interesting ideas – but, more importantly for me, also got me thinking beyond the core message of the article.
Instagram
A speculative article on the Search Engine Journal follows the observation of an 'order' sticker for Instagram stories. The blog author's initial response is that it may represent a move to selling tickets – which seems reasonable, but could also apply to a host of other deliverables (such as flowers, for example).
More favicons
The outrage tap is still open, and the outpouring was covered late yesterday on the Search Engine Land site – which has collected some of the representative arguments around the subject in one place.
LinkedIn ad targeting
Marketing Land is covering LinkedIn's purchase of Drawbridge. The advantages to advertisers of their purchase of the machine learning and AI 'identity resolution platform', LinkedIn revealed, were the following:
Improved reach via LinkedIn's Matched Audiences and Audience Network campaigns.
Better attribution, allowing advertisers to measure the results they're generating from LinkedIn campaigns across channels and devices.
Search Engine Journal
Have they always shown a search count? Either way, it's the first time I've seen it – which is why I can tell you that their coverage of a recent John Mueller interview seems particularly well read. The thrust of the conversation seems to have been around the issues raised by a series of excellent SEO Myth Busting videos put out over the last month or so by Google Webmasters.
While there was nothing especially groundbreaking, there were some nice moments of confirmation from John on the issues and points raised in the videos.
Favicons, favicons everywhere
Search Engine Roundtable features an article which tracks Barry Schwartz going full Paxman on Mueller over whether favicons would be removed automatically (there have already been reports of favicon related penalties):
Barry Schwartz: All right so currently right now it's not automated? It seems like whoever's complaining on Twitter and gets Google's attention might see the icons removed.
John Mueller: I don't know, I don't know, we do have a lot of experience with automated image recognition.
Barry Schwartz: But I'm asking right now. Is it automated or is it not?
Whether or not that's happening – the favicons, which now appear in the top left of the new mobile SERP result cards, are causing a fair amount of tumult in the search community, with Google protesting that the changes have been made to improve user experience while everyone outside of Google tells them that it was clearly an attempt to camouflage ads. Who knows which one it really is (it's the camouflage one).
Update warning
SER also features an article on a possible algorithm update – while I've made my feelings clear on this to nauseating levels, I'll say again that I think these near constant fluctuations are ML driven, but nevertheless, there's some coverage of these fluctuations here.
Bing
Search Engine Land celebrated the 10th anniversary of the launch of Bing – making some great points about the platform. While – as the article states – 'optimising for Bing isn't a thing' – I do think that the team at Bing has made some impressive advances over the last few years and, as things shift further and further away from the ten blue links we grew up with, Bing's approach may well see it gain some ground on Google over the next few years.
Mobile-First
A new Webmaster Blog announced that Mobile-First will be the default indexing method for new sites in the ongoing roll out of the long promised Mobile First index.
June
Google makes fourth largest acquisition
Google's parent company Alphabet announced that it scooped up Looker, an analytics and business intelligence startup. It's the company's largest purchase since it bought smart-home technology maker Nest for $3.2 billion in 2014, and fourth largest overall. The acquisition was made by Alphabet's Google Cloud division, which competes directly with Amazon Web Services (AWS) for cloud-based computing and database tools.
Google appeals against EU fine for anti-trust breach
Google has appealed an EU fine of 1.49 billion euros ($1.69 billion) for unfair practices through misuse of its dominant position. The EU Commission fined Google in March, its third major decision against the search engine.
Brussels sanctioned Google's AdSense advertising service, saying it illegally restricted client websites from displaying ads from ad service rivals. Google and the EU have been at loggerheads about the monopoly of Google over internet search in Europe since 2009.
Google update now live
Google has confirmed that "the June 2019 Core Update is now live and rolling out to our various data centers over the coming days". For those seeing an impact on their site's performance, Google says there's no specific fix "other than to remain focused on building great content".
As Click writer John Warner explained in his SEMrush blog, the influence of machine learning and and the near-continuous refinement of its algorithm means that "Google will not be able to offer advice about improving your rankings; that will be up to digital marketers who will need to analyse and compare notes to determine the best strategies for brands and their industries".
Google announces algorithm update
Yesterday, Google announced that there would be a broad core algorithm update released today. Google emphasised that there was nothing in particular to "fix," and that it didn't "want content owners to mistakenly try to change things that aren't issues…."
Google launches new search menu with icons
After a few months of testing it now appears Google has started rolling out the new search bar with icons. Instead of just using text to show the various search categories or verticals for news, video, images, maps, shopping and so on – Google is showing icons that represent those categories as well.
Google has confirmed with Search Engine Land that this is now rolling out to searchers today. Throughout the day we have seen numerous reports from readers that they are seeing the new Google search bar. Now we are able to see this consistently on all browsers we are testing it on.
Google brings the Assistant to Waze
Part of Google's Assistant everywhere strategy, Waze users will be able to 'avoid tolls' and 'report police' without touching the screen.
Voice commands were already available in Waze for navigation. But Google Assistant will now enable users to do a number of other things while driving, such as make calls, play music and initiate Waze commands hands free. 'Wazers' as they are known, will also be able to do reporting and requests without touching the screen: report traffic, avoid tolls, report police, access alternative routing and so on.
Google acquired Waze in 2013 and has slowly been integrating Waze and Google Maps, bringing some of Waze's most popular features into Google Maps. Maps is one of several Google products that claim over a billion users.
Google Ads
The Search Engine Journal site features a story on Google Ads app update that will allow users to create and edit responsive search ads.
Google My Business
Just as I finished up an eBook on Google My Business, they've added a new feature – consumer's can now follow you from their mobiles to stay up to date with your offering, says the documentation on the new feature. The feature is only available on the mobile app, however. Now I just need to see what it's about.
Google
Google is set to allow advertisers to run YouTube live-streams in display ads – which can be expanded to full screen as they could be on YouTube itself – reports SEJournal.
Google
Another Google heavy day sees our first story from Search Engine Land cover the removal of support for 'preferred domain' in Search Console. While it shouldn't make a difference if you're correctly implementing your rel="canonical" tag on your page, if you have been depending on the preferred domain selection, you'll need to keep an eye on the SERPs to make sure nothing changes.
Next up is the observation, in the wild, of Google Duplex's assistant enabled booking. While we've covered its announcement and various demos (most recently in the I/O '19 keynote review), it's interesting to see some screenshots of the function in use.
Then, again in SERoundtable, is coverage of some more of the features rolled out in SERPs this week and mentioned yesterday – including a mortgage calculator that's likely to annoy a fair few SEOs in the industry.
John Mueller features again – this time in Search Engine Journal, which covers some interesting information on how new, unlinked to, sites are discovered by Google. While there's nothing exceptionally surprising, it's nice to have another thing to add to the, albeit thin, 'things Google have actually said about search' file.
The final piece of Google news for the day is that Google Calendar went 404 on us and so many people were posting on Twitter that it trended and became a Twitter. It's all fine now, but there was quite a worry for a time.
Google
There are a few Google stories in my feed for the last few days, so here we go:
It's not like Panda! Stop saying it's like Panda and just follow the rules for Panda, read the official Twitter response to questions on the recent core update (between the lines, anyway). I've made my feelings known on the race to name and describe updates, but the 'it's the same, only more so' responses from Google sum up my general advice – the weighting of various factors changes from industry to industry, so we need to tailor approaches – but they essentially revolve around quality and authority
SERoundtable features a story on the introduction of 'related posts' to SERPs – the feature, which appears from the shared screenshot to be in the 'card' style mobile users will be used to and shows 'Google Posts' related to the search.
The new icons have rolled out in search (see below) with the search determining which of the options display and which are restricted to the 'more' tab. There's been some push back at the increased prominence of Google's flight, hotel and other comparison products as a result – but whether or not this is their big push to kill off comparison competition is likely to be something we only see in hindsight.
Google were caught stealing lyrics from a site that doesn't pay for lyrics, or pay contributors to their platform. While Google has since stated that the lyrics in search are provided by a third party, and therefore someone else did the stealing, and while Genius' method to catch them at it was fantastic, I find little to be outraged by – the search giant's failure to provide a profit sharing model to news sites is far more egregious.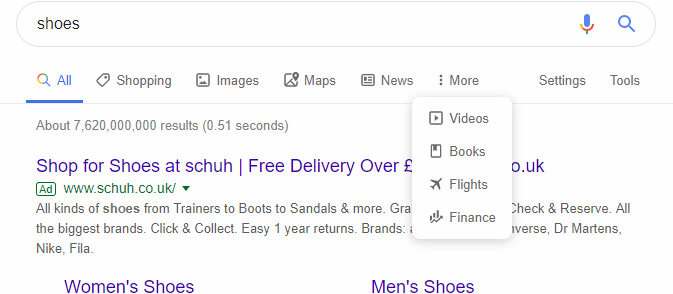 Google can now tell you how crowded your bus or train will be
Google is introducing a new feature to its Maps app that will help commuters hoping to avoid packed trains and buses during rush hour. Crowdedness predictions, which work out how busy trains, buses and Tube journeys are likely to be based on past rides, are coming to 18 cities and towns across the UK.
The option is rolling out on to iOS and Android devices in almost 200 locations across the world, including London, Cardiff and Edinburgh, designed to help travellers make an informed decision about whether or not they wish to squeeze on to a congested service or wait for a quieter one after.
Daily Mail suffers after algo update
Dailymail.co.uk has lost 43% of its search visibility in the wake of this weeks' Google algorithm update. The dip was spotted by Candour Director Mark Williams-Cook posted the graph below on LinkedIn: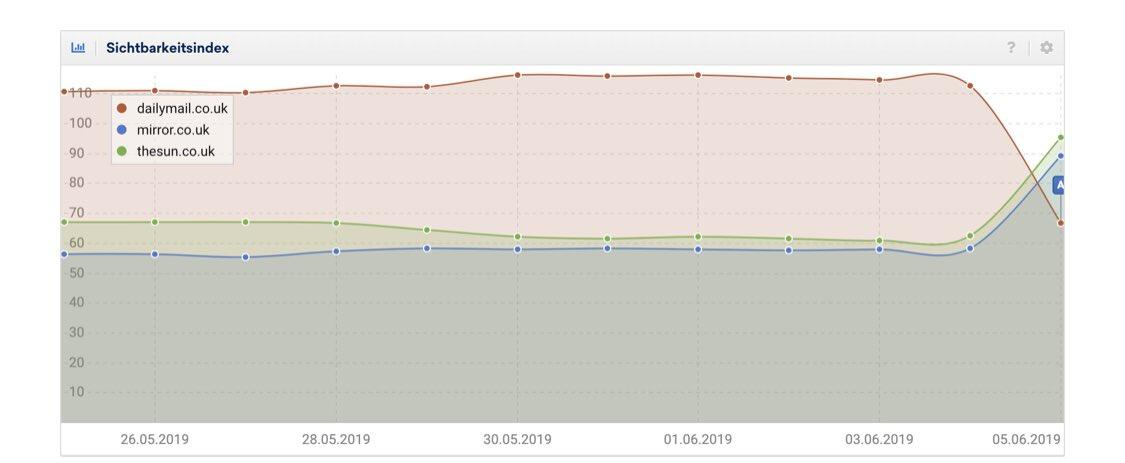 However, Metro, which belongs to the Daily Mail Group, however, has seen a 27% gain in visibility.
Bing's Local Inventory ads come out of beta
Local Inventory ads (LIAs) will be coming out of beta in Microsoft Advertising accounts early this month after being piloted for about a year. The ads function just as they do with Google Ads. When a user searches for a product, nearby retailers will be eligible to show ads for relevant inventory in stock in their nearby locations. LIAs feature an "in store" label. When a user clicks on the ad, they may be taken to the advertiser's website or a Bing hosted store front page that includes product and store information.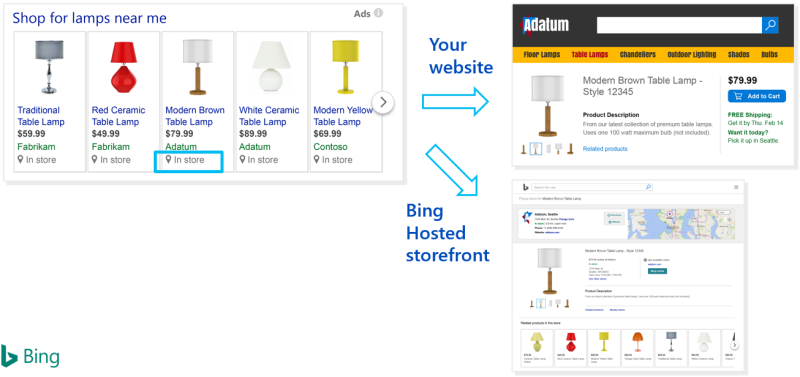 Google will only display one Featured Snippet per page
Google's John Mueller stated only one set of structured data will be used in search results when a page contains multiple types. The topic was brought up in a recent Google Webmaster Central hangout when a question was asked about using 'recipe' and 'how-to' structured data on the same page.
In response, Mueller told the webmaster they could use both types. However, only one type of markup will end up being displayed in search results. The message to SEOs was that using both sets of structured data won't make you eligible to appear in two different featured snippets.
PageRank patent expires
Google's original PageRank patent has just expired. Developed by Larry Page and Sergey Brin at Stanford University in 1996, PageRank is the original algorithm used by Google to calculate the importance of a webpage. In simple terms, the PageRank algorithm is a way of measuring the importance of a webpage by counting the number and quality of its incoming links. Although still used as a ranking factor by Google, Google's days of ranking sites purely based on incoming links are long gone. Google now ranks websites based on a number of signals.
New rich results test
Google has announced a new desktop/mobile selector to the Rich Results Test. The new functionality will help you review your structured data implementation using both user agents to prepare for Mobile-First Indexing. This addition to the tool lets you clearly see how Google sees this markup on your pages when it is accessed via desktop Googlebot or mobile Googlebot. Google is defaulting indexing to Mobile-First Indexing on July 1st.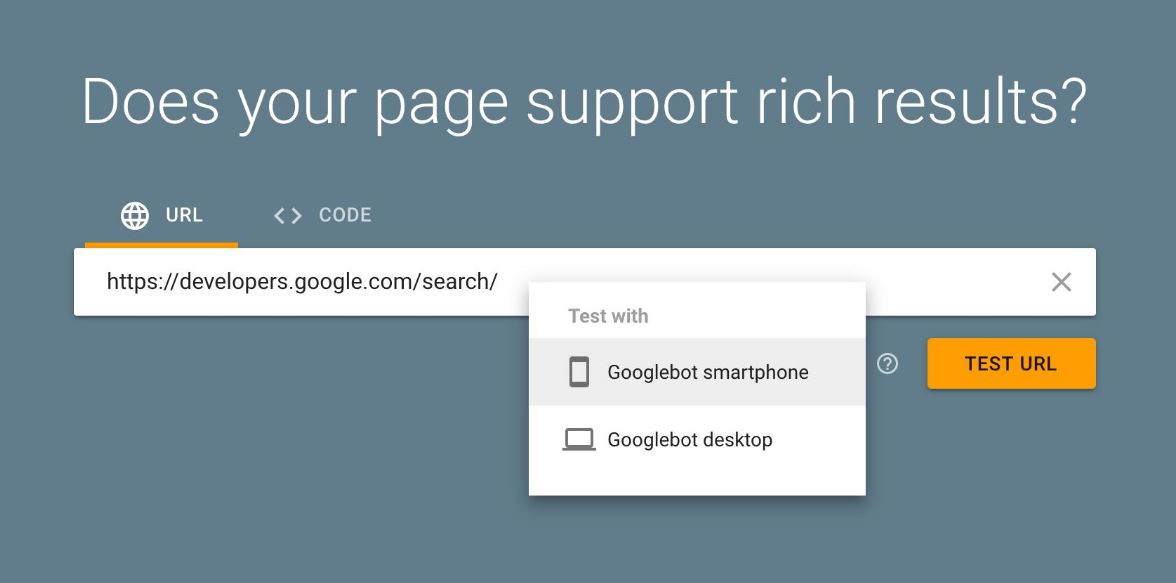 Twitter buys AI firm
Twitter has acquired Fabula AI, a London-based start-up,to detect network manipulation.
The platform's Chief Technology Officer, Parag Agrawal, said in a blog: "This strategic investment in graph deep learning research, technology and talent will be a key driver as we work to help people feel safe on Twitter and help them see relevant information.
Specifically, by studying and understanding the Twitter graph, comprised of the millions of Tweets, Retweets and Likes shared on Twitter every day, we will be able to improve the health of the conversation, as well as products including the timeline, recommendations, the explore tab and the onboarding experience."
Outage outrage
Google, Gmail, Youtube, Snapchat and Uber were down for up to four hours yesterday, citing "high levels of network congestion in the eastern USA". The problems were linked to an outage of Google Cloud, which is critical for many websites and apps. Google said "We apologise for the inconvenience and thank you for your patience and continued support. Please rest assured that system reliability is a top priority at Google, and we are making continuous improvements to make our systems better."
Marketers spending 43% of budgets on Google, Facebook, Amazon, want 'alternatives'
As part of a report on the use of location data by brands and agencies, Lawless Research and Factual investigated marketers' attitudes toward "The advertising oligopoly of Google, Facebook and Amazon." The survey found that these respondents (700) were spending on average 43% of their ad budgets on the three platforms; 65% of them say they want "alternatives."
Amazon is now the third largest digital ad platform in the U.S. and many agencies plan to increase their Amazon spending. Despite this growth, most of their ad budgets are still going to Google and Facebook.
It turns out, the larger the ad budget the larger the chunk being spent on the major platforms. For companies with an annual budget of $50 million or more, 46% are spending at least 60% of their budgets with "The Oligopoly."
The survey then asked, "Is your ROI on Facebook, Amazon and Google, lower, about the same, or higher than on other platforms?" Just under half (49%) said higher, 44% said about the same and 7% said lower. It's not clear how reliable these estimates are, however.
In a piece on Search Engine Land it was reported – Roughly 65% of respondents said they were seeking advertising alternatives to Google, Facebook and Amazon. Presumably they are aware of programmatic or direct alternatives, though they reportedly said, YouTube (Google), Instagram (Facebook), and Twitch (Amazon), when asked to identify the alternatives they were considering.
The report goes on to state that "nearly two-thirds (66%) of brand marketers and agencies are extremely, very or moderately concerned about the oligopoly limiting their advertising options." For those in the more-concerned category, there's greater emphasis on alternatives, which makes sense. Among the 34% either "very or extremely concerned," 78% are seeking alternatives.
Bing now supports batch mode for submitting URLs
Bing announced it has added support to submit URLs to the search engine in batch mode. That means instead of making an API request for each URL you submit to Bing, you can batch multiple URLs into a single API request. Bing said it supports up to 500 URLs per batch submission.
Bing said, this is "very similar to the individual URL Submission API (Blogpost) and hence integrating the Batch API is very easy and follows the same steps."
The new batch mode does not increase the number of URLs you can submit per day, but it does let you maintain a lower API request limit. Bing wrote, "Do note that the maximum supported batch size in this API is 500 URLs per request. Total limit on numbers of URLs submitted per day still applies."
Yoast SEO 11.4 adds FAQ structured data, UX improvements
Yoast SEO's latest update enhances its FAQ blocks by automatically generating structured data to accompany questions and answers. The update also introduces some UX improvements and addresses issues with AMP pages when viewed in Reader mode.
Yoast's FAQ structured data implementation is only compatible with the WordPress block editor (also known as Gutenberg; available on versions 5.0 and newer). Webmasters can get started by selecting the FAQ block, adding a question, inputting the answer and an image (if applicable) and repeating the process for all frequently asked questions.
Changes to Facebook Graph Search puzzles digital investigators
Since Facebook Graph Search launched six years ago, it has helped users discover content across public posts on the platform. Techcrunch reported that the feature has stayed relatively low-profile for many users, but quickly became a valuable tool for many online investigators who used it to collect evidence of human rights abuses, war crimes and human trafficking. Last week, however, many of them discovered that Graph Search features had suddenly been turned off.
Graph Search let users search in plain language, but more importantly, it also let them filter search results by very specific criteria. For example, users could find who had liked a page or photo, when someone had visited a city or if they had been in the same place at the same time with another person. This was particularly important for investigative journalists but came with data and privacy issues and in truth, Facebook may be trying to take a more cautious stance because it is still dealing with the fall out from several major security lapses, including the Cambridge Analytica data scandal, as well as the revelation earlier this year that it had stored hundreds of millions of passwords in plain text.
Whether or not the function returns remains to be seen but we'll keep you posted.
Instagram advertisers can now convert organic influencer posts into ads
Instagram is rolling out branded content ads to all advertisers, making it possible for brands to create ads using organic posts from the influencers they have relationships with. The company said the branded content ads will be available to all advertisers over the coming weeks, and branded content ads for Stories will roll out over the coming months.
Before brands can use influencer posts as ads, the content creator must grant their business partners (the brands they have relationships with) access to promote their posts. Once the creator — or influencer — has done this via their Advanced Settings page, brands will see the influencer's posts in the Ads Manager under "Existing Posts" and can run the content as an ad within the Instagram newsfeed or Stories format.
The company confirmed in March it was testing the new ad format with a select group of brands according to Marketing Land.
Burger King
While not strictly digital, it will not have passed many marketers by that BK's marketing has been on fire the last few years. Following a Grand Prix award at the Cannes Lion event, there's a nice interview with their CMO featured on Marketing Land which is well worth a read.
Evergreen
SERoundtable features a story that covers the imminent move to the latest version of the googlebot for Google's testing tools here. While it offers no definitive date, it does lead one to infer that the change is coming sooner rather than later.
Diversity update a damp squib?
Moz's Dr Pete reported on the diversity update </a > which is, as I've come to expect from Moz's tame data scientist, as thorough a dissection as you're likely to find. The long and short of the (well worth a read) report being that: it did something, but not a lot of it.
P&G say spend less important than reach
In news all agencies will be keen to communicate to paid search clients, the FMCG mega-corporation is looking to channel spend it felt was 'wasted' on frequency (the number of times they reach a person) in to reach (the number of people).
New Wayback Machine beta
The Wayback Machine has added a new beta feature named "changes" designed to help users identify the content changes on a specific URL over time. The tool would highlight the content additions and deletions in yellow and blue. This is designed to help users to compare the same URL but on different dates, to see what content was changed, added or deleted.
Prime Day shoppers "frustrated"
New research shows that 30% of shoppers are frustrated by irrelevant product recommendations and lack of personalised experiences on Amazon Prime Day. AI marketing platform Zoovu found that consumers struggle with product choice – 25% cited choice overload as a major pain point of Prime Day shopping. Incentives drive the biggest turnout for Prime Day, with 44% making purchases based on price savings.
"The myriad of options available during Prime Day allows shoppers to explore countless products online. While the vast number of product options is beneficial, it can ultimately lead to roadblocks in consumers' ability to make a decision, better known as choice overload," said Claudine Bianchi, chief marketing officer, Zoovu. "As consumer expectations continue to grow and alternatives with better consumer experiences are only a few clicks away, retailers and brands are encouraged to make personal assistance and guidance available at the right moment, just when consumers need it. This means understanding needs and using intelligence to provide personal, digital assistance in real time."
Amazon's new delivery option
Amazon is launching Counter, a new package delivery option for customers to pick up shipments from staffed retail locations. The program kicks off in 100 Rite Aid locations in the US. For Amazon sellers, the new pickup option could mean a lucrative boost in sales from customers motivated by the convenience and security of a store location. Amazon said it plans to expand to 1,500 stores by the end of the year.
Search Console tweaked for Mobile-First
You can now see your site's primary Googlebot crawler in the settings view. You'll find two new indicators in several reports: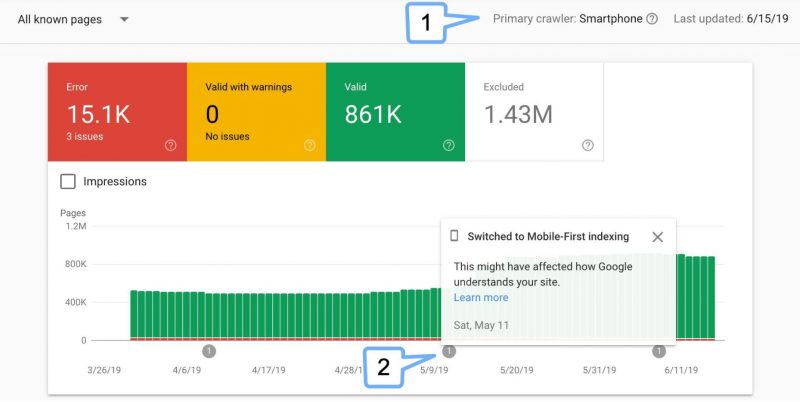 Primary crawler used for specific reports

Chart annotation showing when your site was switched to Mobile-First indexing
New deal promo features from Google Ads
Google is announcing new updates for retailers and emphasising that consumers are "on the lookout for deals year-round".
If you know you've got a sale or promotion coming and anticipate a jump in conversion rates, you can now use seasonality adjustments to signal Google's Smart Bidding system to prepare for the increase and adjust more quickly.
More in-market audience segments.
Google has added more in-market segments in categories such as beauty, sports, education and real estate, including 30 new retail categories. In-market audiences for search are grouped based on purchase intent signalled by users' search and browsing behaviour.
Calls for local campaigns.
Local campaigns, launched last year, are one of Google's automated campaign formats and expressly aimed at driving traffic to physical locations. The ads run across Google search, Maps, YouTube and the Display Network.
Soon, advertisers will be able to use Local campaigns to drive calls to their business locations. Store visits measurement will not be required for this feature to work.
Group locations for local campaign messaging.
Advertisers can now set up location groups, or subsets, of their locations to tailor budgets and messaging to specific locations based on in-store promotion and sale schedules. Google says "on sale near me" searches have increased by 250% since 2017.
Asset reporting for local campaigns.
Google is also rolling out asset reporting for Local campaigns so you can see how your creative elements — ad headlines, descriptions and images — are performing. The asset report ranks elements with labels such as "Best" and "Good".
Google is bringing promotions to local inventory ads (LIAs), the Shopping ads that feature products available in stores located near the searcher. Promotions can be used to highlight special offers and promotions. This feature is coming first to the US and Australia and will roll out to other markets eventually.
Social markup for Knowledge Panels depreciated
Google has confirmed that social profile markup for Knowledge Panels has been deprecated.
In a tweet, the search engine said: "We now automatically discover profiles to include. Those who have claimed Knowledge Panels can also suggest any profiles not included."
Play Store "riddled with malware"
Researchers found that Google's Play Store contained thousands of possible malware-ridden counterfeit apps as Google continues to try and up its security measures.
The research, conducted by the University of Sydney and Commonwealth Scientific and Industrial Research Organisation, found that over a million apps on the platform were counterfeit and potentially dangerous to download.
The study stated: "We were able to find 2,040 potential counterfeits that contain malware in a set of 49,608 apps that showed high similarity to one of the top-10,000 popular apps in Google Play Store.
"We also [found] 1,565 potential counterfeits asking for at least five additional dangerous permissions than the original app and 1,407 potential counterfeits having at least five extra third-party advertisement libraries."
Manifest V3 rollout
Google has also confirmed a timeline for the rollout of Manifest V3. The first public version, earmarked as a developer preview, will arrive in July or August this year, according to Ghacks. The controversial changes to Google Chrome will cause some ad blockers to break.
Carousel text ads
SEMrush recently spotted that Google was testing carousel text ads in the SERPs under 'people also considered':
Shopping ads have appeared in a carousel format for some time now. Google will be watching the impact on click volume and click-through rates. A Google spokesman told Search Engine Land: ""We're always testing new ways to improve our experience for our advertisers and users, but don't have anything specific to announce right now."
Facebook activity drops
People are liking and sharing less than they used to on the social network giant, with both actions down by almost 20%, new data has found.
While engagement seems to have dropped off over the last 12 months, the number of Facebook accounts being created continues to rise. According to analytics company, Mixpanel, the drop of 20% can be traced back to April 2018. This was when news broke of the Facebook / Cambridge Analytica scandal, opening the world's eyes to how non-consensual harvesting of private data could be used to undermine the democratic process.
ICO's website flouts GDPR
The Information Commissioner's Office has admitted that its current consent notice relating to the use of cookies on devices failed "to meet the required GDPR standard".
Uncovered by Adam Rose, a lawyer at Mishcon de Reya, a complaint was sent to the ICO regarding the cookies on their website. Rose argued that the cookies was in breach of Article 6 of the Privacy and Electronic Communications Regulations (PECR) 2003 – which sits alongside the EU General Data Protection Regulation (GDPR).
In an email back to Rose, the ICO responded: "I acknowledge that the current cookies consent notice on our website doesn't meet the required GDPR standard. We are currently in the process of updating this."
July
Google News rolling out card layout on desktop search results
Google is now rolling out a new design for the Google News search results while the user is on desktop. The new design removes the news clusters of stories and brings you a single featured story in a card-like result.
This is a big development, especially in terms of user experience (UX) and one we'll be keeping an eye on as it rolls out fully.
New Google Shopping program enables customer photos to show with their product reviews
Google Shopping is bringing customer photos to the product reviews sections of advertisers' listings. Reviews are accessible from the "View more" option on mobile Shopping ads or by clicking on the star ratings in a listing.
The feature is rolling out now and available through a handful of reviews partners.
Google announces changes to targeting settings
In a really interesting piece from Marketing Land it has been reported that Google has announced changes to environment, position targeting settings in DV360 (Display & Video 360) which could have an effect on advertisers and service providers.
In an effort to provide advertisers with more accurate and granular ad targeting options in Display & Video 360, Google will be launching a revamped experience for environment and position targeting settings on August 26, 2019.
The changes will include updated targeting settings when creating or editing items individually or in bulk, updated dimensions in Reporting and a new version of Structured Data Files (SDF) to support the targeting overhaul.
The main changes and updates are:
Updated environment targeting will be focused on web- or app-serving environments. The device- and position-related options will be relocated from environment targeting to a different targeting control panel.
A new position targeting setting will group together all controls related to an ad's position on a screen or in content in a new position targeting control. The position-related settings that will be moved to position targeting include Viewability, Video, and Audio targeting. Even with the new grouping, all of the targeting options will still function the same as before.
Reporting changes to values in the Environment dimension will reflect the new environment targeting setting. All existing values will be re-routed to the new values, including historical data. For advertisers running scheduled reports, the reports will not change in terms of delivery and will also reflect the new values for the Environment dimension. However, scheduled reports will no longer include the new Position in Content dimension.
A new version (V5) of Structured Data Files will launch in tandem with the August 26 update and will include fields to enable advertisers to retrieve and set the new targeting options. Once the new SDF goes live, older versions will not work if updating fields for environment- or position-related targeting options, but will still function as normal for all other fields.
Google extends Chrome ad blocking to global markets tomorrow
Publishers must conform to Better Ads Standards or see ads on their sites blocked by Chrome.
In February 2018, Google implemented ad filtering for "annoying" and intrusive ads in Chrome in North America and Europe. This had been pre-announced in 2017 and was intended to compel publishers to adopt advertising standards established by the Coalition for Better Ads.
Chrome has 64% of global browser market. The industry group was created in response to the rise of consumer ad-blocking. Now Chrome's bad-ads filtering is going global, with a rollout to markets beyond North America and Europe on July 8. Google Chrome has a roughly 64% global browser market share.
The vast majority of North American and European publisher sites pass the Better Ad Standards test, so the impact on users and publisher ad revenues has been minimal. That's less certain in other markets, including Asia where consumer ad blocking is currently highest in the world.
Google extends same-meaning close variants to phrase match
When same-meaning close variants rolled out to exact match keywords last year, the joke was that phrase match was more exact than exact match.
As expected, Google is further loosening the reins on close variants, this time extending same-meaning close variants to phrase match and broad match modifier. With the changes, Google is also changing its keyword selection preferences to prevent keywords from competing against each other.
According to SEL:
In 2014, Google began requiring all campaigns to use close variants, which, at that time, included "plurals, misspellings and other variations of exact match and phrase match keywords (clothing instead of clothes, for example). That was the beginning of the end of true "exact match."
With 2017 came the addition of word order and function words to close variants for exact match. Exact match keywords could trigger queries with different word order and function words.
Finally, last fall, Google added same-meaning words, including implied words and paraphrases, to exact match close variants. Google matches a query to an exact match keyword if it determines the query has the same intent as the keyword.
Google's reasoning for this stream of changes is that queries evolve and machine learning has advanced to the point where it can fill in those gaps for advertisers. Google says 15% of its daily searches are new — and advertisers will miss out on these new queries if matching is too tightly controlled. Its machine learning systems, the company says, can infer intent and spare advertisers from creating exhaustive keyword lists in order to get their ads to trigger on relevant queries.
Google swaps 'voice search' on Android for Google Assistant
The search giant is swapping out the familiar blue and red mic in favour of its Assistant on the home screen of Android handsets. The news was first reported by 9to5google.
Writing on Search Engine Land, Greg Sterling wrote: "After seeing the report, I turned on my Pixel XL this morning and there it was. We've asked Google for more context but it's relatively clear that the company is seeking to replace basic speech-to-text voice recognition with the greater capabilities of the Assistant."
Assistant part of Google's new AI-first approach. At Google's developer conference in 2017, CEO Sundar Pichai declared the company was shifting its orientation from "mobile-first" to "AI-first." The difference is the multi-platform emphasis and the expanding capabilities of the Assistant, which is more conversational, and potentially transactional, (e.g. Duplex) than ordinary search.
Podcasts
The Drum featured an article today on a pet subject of mine – finding that "86% of advertising agencies and 66% of brand advertisers see digital audio as a "key part" of their integrated media strategies", and that 85% of respondents to a survey will be increasing spend on digital audio in the next 12 months.
Instagram
Instagram engagement is down according to a study covered by Search Engine Journal. The engagement stats are averaging at around 0.9% the study says – an 18% reduction since the beginning of 2019.
Elementary
If it isn't the name of the new Watson Marketing, then I'm afraid that is the final sign of the end times and we may as well pack it all in. Either way, the extremely impressive IBM AI's marketing arm has split from the parent company in order to adopt a more agile growth strategy. They'll be looking to deliver AI powered analytics and marketing automation and, if the demonstrations of IBMs AI work elsewhere is anything to go by, it will be well worth keeping an eye on.
Robots.txt
Google are set to formalise the exclusion protocols for robots.txt and while Gary Illyes has stated that nothing is changing (as you can see in this Search Engine Land article), they have also announced that will no longer be supporting noindex in robots.txt (it's fine in meta tags, so no need to worry if you've been doing it right so far).
You can find a full list of the changes here.
Privacy concerns slows US smart speaker sales
Marketing Land featured a story on the negative impact that the proliferation of privacy horror stories has slowed the smart speaker adoption in the US. While there were plenty of positive stats (150+ million speakers in 50+ million homes), the following should give the big tech firms something to think about regarding their privacy policies.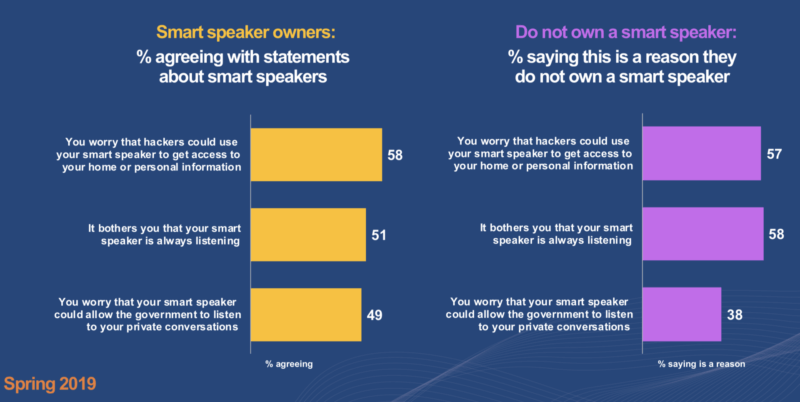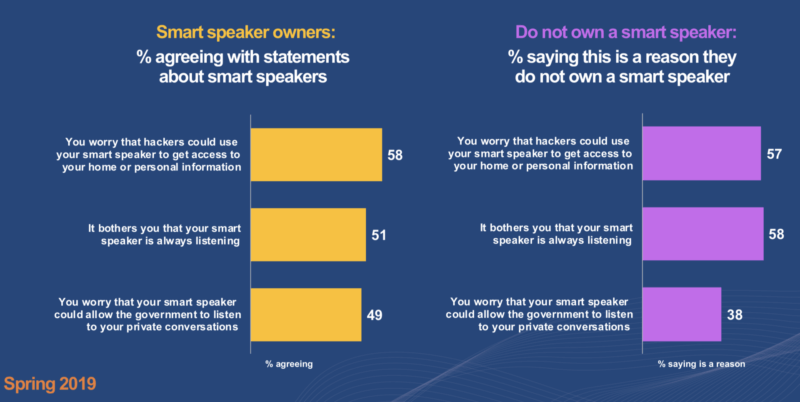 AMP Autocomplete
SEJournal featured a story over the weekend on the fact that Google's AMP project will now allow for autocomplete options for forms and searches.
While the industry at large remains largely unconvinced by AMP, the option for autocomplete and the additional speed boost it represents is another plus for the project.
Microsoft Ads add parallel tracking
I missed it last week, but came across an article on the Microsoft Ads blog announcing that they will be allowing parallel tracking of ad URLs. Rather than the couple of seconds it takes to redirect through various tracking URLs, consumers clicking on an ad, the blog says, will be taken directly to the final URL while the various measurements continue in the background.


Amazon Prime Day
Prime Day is set to return on the 15th and 16th of July, say Marketing Week, with the retailer promising "more great offers than ever before" while Prime members will get the first look at the offers available with early access to savings (two weeks ahead). The whole event will have a much more Amazon product focus this time, however, with many large discounts specifically on their own product lines. If you want to get yourself ready for Prime Day, we've got you covered.
Bing showing a streamlined recipe carousel in search results
Bing appears to be testing or introducing a new way to show rich results on desktop. For queries that may relate to recipes, Bing is displaying a carousel that features just three recipes initially. It allows users to filter results by total time and other nutrition criteria, but does not immediately show the option to compare recipes.
Ad customisers are now available in all Microsoft Advertising accounts
Ad customisers have been around in Google Ads for several years, and now advertisers can use them in their Microsoft Advertising campaigns, too. Microsoft Advertising (formerly Bing Ads) announced Wednesday that ad customisers are now available to all advertisers globally.
According to Search Engine Land: "With ad customisers, you can dynamically tailor your ad copy based on attributes defined in a feed. Can deliver ads that are more relevant to the query without having to build out hundreds or thousands of variations.
For example, you could show different offers to users based on their target location, promotion and more. Unlike Google, Microsoft Advertising allows you to apply ad customisers by audience, in addition to keyword, ad group, campaign or ad group.
Bullish forecast predicts 31 million Americans will 'shop' on their smart speakers in 2019
There's contradictory evidence surrounding consumer adoption of smart speakers for search and commerce. Multiple surveys indicate growth but other data suggest smart speakers have not emerged as a commerce platform. However, eMarketer's new smart speaker shopping forecast paints a very bullish picture of the future of "voice shopping."
The firm says that 31 million Americans "will shop via a smart speaker this year, up 31.6% from 2018." The company defines "shopping" expansively as "browsing, researching products and adding things to a shopping cart." In two years, eMarketer says the number will climb to 38 million voice shoppers, as smart speaker owners do more product research on the virtual assistant devices
.
eMarketer also says that 21 million people in the U.S. will make a purchase this year using a smart speaker. The important caveat is that these will almost entirely be digital goods: movies and music.
Facebook shows users more details about data used to target ads
Facebook is introducing new details to its "Why I'm seeing this ad" feature for users. It now shows the interests and categories used to target the ad and how the ad targeting information was collected — meaning, the website or Facebook Page a user may have visited. The tool links to options to hide ads from an advertiser or remove ad targeting data from their profiles.
Facebook Ad Preferences (a page within User Settings) also has been updated to include two sections: One displaying the advertisers who have uploaded a list with the user's information, and another that lists businesses that have uploaded and shared lists with the user's information.
"In this section, you'll see the business that initially uploaded a list, along with any advertiser who used that list to serve you an ad within the last 90 days," writes Facebook Product Manager Sreethu Thulasi.
Ad Preference pages will list an advertiser's phone number or email address as well.
Facebook makes a play for creators with new tools, features for monetising content
In advance of VidCon later this week, Facebook announced Tuesday a new slate of updates designed to provide creators with more opportunities to make money — and attract them to the platform, which is competing for creators' attention with YouTube.
"We're committed to supporting our diverse community of creators on Facebook who share original, engaging content that people love and seek out," Facebook announced Tuesday. "We've introduced a range of tools to help them engage their fans, manage their presence, and build a business."
The new updates aim to support creators' efforts to turn a profit and grow audiences. Facebook takes a slice of creators' revenue.
The updates include:
New placement options and regions for video ads
Driving revenue with Brand Collaborations
Subscription-generated revenue options
Enhancements to the Creator Studio
Microsoft Advertising says it's keeping average position reporting
Microsoft Advertising (formerly Bing Ads) has added the position-based impression share metrics that Google introduced last fall. But, unlike Google, it said average position reporting will be sticking around.
Now called prominence metrics, rather than share of voice, in Microsoft Advertising, the set of six new stats are available at the campaign, ad group and keyword levels.
Top impression share
Top impression share lost to rank
Top impression share lost to budget
Absolute top impression share
Absolute top impression share lost to rank
Absolute top impression share lost to budget
"One key metric that will remain in your reporting is average position, as we've heard continuous feedback that shows this information is still very valuable to you," said Nahva Tecklu, a Microsoft Advertising program manager, in the blog post.
Bing is asking for feedback on its Webmaster Guidelines
Frédéric Dubut, web ranking and quality project manager for Bing, is embarking on a journey to refresh the company's webmaster guidelines.
"SEO friends! I'm kicking off an effort to refresh our @Bing webmaster guidelines, both the spirit and the letter. Any shady tactics you think are not penalised enough? Any feedback on the document itself?" Dubut tweeted on July 30.
Dubut's tweet specifically asks for marketers and publishers to call out the "shady tactics" that they think should be more strictly penalised. If Bing receives a strong response regarding a specific topic, it could be included in the updated guidelines and reflected in its ranking algorithm.
Dubut also asked for feedback on the Bing Webmaster Guideline document itself. This is an opportunity for SEOs to take part in shaping the rules that govern Bing's crawling, indexing and ranking by asking the company to publicly address areas of concern and disseminate up-to-date best practices.
Signs Of Another Google Search Ranking Algorithm Update?
Barry Schwartz reported seeing signs both in terms of early chatter within the SEO community and industry and the automated tracking tools that a Google search ranking update was brewing. The update may have started some time last night, but he's saying that this is currently an unconfirmed August 1st update.
He wrote: "Let's not forget the last August 1st update that was on August 1, 2018, which I ended up naming the Medic update and Google later confirmed as a core update. This August 1, 2019 unconfirmed (currently) update does not currently seem as big as the one a year ago – so no need to panic."
Google has not pre-announced any core update.
New features coming to Pixel 4
Google has today given fans an early look at the technology behind two new features coming to Pixel 4 that make their phone more helpful and represents the next step in their vision for ambient computing.
For the past five years, their Advanced Technology and Projects team (ATAP) has been working on Soli, a motion-sensing radar. The search giant has developed a miniature version located at the top of Pixel 4 that senses small motions around the phone, combining unique software algorithms with the advanced hardware sensor, so it can recognise gestures and detect when you're nearby.
Here's what Google posted on their blog relating to the two new developments:
"Unlocking your phone should be easy, fast, and secure. Your device should be able to recognise you—and only you—without any fuss. Face unlock may be a familiar feature for smartphones, but we're engineering it differently.
"Other phones require you to lift the device all the way up, pose in a certain way, wait for it to unlock, and then swipe to get to the home-screen. Pixel 4 does all of that in a much more streamlined way. As you reach for Pixel 4, Soli proactively turns on the face unlock sensors, recognising that you may want to unlock your phone. If the face unlock sensors and algorithms recognise you, the phone will open as you pick it up, all in one motion. Better yet, face unlock works in almost any orientation—even if you're holding it upside down—and you can use it for secure payments and app authentication too.
Keeping your data safe with Pixel
"Security and privacy are core principles for Pixel. Face unlock uses facial recognition technology that is processed on your device, so that image data never leaves your phone. The images used for face unlock are never saved or shared with other Google services. To protect your privacy and security, your face data is securely stored in Pixel's Titan M security chip. Similarly, Soli sensor data is also processed on your phone, and it's never saved or shared with other Google services."
Twitter ad revenue up 21% in Q2
Twitter generated $727 million in ad revenue during the second quarter of 2019, a 21% increase year-over-year. The company reports total ad engagements were up 20% year-over-year. The platform's ad engagement growth rate has been in decline since this time last year when it saw an 81% lift in ad engagement growth.
Twitter's U.S. ad revenue up 24%. Twitter CFO Ned Segal said the lift in Twitter's advertising revenue was driven by strength in U.S. revenues, which rose 24% year-over-year to $455 million.
"Focusing on our most important ad products and delivering high performing ads will help advertisers launch something new and connect with what's happening on Twitter," said Segal. Twitter didn't specify which products it was referring to, but in April 2018, Twitter reported video ads accounted for more than half of its quarterly revenue.
Facebook's search ad test is extending to more accounts
Facebook has been testing ads in its search results for more than six months, but only with a select few advertisers. Now that test is finally expanding.
In December, Facebook gave a small group of automotive and retail advertisers the ability to run ads in the platform's primary search results and Marketplace search results. At the time, a Facebook Product Manager Zpheb Hajiyani said it was a small test and that the company would be evaluating if the ads were beneficial before expanding the placement option. Several marketers started noticing the search placement option showing up in their accounts this week.
When asked by Marketing Land if the Search ads were getting a broader roll-out to more advertisers, Facebook Product Manager Jason Rudin echoed what the company said about the ads when it began testing them at the end of last year: "We continue to test placing ads in Facebook search results and are evaluating whether these ads are beneficial for people and businesses before deciding whether to roll them out more broadly."
Facebook has been testing the option to place ads in News Feed and Marketplace search results since December.
August
Google Maps update
AR directions (woo!), reservations and more are coming to Google Maps says a story on Search Engine Land. The new additions, while tying in to one of the previously covered stories this week by making Google My Business an absolute necessity (see the Econsultancy story from Wednesday), aim to make Maps a 'hub for travellers'. Personally, I look forward to seeing them in HUD displays on the windscreens of cars to complete my sci-fi vision.
Google better at image recognition
This one actually surprised me – but Google has been crowned champion in image search recognition in a study quoted on Search Engine Land. With 2000 images checked, it's not the largest sample size but, nevertheless, the highest accuracy rate and lowest inaccuracy rate were impressive – though the whole field did remarkably well except, sadly for me as I quite like it, IBMs Watson.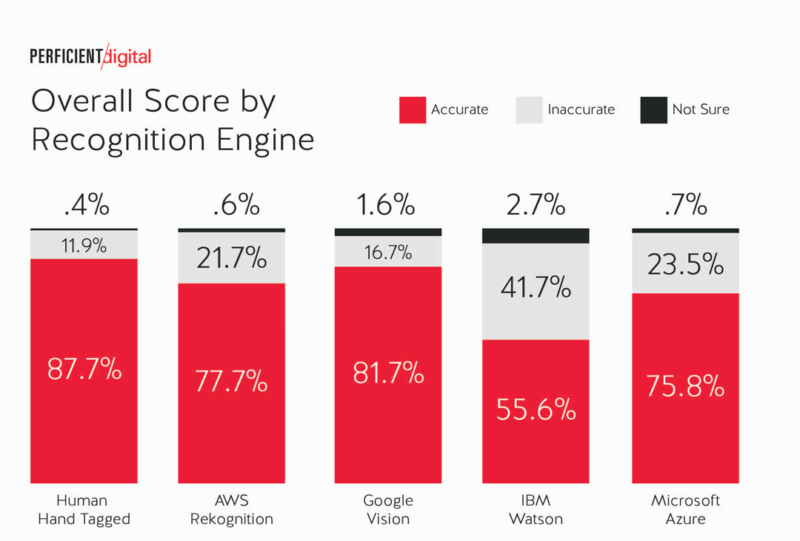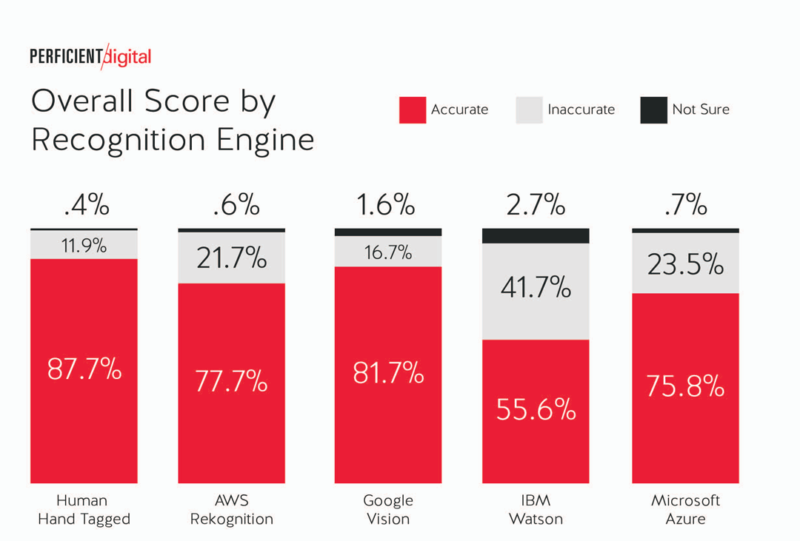 In a separate story from the same site, coverage of a tweak to how Google is displaying results for image searches. While it seems to be more of a UX change, as the Schwarz points out:
'Any change to the way Google shows image results can lead to changes in traffic to your website.'
More indexing problems
Google are aware of indexing problems (they should be, they've been happening on and of for over a year) and are in the process of fixing it. The latest information on the latest Google indexing bug can be found on Search Engine Roundtable.
Don't

be evil

Econsultancy carries a fantastic breakdown of how 'Google keeps searchers within its own universe'. The piece, which takes a few of the talking points from industry discussions on Google's seeming reluctance to send traffic to sites and examines them in detail, does a pretty good job of illustrating the walled garden Google seems to be creating. I've made the case before that search results could, at some point, become a kind of rich media web page for most queries (rendering websites little more than data-donors), it's interesting to see some of these developments laid out so clearly.
Pinterest
The social platform I am most likely to misspell is adding a 'shopping hub' according to Marketing Land. Pinterest, which took a fair amount of time to start developing its advertising offering (comparatively), has added plenty for advertisers to get excited about over the last few years, and this seems like a particularly smart addition.
Nobody likes Facebook as it makes record profits
We all hate it, but apparently most of us will still use it, while hating it. Facebook's satisfaction levels has reached the same level of satisfaction as MySpace had in its final year, is lower than probably doomed Tumblr and much lower than actually doomed Google+. It also posted 28% revenue growth in North America. The SCSI data, reported on Marketing Land shows that it's all our fault and that we should be ashamed of ourselves.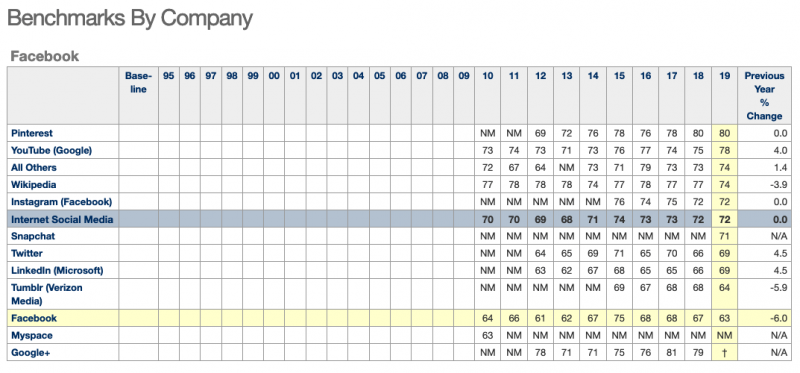 In-housing
Marketing Week featured a story which raised some really interesting points (and some great stats) on the success (or lack thereof) of the trend toward 'in-housing' digital marketing. While the research relies on a limited sample size, there is some interesting information and the piece is well worth a read for anyone thinking about either moving their digital marketing in-house, or indeed moving in-house themselves.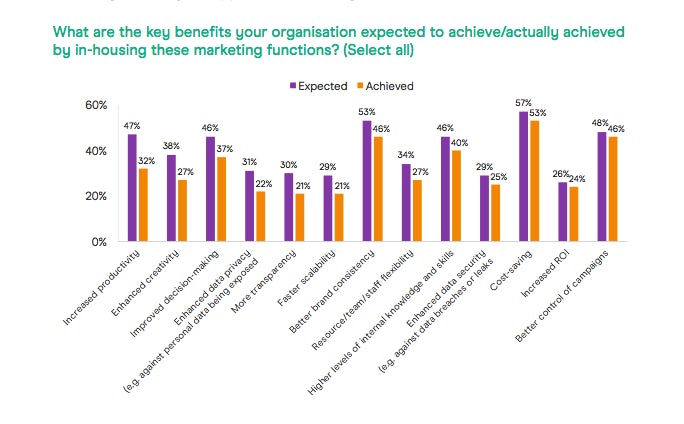 Nike buys AI start-up
Another Marketing Week article – this one, a news roundup featuring a story about Nike's decision to improve their D2C and personalisation at scale efforts through the addition of an AI start-up. This, says COO Eric Sprunk in the article, is because:
---
Our goal is to serve consumers more personally at scale. We have to anticipate demand. We don't have six months to do it. We have 30 minutes.
Eric Sprunk
September
Google helps you choose TV Shows and movies
Google is rolling out an interactive feature (currently only in the US) that allows users to find recommendations on Google when they search for things like "what to watch". To start, you can choose which TV and movie subscriptions you already have, then tap the start button in the "Top picks for you" carousel to begin rating TV shows and movies. You will not only get personalised recommendations for what's available to you, but also quickly see where to watch your picks, and can swipe left or right on a few shows and movies, and come back anytime you want to help improve your recommendations.
Google simplifies process of GSC verification
Website owners can now verify their websites with Google Search Console using Auto-DNS verification with various domain name registrars to automate part of the verification flow.
To verify your domain using the new flow, click 'add property' from the property selector (drop down on top of Search Console sidebar). Then, choose the 'Domain' option. The system will guide you through a series of steps, including a visit to the registrar site where you need to apply changes – there will be fewer and easier steps than before for you to go through. You can learn more about verifying your site at the Help Center.
Google Reviews
Search Engine Journal carries a story detailing the updates, yesterday, to the way Google deals with rich result reviews. Reviews that Google consider 'self-serving' will not be displayed, they stated:
"We call reviews "self-serving" when a review about entity A is placed on the website of entity A – either directly in their markup or via an embedded 3rd party widget."
Which seemingly makes virtually all reviews that are not product, service or item specific 'self-serving' – meaning that reviews of a brand in general will be pointless, but – if I'm reading this correctly – reviews about a brand's specific service should be allowable. Or that a review of Nike (entity A) on Nike's website (entity A's site) would be disallowed, but reviews about Nike Air Max (entity B) on Nike's site (entity A's site) should be permitted.
We managed to survive our latest conference, and really enjoyed the day – but with a week or so before we start planning for next year, we can get back to reading the news that influences the speakers we select for the day.
Google
It's not the newest of news – having appeared on Search Engine Land toward the end of last week, but it's well worth drawing your attention to if you haven't already seen it.
In what may reasonably be seen as another action designed to short circuit accusations of political, or any other bias in Google search results, they have tweaked the algorithm in the hope of surfacing the original source of reporting.
What may interest anyone who saw my talk at this year's conference is the following:
"We did ask if this can benefit less-known publishers and Richard explained that this is beyond just looking at worldwide news sources versus local and smaller news sources. Google can't specifically tell us how its algorithms determine the original source and it is also something the company works on improving on an ongoing basis [my emphasis]."
What will have the biggest impacts on SEO in the near future?
Google entering verticals and competing directly against publishers, advancements in machine learning and AI and zero-click searches are the trends most likely to affect SEO in the next three years, according to a SparkToro survey of over 1,500 SEOs.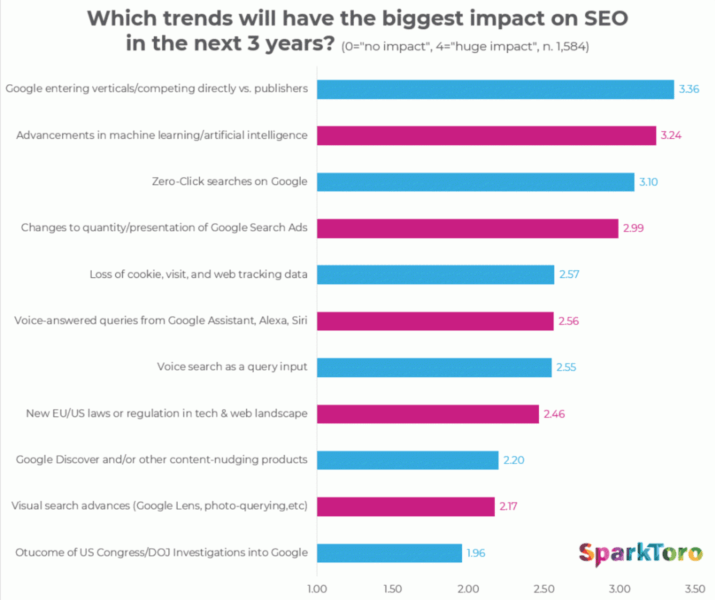 SparkToro's Rand Fishkin also compared this year's data to the aggregated opinions from the previous Moz Ranking Factor opinion surveys across the previous 14 years, and found a number of trends:
For the first time, content > links and keywords.
The perceived value of anchor text is diminishing.
Mobile friendliness and load speed are bigger than expected.
Amount of content and age of website matter.
Google
I'm going to just put both of the Google stories from the last 24 hours here: firstly, Google has not been especially good at ranking original content. With a fair few large sites outperforming others for syndicated content. Also, the star ratings have already started to drop out of search – which you can read about at Search Engine Land.
Google allows site owners to customise their snippets
Google has announced a set of new ways for webmasters to let them know how they'd like previews from their pages to be shown in Google Search, eg, text snippets, image/video previews etc, check out our blog post for info on the new meta tags and attributes.
Google explained the update on its blog:
"…we recognize that site owners may wish to independently adjust the extent of their preview content in search results. To make it easier for individual websites to define how much or which text should be available for snippeting and the extent to which other media should be included in their previews, we're now introducing several new settings for webmasters.
"Previously, it was only possible to allow a textual snippet or to not allow one. We're now introducing a set of methods that allow more fine-grained configuration of the preview content shown for your pages. This is done through two types of new settings: a set of robots meta tags and an HTML attribute."
Google wins landmark right to be forgotten case
The EU's top court has ruled that Google does not have to apply the right to be forgotten globally. It means the search engine only needs to remove links from its search results in Europe – and not elsewhere – after receiving an appropriate request.
The ruling stems from a dispute between Google and a French privacy regulator. "Currently, there is no obligation under EU law, for a search engine operator who grants a request for de-referencing made by a data subject… to carry out such a de-referencing on all the versions of its search engine," the European Court of Justice ruling said.
Google updates GSC
Google announced this morning that Performance Reports within Google Search Console is now going to have fresher data. Specifically it is going from a few days of lag, i.e. seeing Monday data as early as Wednesday or Thursday, to less than a day, i.e. seeing Monday data possibly several hours later.
Google also now lets you export data over time. Google wrote "Starting today, this is possible. Simply choose 'dates' in the table below the graph, select the desired time frame, and explore the data in Search Console or export the chart".
Google's Ad Business Undergoes Massive Reorganisation
Google has appointed Heads of Measurement and Privacy, as part of Advertising Chief's Prabhakar Raghavan reorganisation – which suggests an emphasis on how Google sees those areas of strategic importance. As part of the reorg, Raghavan says he's re-visualising the company as four "concentric circles". The innermost circle is Google's owned-and-operated properties, including search and YouTube, followed by Google's buy-side and sell-side businesses. The two outermost circles span the organisation: measurement and privacy. Google CEO Sundar Pichai has talked about how he wants products to be engineered to minimise the use of data, for example – a goal a privacy-focused team could accelerate.
Google Duplex
Duplex, the Google program announced at I/O '18 and shown booking a hairdresser's appointment and a restaurant reservation, has apparently been spotted booking cinema tickets according to an article on Search Engine Land. Currently US only, it seems, the option is only available to certain theatre chains – but it's an interesting development nevertheless – especially as it represents a step forward in voice enabled purchasing.
Core algorithm update announced
A core update has been rolling out today, Google announced this morning:
Whenever Google updates its search ranking algorithms it means that your site can do better or worse in the search results. Knowing when Google does these updates gives us something to point to in order to understand if it was something you changed on your web site or something Google changed with its ranking algorithm. Today we know Google will be releasing a core ranking update.
Incognito maps
A Google blog earlier today announced a swathe of security/privacy changes – including an incognito mode in maps and the ability to delete your assistant data by voice command.
Excel introduces XLOOKUP
To the excitement of spreadsheet geeks everywhere, Microsoft has announced XLOOKUP, successor to the iconic VLOOKUP function. XLOOKUP is named for its ability to look both vertically and horizontally (it replaces HLOOKUP too). In its simplest form, XLOOKUP needs just three arguments to perform the most common exact lookup (one fewer than VLOOKUP). Here's its signature in the simplest form: