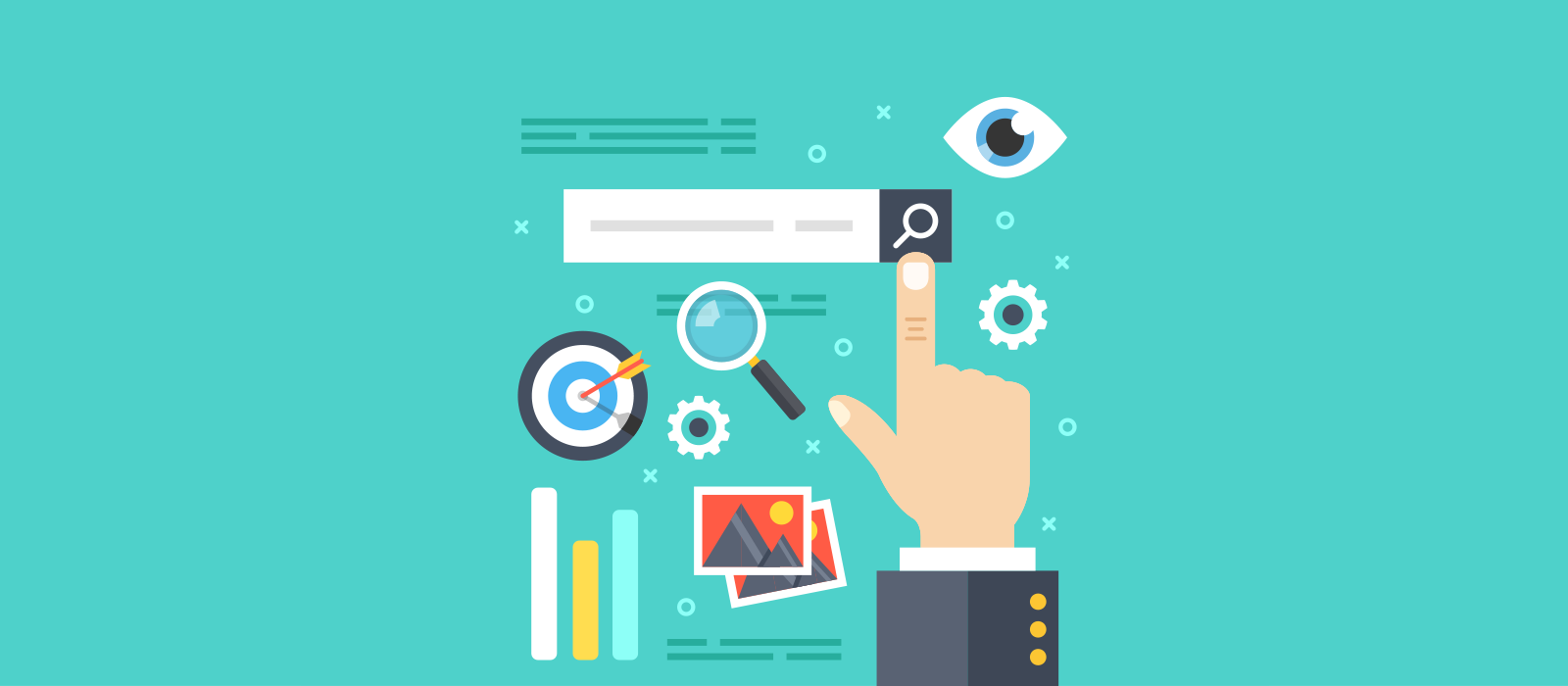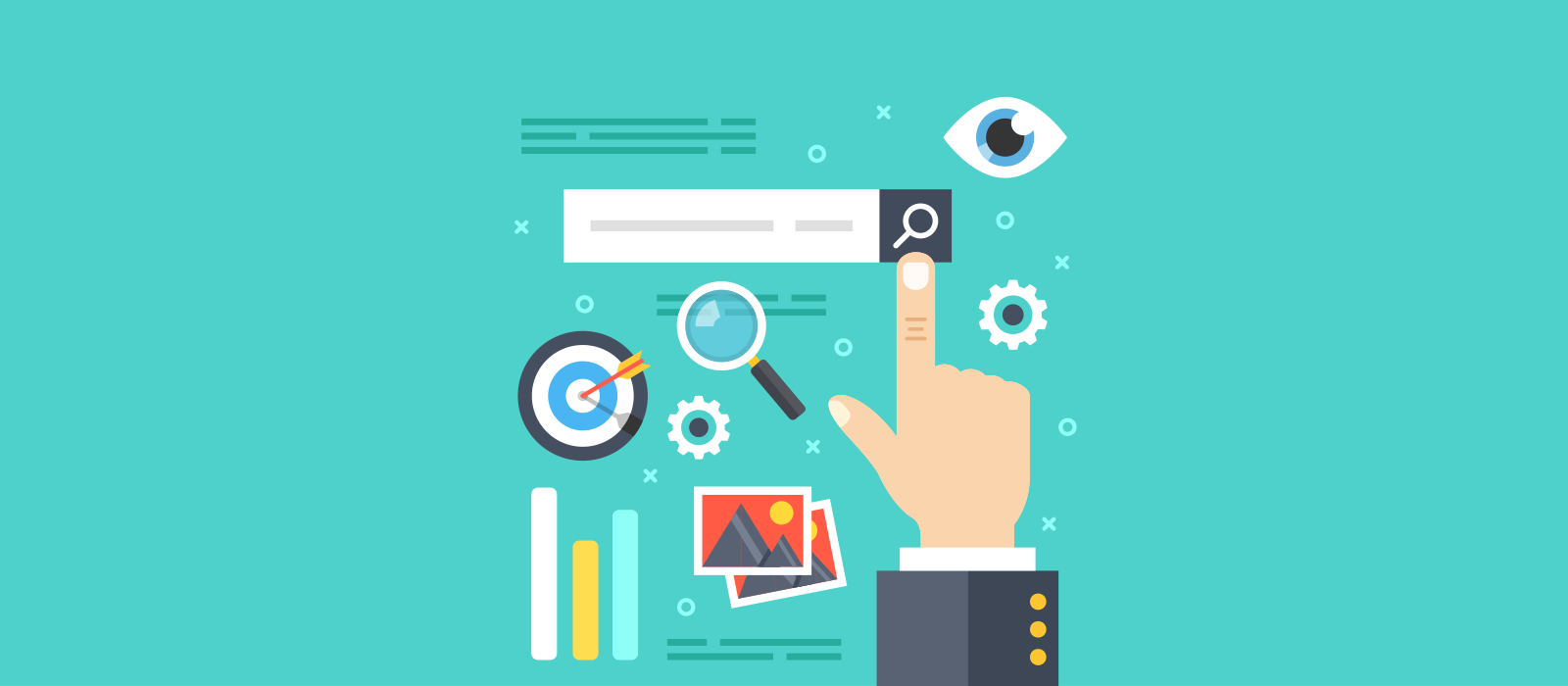 That year in search marketing [2017]
Jan 7th, 2018
So as to make everything a little easier to find, we're combining our weekly (occasionally weekly) search news blogs in to annual reports – so, here's 2017 in search
---
February
Facebook's search AI pairs images with content
It seems as though nearly every news outlet in the world is running pieces on Facebook at the moment, from the loss of a $500m (£395m) lawsuit relating to their virtual reality technology to their net profits doubling over the last quarter to $3.6bn.
One news story that may have slipped under your radar however is an update in the way images and content are paired on the social network. In terms of search, the latest set of changes could have a real impact for businesses and users alike.
The feature works by allowing those searching for an image to do so by typing the actual content within them, not too dissimilar to the way Google Photos works. Seen as an improvement to the accessibility of Facebook, the technology, Lumos, was originally implemented to assist the visually impaired by narrating images by their content.
The object recognition software allows it to scan images for a wide range of things such as places, scenes, clothes, food and attractions. It will also bring up photos is you search for a specific action such as 'people working' or 'playing an instrument'.
Photos that have no tag at all can also be found and according to thenextweb: "Searching for a "black shirt photo" will pull up images where people are wearing a black shirt, even if there's no text or tag in a photo indicating the presence of a black shirt."
The latest update will roll out in the US initial and should be in other regions including the UK shortly.
---
Google launches advanced recipe search feature
Foodies around the world can rejoice as their favourite recipes are now even easier to follow, thanks to Google's latest search update.
The search giant has added an advanced recipe search function to all mobile apps, and it is thought that this will be rolled out on the desktop soon.
The feature comes in the format of a carousel underneath the search bar. When the user looks for 'pizza recipe', for example, the search will return the highest ranking results. However just under the search bar the carousel will offer suggestions such as 'crust pizza', 'gluten free', 'low carb' and 'thin crust', all of which allows for a more bespoke search.
---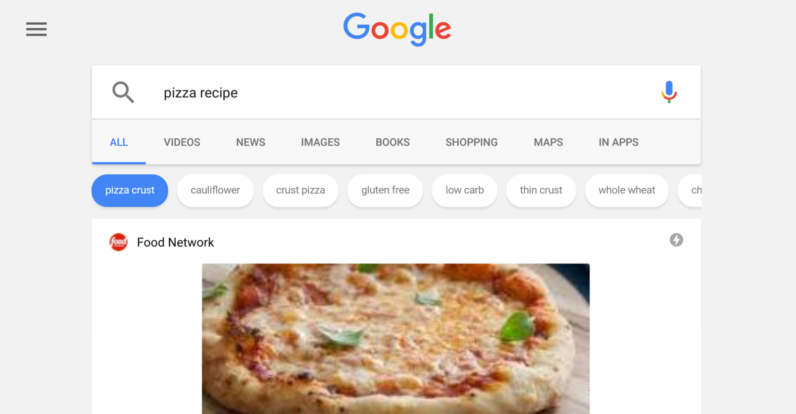 Image:Thenextweb
---
The search engine does already provide users with suggestions in the regular search results but now the carousel has been added, those searching for a recipe can narrow down their searches quickly and easily, revealing new or alternative results and options.
---
Searchmetrics release 2016 winners and losers in organic search
Search analysts Searchmetrics have again released an annual report looking at the winners and losers in the organic search market. The Winners and Losers Report, looks at how certain sites have performed in terms of their organic search visibility on Google during the last year.
Using their own 'SEO Visibility' indicator, the report offers a clear insight into a website's performance. This performance is not the same as organic search ranking, but aims to give an overview of how often a website shows up in search results, based on "search volume and the position of ranking keywords", according to the Searchmetrics FAQs.
Searchmetrics then analysed the change in websites' SEO Visibility during the course of the year, and sorted the top 100 winners and losers by absolute change in visibility.
---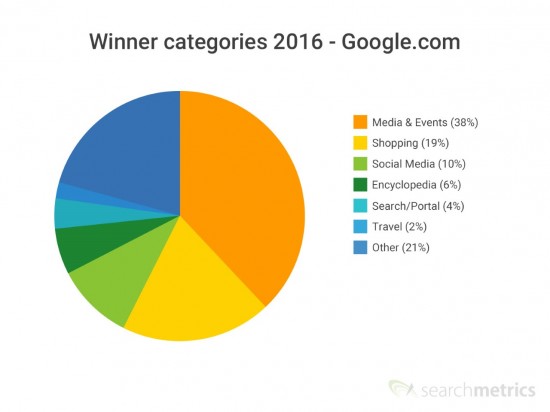 Image: Searchmetrics
---
Google was ranked first in the results and had a 80% gain in overall visibility during the year and other sites that performed well were those in the social media sector. Pinterest was the most improved of all the social media sites, coming in at number two whilst Instagram, Twitter and Facebook all ranked in the top 10 in terms of absolute gains.
According to Searchenginewatch: "Shopping was another significant category of website that did well over the year 2016, with nearly a fifth (19%) of sites that 'won' falling into this category."
Searchmetrics attributed this trend to "relatively steady economies" and "strong economic recovery".
April
Menu markup? The take-away from new schema update
Schema markup is one of the most important search marketing techniques for any online business. It is schema that allows brands to compete for position zero, to appear in local listings and a hundred other ways of reaching customers and facilitating positive user experience (UX).
One thing to remember, however, is that it is constantly growing and changing – and the new "hasMenu" property offers some fantastic functionality for large and small restaurant brands alike – enabling the production of a navigable menu which, if adopted by Google, could appear in search results.
While it has yet to be adopted, Google's history of using structured data to develop rich snippets, and other position zero entries makes it worth a gamble to implement it in advance of adoption. It also raises the possibility that it could be extended to brands which have a list of services they'd like to promote in more detail directly from SERPs – the same markup, if tweaked, could easily be employed by brands that offer multiple services to promote and explain each item on their service 'menu'.
Computer says no. Google ramps up brand protection measures using AI
Google has taken a timely, if somewhat excessive, beating of late over ads appearing next to unsavoury content on its YouTube platform. While maintaining that the issue was a small one, Google seemingly leapt into action following the withdrawal of advertising by The Guardian, Marks&Spencer and a host of others.
The interesting thing here is that it will be machine learning that is at the forefront of the new endeavour to ensure inappropriate videos are identified quickly. Expect to see the beatings continue, along with stories referencing Orwell and various fascist institutions as the technology incorrectly identifies and flags a variety of otherwise harmless content. If you want a picture of the future, imagine a boot, kicking Google's backside – forever.
Will Facebook's secondary newsfeed take off?
Just as you thought there was no way for Facebook to cram anymore promotional items into your newsfeed, the social networking giant has excelled itself – offering an entirely promotional secondary newsfeed to select iOS and Android users.
In what they're hoping will be their own version of the recommended function on Netflix and other content platforms, the feed (the icon for which is, for some reason, a rocket) will offer 'an easy way to explore new content'.
Whether this will prove to be a successful endeavour will largely depend on how well personalised the promoted content is – if Facebook is able to serve genuinely desirable, useful content to consumers which reflects their interests, then it may well be a great resource – if not, it could end up going the way of 'interest lists'.
Flash is dead (almost)
The only technological death that should provoke Amnesty International comment entered its penultimate stage on the 3rd as Google stopped allowing the uploading of Flash video. This drawn out, torturous demise (often met with 'I thought it was already dead' in the vein of many an aging z-lister) is almost complete and Flash is set to be put out of its misery completely in July.
---

---
The date, the 7th of July, should be set aside as a day of collective mourning as:
---
Flash video ads will no longer be able to run through DoubleClick Campaign Manager, DoubleClick Bid Manager, DoubleClick Ad Exchange, DoubleClick for Publishers or AdWords.
---
Ready to take an Oath?
In other defunct technology news, Verizon is set to merge elderly internet stalwarts Yahoo and AOL in the apparent hope that two wrongs can make a right. The new brand – to be called Oath – is set to be launched in the summer of this year.
Bing rings changes
By the 30th of April, all monthly budgets will be migrated to daily budgets and Bing are advising that anyone still using the monthly method should act to update their campaigns themselves. If this is not done:
All campaign level unshared monthly budgets will be converted to a daily budget.
Delivery type will be set to 'Accelerated' for daily budgets.
This conversion will be done by taking the monthly budget and dividing by 30.4 to achieve a daily budget.
To avoid any unforeseen problems with budgets, or automated rules, it's recommended that monthly budget users (besides Shared Budgets) head over to their Bing Ads account and ensure they're prepared for the change.
May
Gmail phishing attack
This week, a phishing attack that security experts called "incredibly sophisticated" affected more than a million Gmail users, although Google managed to shut down the vulnerability in less than an hour after an employee became aware of the scam via social news aggregation site Reddit.
The scam sent users an email asking them to click on a link to a Google Doc that appeared to come from someone they knew. On opening the link, Google's login and permissions page asked users to grant the fake Docs app the ability to "read, send, delete and manage your email", as well as "manage your contacts" potentially giving hackers access to the contents of emails, contact lists and online documents of victims.
@zeynep Just got this as well. Super sophisticated. pic.twitter.com/l6c1ljSFIX

— Zach Latta (@zachlatta) May 3, 2017
Luckily, many were suspicious of the email when they spotted the recipients section which showed it had been sent to "[email protected]" with others BCC-ed.
A Google spokesperson shared the following statement with TNW:
We realize people are concerned about their Google accounts, and we're now able to give a fuller explanation after further investigation. We have taken action to protect users against an email spam campaign impersonating Google Docs, which affected fewer than 0.1 percent of Gmail users. We protected users from this attack through a combination of automatic and manual actions, including removing the fake pages and applications, and pushing updates through Safe Browsing, Gmail, and other anti-abuse systems. We were able to stop the campaign within approximately one hour. While contact information was accessed and used by the campaign, our investigations show that no other data was exposed. There's no further action users need to take regarding this event; users who want to review third party apps connected to their account can visit Google Security Checkup.
Google and Apple accused of unfair practices
A group of European internet businesses are lobbying the European Commission to crack down on what they see as unfair practices by the likes of Apple and Google. The big internet platforms "can and do abuse their privileged position", according to a letter signed by the chief executives of Spotify, music streaming rival Deezer and German start-up investor Rocket Internet among others. Although the letter to the European Commission does not cite the Silicon Valley giants by name, it complains that some mobile operating systems, app stores and search engines have evolved from "gateways" into "gatekeepers" — effectively hindering rivals from competing with their own services.
Apple and Google together control over 90% of mobile operating systems, meaning that smaller companies which offer products on smartphones have to abide by terms and conditions set by the Silicon Valley groups, or risk being unable to reach customers. The letter comes in the midst of a debate inside the commission around overhauling digital policy, with new proposals due later this year aimed at addressing allegedly unfair contractual clauses enforced by big platforms.
New EU laws could transform digital marketing
Two pieces of legislation are set to transform digital marketing in the European Union (EU) when they come into effect in May next year. WARC (the World Federation of Advertisers) has published a report outlining how the General Data Protection Regulation (GDPR) and ePrivacy Regulation will impact marketing across the globe.
Key insights from Merkle's Digital Marketing Report for Q1
Merkle's quarterly Digital Marketing Report, which takes a detailed look at performance across digital channels and search engine trends, has produced some interesting headline insights:
Spending on AdWords has increased 21% YOY in Q1 2017, up from 19%in Q4 2016, with click volume increasing 20% over the previous year, spurred on by by greater device bidding controls and other updates, such as the addition of a fourth mobile text ad, PLAs in image search, and Google Maps ads over the past year.
Tablet bids have declined, while mobile bids have improved relative to desktop.
Product Listing Ads (PLAs) continue to grow faster than text ads, accounting for more than half of retail search ad clicks in Q1, up from 48 percent in Q4, with growth largely driven by non-brand queries. For non-brand queries, PLAs drove three quarters of all clicks for retailers.
Google's Local Inventory Ads, a bricks-and-mortar-focused version of PLAs, are gaining traction, accounting for 19% of all Google Shopping clicks on phones.
Expanded Text Ads, introduced last year, are failing to produce consistently higher click-through rates than the previous standard text ad format
The mobile share of advertising spend for Facebook and YouTube video platforms has continued to strengthen.
Spend across Bing Ads and Yahoo Gemini fell by 14% compared to the previous year, hampering mobile growth and marking the fifth consecutive quarter of spend declines.
Bing Ads rolls out three new features for Shopping Campaigns
Search term report at product level
Advertisers can now see which search queries triggered product ads and the product ID level with Product Search Term (giving Bing an edge over Google as this is a feature that's not available with Google Shopping)
Source: Bing Ads
This report will show whether products are triggering for appropriate search terms and can also help guide product title optimisation.
Online product inventory update feed
Advertisers can now upload — via FTP or manually — an online product inventory update feed with availability and/or price changes as a supplement to the main product feed, which means you don't have to upload a new main feed every time products go on or off sale, run out or get restocked.
Feed download scheduling
Advertisers can now have several scheduling frequency options to choose from: daily, weekly or monthly.
Google make events easier to find with enhanced search features
Google has announced a new search feature that will make it easier for users to find events and buy tickets.
The latest update means that those conducting Google app and mobile web searches for events will now find a comprehensive listing of activities and events pulled from Eventbrite, Meetup and other websites.
---
Discussing the update Google Product Manager, Nishant Ranka said: "To try it, type in a quick search like, 'jazz concerts in Austin', or 'art events this weekend' on your phone. With a single tap, you'll see at-a-glance details about various options, like the event title, date and time, and location. You can tap "more events" to see additional options.
"Once you find one that's up your alley, tap it to find more details or buy tickets directly from the website."
The event results include filters that let allow the user to search by dates or look for specific events happening 'today', 'tomorrow' or 'next week'.
Google has also provided a link to its developer guidelines for creators so that they can make sure their event listings show up in within the new search feature: Google Search Events guide.
---
Facebook commit to reducing links to low quality web pages
As part of their ongoing commitment to build an informed, integrated community the social media giant has announced a major shake up to the way they evaluate posts for websites offering low quality experiences.
According to an update on the Facebook newsroom, the company says that they are working hard to understand which posts people consider misleading, sensational and spammy so that they can show fewer of those and show more informative posts instead.
According to the press team: "We hear from our community that they're disappointed when they click on a link that leads to a web page containing little substantive content and that is covered in disruptive, shocking or malicious ads. People expect their experience after clicking on a post to be straightforward.
"Starting today, we're rolling out an update so people see fewer posts and ads in News Feed that link to these low-quality web page experiences. Similar to the work we're already doing to stop misinformation, this update will help reduce the economic incentives of financially-motivated spammers."
The changes will roll out gradually over the coming months and Facebook have reviewed hundreds of thousands of web pages to identify those that contain disruptive, shocking or malicious ads.
---
Bing adds back stories to home page images
Bing is adding more to its home page, now offering the backstory for the image of the day and a gallery of past featured pictures.
Since it was rolled out a little over a week ago, users can scroll down on the home page to see a brief summary of the featured image of the day and a map of where the image was taken.
Users also have the option to like the picture, download it to use as their wallpaper or and share it on Facebook, Twitter or Skype.
---
There is also a "Recent Homepage Images" section that links to a full gallery of Bing's past home page pictures. The gallery allows users to find past images using a number of filters, including category, tags, colours and holidays.
Currently, the image of the day information is only available on Bing's US home page, but it will be launched later this month in the UK, Canada, Australia, India, Germany, France, Brazil and Japan.
---
Advertisers continue YouTube boycott as they seek assurances from Google
A host of high profile UK advertisers including Marks & Spencer, Tesco and Pepsi are still withholding ad spend from YouTube despite moves by its parent company Google to allay marketers' concerns over brand safety.
Google has been working hard behind the scenes to rebuild trust after an investigation by The Times found that some ads from big brands were being shown next to seedy or illegal content such as that posted by those in the pornography industry, extremist groups and those associated with terror.
In a range of interview with Marketing Week, many brands have said that while they are "encouraged" by Google's attempts to make the way it serves ads on YouTube more transparent and to provide better guarantees, they still need more before they resume advertising.
In an effort to combat the backlash and bring the advertisers back in line Google and YouTube have worked on a range of updates and guidelines. The search engine giant has promised third-party verification and restricted where ads appear so they are only served if a creator or channel has more than 10,000 views.
They have also hired people to help monitor the site for content that advertisers might not want to appear next to and introduced new rules so content is more likely to appear in genres and channels that are brand safe.
June
Bing to boost local business with introduction of bots
Bing, one of the world's most popular search engines, has announced the introduction of bots in order to help local businesses. Through the Bot Framework, Microsoft is integrating local search into results in a bid to make the service more interactive and transactional.
The bots which will be created automatically from the data held in Bing Places is due to be rolled out on Facebook Messenger and Cortana shortly and will start by looking at the restaurant industry.
Back in April Matt McGee spotted the appearance of chat functionality for selected Seattle-area restaurants and thus the idea came into fruition.
Businesses don't need to do anything technical, other than answering a few structured questions and accepts the bot agreement terms. Thereafter, when users search for the business, a screen like the following will appear.
---
Users can then get basic questions about the business answered through the bot (eg, "do you have outdoor seating?"). If there's a question it can't answer, the bot will refer the user to a phone number.
There are three noteworthy aspects of this development:
The consumer experience: ability to get deeper questions answered and possibly conduct transactions within the SERP
The automated creation of the bot using data provided to Bing Places
The fact that the bot will be available across channels and platforms (create once, publish across sites)
Local businesses will be able to add "channels" with the click of a button, such as Facebook Messenger and Cortana. Currently, Business Bots is available for Bing, Skype and SMS.
Google to allow publishers 'ad blocking' override
Google will let publishers ask people who use ad-blockers to either enable advertising or make a payment to view content without ads.
"Funding Choices" their latest feature will roll out first in North America, UK, Germany, Australia and New Zealand, according to their latest blog.
Ad blocking programs are designed to protect consumers from intrusive web ads that slow down browsers and vacuum up personal data.
Ad blockers take "a big toll" on publishers and producers who rely on advertising revenue, said Sridhar Ramaswamy, Google's senior Vice President in Ads and Commerce.
"We believe these changes will ensure all content creators, big and small, can continue to have a sustainable way to fund their work with online advertising," he wrote.
Google is part of the Coalition for Better Ads, a group which also includes News Corp, Facebook and Unilever, and is dedicated to "improving users' experience" of online advertising.
Recent figures from the Internet Advertising Bureau (IAB) suggested that 22% of UK adults use an ad blocking service online and Ad Blocker Plus claimed to have more than 100 million active users worldwide.
Google is also working on an ad-blocker of its own, which will function in its Chrome browser which will target those that do not meet Google's standards.
Bing joins Google and Pinterest amongst others with visual search updates
Bing have today announced new changes to their search offering by launching Bing Visual Search , a programme that will allow users search specific objects within images.
They are expanding its image search toolset with a new product that lets users search for specific items shown within a larger image and is available now as part of Bing's existing image search tools.
---
According to a piece by the team at Search Engine Land, Bing says its new visual search tool will work with existing internet images as well as new user-taken photos. It's available now on Bing.com (desktop and mobile) or in the Bing mobile app. Bing is also making visual search available to developers via its image search APIs.
Some of Bing's competitors have released or announced similar search/shop-within-an-image tools recently. Google is using product metadata to identify items seen in a photo, and also plans to launch Google Lens soon, a tool that turns smartphone cameras into a search box. Pinterest has its Shop, The Look feature, which turns items inside an image into something users can buy. Even Instagram is testing a way for consumers to buy specific items seen in images.
Voting
Google Trends seems to have had the youth vote nailed, while Facebook staked its claim as the most important campaign platform – but while this incarnation of the so called 'silver vote' will be difficult to reach or represent in this increasingly digital world, there is no doubt that we are being offered a glimpse of the future
In fact, the closest pollsters to correctly calling the election result (YouGov) were also those most reliant on digital sampling to reach their predictions made the surprising (at the time) decision to weight the youth vote more strongly than its counterparts. This may have something to do with studies undertaken by YouGov that cited 28% of the 18 to 24 year old demographic now claim social media as their main news source and the 44% overall use for such discussion.
---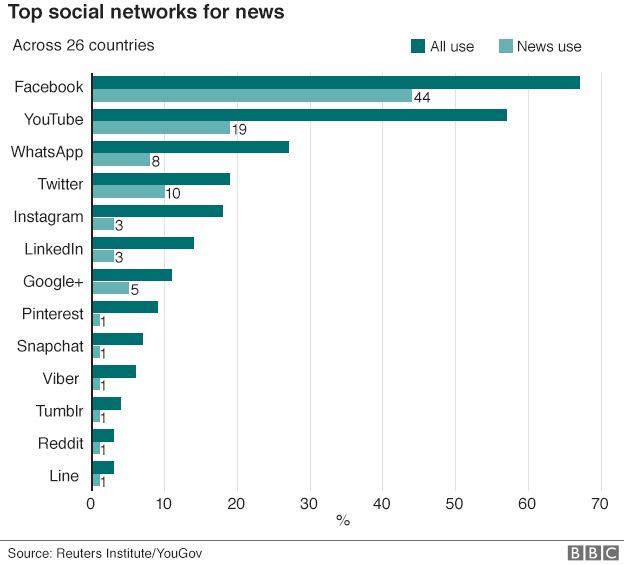 ---
With the three million under 30s that registered prior to the election and the 72% youth turnout, the resultant Labour surge seems less shocking when the search trends are taken into account.
---

---
All of which reflect a competently executed social media campaign from Labour and Momentum which played to Corbyn's popularity among younger voters.
---

---
While the fifth most searched-for query around the Conservative parts may also have offered some foreshadowing for a party that has historically made much of their inheritance from Labour – with a large proportion of searchers asking how long they had been in power.
---

---
It is no surprise, therefore, that all parties were bidding on each other's 'brand terms' upon the release of their manifesto – as well as auctions taking place across AdWords for terms such as 'Dementia Tax' and 'Garden Tax', two of the hot issues.
Yet, despite the Conservative party having almost certainly outspent their opponents on digital, initial thoughts from social media project Who Targets Me suggest that, while Cambridge Analytica and demographic targeting may have played a large part in the election of Donald Trump, the Conservatives may well have narrowed their sights too much.
---
We saw (in the last 48hrs):

Labour ads in 464 constituencies.

Conservatives ads in 205 constituencies.

Too narrowly targeted?

— Who Targets Me (@WhoTargetsMe) June 9, 2017
---
We are already seeing another trend which represents a further unexpected change in UK politics, with searches for the Democratic Unionist Party increasing since it became clear that they may hold the balance of power following the election result.
While debates will no doubt rage over the coming days and weeks about what went wrong for who and where, there can be little doubt that the future of politics is online – including, possibly, the democratic process itself.
Apple follows in footsteps of Google and Bing with indoor maps update
Apple has been developing indoor location and mapping for several years and in one of the most hotly anticipated company announcements of the year, it has shared their latest update in Maps for iOS 11.
Among the large array of announcements at Apple's developer conference, the company showed off an updated Apple Maps that includes indoor location for shopping centres and airports. The update means that Apple Maps will now show:
Floor plans and individual store information.
Directories of stores.
Ability to search and browse.
Google has offered a version of this information for a few years; Bing Maps also has selected indoor locations. As can be seen in the image below the improved visuals are thought to be a huge boost to retail areas in places with the service activated.
Indoor location for shopping malls will initially launch in Boston, Chicago, Hong Kong, San Francisco, Tokyo, San Jose, Philadelphia, New York, Washington DC, London and Los Angeles. Apple said that there would be "hundreds more per month thereafter". It does not appear to include indoor navigation, however.
The announcement at the conference was one of many features launched by Apple who is also trying to stop distracted driving. The company told those at the conference that it's launching "Do Not Disturb While Driving" as part of iOS 11. It'll block notifications from showing up when Apple determines you're driving, either through a Bluetooth connection or Wi-Fi Doppler, blacking out the screen until you stop driving.
iMessage will automatically respond to anyone who texts to say that you're driving. Not every message has to be blocked, though. You can set certain people as important, and anything they send will show up on your phone. If you aren't actually driving, you can exit this mode, too.
Facebook adds three templates for Canvas ads
Social media giant Facebook has announced a string of updates to their Canvas ads platform including an extension to their shoppable Collection ads and three plug-and-play templates for advertisers to use.
Almost two years after Facebook debuted its fast-loading, iAd-like Canvas ad format, the company continues to make the creation of its showiest ad product less of a production and more of a plug-and-play and to extend its application beyond raising brand awareness to pushing sales.
Facebook rolled out three templates that self-serve advertisers can use to create cookie-cutter Canvas ads for certain business objectives. And advertisers can now use a Canvas post as the main creative showpiece in a shoppable Collection ad.
In March, Facebook added the Collection format to create a line of immersive, mobile-only ad formats in addition to the original Canvas format. Collection ads appear in people's news feeds topped by a large photo or video with a product gallery appearing underneath. When people tap on the ad, a full-screen product catalogue opens listing details like a product's name and price, and people can tap on a product to view it on the advertiser's mobile site.
The three templates are as follows:
If a brand wants to give people a more in-depth look at a particular product or service it sells, it can pick the "Showcase Your Business" template that combines videos and photos into a highlight reel.
If a brand wants to attract new customers, it can opt for the "Get New Customers" template that resembles a mobile landing page.
If a brand simply wants to push a product, it can choose the "Sell Products" template that presents people with a product catalogue pulled from the inventory list already uploaded to Facebook.
Google Posts for small businesses moves to Google My Business
Google has moved the management location of Google Posts and the company hopes to expand Posts to more businesses and organisations.
Small businesses that are in the Google Posts program can still make use of the experimental service, but the location of that feature has shifted to within the Google My Business area.
Google Posts is a feature that allows people and businesses to create content directly on Google which appears highly ranked in Google search results for their names.
Although Google has been recently expanding Google Posts to more and more businesses, organisations and people, Google says it is still not open for businesses that weren't already invited into the program. Google did say that it hopes to expand it to more over time and promised an update to come soon.
Google
Having lately been quite figuratively stripped bare and whipped through the streets trailed by that stern, bell-waving, shame shouting woman, Google have announce a four point plan to combat extremism on YouTube. The planned action will include:
Improving its machine learning: – Google recognises that its algorithms are going to have to step up their game when it comes to recognising extremist content and are presumably hanging whiteboards in little robot classrooms as we speak.
Expansion of the 'Trusted Flagger' programme: – Increasing from 63 to 113, the NGOs will be provided additional grant money to help identify videos for removal which contain self-harm, terrorism and more.
Demonetising and adding warnings to content close to violating policy: – YouTube will be adding these warnings and removing revenue generating ability from any video which contains inflammatory religious or supremacist content. It remains to be seen how this will affect Richard Dawkins videos, but following outrage by brands that found they had been inadvertently funding terrorism, Google have had to ensure change in this area.
Using the power of targeted online adverts to reach audiences of extremist content: – YouTube will redirect at risk demographics away from extremist content and toward sources which present a counter message (or, presumably, kitten videos). This endeavour – of countering the extremist message with an alternative counter-narrative has shown encouraging signs in previous research and will be extremely interesting to watch as it progresses.
Also from Google is a new method of advertising your vacancies online. Using a set of structured mark-up tags, you will now be able to see your jobs show up as rich cards in search by implementing a series of tags which will allow you to display date posted, salary, description and more directly in search.
Facebook
Facebook has once more begun making a push for the role of search engine (as Google renews its small business offering) by upgrading and updating several aspects of its local search offering. With so many businesses now using Facebook as a primary website, Facebook is taking full advantage by ensuring that its search facility is reflective of its status as a search engine for users. Search Engine Land has detailed seven recent changes that serve to promote Facebook as a valid local search alternative.
Twitter
Twitter has 'refreshed' its platform and tweaked a few bits and pieces. The new, rounder, friendlier looking Twitter is much the same as it ever was (haemorrhaging money) but now has round profile pictures and a number of other mostly cosmetic changes to attempt to regain relevance and push on to make a profit at some point. Smart Insights has a rundown of the changes (and a couple of great tweets about the new, round profile pic over on their site.
Ad news
Firstly, Search Engine Watch have reviewed Mary Meeker's 2017 Internet Trends Report – a 355 slide long presentation that I'll admit I haven't gotten around to yet, but from which SEW pulls some very interesting figures including a 22% YOY increase in mobile ad spend and an overall percentage share of 85% of internet ad spend between Google and Facebook.
AdPushup, meanwhile, have confirmed that my own two pet hates in online advertising are universally despised as well as ranking a top 10 of the most disliked ad types which should give many in marketing some pause for thought and a gentle nudge toward ensuring that our ads are evoking the right response.
July
Google
A long, long time ago, far away in a very busy city, a man gave free directions to visitors, constantly updating them to ensure that visitors were given the best possible directions. Due to the man's diligence and commitment to the city's visitors he became extremely successful and shopkeepers in the city were prepared to pay to advertise on his stall. Eventually, these shopkeepers even paid to register their prices with him and he allowed visitors to compare those prices.
All of this advertising revenue made it easier for the man to give good directions and also to invest in other areas such as driverless carriages and other tortured metaphors. While they seemed to have no qualms about the man not paying any tax, the city's rulers were swayed by a competitor who thought he should advertise their products for free. So the city fined the man.
The EU has certainly never been averse to fining organisations for anti-trust activities – while some commentators have claimed that the EU has a vendetta against American companies, it has also imposed huge fines on Telefonica and numerous other European brands for price fixing and anti-competitive practices.
The major issue that must be argued is whether legislation can ever keep up with unpredictable and disruptive technological advance and whether, if it cannot, tech firms should be punished for breaching regulations that have to be thought up later and therefore don't actually exist at the moment of their breaking.
As far as Google are concerned, they have done no wrong in leveraging their own technology to make a profit, as far as the EU is concerned – something happened and they're not happy about whatever it was. Some compromise will have to be reached between the high-speed progress of tech companies and the necessarily (pre-climate catastrophe) glacial speed of enormous bureaucracy, but what it is remains to be seen.
Amazon
In a piece of news I'm placing here to in no way compare it to the above, Amazon have just done it – they've slowly, through being very successful at allowing third party resellers to use its platform, convinced Nike to sell directly through their site.
In this move, which will likely knock millions of pounds off the share value of physical stores such as Footlocker and thousands of online resellers, Amazon, which advertise only brands that use its platform and therefore, whether directly or indirectly, pay for the privilege, has doubtless cheered definitively non-evil mega-investors like Goldman Sachs who made the announcement reported in Reuters, while knocking in the final nail to seal the collected coffin of high street sports retailers who simply cannot compete.
Hate speech fine
Germany celebrated the legalisation of gay marriage this week, in a move that has delighted progressives and all people who believe that equality before the law is a preferable thing to flagrant discrimination, and in a second ruling (presumably after seeing the look on Angela Merkel's face at the announcement of the first) has made a big push to tackle hate speech on social media.
The ruling, reported in the New York Times before I ran out of free articles for the month means that social media platforms could face fines of up to $57 million if they do not delete "illegal, racist or slanderous comments and posts within 24 hours".
In waters now muddier than those of my beloved Mersey, campaigners on freedom of speech as well as tech companies themselves have questioned whether they can come to the same conclusion on what such speech actually constitutes while others are unsure about placing decisions about what constitutes illegal speech in the hands of unelected super-corporations. All current fiction currently supports the idea that this will lead to battles between various robotic law enforcers controlled by OmniCorp, but time will tell.
Facebook
David Marcus, head of messenger at Facebook, has been quoted in Marketing Week stating that Facebook are pushing to replace something even the Yellow Pages parent group Hibu probably no longer care about.
Facebook, he says, will serve as a contact page – allowing consumers to contact brands directly through Messenger. Sort of like they do now, only different in a way that is clearly passing me by. In the same article, Mr Marcus is also quoted as saying that the 1.2 billion Messenger users will allow Facebook to do something its competitors can't. Brands, he says, will be able "to reach customers who are registered on Facebook. Customers can actually engage with the brand and be sent relevant content".
Presumably the thing Facebook will be able to do, therefore, is stop 1.2 billion people using Messenger.
What's new with Google?
Google to fund 'robot journalism'
Google is funding a new software project that will automate writing of 30,000 stories a month for local UK media. The Press Association (PA) news agency received £622,000 for its Reporters and Data and Robots (Radar) scheme that it says will benefit "established media outlets", independent publishers and local bloggers.
The scheme will apparently still include "skilled human journalists" – five reporters will use official open data sources to automate reports about health, crime, employment and other subjects.
Neil Thurman, a lecturer in communication at City, University of London criticised the scheme, saying: "I find it difficult to see how automation is going to help provide additional coverage of local magistrates' courts and crown courts.
"You can't really cover [local government] through automation because it's a lot about investigation, politics, personal relationships, who has said what to whom and so forth – it's difficult to get that information in data feed form."
New look for Google News site
Google has also unveiled a redesign of the desktop user interface for its News site.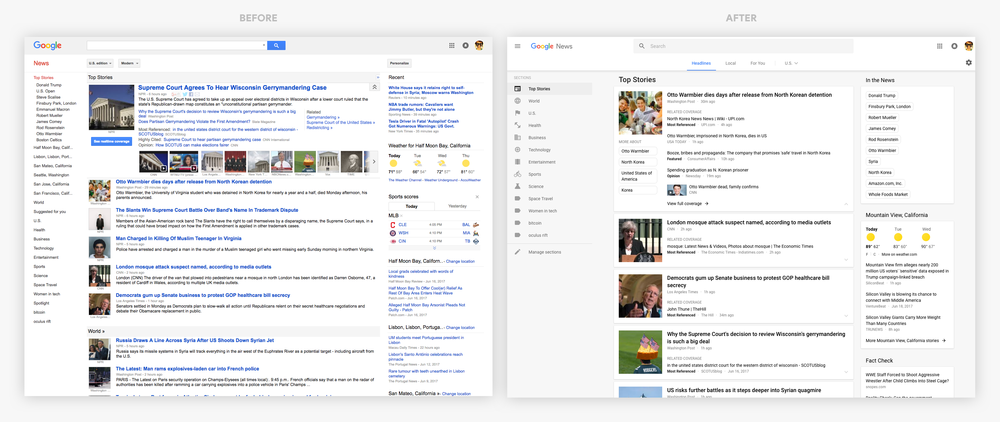 Source: Google blog
According to Google, the new UI has a clean and uncluttered look, designed for comfortable reading and browsing.
A card format that makes it easier to browse, scan and identify related articles about a story, to give a broader range of perspectives
The new layout focuses on key elements, such as publisher names and article labels, and maintains your view and place on the page as you click in and out of stories and explore topics.
A new nav bar shows 'Headline', 'Local' and 'For You'. The navigation column on the left features sections that you customise, creating your own mini newsfeed.

Source: Google blog
Google has also improved the algorithmic selection for top videos, highlighted the top video in a story card, and built a better player. While playing a video, more related videos will be available in the player.
Wheelchair accessibility feature for Google Maps
Google Maps users are now able to add accessibility details about locations or business listings. The accessibility attributes you can choose from include: wheelchair-accessible entrances, wheelchair-accessible elevators, wheelchair-accessible seating, and wheelchair-accessible parking.
According to Google's blog: "When you want to share accessibility information about a place or add details about many places quickly, just open Google Maps on Android, open the main menu, and then tap 'Your contributions'. Tap 'Uncover missing info' and sort by 'Accessibility' to find places around you that are missing this kind of information so you can start filling it in. You can also sort by different categories in case you have other information to add as well."
Snapchat
Snapchat has broken from its longstanding opposition to links in and out of Stories posts. Now a paper clip indicator will allow users to embed a link and viewers to swipe up to access the site via Snapchat's internal browser. These deep-linking capabilities were already available to advertisers and publishers in the Discover section, but not general Stories users. The new links will allow Snapchat to drive more traffic to news stories and also potentially generate more affiliate revenue for creators.
AdWeek's Marty Swant noted:"Until now, the only way users could add links was if a brand bought an ad and included a way to swipe. However, this could make it easier for marketers to gain more organic traffic. It's also a big win for media companies, which now finally have a way to direct users to their actual websites."
However, another new feature is not getting such a warm response. Snap Map lets users share their exact location with people on their "friends" list in real time. However, critics have voiced concerns about the feature being used by individuals with sinister motives.
In a statement, Snap said: "The safety of our community is very important to us and we want to make sure that all Snapchatters, parents and educators have accurate information about how the Snap Map works."
Snapchat claims that sharing your location is optional and turned off by default, and users can control who can see their location at any time.
Augmented reality
Pokemon Go is celebrating its first birthday by launching a number of in-game and a real-world event. Still going strong, with nearly a billion downloads worldwide, developer Niantic hopes to reinvigorate the fanbase with a big outdoor event later this month.
Since its launch, the game has gone through a number of changes and updates, promotions and news stories. The popularity and compelling nature of the game also seems to have revealed the potential of augmented reality for marketers and advertisers.
Brands including Manchester United, Ikea, and Burger King have all experimented with the medium.
John-Paul Burke, of mobile games company Gameloft, told The Drum: "Pokemon Go showed the world that mobile gaming needn't be a purely online experience by seamlessly connecting gameplay with our everyday lives.
"It also made marketers and advertisers sit up and take mobile gaming seriously. Players were literally being led about the world by a mobile game. The opportunity for brands was vast and clearer than ever before.
"We know that if branded content is integrated into gameplay, and tailored to the player's own interests, they are generally happy to be served it. Mobile gaming in particular offers numerous avenues for advertisers, be it branded mini-games or sponsored in-game events."
Facebook
The social media behemoth has announced plans to crack down on spamming and low-quality content by "deprioritising" posts from users who publicly share more than 50 links per day.
According to Facebook, publishers should "continue to post stories that are relevant to their audiences and that their readers find informative".
Adam Mosseri, Facebook's News Feed VP, saide: "One of our core newsfeed values is that News Feed should be informative. By taking steps like this to improve News Feed, we're able to surface more stories that people find informative and reduce the spread of problematic links such as clickbait, sensationalism and misinformation."
Mosseri says that the 50-plus limit will remain just one of many signals Facebook uses to determine how content is displayed in the News Feed and noted that the change will "only apply to links, such as an individual article, not to domains, Pages, videos, photos, check-ins or status updates".
US state to ban geolocation tracking
Illinois is in the process of passing a law that would make it illegal to track a phone's location without the owner's consent.
The bill sets criminal penalties and damages of at least $1,000, plus attorney's fees and court costs, for working out a person's whereabouts from their device without permission.
Some in the industry have questioned whether the bill will have any real-world impact, given that most devices, apps and websites now ask people for permission before they use location data.
However, brands such as Apple, Google Play and WhatsApp have had their knuckles rapped for location-sharing without consent.
Google reforms AdSense with tougher rules
Search engine giant Google have this week announced tougher regulations to their AdSense platform, banning Google AdSense ads from showing on pages that use excessive pop up or pop under techniques.
After updating their ad policies Google also revealed that ads will also be blocked from running on any web site that deploys pop under ads.
Following the announcement, Google published the new policies, which read:
Publishers are not permitted to place Google ads on sites which have more than three pop-ups. If pop-ups are displayed on a site they may not interfere with site navigation, change user preferences, initiate downloads, or distribute viruses.
Publishers are not permitted to place Google ads on sites that contain or trigger pop-unders.
Additionally, sites using AdSense may not be loaded by any software that triggers pop-ups, modifies browser settings, redirects users to unwanted sites, or otherwise interferes with normal site navigation. It is your responsibility to ensure that no ad network or affiliates use such methods to direct traffic to pages that contain your AdSense code.
Google adds menu tab to restaurants' local panel
Google has added a new tab to the local panel for many restaurants. The new tab is for accessing the restaurant's menu, and Google may show the tab if Google is able to pick out the menu items from the restaurant's menu.
This is how it appears:
---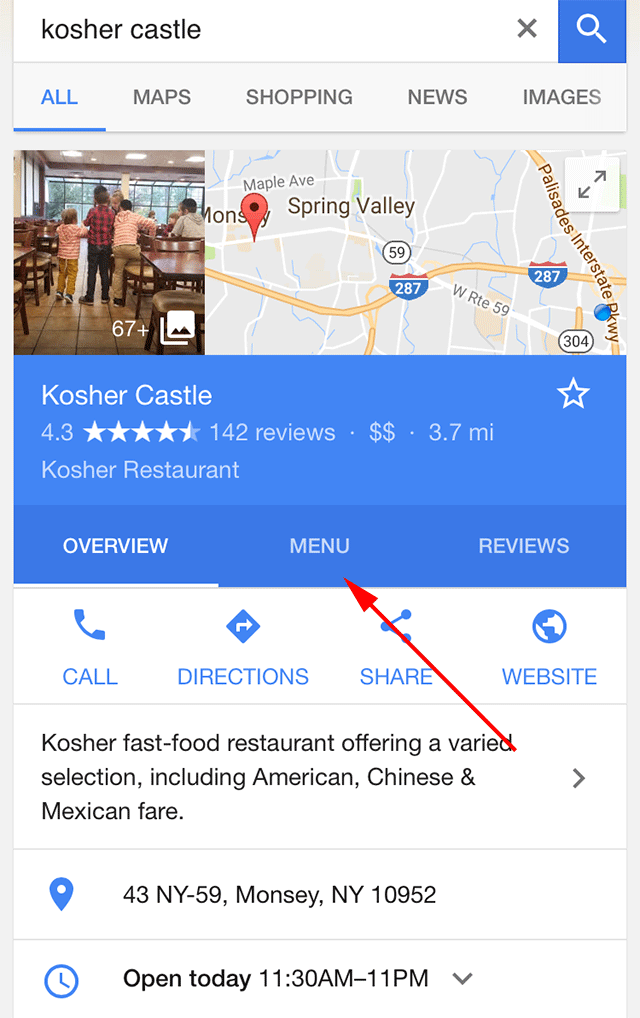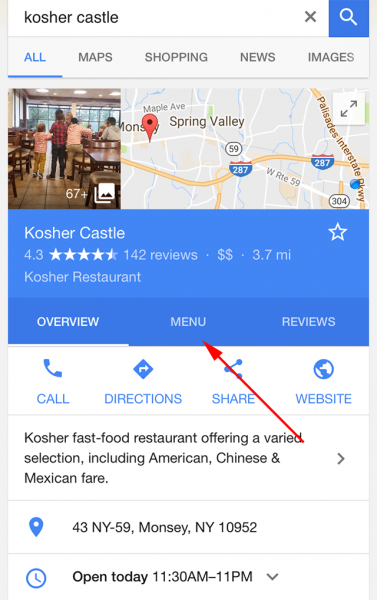 ---
According to Barry Schwartz at searchengineland.com: "Google began showing tabs in the local panel about a month ago, after testing it for some time.
"The tabs shown are different based on the type of local venue it is. For example, restaurants might have a menu option, whereas hotels might show rates."
This feature yet again adds to the overall UX and it will be interesting in time to see if there is a correlation between adding the feature and bookings.
Google launch PAIR project to improve human/AI interaction
Google has this week unveiled a research program geared towards improving how humans interact with artificial intelligence (AI).
Dubbed PAIR (People + AI Research Initiative), the scheme will aim to spread the use of AI research beyond the areas where it has been pioneered to date, such as speech and image search, by focusing on "the human side of the relationship between users and technology" with a view to developing new applications for such software.
PAIR has opened with the launch of two open-source tools named Facets Overview and Facets Dive — visualisation tools aimed at giving software engineers a clear view of the data they use to train AI systems.
According to Google, the project will revolve around aiding three types of users:
Engineers and researchers: Providing such practitioners with tools to better understand and build machine learning systems.
Domain experts: Exploring how AI can help professionals from all disciplines, including medical, design, farming, etc, use AI.
Everyday users: Ensuring the benefits of machine learning are inclusive "so everyone can benefit from breakthroughs in AI".
The latest initiative includes open-source tools that will be made available to third parties, including software engineers, as well as professionals from disciplines such as medicine, design and music.
Bing adds 'Popular Content' to snippet section of search results
In the latest updates Bing have further enhanced user experience (UX) by adding a new carousel feature to the snippet section of the search results.
The "Popular Content" section is actually a box which appears when you search for certain brands like DropBox or Shutterstock (see below).
---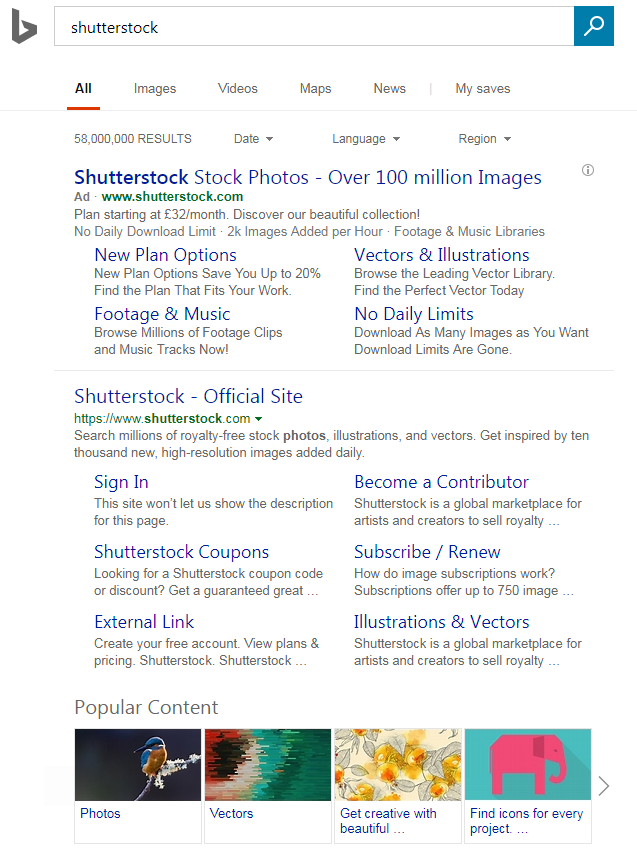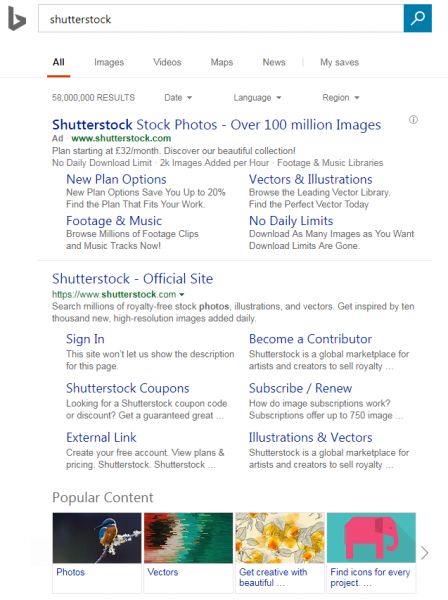 ---
According to onmsft.com: "It's not exactly clear when Microsoft started to roll out the feature, but "popular content" appears to be very similar to the hyperlinks which are already shown in a list when you run a search for popular websites such as Twitter, Facebook, or Google.
"The only difference, though, is that "popular content" results appear as a small box under search results, allowing you to scroll right and click through to see more content for the searched website."
Google continues to ring the changes
It's been a frantic seeming year on the Google front so far which, despite Google whistling nonchalantly and claiming it's not doing nothing, seems to have exceeded most previous years in noticeable changes to SERPs rankings as well as user interaction and experience (UI and UX).
One of the recent changes comes as 'Google Now' ceases to be. While disappearing in name, the functionality will remain as a 'feed experience' which will become part of 'Google Now's offering – with a series of personalised cards presented to consumers on the app's home page which feature relevant news stories; while a secondary tab will feature upcoming personal information – such as various appointments, flight times etc. While appearing on mobile only in the UK at the moment, the feed is also due to be added to google.com in the near future.
---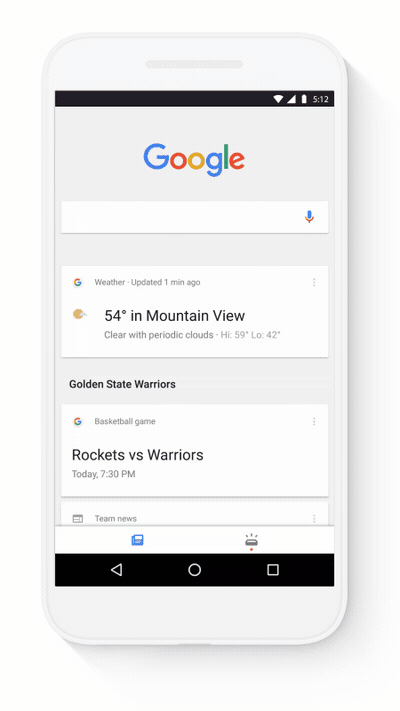 ---
Amongst the coverage of this, there have appeared a number of predictions as to the future relevance of the feed for SEO – including from founder and wizard of Moz Rand Fishkin:
---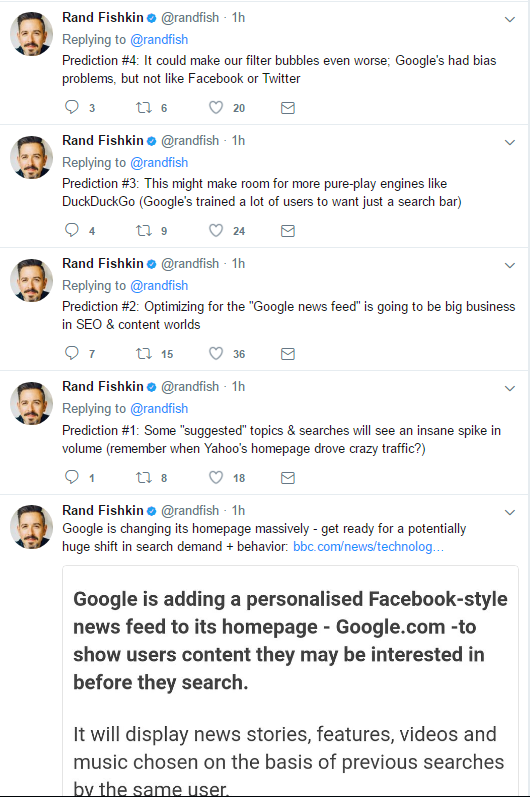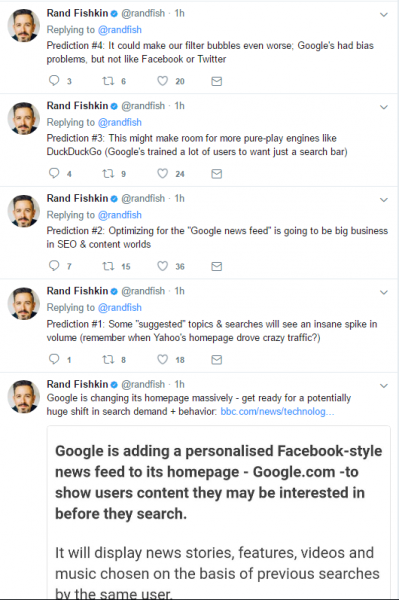 ---
As someone who seldom uses search for news (there's an app for that – or at least a series of regularly visited sources), I've found the personalisation of these cards to be less than optimal – based as they must be on search history rather than actual online activity. Unless the algorithm generating these cards becomes more sophisticated (or intrusive), therefore, I would add to Rand's predictions that it will be a while before it offers anything like the utility to be considered necessary.
In other Google news, Analytics can now answer simple compare and contrast questions thanks to Analytics Intelligence (accessed via the circle and dots icon on desktop and mobile). While this may not mean much for hardened users of Analytics and the many twists and turns you can take therein, it is a fantastic first step toward a truly interactive platform for monitoring and optimisation of online performance.
---
---
Shocking report finds that people of different ages do different things
A new Nielsen study of the media habits of the American population has discovered that age groups are different, but facetiousness aside and accounting for the fact that findings about the American public can only be loosely applied to the UK, there are some interesting statistics.
Generation Z (watch this term, you'll be seeing a lot of it in the coming years) watch a lot less live television than Millennials (so turn of the century) who watch less than Gen X who in turn watch less than Boomers. Similarly PC use has dropped compared to quarter one of 2016 while app/web use on a smartphone has jumped across generations (with Gen Z excluded due to privacy restrictions).
With consumption of media online constantly on the rise, it can come as no surprise that the next story details marketing's upward trend in digital spending.
Digital spending up
Marketing week is is reporting on the latest Bellwether report which shows an increase from 16.9% to 22.7% of net budget – the highest percentage since the third quarter of 2007.
The report is good news for search marketing with spend set to increase to a two and a half year high at the expense of market research, sales promotions and direct marketing.
---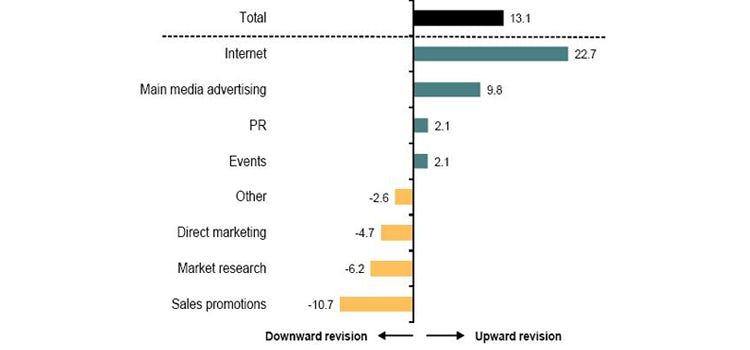 ---
It remains to be seen, but it would be a reasonable assumption to make that a good proportion of this increase will be pushed into mobile – where the customer base of virtually every brand is spending more and more of their time (though possibly in smaller chunks).
Immaturity a bar to growth
Apparently this lack of 'digital maturity' (as reported by The Drum) is not due to time lost posting memes on Twitter but a failure to inculcate a 'digital minded' culture.
Reporting on a survey by eMarketer and Deloite, The Drum notes that almost 40% of those marketers surveyed stated that their company needed to improve in digital strategy and innovation. It is, apparently, a resistance to change and a lack of forward thinking regarding digital that is impeding the development of companies. This is causing them to fail to secure the right talent and implement necessary changes for what survey respondents considered to be a necessary shift to digital.
August
Facebook
New-look newsfeeds
Facebook has begun to refresh the look of users' newfeeds to make them more "more conversational and easier to read and navigate".
Readability
Increased colour contrast so that typography is more legible.
Comments will appear in grey bubbles, making it easier to see which comments are direct replies to another person.
Like, Comment, and Share buttons will larger and easier to tap on mobile and icons will be updated.
Circular profile pictures will show who is posting or commenting.
Navigation
You'll be able to:
See where a link will take you before clicking on it
See whose post you're commenting on, reacting to, or reading while you're in the post
Return to News Feed once you've finished reading via a more prominent back button.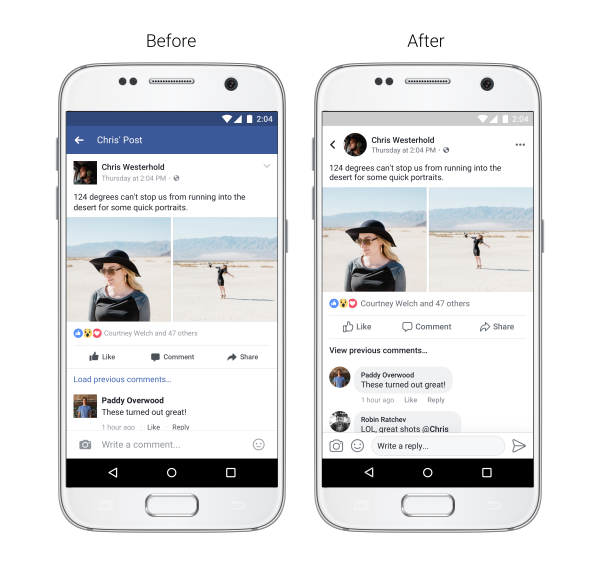 Source: Facebook
In other news from the world's largest social platform, Facebook's personal assistant, AI, is now available the UK for the first time.
Based in the social network's Messenger app, M, offers smart suggestions to UK users based on conversations within the app, using AI to "recognise intent" in a conversation and offering shortcuts to features it believes are relevant.
Challenging YouTube and Netflix
Facebook has also launched a new platform called Watch, as a specific home for video.
Watch will be available on mobile, computers and in television apps; users can discover shows based on what their friends are watching and add favourite shows to their Watchlist.
The company said it was rolling out Watch to a limited group of users in the US before a wider release in the future. It will be available on mobile, computers and in television apps – users will be able to discover shows based on what their friends are watching and add favourite shows to their 'Watchlist'.
Many are seeing the move as a direct challenge to YouTube and Netflix, with Facebook using its massive user base – over 2 billion worldwide – to gain an edge. A billion and a half people watch an hour every day on YouTube, while Netflix has over 100 million subscribers.
Nick Grudin, Google's Vice President of Media Partnerships, said: "Watch is a platform for all creators and publishers to find an audience, build a community of passionate fans, and earn money for their work.
"Shows are made up of episodes – live or recorded – that follow a consistent theme or storyline. Shows are a great format if you want to share a video series, like a weekly cooking show, a daily vlog, or a set of videos with recurring characters or themes.
"We're excited to see how creators and publishers use shows to connect with their fans and community."
Google
Google has released a new website to help its customers and partners better understand the steps the company is taking to comply with the requirements of the EU's General Data Protection Regulation (GDPR).
The statute, which comes into effect next May, unifies data protection rules across Europe, strengthening the rights of EU citizens and placing new obligations on all organisations that offer goods and services online.
The new site explains:
the control that businesses have over the data they share
the security of its infrastructure
its commitment to complying with applicable data protection laws
the freely available resources and training it provides to help businesses get the most from their data.
Google has a lot at stake in ensuring that its services are compliant with GDPR and over the past several months the company has taken multiple steps to ensure that its services meet the standards.
Data-friendly app launch
Google is testing a data-friendly 'Search Lite' app for countries with slow connections. Part of a company-wide effort to make its services more useful in developing nations. At the moment, the experiment is targeting the Indonesian and Indian markets, according to Android Police.com.
The search engine is also rolling out a Q& A feature for local business listings on Google Maps and mobile search. It will allow users and business owners to participate in the questions or simply view them to gather more information about the business. Users can up-vote questions found useful, and they will appear toward the top of the section.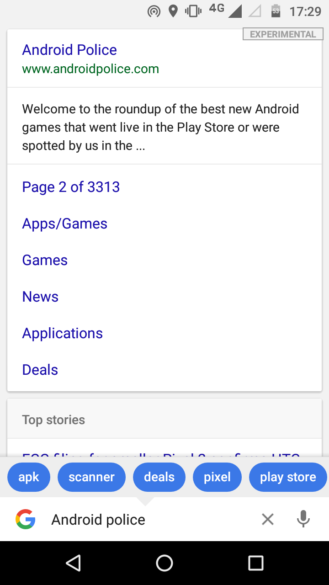 Source: Google
Learn about the world of… media planning
The Guardian has launched a light-hearted guide for media planners that illustrates life at a media agency.
The tongue-in-cheek book, 'Learn about the world of… media planning', emulates the vintage style of a children's book reminiscent of Ladybird Books for Grown-Ups.
Launched in collaboration with Oliver Group, the initiative highlights the potential for B2B marketers to leverage the news company's platforms and audience reach.
The story follows two fictional campaigns, which sees one achieve success by utilising The Guardian's marketing assets, while the other fails with relatable and humorous industry mistakes.
"The media industry is a vibrant, noisy space and we wanted to find a fun way to draw attention to the Guardian's impressive credentials", said Hamish Nicklin, Chief Revenue Officer at Guardian News and Media.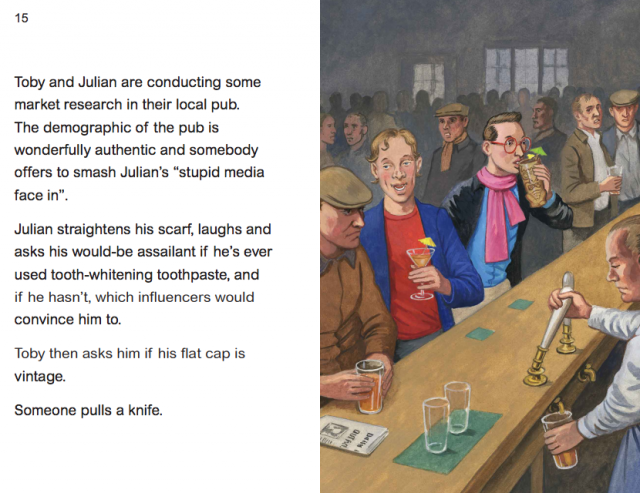 Source: Guardian
Brands crack down on ad transparency
Following the brand safety backlash earlier this year, in increasing number of brands are taking back control over their advertising, says the World Federation of Advertisers (WFA).
Concern over governance issues has led to brand owners across the globe implementing initiatives designed to take greater control of media spend and relationships with agency suppliers, such as bringing more digital media skills in-house.
"An increasing number of WFA members are sharing that they have witnessed improved transparency, [and there] are positive signs that we can create an improved media landscape for brands, agency partners and media owners," said Robert Dreblow, Head of Marketing Services at the WFA.
However, Nick Manning, Chief Strategy Officer at marketing and media analytics specialist Ebiquity, says that advertisers won't be turning their backs on media agencies, but we'll see a rise in brands wanting to be more involved in the process. He added: "In the past, advertisers would have automatically delegated all those tasks to their agencies, whereas now, media is too important as a matter of good business discipline."
Click's Senior Paid Search Exec, Carmen Jones, added: "The benefit of working with an agency means brands get a level of expertise and partnership with platforms, as well as access to betas that they might not have access to in-house."
Google
Landing page app
Google is rolling out a 'Landing Pages' mobile assessment tool. This will be a tab in new AdWords experience that enables advertisers to determine which individual URLs need to be adjusted for mobile.
According to the search engine's own research, nearly a third of smartphone users will immediately switch to another website if a landing page doesn't satisfy their needs. If there are too many steps or they can't find the information they're looking for, 64% will look elsewhere.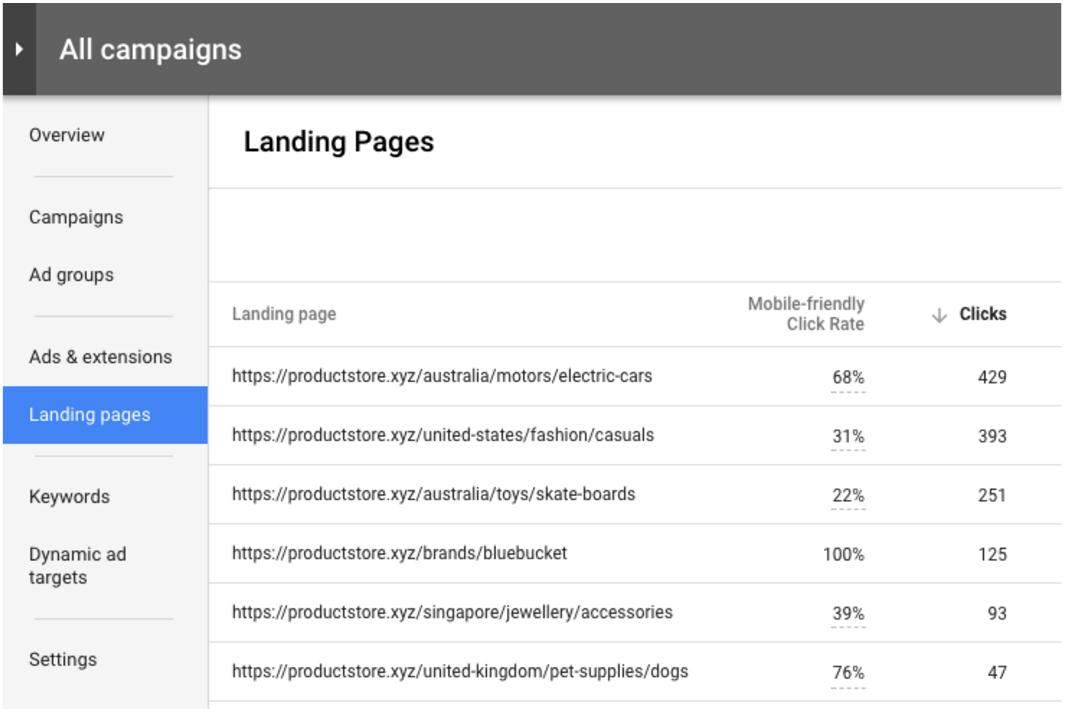 Source: Google
Video previews for quick searches
Another roll-out will see Google feature six-second video previews in search results, rather than just static images, working in a similar way to text snippets.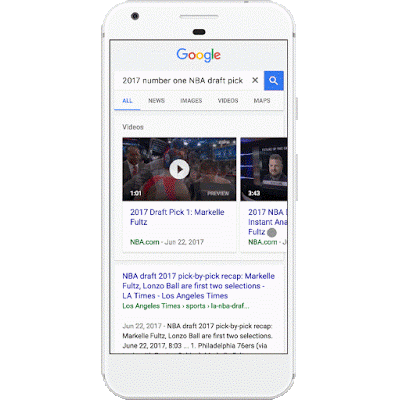 Source: Google
Mobile apps
People spend more time on mobile apps than on mobile web or desktop, according to a new report from comScore. Users spend 50% of online time on mobile apps, while PC usage stands at 34% and mobile web (including tablets) just 16%. Nearly 90% of users' mobile app time is spent within a user's top five apps, with Facebook, YouTube and Facebook Messenger dominating.
Unsurprisingly, the demographic that are the most engaged, adept and opinionated app users is Millennials.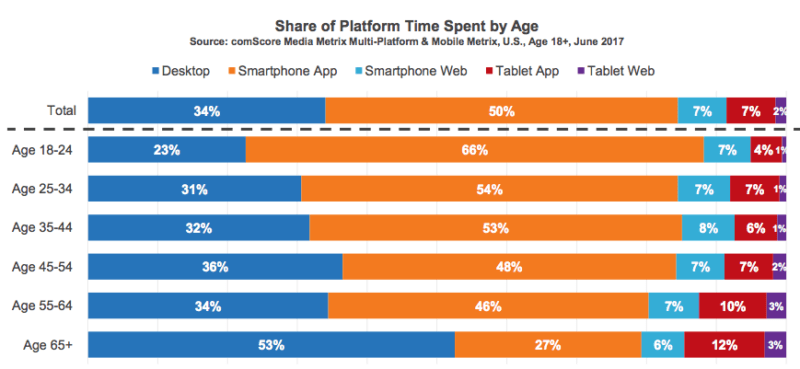 Source: comScore
Facebook
Ad restrictions
From 15th September, businesses will no longer be able to convert Page posts like profile picture changes and place recommendations into ads.
---
We want businesses to utilise Facebook ad products that give them the best opportunity to achieve their business goals, and removing these inessential boosting options will reduce complexity and help them find the right products to get the best results

Facebook Product Manager, Jyotika Prasad
---
Read more about the change here
Facebook marketplace
Facebook marketplace is being extended to encompass business listings too, with content and product published in Pages eligible for a Marketplace listing.
Facebook says it has expanded the scope and content of Marketplace to better respond to user demands. Part of this means 'professional' listings from business users will now sit alongside items listed for sale by individuals. A number of new categories will also be added to the Marketplace classifieds, many of which are more business friendly.
In other Facebook news…
In a move to combat fake news, the platform has announced that it will begin to display publisher logos next to posted links. Logos will be featured adjacent to content viewable in Facebook's topical Trending bar as well as in search results on the site.
Publishers who want to participate need to upload their logos to Facebook manually.
YouTube
YouTube has introduced a 'breaking news' carousel in an apparent attempt to become a real-time news platform, in the same vein as Twitter. The Drum reports that it's not yet known whether Google is populating this section algorithmically or whether it will be hiring a team of editors to curate the news.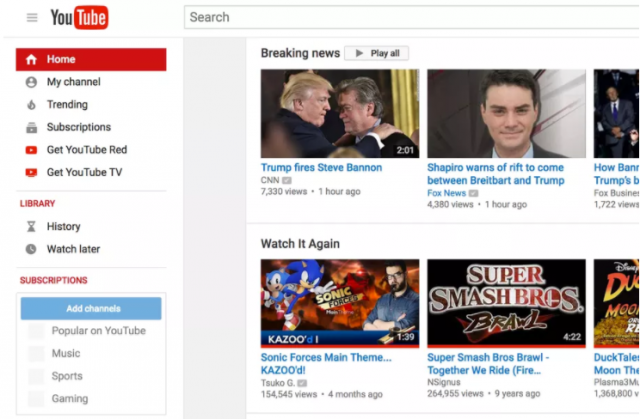 Source: The Verge
Hashtags turn 10
The social media hashtag started a decade ago with #barcamp, and now 125 million of them are shared daily on Twitter alone.
Its inventor, Chris Messina, said: "The value and satisfaction I derive from seeing my funny little hack used as widely as it is today is valuable enough for me to be relieved that I had the foresight not to try to lock down this stupidly simple but effective idea."
Hashtags have proved to be a useful way of navigating the prolific posts across social, but have also led to some amusing errors of judgement (or marketing ploys?):
It's ten years since hashtags were first used on Twitter! What's your favourite? I'll never forget #susanalbumparty #hashtag10

— Becca Johns (@thebeccajohns) August 23, 2017
Christmas online shopping
2017's Christmas eCommerce sales projected to grow 10% over last year's, predicts NetElixir. However, YoY growth is set to be slower than in previous years due to:
Amazon's increasing market share.
Shift of website sales to third party marketplaces.
Economic factors such as unemployment rate, inflation rate, gross domestic product, and overall spending habits.
"With Amazon continuing to play a huge role in e-commerce consolidation, retailers need to prioritize e-commerce in order to stay competitive during the holiday shopping season," says NetElixir CEO, Udayan Bose.
Unsurprisingly, NetElixer also predicts a rise in mobile shopping during the festive season, estimating that 35% of all online purchases will be on smartphones.
IAB responds to 'dystopian advertising nightmare' criticism of digital
The IAB's CMO, James Chandler has responded to criticism of the digtal advertising industry in an open letter.
Newsline columnist Bob Wootton had previously published an article that accused "tech behemoths" of being "endemically dismissive of the responsibilities they hold to their advertisers" and called for greater accountability and accuracy from agencies and media owners who will "have to comply or be embarrassed".
Defending the industry, Chandler wrote: "Sorry you didn't share our view that digital isn't quite the dystopian advertising nightmare some might believe it to be."
He continued: "When done well, like any media channel, digital delivers; even in its most simplest form… of course, there is work to do and as an organisation set up to represent digital advertising we're are not immune to criticism. But, it's all too easy to stand at a distance shouting vague, emotive things about the woes of digital and how it's not working for brands. The IAB's role as I see it six months into the job, is to bring together everyone with an interest in digital to achieve things they couldn't do on their own."
GBBO: social listening meets reality TV
In an extreme experiment in social listening, the New Statesman's Amelia Tait has attempted to predict the order in which contestants will leave the latest (pre-filmed) series of the Great British Bake-Off – by studying their Instagram and Twitter accounts. She's gleaning clues from:
The date a contestant signed up for social media (was it during, or after, the competition?)
Whether a contestant follows any of the others (indicating they had a chance to bond)
A contestant's personal blog and headshots (has the contestant already snaffled a PR?)
Pictures of the contestant's baking.
It'll be interesting to see the proof of the pudding…
October
Facebook's 3D posts a virtual reality
To begin with, we'll start with a tangentially related 'one to watch' from Facebook – with a keynote presentation at Oculus 4 revealing the coming of a new news feed post called 3D posts. This, in conjunction with Zuckerberg's pledge to push for a billion VR users in the near future suggests that the social media giants are doubling down on immersive experience – so start preparing for a future of AR billboards and VR advertisements – don't have a designer with 3D design experience? It might be time to start looking.
Apple announcements reveal the core battles in tech
In kicking Facebook in the teeth news, however, Apple has dealt a blow to its ability to track its users on iPhones by introducing a feature which automatically disables Facebook's social Plugins after 24 hours of non-use (if anyone is still capable of such acts of heroic self-restraint).
Apple has also announced that it will seek to compete with Amazon in original programming with an announcement that it is to produce a big budget Spielberg TV show. With all tech companies seeming dead set on competing with one another on every available front, the battle of the tech giants is probably just getting started – we'll have to see how this affects the Fire Phone in the future and eagerly await Bing TV.
Google finally (sort of) tells us what quality is
Search Engine Land has done us the welcome favour of trawling through the new guides to collate a number of bullet pointed tips for how brands can ensure they are abiding by these new 'Documentation Style Guides'. While there is nothing really stark or surprising, it is great to finally have a concrete set of references (insofar as anything within an industry in constant flux can be concrete) to base style guides and content on.
Google, along with Amazon, will also have to tell us something else in the near future, it seems (at least in Europe), with GDPR apparently raising concerns within the industry about their need to listen continuously in what some might perceive as a kind of surveillance.
Car industry realises there are multiple races
It's been happening for a while in digital – and, thanks to Cambridge Analytica, can even claim (if one should want to) some responsibility for recent electoral and referenda based surprises – but serving different ads to specific demographics is a relatively new thing to television.
Nevertheless, The New York Times reported yesterday that Toyota will be serving ads aimed at various television show demographics. Expect The New York Times' head scratching over whether or not the ads are catering to stereotypes to spill over into the digital sphere as demographic targeting becomes more common in the main stream media.
AI gets spooky
If artificial intelligence (AI) is transforming the future of search marketing, consider its potential impact on fancy dress parties.
Janelle Shane, a research scientist based in Colorado, trained a neural network to procedurally generate Halloween costume ideas, based on a dataset of 4,500 existing costumes, and ended up with some original and intriguing ideas: including:
Grankenstein
Aldonald the Goddess of the Chicken
The Game of Nightmare Lightbare
Statue of pizza
Gandalf the Good Witch
Sexy the Spock
The Twin Spider Mermaid (artist's impression below)
---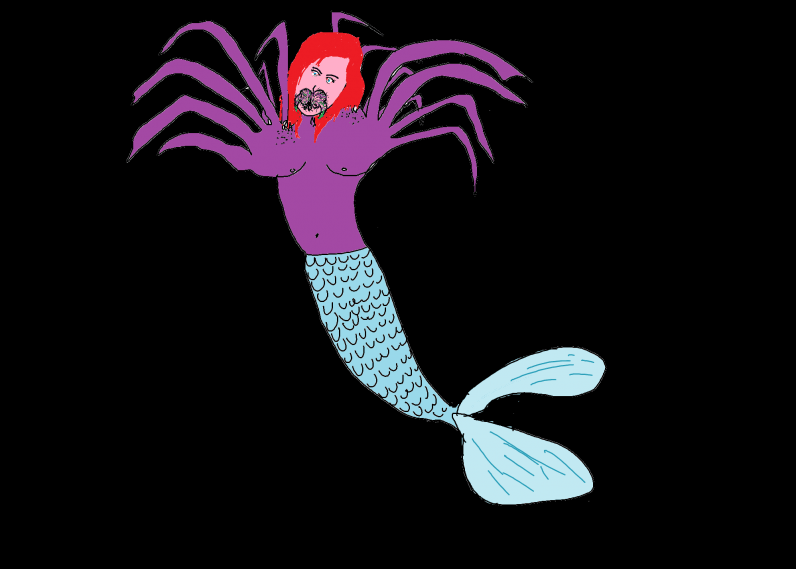 Source: Alejandro Tauber, The Next Web
---
SEO ranking factors in 2017
Panellists at New York's Search Marketing Expo – SMX East used data from large-scale studies performed by Searchmetrics and SEMrush to offer the latest insights into holy grail of search marketing: Google's ranking factors.
Herndon Hasty, digital marketing manager for The Container Store, rounded up the findings in his presentation:
---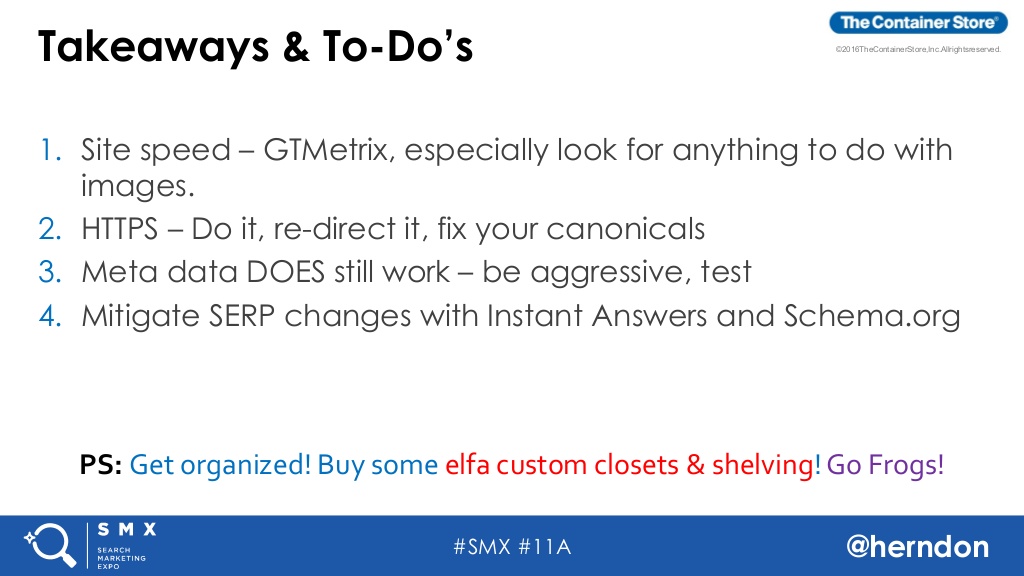 Source: Herdon Hasty/SlideShare
---
Facebook splits newsfeed, horrifies businesses
The social network just launched a test in six countries (Slovakia, Sri Lanka, Serbia, Bolivia, Guatemala and Cambodia) which splits the newsfeed in two: the main newsfeed, which now contains only paid posts and posts from friends; and posts from pages users follow (now in 'Explore Feed').
So far, this has left many businesses seeing a significant fall in organic reach on the platform, with reports of engagement levels dropping by up to two thirds.
Facebook's Adam Mosseri said in a blog post: "The goal of this test is to understand if people prefer to have separate places for personal and public content. We will hear what people say about the experience to understand if it's an idea worth pursuing any further."
Twitter increases ad transparency
The micro-blogging platform has announced plans to "increase transparency for all ads on Twitter, including political ads and issue-based ads". People can also report inappropriate ads or give negative feedback for every ad running on Twitter, whether or not they're targeted, to help Twitter remove those that are inappropriate.
London buses get digital ads
Digital outdoor advertising has taken to the road as Google launched its first campaign for its latest Pixel devices on the digital, wrapped buses in London. Powered by Exterion Media, the platform displays geo-targeted messages on the premium digital screens to audiences throughout the capital
Dave King, MD at Exterion Media, said: "This is a huge moment for bus advertising; the product delivers stature, movement, scale, dynamism and geo-targeting – offering a whole new dimension to broadcast and narrowcast through this hugely attractive channel."
---
Source: Exterion Media
---
Reality TV influencer breaks rules
In the first case of its kind, two Snapchat posts by the Geordie Shore star Marnie Simpson have fallen foul of the UK's advertising rules. The reality TV star uploaded images of products from two firms that she has business relationships with, without identifying them as adverts:
---
Source: PA/BBC
---
The Advertising Standards Authority (ASA) judged to be a breach of the rules against "hidden" advertising on social media. It is the first case of its kind to have involved Snapchat.
"These might be our first Snapchat rulings, but the principle behind them is as old as the hills – ads, wherever they appear, must be obviously identifiable as ads," the authority's chief executive Guy Parker told the BBC.
Google AdWords
As reported by SEOmonitor's blog, Google AdWords (GA) has recently updated search volumes and re-aggregated more keywords, causing the search volumes to significantly increase. GA has yet to comment on the development.
Amazon in da house
The online retail behemoth Amazon (which this week also reported a Q3 revenue of $43.7 billion, signalling YOY growth of 34%) wants to, quite literally, come into your home. Available initially in 37 cities across the US, Amazon's new Key service enables in-home delivery for Prime customers. Using the Amazon Key app and Amazon Cloud Cam, an intelligent indoor security, customers can allow couriers to unlock their front door to make deliveries.
The set-up also allows users to let friends, family and other visitors – cleaners, pet sitters, dog walkers, etc – into their homes when they are not there.
---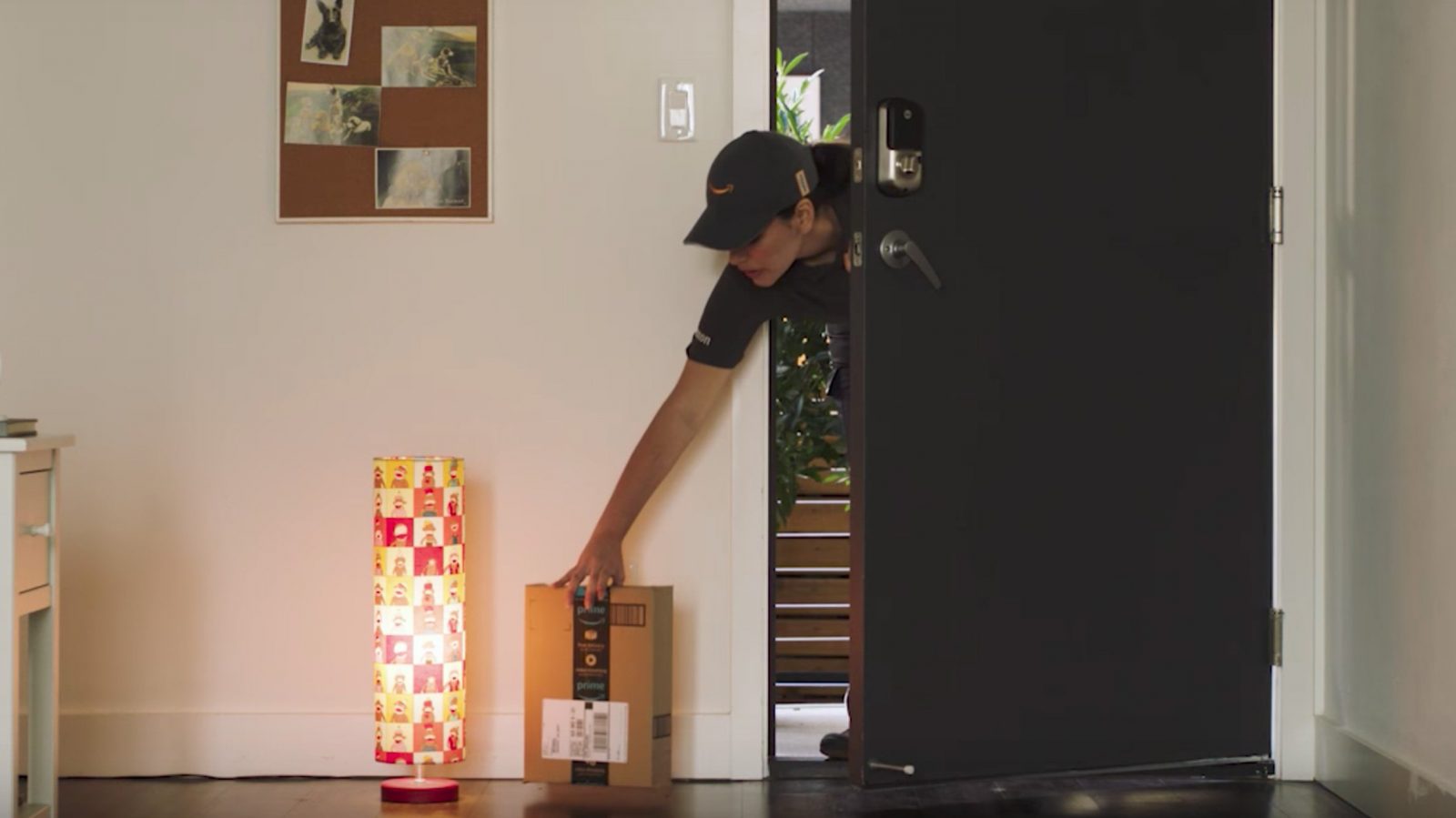 Amazon's new service gives couriers access to your home
---
Safe driving campaign has kittens
Think! the Government's road safety body launched its 'pink kitten' campaign to demonstrate the dangers of being distracted by your mobile phone while driving. Shot in the style of a music video by the team behind Pharrell William's film accompanying 'Happy', the camera pans down a busy street, which is littered with pink kittens. The film asks the viewer if they can spot the cats. Towards the end, a man is seen glancing at a pink kitten on his phone while driving his car. He doesn't see a mother and child crossing the streets at traffic lights in front of him.
Shot in the style of a music video by the team behind Pharrell William's film accompanying 'Happy', the camera pans down a busy street, which is littered with pink kittens. The film asks the viewer if they can spot the cats.
Towards the end, a man is seen glancing at a pink kitten on his phone while driving his car. He doesn't see a mother and child crossing the streets at traffic lights in front of him. A driver travelling at 30mph will cover 100ft of road if they look at their phone for just 2.3 seconds.
---
---
The campaign also includes the clever use of a gif on social media:
---
Can you stop the car at 100ft? It's harder than you #THINK! #PinkKitten pic.twitter.com/w7NfohrbrD

— THINK! Road Safety (@THINKgovuk) 25 October 2017
---
Over 50s feel 'invisible'
With around two fifths of the UK population aged over 50, you would think advertisers would be clambering to engage the 'grey pound'. But, apparently, 68% of this age group don't believe that they are accurately reflected in advertising. The cosmetics industry is cited as the worst offender by the YouGov survey, followed by fashion and tech firms.
Ben Glanville, head of data services at YouGov said that the fact that such a vast proportion of this key audience feels disconnected about how they are spoken to and about in ads and in the media, should make the industry pause for thought, saying "This is clearly something that brands, broadcasters, and publishers should think about as the rewards of speaking more directly to this group could be significant."
November
Google results now based on location, not country code
The days of changing the country code in the Google domain to see another country's results are over. Instead, users will now only be served results based on detected location, regardless of whether they search from, for example, google.com, google.co.uk, or google.com.au.
Google Product Manager Evelyn Kao said: "We're confident this change will improve your search experience, automatically providing you with the most useful information based on your search query and other context, including location."
Facebook's ad revenue rockets
Facebook's revenue rockets 47% to hit $10.1billion in Q3, a year-on-year increase in net income of 79%, as its advertiser count hit six million. In particular, the increased popularity of mobile video ads has helped buoy its revenue gains – its average revenue per user (ARPU) is now $5.07, with mobile accounting for 88% of ad revenues.
Facebook's Mark Zuckerberg said: "Our community continues to grow, now with nearly 2.1 billion people using Facebook every month, and nearly 1.4 billion people using it daily. Instagram also hit a big milestone this quarter, now with 500 million daily actives."
Sheryl Sandberg, Facebook's Chief Operating Officer, added that the company saw growth across all regions, marketer verticals, and segments during the period. She said: "In Q3, we gave advertisers the ability to run ads in video alone, and we're seeing good early results, with more than 70% of ad breaks, and 50% of Facebook Audience Network viewed-to-completion, most with the sound on."
---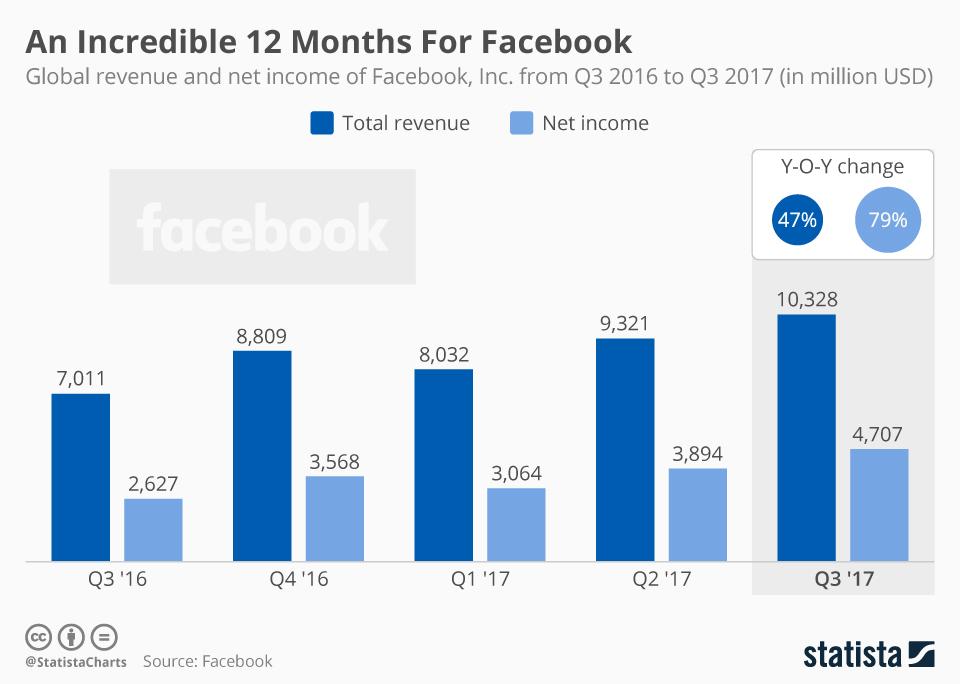 Source: Statista
---
Investors have nevertheless been nervous though, driving share prices down by as much as 2 percent in response to Zuckerberg's warning that operating expenses in 2018 will rise by up to 60%.
New polls feature
In other Facebook news, the company is rolling out a new polls feature that is available to both users and pages. Users and page administrators can now create two-option polls on iOS, Android and desktop and add photos and GIFs to the posts containing the polls.
"We're not eavesdropping"
Conspiracy theories that Facebook has been listening out for key phrases in people's conversations and then targeting adverts at them in the Facebook mobile app have been doing the rounds for some time. This week Facebook's Vice President of Advertising Rob Goldman completely denied that the social networking giant has and ever will use a smartphone's microphone to snoop on users of Facebook's mobile app to harvest information about their interests and target them with related ads.
Bing Shopping Campaigns launch in Canada and India
This means retail advertisers (from the US, the UK, Canada, France, Germany, and Australia) can start creating Bing Shopping Campaigns targeting these two new markets. Over the next few months, Bing says it will continuously improve the platform and plans to add Shopping capability in more international markets.
According to Bing's blog: "We will continuously improve the product ads experience for both shoppers and retailers. With this launch, Bing users in Canada and India will see a more engaging product search experience."
Highest CPC by location revealed
Marin Software has calculated the average cost-per-click (CPC) to advertise on a search engine after analysing 600,000 searches for items in an 'online shopping basket' bought by households across the UK.
Unsurprisingly, it costs more to reach someone living in London than anywhere else in the UK: with an average CPC of £4.25 for the basket items, London is 75% more expensive than lowest placed Bath at £2.43.
When it comes to home insurance, one of the most expensive search categories in the UK, Saint Albans is the most expensive place to advertise, with a CPC of £18.48. This is 38% higher than the cheapest place, Leeds.
Here are Marin's findings summarised:
---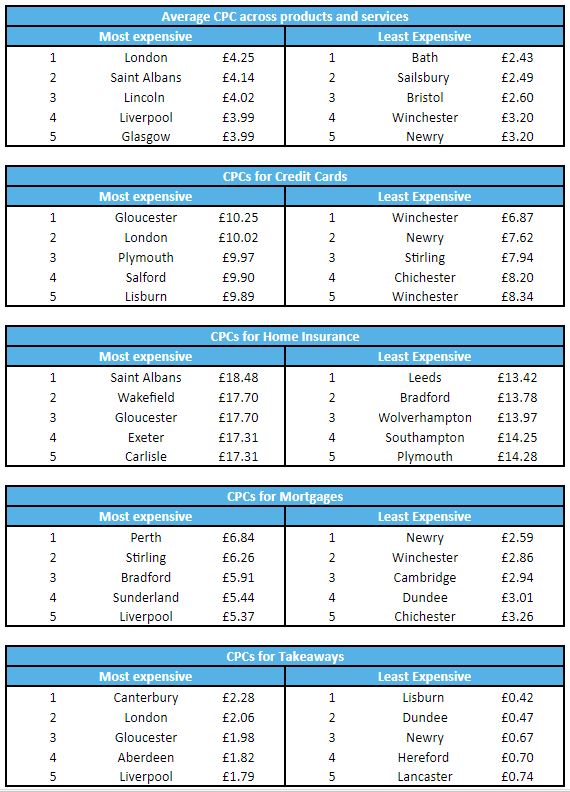 November
Google results now based on location, not country code
The days of changing the country code in the Google domain to see another country's results are over. Instead, users will now only be served results based on detected location, regardless of whether they search from, for example, google.com, google.co.uk, or google.com.au.
Google Product Manager Evelyn Kao said: "We're confident this change will improve your search experience, automatically providing you with the most useful information based on your search query and other context, including location."
Facebook's ad revenue rockets
Facebook's revenue rockets 47% to hit $10.1billion in Q3, a year-on-year increase in net income of 79%, as its advertiser count hit six million. In particular, the increased popularity of mobile video ads has helped buoy its revenue gains – its average revenue per user (ARPU) is now $5.07, with mobile accounting for 88% of ad revenues.
Facebook's Mark Zuckerberg said: "Our community continues to grow, now with nearly 2.1 billion people using Facebook every month, and nearly 1.4 billion people using it daily. Instagram also hit a big milestone this quarter, now with 500 million daily actives."
Sheryl Sandberg, Facebook's Chief Operating Officer, added that the company saw growth across all regions, marketer verticals, and segments during the period. She said: "In Q3, we gave advertisers the ability to run ads in video alone, and we're seeing good early results, with more than 70% of ad breaks, and 50% of Facebook Audience Network viewed-to-completion, most with the sound on."
---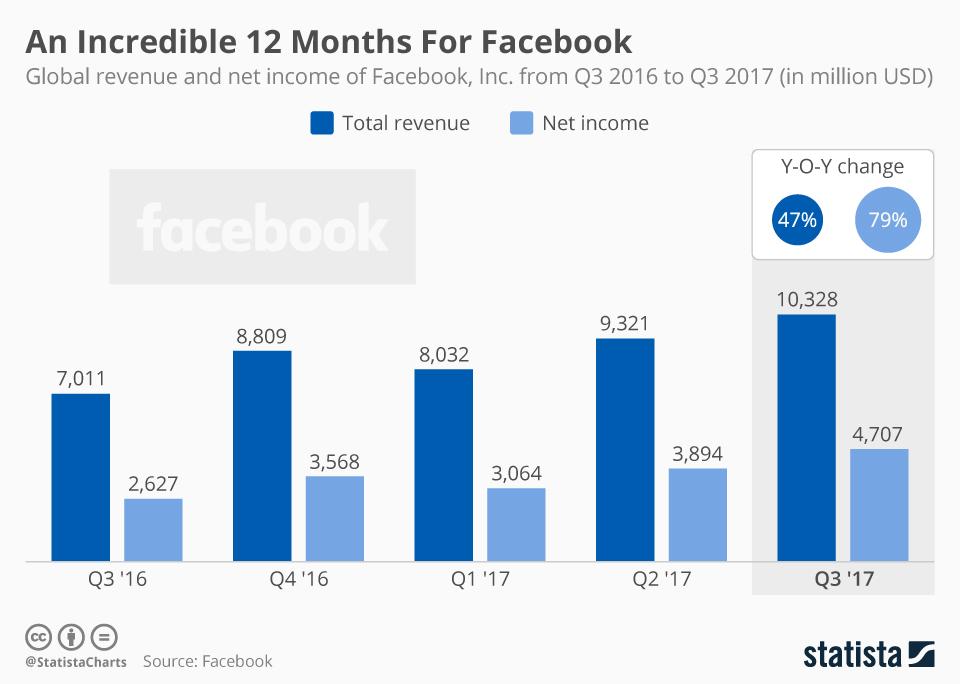 Source: Statista
---
Investors have nevertheless been nervous though, driving share prices down by as much as 2 percent in response to Zuckerberg's warning that operating expenses in 2018 will rise by up to 60%.
New polls feature
In other Facebook news, the company is rolling out a new polls feature that is available to both users and pages. Users and page administrators can now create two-option polls on iOS, Android and desktop and add photos and GIFs to the posts containing the polls.
"We're not eavesdropping"
Conspiracy theories that Facebook has been listening out for key phrases in people's conversations and then targeting adverts at them in the Facebook mobile app have been doing the rounds for some time. This week Facebook's Vice President of Advertising Rob Goldman completely denied that the social networking giant has and ever will use a smartphone's microphone to snoop on users of Facebook's mobile app to harvest information about their interests and target them with related ads.
Bing Shopping Campaigns launch in Canada and India
This means retail advertisers (from the US, the UK, Canada, France, Germany, and Australia) can start creating Bing Shopping Campaigns targeting these two new markets. Over the next few months, Bing says it will continuously improve the platform and plans to add Shopping capability in more international markets.
According to Bing's blog: "We will continuously improve the product ads experience for both shoppers and retailers. With this launch, Bing users in Canada and India will see a more engaging product search experience."
Highest CPC by location revealed
Marin Software has calculated the average cost-per-click (CPC) to advertise on a search engine after analysing 600,000 searches for items in an 'online shopping basket' bought by households across the UK.
Unsurprisingly, it costs more to reach someone living in London than anywhere else in the UK: with an average CPC of £4.25 for the basket items, London is 75% more expensive than lowest placed Bath at £2.43.
When it comes to home insurance, one of the most expensive search categories in the UK, Saint Albans is the most expensive place to advertise, with a CPC of £18.48. This is 38% higher than the cheapest place, Leeds.
Here are Marin's findings summarised:
---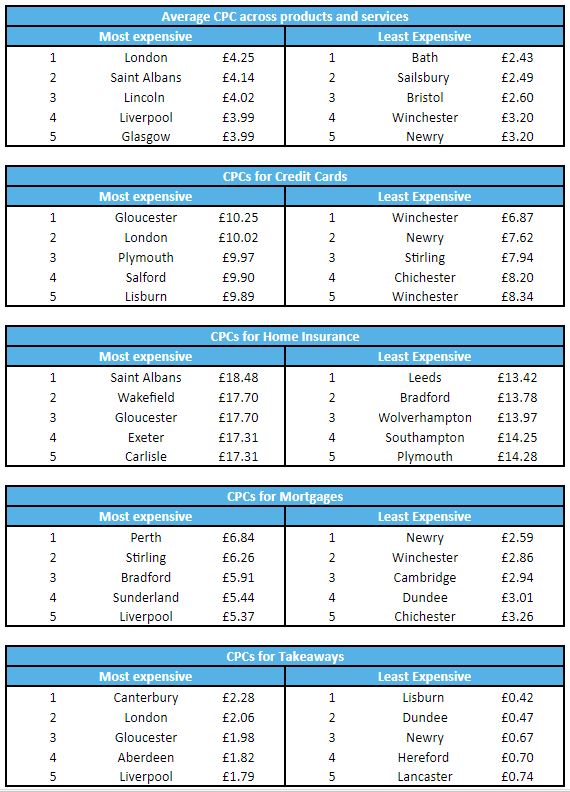 Twitter increases character limit
In its latest blog post and indeed technical update, Twitter has now announced that users will now be able to use 280 characters instead of the original 140. According to those behind September's test, tweeting has been made easier and the increased limit is part of their plan to attract new users and increase their growth.
According to the latest report by Twitter Product Manager, Aliza Rosen: "During the first few days of the test many people tweeted the full 280 limit because it was new and novel, but soon after behavior normalised.
"We – and many of you – were concerned that timelines may fill up with 280-character tweets, and people with the new limit would always use up the whole space. But that didn't happen.
"We saw when people needed to use more than 140 characters, they tweeted more easily and more often. But importantly, people tweeted below 140 most of the time and the brevity of Twitter remained."
At present there are around 330 million active users on the platform in comparison to 800 million Instagram users and 2 billion Facebook users.
Google rolls out 'wait time' on Google Search
Google has announced that waiting times for restaurants will be rolled out over the next few days on Google Maps.
The tool, which has been incorporated to improve user experience (UX) will shows the user estimated waiting times at their restaurants of choice.
---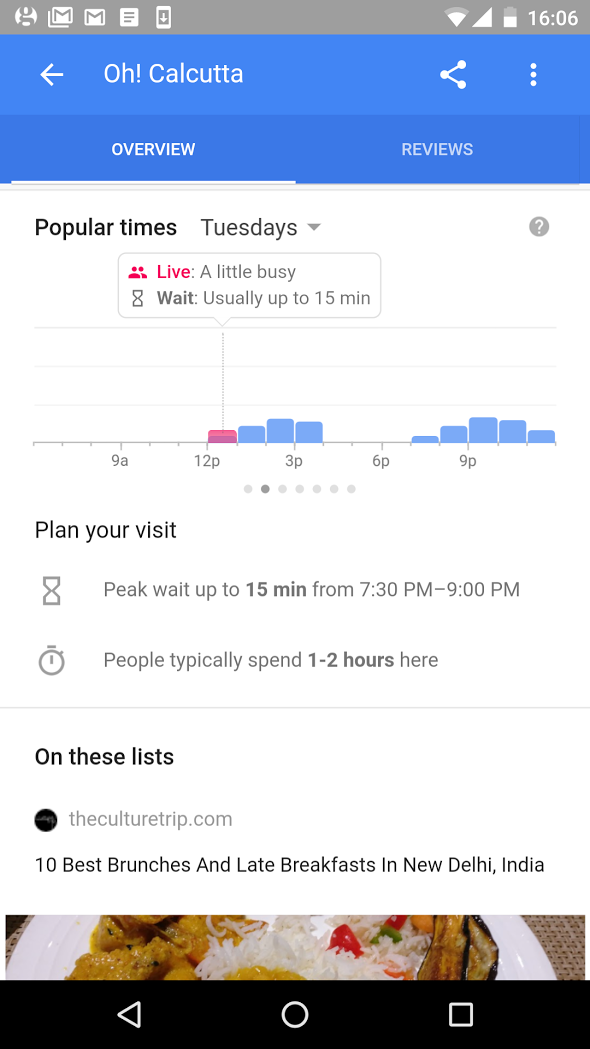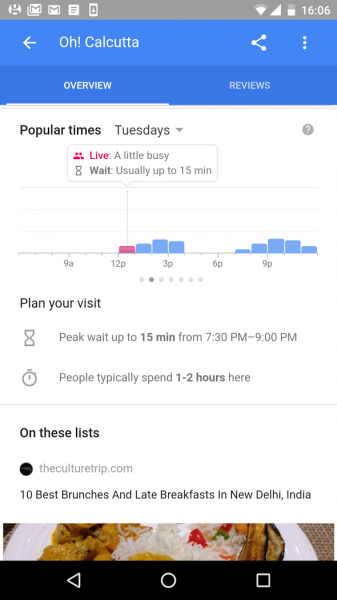 ---
According to The Drum: "Once users search for the restaurant on Google and open the business listing, alongside the Popular Times section they will now see the estimated wait time.
"By tapping on any of the hour bars, users will see the estimated wait for that time period."
Quang Duong, software engineer, Google Maps in a blog post wrote: "Users can even scroll left and right to see a summary of each day's wait times below the hour bar to plan ahead to beat the crowds."
Moz leads the way this Christmas
For those of you who are regular visitors to the blog and indeed some of the other content we post, you'll notice we often refer to the work of Moz.com.
This Christmas however there is another Moz that we are focusing on. In the latest offering for John Lewis, we hear the story of Moz the monster who lives under a child's bed and helps him sleep. The buzz created around Christmas adverts and indeed the amount of money spent, paired with the social media focus means that this is a key time for businesses.
Christmas seems to be starting earlier every year and ass always there are a whole host of trading days that the industry needs to be aware of. Businesses who miss out on the likes of 'Black Friday' could be missing out.
Scammers leverage defunct technology to manipulate Google SEO
Cybercriminals have used their SEO skills to drive a modified version of the now defunct, Windows Movie Maker software, to the top of Google's rankings resulting in a rapid spread of malware.
When downloaded the malware does nothing to the computer, but attempts to convince the victim to buy the "full" version of the software for $29.95.
The once-popular free editing software was discontinued by Microsoft in January 2017, but evidently not everyone received the news as searches have continued resulting in the malware being downloaded in Israel, the Philippines, Finland and Denmark. Researchers at SC Media said that as of 5th November the malware was the third most detected threat worldwide.
They also recommend users use reliable security solutions to detect and block malicious content, consider the official replacements for discontinued products, and not pay for software that is or was officially offered for free. Both Google and Microsoft were notified of the incident.
Google to punish hidden links
Google Chrome is stamping out methods that lead to poor UX while browsing the web. It is tackling unwanted redirects, where a webpage unexpectedly navigates to a completely different page for no clear reason.
Google say that 20% of feedback reports it receives from Chrome users on desktop include complaints about encountering unwanted content. To combat this, Google will roll out three updates.
The first of these will prevent third party content embedded in webpages from redirecting you to another page.
"We've found that this redirect often comes from third party content embedded in the page, and the page author didn't intend the redirect to happen at all," Chrome product manager Ryan Schoen wrote.
"To address this, in Chrome 64 all redirects originating from third party iframes will show an infobar instead of redirecting, unless the user had been interacting with that frame."
Chrome 65, meanwhile, will tackle sites that open the desired destination in a new tab when you click a link, but redirect the main tab to a completely different page.
"This is effectively a circumvention of Chrome's pop-up blocker, one of users' favourite features," said Mr Schoen.
According to the Independent, Google also plans to give the browser the ability to mute and even block intrusive ads.
Google news
The news this week, as with most weeks, is pretty much dominated by Google as YouTube comes under fire for inappropriate content on its YouTube Kids platform; there are noises about potential penalties (or penalty light, at least) for AMP teasers; as well as confirmation from a Google source about tinkerings with Panda and Penguin; Larry Page revealing he doesn't believe there should be any manual action penalties; and there will be actions taken, with the help of a third party company to improve the reliability and factuality of results in SERPs.
Voice search
A company by the name of Invoca have has surveyed 1000 owners of either Amazon Echo or Google Home to discover the latest trends in their use of the personal digital assistants. The results show how readily people are accepting voice search into their homes and their lives with:
33% using their device more than five times a day.
28% using them 4-5 times a day.
24% percent using them 2-3 times a day.
In addition, an amazing 73% of the survey's respondents have used their device to make a recent purchase.
Mozilla
After three years, with their contractual relationship with Yahoo over, Mozilla has gone crawling back to spurned former partner Google, proclaiming that it still has feelings and would really like to get back together. While it will not disappoint too many, it is certain to have an impact on Yahoo's ad revenue. Yahoo's best chance now is, really, to change its logo to the face of a small puppy in the hopes that it will stop people kicking it while it's down.
Snapchat
Popular idea mine for Facebook 'Snapchat' has decided to allow brands to link Geofilter ads to their sites, a move that will no doubt be popular with advertisers and, obviously, Facebook – who will almost certainly have a completely unrelated and not copied facility running within the month.
Spammer spammer
We'll end this week by offering a big thumbs up to the New Zealand organisation Netsafe, who have created a tool called Re:scam which is essentially a chatbot designed to waste the time of of phishers and spammers worldwide. According to a statement shared with Mashable, the tool has already wasted a total of two months and twelve days of scammers' time.
December
Google facing $1 billion in potential liability with UK class action
Google has seen one of their historical cases reopened and face potential charges of up to $1 billion, after a class action lawsuit was opened in the UK.
Back in 2012, Google paid $22.5 million to settle an FTC claim that the company "misrepresented to users of Apple Inc.'s Safari Internet browser that it would not place tracking cookies or serve targeted ads to those users . . ." The company bypassed Safari's cookie-blocking settings, it said, to deliver a "signed-in" user experience.
Google explained that it "used known Safari functionality to provide features that signed-in Google users had enabled," adding that "advertising cookies do not collect personal information."
This same conduct is now the subject of a class action lawsuit in the UK, which potentially includes 5.4 million people who owned iPhones between June 2011 and February 2012. Hypothetically the liability in the matter could exceed $1 billion, an amount much higher than the settlement in the US action.
The UK lawsuit is being framed as a privacy case about the "misuse of personal data." Google says that it believes the suit is meritless and will contest it.
According to Search Engine Land the group pursuing the case is called "Google You Owe Us." On the group's website it makes the following statements about the case, called a "representative action" in the UK: "We believe that Google took millions of iPhone users' personal information illegally in 2011 and 2012. Google did this by bypassing default privacy settings on the iPhone's Safari browser.
"We want to ensure that big companies like Google respect our privacy in the future. Our personal information is valuable and it must be used it in a way that is trustworthy and fair."
Amazon's Alexa heads to the workplace
The Alexa voice assistant from Amazon has been a huge success in 2017 and as Google and Apple attempt to catch up in the home market, Amazon is pushing into a new market with Alexa for Business.
According to an update by the company, office workers will soon be able to use the firm's Echo smart speakers to set up meetings with colleagues, book conference rooms and other basic tasks.
Discussing whether or not the service would be trusted in a business setting Geoff Blaber, analyst at CCS Insight said: "Without a doubt privacy and security is the number one issue, arguably that's more important than the functionality."
---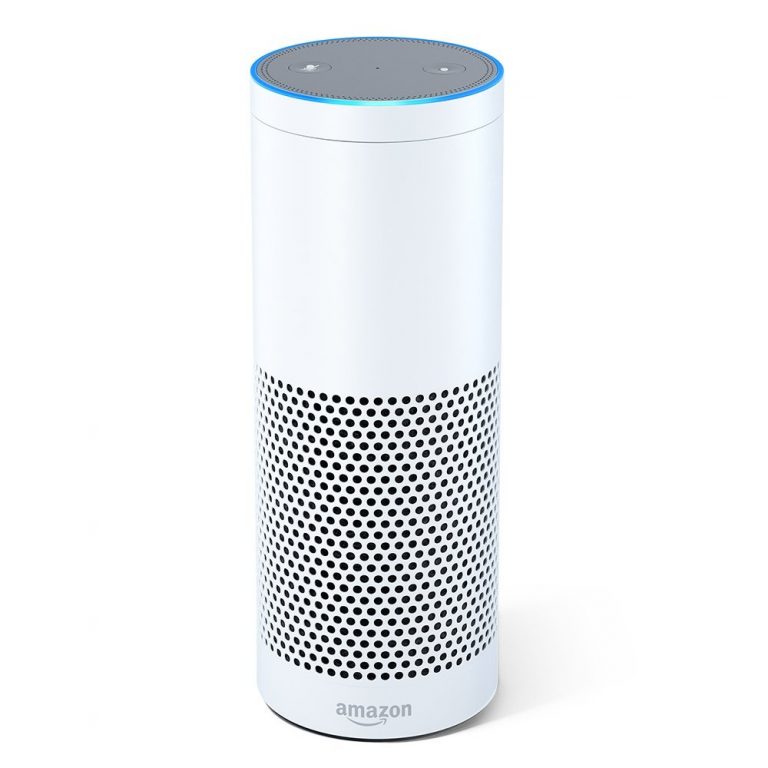 ---
Companies will undoubtedly be cautious about putting Alexa into meeting rooms and offices where sensitive information is being discussed due to their constant listening system.
Amazon have assured user that they don't collect information until activated with the "Alexa" wake word, but there are times when this happens by accident.
Mr Blaber said it made sense for Alexa to start with mundane office tasks, such as ordering more printer paper, before anything too adventurous.
Presenting at AWS Re:invent, Amazon's annual cloud computing conference, the firm said it was working with major enterprise software companies, including Concur – which handles a lot of travel and expenses for businesses – and Salesforce. They also suggested that adopters will be able to create their own customised skills such as directions around a building, or to answer questions about the business.
Google brings local lead generation to Google Assistant and Google Home
Google is bringing new forms of local search to the Google Assistant and Google Home. The company announced it's working with local home service providers "like HomeAdvisor and Porch."
On any platform where Google Assistant is available, users will be able to ask for contractors (eg, "Ok Google find me a plumber"). That initiates a structured interaction which generates a lead or contact with a local service provider.
Users can ask to be connected by phone at the end of the process to a contractor or receive a list of relevant, pre-screened contractors. This is a highly structured local search and lead-generation experience that will bypass conventional search results (ie, business listings).
In its blog post, Google said the new functionality would be rolling out in the next week or so but didn't say anything about its own advertisers or how many third-party directories might eventually be involved. There's also no word on whether Google will collect a share of the lead price or any sort of "toll" otherwise.
Currently, if you ask Google Home for a local service provider (eg, "I need a house painter") you'll get three "thin" listings with address information but little else. The coming experience will supplant that, offering a more personalized result based the specific request and subsequent information provided.
Google adds Maximize Conversions automated bid strategy in AdWords
The newest addition to AdWords Smart Bidding strategies has been launched and is titled – Maximize Conversions.
Smart Bidding strategies in AdWords use machine learning to adjust bids tailored for every auction. The algorithms take a number of factors into account, including, of course, the type of bid strategy.
According to a company announcement: "Maximize Conversions will help you get you the most number of sales from your existing budget by factoring signals like remarketing lists, time of day, browser and operating system into bids.
"Maximize Conversions also takes historical performance into account. Unlike Target ROAS or Target CPA bid strategies, Maximize Conversions is concerned with conversion volume rather than return on investment goals. Maximize Conversions will spend the daily budget in pursuit of more conversions."
Google also revealed that one early adopter has seen a 73 percent increase in conversions, a 59 percent increase in conversion rate and a 42 percent lower CPA in its first test using Maximize Conversions.
Maximize Conversions is now listed as a Bid strategy option under campaign settings in Search campaigns.
Facebook will disable 'Like' button in third-party mobile apps
Three years after Facebook rolled out a version of its "Like" button for developers to feature in their mobile apps, the company has announced that it is shutting it down.
Starting on February 6, 2018, the native "Like" button embedded in third-party iOS and Android apps will no longer work, the company announced to developers earlier this week.
As a result, people will not be able to tap a button in a brand's app to "like" its Facebook page or an article in a publisher's app to help boost its reach in Facebook's news feed. However, developers can opt to create their own buttons said a Facebook spokesperson.
---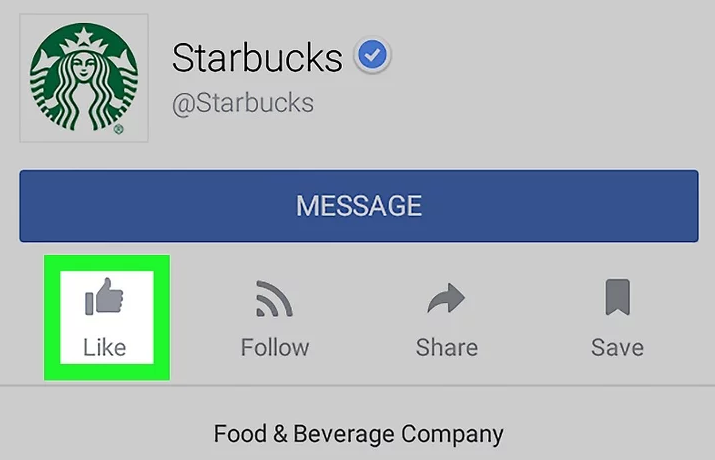 ---
According to a post published by Facebook developers were told, "We're continuously evaluating how to best serve our developer community. To support this effort, we recently reviewed our product offerings to ensure our resources are focused on building and enhancing the solutions that create the most value for developers. As a result, some products will sunset in order for us to build new products for our developer community,"
In addition to the native "Like" button, Facebook is also deprecating app invites. The in-app feature enabled people to encourage their friends on Facebook to try out a mobile app.
Google warn about links in large scale campaigns
Writing on their blog Google has warned that they have seen an increase in spammy links contained in articles referred to as contributor posts, guest posts, partner posts, or syndicated posts.
The articles are generally written by or in the name of one website, and published on a different one, which has cause some concern.
Google said: "We do not discourage these types of articles in the cases when they inform users, educate another site's audience or bring awareness to your cause or company. However, what does violate Google's guidelines on link schemes is when the main intent is to build links in a large-scale way back to the author's site."
According to the search giant, the following factors that, when taken to an extreme, can indicate when an article is in violation of these guidelines:
Stuffing keyword-rich links to your site in your articles
Having the articles published across many different sites; alternatively, having a large number of articles on a few large, different sites
Using or hiring article writers that aren't knowledgeable about the topics they're writing on
Using the same or similar content across these articles; alternatively, duplicating the full content of articles found on your own site (in which case use of rel="canonical", in addition to rel="nofollow", is advised)
When Google detects that a website is publishing articles that contain spammy links, this may change Google's perception of the quality of the site and could affect its ranking.
They continued: "Sites accepting and publishing such articles should carefully vet them, asking questions like: Do I know this person? Does this person's message fit with my site's audience? Does the article contain useful content? If there are links of questionable intent in the article, has the author used rel="nofollow" on them?"
Updates to Google's Featured Snippets and Knowledge Panel
Google has announced updates to Featured Snippets, Knowledge Panel information and suggestions for related topics.
According to a post on Google's The Keyword blog, a selection of featured snippets will now be longer (now 320 characters), as well as including more images and related search suggestions within the box displaying the featured snippet content.
Google told SERoundtable: "We recently made a change to provide more descriptive and useful snippets, to help people better understand how pages are relevant to their searches. This resulted in snippets becoming slightly longer, on average."
---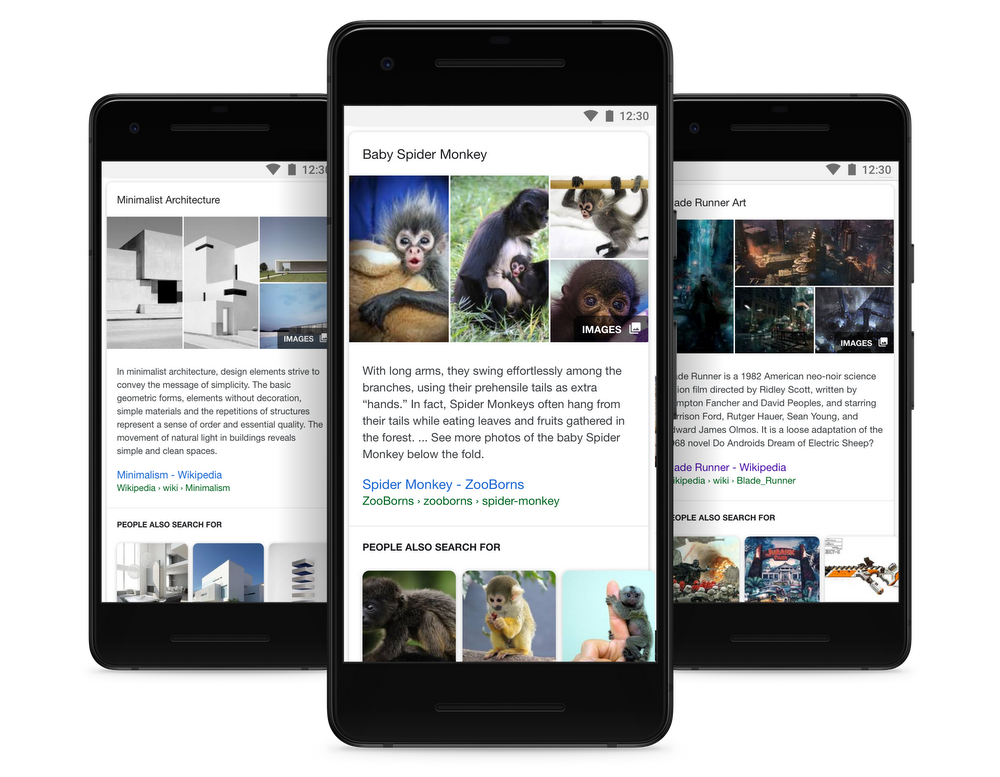 An example of the expanded Featured Snippets
---
Meanwhile, Knowledge Panels will begin to show related content directly inside the result.
In addition to these confirmed updates, Seach Engine Land has reported that Google is testing a new feature that displays a carousel with a list of answers directly within the search results snippet.
AdWords rolls out targeting based on life events
Life event targeting, released earlier this year, is now available to all AdWords advertisers. This allows advertisers to target users around major life events, specifically graduating college, moving, and getting married. With the targeting, you can pinpoint users before or after the event to maximise efficiency. For example, if you are a wedding venue you can target people as they are planning their wedding or if you are a local furniture company you can target users after they have moved to your area.
---

Life event targeting options in AdWords
---
Instagram Direct
Instagram is testing a standalone app for private messages called Direct, a first step toward possibly toward removing messaging features from the core app. Direct, which opens to the camera in the same way Snapchat does
"We want Instagram to be a place for all of your moments, and private sharing with close friends is an important part of that," Hemal Shah, an Instagram product manager, told The Verge. "Direct has grown within Instagram over the past four years, but we can make it even better if it stands on its own. We can push the boundaries to create the fastest and most creative space for private sharing when Direct is a camera-first, standalone app."
Facebook invests in UK
Facebook's new London headquarters opened this week, and the network underlined its commitment to the UK with a pledge to add a further 800 people to its payroll this side of the pond, doubling its employee count in the UK. More than half of the people working at the site in central London will focus on engineering, making it Facebook's biggest engineering hub outside the US.
YouTube cracks down on brand safety issues
YouTube has revealed it has an action plan to tackle brand safety issues caused by videos and comments that violate its policies.
In a blog post, YouTube CEO said: "Human reviewers remain essential to both removing content and training machine learning systems because human judgment is critical to making contextualized decisions on content."
YouTube's brand safety woes began in March when brands including Verizon, Johnson & Johnson and PepsiCo pulled their ads from the platform after an investigation found ads appearing next to extremist videos.
Twitter broadens its AMP support to include analytics
Twitter's enhancing its AMP implementation with more complete support for article analytics, to allow brands to more fully understand their audience. Twitter says the new AMP analytics feature will help distinguish page views happening on Twitter versus organic page views.
Influencer marketing in 2018
Digital influencers represent the largest majority group that brands have worked with for endorsement and commercial opportunities this year. According to The Age of Influence research report from Celebrity Intelligence.
Other key findings include:
42% of respondents said their budgets would increase moderately or significantly in the next 12 months.
Three quarters are continuing to identify influencers and celebrities to work with via manual research across social media platforms and forums, etc.
Niche or 'unconventional' talent is set to become the new 'sweet spot' for marketers in 2018.
---
The findings from this year, compared to our 2016 report, demonstrates the impact digital influencers have had on brand endorsements and the marketing value they have delivered. Does this mean the end of traditional celebrity-led campaigns? Quite the opposite! To have a truly long-term and scaleable digital marketing strategy, marketers need to blend celebrities with digital influencers to offer deeper layers of engagement for consumers. Only then will we close the gap between the worlds of 'celebrity' and social talent and understand the true meaning of influence

Megan Falconer-Taylor, Director of Product at Celebrity Intelligence
---
Amazon wins big on Cyber Monday
Shoppers spent over $1billion more on Cyber Monday 2017 than they did last year, with a third of this spent on Amazon, according to research by Adobe and Slice Intelligence. Overall web traffic to retail sites increased by 11.9% on Cyber Monday, with the season average at 5.7%. Representing 47.4% of visits and 33.1% of revenue, mobile set a new record.
The year in searches
The year in searches, while Google did its best to end on a positive note, was enough to inspire PTSD as it showed a rollcall of the year's most searched for terms and the awfulness that inspired them.
Top searches included tragedies such as hurricanes, wildfires, the UK election and the iPhone X, while top memes and music did their best to make me feel every year my age.
Further holiday doom comes in the form of a report by Google that found there were losses to premium publishers totalling more than a billion dollars a year. These losses, caused by counterfeiters impersonating other sites, have led to a call for advertisers to demand that campaigns should run on inventory authorised by inclusion in their ads.txt.
This was balanced, somewhat, by predictions in a second The Drum article, that these reports are unlikely to deter or diminish growth in programmatic ad spend – set to reach almost three and a half billion pounds by the end of 2017.
Twitter have announced that they are about to roll out support for Tweet threads, stating that users will be able to click a plus sign to add the next tweet to a thread. With reports last week suggesting that longer tweets have increased engagement, it will be interesting to see what stats will follow on the performance of this addition.
In out of this world (sorry) Google news, Google's AI technology has been used to parse data from the Kepler space telescope, finding new solar systems around distant stars. The latest in an increasing number of machine learning success stories, this should highlight the leaps and bounds that Google is making.
It has also been made clear (by Googler John Mueller) that your log files will reveal whether you've been switched to Mobile First indexing. Leading to this tweet from Screaming Frog:
*cough* https://t.co/sIVPVTN91Q https://t.co/f70VOcu7Bl

— Screaming Frog (@screamingfrog) December 15, 2017
Finally, in news that pleased me immeasurably, Click Consult has not been the only one experiencing difficulties with its branded knowledge panel. In fact, it seems to be the result of some tinkering on the Google side – with the knowledge panel shifting to [brand]+[location] searches. While a relief to know the issue is widespread, it will be interesting to see whether this is indicative of more localisation changes on the way or – if not – what it is that's coming down the pike.
---
Keep up with the latest in search marketing by signing up to receive updates from our blog – or contact us today and see how we can help your brand.