We all know the significance that paid search PPC has had on businesses looking to boost the performance of their search marketing and the rewards that can be gained by getting your strategy right. 
One thing we often hear about however is that many are confused by ad formats and the type of posts that they should be generating and pushing.
In this cheat sheet we are going to look at the ad formats that you should be using, the changes that Google has introduced and the new ad formats that could help elevate your engagement, performance and ROI.
Let's begin…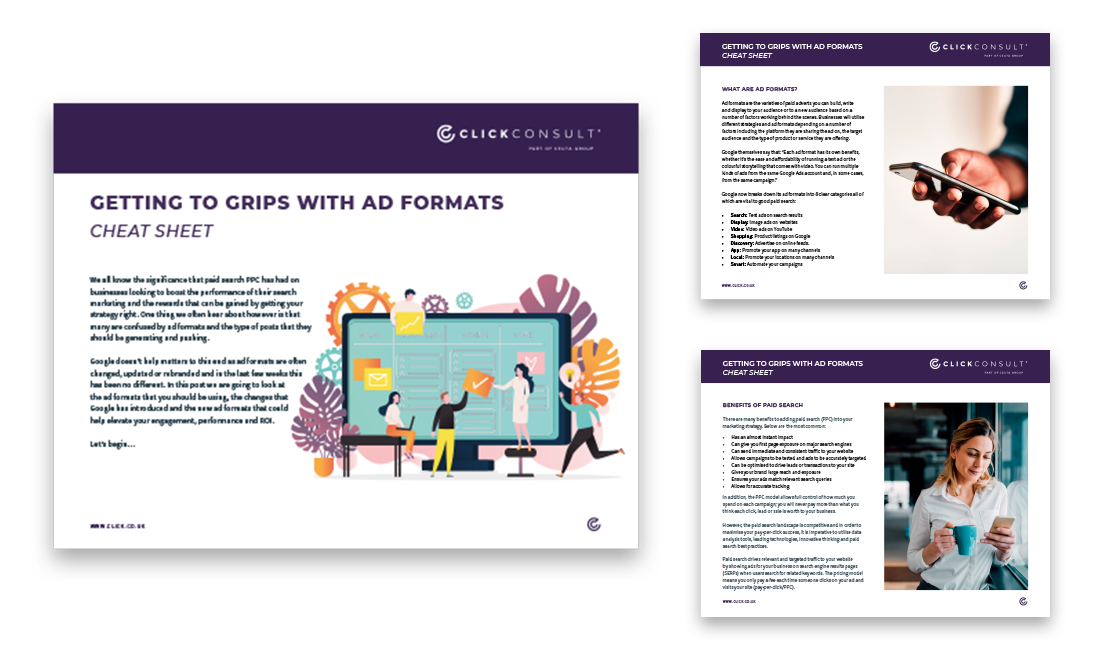 The 'Getting to Grips with Ad formats' Cheat sheet includes the following sections:
What are ad formats
Benefits of paid search
Types of Ad format
New ad formats for 2021
And more!
Ad formats are the varieties of paid adverts you can build, write and display to your audience or to a new audience based on a number of factors working behind the scenes. Businesses will utilise different strategies and ad formats depending on a number of factors including the platform they are sharing the ad on, the target audience and the type of product or service they are offering.
Google themselves say that: "Each ad format has its own benefits, whether it's the ease and affordability of running a text ad or the colourful storytelling that comes with video. You can run multiple kinds of ads from the same Google Ads account and, in some cases, from the same campaign." 
Google now breaks down its ad formats into 8 clear categories all of which are vital to good paid search:
Search: Text ads on search results

Display: Image ads on websites

Video: Video ads on YouTube

Shopping: Product listings on Google

Discovery: Advertise on online feeds.

App: Promote your app on many channels

Local: Promote your locations on many channels

Smart: Automate your campaigns
Check out the cheat sheet to see why we believe brands should be paying more attention to paid search  – and how you can begin reaping the rewards by utilising different ad formats.