If CRO isn't integrated into your online marketing strategy, it's likely that you're leaving money on the table.
Looking to improve your website's conversion rates and boost your online revenue? There's one very effective, simple way of going about this: conversion rate optimisation (CRO).
CRO is about identifying changes to your website that have an impact on the number of visitors that convert – whether your goals are to increase leads, sales, subscribers or anything else. The basic premise is to work out what your visitors want to see and when they want to see it, then ensuring that your website delivers this experience.
The Simple Guide to Conversion Rate Optimisation (CRO) eBook contains sections detailing: what you'll need to begin, what you should be testing, how to begin planning your tests, how to start setting KPIs, the PIE (Potential, Importance, Ease) framework and how to use it, how to conduct simultaneous testing, building your tests, checking your tests and, along with other descriptive sections, launching your tests.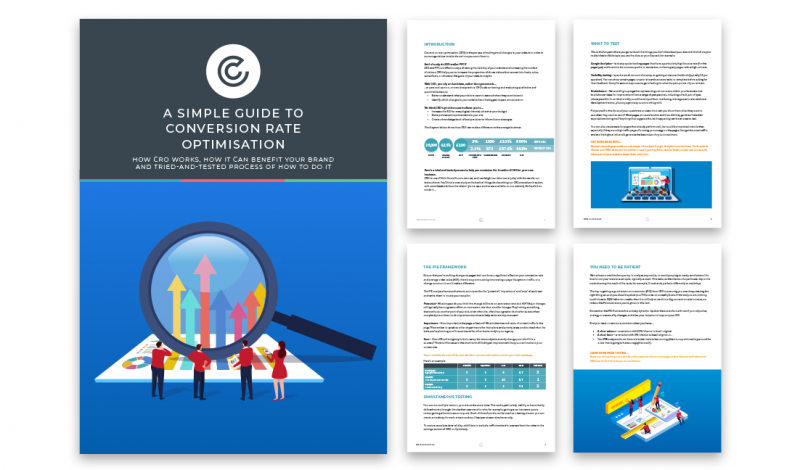 Find out how:
The secret to success is in a carefully-planned testing process (we break it down step-by-step for you)
You can use insights gained from CRO to maximise your business' long-term growth and profit
The most effective tools and methodologies cost little or nothing
How CRO can make a difference to an average business
Nothing is ever perfect, but by implementing conversion rate optimisation best practices, you can certainly get closer to it. As the above illustration shows, a small 0.5% increase in a brand's conversion rate can lead to a phenomenal uplift in ROI without the need to increase budget, traffic or average order value. With some clever tweaking and data-driven testing, your brand can streamline the process and achieve fantastic results.