Whether you are a business looking to improve your SEO performance, or you are a professional already working in the industry, it will be clear to you that one of the most important considerations is content
Businesses use their content as a way to communicate with their audience. They use it to offer insight into new products or services and communicate through social media. SEOs on the other hand focus on the actual performance of the words and whether or not they are meeting the criteria that will harness the greatest increase in visibility and send websites up the search engine results pages (SERPs).
In this eBook we will cover every aspect of content creation from planning and production right through to the social sharing and the analysis of its performance.
In order to product the best content you have to have structure. If you think first of the SEO process and format your content accordingly you will be in a strong position. A common representation of the SEO cycle is as follows:
Research – Structure – On-site SEO – Link Building – Improve – Analyse
---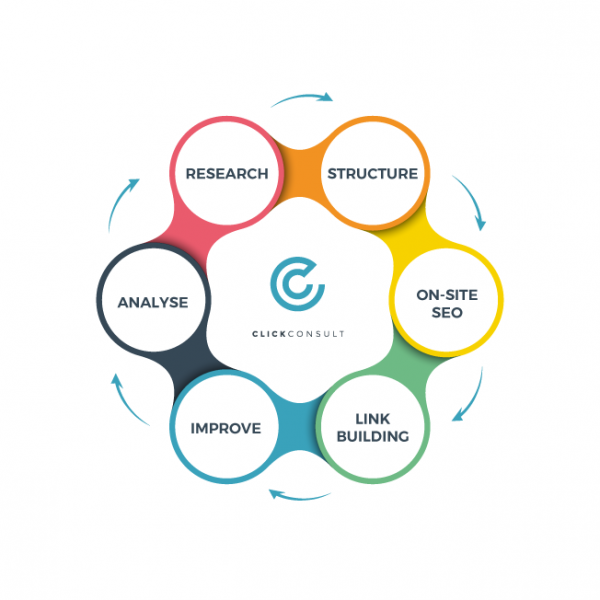 ---
According to Moz, some of the key things to remember when it comes to the creation of content are:
Use your keyword in your title
Use your keyword (or long-tail keyword phrase) in an H2
Make sure the keyword appears at least once (though not more than four times, especially if it's a phrase) in the body of the post
Use image alt text (including the keyword when appropriate)
This eBook covers the following areas of writing web content for SEO purposes:
Keyword research
Competitor analysis
On-site SEO
Writing styles
The importance of analytics
When it comes to writing web copy for SEO purposes remember the following:
Use ordered/unordered lists instead of paragraphs when possible. Limit your lists to ten or less.
Write short, meaty paragraphs and put white space between them.
Focus on one topic per paragraph.
Include internal subheadings to make scanning easier. Having keyword-rich headings and subheadings will also make you copy more search engine friendly.
Use internal links to related topics instead of cramming too much information onto one page.
Personalise your content, use "you" instead of "I" to connect with readers.
Keep sentences short.
Perform keyword research and include relevant keywords throughout your text, especially in headings/subheadings, links, and the first paragraph of text.