Social media is great. It generates traffic, gives you brand exposure and connects you directly to your customers and potential customers. However, tracking the results of your social marketing efforts and proving its value can prove tricky. Only 9.4% of marketers say they're able to quantify the revenue driven by social media, despite spending 13.8% of their marketing budgets on it
Each platform has native analytics that are useful for showing you basic engagement metrics. But to really see the impact social media is having on your business, you need to analyse what users are doing when they click on a social link to your website and, importantly, whether they're meeting your objectives.
Luckily, Google Analytics (GA) can provide the data you need to identify which channels are delivering the most value, make informed decisions about your future strategy, and allow you to justify your investment in social media marketing to stakeholders.
This workbook provides practical exercises to help you answer the following questions:
What are you going to measure?
Clarify the behaviour you want to drive and how this connects with your overall business goals.
Is your audience behaving the way you want them to?
Find out whether social channels are actually sending traffic to your website, and what action they're taking there.
What content is popular with your followers?
Identify the topics and formats that drive engagement and use this to make data-based decisions about your future strategy.
Have you got the right tracking set up?
Customise URLs and set up goals in GA to help increase the granular nature of the data you can gather regarding referral traffic.
How do you quantify social conversions?
Establish how visitors from your social media profiles are adding tangible value to the business.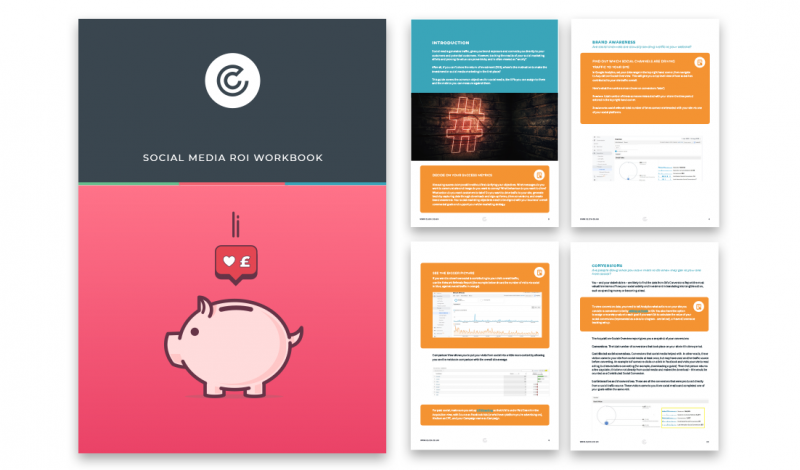 This eBook demonstrates how ongoing social monitoring lets you:
Analyse what the numbers are telling you about what's working and how you can improve
Demonstrate how your work is benefiting your company
Understand which channels and content are reaching, growing, and converting your audiences so you can decide where to invest your time, efforts, and budget
Assign (attribute) credit to social media's in conversion more accurately
Assess and prove the ROI of your social media marketing efforts