Request your FREE Paid Search (PPC) Optimisation eBook
Download now
YOUR PAID SEARCH OPTIMISATION EBOOK INCLUDES:
Tips on best practice – how to be a paid search superstar
The importance of testing and data analysis
How your experience and intuition can be key to campaign success
And more…
One of the biggest advantages of paid search marketing and pay per click management (PPC management)  is the ability to make changes to a campaign at any level and see the impact in real-time, which allows you to keep testing and optimising your performance.
---
Knowing what to change when and how is vital to any business. Pay per click optimisation (PPC optimisation) is part art, part science. It requires data, the more the better, but also requires intuition and experience where there's not enough data to make statistically-valid decisions, along with the time, patience (and budget) to experiment.
As part of our ongoing commitment to performance excellence we know that a good strategy is important. We understand that evaluating your competitors is a key marketing activity. For paid search this means analysing, for example, the keywords they rank for, what they're spending, how their ads are written, their calls-to-action and what's on their landing pages.
This will allow you to identify your position in the marketplace, benchmark your paid search performance and learn from your competitors' successful (and unsuccessful) tactics to improve your own campaigns.
To ensure that you are getting the most from you strategy, we then look at the content within the ads, seasonality and market trends.
The end goal of all ads is to convert that's why as part of our ongoing services we track and report all conversions. We do this because tracking allows you to:
Identify your return on investment and where money is best spent.




• Discover what keywords, ad groups and campaigns are most profitable.




• Test multiple ads, keywords, landing pages and offers.




• Test new ads and conversion pages effectively and quickly.
What we can offer
As self-confessed PPC geeks, there's nothing we don't know about paid search optimisation. We don't use the term 'best practice' lightly; our best practice optimisation techniques have developed over 11 years and are frequently updated as Google, Bing and customer behaviour evolves at an ever-increasing pace.

As part of your strategy, we can monitor your campaigns on a daily basis and perform our paid search quality assurance workflow to ensure that your account is achieving its maximum potential.
Some of the optimisation techniques we apply to your campaigns to boost performance and achieve the best results possible are set out in the diagram below.
---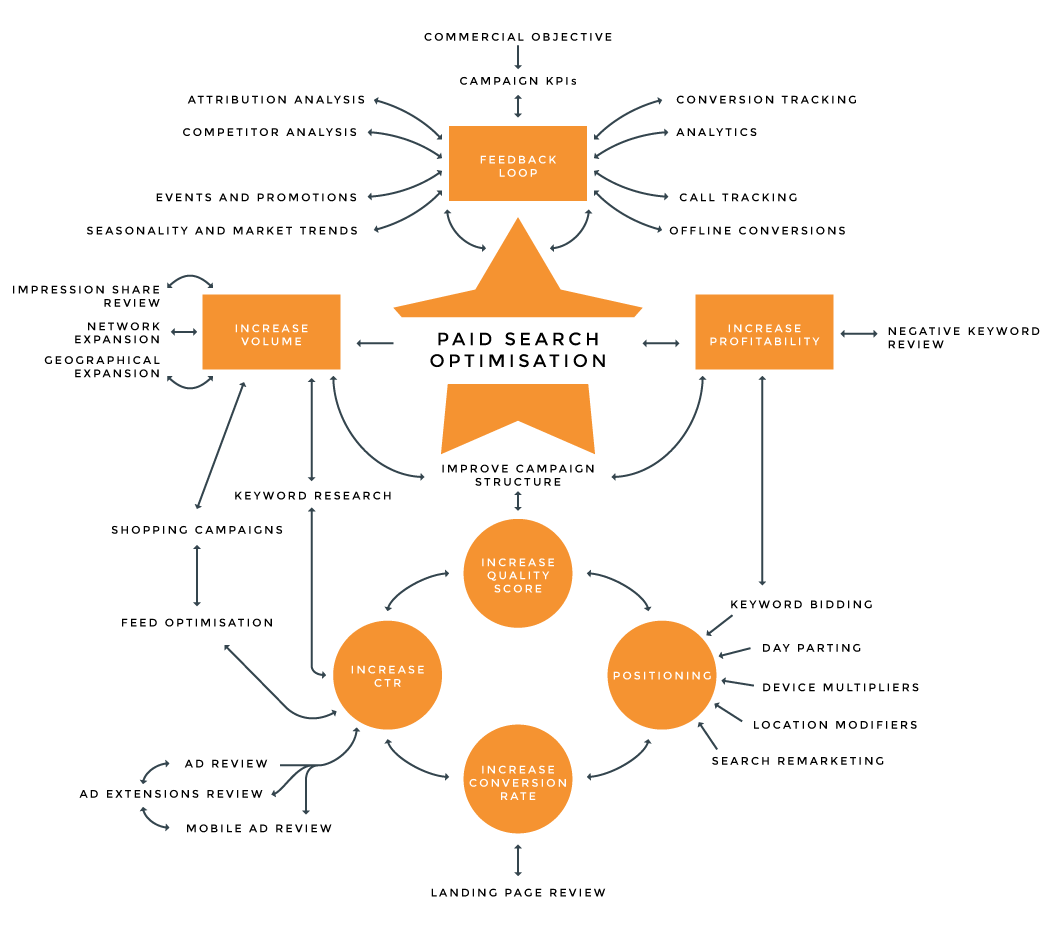 ---
Request your free PPC review

covering 20+ areas from a Premier Google Partner
Associated Services to Paid Search Management & Optimisation