One of the biggest advantages of paid search marketing and pay per click management (PPC management)  is the ability to make changes to a campaign at any level and see the impact in real-time, which allows you to keep testing and optimising your performance.
---
Knowing what to change when and how is vital to any business. Pay per click optimisation (PPC optimisation) is part art, part science. It requires data, the more the better, but also requires intuition and experience where there's not enough data to make statistically-valid decisions, along with the time, patience (and budget) to experiment.
As part of our ongoing commitment to performance excellence we know that a good strategy is important. We understand that evaluating your competitors is a key marketing activity. For paid search this means analysing, for example, the keywords they rank for, what they're spending, how their ads are written, their calls-to-action and what's on their landing pages.
This will allow you to identify your position in the marketplace, benchmark your paid search performance and learn from your competitors' successful (and unsuccessful) tactics to improve your own campaigns.
To ensure that you are getting the most from you strategy, we then look at the content within the ads, seasonality and market trends.
The end goal of all ads is to convert that's why as part of our ongoing services we track and report all conversions. We do this because tracking allows you to:
Identify your return on investment and where money is best spent.




• Discover what keywords, ad groups and campaigns are most profitable.




• Test multiple ads, keywords, landing pages and offers.




• Test new ads and conversion pages effectively and quickly.
What we can offer
As self-confessed PPC geeks, there's nothing we don't know about paid search optimisation. We don't use the term 'best practice' lightly; our best practice optimisation techniques have developed over 11 years and are frequently updated as Google, Microsoft Advertising and customer behaviour evolves at an ever-increasing pace.

As part of your strategy, we can monitor your campaigns on a daily basis and perform our paid search quality assurance workflow to ensure that your account is achieving its maximum potential.
Some of the optimisation techniques we apply to your campaigns to boost performance and achieve the best results possible are set out in the diagram below.
---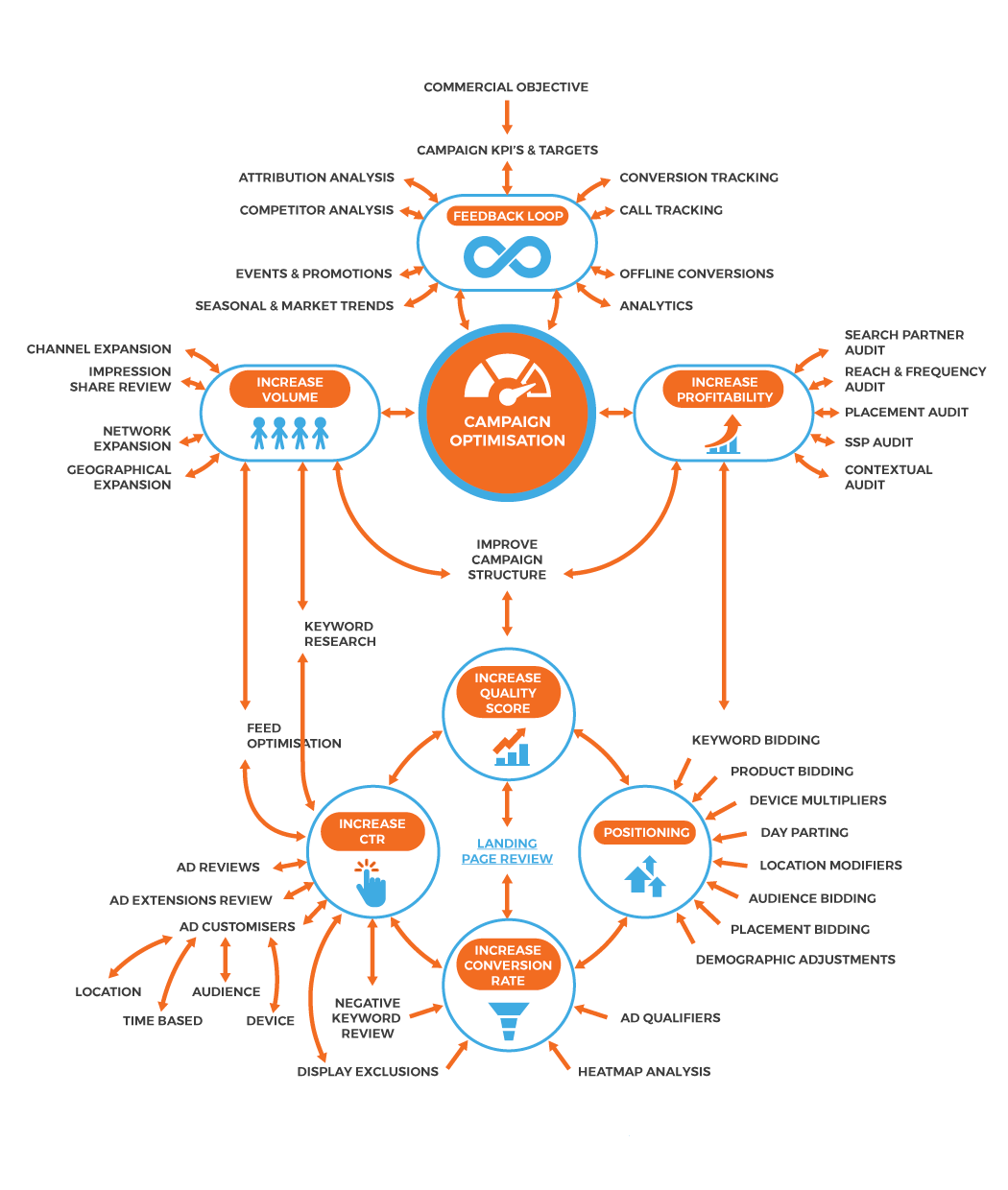 ---
Giving an overview of the intense and committed approach Click Consult takes to optimisation, the above diagram represents the cyclical and evolving nature of campaign optimisation – but this is not all there is to it by any means.
Each area of the process is augmented by our technology stack and our team of highly experienced, passionate PPC professionals to provide end to end optimisation by both tools and humans – which can be approximately broken down in to four areas.
Optimising for strategy
Strategy isn't just something to be considered at the start of a project; we regularly review against business objectives to proactively determine whether we need to adjust a strategy, be that expanding to a new channel, or deciding to focus on a different customer persona. Backed by a wealth of experience, APIs, industry leading 3rd party and in-house developed tools (including our proprietary TRAX technologies), strategies are optimised across such vital areas as keyword research, seasonal and market trends as well as with our cutting-edge approach to data-driven attribution.
Optimising for data
At our heart, we are data geeks. Our Paid Search specialists have developed a plethora of tools to help make data analysis more efficient. Tools such as the Day Parting and Keyword Bid Optimiser allow us to apply formulas built up over years of experience to give scalability to data analysis and optimisation. The human element then ensures that the formulas are conforming to overall strategy and easy tweaks can be made without needing to change backend formulas. As with the rest of our technology stack, we are continually adapting our tools' algorithms by measuring predicted against actual performance. This feedback process ensures our tools are continually evolving in order to hit the best bottom line results.
Optimising for testing
Click Consult make a science of search marketing, and so we believe that no claim should be considered without testing it first. Therefore, through extensive ad reviews, landing page reviews and more, we are able to pull apart campaigns, study them and reassemble them with improvements. We combine this with our data analysis skills to ensure all tests are conducted to statistical significance, and then used to create a knowledge bank to help determine future test ideas. As ever, a suite of technology is backed by a wealth of human experience to ensure the best possible performance.
Optimising for creativity
Often overlooked, creativity is a vital part of any well managed paid search campaign. A creative spark can have impacts on click through rate which no amount of data analysis can provide. Part of Click Consult's technology stack are ad customisers tools that can ensure even the largest brand can serve creative, personalised ads across a diverse range of products and services.
Request your free PPC review

covering 20+ areas from a Premier Google Partner
Associated Services to Paid Search Management & Optimisation
We use cookies to give you the best experience on our website. If you continue without changing your cookie settings, we assume that you consent to our use of cookies on this device. You can change your cookie settings at any time but if you do, you may lose some functionality on our website. More information can be found in our Cookie Info and Privacy Policy.