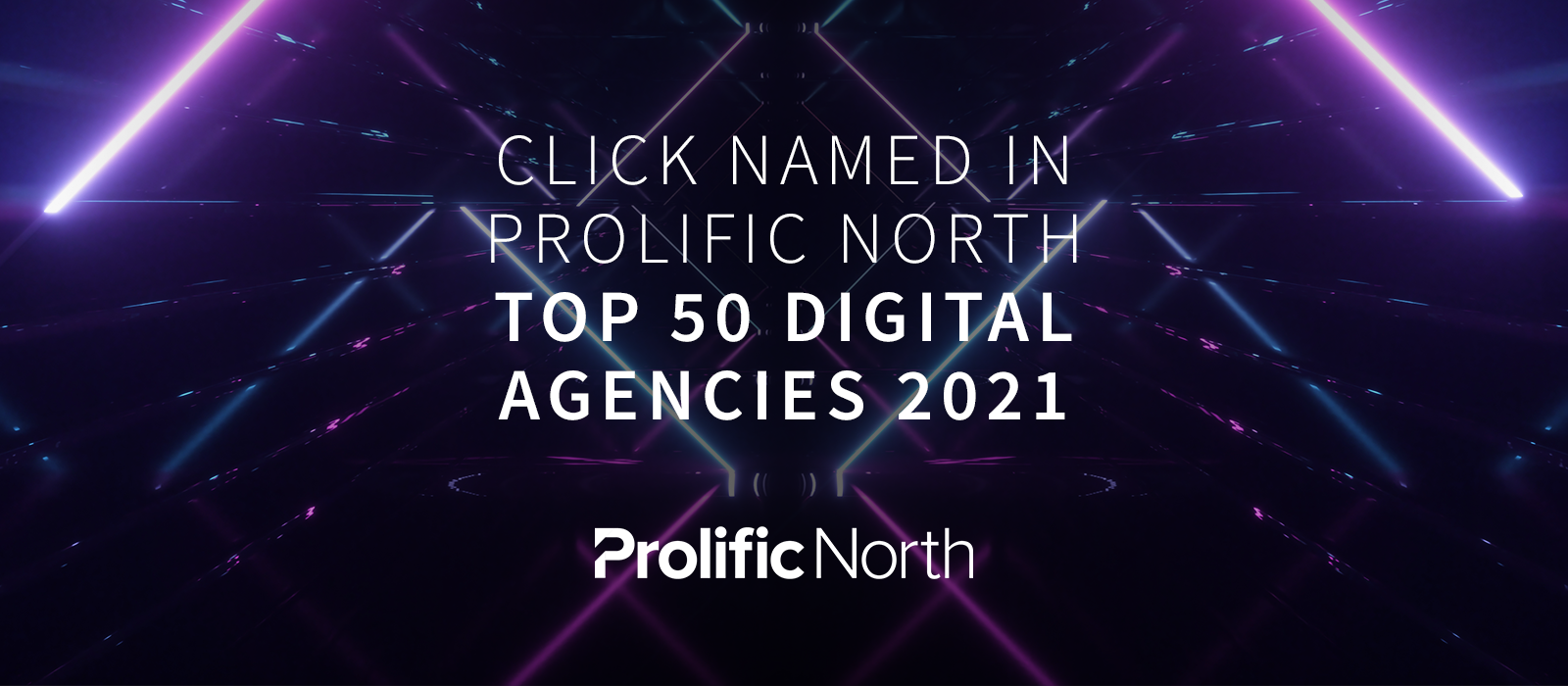 Click named in Prolific North Top 50 Digital Agencies 2021
May 19th, 2021
We are delighted to announce this morning that we have been named in Prolific North Top 50 Digital Agencies 2021 – climbing into the top 20 to sit at 18 on the list
---
The last year has not been without challenges in the digital industry. The unknown around how businesses are going to trade, the implications of lockdown and the way that many have been forced into remote working means that it has been an unusual period for everyone. 
We, like many agencies have had to adapt and it's great to see that we are being recognised once again as one of the best agencies in the North.
Speaking about the listing, Matt Bullas, CEO at Click Consult said: "We are delighted to once again be included in the Prolific North Top 50 Digital Agencies list and are pleased to move into the top 20.
"We have worked so hard over the last 12 months to grow both our offering and our services and have seen great results as an agency. It is vital that there is such healthy competition in the North of England and we know that we have to constantly evolve if we want to win new business and deliver results for our clients.
"This year we have grown our revenue and our client base and are working on some exciting new pitches. there has never been a better or more important time for brands to think about investing in their online offering and the technical side of search, so that's something we are concentrating on.
"As always we combine creative and technical talent with our pioneering proprietary technology to deliver data-driven, content-rich, ROI-focused campaigns that exceed client expectations."
The Prolific North Top 50 Digital Agencies is a definitive listing of the North's largest and best digital agencies, spanning SEO and PPC, web, content, mobile and eCommerce. It's now widely recognised across the region as the yardstick for the digital sector.
To establish the list, Prolific North work together with leading research company Mustard Research to make an informed decision on the top 50 digital agencies in the North of England. They evaluate over 150 digital agencies that are either based in the North, or have offices here, as well as asking the agencies themselves to submit supplementary financial and related data.
---
Need help with your search marketing? Why not get in touch? Or subscribe to our newsletter for industry leading insights.