Once seen by many as the somewhat poorer relation to hipper cousins Facebook, YouTube and Instagram, over recent years professional networking platform LinkedIn has taken strides to become more attractive to marketers and advertisers. Change always brings opportunities, and this eBook explores how to make the most of them
As well as focusing on encouraging more authentic interaction and engagement, LinkedIn has developed a more data-driven approach to the content it surfaces for members and suggestions it makes for people, companies and hashtags to follow, Groups to join etc. Here's a summary of what's new…
Emphasis on quality content
LinkedIn has focused on inspiring members to put more thought into the content they post.
A recent feature made available to page admins is LinkedIn's content suggestion feature, which surfaces topics and content that are trending within the business' industry and target audience. This feature recommends specific articles for company pages to share and better engage with their followers.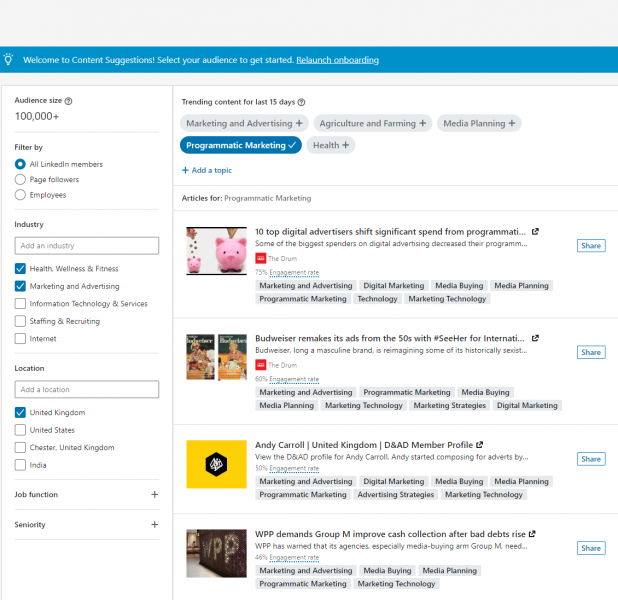 Increasing genuine interaction
The increasing emphasis on sharing meaningful content and stimulating genuine conversations has had a particular impact on the way Groups operate. Once it was possible to share to multiple Groups from a blog post or webpage with little or no context, but this scattergun approach has been removed, encouraging members to make a deliberate effort to visit the Group's page and engage in more authentic conversations with other members.
It's now also possible to allow those outside your connection network to 'follow'  you as a member rather send you a connection request; this means they  are more likely to see your content in their feed and join your conversation, making it easy to establish a relationship and share your insights with people who are interested in what you have to say.
Enhancing your posts
Members and companies can now post videos (which automatically play in your audience's feed), and both can now tag individuals and organisations in posts – a good way to give recognition, notify them of something that may be of interest or encourage them to respond in some way.
It's also now possible for page admins to reshare their employees' public LinkedIn posts from their page, and to respond to and reshare any posts on LinkedIn where a company's Page is mentioned, like customer testimonials and product reviews. This lets companies showcase conversations that people are having about them, and can help their brand stand out above the crowd, while facilitating employee advocacy (research shows that employees' social posts can generate up to 8x more engagement than the same information when posted by their employers.
Ad targeting improved
One of the most notable changes is how it's expanding and enriching its ad offering, with the introduction of lookalike audiences, which let you target ads to people who are similar to your existing customers, website visitors and target accounts and new predefined audience templates.
Perhaps most notably, the platform now feeds Bing search data into interest targeting (both companies are owned by Microsoft).  This means advertisers can target LinkedIn users based on the professional topics and content they engage with on Bing as well as the professional interests they've indicated on LinkedIn.
This all equates to greater relevance and usefulness – if you make the most of the platform.
What can you learn from this eBook?
It covers:
Optimising your member profile
Navigating LinkedIn
Marketing your business with company pages
Smart searching
Analysing your results
Advertising options on LinkedIn
Employer tools
Premium accounts
LinkedIn's publishing platform