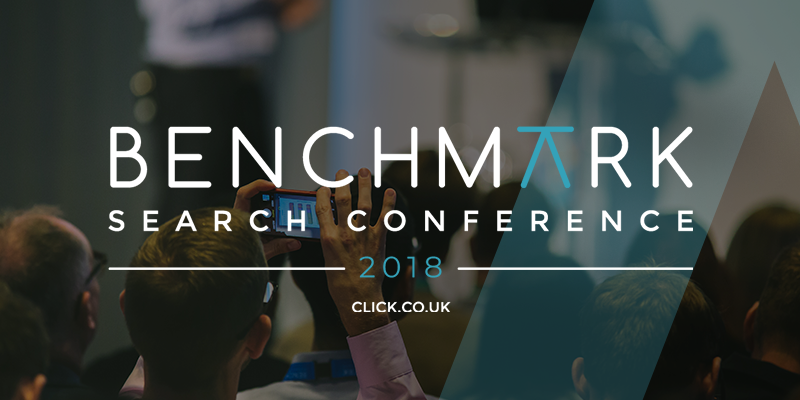 300 attendees, 20 speakers and a whole heap of ideas and inspiration at Manchester's Hilton Deansgate Hotel for our biggest Benchmark yet
---
Benchmark Search Conference returned for its fourth year at Manchester's Hilton Deansgate Hotel on 5th September 2018. The North's leading search marketing event once again offered an inspiring and engaging day for all attendees, where some of the world's leading search marketing experts discussed the latest trends, strategies and techniques to advance your brand's online presence.
Missed out on the day?
… or just want to catch up on the presentations? Here are the videos and slide decks from Benchmark 2018:
Benchmark Search Conference Summary – A Collection of Key Takeaways
Benchmark 2018 Key Takeaways
A summary of insights from each of the talks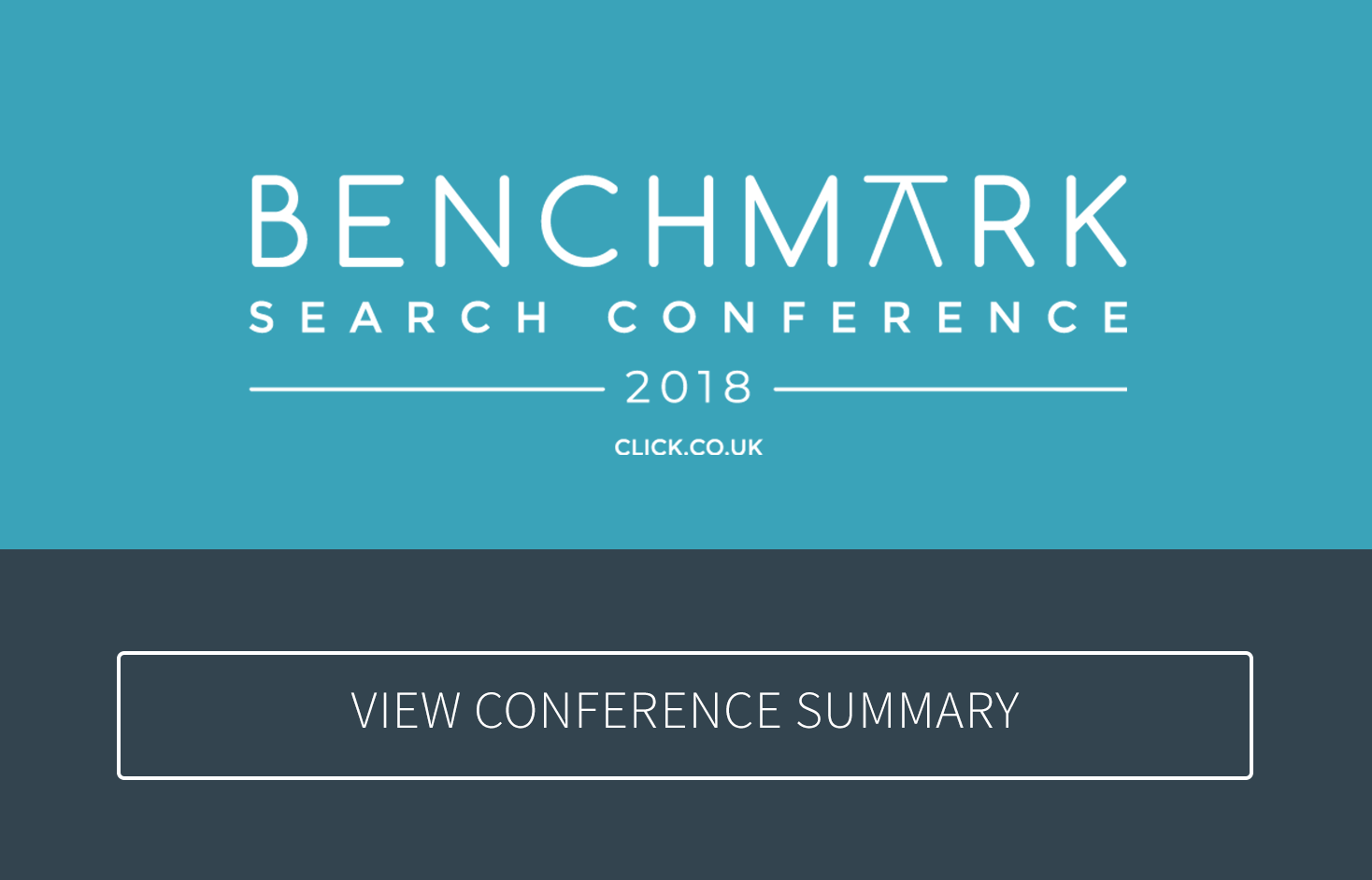 Benchmark 2018 Photos
Browse the photos from the day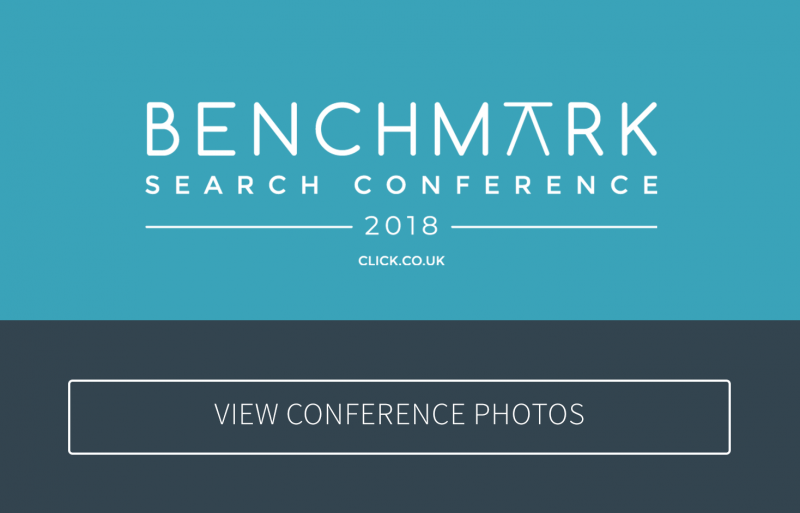 Benchmark 2018 Video Presentations
View of each individual talk in full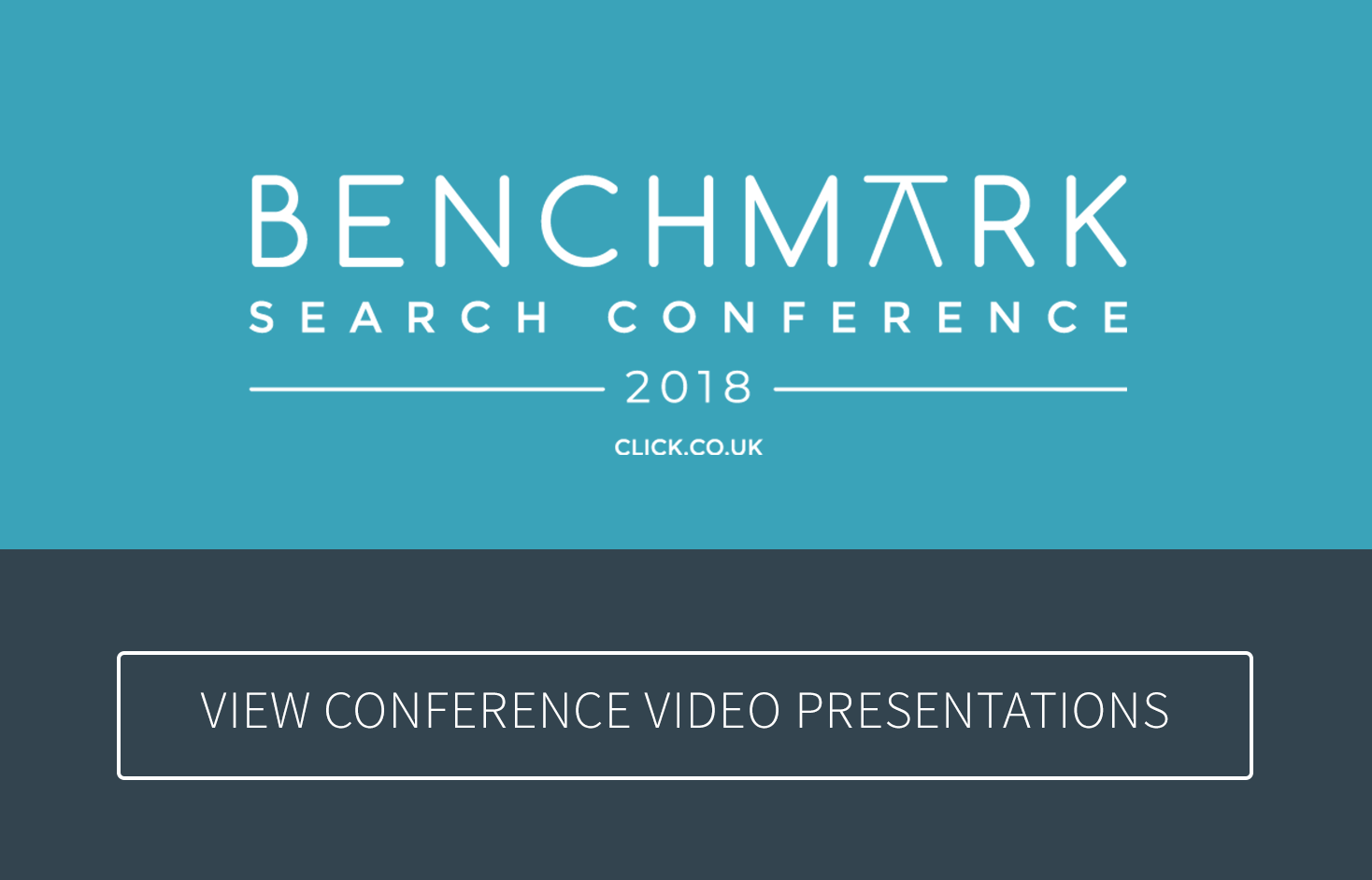 Benchmark 2018 Slides
Download the slidedeck for each of the talks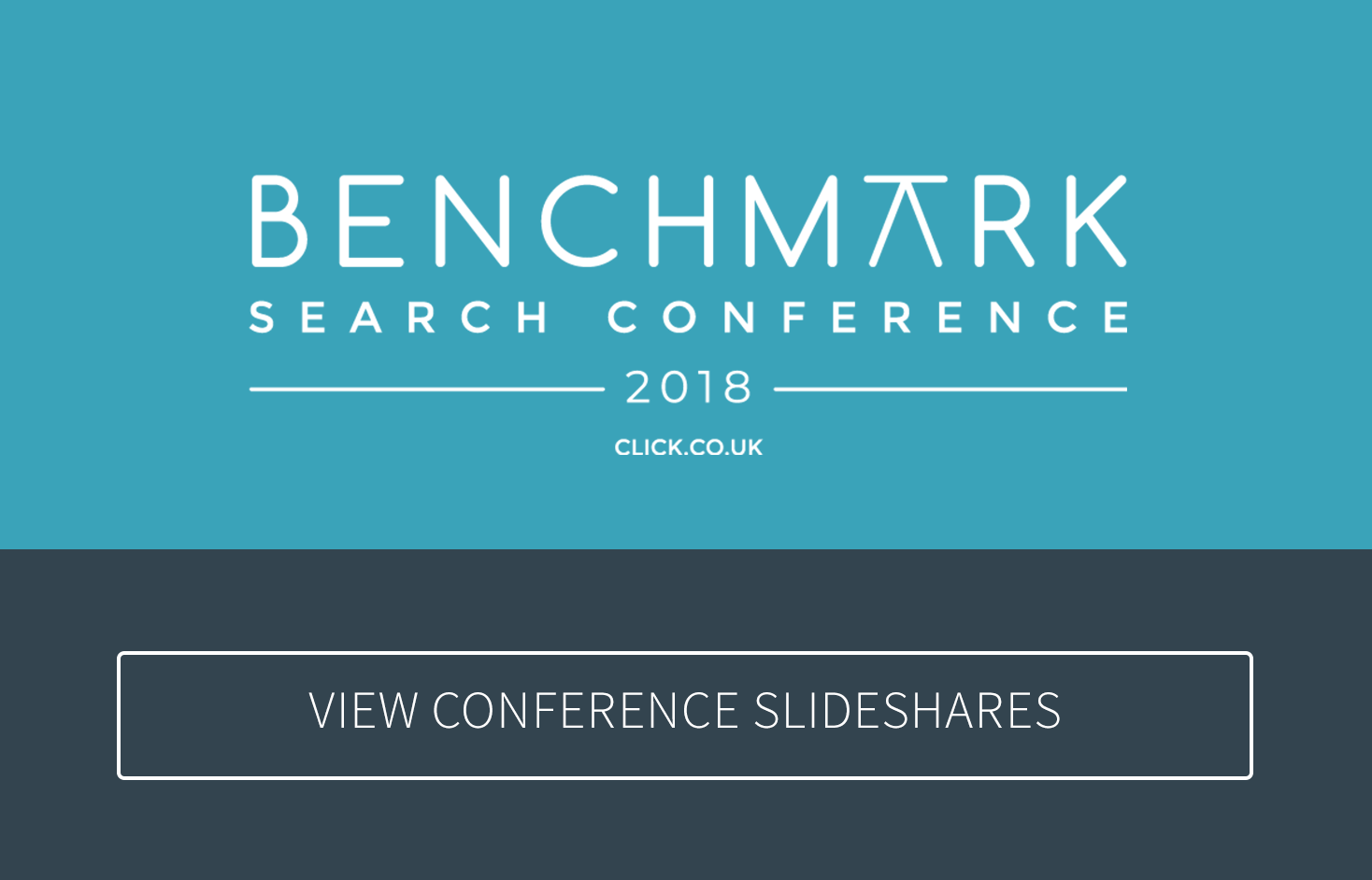 What did people have to say about #BenchmarkConf2018?
We are loving the @BenchmarkConf! Expanding our knowledge on how to win the SEO game

Check out their feed for insights from the day's talks! #Benchmarkconf2018 pic.twitter.com/fg64EkFSfU

— seventy7 (@thisisseventy7) September 5, 2018
Great day at #benchmarkconf2018 so far. Highlights of this morning were definitely @OmiSido on Technical SEO and @ClickConsultLtd's Dave K on Machine Learning pic.twitter.com/A5ojxJa6mO

— Dan Marshall (@digitallydan14) September 5, 2018
Free Technical SEO list anyone #benchmarkconf2018 @OmiSido was awesome as always #sharingiscaring pic.twitter.com/5EWlY1oTna

— Matt Taylor (@Blindprof) September 5, 2018
Favourite tip from #benchmarkconf2018 so far: "Design your reports to show someone who doesn't understand what you do, how well you are doing."

— Tom Cheesewright (@bookofthefuture) September 5, 2018
Great talk by Lee Wilcox from @onthetoolstv! Never heard of them til today but look where they are ahead of Unilad & LadBible. Nice to see @JOE_co_uk on the list @MrNiallMcGarry #benchmarkconf2018 pic.twitter.com/0YVoglfWQG

— Lisa Carmody (@LisaAC_Tweets) September 5, 2018
John Warner taking the stage with hilarious eloquence whilst looking like a 'hippy after being catapulted through Next's menswear section'.
Some fab tips on optimising your time without compromising your effectiveness during reporting.#benchmarkconf2018 #reporting #analytics pic.twitter.com/LjKfW5pSQ7

— Jake Harding (@JakeAtS2) September 5, 2018
Great opening talk from Ellie England from Microsoft on AI. Did you know Netflix recommendations are everyday Artificial Intelligence?! #benchmarkconf2018

— Lisa Carmody (@LisaAC_Tweets) September 5, 2018
Great presentation from @OnTheTools, inspiring and refreshing! #BenchmarkConf2018 pic.twitter.com/XAqiBCpxUg

— DGCOS (@DGCOS) September 5, 2018
Some great talks today at the #benchmarkconf2018. Tonnes of useful stuff. Particular shout outs to @OmiSido @LukaszZelezny and Lee Wilcox from @onthetoolstv

— Ben Hardman (@hardmanbs) September 5, 2018
Great event again, getting better and better each year #benchmarkconf2018 @ClickConsultLtd thanks for having me! pic.twitter.com/nqSPRnZg9y

— James Rowland SEO (@JamesRowlandSEO) September 5, 2018
Great @onthetoolstv presentation at #Benchmarkconf2018 as well as superb session on value of technical SEO by @OmiSido

— StreetwiseSubbie (@StreetwiseSubbi) September 5, 2018
@kristalsmile tea, cake, gin. Noted, I'll be sure to stock up! Thanks for the tips and brilliant presentation #BenchmarkConf2018

— Sabina Hine (@SabinaHine) September 5, 2018
Vesuvius, Trump and AI porn – what do they all have in common?

They're all key ingredients in yet another great presentation by @basvandenbeld at #BenchmarkConf2018

— Jay Tillotson (@MktgG33k) September 5, 2018
#benchmarkconf2018 Loved the presentation on #PageSpeed by Victoria, informative and very funny 😂

— Anthony (@V4Value) September 5, 2018
Awesome tips from @LukaszZelezny at #BenchmarkConf2018 thanks Lukasz!

— Chris Naughton (@Naughtez) September 5, 2018
Great day so far @ClickConsultLtd's #BenchmarkConf2018!
Good Speakers 👍
Good Coffee 👍
Good Freebees ✅
Good Wings 🍗 pic.twitter.com/rv7LJV1Z9y

— Michael McGougan (@mmcgougan90) September 5, 2018
What an amazing start! Some brilliant speakers and we're getting a large to do list…. #BenchmarkConf2018 pic.twitter.com/spSIMYL65X

— Amy Davidson (@adavo710) September 5, 2018
Thought provoking and frightening talk from @basvandenbeld at #benchmarkconf2018 about fake news. How do we trust anything or anyone?

— Helen Naylor (@helencnaylor) September 5, 2018
Superb concise but very detailed presentation on optimising for search bots from @filiwiese thank you! #benchmarkconf2018

— Chris Naughton (@Naughtez) September 5, 2018
A brilliant day with the SEO experts at #BenchmarkConf2018 – everything from AI in #ContentMarketing to search planning to disaster management. To-do list now includes checking out opportunities in voice search. Think I'll ask Alexa!

— Geoff Noake (@AdPlace) September 5, 2018
So it begins☺️ Insightful talks by @BingAds @onthetoolstv and @OmiSido @BenchmarkConf #benchmarkconf2018 #VideoMarketing #technicalseo #SEO pic.twitter.com/XNBl8sNWzd

— Sunil Chauhan (@SunilChauhan5) September 5, 2018